No one ever plans on getting into trouble in the outdoors. However, a simple mistake, changing weather, lapse in judgement, random injury, equipment disfunction or loss of daylight can change even the most basic recreational activity into a troublesome situation. By creating and sharing a simple trip plan with family or friends, someone will be able to contact authorities enabling you to have a better chance of rescue and survival in an emergency.
What is a trip plan
A trip plan is a semi-detailed or detailed plan that you send to family and friends before heading out on an adventure. Whether you are going for a quick hour hike close to home or a 15 day expedition in Alaska, you should always design and share a trip plan with family or friends (who would be concerned if something happened to you). Don't share it with your uncle bill who is trying to get you inheritance because he will surely burn it in hopes something goes wrong on your outdoor adventure. Share the trip plan with someone who is hoping you will come back in one piece. When I'm going on a quick hike or remote fish I usually shoot a family member or my girlfriend a text letting them know where I'm hiking and when they should hear from me upon return. For longer journeys and ski touring day trips, I'll draft a quick plan on the computer and email it to my loved ones.
Who is a trip plan useful for
A trip plan is useful for everyone involved in an emergency situation. You want to come home safe, friends and family want you to have a safe trip, and rescue personnel want to be as safe, effective, and efficient as possible. A trip plan allows your loved ones to ring an alarm bell if you do not contact them at a planned waypoint or don't arrive home on time. It also allows provides rescue teams with the necessary information to follow your trail closely based upon the predetermined route. You always want to be prepared for the worst. By putting together a simple plan you will be able to be rescued more effectively in a worst case scenario.
How to Structure a Trip Plan
Designing a trip plan for any size journey is an integral component to proper adventure preparation. The complexity of your trip plan will depend upon the remoteness, duration and risk involved with your trip or activity. All trip plans regardless of the complexity should include the 4 W's of good trip planning (Who, Where, What, When). The names of the people involved, the activity, the departure date and time, the return date and time, the area  you will be exploring and the destination and the distance you plan to travel.
Sample Trip Plan (A Quickie)
For a day hike you don't have to over complicate things. Just shoot a friend or family member a text when your heading out and send em' a message or give them a ring when you're back at the car.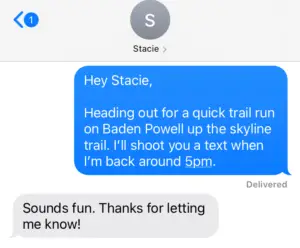 Sample Trip Plan (Ski Touring Day In The Backcountry) 
For daytrips on very high traffic trails, the texting method should do you just fine. However if the duration of your daytrip is long or you are going to be venturing into some unfamiliar, backcountry, and hazardous terrain it is always best to put together a simple trip plan like the one below.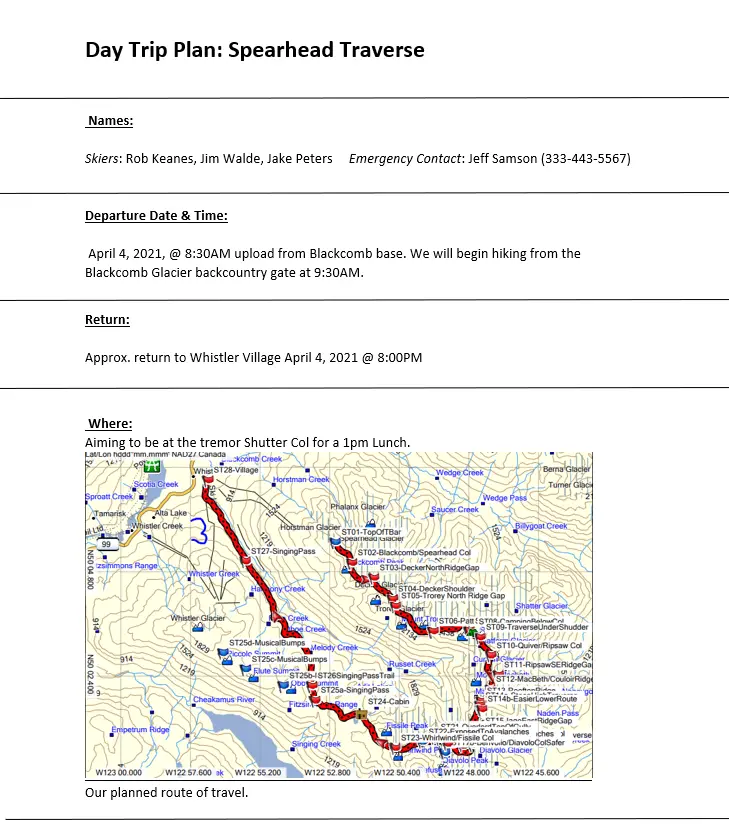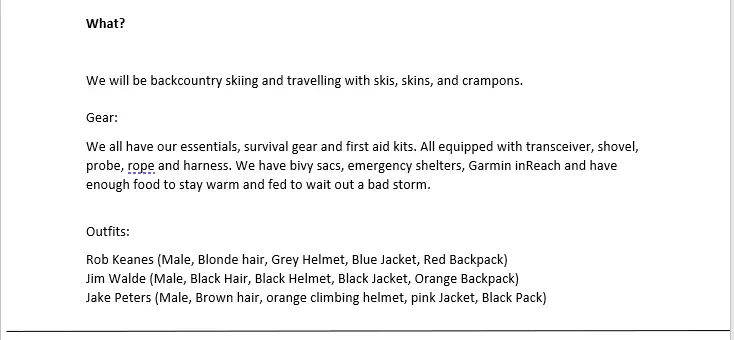 Sample Trip Plan (Multi Day Backcountry Hiking Trip)
The multi day trip plan does not differ much from the single day trip plan. Make your route of travel clear for your emergency contact and try to map out the destinations you plan to end your day and camp out at. If you have a GPS device send your emergency contact a few texts at predetermined locations to let them know things are going well!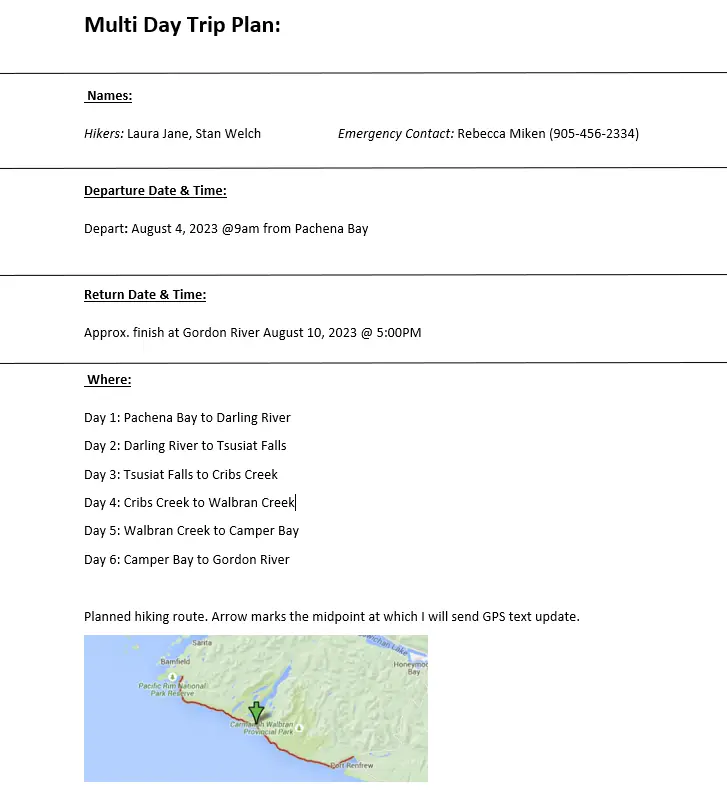 Taking a few extra minutes before your next trip create a plan will give you the peace of mind that in the odd case of an emergency situation your trusted contact will be  able to contact the authorities, search and rescue providing them with all the information needed to make a swift rescue.
Are you in the habit of making a trip plan?
Let me know in the comments.
PS – Feel free to use my trip plan outline for your next trip or shoot me an email and I would be happy to send the outline to you.
https://plan.adventuresmart.ca/ Also offers a great outline for trip plans and an easy way to SMS these trip plans to friends.