In 2021 I embarked on long standing dream of mine.
A life on the road.
I always imagined myself fixing up an old Volkswagen or customizing the back of a classic Ford or Dodge Van. When Covid struck, I lost my job, and decided that it was the perfect opportunity to jet off on the vehicle dwelling adventure I'd been so anxiously awaiting to check off my list. I was the proud owner of a ford F150, Crew Cab truck with a 6.5 foot box and was determined to make it the perfect getaway vehicle.
I scoured the internet looking at different builds and styles, finally deciding upon something functional, simple, and comfortable. Unbeknownst to me at the time, the initial build worked so perfectly that it turned out to be Laura and I's full time home for over 4 months.
We slept everywhere and anywhere. Our favourite spot to hunker down free of charge was in quiet and safe residential neighbourhoods. On our Journey we met loads of amazing people, all with different vehicle dwelling setups, styles and preferences.
If you are planning on living in a vehicle full time or (for a period of time) and want to spend everyday adventuring, in my opinion, there is no better option than a Truck Cap Camper setup.
I've listed below the top 10 reasons why I think Truck Cap Camping (Trucklife) is better than (Vanlife).
You Can Park/Sleep Anywhere
Finding a reasonable spot to sleep in a new town can feel like daunting task for some vehicle dwellers. The best spot to sleep is in residential areas. Some neighbourhoods welcome vehicle dwellers with open arms, hell, we've even had a family come out of their house and give us free salmon. But, some neighbourhoods are suspicious and despise new vehicles pulling up at night. When it comes to flying under the radar, the truck cap is as stealthy as you can get and has vans beat. The cats out of the bag for vans of all sorts. People can see the curtains on your dodge caravan and know that your sprinter or panel van isn't pulling up at your neighbour's house to get a late start on a plumbing project.
In the truck cap, it's anyone's guess what's in there. If you have tinted windows, or even better, blackout rabbit glue on the cap windows like me, there is no chance that anyone will know you are crashing in there. I've never been noticed or had an issue while sleeping. The only interactions I have are when I'm popping out the back of the truck cap and surprise a morning dog walker.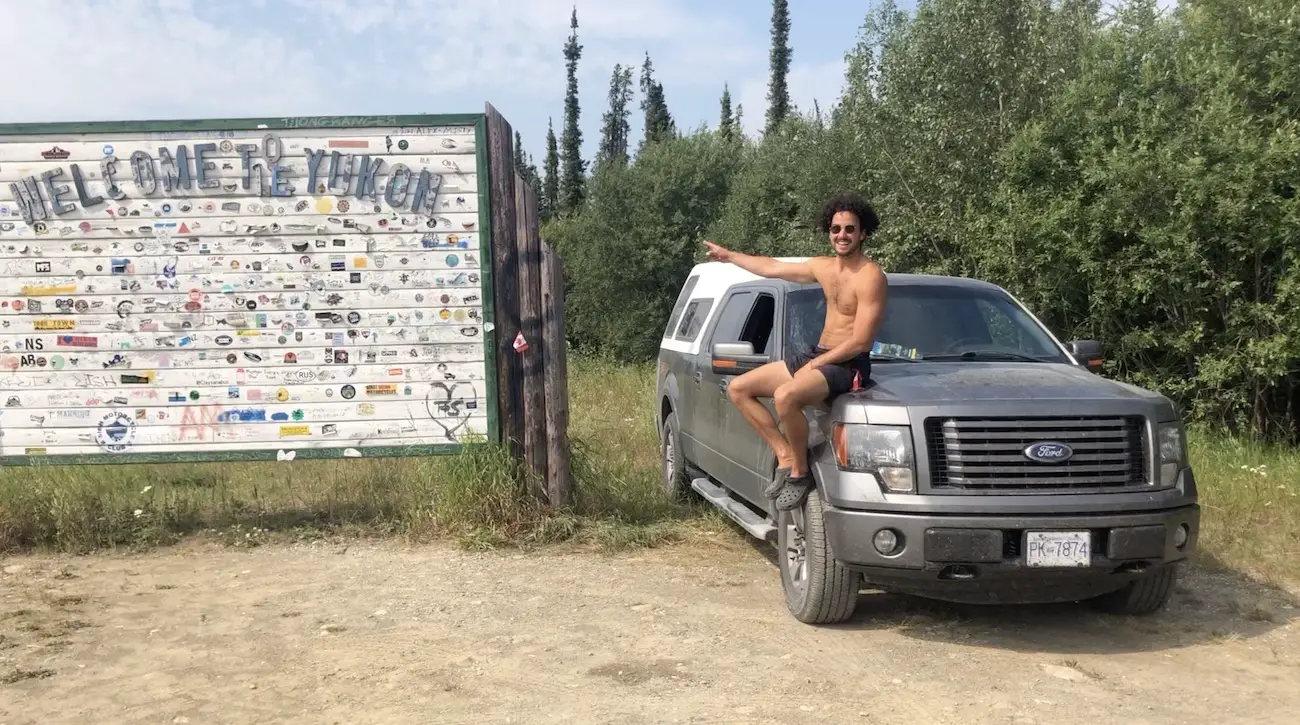 Your Sleeping area Stays Smell Free and Clean
I've always been the kind of guy who values a good sleep, and really likes to keep my sleeping area clean and dry. Living and sleeping in a van, things can get very dirty, moist, and smells can linger. All of your gear, dirty clothes and food are all in the same tiny enclosed air space. Cooking inside a van can also cause many unwanted smells and spills that will remain on your mattress for weeks. In the truck, your sleeping area stays separate from your gear storage and your cooking setup. I always cook on the sliding drawers on the tailgate and keep all my gear in the back seats. Falling to sleep is way easier when your bed isn't cluttered, stinky, or damp.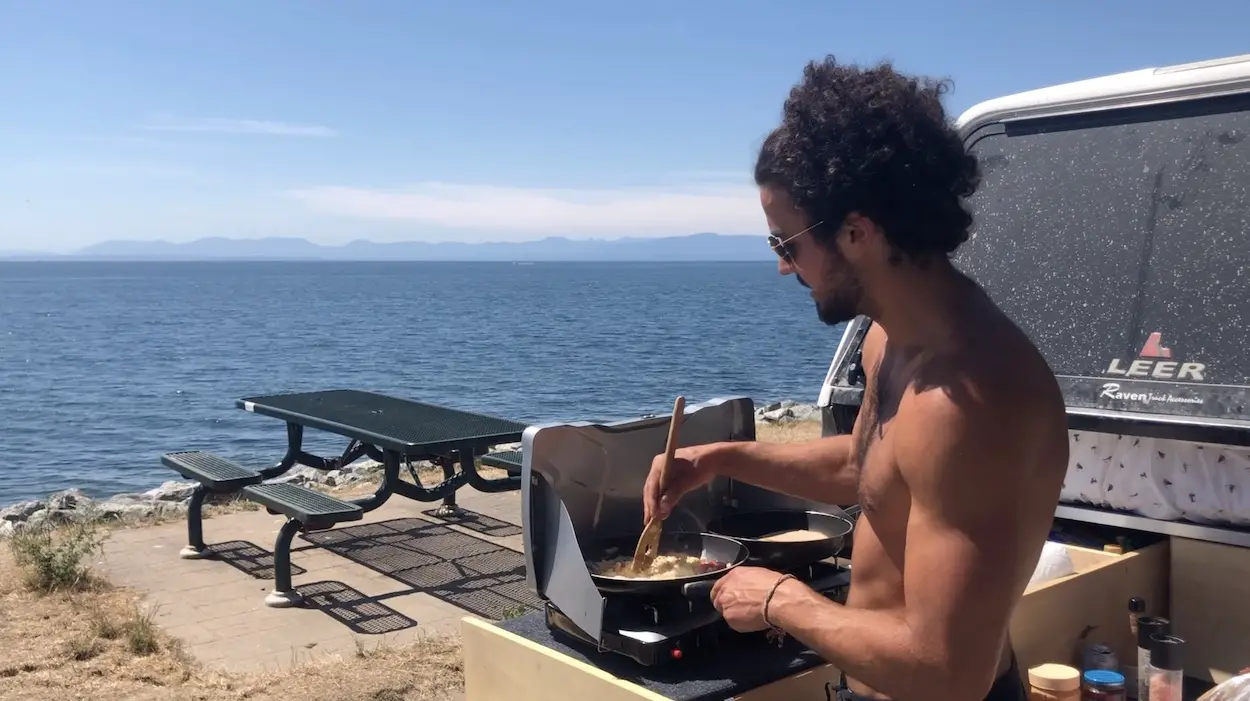 Lots of Space for Carrying and Storing Gear
Typically, people living in a vehicle are very active and tend to participate in some sort of outdoor recreation. The reality is you need somewhere to store and dry whatever gear and clothes you may have. In a Van, your dirty gear can be disorganized getting mixed in with your sleeping setup. However in the truck, all of my outdoors gear, is stored in a very organized fashion in the drawers beneath my bed and in the back seat of the cab. I also store 80L of water  jugs, a cooler, and all of our clothes, boots, shoes and an inflatable kayak in the back seat area of the truck.
Trucks have a massive payload so you can carry whatever you like. If you attach a roof rack to your truck or cap you can carry along boats, kayaks, cargo racks, or a thule to hold extra gear, wood or whatever you may need.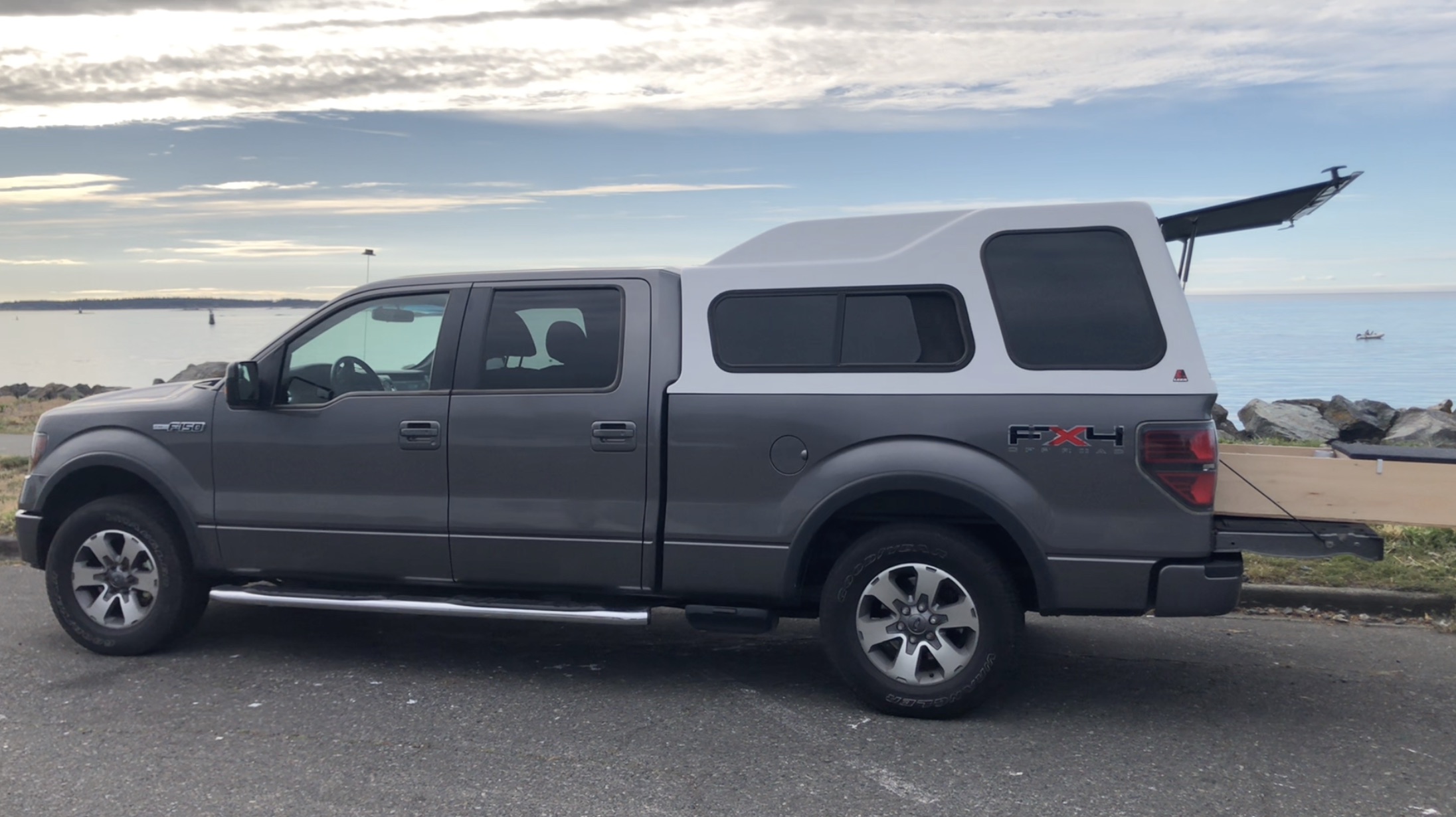 4×4 Roads, No Problem, You can Drive Anywhere
Trucks have high clearance, great tires, and solid suspension making them ideal overlanding vehicles. You can get anywhere you need to go. I've taken my F150 up some insanely rough logging roads and all the way down the Dempster Highway to the Northwest Territories without a single flat tire. These kind of remote camping experiences cannot be conquered by your everyday Sprinter or Van. I am always eager to venture further and see more, and personally, I would hate to have to turn around before getting to a destination more equipped vehicles can make it too. Some Rec Sites, especially in BC can be quite rough, and although a Van may be able to make it to some of these locations, you will have to drive extremely slow, and who knows what kind of damage that will be doing underneath the hood.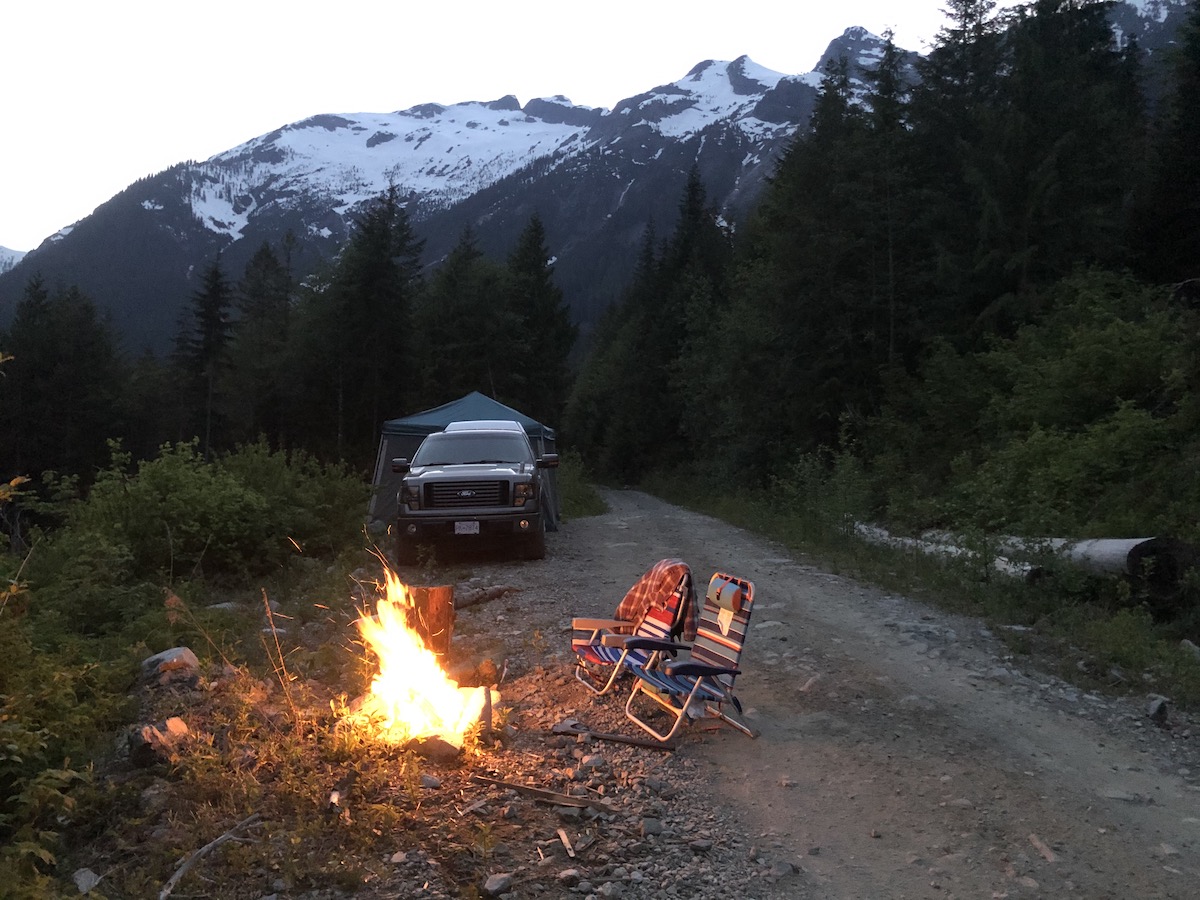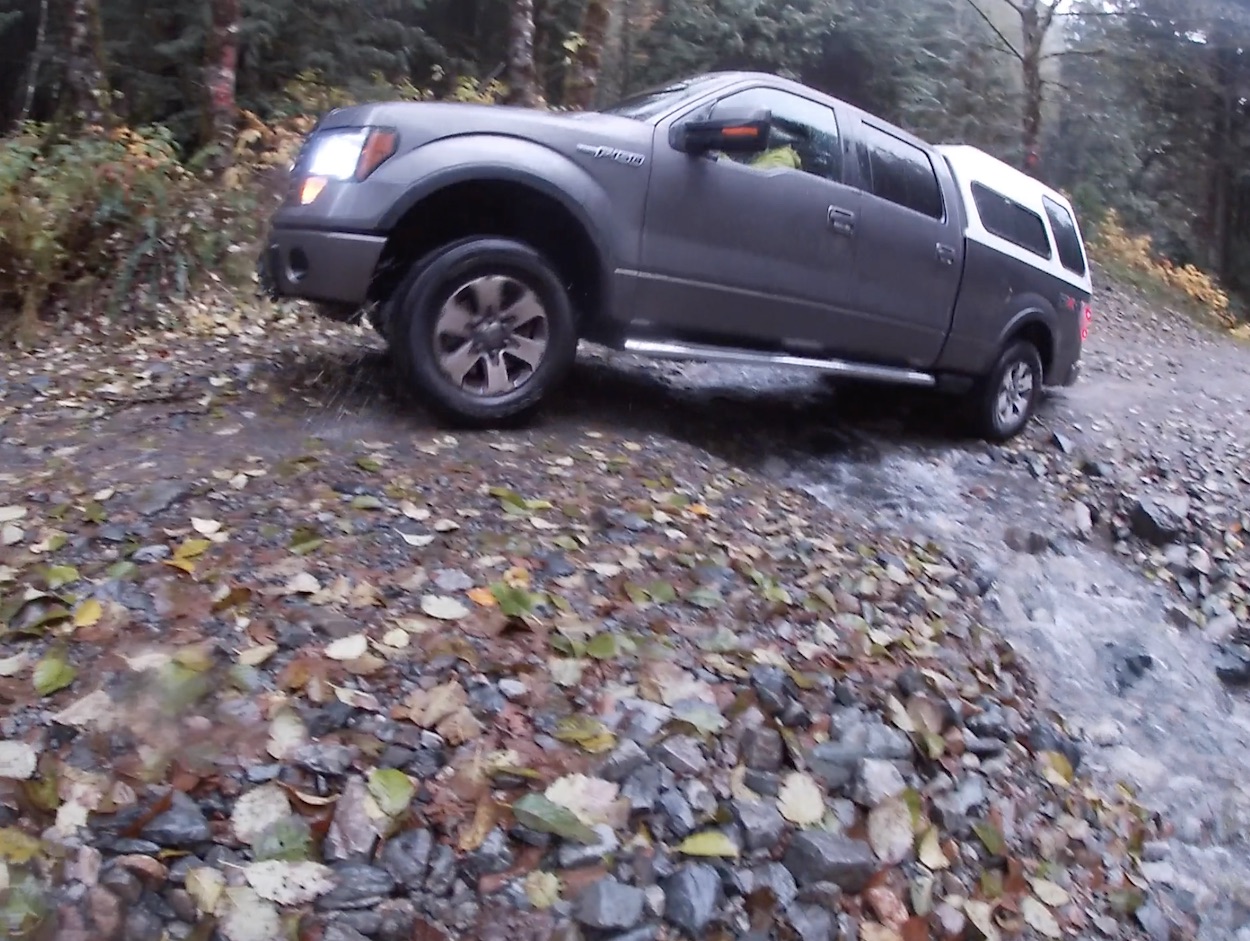 Reliability
I know there are some very reliable vans, especially sprinters out there. However, there is a price you pay for reliability. Most people who are building a van setup don't have the luxury of purchasing something brand new. The majority of the Van Dwellers I met on the road had very old vehicles, which they loved dearly, but unfortunately would lead them to the mechanic every so often. In terms of trucks, you have loads of options and can usually get something quite reliable, with very low kilometers much cheaper than camper vans. I've had no significant issues with my truck and its always gotten me where I want to go.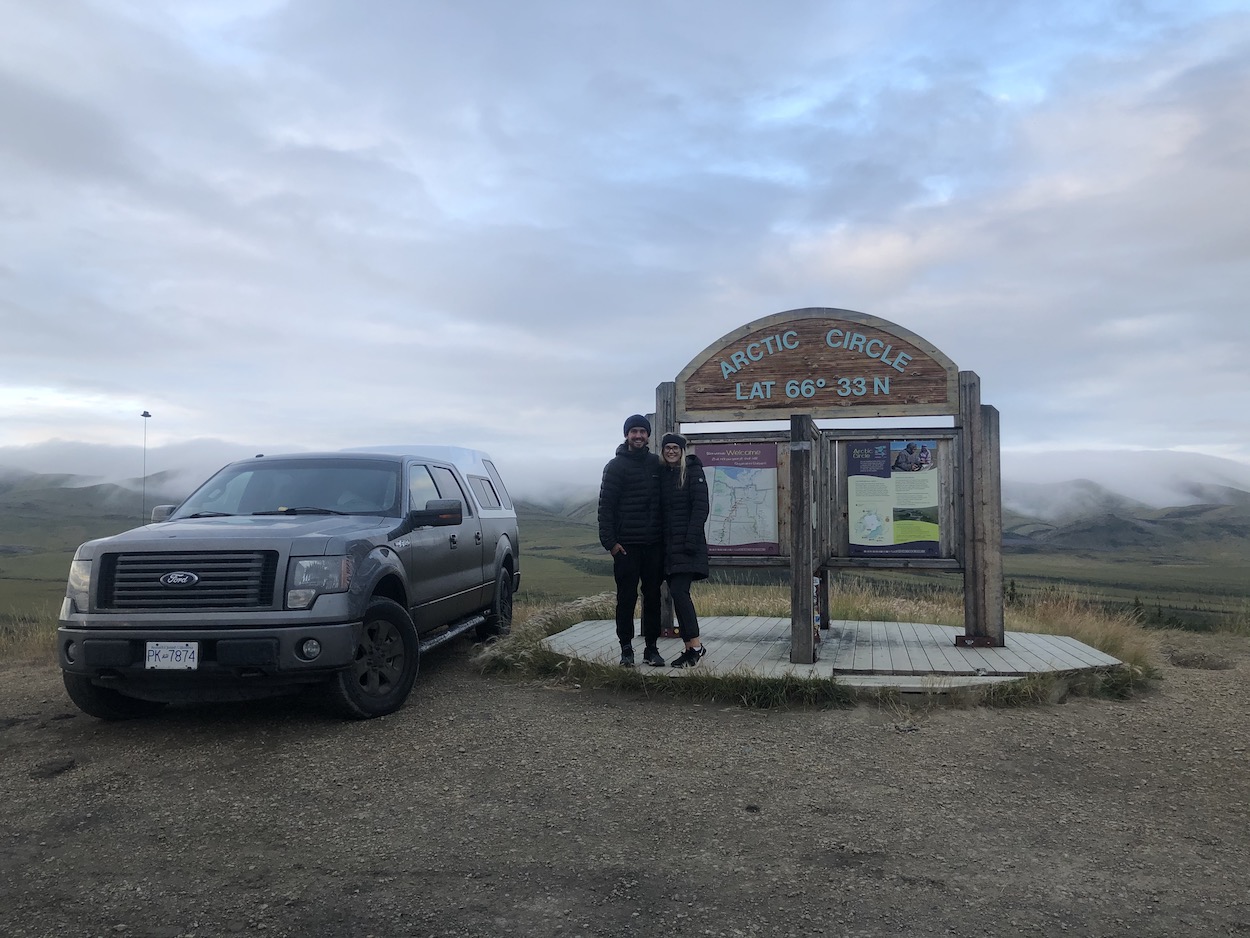 Cheap and Easy To Build
Building your dream vehicle can be very time consuming and expensive. Van customization takes months of hard work, especially if you bought the thing completely gutted. Unless you have a passion for vehicle customization, why not get out living your dream and travelling ASAP. A good used truck Cap typically costs anywhere from $250-$1000. The wood and materials needed for making a sleeping platform and sliding drawers were around $400. You could very easily turn your truck into the perfect camping companion for under $1000 if you shop smart!
Building a sleeping platform and drawers is super easy. There is no need for complicated tools or an expert skillset. Anyone can do it, and you can have your camping setup ready to go only after a weekends work.
Versatility
A truck cap camper can be very versatile and easily designed for you needs. Some people want room to sit up in their truck bed, and others, like me, don't spend time hanging out in there and want the most storage and best possible sleeping comfort.
Once you convert a van into a camper, there is no turning back. With a truck you can have the best of both worlds and can switch you camper back to a pickup truck bed in a snap. I designed my truck bed camper so I can slide the bed, drawers and gear out, and have the bare pickup truck bed in just a few minutes.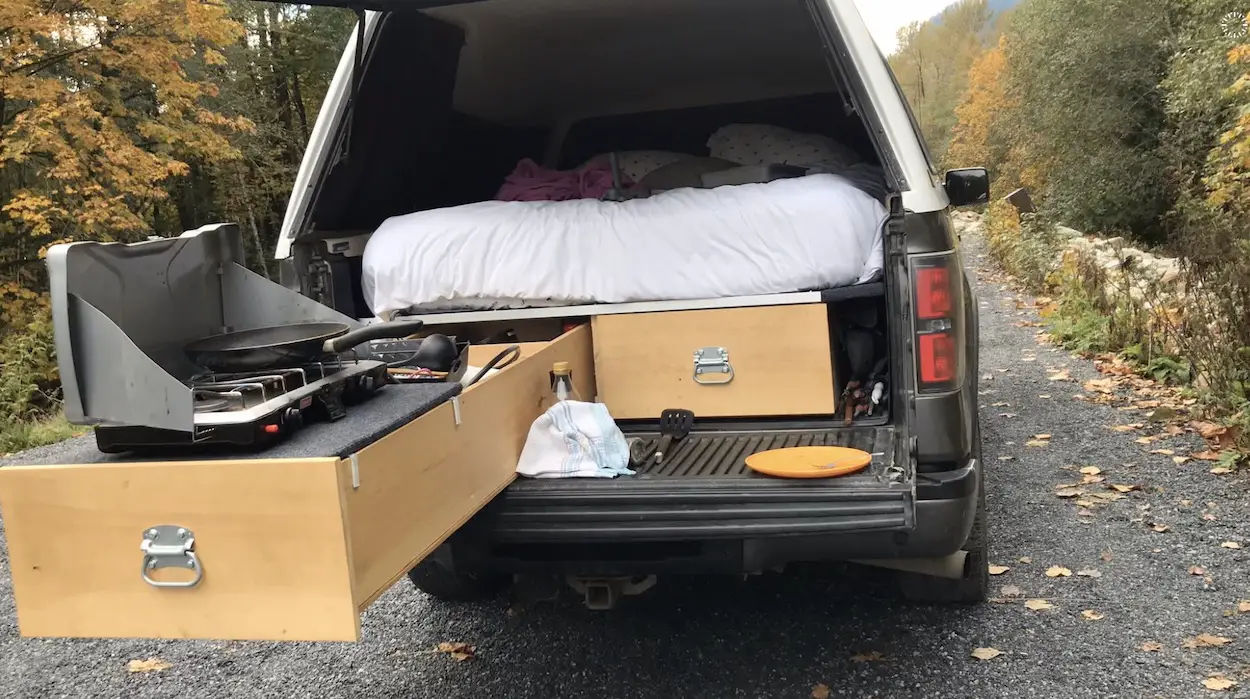 Security
There are a few reasons I think you and your gear are more secure in a truck cap camper than in a Van. Firstly, vans stick out like sore thumbs and people know you are sleeping in there. Very seldom will someone bother you in a Van if they think you're in there, but, if your Van is parked at a trailhead or you are off doing something else, the windows are an easy smash and grab target for burglars.
With the truck, you will be stealth both at night and in the daytime. You can leave your truck parked, even for days, worry free because with blacked out truck windows thieves will not be able to see into your cap. Furthermore, I would keep all my valuables (laptops/cameras) in the drawers underneath the bed. Since I had a locking tailgate and the drawers are snug to the tailgate when closed, there is no physical way to access the drawers without taking a crowbar to the truck.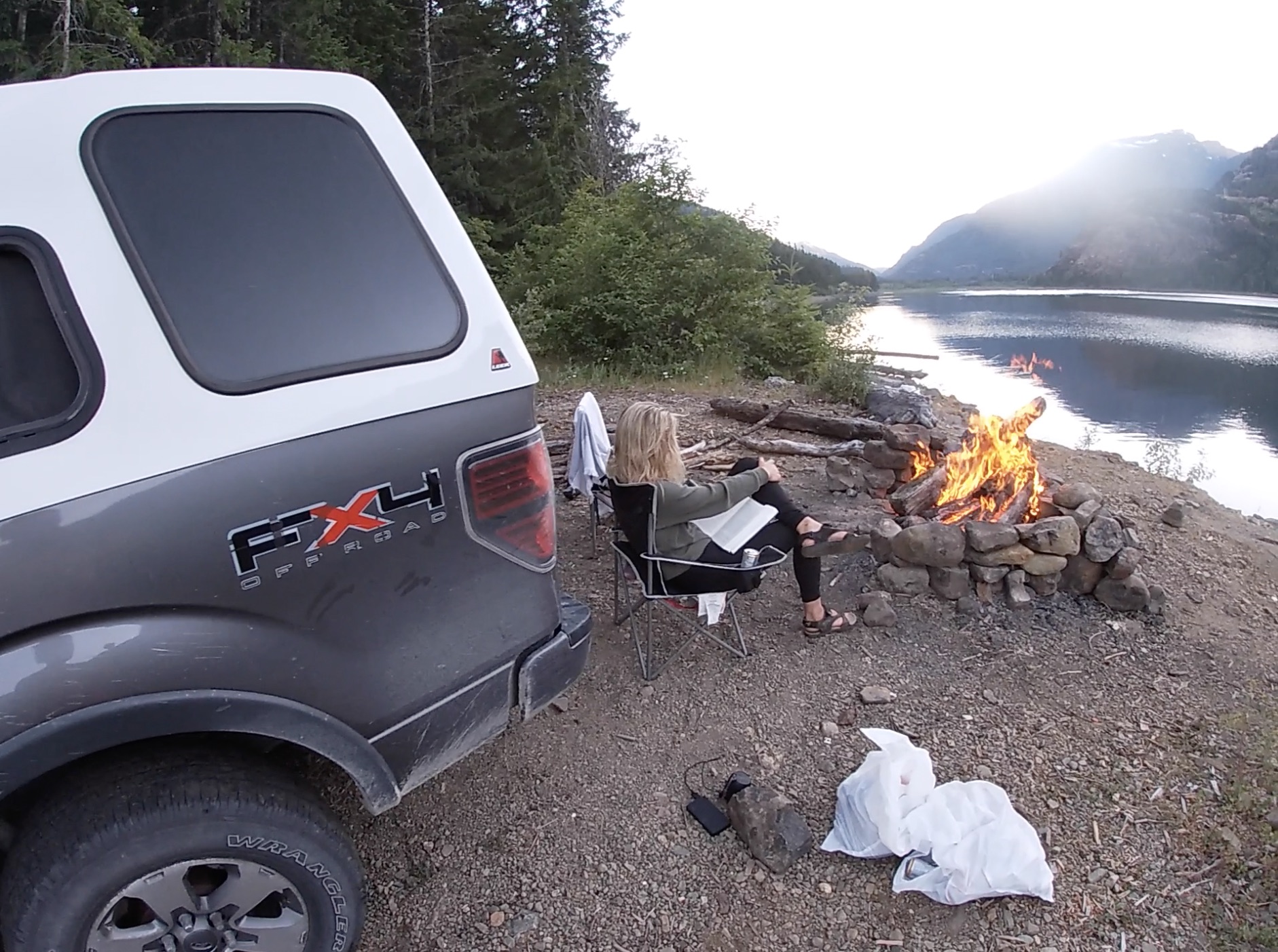 Way Better Sleeps
I have more restful sleeps in my truck than I ever did at home. If you have a long box, you can easily fit a full size mattress in the bed of your pickup truck. I've got a double bed in the back of mine and I love it. Since I've blacked out 2 of the 4 windows in my cap, and used blackout curtains on the other 2 no natural light gets in. While we were in the Yukon, there was 20 hours of light a day, and we had no problems getting to bed. With a truck cap setup there is no need to worry about all the light pouring in from your vans windshield and windows.
It's Unique and It's Rad
This one is just personal opinion but I think there is no cooler setup than a truck cap camper that's unique, unsuspecting and functional. I couldn't tell you the amount of people who give me props and ask questions when they walk by my truck (usually while I'm cooking).
At the end of the day, whatever camping/car dwelling style you feel comfortable is best. But remember if you want to get on the road quick, and are looking for a practical and functional option, look no further than a truck cap camping setup!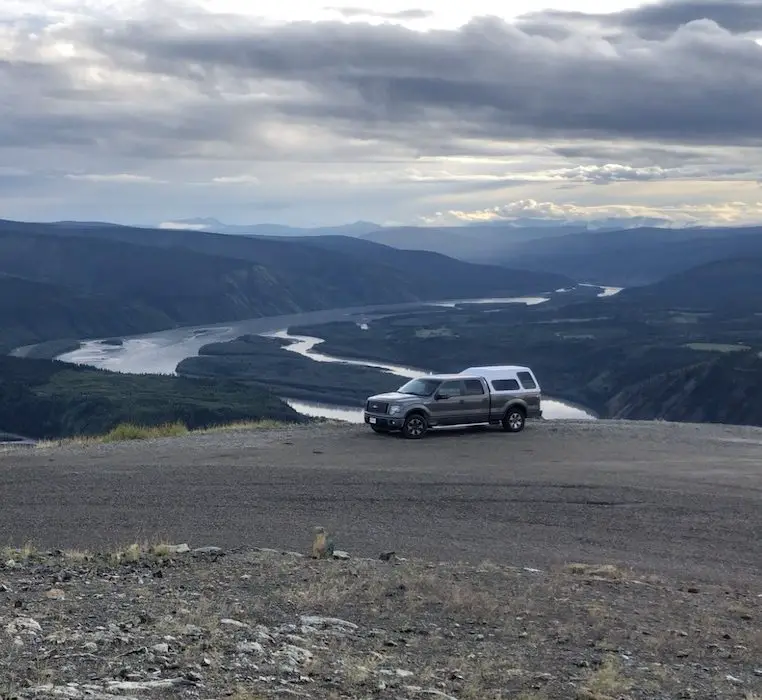 I'd love to hear from you. Feel free to let me know your thoughts in the comments!
Enjoy The Journey!