Travelling and living out of a vehicle is affordable and is a mode of travel everyone needs to try once. Maybe you've just recently dropped everything to join the van-life movement or you're ready to head out on an amazing road trip.
But, one question is probably weighing heavy on your mind….
'Where the hell am I going to sleep every night?'
Don't worry, you are not alone. I remember asking the same question before I headed off to Vancouver Island, BC to start my journey living in a truck. I had prior camping experience but had never slept in a vehicle more than a night or two. Crashing in my vehicle was usually in campsites and not urban areas. I didn't do any research and Laura and I dove right into things. I remember our first night in Victoria. We were two over-tired amateurs, driving around for hours trying to figure out where we should park for the night.
We quickly got into a rhythm living on the road and became experts at finding great spots to spend the night. Our sleeps became better in the truck than they ever were living in our apartment. Who would have thought…
We tried it all and slept everywhere from deep in the backcountry, city centres, sides of highways, parking lots, Walmart's, residential, and even in a person's driveway.
In this guide I'm going to breakdown the best free spots you can sleep when living or travelling in your vehicle in urban and backcountry destinations across Canada.
Our Process
 First things first, I'd like to quickly share the stupidly simple process that I use when arriving in new destinations to secure the perfect spot to sleep.
Urban Areas Process 
Step 1: Open phone and google 'Best Neighbourhoods in '(XYZ town)'
You don't have to sleep in the wealthiest neighbourhoods, but, this simple google search can be helpful to ensure that you don't end up sleeping in the 'wrong side of town'
Step 2: Use google maps to locate a residential area with houses on one side, and a park or forest on the other side.
Step 3: Drive to said location and go to sleep
Backcountry/Wilderness Areas Process
For backcountry areas, depending how far we want to drive, we'll typically stay at free BC Rec sites or more frequently on an inactive pull off from a logging road. Google maps and Backroads Mapbooks can be helpful to scope out Rec sites or find a road/open area good for spending the night.
Best Places To Park Overnight and Sleep For Free
Residential Neighbourhoods
I'm not trying to save the best for last. I want to begin with the best so you can spend less time reading and more time sleeping. Residential neighbourhoods are hands down the best option when spending a night in a new town. They are the quietest and safest location to park. Look for a road with houses on one side, and a park or forest on the other side (this works great for privacy if you need a late night bathroom). Typically there are other vehicles parked on the street so you won't look like a sitting duck and homeowners won't pay much attention to you. Residential neighbourhoods tend to be pretty quiet at night minus the odd car or dog walker out for an early morning stroll.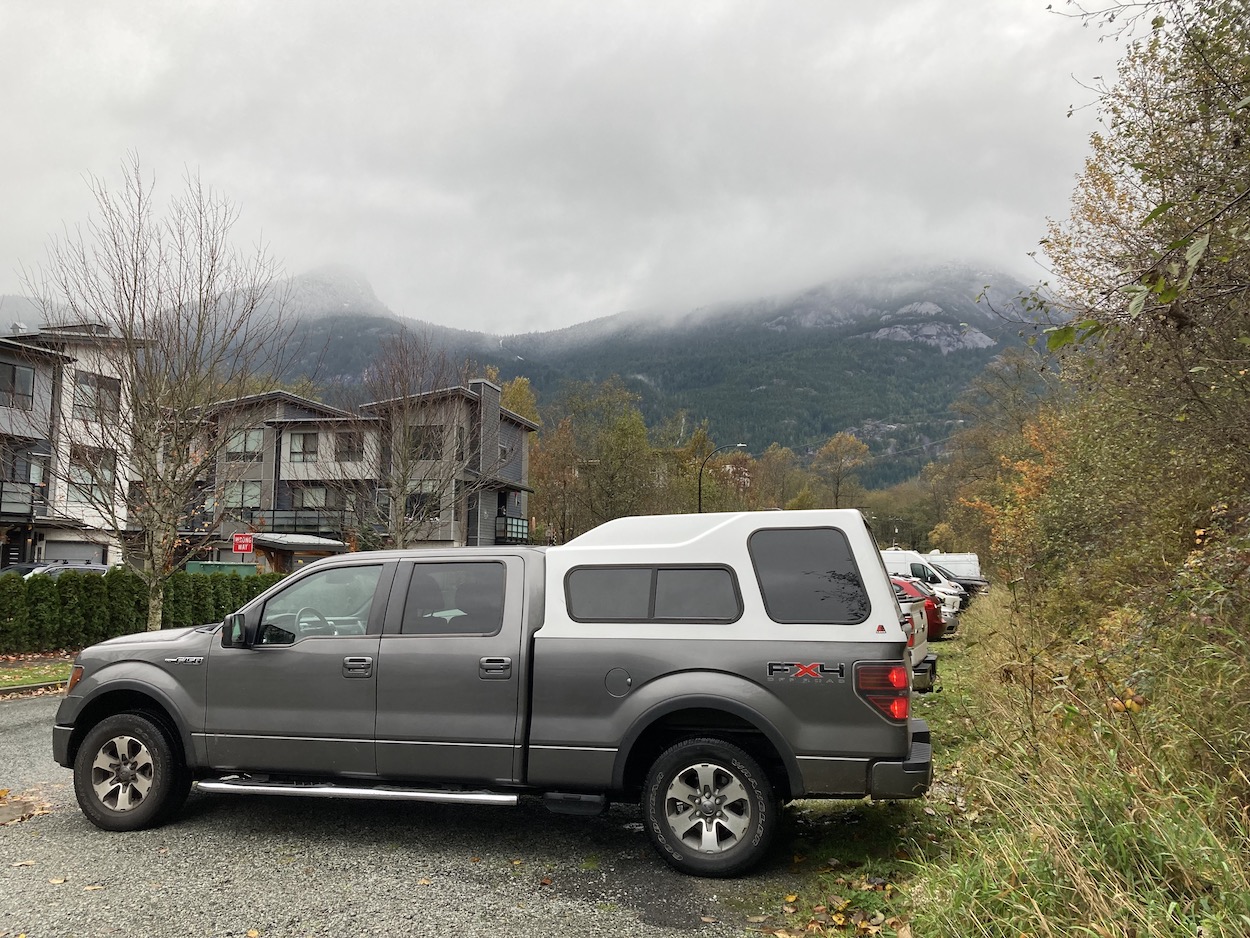 Information Centre Parking Lots
Info Centres are usually very quiet and in most towns will not have 'no parking' signs. They typically are only open during working hours so even if there is a sign that says no overnight parking, it's highly likely that nobody will check before the hours of 8am. Since info centres are usually near major roadways there may be a bit of distant vehicle noise, but don't worry, the sound of cars will soon put you to sleep.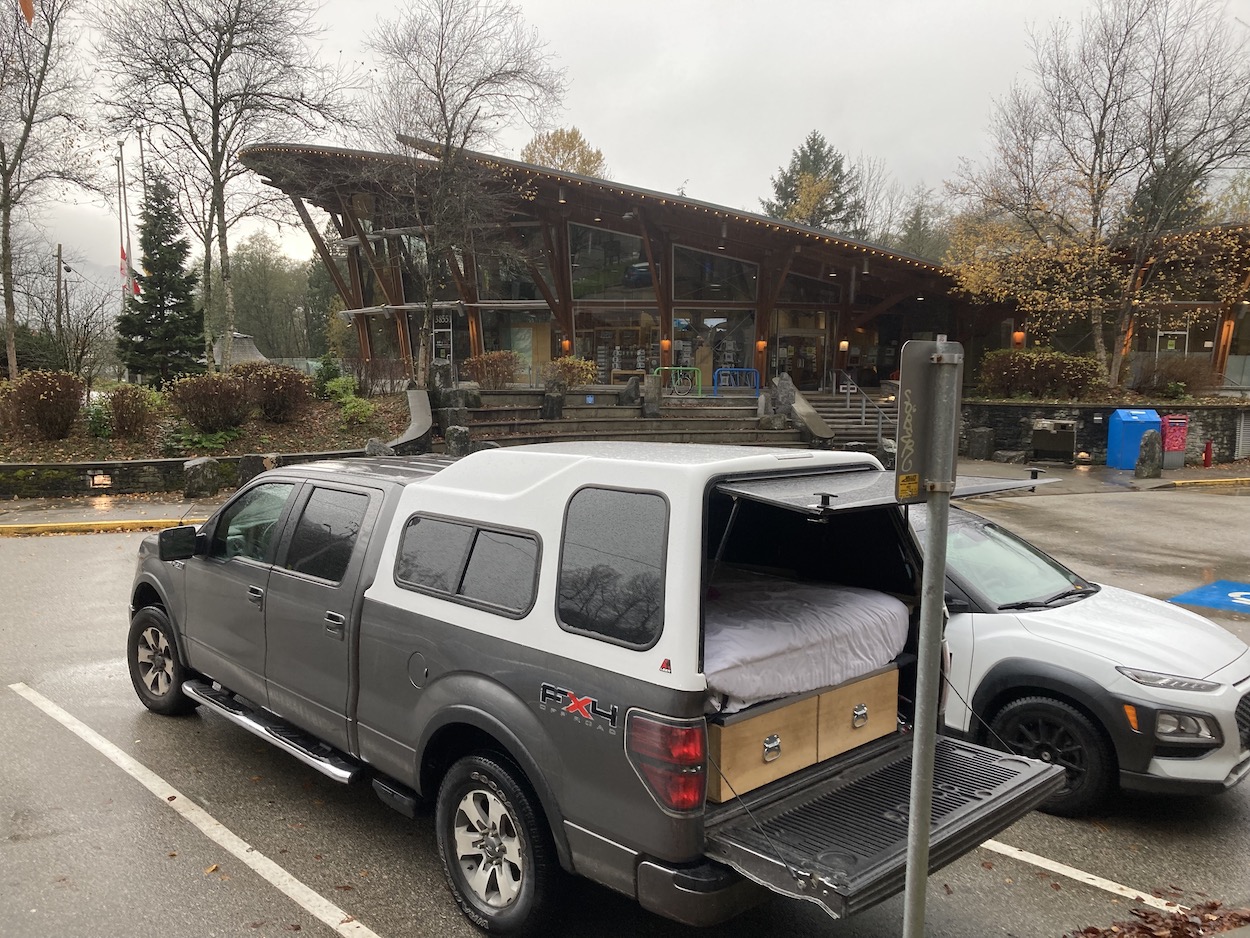 Trailheads
Trailheads are another one of our favourites. We always slept in trailhead parking lots the nights before embarking on hiking adventures. Trailheads are a great spot to sleep because there will be other uninhabited cars there overnight, you'll have easy access to a pit toilet, and you can hop right into your hiking boots and get going before anyone else shows up in the morning. Trailhead parking lots usually don't allow 'camping' but overnight parking is allowed, so if you don't set up a tent in the parking lot, no one will bother you.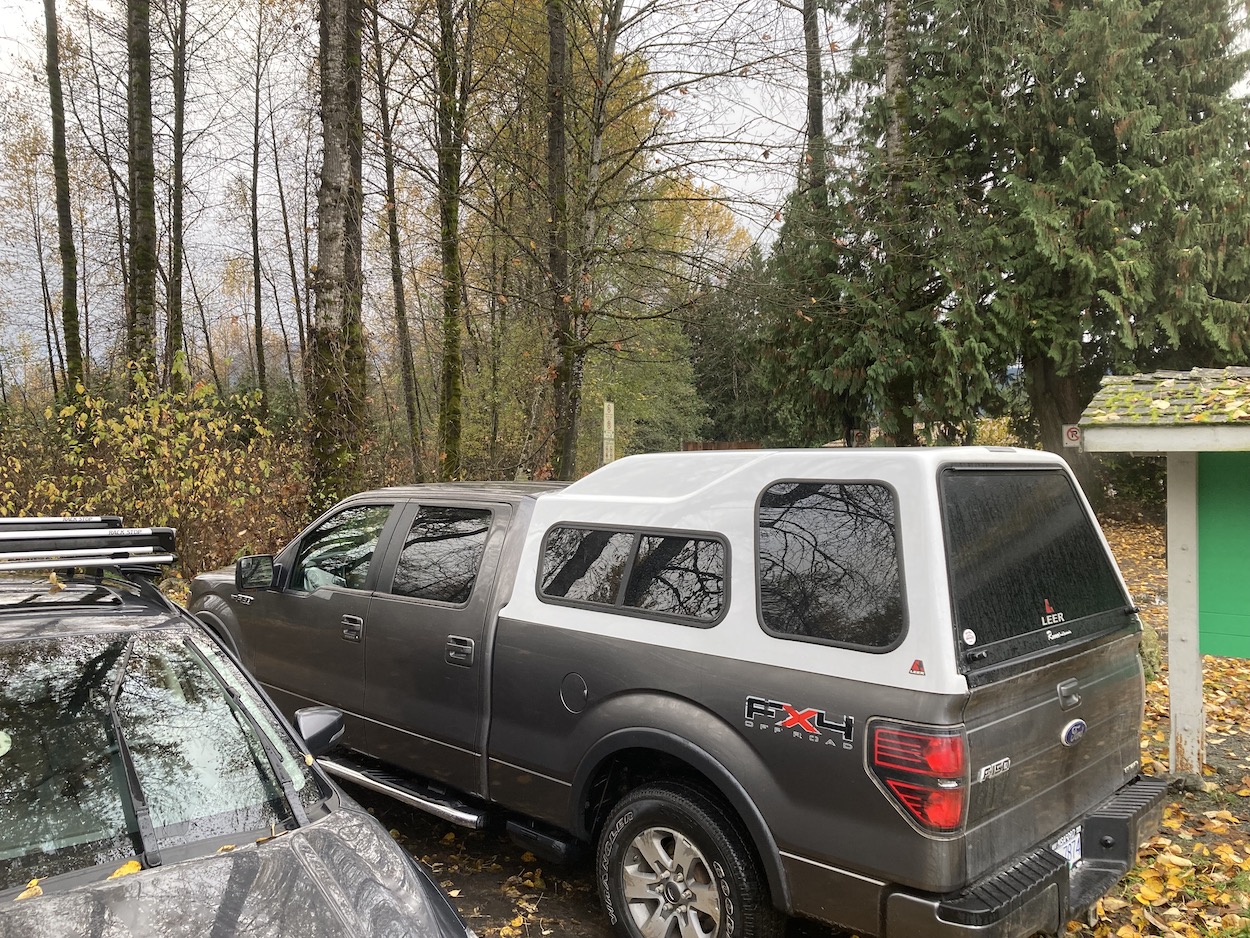 Free Rec Sites
 Free Rec sites exist all over British Columbia, Alberta and the Yukon. A search on the park authorities website or using a handy backroads map book can help you find one. These spots are typically off the beaten path and are usually user maintained. They are free for all and first come first serve. There are picnic benches and fire rings in most sites and usually a shared pit toilet. The Rec Sites & Trails BC Interactive map is a super helpful tool for finding free camping zones near you.
Logging Roads and Backcountry Camping
Adventure up a logging road and find a secluded spot on or near a decommissioned road to camp the night. Doing a little bit of backroads driving is usually how you can find those legendary sleeping/camping areas around.  Rinse and repeat as many times as necessary.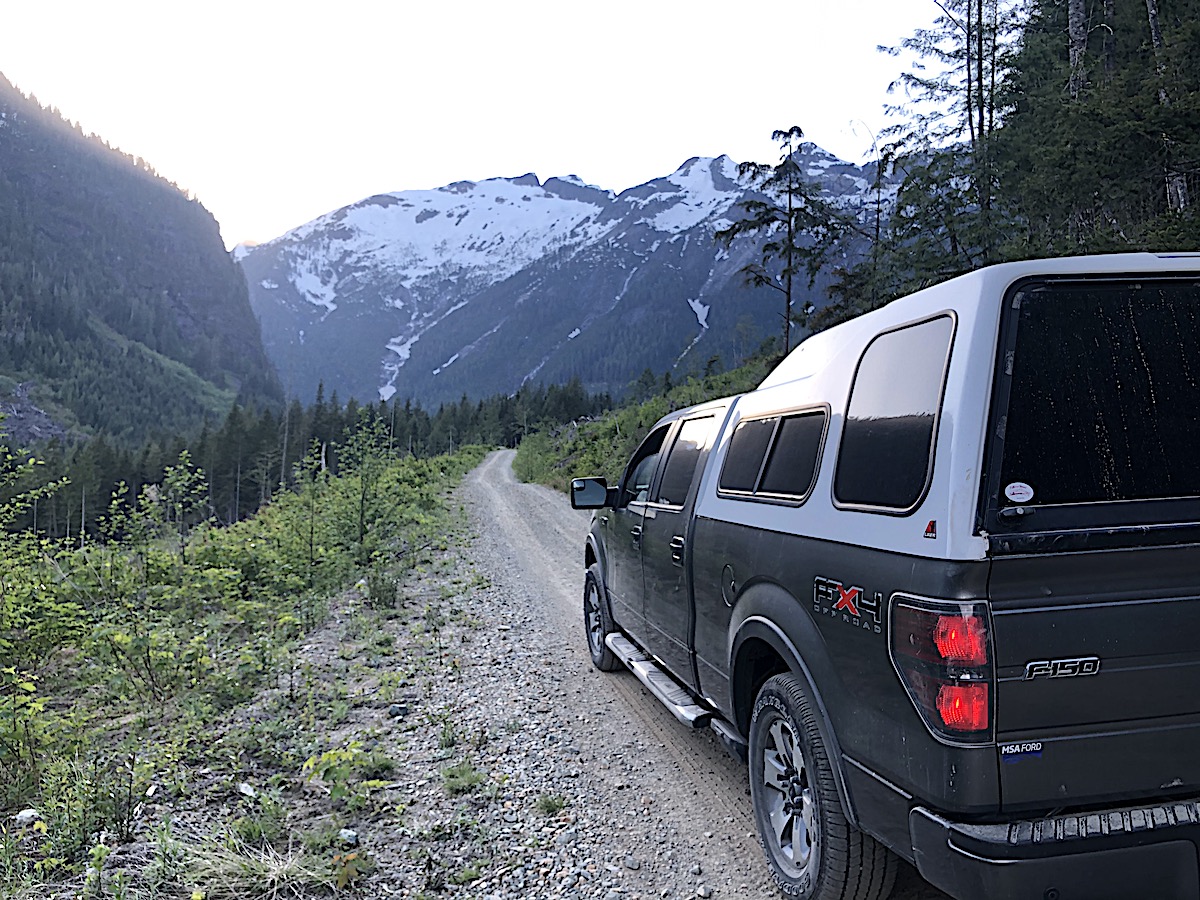 Retail Parking Lots (Walmart)
Walmart Parking lots are a classic among vehicle dwellers. They offer some creature comforts such as a bathroom and convenient access to food, water and other necessities. There is lots of noise and light pollution, so you probably won't have the most restful sleep. However, Walmart parking lots feel safe because of 'power in numbers'. You can expect plenty of other travellers to be shacking up in the parking lot alongside you for the night. Even if a Walmart Parking lot says no overnight camping, people will be doing it anyway and there is no penalty. I've seen people park huge 5th wheels in Walmart lots for days and I've even seen truck top tents pitched. You can go inside and ask the staff if they stop/fine people and they'll confirm that they don't.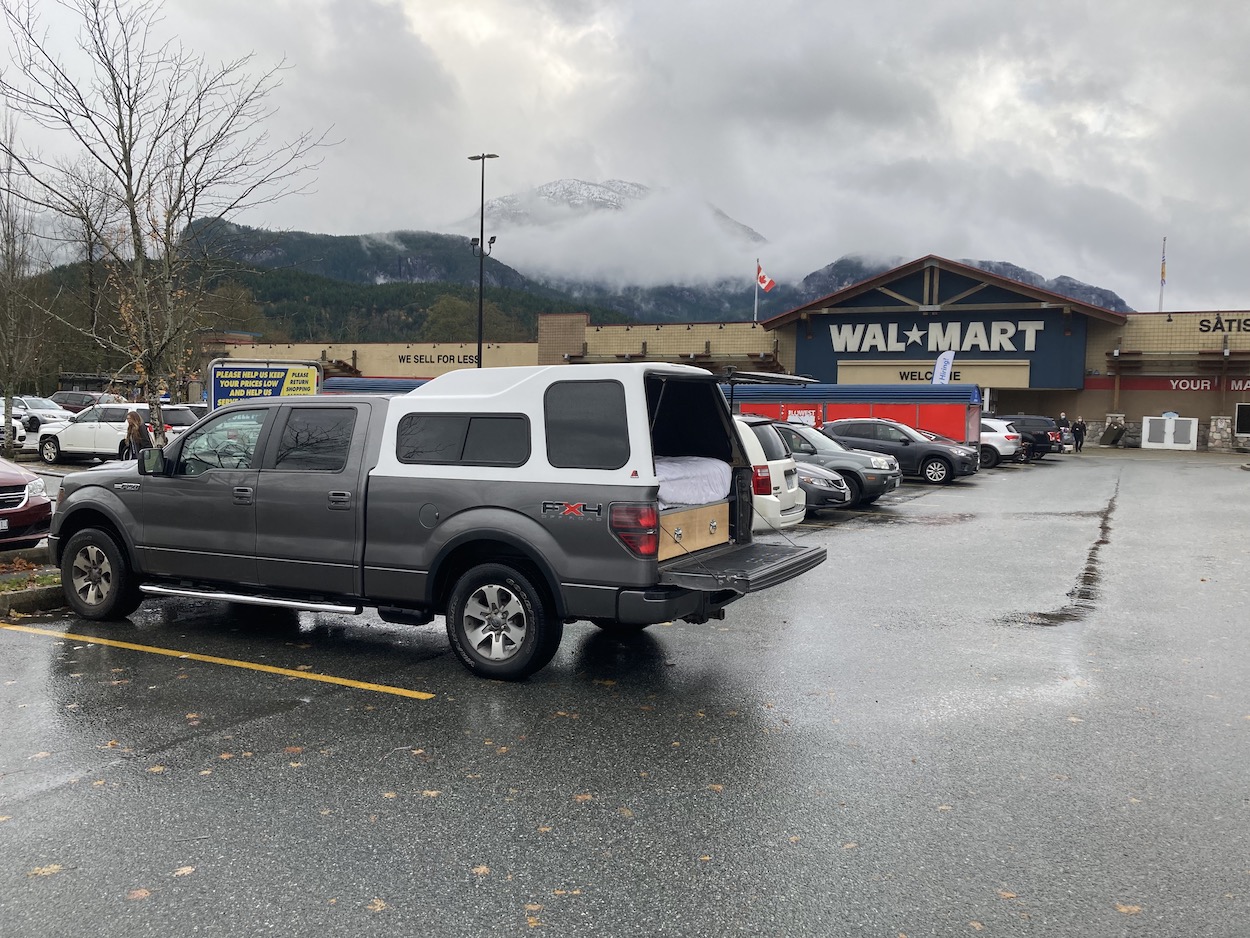 Casino's
This one is a bit random but can be helpful If you are an individual who hates doing your business in the forest and for whatever reason needs a high quality toilet in the middle of the night. A Casino can provide you with unlimited washroom access. You can park in a Casino parking lot 24 hours as they are happy to lure you in however possible. Just make sure you don't lose too much money on the blackjack table every time you go to take a wee.
Street Parking
If there are no signs indicating a parking time limit, then street parking is a go. Cities typically do not permit sleeping in vehicles overnight, but, unless you're spending weeks in the same parking spot then you will not run into any issues. Expect a disturbed sleep because of the increased noise and light pollution on the side of a city street.
Rest Stops
Rest Stops exist so drivers can pull over and have a 'rest'. Even if a sign says 'no overnight camping' it is absolutely fine to sleep overnight in a vehicle, that's what they are there for. I guess cities don't want people setting up tents beside the washrooms. Rest stops do not always feel that safe due to the constant influx of people at all hours of the night. Noise from the highway can bother your sleep and the noise and headlights from semi-trucks stopping by for a break can be annoying as well. Rest stops are a great last resort when travelling but I would not recommend them as your primary sleeping zone.
Apartment Complex/Condo Parking Lots
Some older apartment complex's and parking lots are the perfect spot to stay for the night. They do not have washrooms, but feel quite safe around all of the other vehicles. You won't have too much noise until the morning and it's unlikely anyone will bother you.
Additional Considerations
Always remember to look for parking spots that are flat. Parking on an angle always results in awkward sleeps and blood rushing to the extremities of your body.
While sleeping always know where your keys, phone, pants, and a flashlight are in case you have to move in the night
Switch It up! You don't want to spend to many nights in the same spot, people may begin to recognize that you are sleeping in your vehicle
Keep a window cracked for airflow and to reduce condensation
Make sure you parking spot is well off the road, and not near any busy turns or intersections where someone could hit your vehicle in the night