What Is a Truck Canopy, Camper Shell, Cap or Topper
A truck cap (aka canopy, truck topper, bed cap, box cap, camper shell) is a pickup truck accessory that covers the tailgate of a pickup truck. You probably see truck toppers every single day on the road of all shapes, sizes and colors. Truck caps were initially designed for camping purposes but have become increasingly more popular for day to day use thanks to their cargo carrying and locking capabilities.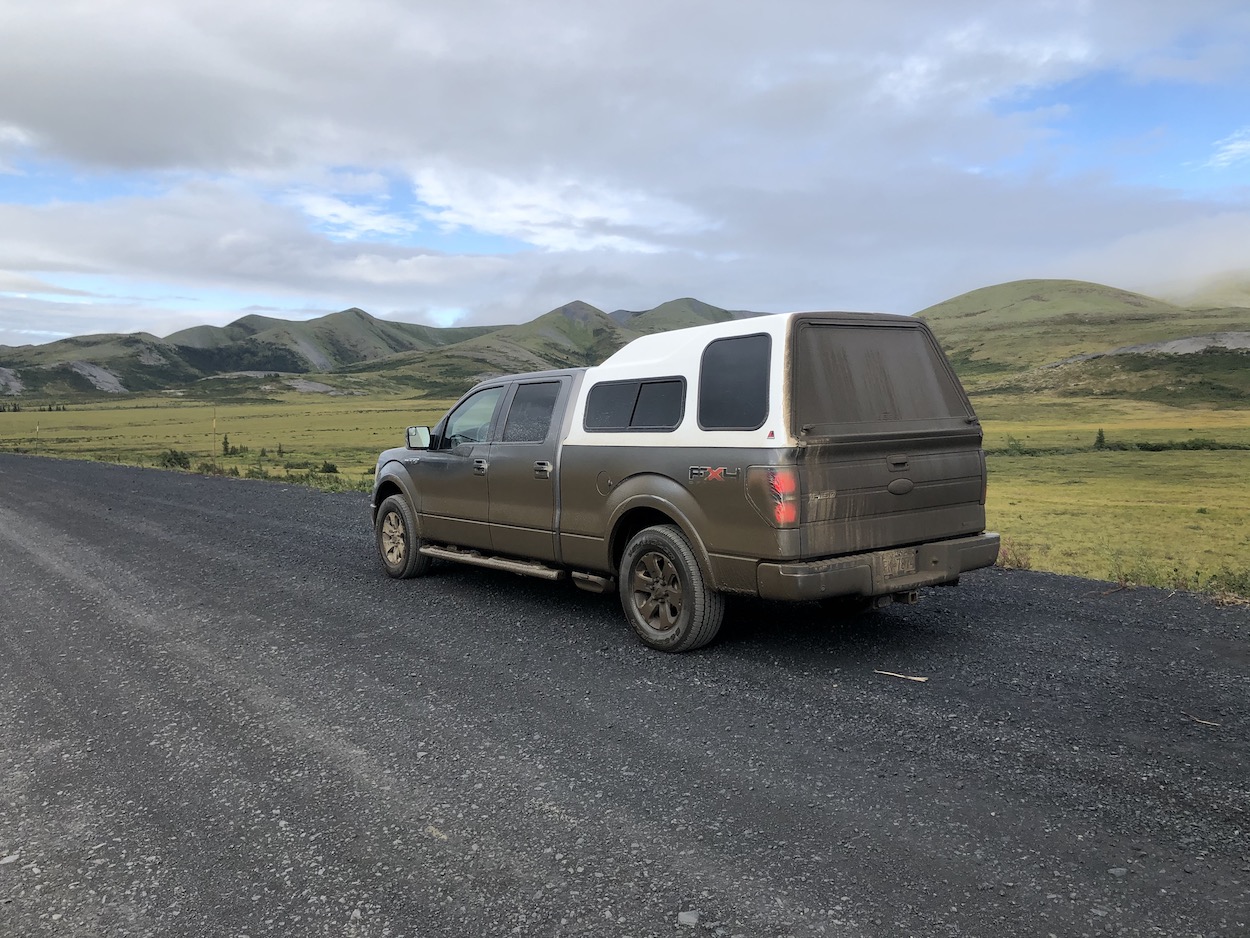 Why You Should Get A Truck Cap/Canopy in the First Place?
Equipping your pickup truck with a canopy is one of the best decisions you can ever make. It turns your classic truck bed into the ultimate utility vehicle. A canopy allows you to protect your cargo from the elements, keeps items locked away from theft, eliminates the need to strap things down and increases your overall carrying capacity.
The convenience of storage is just the beginning. The #1 and most AMAZING function of a truck cap is truly it's ability to become the  MOST COMFORTABLE STEALTH CAMPING SETUP OF ALL TIME!
I absolutely love my LEER 122 High Rise canopy and the truck bed camping setup I've created beneath it. I've lived in the back of my pickup for up to 4 months straight and rarely find a weekend where I'm not tucked beneath the stars and locked into the back of the truck cap.
Having a simple truck cap camper gives you the ultimate freedom to sleep wherever & whenever without the hassle and upkeep of a trailer, RV or sprinter van. It's also dead easy to remove your whole camping setup and use your bare truck bed for cargo at the snap of a finger.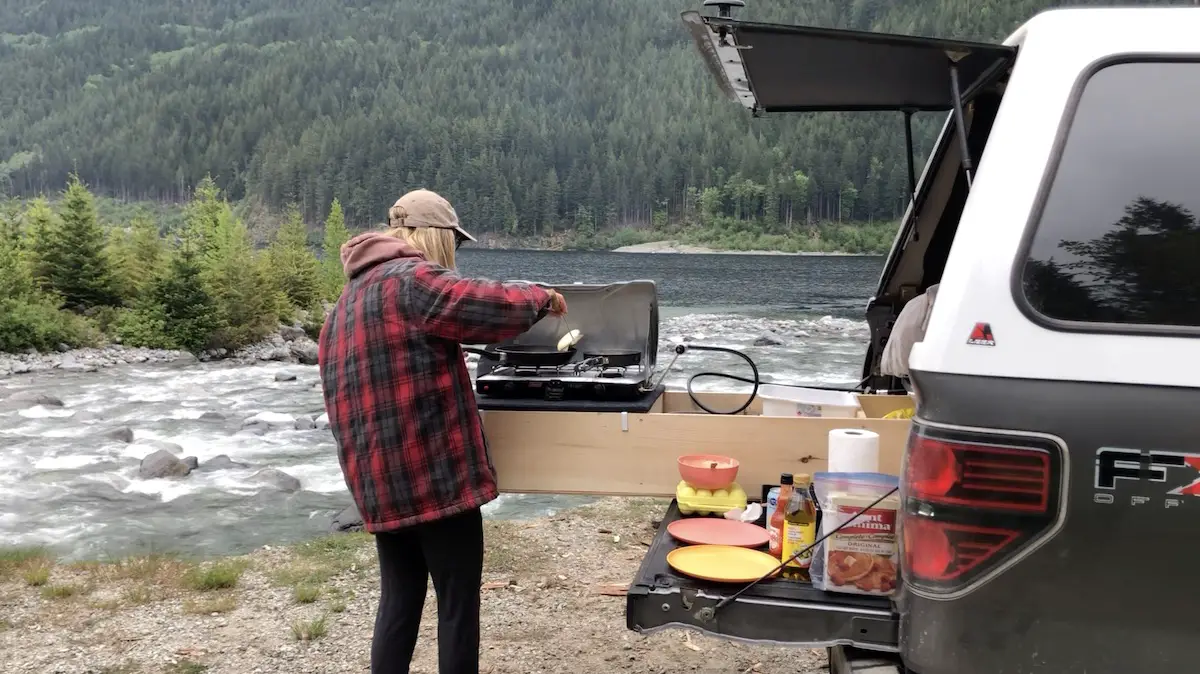 Types Of Truck Caps?
Commercial Truck Caps
Commercial truck caps are typically aluminum, have no windows and often include locking toolboxes, shelves and doors. They are designed rugged for the toughest of jobs. Commercial truck caps can handle a beating thanks to thick aluminum walls. Some cap designs like a space cap allow you to stand in them while others are just as high as your truck cab.
Commercial truck caps are the most expensive option and should only be purchased new if your career requires it. They typically do not have windows and have shelving units on the inside which would greatly reduce your sleeping quarters. If you find a super cheap commercial truck cap and have some creativity a bit of elbow grease could turn one of these gems into the coolest truck campers on the road. But, for the most of us, I'd recommend just keeping it simple with a normal recreational style canopy.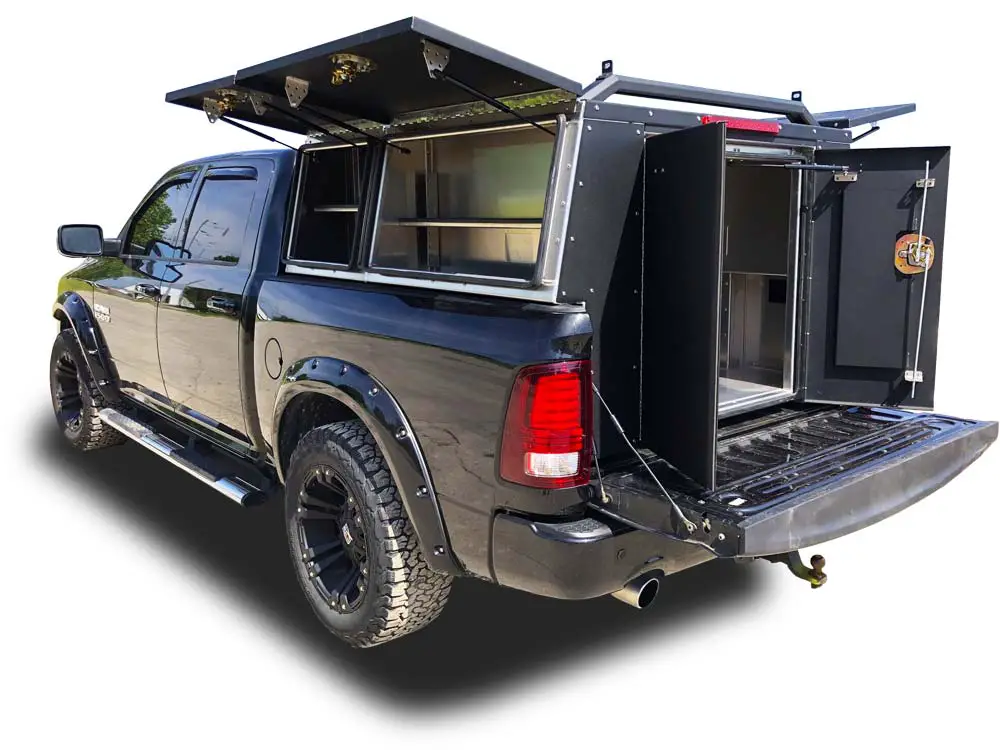 Fibreglass Truck Caps
Fibreglass truck caps are the BEST option for truck camping. They are the most customizable and come in a variety of colors and height options. Fibreglass is heavier than aluminum, but makes up for it by being MORE DURABLE and having inherent insulating properties. These caps have a high dynamic load so carrying heavy cargo on the roof is no problem. Fibreglass caps are molded to fit specific truck bed sizes so you can find a cap that fits your truck bed perfectly.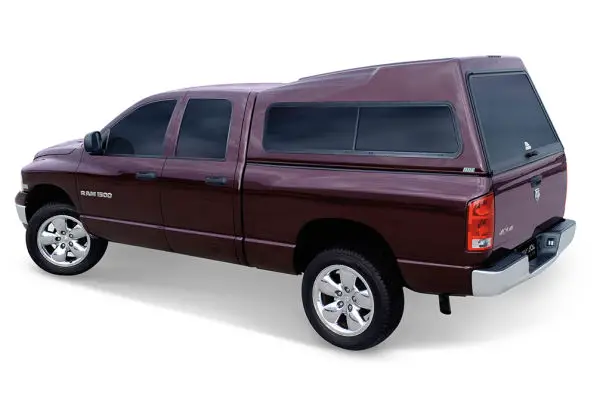 Aluminum Truck Caps
Recreational aluminum truck caps are cheaper than fibreglass. You can find them with thick or thin walls. If you are extremely weight conscious than an aluminum canopy with thin walls will be your best option. However, what you save in cost and weight, you will lose in durability and strength. Aluminum camper shells dent easily, don't have a high load rating and are super loud when sleeping in the rain. Aluminum caps typically don't come in too many color options and most manufactures don't even design recreational aluminum truck caps anymore.
Wooden Truck Caps
You're not going to find any basic retailer selling a wooden truck canopy. These bad boys are usually completely custom and often are the slickest looking campers on the road. I can't speak on how well they work because I'm sure its all in the hands of the craftsman. Great thing about building a canopy yourself is that you have the power to make it look however you like. Just make sure it doesn't leak. One thing is for certain (wood will be very heavy), so if you are concerned about weight, and don't want to spend many months crafting something yourself, just opt for a fibreglass one, it will probably end up being the cheaper of the options.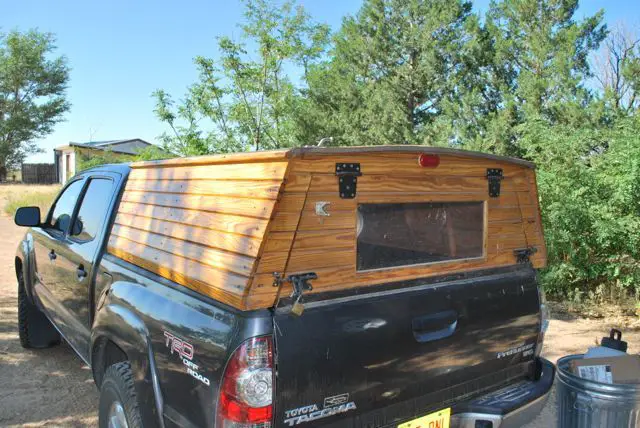 Canopy Size/Style
All manufacturers will differ but typically offer a regular height (cab-high) model and a high rise model for trucks. The typical sizes are as follows.
Regular or Cab-high
A 'Regular' or Cab High truck cap is the classic style, and likely the one you see most often on a day to day basis. It extends to exactly the cab height of your truck. It's a cleaner look and is most aerodynamic. It offers more carrying capacity than a tonneau cover, allows you to create a camper in the back and does not change the overall clearance of your vehicle. Regular sized caps work fine for a truck camping setup, but, you will have less storage, head room and overall comfort when hanging out in your tailgate. If your a tall guy like me and you hate bonking your head in the morning, opt for a high-rise model.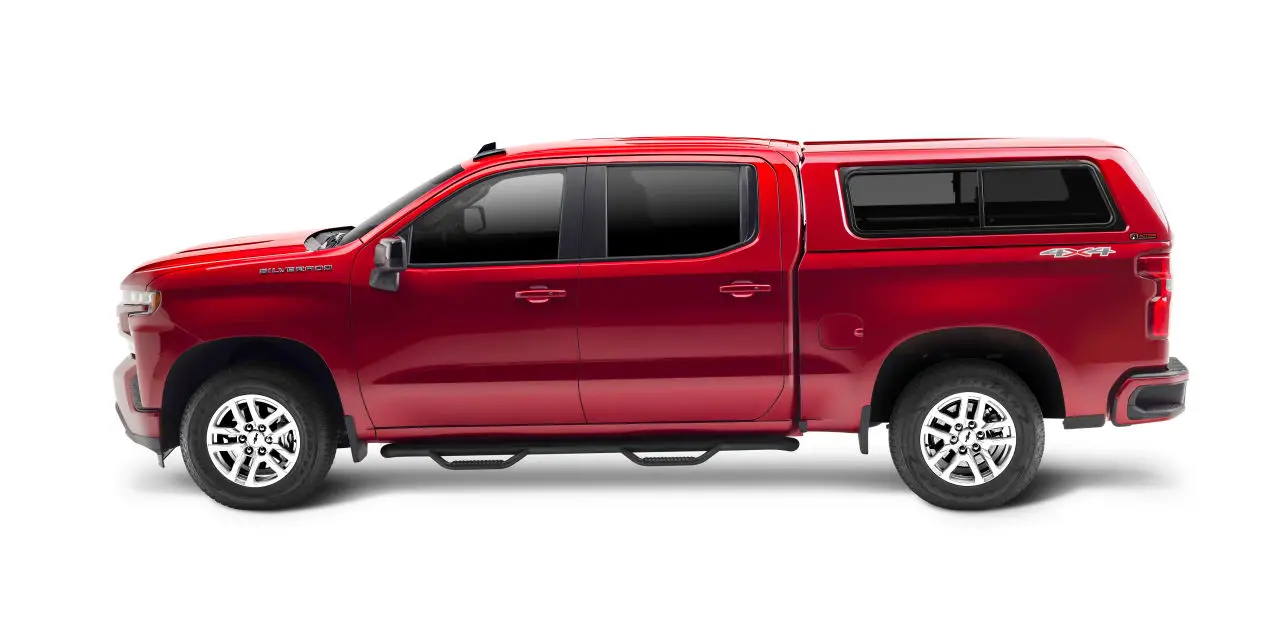 Mid/High Rise
A Mid/High canopy extends higher than the roof (cab) of your truck. I think they are the best for truck camping because they offer way more cargo capacity and headroom. They are slightly less aerodynamic but the overall effect on my gas mileage was negligible. Many truck owners think high rise canopy's look dorky…. I don't disagree. But for the extra storage and headroom, you really can't beat it!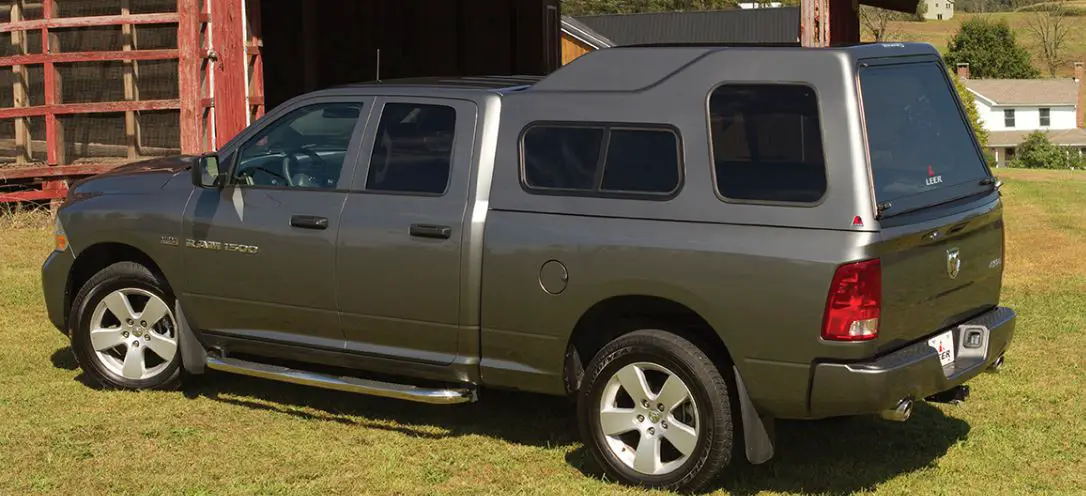 Optional Truck Cap/Canopy Features
Canopy features are no different than vehicle trims. You can opt for a base model canopy or choose something with all the bells and whistles. Here are the most common features to look for.
Headliner
The inside of most camper shells are bare bones and have no additional insulation, just the fibreglass it was designed with. You can upgrade your canopy with a carpet headliner.  They add some additional insulation and reduce condensation/moisture inside your truck. If you plan on doing a lot of winter camping the carpeted interior might be helpful and make things feel more cozy. Personally, I have had camped in the winter and summer with the stock fibreglass canopy and have no complaints.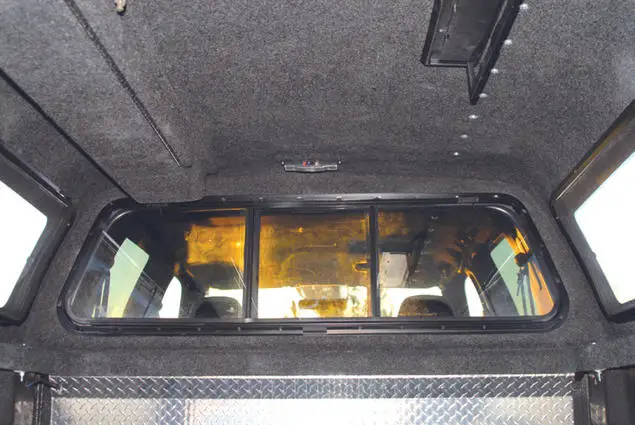 Windows
Windows are the most important feature on any canopy that is going to be used for truck cap camping. Most recreational canopy's have two sliding windows on the side and one on the rear. The only windows that are really necessary are the two sliding windows on the side so you can have some airflow while sleeping. Additional windows will add more natural light, but that means more blackout curtains to block light while you are sleeping.
Bug Screen
Bug screens are a must for canopy windows. Camping season is always buggy and there is nothing mosquitoes love more than feeding on you all night long inside your truck bed. Since you will have your window cracked open at night, you want to make sure there is a screen covering it so you don't allow free passage for insects into your sleeping quarters.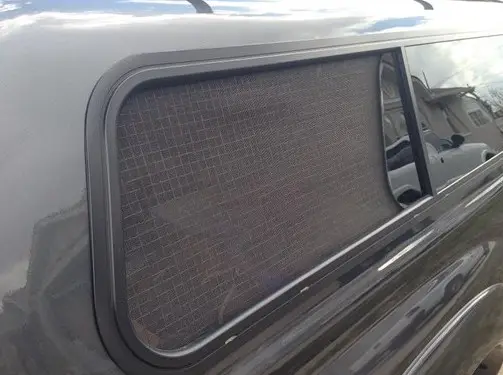 Roof Rack compatibility
Many canopies have roof rack rails so you can attach racks or carriers go the top of your setup. If you need to carry boats, kayaks, or need extra cargo space a roof rack is a fantastic option.
Lock
Make sure you find a canopy that locks up. Most of us campers carry around a lot of expensive gear and If you're away from your vehicle you don't want to allow the local thief to easily access your bedroom.
Lights
You can include a wide assortment of LED lights which will typically be installed in the roof so you can see inside your camper better.
The Three Most Important Features Every Truck Camper Canopy Needs
If you are planning on camping in your canopy the three most important things you need are sliding side windows (so you can have some airflow), bug screens over these windows and locks. Everything else is just GRAVY.
Buying A Truck Cap New Or Used?
If money isn't a concern, then why not treat yourself, go BIG and get a fully decked out canopy. Having a carpeted and insulated interior, roof rack, matching color and meshed windows all sounds FANTASTIC.
However, at the end of the day you are just camping in the back of the thing and it's not the Ritz Carleton. I'm 100% satisfied with the used LEER 122 high rise canopy I bought for $1000.
As long as the used canopy has the features you are looking for (mainly sliding windows) you can put screens on yourself and attach a roof rack if you feel like it. The most important thing to check on a canopy is that there isn't any damage and that it is the right fit for your truck. An ill- fitting canopy can cause leaks and other issues.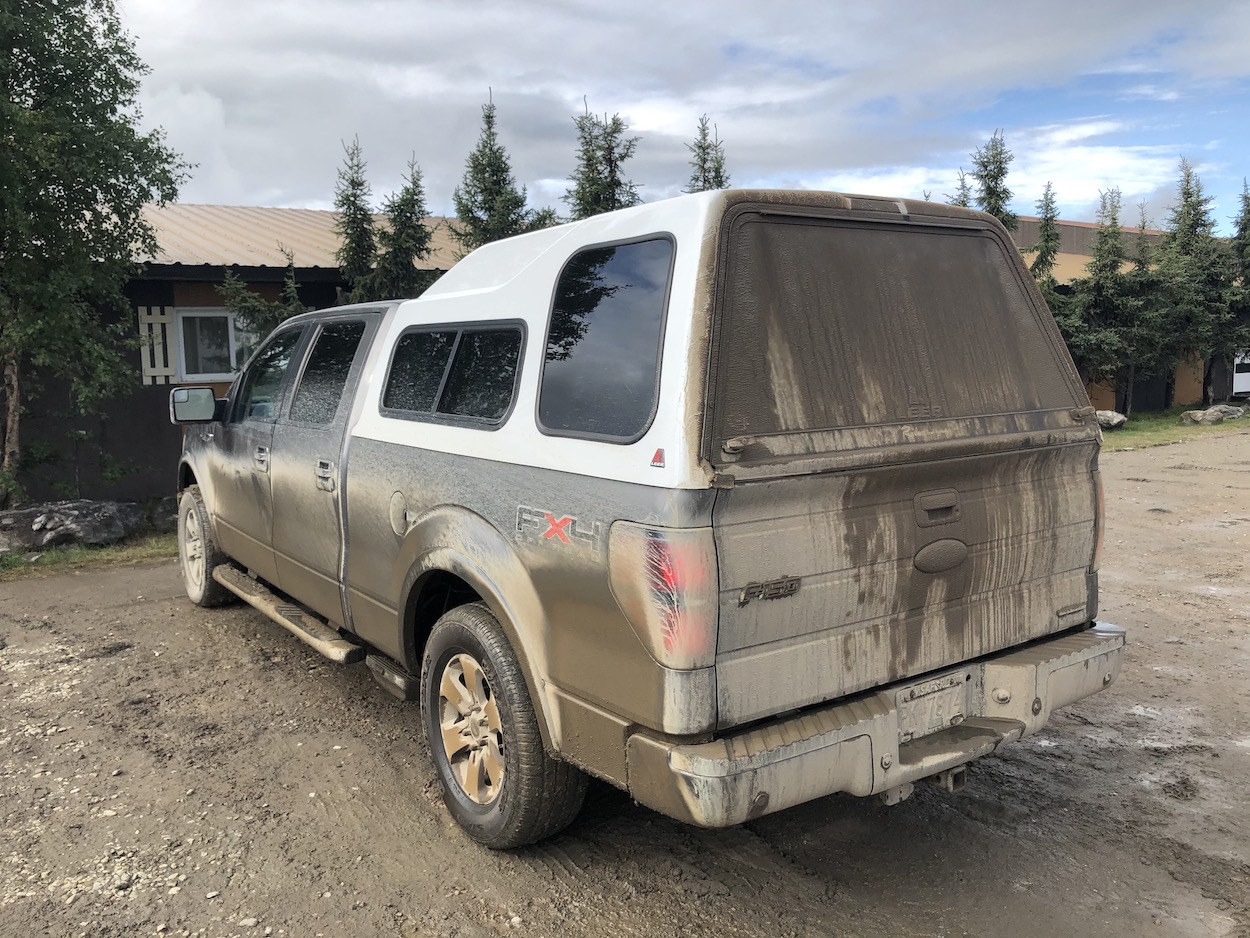 Choose The Right Size Cap For Your Model of Truck
Truck caps come in thousands of shapes and sizes to accommodate for every type of pickup truck bed design and length. You need to ensure that you check the manufacturer details of each truck cap design and determine if it is compatible with your truck bed design and length. If you decide to use a cap that isn't met to fit on your tailgate you are going to have a whole host of leaking and fit issues with your canopy.
The Best Truck Cap Manufacturers
There are loads of different truck cap manufacturers to choose from.  The most well known and trusted companies are Leer,  A.R.E, Century, Snugtop and Unicover. There are also companies like SmartCap which are taking canopies to the next level with their customizable piece by piece truck cap camping designs.
How Much Do They Cost?
This one totally depends on the brand, age and type. For most fibreglass canopies for truck camping a new base model regular height cap is about $1500. A high rise cap with insulation and all the bells and whistles can be well over $3500.
Personally, I'd recommend buying USED so you can see if you like using a canopy and truck camping in the first place. This also will give you a better idea of the type of new canopy and the things you would include if you did purchase a future one.
Are Truck Toppers Easy To Take On And Off?
Although they aren't wildly heavy, they are awkwardly weighted. If you have 4 people putting a cap on and off isn't too much trouble. However, if you are trying to do it with 2 people it is going to deem much more difficult. I always use a jack to lift it up if I'm working by myself.
Overall, if you are going to put a canopy on, you probably won't want to take it off unless there is an absolute need.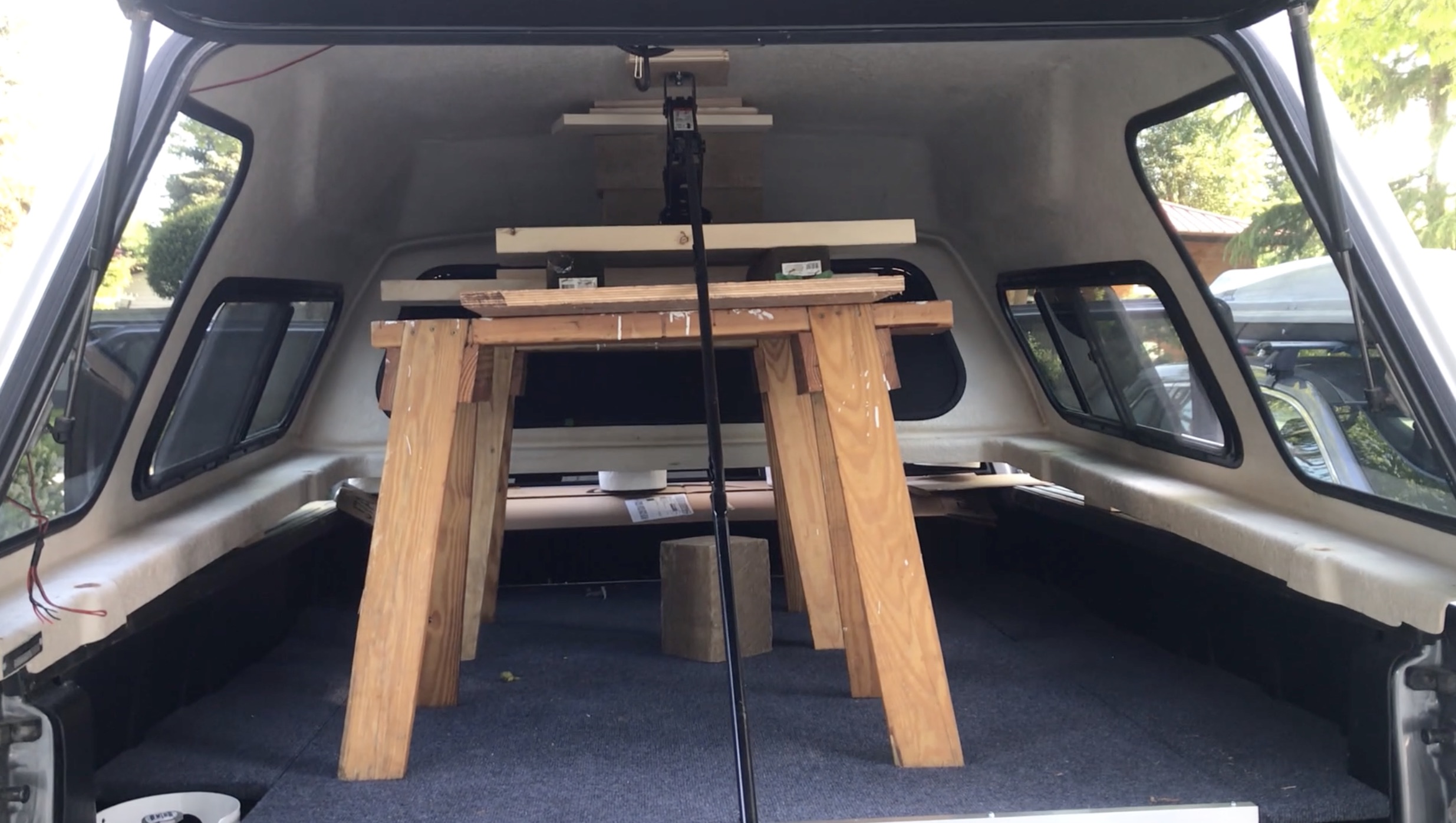 Go Buy A Truck Camp and Get Building! 
Now you are equipped with all the information you need to purchase a truck cap so you can get out there and enjoy the outdoors in comfort.
Happy Camping!!!