So you're trying to build the picture perfect truck camping setup to inhabit as your weekend, part- time or full-time dwelling.
AWESOME!
Truck bed camping is the ultimate combination of utility, comfort and discreetness while living or travelling on the road.
Picking the right style mattress is of the utmost importance in the planning & design process of your truck bed sleeping setup. The mattress type you choose will depend greatly on your truck bed layout, style of travel and how important a comfortable sleep is to you.
In this article I will review the pros and cons of the most common mattress types so I can help you decide which is best for you and your truck bed camper.
Full Mattress
A mattress is what most of us have at home. It's a thick, comfortable, resilient and designed to be used as a bed.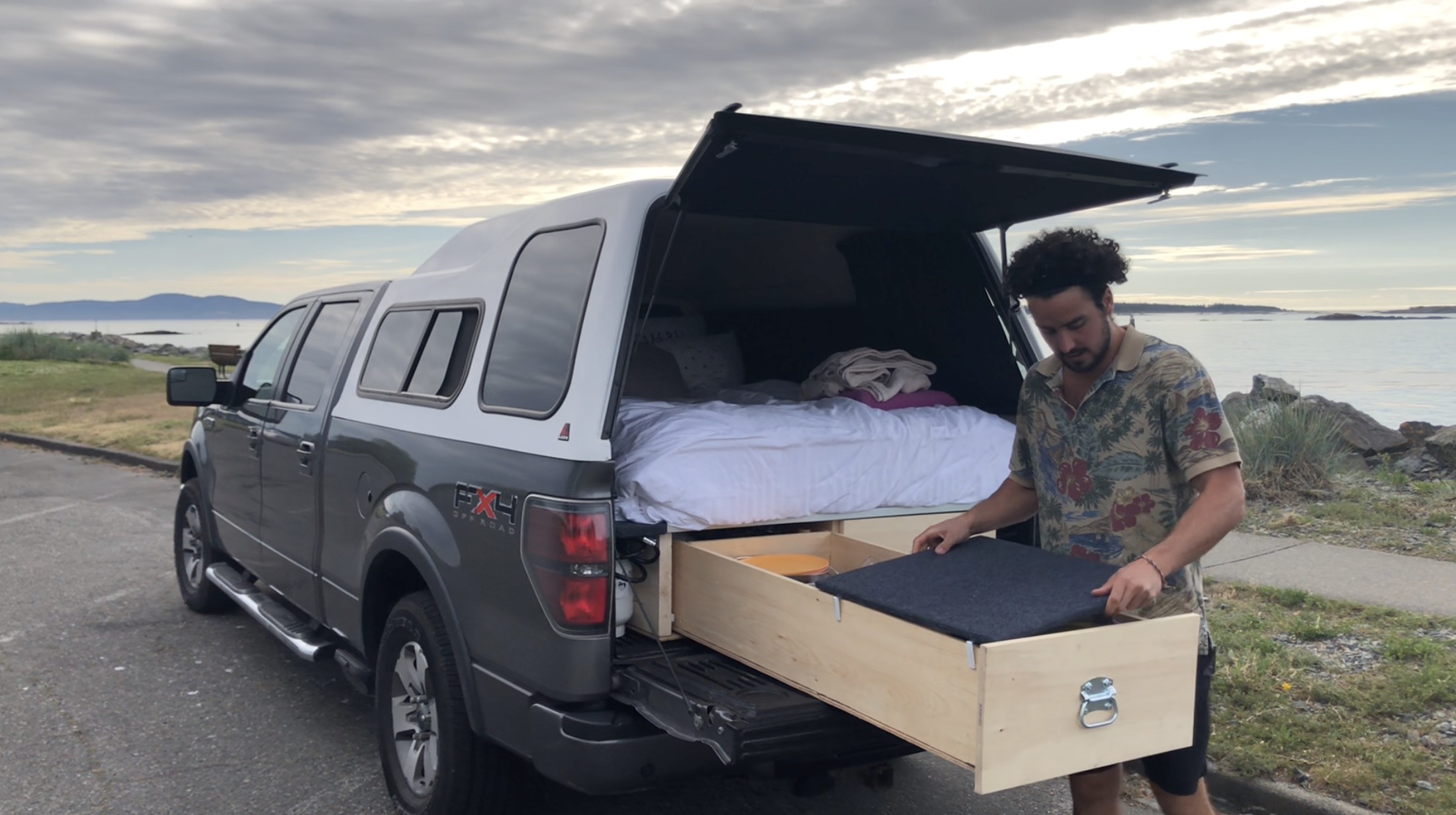 Pros
Ultimate Comfort
A mattress is the ultimate in sleeping comfort. If you're living full time in your truck, like I do in the summer, having a full mattress guarantees that you'll feel refreshed, limber and ready to take on the day's adventure every single morning. Having a full mattress in the back of my pickup truck truly makes it feel like home and honestly, I sleep way better in my truck than in a house or apartment.
Use Regular Bedding
In the summer I don't use a sleeping bag and dress my bed in regular everyday sheets and a comforter with pillows. I run extremely warm in the summer and hate feeling sweaty and imprisoned in a sleeping bag. Using a normal bedsheet is perfect for those warmer nights!
Great for 2 or More Sleepers
Full sized (Double) and queen mattresses can accommodate for more people more comfortably. If you increase the weight on skinny foam/mattress pad you may be able to feel the bed platform beneath. A thick mattress is also handy if your friend or partner jostles around a lot while they are sleeping.
Size Options
There are ample size options depending on your truck bed size as single, double and queen mattresses will fit into most full sized truck beds.
Insulation
This is only concerning in the fall and winter. But, believe it or not, your mattress actually provides a lot of the insulation when you sleep. Thanks to a traditional mattresses thickness, they provide loads of insulation for those chillier nights.
Cons
Cost
Buying a brand new full mattress can be quite expensive and for many it is not worth the price or risk of it becoming ruined. I was lucky and inherited an old mattress my parents wanted to throw out. Win-Win!
Too Bulky
When choosing a full mattress for your setup you are sacrificing a lot of head space, storage space and versatility in your truck cap. A double mattress fits just right in the centre of my truck bed platform and allows me to access my side compartments.
However, if you were to choose a queen mattress you would not be able to access the sides of your sleeping platform without moving the mattress itself.
Less Versatility
Lots of truck campers like to have the ability to turn their sleeping area into their living room. This can be accomplished by folding up a mattress or sliding it to the side. Personally, I don't like cooking inside the camper and spend most of my time outdoors or working in the front seat so sleeping was my primary focus when designing my setup. However, If you are wanting to cook, hangout or have a comfortable way to sit in the back of your pickup truck during downtime than a full mattress is not going to be the best option for you.
Medium Durability
Traditional mattresses are designed to be durable but not necessarily to handle temperature swings long-term. The life of a traditional mattress is shorter in a pickup truck than if it was used normally in your warm home.
Futon
Futons are a traditional style of bedding which much more pliable than your average mattress. This enables them to be folded or rolled with the duvet allowing for bedrooms to serve other purposes during the day. Multi-purpose bedding! That's what truck camping is all about.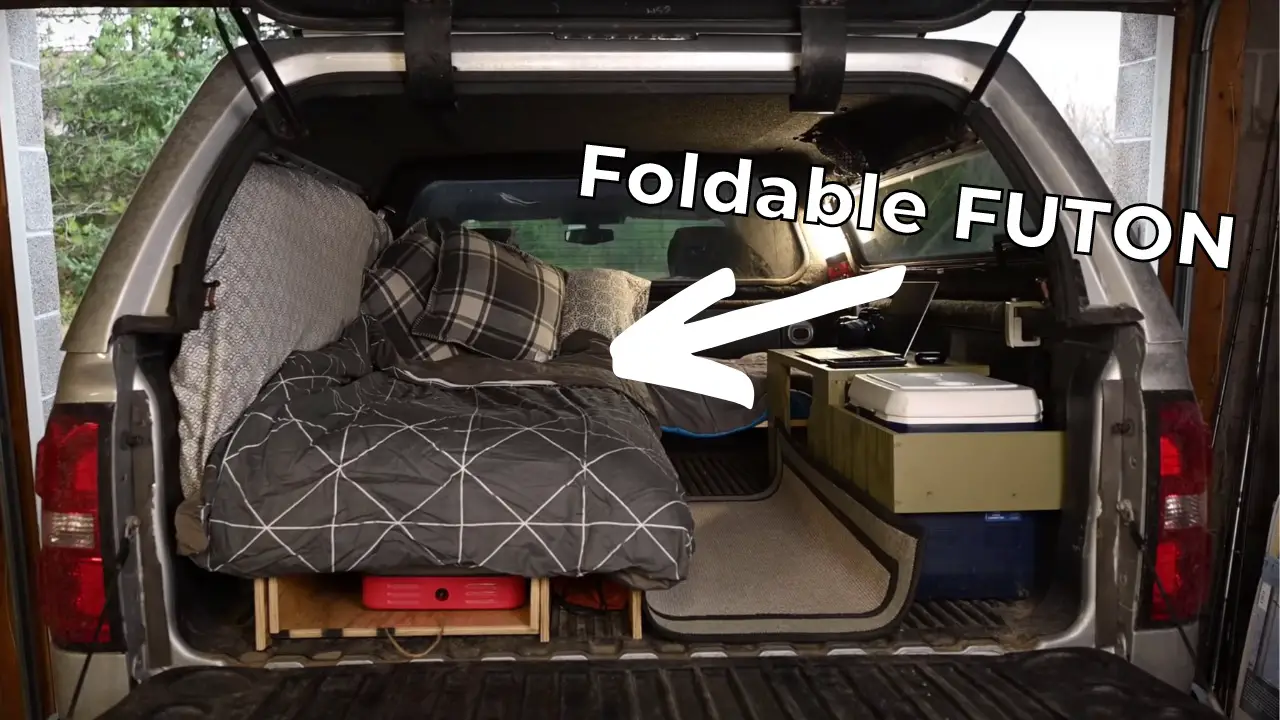 Pros
Versatile
Futons are extremely versatile making them perfect match for your truck bed setup. Some futons are meant to be rolled or folded in half vertically or horizontally. This versatility will allow you to design a living space in your truck that will allow you to work or chill comfortably.
More Variety in Size
Unlike traditional mattresses futons come in many shapes and sizes. All truck beds, especially mid-sized trucks are different, so futons are ideal for mid-sized or short bed trucks.
Head Space
Since a futon is typically thinner than a traditional mattress, you will have much more headspace in the back of your truck.
Cost
Futons are not as expensive as traditional mattresses. They are also pretty easy to find used which is a great bonus when keeping costs low.
Cons
Uncomfortable
What you gain in space and versatility you will lose in comfort. Some futons are more comfortable than others and sometimes it can be trial and error. Make sure you test out your futon and ensure that you don't feel too much of your wood bed platform beneath.
Too Much Variety
Futons are very popular and thousands of different styles and designs exist. Thanks to this wide spectrum of futon sizes, it will make the decision process a little more difficult for you. Also, if you design your sleeping platform around a very specific futon size and you have to replace it, the same size may not still be for sale when you look again.
Lacks Durability
A traditional Futon tends to lack the durability of foam or regular mattresses. All that folding and rolling will put strain on the mattress and overtime it will become more worn than the other options.
Foam
Foam is the most cost affordable and the best option for most weekend warrior truck campers!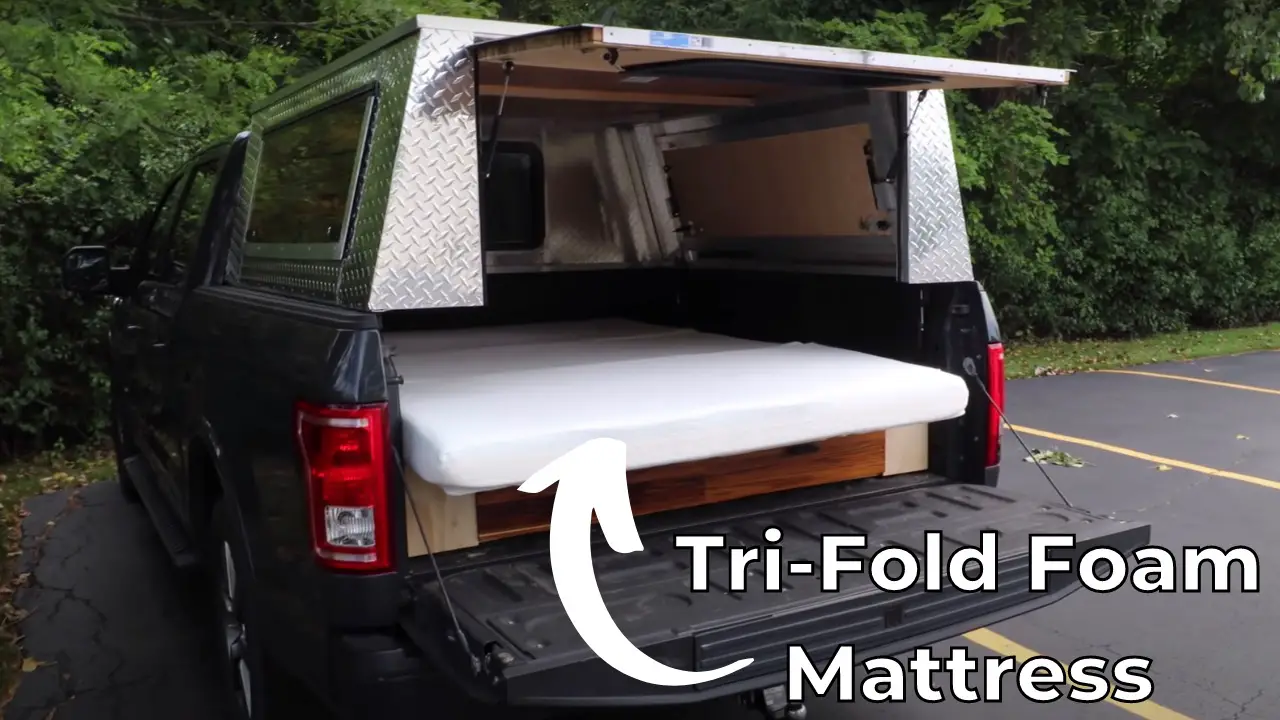 Pros
Ultimate Versatility
Foam mattresses come in all shapes and sizes and because they are cheap you can cut them up to create the perfect mattress shape for your space. Many higher end foam mattresses like the Milliard Tri Fold Mattress are foldable making them the perfect choice for the back of your truck.
Comfort
Foam mattresses can be comfortable and if you choose one that is thick enough (6+ inches) it will typically perform better than a futon but worse than a traditional mattress.
Durable
Foam is durable and can withstand moisture and temperature change better than memory foam or inflatable mattresses.
Cost
The best part about foam is that it is extremely affordable. The Milliard Tri Fold mattress gives you a high level of comfort for a reasonable cost without having to buy used.
Cons
Not Ideal For 2 Sleepers
Thinner foam cannot withstand as much weight as thicker mattresses and if two people are planning on sleeping in the truck you may bottom out the mattress leading to an uncomfortable sleep.
Beware of Memory Foam
Memory foam is awesome and a great addition to a foam mattress for extra comfort. However, memory foam is prone to softening in hotter temperatures and hardening in cold temperatures.
Inflatable
If you are putting all the time and effort into building a truck bed camper I wouldn't recommend going the air mattress route. The best part about having a sleeping setup in your vehicle is just popping into bed without the hassle of setting up. However, if you are in the limbo of finding the right long term mattress or you're just a weekend warrior, a classic inflatable sleeping pad can provide 'enough' comfort at a reasonable cost.
Classic Air Mattress
Classic air mattresses always get the job done. They usually require an inflation pump and a few minutes to refill every evening. I always tend to find that my mattress has deflated a bit by the time the morning rolls around, but hey, it's an air mattress.
Lightweight Self Inflating Pads
Hiking sleeping pads or self-inflating pads work much better than traditional air mattress options. They are super versatile and pack very small allowing you to have maximum space in your truck bad. Many self-inflating pads just require you to turn a dial before inflating and then topping them up slightly.
The REI self inflatable double dreamer mattresses is a simplistic and awesome option that offers great insulation and reasonable levels of comfort.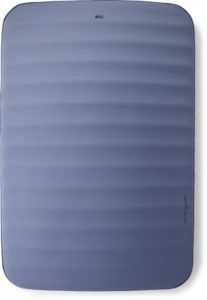 Hopefully you now have a better idea of the advantages and disadvantages of different mattresses for sleeping in you pickup truck bed.
At the end of the day, the BEST mattress for you in terms of function and comfort is going to vary depending on your needs and truck bed camper design.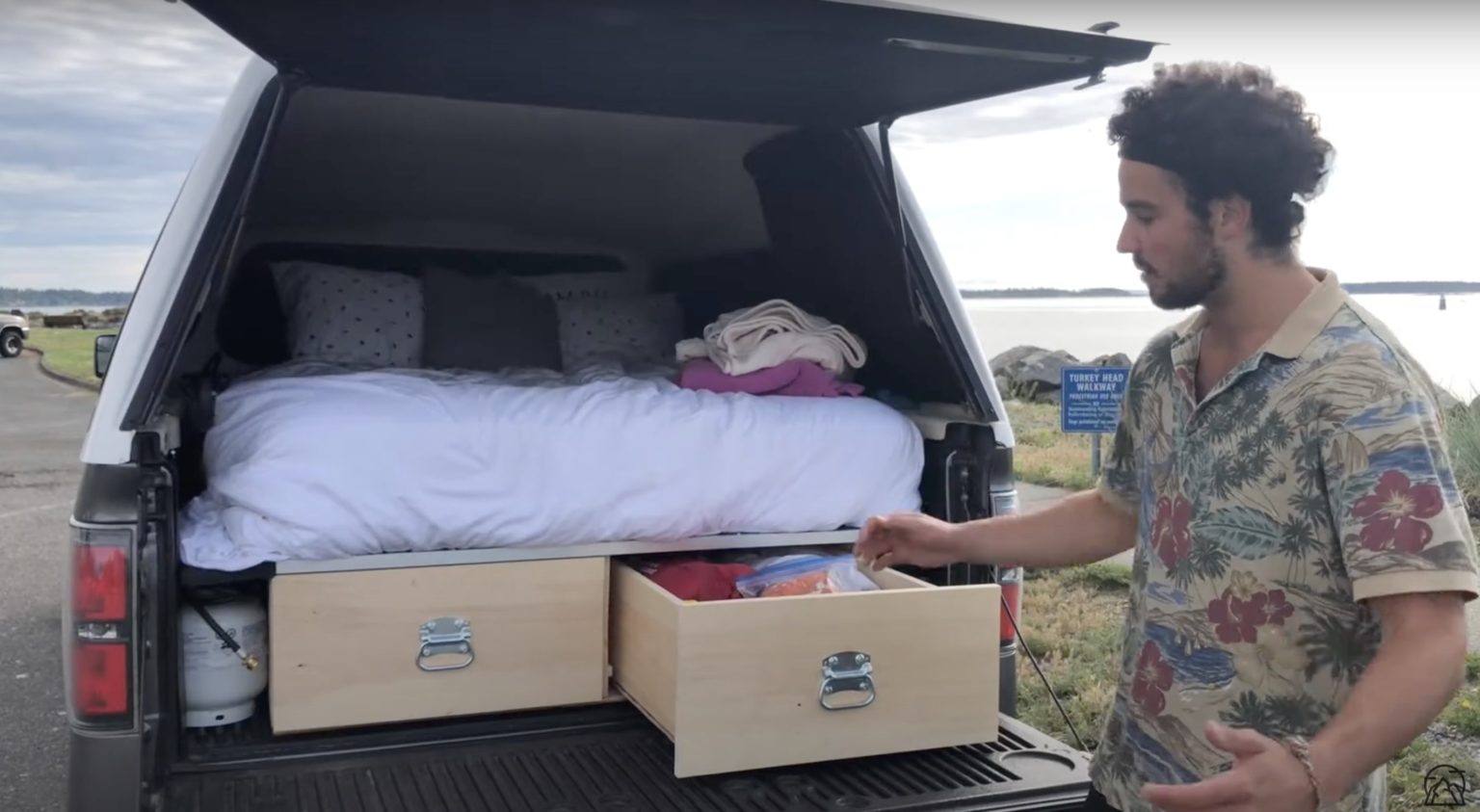 Remember to take your preferred mattress style into consideration when you begin designing your sleeping setup in the back of your pickup truck. If you want some inspiration check out HOW I BUILT MY TRUCK CAMPING SETUP. 
Have fun with the build & enjoy the adventure