Old School Vibes and Fresh Lines At Manning Park Resort
Manning park resort is a hidden gem in BC. It's an amazing destination in all four seasons. However, it easily tops my list as one of my favourite resorts in the winter.
It's got that small locals mountain feel with dry big mountain snow, you really can't beat it. Some of my best memories as a kid were bombing down blue streak in Manning park in nipple deep snow trying not to get stuck and waving to "Wayne" the legend bus driver as we passed him coming up the hill.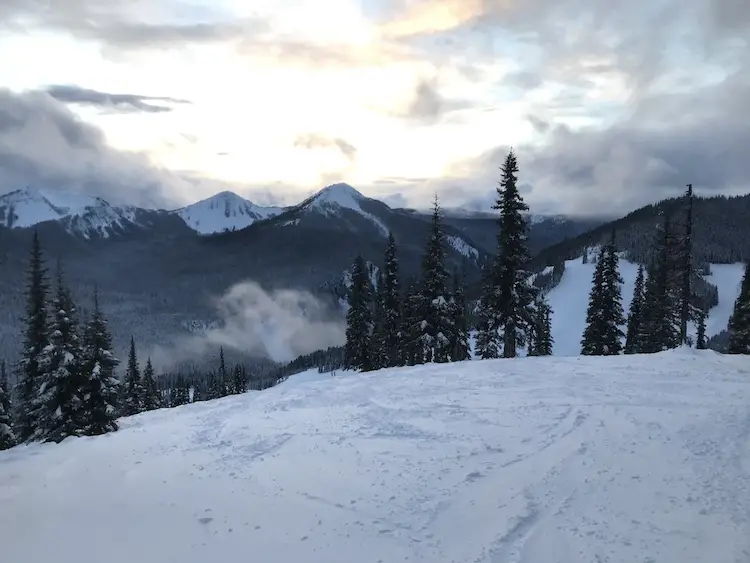 Alpine Skiing
Manning park hosts 2 main chairlifts and bunny hill with a t-bar and a poma lift. The two main chairs are the blue chair and the Bear chair (A new quad lift). Anyone who's visited Manning before last year will remember taking the 20 minute ride with one pal up the orange chair non stop barking about how good the powder lines were the runs prior.
The snow, atmosphere and lack of people is what makes this mountain so special. I've skied there for my entire life and not once remember standing in a line.
The terrain mix is perfect and will keep experts and beginners alike hungry for more. All runs down lead to the same chairlift that you were skiing so it's nearly impossible to get split up. You can ski powder filled trees and meet up with a pal ripping a groomer half way down. Although it's not wildly expansive I've spent years with a season pass at Manning and never got bored.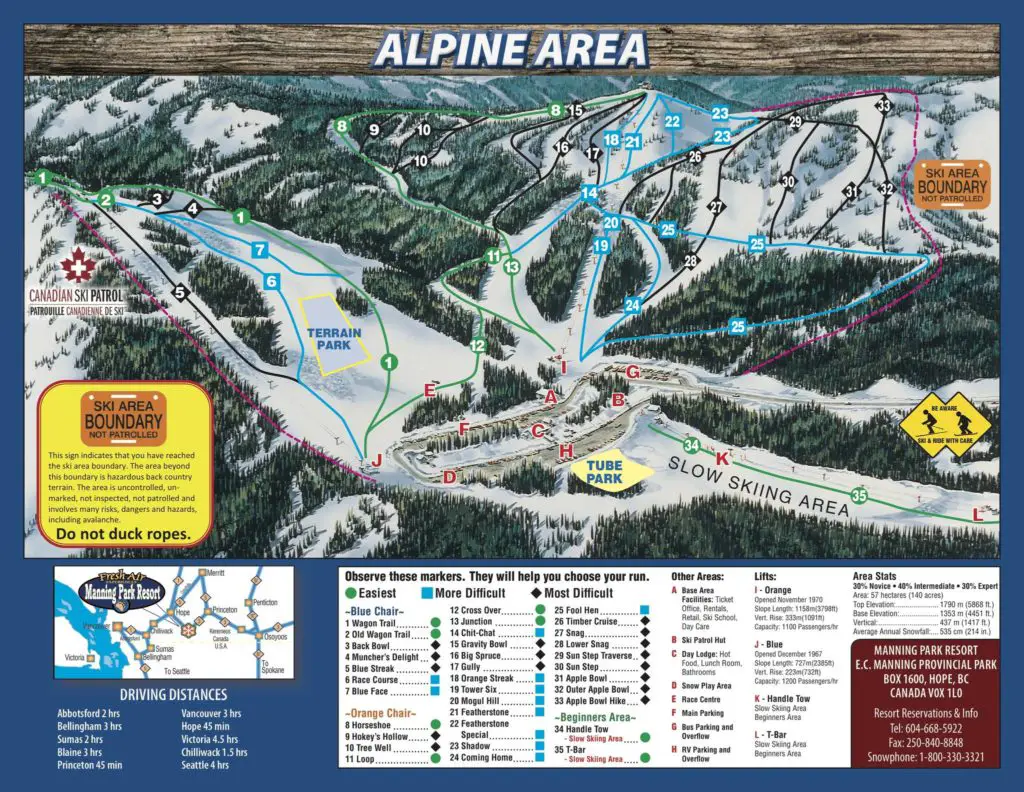 The Blue Chair
The blue chair isn't comfortable, it breaks down a lot, but it's close to my heart. My favorite run on this side of the mountain is the area between Back Bowl and Munchers delight. The snow is always great on Back Bowl due to the way it is situated to the sun.  On a powder day – heading under the chair to Blue Streak is always a blast, there are a ton of drops and pillows that you can fly through on the run and coming out of the trees.
The Orange Chair (Now The Bear Chair) 
My favorite parts of the mountain are an unmarked run between tree well and Hokey's Hollow (otherwise known as Tom's run), the hike/apple bowl and timber cruise. When the deep snow arrives at manning park, which happens quite often get out to apple bowl as quick as you can – I guarantee you will be lapping it all day!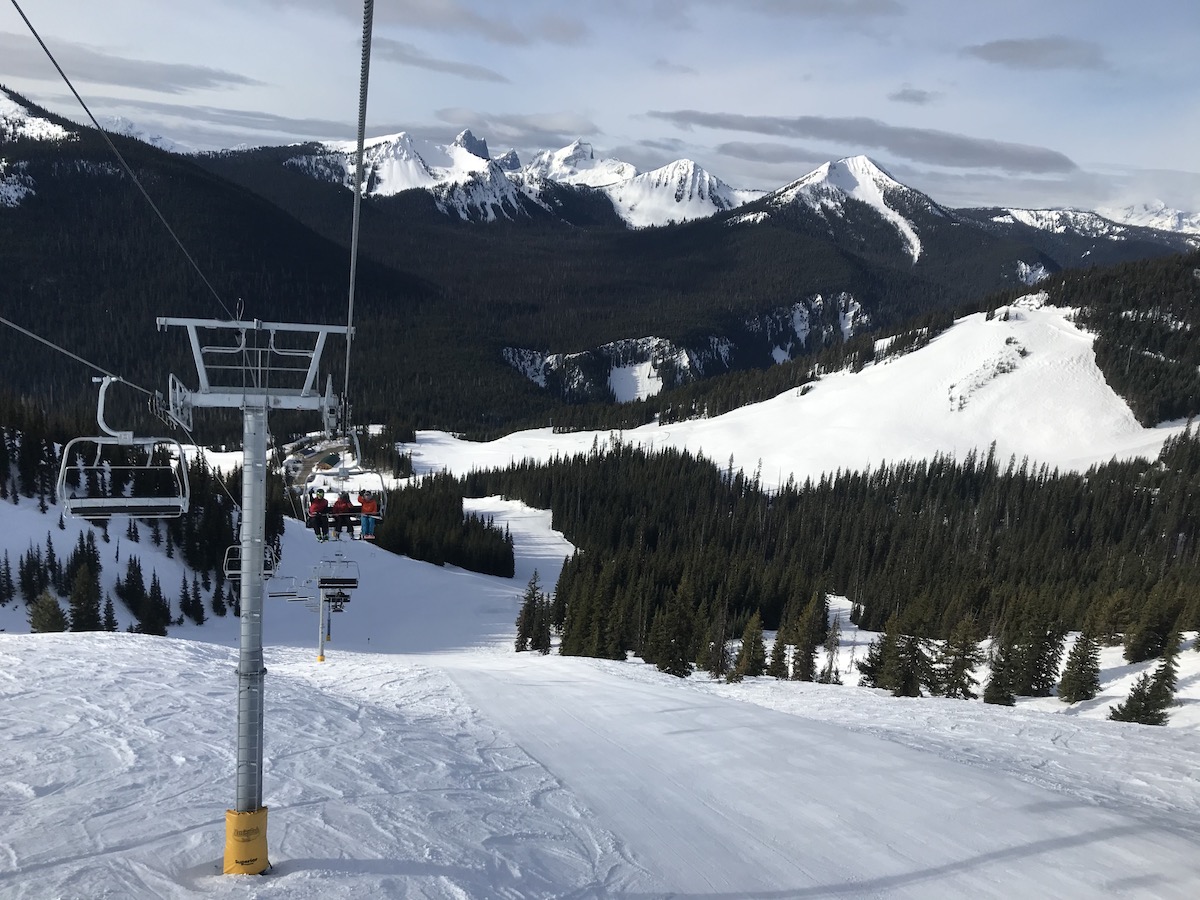 Nordic Skiing
If you fancy wearing boots that are way more comfortable or want to slow it down a tad and take a break from downhill then Manning's cross country trails are perfect for you. The cold temperatures and great grooming team make Manning Park's 64 kilometer nordic trails "the spot" to cross country ski in British Columbia.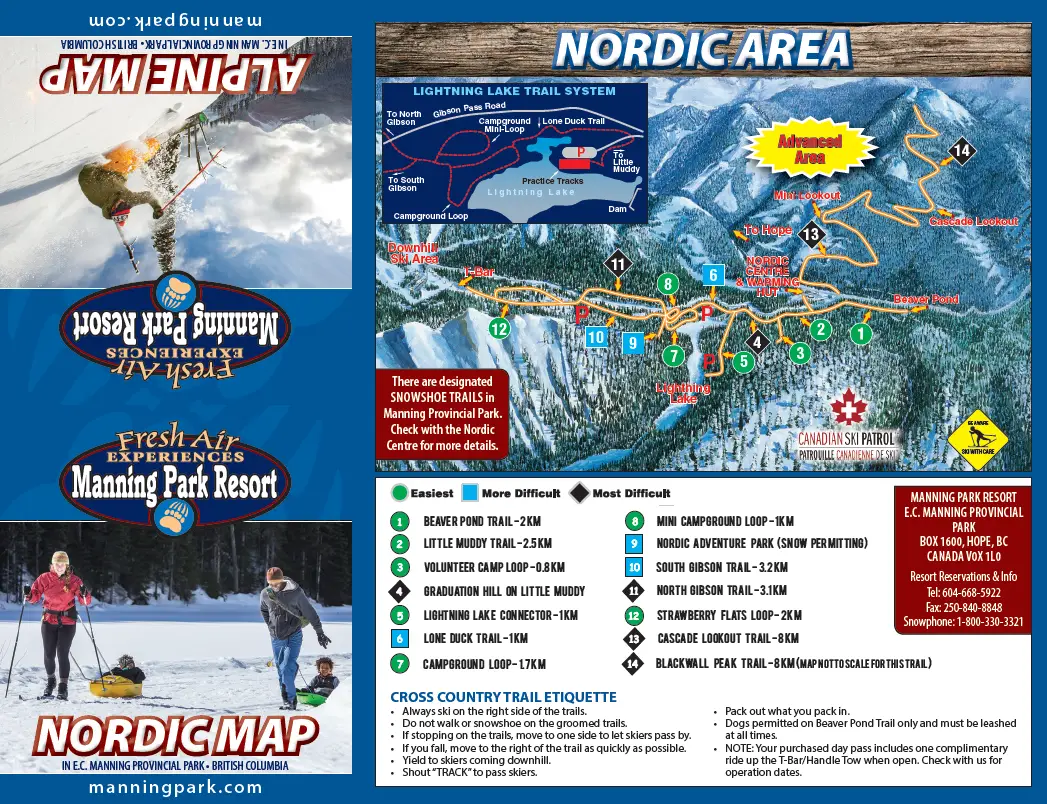 Blackwall Peak Trail 
If you're hungry for a challenge and want to opt for a route that takes you into the Cascade Mountains alpine then look no further than the Blackwall Peak trail. The Blackwall peak trail is 8km (457m elevation) to the cascade lookout and 16km (762m) elevation gain to the Alpine at Blackwall Peak.  This renowned route hosts a challenging classic or skate race to the summit that skiers across the US and Canada attend every winter.
The trail follows the Blackwell Peak Road which is groomed daily and winds its way up towards the summit. If you are eager to summit Blackwall Peak you will have to do a little bit of boot packing to the 2062 meter high summit. Give yourself a full day and expect about 5-6 hours to the summit and 2 hours to descend.
Snowshoe Trails 
Manning Park's offers a great beginner network of paid snowshoe trails on the resort. These trails are super family friendly and are easy on the knees because of the minimal elevation. Check out the pdf of the trail map here.
If you are backcountry prepared and are avalanche aware then there are many amazing difficult and advanced trail options in the area. Some well loved BC parks snowshoe trails that you must try are the Lighting Lake Loop, Windy Joe Mountain and the Poland Lake Trail.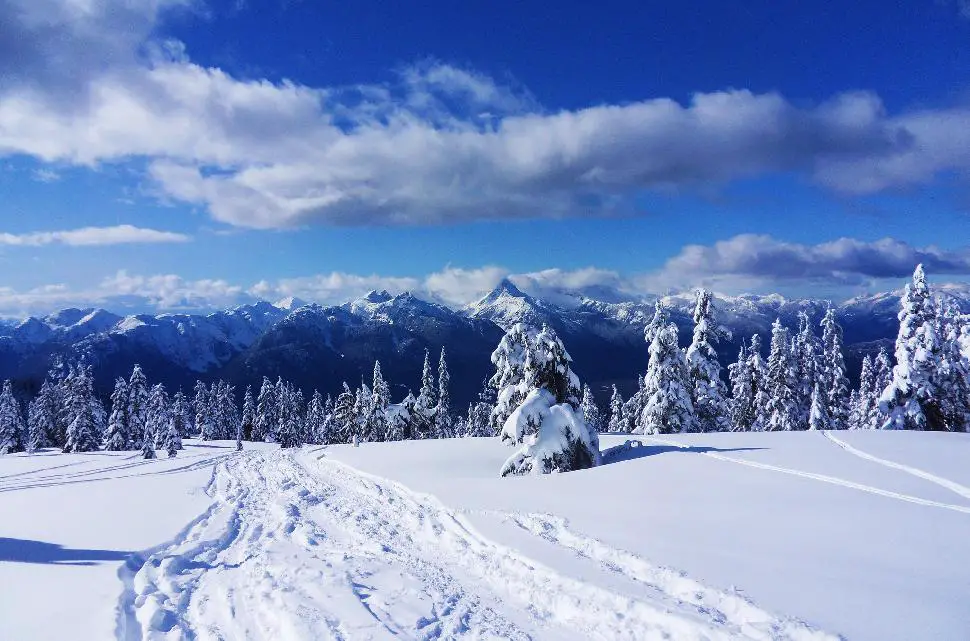 Backcountry Skiing
This is the epicenter for many backcountry skiers, especially for those that live in the Fraser valley and don't want to travel to the Sea to Sky or Coquihalla regions. There are endless route options depending on the avalanche conditions and your personal experience level and risk tolerance. Some of the most well skied routes include the Three Brothers, Cambie Creek ,Alder, Frosty Trail and Windy Joe. I use the Manning Park & Skagit Valley Park, BC Recreation and Backcountry Map for my summer and winter excursions.
The Amenities
Manning's lodge and facilities are old but have a rustic charm to them. You're not going to find fine dining or extravagant amenities, but you'll feel at home.If you want the luxury of ski in and ski out, then you'll need a trailer. They have a trailer parking, water and electricity plugins at the top of the mountain. This is truly one of the best ways to experience a weekend at Manning park. Just a short 5 minute drive from the ski area there is a pub with cold beer, a pool, hotub, skating rink and toboggan hill to mess about on when your ski day is done. If you are staying in the cabins at the resort, they offer a free shuttle to and from the mountain all day long. The cabins and hotel up here are always booked up so if you want to plan a getaway you have to do it well before the winter season begins. Another great option is to book a cheap motel stay in Hope or an Airbnb in Eastgate, Princeton or the Sunshine Valley all within reasonable driving distance to the resort!
Manning has a fantastic network of Nordic and snowshoe options. The inbounds trails are groomed fantastically and cover over 64 kilometers. The views are exceptional at Manning park – Tucked into the Cascade Mountains, it is truly a winter wonderland.
If you are a backcountry (ski, board or snowshoe enthusiast) Manning is where the magic happens!
But that's a post for another day.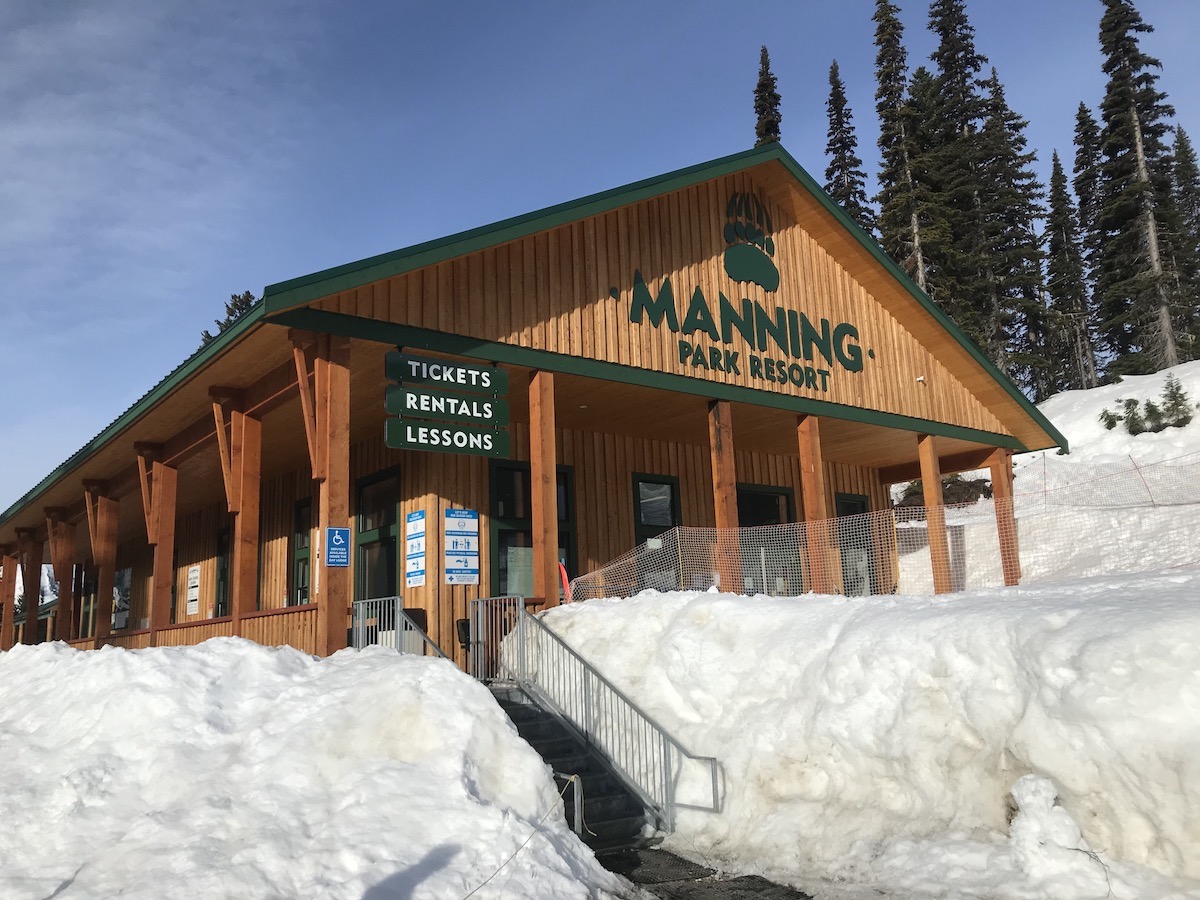 What's your favorite ski hill?
Let me know in the comments 
Plan Your Trip: https://www.manningpark.com/plan-your-trip/