The #1 most important thing you will be carrying in your vehicle at any given time is WATER. Water, next to oxygen, is the most important basic need essential to human survival. When living in a house or apartment you really take for granted how privileged we are to have free flowing and treated water in our communities. Living on the road, I became very skilled at sourcing, storing and planning water usage. In the hot summer months, especially when we were in the Backcountry, we always made sure we had more water than we needed. The West Coast of British Columbia is a dream for water sources. In BC there seemed to be easy and endless access to potable water. One of my absolute favourites are the water taps in Campbell river BC which is self-proclaimed 'the worlds best water'. The further you travel East and North the tougher access to free potable water becomes. Certain parts of Alberta and the Yukon were a bit more challenging to find solid potable water.
What Is Potable Water?
Potable water is treated water that is safe for consumption, drinking and food preparation. For the longest time I would always see 'potable water' signs  believing I had to boil it in a pot to properly treat it. I finally asked for clarification from a parks ranger and from that day forward the words 'Potable Water' have been close to my heart.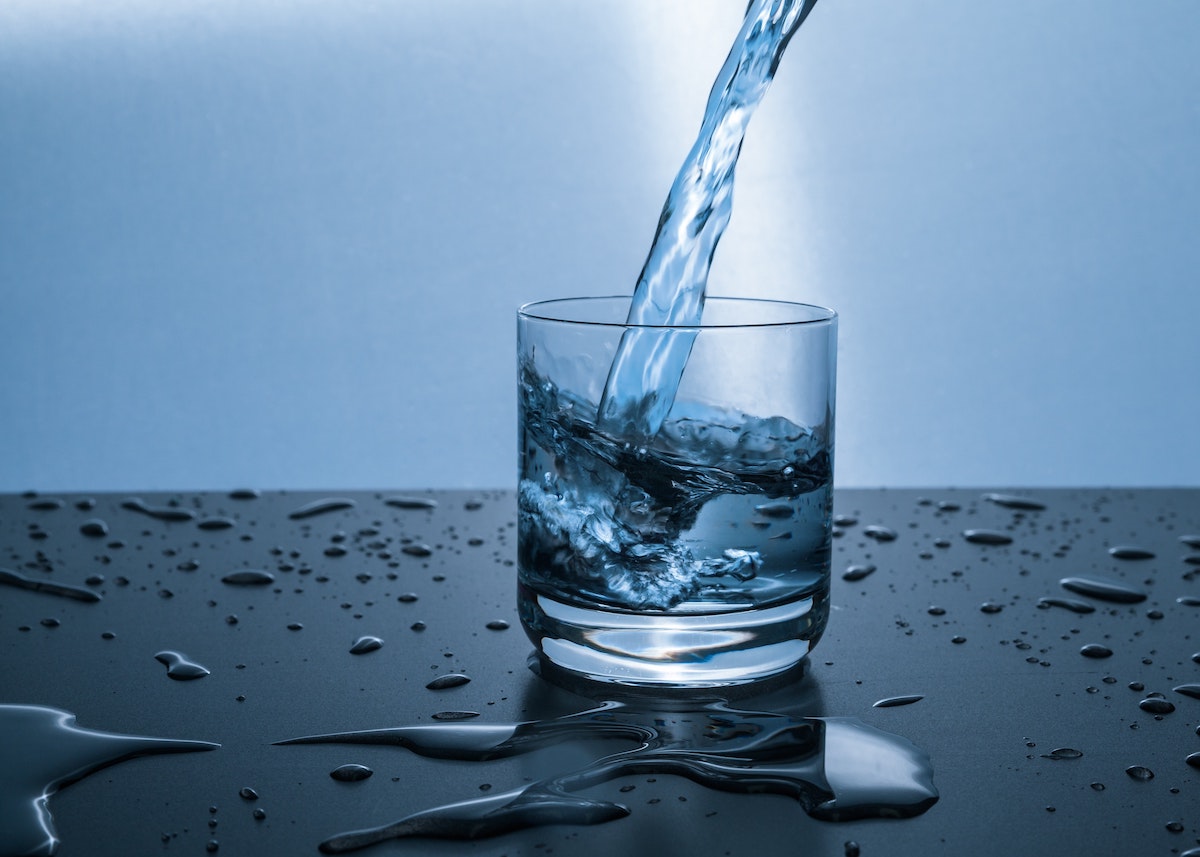 Where to Find Potable Water?
Parks
British Columbia treats visitors very well. A majority of Provincial Parks have potable water on tap. I like to use the BC Parks Map to locate nearby parks. If you click on the facilities tab on the website it will show what is available within the park. If there are potable water taps it will usually indicate such. Provincial parks with picnic areas typically have free potable water for all. I love parks!!!
Campsites
Another great option for filling water is at campsites. Sometimes campsites are free and other times you may have to fork over $10-$20 for a night. In certain areas, spending a night in a campsite may be the only way you can get your hands on potable water, and if you're lucky they might have free hot showers as well.
We were on a very tight budget and that budget did not include paid campsites. So we did what any other desperately broke and thirsty car travelers would do… Filled up at government campsites as visitors. We would drive in, fill our water, and drive out. I think it may be a Law that restaurants have to serve free tap water when asked, not sure if this goes for campsites, so keep this one on the Down-Low.
Gas Stations
Gas stations always have sinks. I'm not talking about the bathroom sink, YUCK. Usually there is a sink that is located somewhere near the slurpee or coffee machines. A good rule of thumb is to always ask the cashier/attendant if the water is drinkable, they'll let you know and they won't ever say no. Sometimes the sink will be behind the counter and the cashiers are usually super nice and will fill up a bottle or two for you. Though seldom, I've come across a few gas stations with hoses at the side, it's all fair game, just make sure you ask to see if the water is potable!
Visitor Centres
Most visitor centres will have some sort of water fountain or water tap inside. While visiting a small town in the Yukon it was really hard to come across treated water. We become friendly with the visitor centre manager and she allowed us to fill up our big jugs in the facility. This involved filling up my 1 litre Nalgene bottle 65 times and transferring it into my larger jugs. She liked us so much she gave us an entire loaf of Banana bread. The people in the Yukon are the kindest in Canada.
Community/Recreation Centres
A community centre is very similar to that of a visitor centre. There is usually a water fountain or some sort of water fill in the facility. Filling up water bottles anywhere from 1-4L is no problem but your larger jugs are going to have to wait until you find a better opportunity.
Random Water Taps
Believe it or not there are sometimes random water taps in urban areas. In Squamish BC, there is a potable water tap in the Canadian Tire parking lot which is super useful for anyone travelling in the area. You can't rely on finding random potable water everywhere, but, when you do, it feels like you've struck gold.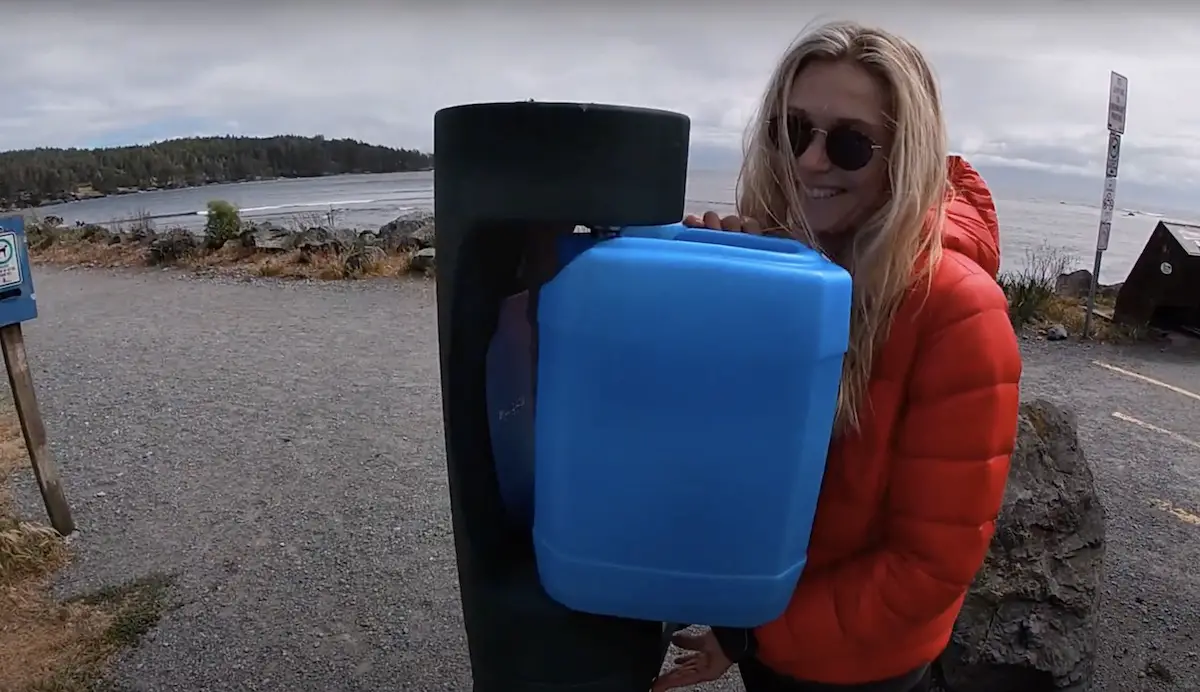 How Can I Filter Water?
If you love camping or are full time in a vehicle you should always carry around some sort of water filtering method. I always have my survival and hiking gear in my truck/backpack which includes a whole whack of water tablets and an MSR pump water filter. Tablets and a water filter are an absolute must, not only when you are in the backcountry but even when you are living on the road. In the summer of 2021 Laura and I had run out of water in Strathcona Park in BC and could not afford to pay $5 per litre of water at the Gold River Gas Station. There were no water fill ups at campsites so we had to find water ourselves. I took our water pump into the Elk river, and filtered one twenty litre jug by hand. Although this was, painful, especially in the record setting heatwave, we didn't die of dehydration. Long story short, you will rarely have to filter water when travelling in a vehicle, but when you do, you'll be happy you listened to that goofy guy (me) on the internet that one time. My recommendation would at the very least to have a pack of water tablets. They are super small, easy to store, and very cheap. No matter how clean water may look it is always worthwhile to ensure the water is filtered from any potential water bourne illnesses.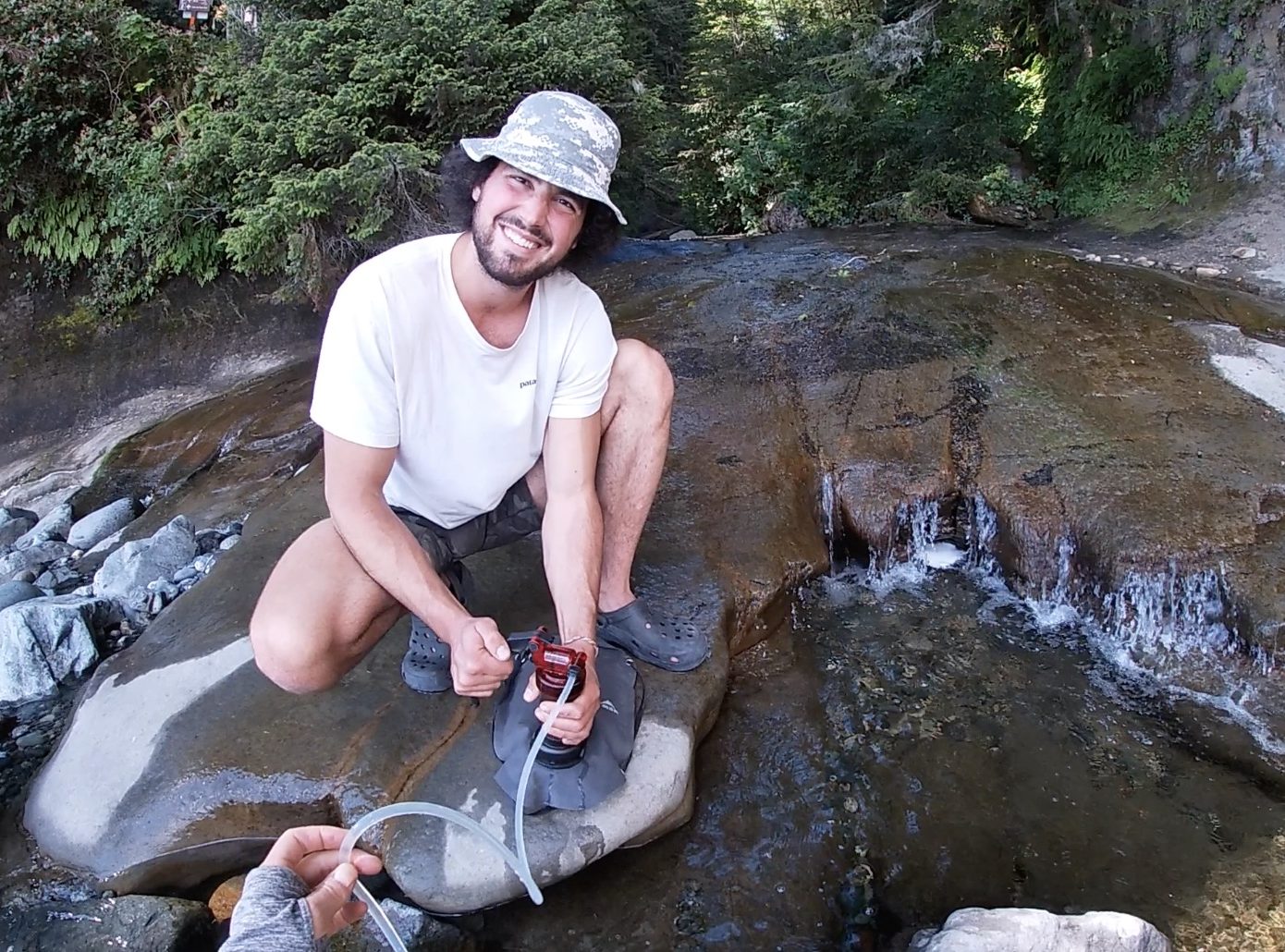 If you are in the backcountry a lot and like to pack really light in your vehicle, a Gravity water filter is a great option. You can purchase gravity water filters up to 10L in capacity. These things are amazing and require the least effort when filtering water in your vehicle or while hiking. Just fill up the bag, hang it one a tree, and in about 20 minutes you will have fresh treated drinking water!
How To Store Water?
Where and how to store you water totally depends upon your needs and your vehicle layout. In the truck we were fortunate to have loads of room in the backseat for storage. When we began our trip we started out with 2 water jugs. By the end of our trip we were carrying 3 20L jugs plus our water bottles and our 4L dromedary water bag bringing our grand total close to 70L of water after each fill-up opportunity.
Big water jugs with an easy to use pouring spout are perfect for multi-use water. We never separated grey water and drinking water and only ever put drinking water in the jugs.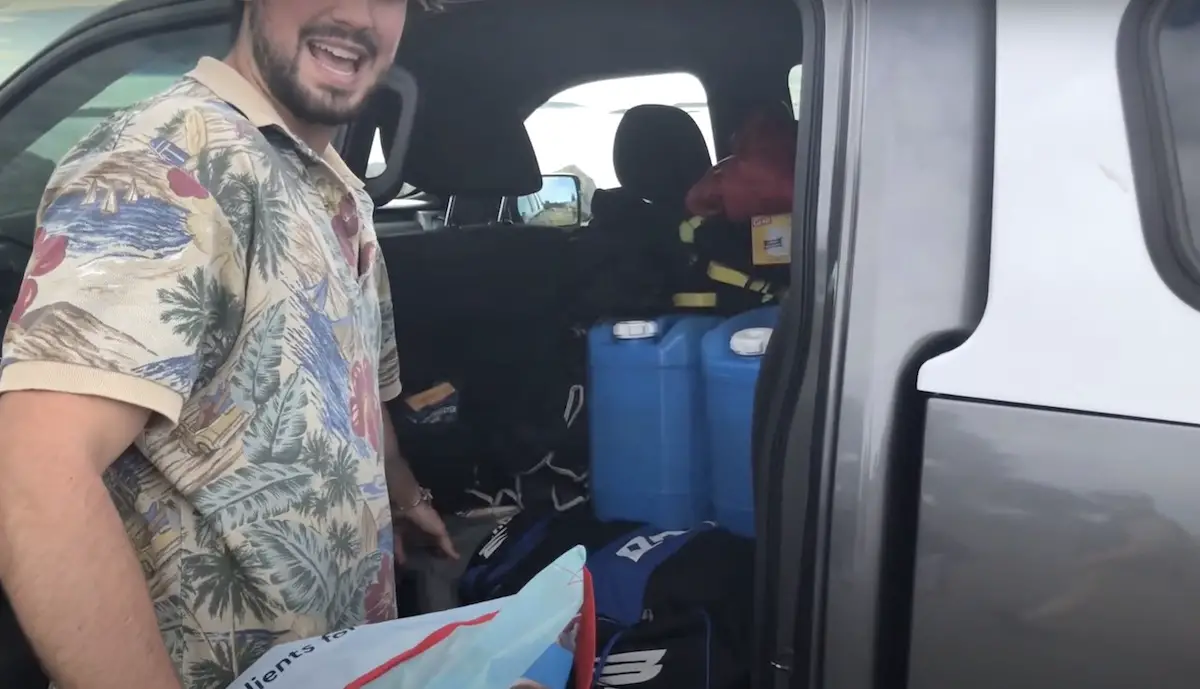 How Much Water Do You Need ?
This one also depends on your usage. Laura and I were very active hiking and also drink LOADS, I'm talking a gallon minimum of water a day, even if we aren't doing vigorous exercise. Add in cooking, cleaning and a bit of hand washing and water seems to disappear faster than you could ever imagine. Our 60L of water would usually last us around 4 days but if we weren't being conservative would be less than that. We would usually run through about 15-20 litres of water per day.
Hopefully this helped answer some questions/concerns you may have had about water and living on the road.
If there is anything else you may be interested in asking, please leave a comment and I'll do my best to help out.
Stay Quenched!