Which month is the best for skiing and snowboard at Whistler Blackcomb?
I've heard this question too many times to count. Today I'm going to go Mythbusters on this thing and once and for all clear the air about the best time to ski at Whistler.
Okay here's your answer. I don't feel like making you wait.
IT DEPENDS.
I understand this is probably not the answer you wanted to hear but, it's as simple as that. Whistlers conditions are unpredictable and can vary over the course of the season. What isn't unpredictable are your skiing preferences, those are subjective. So what you need to do, is pick a month of the year that will most likely match up to the type of skiing you like and want to engage in.
Don't worry I'm not going to leave you here. In this post I'm going to detail month by month what you can expect so you can make the most educated decision possible about what time of year that you should visit Whistler Blackcomb.
A Few Fun Historical Snow Facts
Let's start with a little Whistler Blackcomb snow history lesson. On average (based on recorded data from the last 10 seasons)  11.81 meters/465 inches,/38.75 feet of snow drops from the sky onto Whistler's ski runs. That's about the height of the average Canadian telephone pole.
Don't worry, when you step onto the snow you aren't going to immediately fall 11 meters into a snowy abyss. Over days, weeks and months factors such as snowfall, melting, wind and grooming packs all this snow together forming the snow base that us as skiers tend to keep our eyes on. The snow base matters because it is indicative of how/when the mountain will be completely snow covered and skiable. When the mountain opens in November we are lucky to have over 100cm of snow and have to anxiously watch and wait as the base increases and the Alpine chairlifts begin to open up. In 1973/74 Whistler Mountain set a snow base record measuring in at 504cm! That record is yet to be beat and was due to some heavy snowfalls in March and April which isn't particularly common.
November
I prefer to call it SNOWvember. Whistler Blackcomb receives an average 1.9m of snowfall in November (more than February). However, don't go booking a trip in November because this first 1.9m of snowfall is just beginning to cover the mountain and create a strong base. Whistler opening day typically occurs in the third week of November. Even though it can sometimes open with a POW DAY, this isn't the best time to plan a ski trip to Whistler. In November the ski area is only open to mid-mountain and a large majority of runs are still closed awaiting further filling by snowfall. If you have a seasons pass or edge card and can ski for free in early season, go for it, why the hell not. You also can scoop up some seriously cheap accommodations in November, so, if you are just a casual skier and don't mind riding a few groomers heading up in November could save you some cash. Otherwise, I would hold off on paying for skiing or planning a Whistler trip until Christmas time.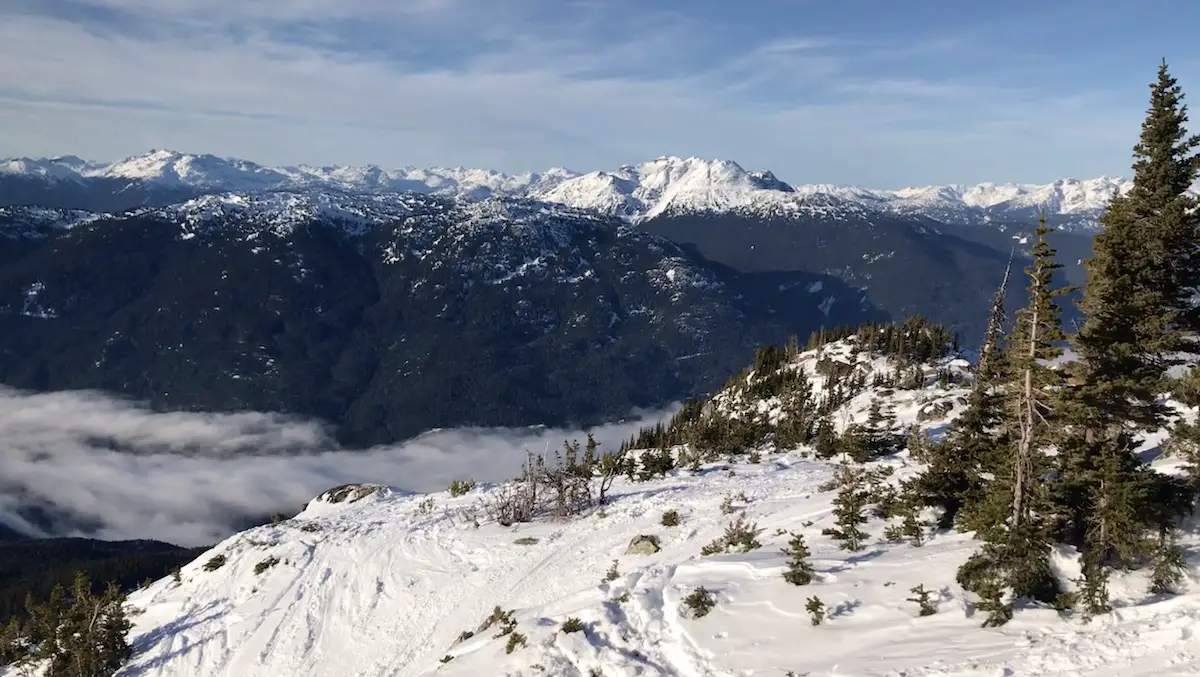 December
December can be unpredictable and the 2.1m average snowfall in this month doesn't guarantee that there will be a strong base. Some years, in early December, the base will be rock solid and the Alpine lifts will be spinning. Other years, the mountain will be more naked than rufus from Kim Possible until mid-January (if you know this reference, cheers to you).
I've had some big time Pow days in December so it  can't be completely discounted. However, December powder is usually very wet and heavy, so make sure to be running a wide pair of boards under your feet. I spend a lot of time in December ripping up groomers on my carving skis. The last week of December is the safest bet in terms of snow conditions if you are planning a trip. But, be aware, the last week of December is also the Christmas Holidays. Whistler is crazy during the holidays since everyone is up there for vacation and the kiddos are out of school. If you are going to plan a trip in December, watch the weather and do you your best to slide in before the holidays!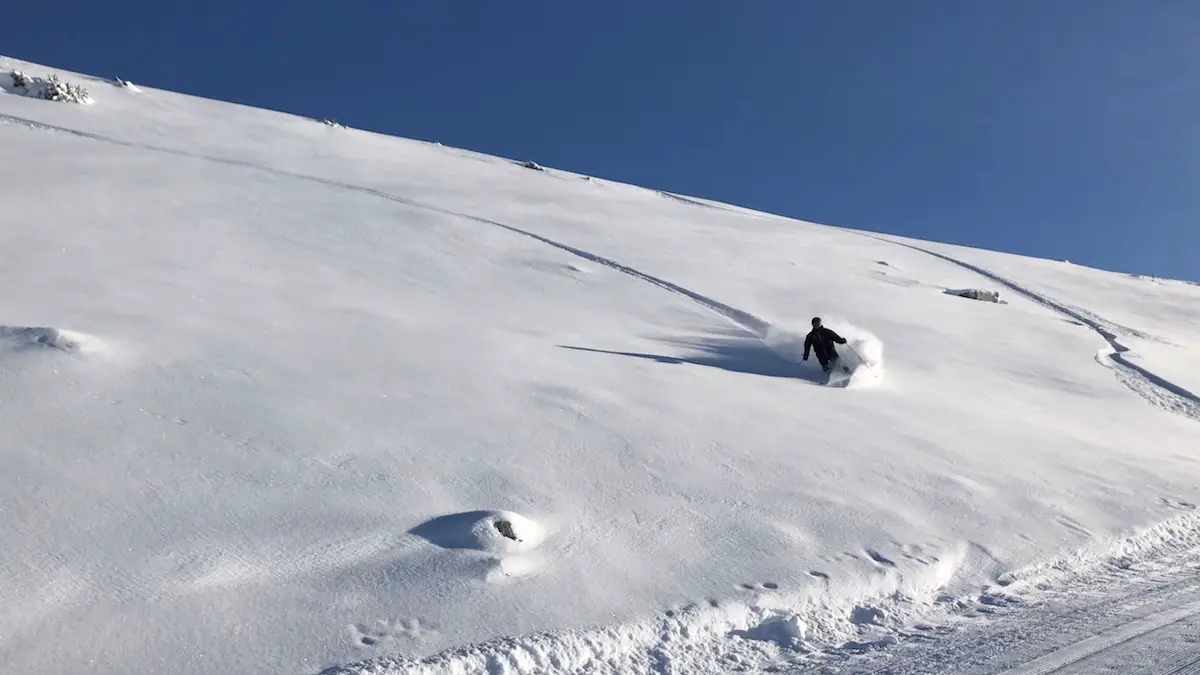 January
January is consistently the best month for powder at Whistler Blackcomb. Over 2.3 meters of snow falls on average in the month of January. More important than the snowfall, are the temperatures. By January they are consistently cold and this means dry and fluffy powder. Mid-January is one of the best times to enjoy the mountain. Since kids are back in school and the Christmas rush has ended the lines will die down and the lift lines will be shorter on weekdays. You have the chance at getting huge powder days and you will be able to explore every edge of the mountain.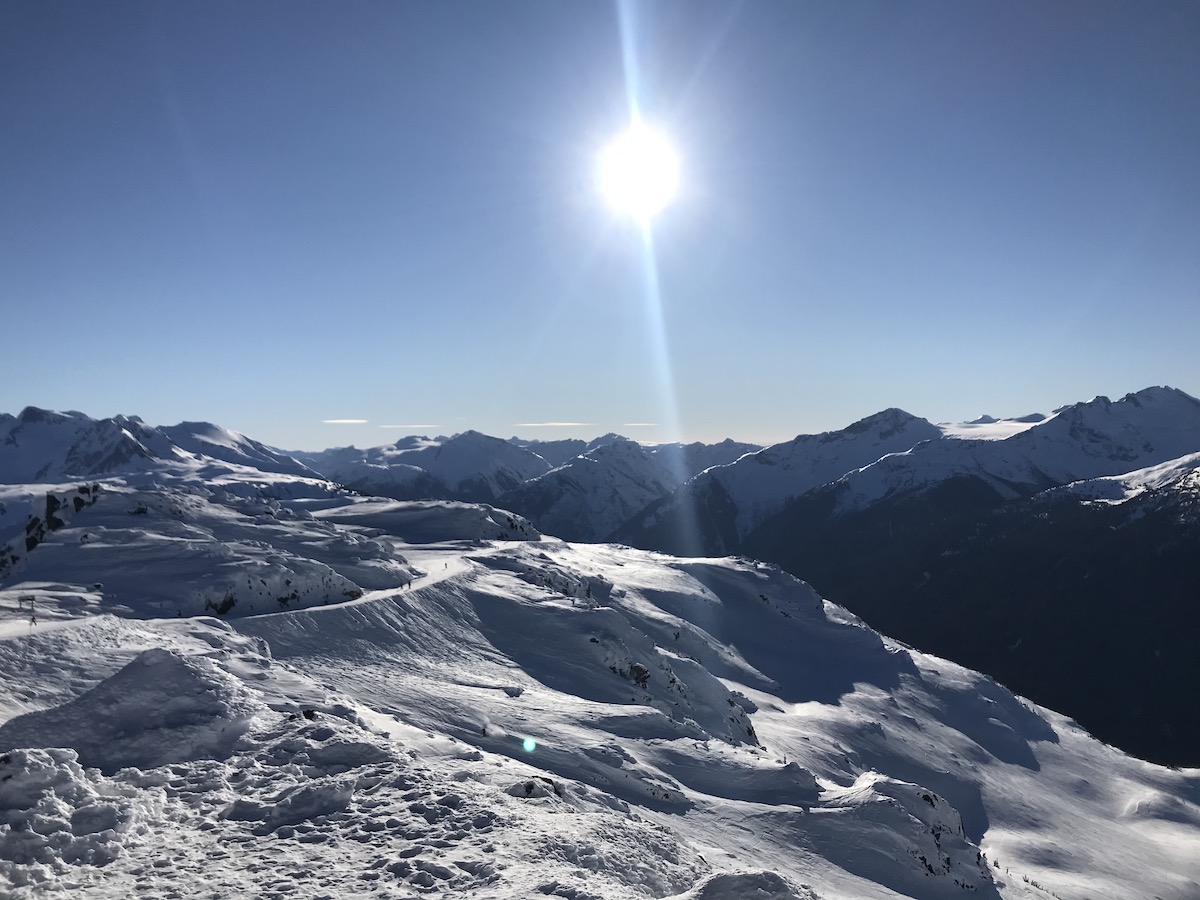 February
February gets less powder days on average than December, January, and March. This is the ideal month for those who love to carve. February is cold, the runs are well covered and you will be able to charge hard to your heart's desire. Who knows, with 1.5m of snow falling on average (usually in just a few storms) you may have a crack at hitting a storm while you visit. The benefit of less snow, means more visibility, and the views at Whistler are unbeatable. One amazing thing about Whistler is that even if there isn't fresh powder snow, you can still find loads of soft stuff to ski. Wind blows around snow in the Alpine all the time and in the right chutes, nooks, crannies and trees you will be able to find some awesome powder pockets to punch your way through.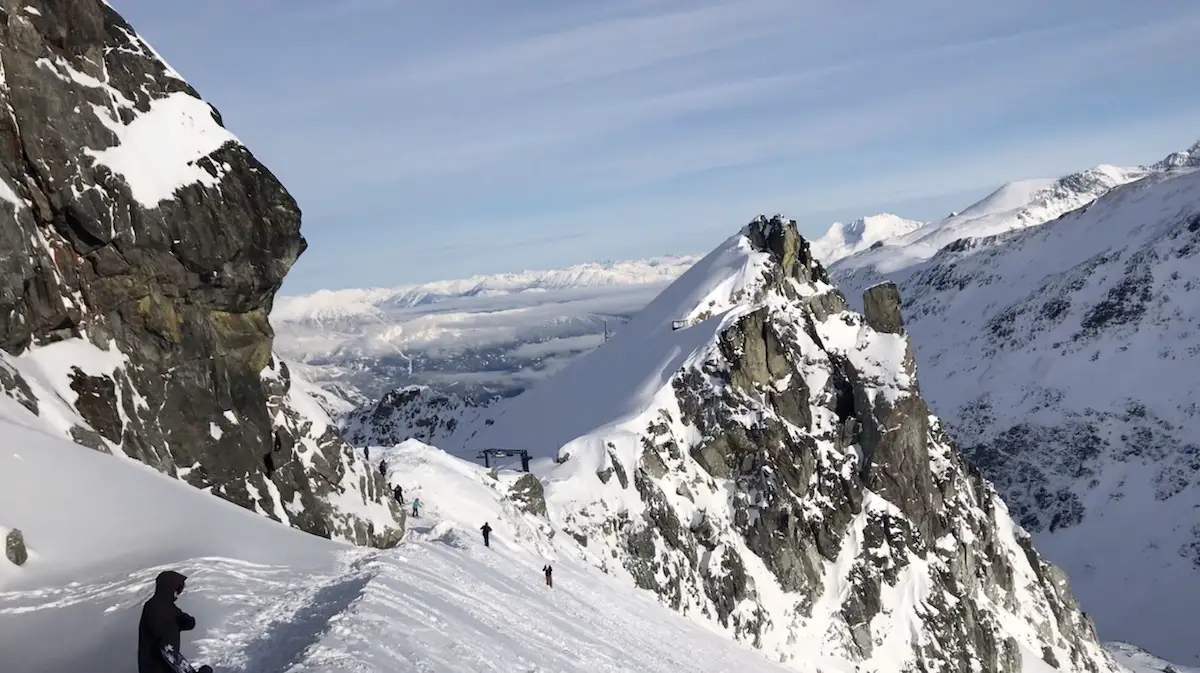 March
March Madness in Whistler is for real, and it's got nothing to do with Basketball. Powder days are the norm and weather continues to stay cold early in the month. March sits in a close second place to January Snowfall at 2.2m on average, and often outpaces the middle of the winter. What's even better than the great snow in March is that in late March the mountain becomes much more quiet. Casual skiers and riders with other hobbies will begin to get back on their mountain bikes and sports begin on weekends, so you will notice a significant decrease in the amount of traffic on the mountain.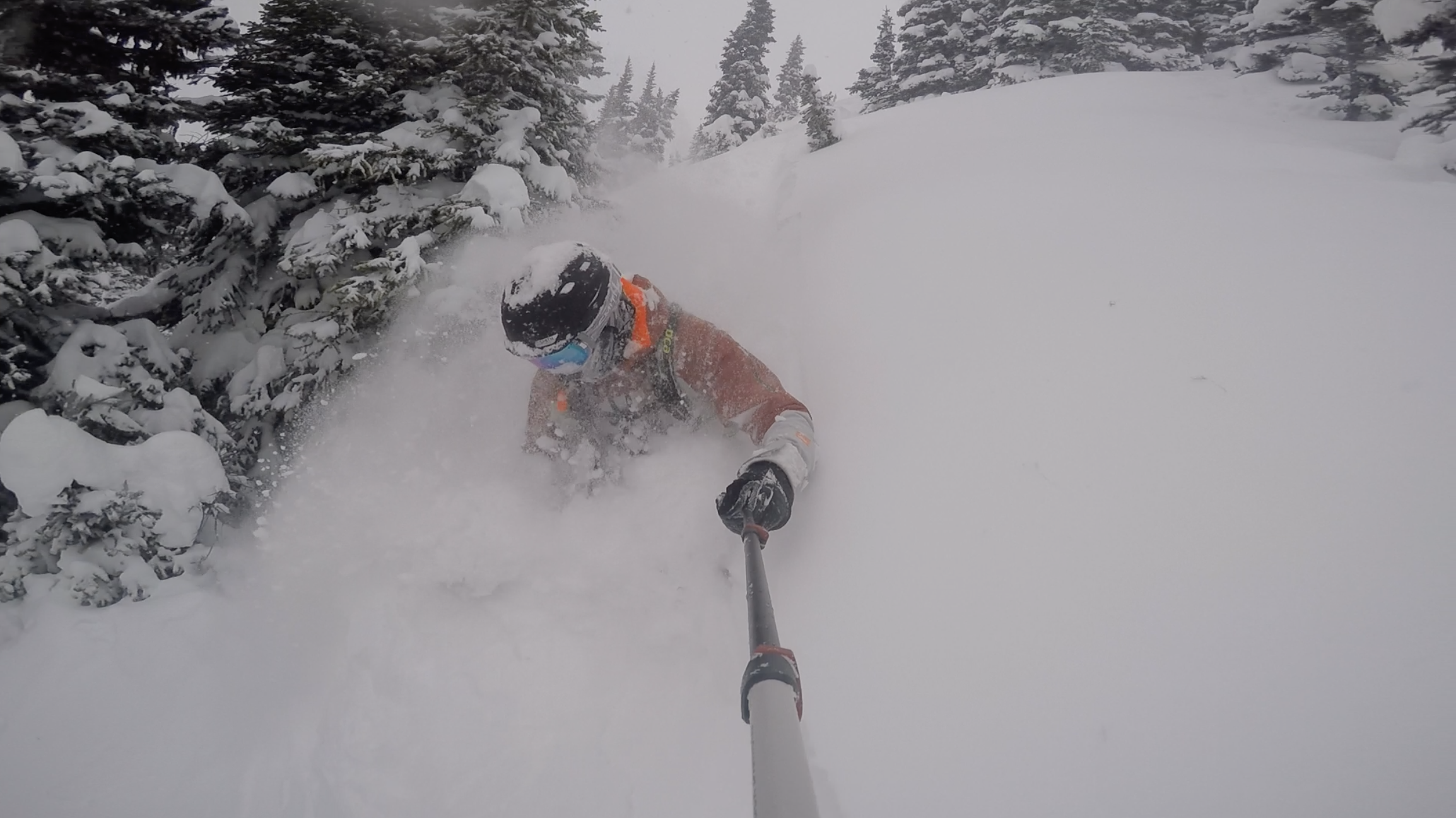 April
The start of April usually marks the end of winter for most resorts, but not at WHISTLER BLACKCOMB. April on average gets 0.8m of snow, most of it, usually in the first few weeks of the month. Depending on the year, April can bring just us much powdery goodness as any of the previous months of the year. In mid and late April you can start to expect the weather to warm up, the sun to be out more often, and the snow softening up for those perfect spring skiing or heavy bluebird pow days.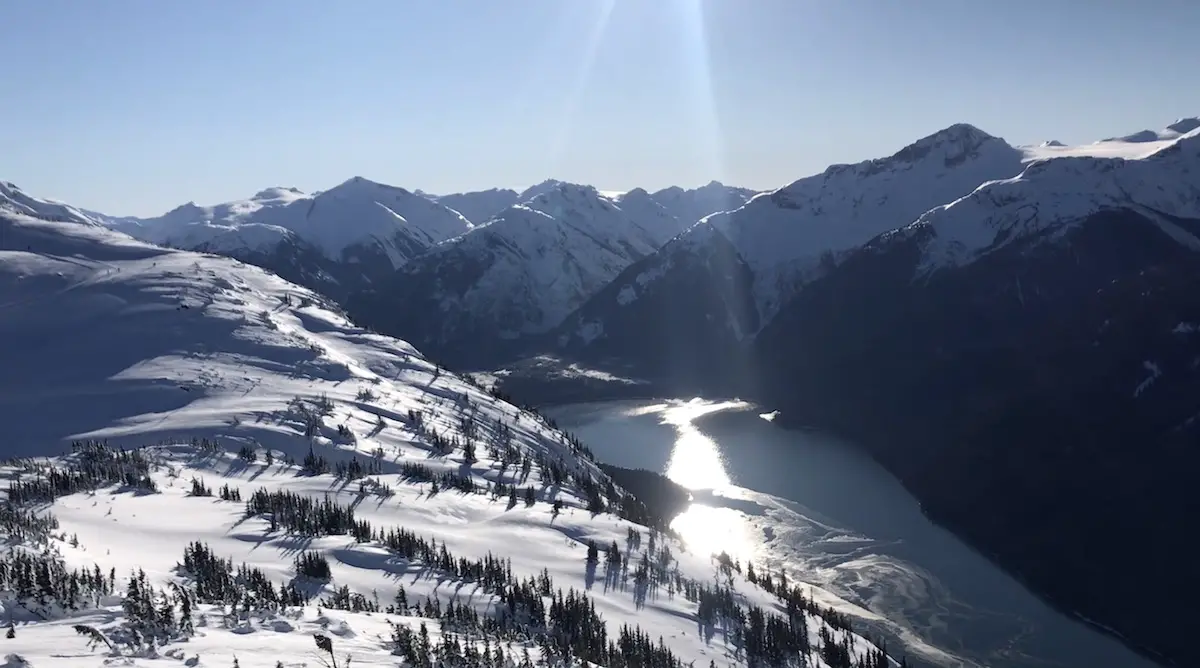 May
Some people absolutely love spring skiing, I know I do. Whistler Blackcomb will typically close one of the two mountains in May and leave only one side open for skiing and riding until the end of the season. In the alpine, winter is still in full force in may, but in the mid and lower mountain you will start to see patches of snow disappearing. There is something so special about being in a t-shirt, the sun beaming down and enjoying consistently soft turns in the slush. Whistler used to be open year round, but now, expect the hill to close by the start of June.
If you've taken the time to read through the explanation about each month and still haven't made your mind up. Don't worry. Anytime late-December to early-May is going to be amazing skiing. You are going to find killer snow regardless of the time of year and where you are on the mountain.
Hopefully this post will help you to decide which month is best for you to book your ski or snowboarding trip to Whistler Blackcomb this year.
See You On The Mountain!