Should I ski with a backpack?
This is a question I often ask daily before heading out to the mountain. If you're into backcountry skiing, this isn't something you ever have to contemplate. Wearing a backpack is a requirement for carrying your shovel, probe and additional safety gear.
However, backpacks aren't just reserved for backcountry skiers. They are an extremely handy tool for anyone spending a day on the ski resort. Anything you may need for the day including, food, hydration, lenses, cameras, layers, and beers can be easily stowed in a backpack and be on your person on the mountain.
Unfortunately, skiing with a backpack can take a little getting used to. If you are anything like me, you will never quite like the feeling of something hanging out on your back when skiing and riding lifts.
In this article I'm going to talk break down what I love about skiing with a backpack and what I absolutely hate.
Why I Love Skiing with a Backpack
Access To Food and Water
I'm the kind of skier who never likes to stop during a ski day. My only visits inside the lodge are when I have too much coffee before the ski day. Sometimes you only have a finite number of ski days in a season, so why waste anytime sitting inside and eating lunch. In a backpack you can pack all the food and water you need for a day. Chairlifts are the ideal spot to scarf down a sandwich or suck back some fluids. If you bring along adequate snacks and hydration you'll never miss a turn again!
Camera Gear and Portable Charger
This one only applies to those who love taking pictures and videos when they spend a day on the hill. Cold weather kills camera batteries fast. In my backpack I've got extra batteries for my go pro and an external battery to keep them charged. Nothing's worse than missing the shot of your buddies epic line or yard sale because your camera was dead. A portable charger is also handy to keep your phone charged up, especially if you like listening to tunes on the hill! I've also got a STUNT MAN go-pro backpack strap attachment so I can film a chest view while I'm skiing without having to wear the bra-strap type mount (this is a win for day for days when I'm filming).
Super Easy to Add and Drop Layers
Layering for a day of skiing is super complicated, especially if you're at Whistler Blackcomb. Whistler can be so many different temperatures at different parts of the mountain throughout the day. I hate being too hot and love having the ability to drop a sweater at a moments notice so I don't have to be swimming in sweat all day. Another pro-tip is to carry an extra gaiter or balaclava. Face coverings get so gross by mid-day it's an amazing feeling to pop a dry one on halfway through the day. If you aren't familiar with how to best layer for skiing check out my post HERE.
Extra Goggle Lenses
I always have a number of different goggle lenses in my Backpack. Having the right lens for the conditions is crucial to skiing hard. Clouds can roll in fast and it's always a pain to try and see the contours on the snow with a dark lens on a low light day. I swear by my Smith IOS goggles, they have never fogged up and never let me down!
Sense of Security
I know a lot of people who find the snug feel of the backpack quite secure while skiing. In most cases a backpack doesn't add much additional safety or spine protection, but, if It makes you feel more confident and safe then strap it on!
Secret Weapon When Skiing With Kids
Skiing with young kids can be alot of work, especially in the beginning. The investment in developing a passion for skiing within your children is well worth it. In my opinion, the ability to ski is one of the greatest gifts you could give them! But while teaching your kids to ski don't forget the secret weapon THE BACKPACK. I taught full day skiing camps for years and a backpack is the ultimate tool to keeping kiddos happy on the mountain. If they are hot, cold or uncomfortable you can easily swap out layers. If they're hungry or thirsty you can keep them happy. Candy is the ultimate motivation for kids learning to ski! Moral of the story, if you're heading up to the mountain with your kids, don't forget the pack.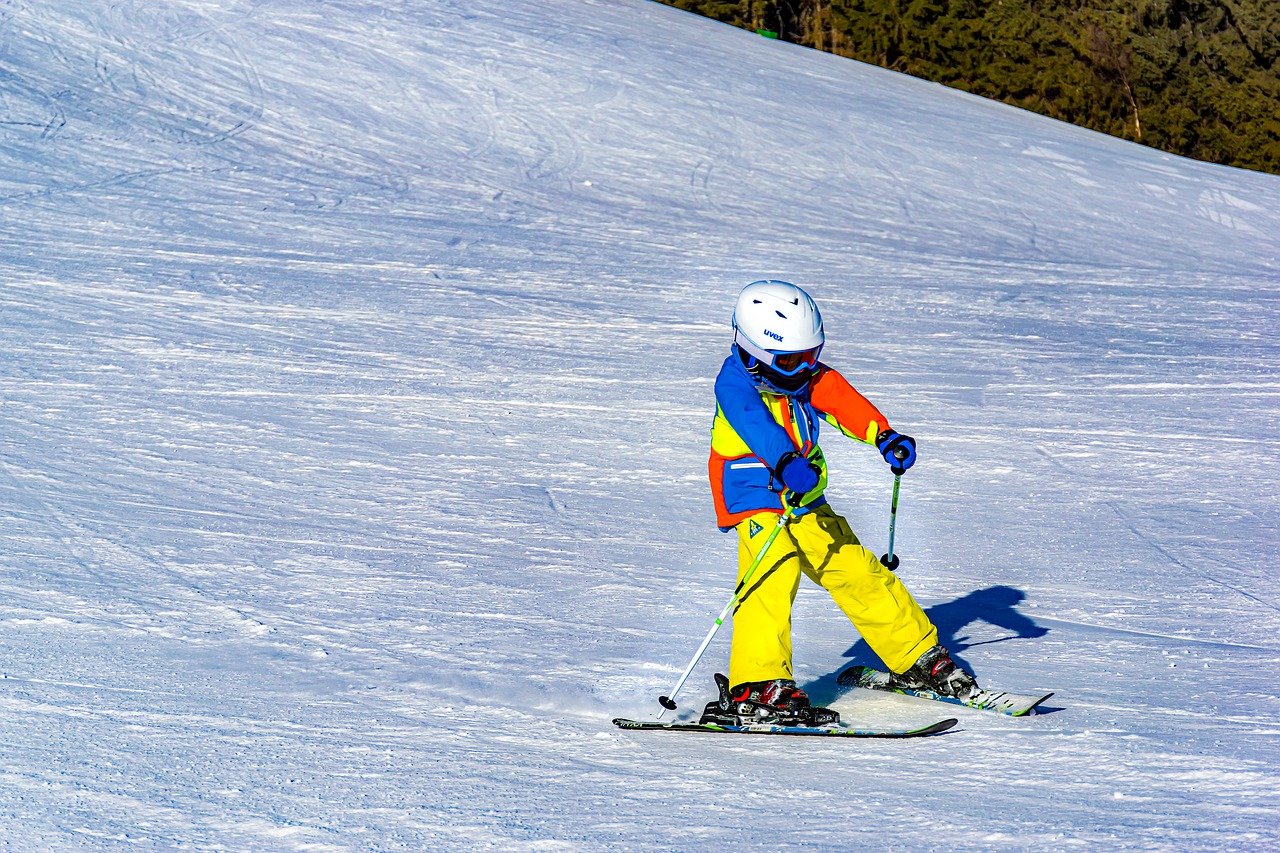 Why I Hate Skiing With a Backpack
It's Uncomfortable
I wear a backpack most often while skiing. But when I have the choice, I'll leave it at home. I find a backpack and all the straps feels quite restricting. I grew up skiing without a pack and prefer the mobility and only feeling the weight of my body centred over my skis.
It's Hot
This one may actually be a perk if you run cold, but I don't. Once I'm in a rythym and skiing hard I'm usually quite warm on the hill. Having a pack on tends to make my back perspire more than I would like.
Nuisance On Chairlifts
Many mountains force you to take your pack off your back and put it on your lap when riding up the chairlift. This is to prevent incidents of straps getting stuck and skiers being dangled from the chair. These incidents are super rare and I never remove my pack at mountains where it isn't required.
However, when I leave my pack on the chair it makes the ride a little more uncomfortable and since I'm scooted further forward on the chair I find the bar tends to hit my head way more often when it's being brought down by others on the chair.
Needless to say, it's another thing to worry about when you're on the hill
I'm 50/50 with the backpacks and wear one depending on my needs for the day and how hard I'm planning on skiing. Another great tip is to bring a backpack up to the hill and leave it on the ski racks outside the lodge! This way you'll have all the amenities of your pack without the hassle of carrying it. Just make sure to leave all the valuable gear in your pockets!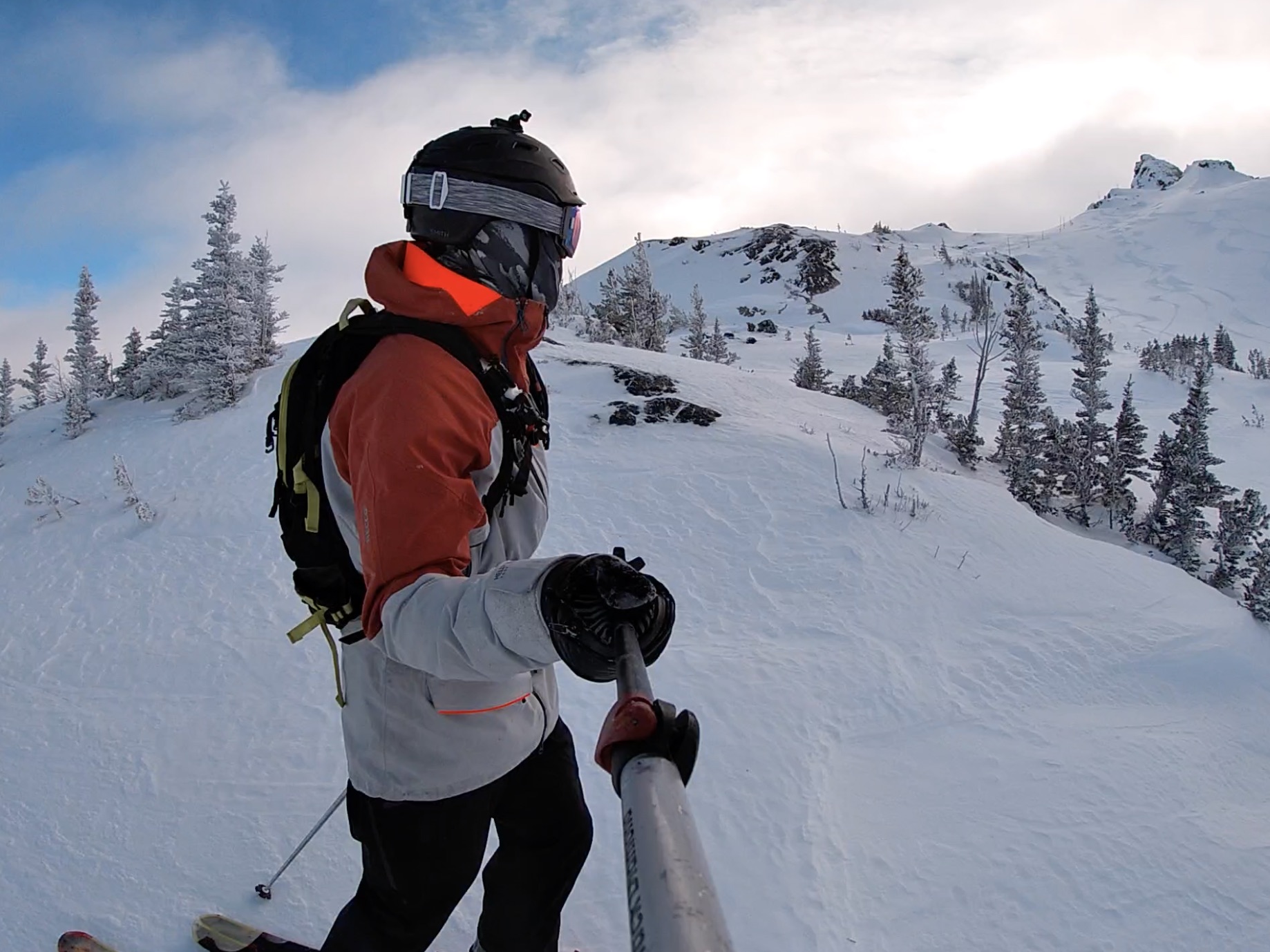 The Best Backpacks for Ski Resorts  
If you want to go the backpack route, which is awesome, GO SMALL. You don't need to carry too much and the larger the pack the more weight that will be on your pack. I would stick to a pack between 15-30L. It's best to have a high quality backpack with a chest and waist strap so the backpack will be completely secure and movement free when riding downhill.
I use my BCA Stash 20 pack for all my resort skiing and backcountry day trips. It also doubles as my daypack for hiking in the summer. It has all the special pockets for avalanche gear and more than enough room to carry all the necessities for the slopes.
Black Diamond Also Makes an awesome packs. The Dawn Patrol Backpack is perfect for resort, backcountry and side-country and is offered in 25 and 32 Litre options!
Both these packs are super comfortable and you will be able to shred with confidence with these strapped onto your back.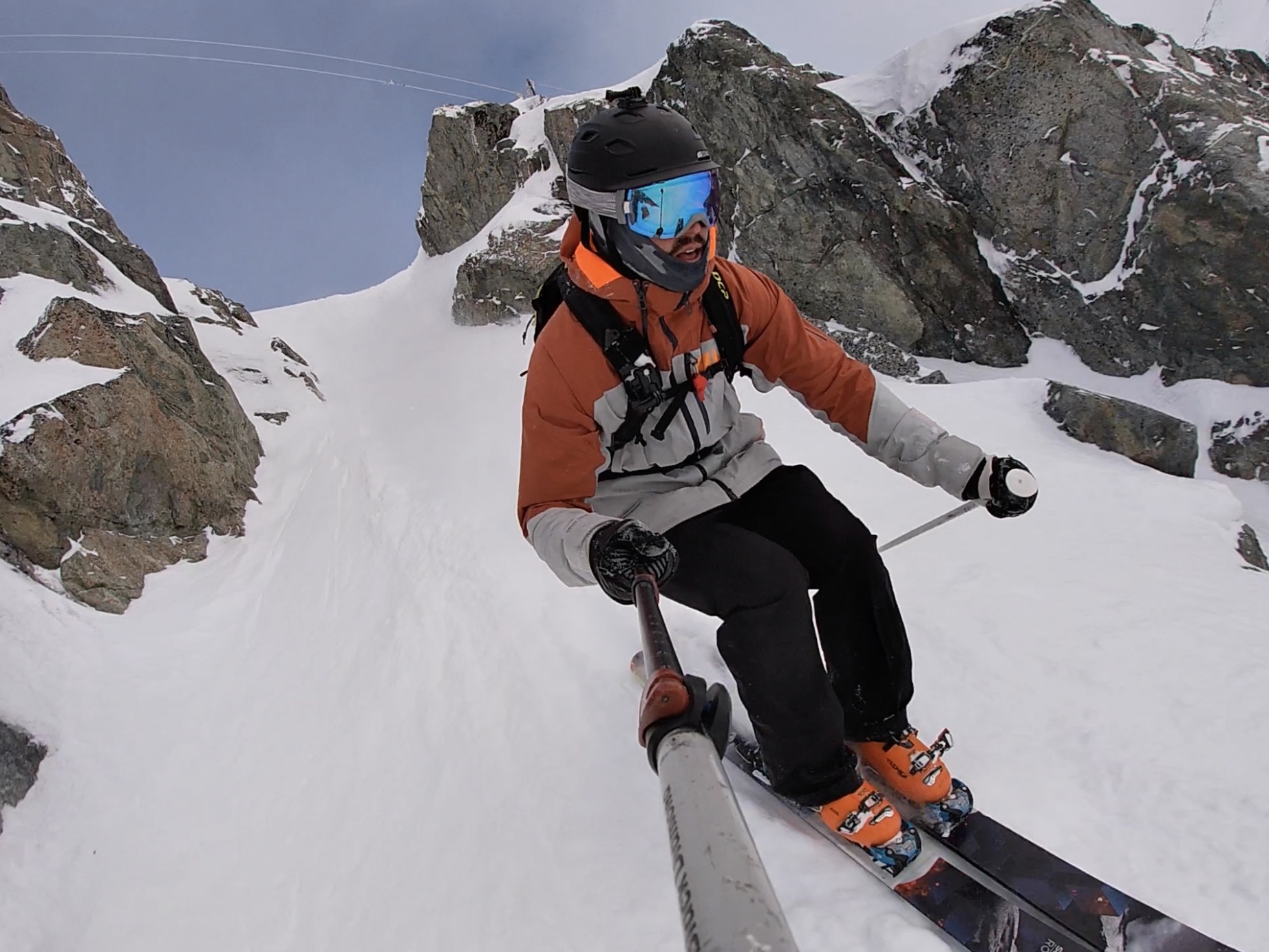 All things considered skiing and riding with a backpack totally depends on your needs and comfort. I wear a pack 50% of the days on the resort and 100% of my days in the backcountry. In my opinion, if you find a great fitting backpack that you like wearing, then the convenience of having everything on your person is unparalleled.
Do you wear a backpack while skiing?
Let me know in the comments below.