Revelstoke Mountain Resort. It's been the talk of the town the last 5 years with a lot of pro riders and powder maniacs making the powder pilgrimage and flopping themselves between the Selkirk mountains. It's known for its vertical drop, deep, dry and bottomless powder days and the endless backcountry terrain just a stones throw out of town.
But does Revelstoke live up to the massive hype? 
Here's the Rise & Alpine Review
If you prefer to watch the video version of this guide, CLICK HERE. 
Skiable Vertical & Acreage
Revy has the highest vertical drop in all of North America at 1,713 metres. That's one hell of a thigh smasher and weighs in one hundred meters higher than good ole' Whistler Blackcomb. The lift accessed ski areas is 3,121 acres which can be expanded greatly with a quick skin off of the resort.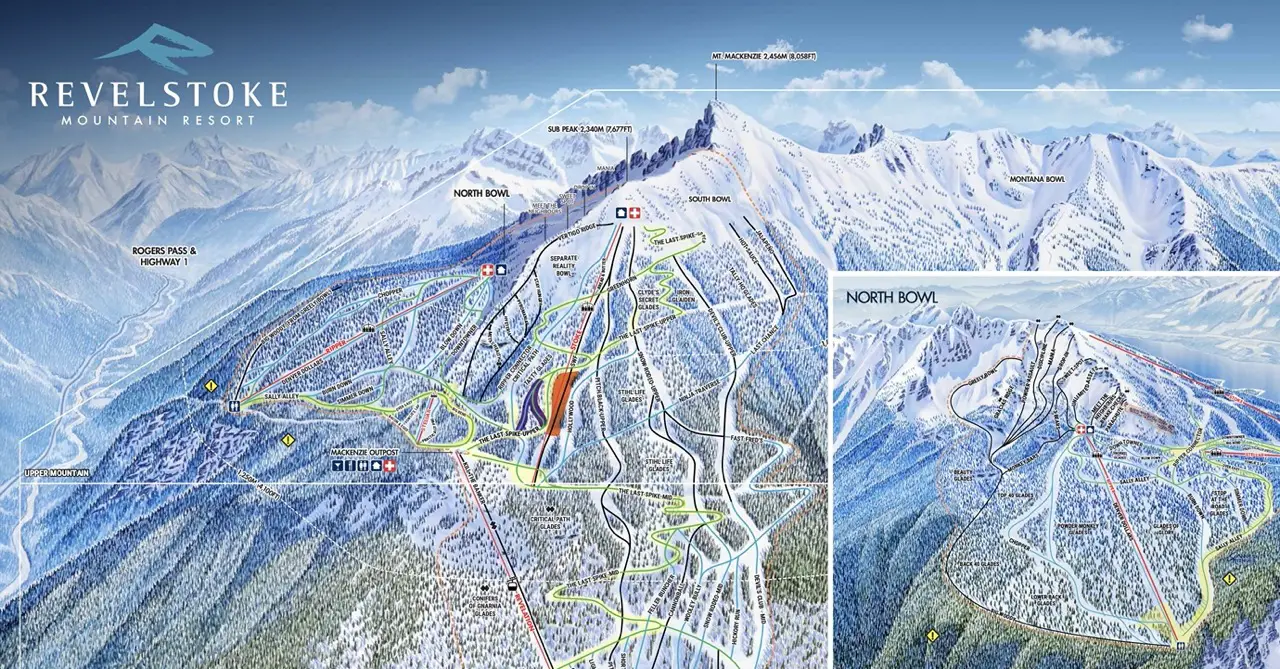 Total Lifts
Revelstoke has a total of 5 lifts, but you should only really care about three of them. Sorry magic carpet. The Revelation gondola has a lower and upper portion which take you to the mid point of the mountain and the Stoke chair is king causing you all the way to the top. The Ripper Chair on the North side of the mountain also deserves a few hours of playtime, so don't leave it lonely over there.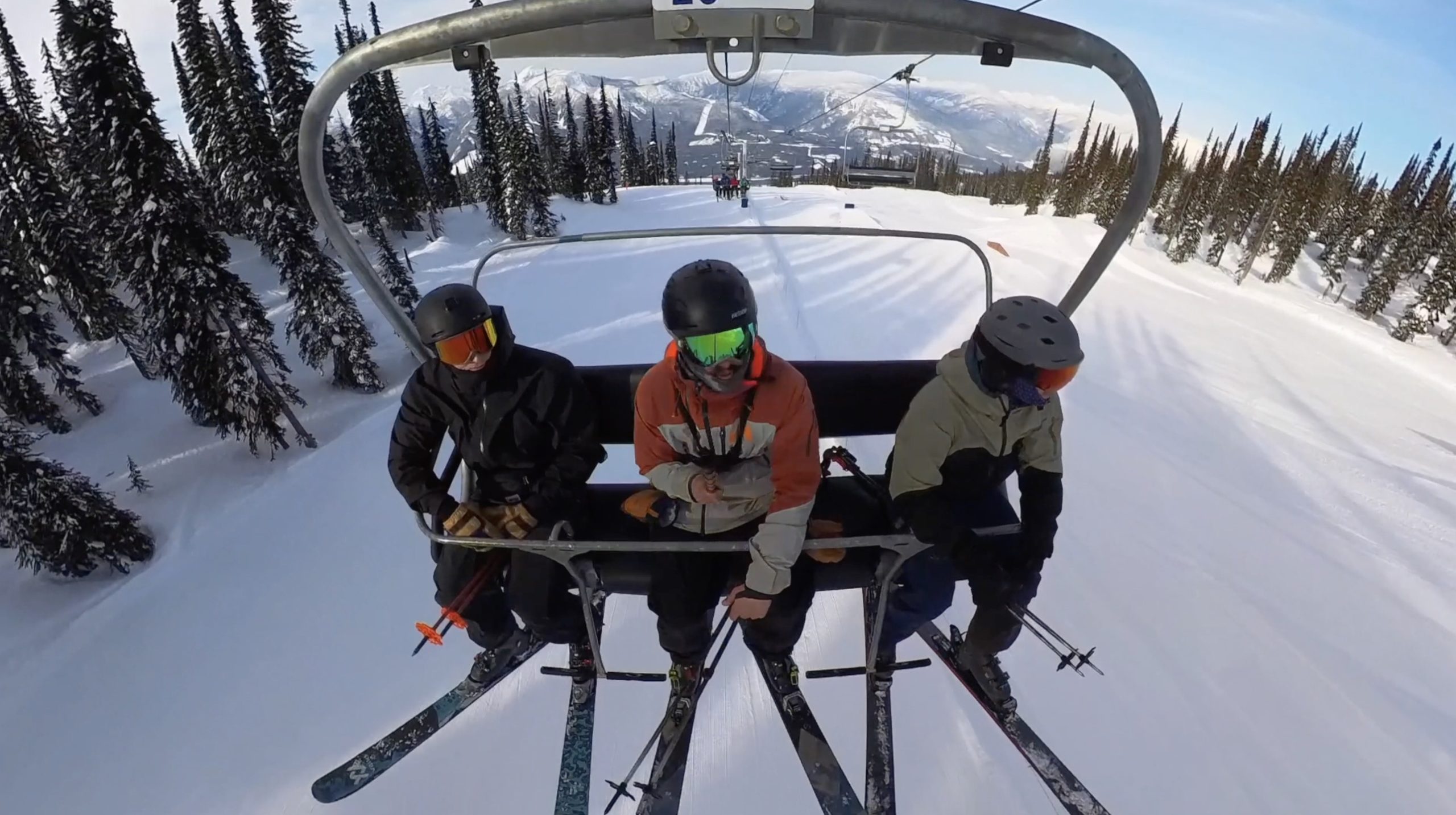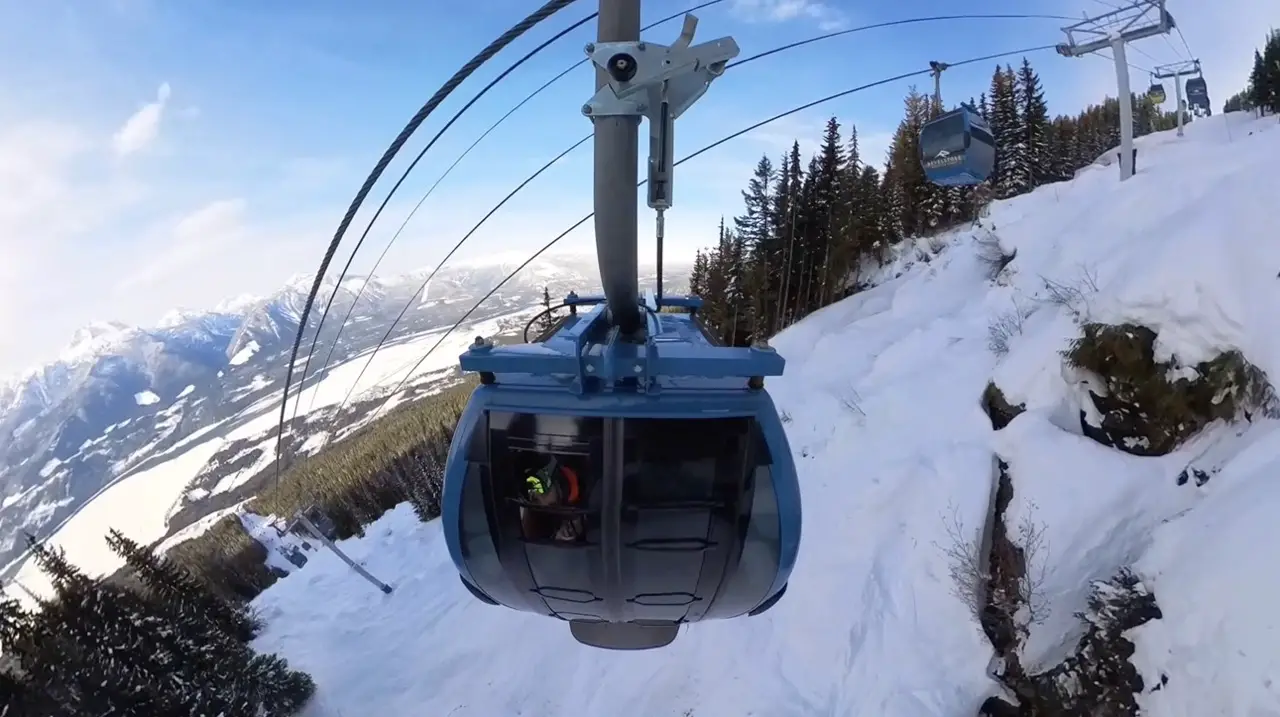 Location & Accessibility
Revelstoke is tucked into the Selkirk mountains about a 2.5 hour drive from Kelowna British Columbia. If you live in Lower mainland Vancouver the best bet is to drive. For all of you looking to arrive by flight, the easiest way to get to Revelstoke is to fly into the Kelowna Airport and rent a car/take a shuttle from the airport to the hill. Most internationals will have to fly to Calgary or Vancouver and take a connection to Kelowna. The drive from Vancouver is about six hours if Hwy 1 and the snowfall decides to cooperate.
Although a week in Revelstoke is absolutely epic, It's called the Powder Highway for a reason and I truly think the best way to experience it is to rent a car in Kelowna or Calgary and drive to a handful of resorts during your stay.
BC's highways can get pretty gnarly in winter. In my opinion, the gnarlier the better, that means the powder is falling! However, you're going to want to travel in a vehicle that is reliable and equipped with top of the line winter tires and safety gear. If you don't own a vehicle or are visiting from out of town FarOut Wilderness offers some of the best 4×4 vehicle rentals in BC that are equipped to drive absolutely anywhere. They've got winter tires, chains, GPS communicators and ski/board racks. Check out their website and use code RISE5 to get 5% off your 4×4 vehicle booking.

Beginner Terrain
Revelstoke has some serious fall line, and the majority of it's blue runs lean steep. However, if you're marginally confident on groomed terrain, you'll have a blast. The Little Bit magic carpet is a great spot for beginners before transitioning to the lower Revelation gondola and beyond. To make things even cooler, the Last Spike is one of the longest green runs in the world and winds 9.2miles (15km) from the summit to the base of the resort.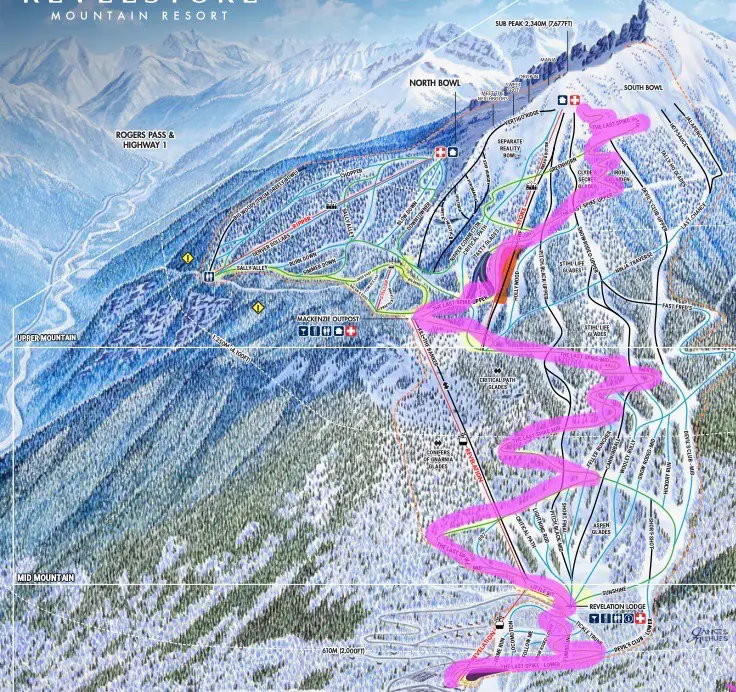 Intermediate Terrain & Carving Runs
The blue runs at Revelstoke absolutely blew my ski socks off. If you like long, sustained fall line groomers, there is no better place in the world. You can carve runs like Critical Path or Pitch Black and paint your way down the groomers staring down at the epic Columbia river views. As if things weren't sick enough, people at Revy aren't really skiing groomers all that much, you'll have loads of space to rip turns and thanks to cold temps and small crowds, it's hard to find boiler ice anywhere.
I also had an absolute ball on all of the blue runs on the Ripper chair. They are glades with a mellow pitch and are the ideal spot for families, or people wanting to cruise carefree through the trees. I honestly could have spent an entire day on the Ripper finding super fun little natural features in the trees. 
Rob and I after finishing a ski touring day in Rogers Pass drove back to the resort for one top to bottom as things were softening up in the late-March sun and Pitch Black was one of the most fun top to bottom rips I've ever had the pleasure of partaking in.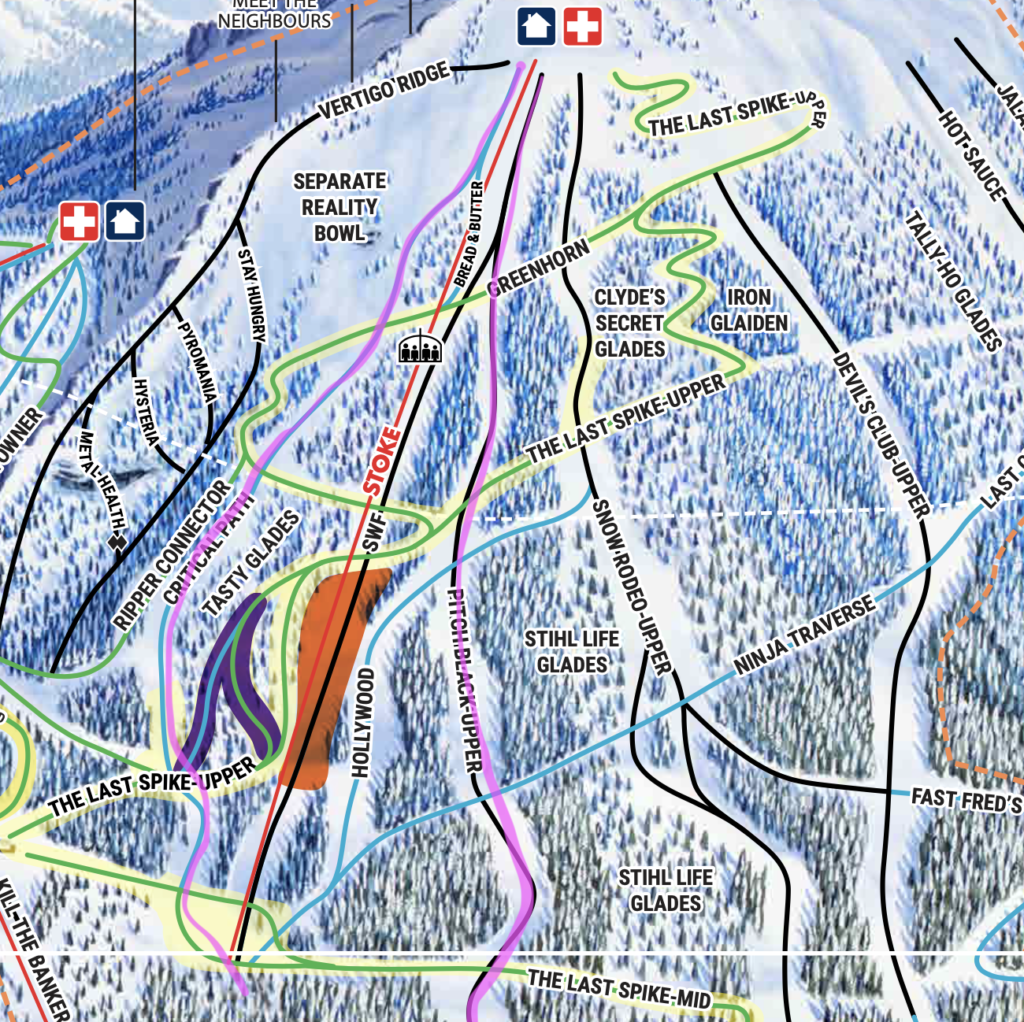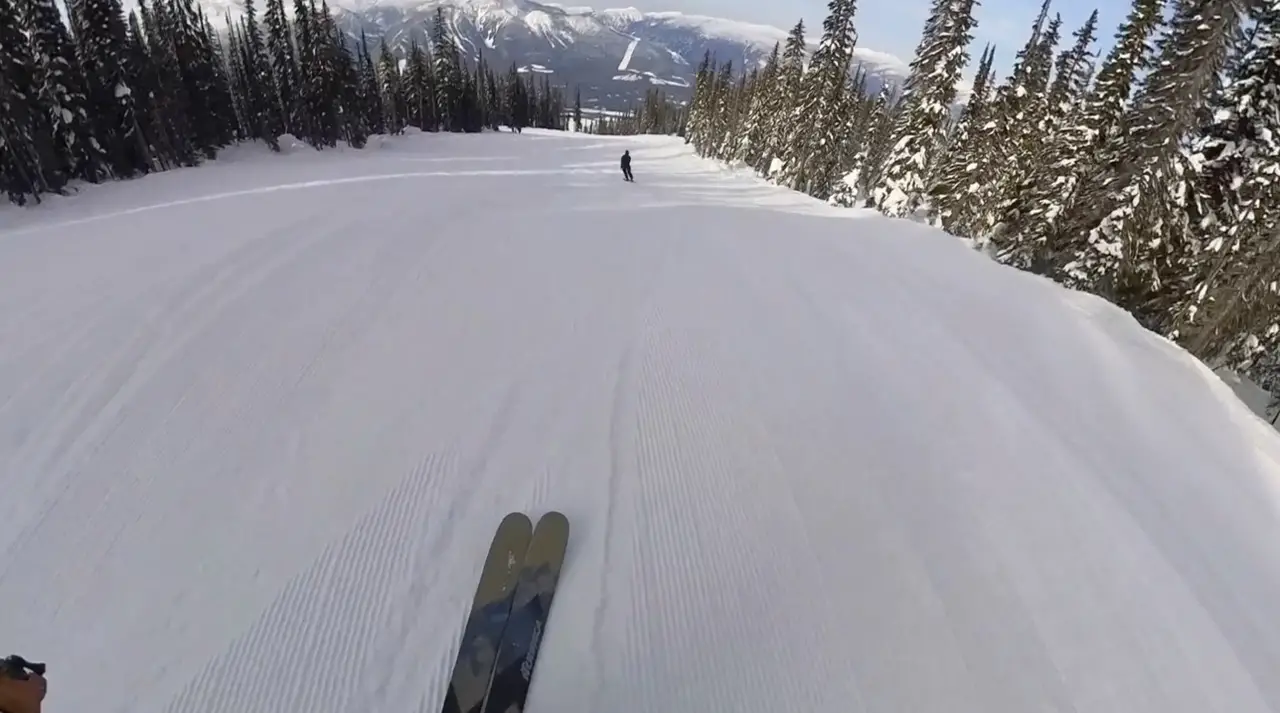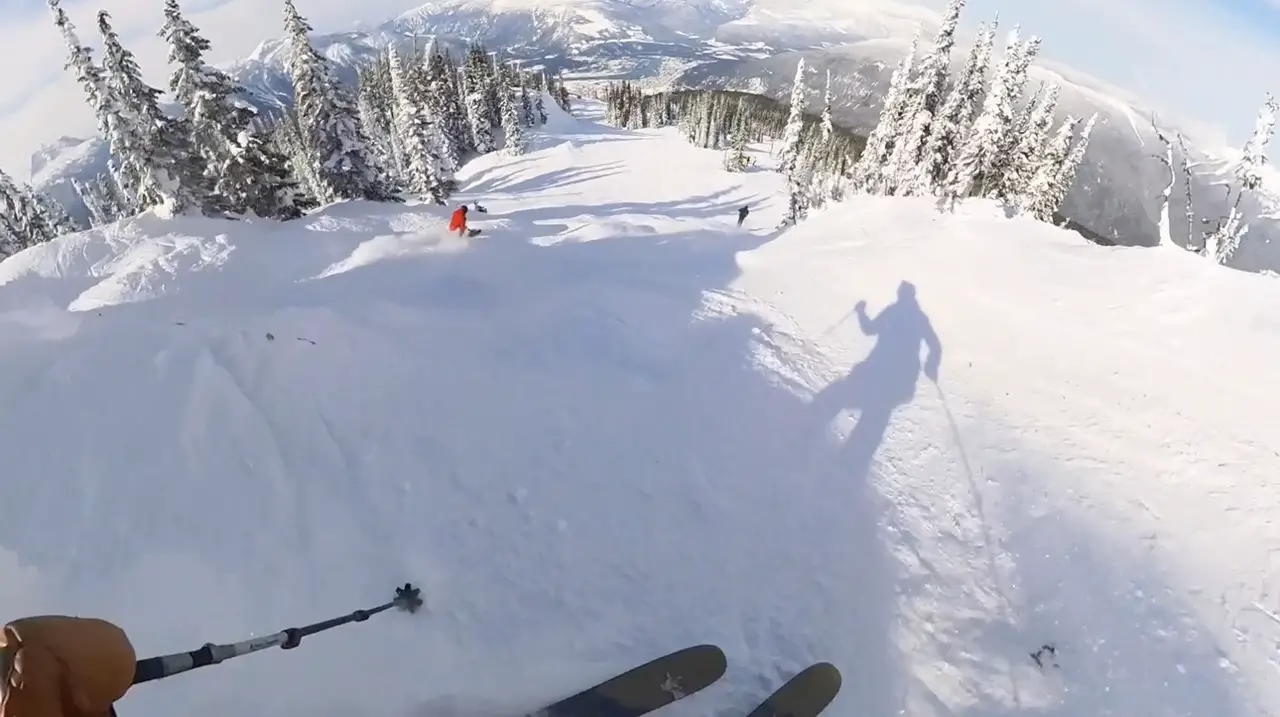 Advanced/Expert Terrain
The black & double black terrain makes Revy legendary. There's really something for everyone form the open bowls like North, Greely, or Separate reality to the bumpier stuff like Hot Sauce & Jalapeño (automatically a fave). 
What really got me 'stoked' were the endless and steep glades. I could only imagine how epic fresh tracks are through Clydes or Stihl life glades. The spot that truly stole my heart was the Vertigo Ridge back towards the Stoke chair, it's not often you get tree skiing this steep. With 20cm, that would be a cup of tea I could never put down.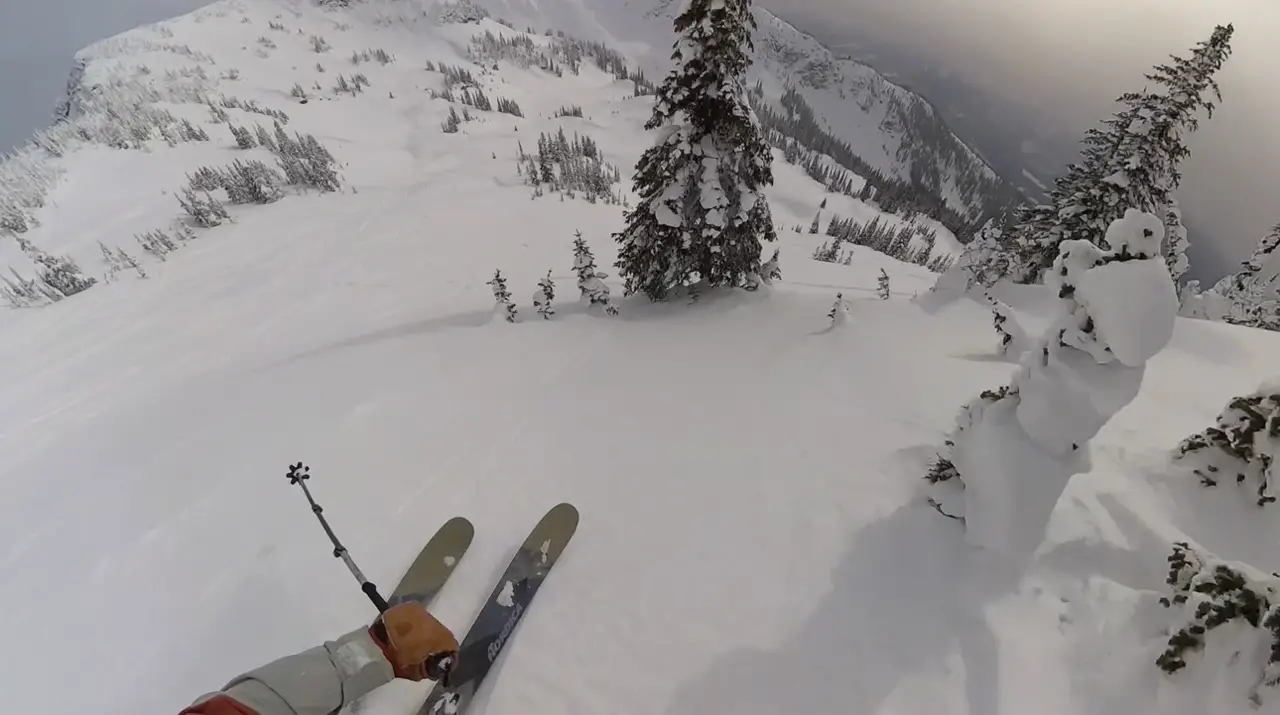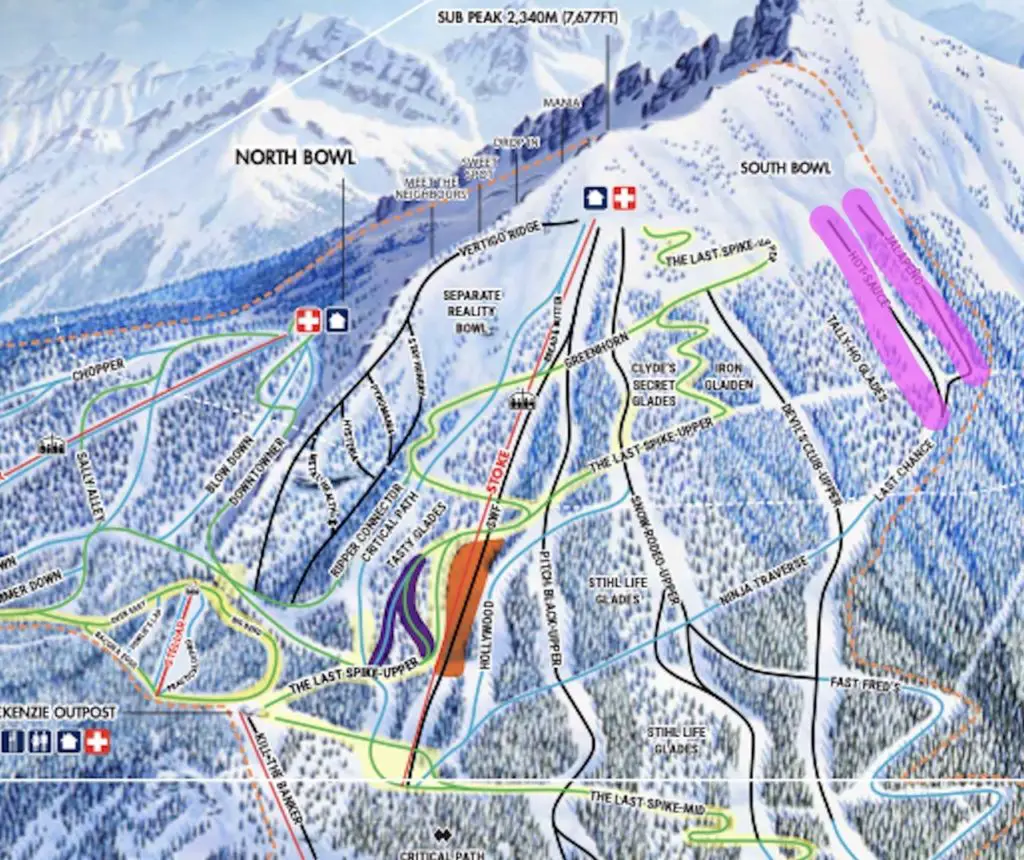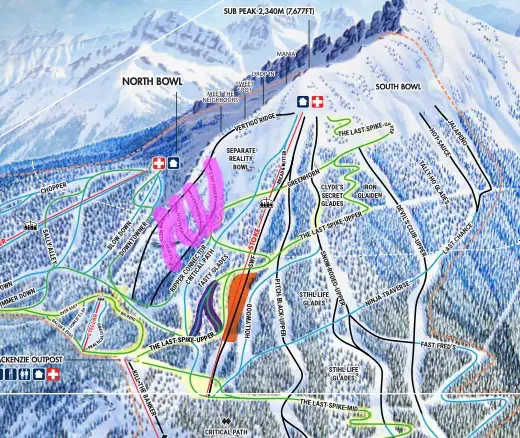 Extreme Terrain
Like Whistler Blackcomb, you could kill yourself ten times over if you wanted to, but nothing inbounds seemed quite as extreme as the Peak Chair or Spanky's. There were some spicy lines of vertical ridge and some epic routes down from the sub-peak, but there wasn't as many 'shit your pants' type lines as I had anticipated.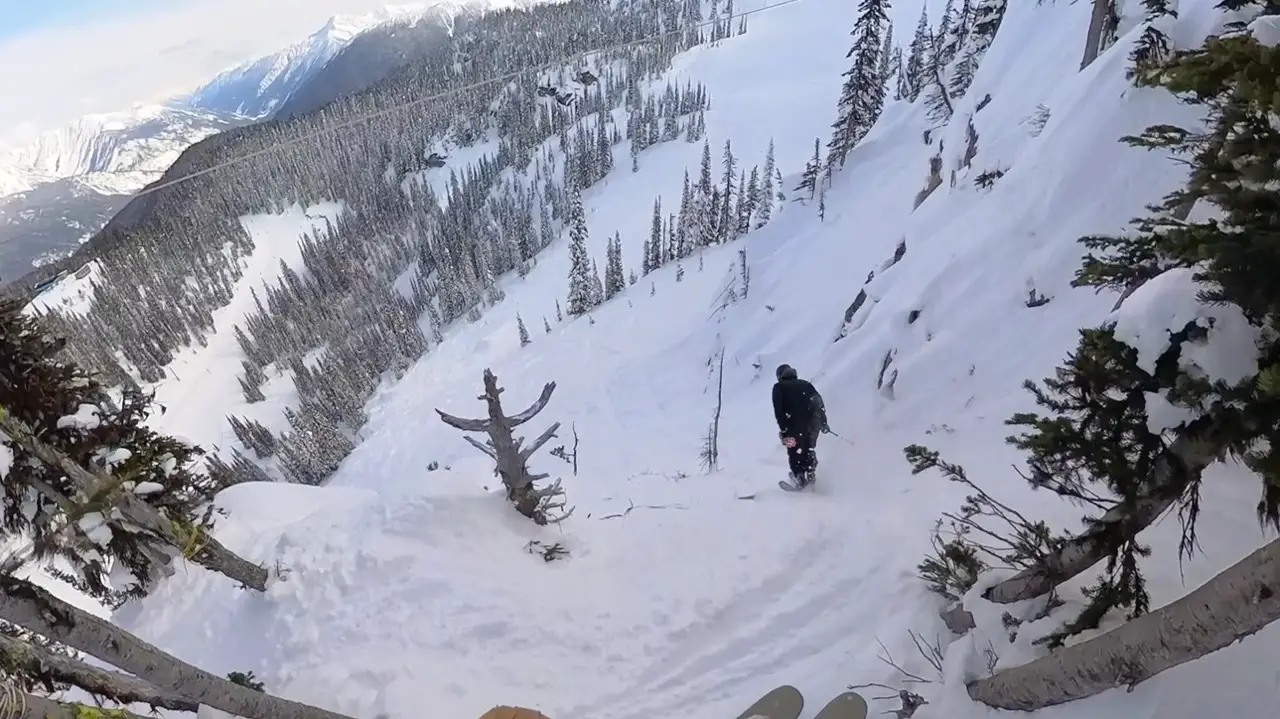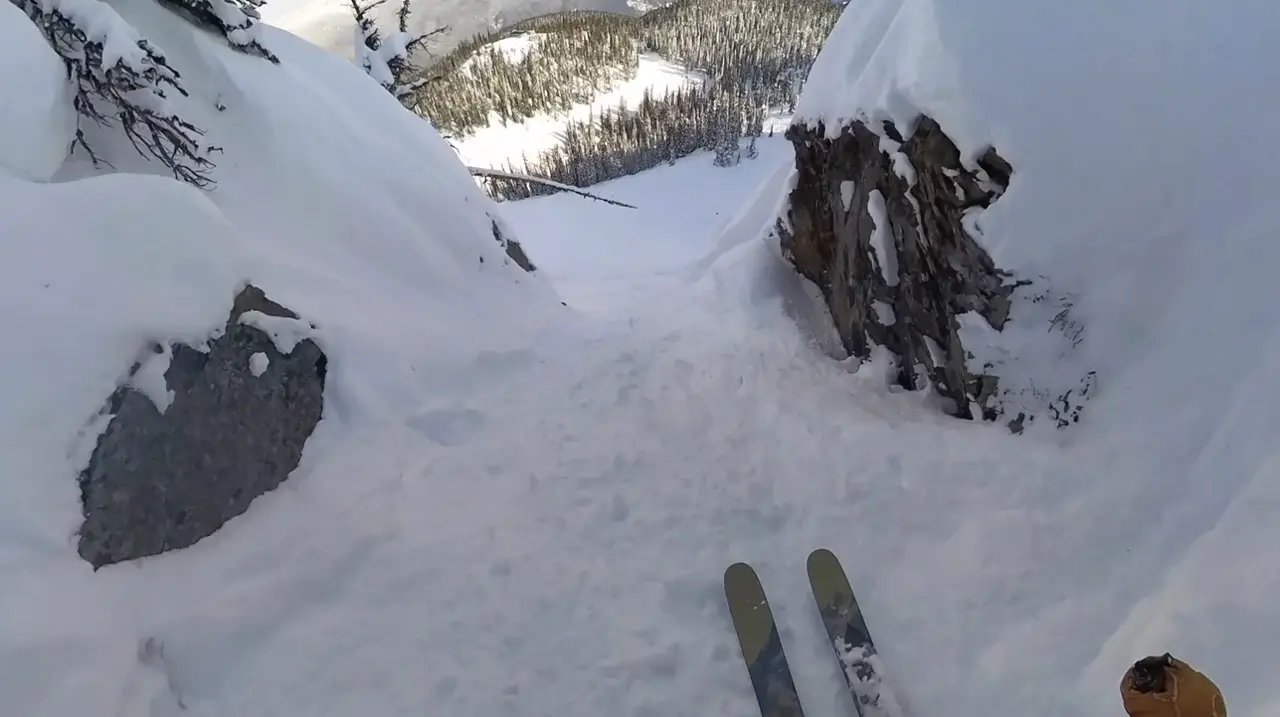 Tree Skiing
As I mentioned earlier, the tree skiing on Revy is heavenly. What makes it even better is you can adventure through most of the tree areas on the Stoke and Ripper chairs without worrying about getting cliffed out. The mid/lower mountain trees are a whole different story though. Critical path, Kill the Banker and the conifers of Gnarnia reminded me of Insanity on Whistler and are loaded with drops, pillows and natural hazards.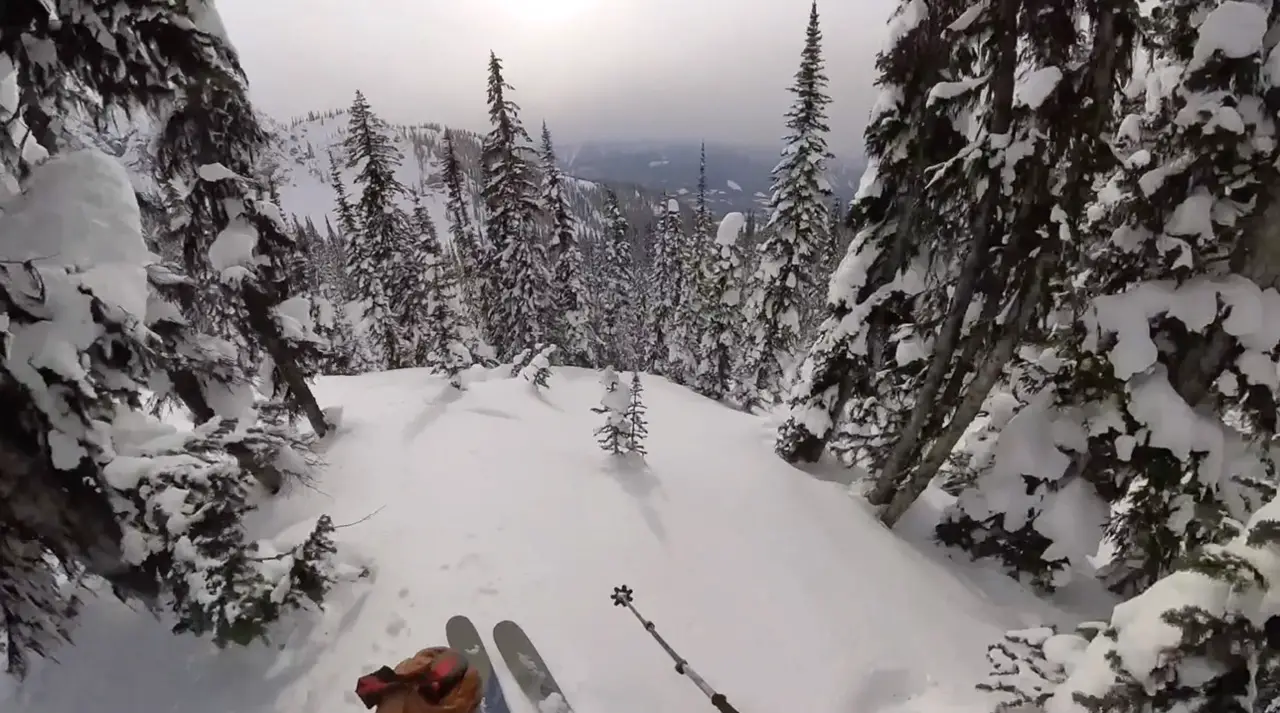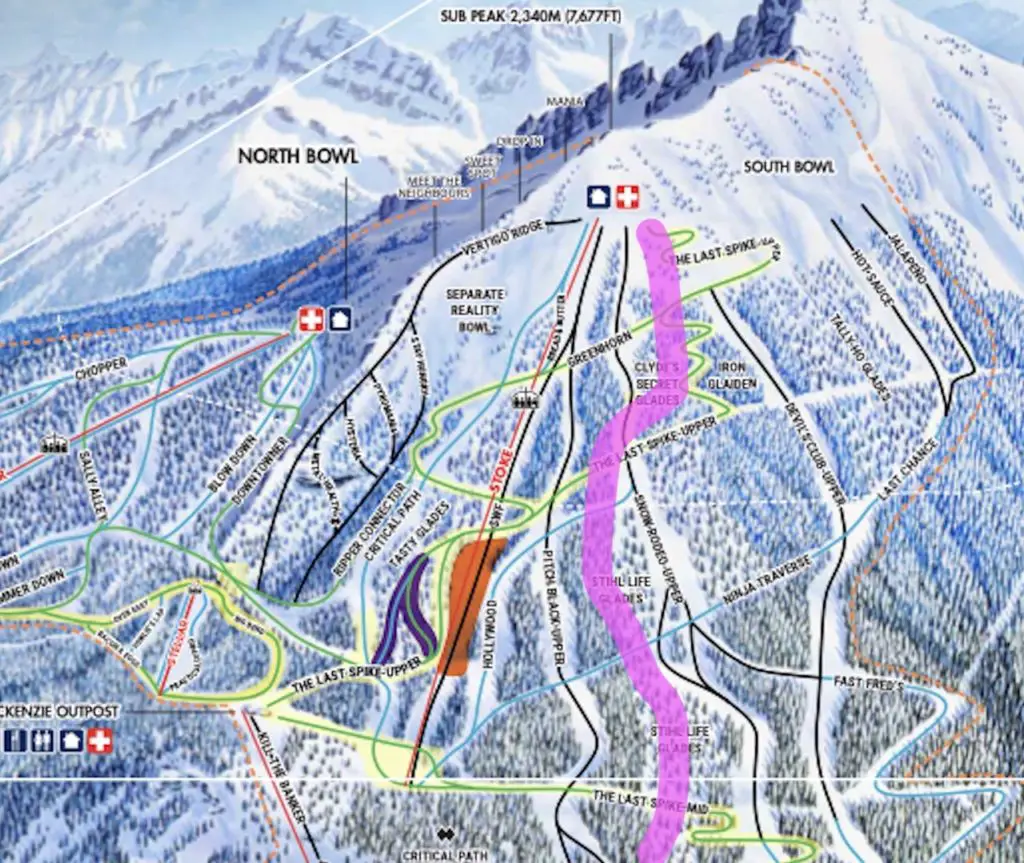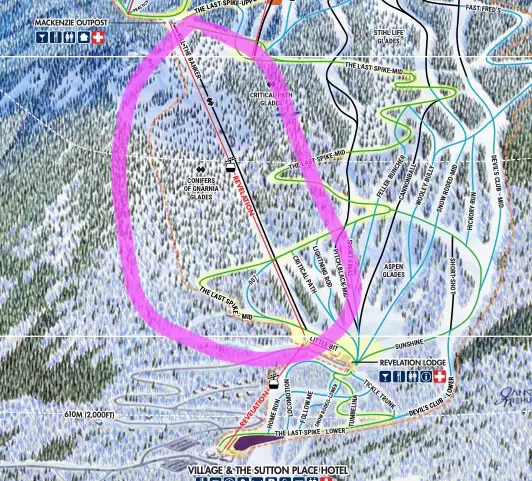 Bowls
You've got the North Bowl, Greely, South bowl and the Separate Reality Bowl. The North bowl seemed to be the largest and had loads of different line options. You can ski it from the sub peak or traverse across to pick and choose a line down. It's wicked but compared to Whistler there isn't that much inbounds open bowl skiing. However, if you put on your backcountry gear and climb steps out of the resort you can go further into the South and Montana bowls which provide legendary ski downs and amazing tree lines to the base of the resort.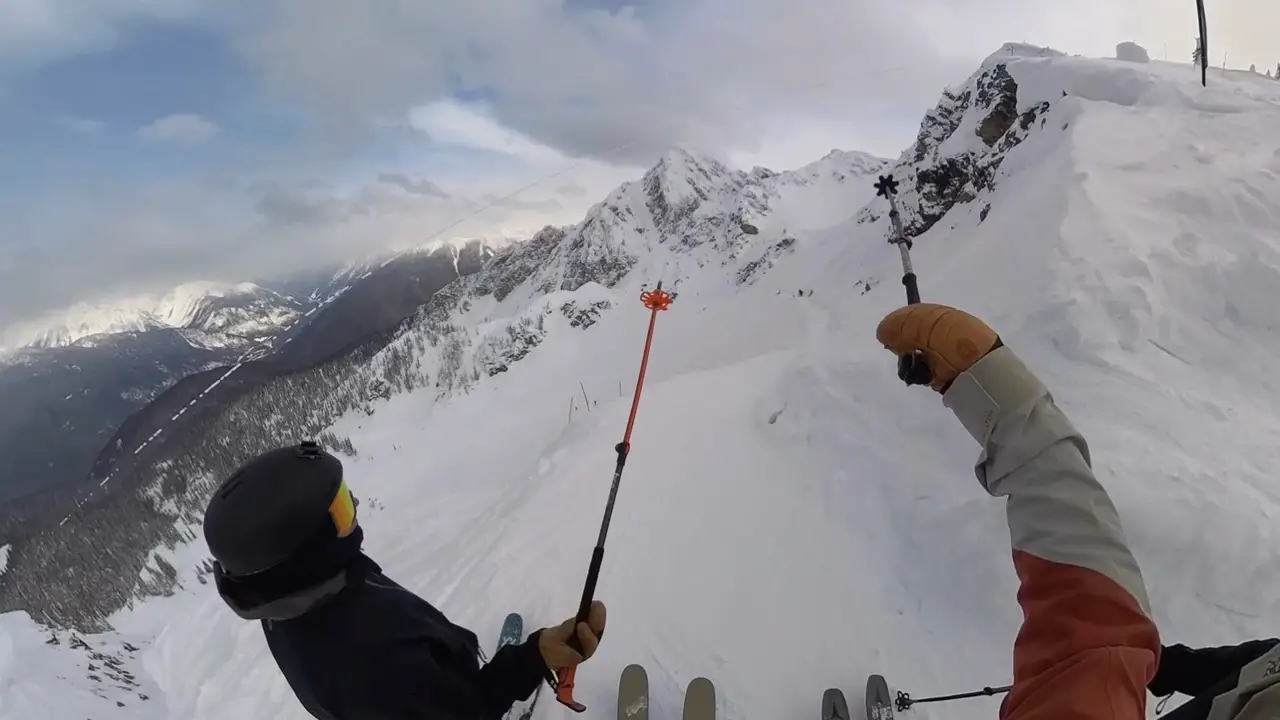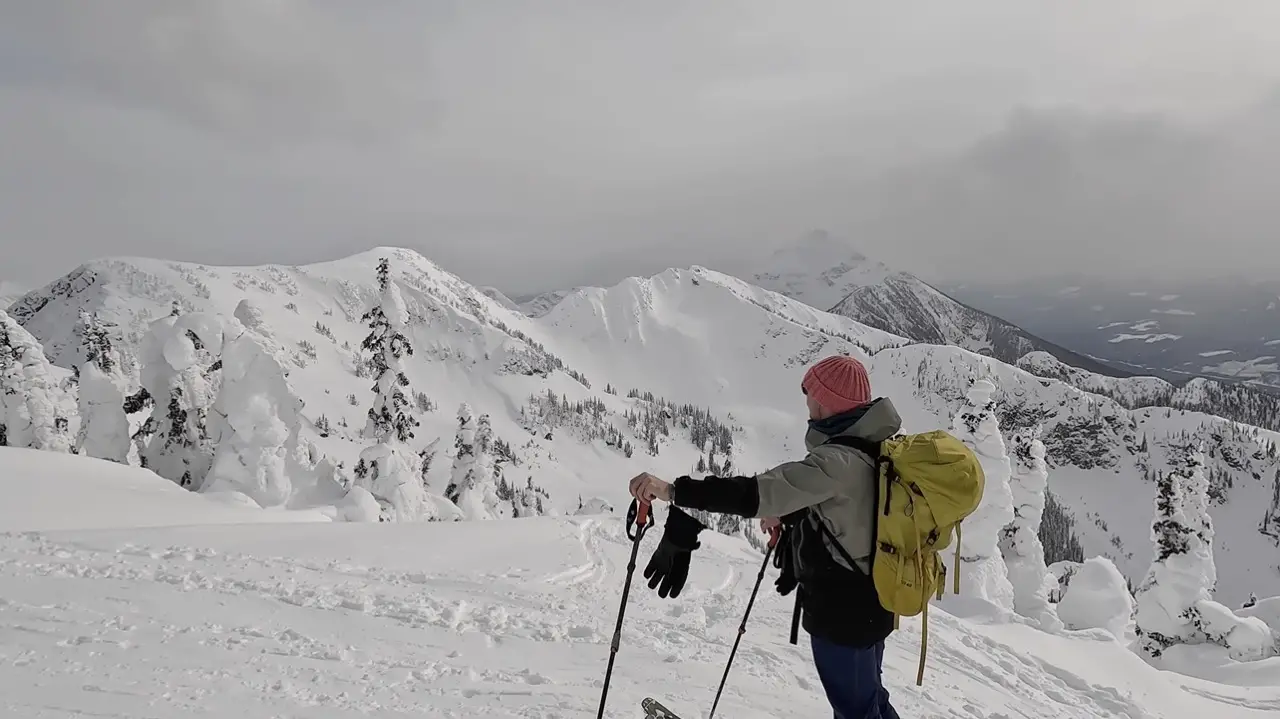 Hike Accessed Terrain
I'm a complete sucker for bootpacks! The primary inbounds hike is to the Sub Peak, which everyone should climb at least once. It's 2,340 meters high and the views are epic. From there you can ski down South Bowl or take your picking at some of the more technical lines down the upper part of the North Bowl. There's also a quick bootpack which traverses from the top of the Stoke chair into the South bowl if you don't feel like hiking all the way to the sub peak.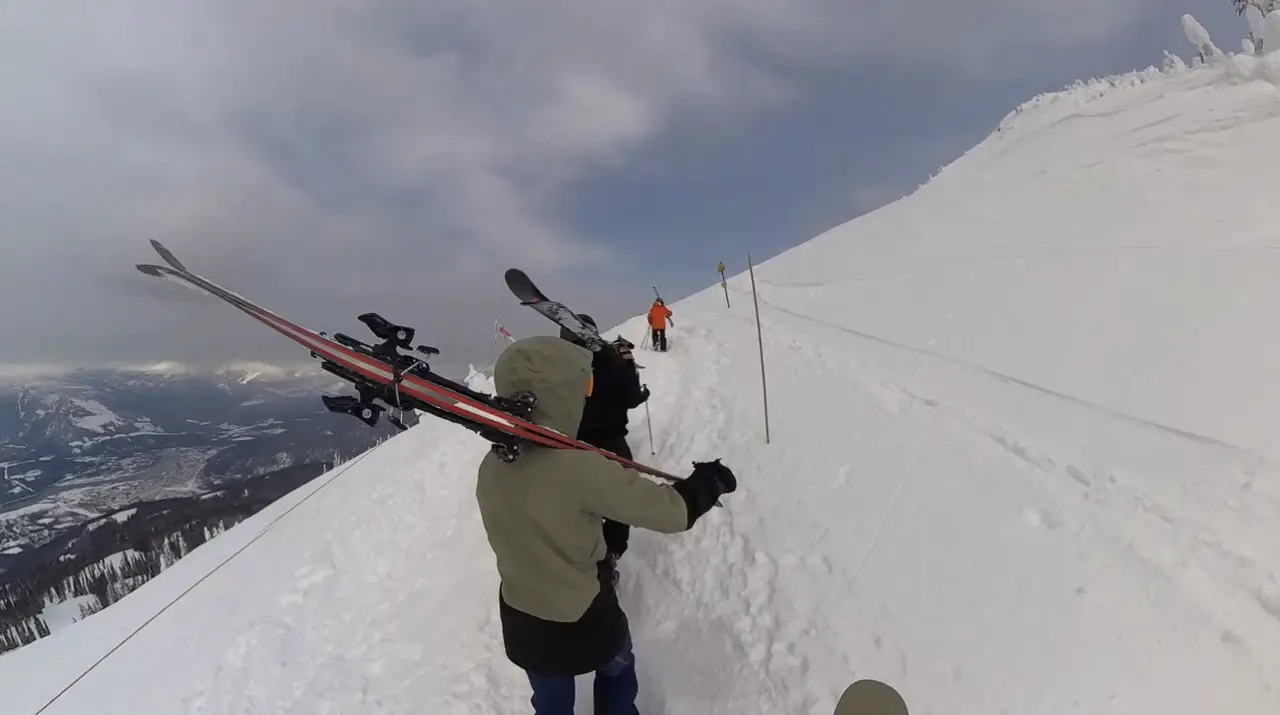 Terrain Parks
Revy has a terrain park underneath the stoke chair. It's nothing too special but will still give park riders a solid fix. What's best about the park here is that it's in the middle of the lift. This means you get great skiing down the top and the bottom and there are tons of natural features to play around on while you descend to the park. 
Alpine Terrain
The Stoke chair and the Ripper chair are technically the Upper mountain 'Alpine lifts'. The North/South Bowls are really the only tree free alpine areas on the resort.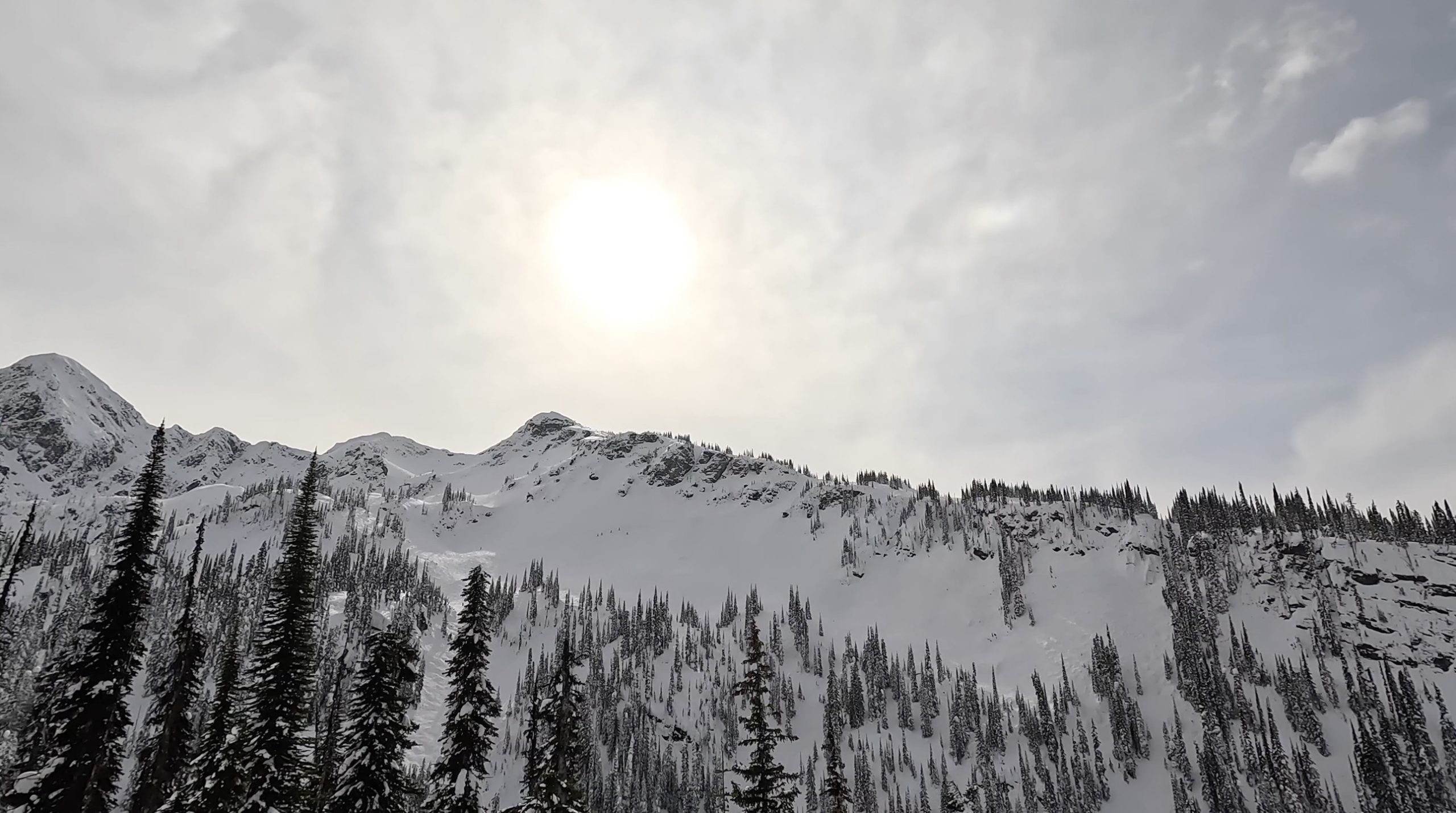 Lift Lines
I skied Revy on a non-powder weekend and it was absolutely dead. We lapped all day long and never waited in a line longer than a few minutes. Like any ski hill, when the snow is falling and avi control is happening, lines can get massive. It's no where close to Whistler level traffic yet, but every year get's a little busier with all the new development. 
Snow conditions and climate
Revy is known for it's champagne powder and over the last three years it hasn't disappointed and received about 900cm of snow. It's less than Whistler Blackcomb snowfall, but, its dryer, lasts longer and is way more fun to ski. It's snowing 4-5 days a week in Revy between December and March. Bluebird happens, but snow happens more. Nothing new here. By April you'll start saying goodbye to the consistent snowfall and hello to sunshine.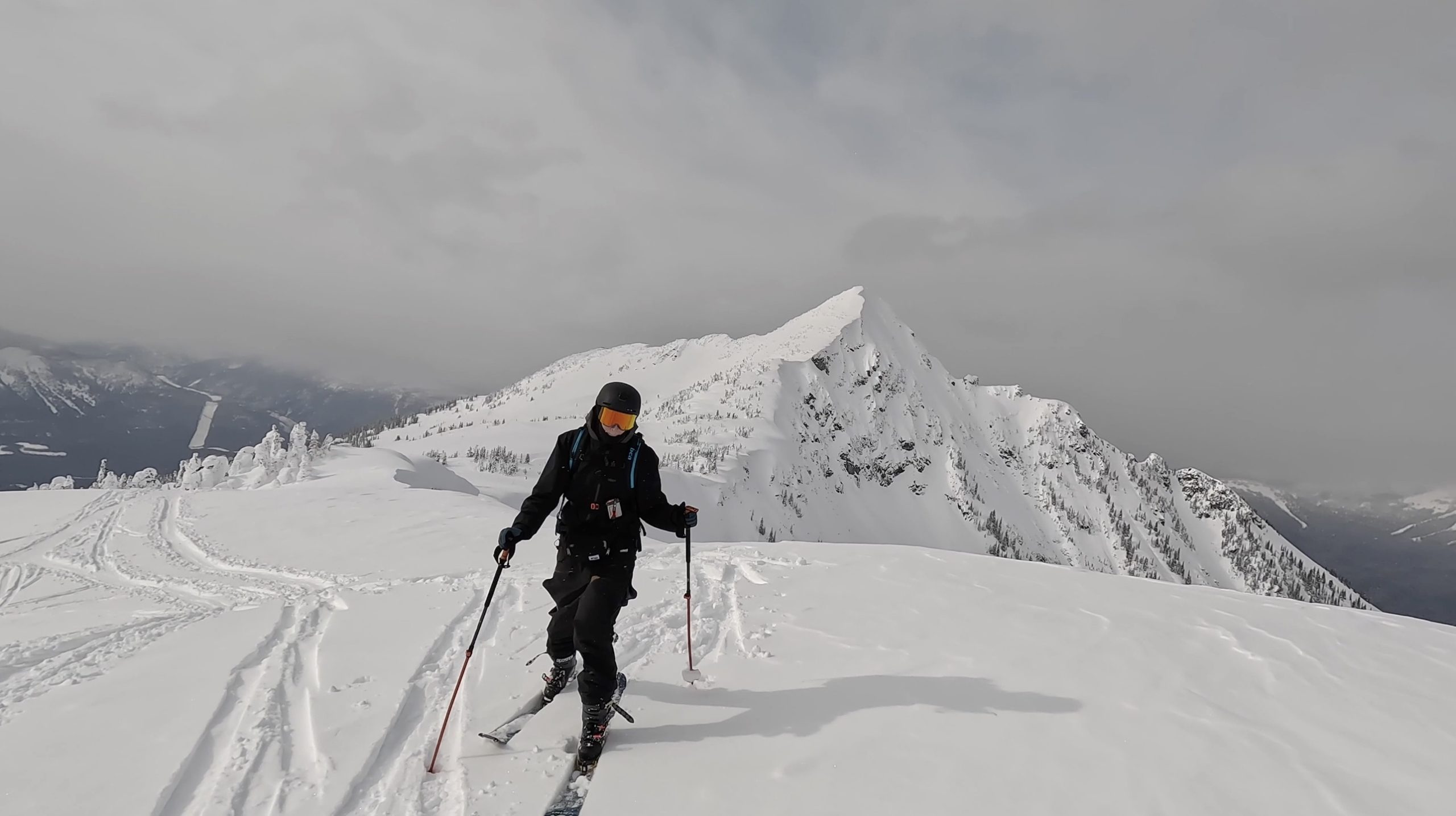 Backcountry Access
The Backcountry access on the resort and surrounding areas are what make Revelstoke INSANE. If you stand in the centre of town you can just look up to the mountains and see ski lines just a stones throw away all around you, and if you drive an hour down the road, you'll be in the ski touring Mecca, Rogers Pass. On resort, the South & Montana bowls are an epic an epic way to finish off a resort day (just do not go without your avi gear).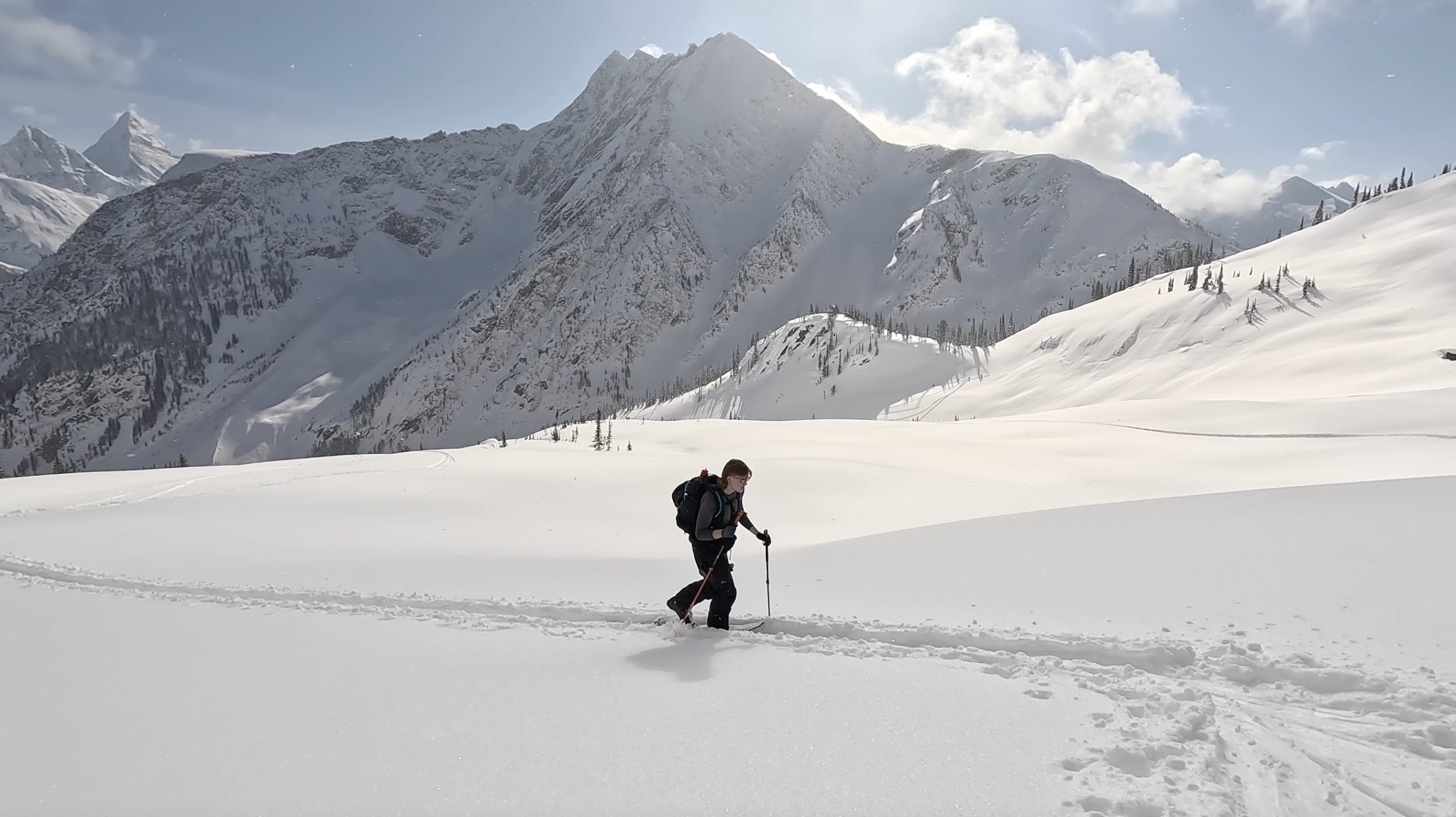 Family
I think Revelstoke is a great family hill especially when the gang is starting to ski steeper intermediate and black runs. It's small enough that you won't be overwhelmed or worried about the kiddos getting lost, but big enough that you could never get bored. 
Views
It's not the Alps, It's not Kicking Horse, It's not Whistler Garibaldi views, but it's pretty damn sick. What I found to be most unique about the view was the snow paired with the Columbia river. When you're skiing down it feels like you might just slip, fall and get taken away down it's mighty current.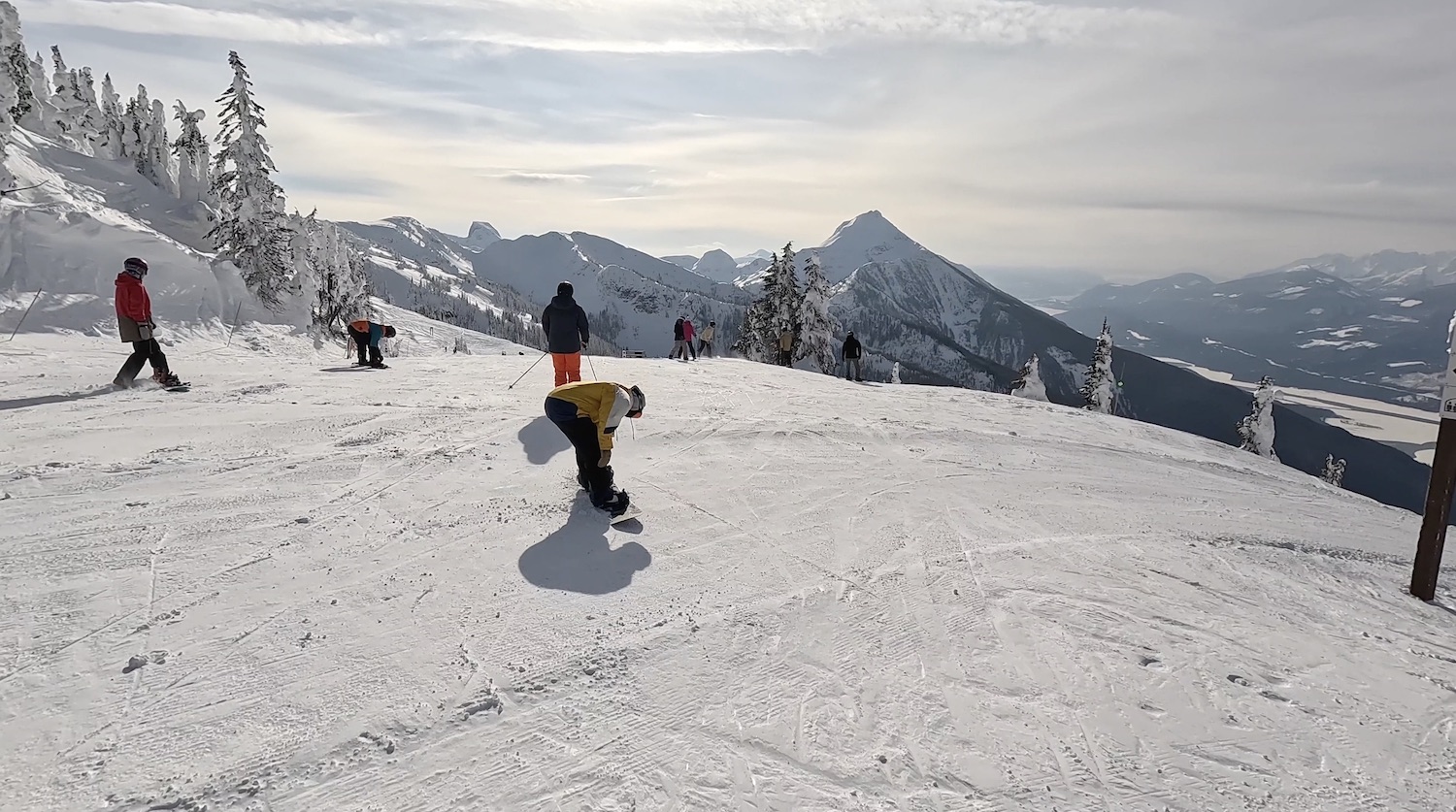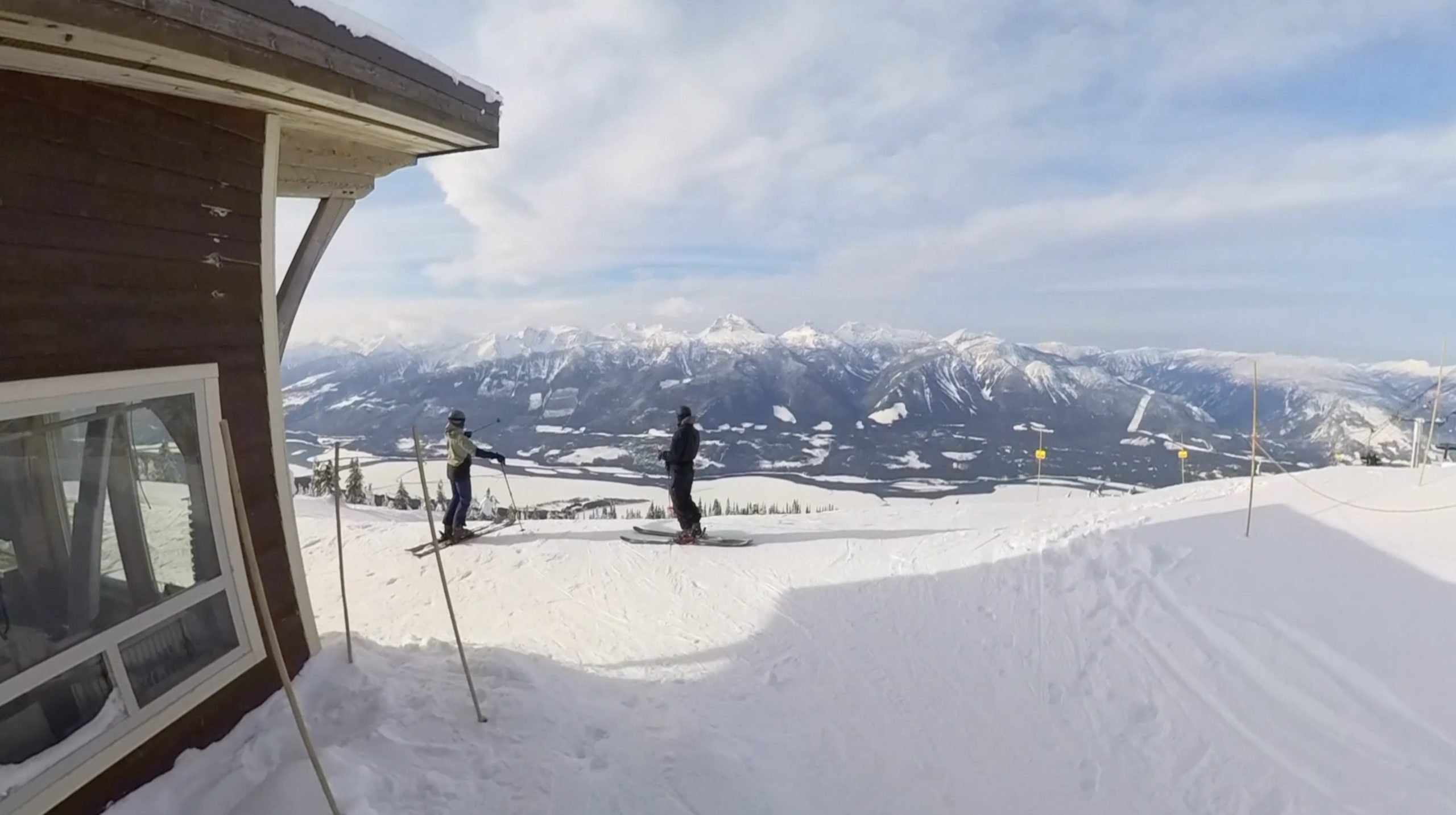 Food
There was a pretty big line when I was there so I stuck to my PB&J's on the hill. But, from what I've gathered, the smash burger at the top of the revelation gondola is an absolute hit among locals. In town there are loads of great options for grub. Craft Bierhaus Pulled Pork Mac & Cheese was delicious and we also ate at Big Eddy's alongside many of the local sledders. If you're looking to get lubricated and want a late night check out the last drop, that's the locals watering hole.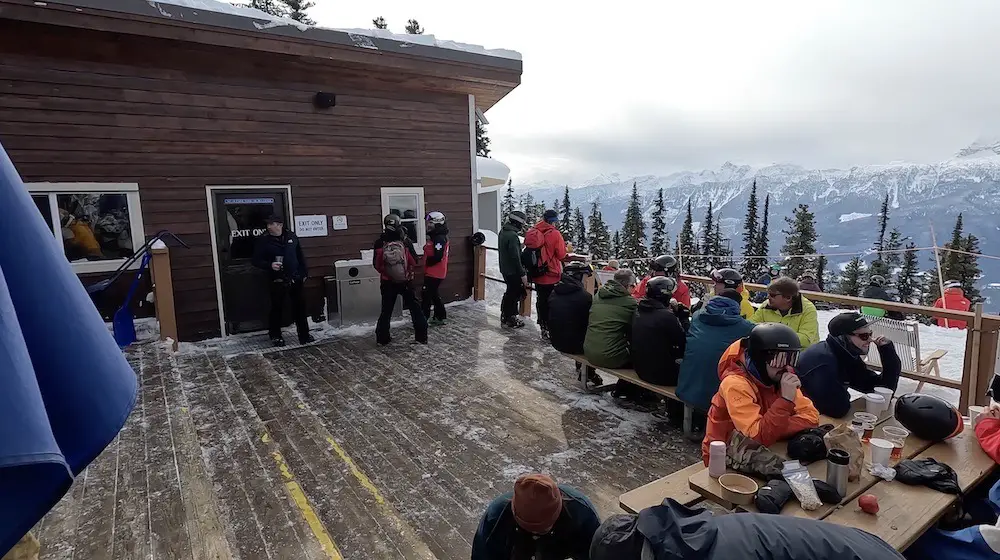 Ticket Prices and Passes
Lift tickets are $160 CAD a single day and $665 for 5 days. If you have an Ikon pass you've got 7 days at Revelstoke and I met many American riders who were pass holders. 
My Honest Opinion On Revelstoke
Revelstoke was awesome and I think it's one of the most all-round heavy hitting Canadian mountains I've visited. It simply checks all the boxes and you can't really go wrong. It's not as gnarly as kicking horse, as wow as Whistler, but it does everything extremely well. 
It's still holding on to a locals feel and there's lots of chatter among friends in the lift lines. For me, it was the playful natural features, fall line, snow and Backcountry access which put it at the top of my list.
I'd go back to Revy in a heartbeat and it should be on every skiers bucket list or powder highway itinerary. 
It's number one for groomers from the places I've visited, but lands second in a lot of the other categories, but all round, it just might be number 1.
Let me know if you have any Q's in the comments. 
Stay Spicy!