Prior to our summer trip to Banff, Jasper, Yoho and Canmore, I spent hours with Laura designing our optimal plan of attack. Which hikes would be best? Where to stay? What attractions to see?…. The list goes on. The thought of navigating the 1600km Rocky Mountain border and not missing anything was a daunting task. Although 9 million visitors herd to the 7 Mountain parks in the Rockies every single year (if everyone who visited laid on their backs they could stretch across the mountain range 10 times), I could not find an itinerary online that perfectly matched our obsessions, interests and preferred style of road tripping. This was the big trip of the year and I did not want a vacation to go wasted. I had everything planned out to a "T".
Fortunately, the trip turned out nothing like we had planned. It shattered my expectations and turned out to be one of the most remarkable adventures I had ever been on. So, the simple answer to the question, "Do Banff, Jasper, Yoho and Kannanaskis Live Up to The Hype?" is YES YES and YES. Visiting the Rockies in the summertime is something that everyone, especially every Canadian should experience once in their lifetime. Whether you love bagging peaks, observing wildlife, swimming in alpine lakes, or visiting breathtaking natural attractions, this trip will surely check rows off your bucket list.
If you are anything like me the perfect vacation isn't about relaxing and doing nothing. The perfect vacation is unnecessarily overflowing your days with new activities and experiences. I live for the feeling of laying my head down at the end of the day completely exhausted but excited for the next "Excited Exhaustion."
After seeing pictures of our most recent trip to the Yoho, Banff, Jasper and Canmore my family and friends were eager to get all the details from me so they could plan the perfect trip for themselves. I figured there must be many more people out there who would find our comprehensive trip itinerary very helpful. Everyone's interests and travel preferences are totally different. However, I hope that our itinerary will help you solve some of the pieces to your Canadian Rockies Road Trip planning puzzle.
I've detailed below the entire breakdown of our 11-day trip from Vancouver to the Canadian Rockies and the most notable activities and attractions we visited each day.
What to Know Before You Go
📆 Create a Trip Plan in Advance 📆
This is the most important tip of them all. The beauty of the Canadian Rockies is no secret and the crowds visiting these destinations balloon year over year (especially in the summer months). By designing a rough trip plan including the destinations where you will be staying each night you will be able to reduce onset trip planning migraines or disappointment when doing things last minute.
⛺ Book Campsites and Accommodations Early ⛺
We travel on a budget, so camping was a no brainer for us. Campsites will book up in Yoho, Banff and Canmore very quickly. Some of the best campsites will be booked for the entire summer minutes after the online reservation period is open. The best guidance I can provide to you is to be aware of when campsite booking becomes available and have your dates, places and desired sites planned before logging on and waiting in the online queue for your turn to reserve. I typically end up about 30,000 people back in the queue so you need to have a backup plan and be flexible about the sites/locations and dates that you will be staying for. Ideally, book the campsites first, then ask your work for the time off, this will ensure you are not disappointed if you cannot get your preferred dates.
🐻 Respect Wildlife 🐻
There is wildlife everywhere in the Canadian Rockies. You need to be respectful and admire all creatures from a distance, keep your food stored away when camping, and never feed or try to pet animals. To be better prepared, Check out my post on preventing negative animal encounters here.
🍁 Get a parks Pass 🍁
You will need a parks pass to enter Banff, Jasper or Yoho National parks. If you are going with a party larger than yourself the best option will be to purchase a family or group pass that you will hang from your Dashboard mirror. You can find the current discovery price passing here. (https://www.commandesparcs-parksorders.ca/en)
🐦 Early Bird Gets the Worm 🐦
These natural attractions can get busier than a Saturday afternoon in times square. The early-bird truly gets the worm in the Rockies. It's a simple calculation. The more popular the attraction, the earlier or later you will have to arrive to dodge the crowds, boosting your level of enjoyment tenfold.
🌄 Mountain Weather 🌄
The weather is super unpredictable in all these regions. Ensure to bring clothes that will keep you cool in the summer and warm enough in sub-freezing temperatures (sometimes it snows in the summer months). If you plan on camping, make sure to have a tent footprint and lots of tarps and rope in case things get wet.
🔥 All National and Provincial Parks Campsites Have Firewood 🔥
Don't worry about packing a bunch of bulky firewood. Most campsites require you to purchase or use provided wood located at the site.
---

The Gear/Supplies Needed
🚙 A reliable vehicle 🚙
What's a road trip without a vehicle? We used my Ford F150 however anything with 2 or 4 wheels will do the trick. None of the roads we drove were particularly hairy and everything is well enough maintained for your average low clearance car.
⛺ Camping gear ⛺
We were tent camping the entire time minus 2 days when we splurged on indoor accommodation. We packed all the basics into the truck. The larger and more notable items, our tent, stove, bbq, propane, tarps, cooler, inflatable boat, camp chairs. You can check out a more thorough description on what I like to bring tent camping here.
🍴 Food/Water 🍴
We stocked up on all the basic non-perishable food items before we left. There were grocery stores in every town we visited so we purchased meat and new ice every time we arrived in a new town/city. The food prices are inflated in all these tourists' towns so be sure to bring your food or purchase a bunch in Canmore as it is a little cheaper. For water, I brought two 20L water jugs. You could easily get away with bringing one big jug because campsites have taps that you can use to refill your supply every day.
🥾 Proper Attire 🥾
Proper hiking boots, breathable clothes and trekking poles are super important if you are planning to crush some elevation, enjoy the mountains and reduce the potential for injury. Bring a swimsuit for lounging in one of the many lakes and bring some warmer clothes for sitting around the fire at night and for the mornings before the sun pops out.
---
The Trip:
Day 1: Vancouver BC to Yoho National Park
The first day of our trip was a travel day from Vancouver to Yoho National park. We were super eager so decided to start things early and embarked from Vancouver at 5:00am. We drove the TransCanada highway past Kamloops, Shuswap, Salmon arm and finally came to a stop at Revelstoke. We knew we would be back to Revelstoke for the winter season so didn't stay much longer than a quick walk around town We continued along the highway and gassed up in Golden, which might I add, was one of the busiest sets of gas stations I have every visited in my life. We continued along the highway towards Yoho until we reached our first stop, Wapta Falls.
Wapta Falls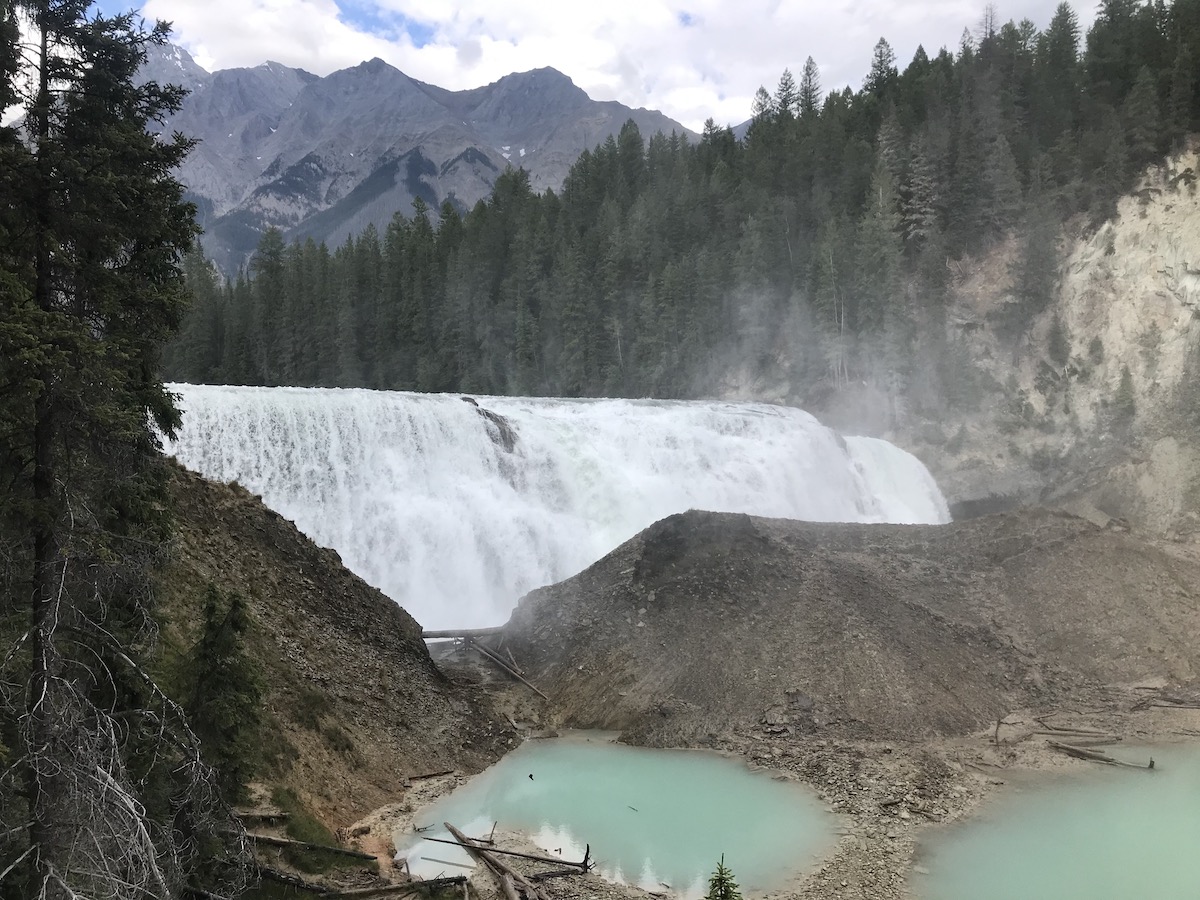 At 4:36pm almost 12 hours later we reached out first point of interest. The Wapta Falls was magnificent, and the quick 20-minute walk from the parking lot rejuvenated our legs after hours of sitting. There is a viewing area higher up where we stopped for a picture. We continued to follow the trail right down to the river bed area and dipped our heads in the kicking horse river. I would recommend going all the way to the bottom so you can get even closer to the falls bottom. I ended up seeing hundreds of waterfalls on this trip and Wapta was easily one of my three favorites.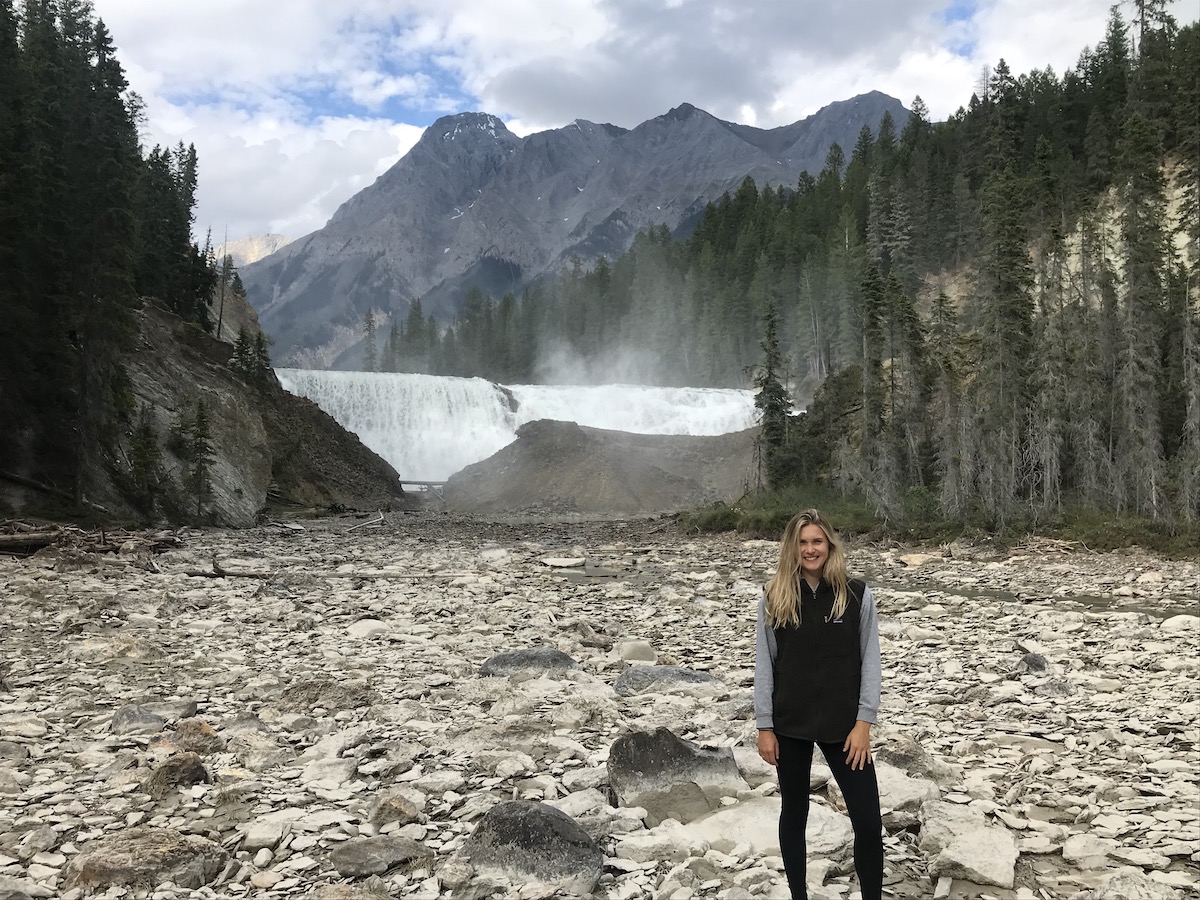 Emerald Lake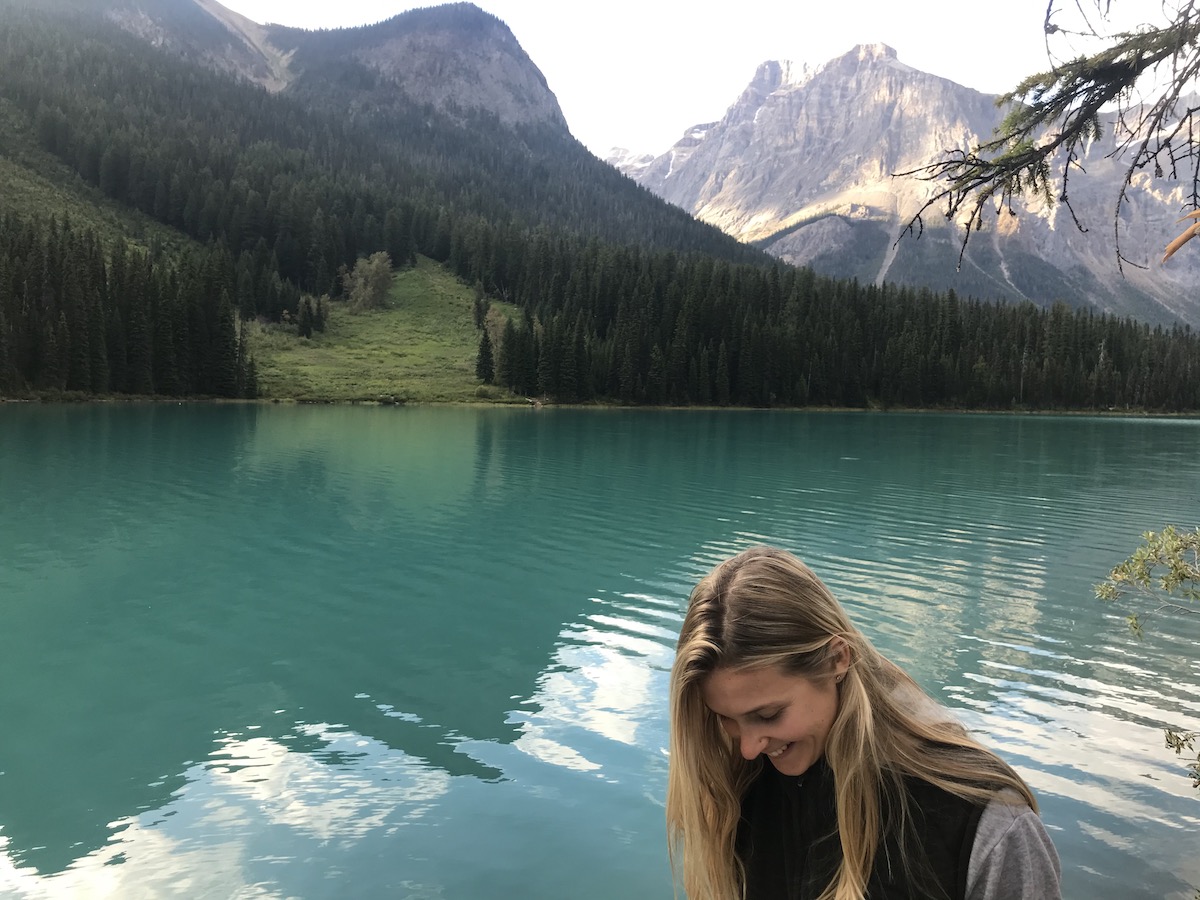 We left Wapta falls and drove directly to Emerald lake one of Yoho's premier tourist attractions. It is the largest of the 61 lakes in Yoho and is mind bogglingly beautiful. We did a brief walk about the lake and scoped out some amazing cabins we definitely could not afford to stay at (likely more expensive per night than the cost of our entire trip). The color of the lake gives it its name and the President range mountains namely, Mt. Wapta and Mt. Burgess tower above it. Unless you are going to adventure on the surrounding trails or rent a canoe you don't need to spend much more time than 30 minutes or so here making it the perfect stop if you only have time to just pass through.

Campsite 1: Kicking Horse Campground
We arrived in the dark and set up camp at the Kicking horse campground. The campsite is not anything special but had everything we needed including a newly renovated bathroom and shower facility (that we could not use because of Covid). The location was perfect for us since it is on the Yoho valley road which was minutes away from our destination on Day 2.
---
Day 2:  Yoho National Park to Canmore
We woke up at the Kicking Horse Campsite in the morning utterly freezing. Although it was late August, due to the high elevation, we were greeted with loads of frost and a rainy sunrise mist encircling our site. If you're staying in Yoho, be ready for more adverse and cooler summer conditions than the other parks when camping. We packed up our stuff, had our coffee and got ready for the day.
The Iceline, Little Yoho Valley and Yoho Valley Trail Loop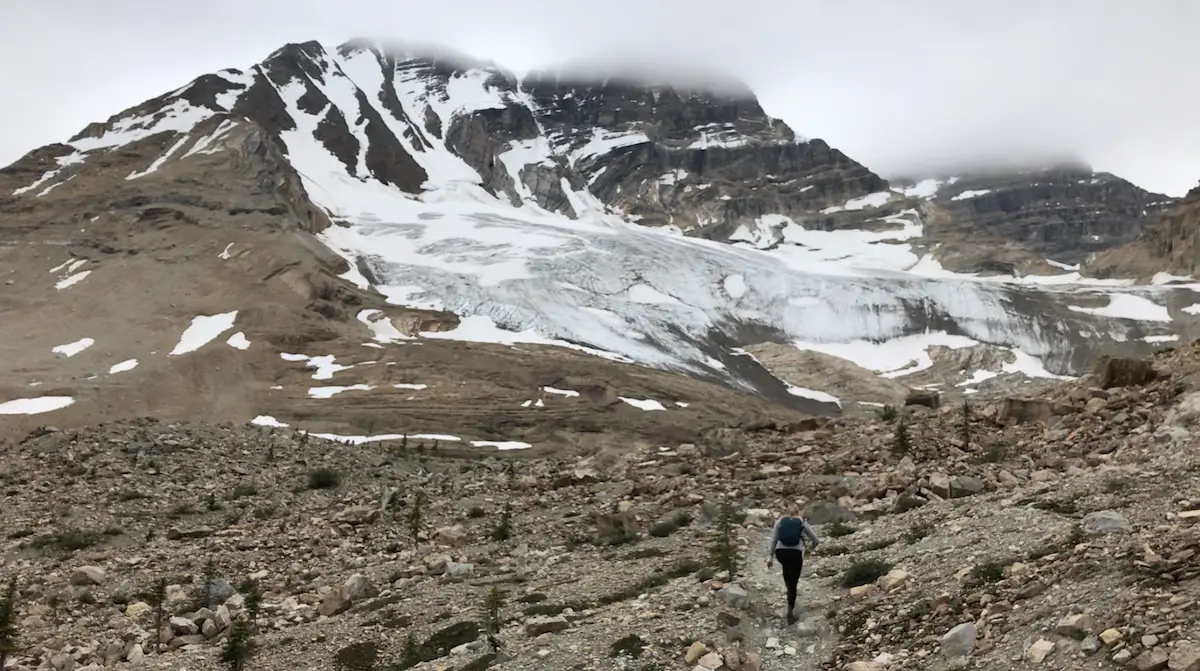 We determined that we wanted to hike up into the Alpine as soon as possible. In doing so, we gave our legs and lungs a run for their money on this 21km loop hike. We travelled the trail in a counterclockwise fashion, which paid dividends as we had the trail to ourselves until we ran into hikers who chose a clockwise path in the afternoon. I cannot speak highly enough about this loop, the mix in views and terrain was so stimulating. The path begins in a forested area travelling alongside the bank of the little yoho river. We passed Laughing falls and began to switchback up into alpine meadows, developing into a mars like rock covered landscape presenting poignant views of glaciers, waterfalls, snow caps and perfect turquoise alpine lakes. We admired the Takakkaw falls with the great birdseye perspective to our left. A lucky group we passed told us that they had  witnessed an Albino Grizzly bear wander by which apparently is commonly spotted in the area. If you love hikes and only have one day in Yoho, this is the answer. The trail took us around 4hours and 45minutes and it genuinely checked all the boxes. The Iceline little Yoho Valley Loop gives you the same experience as some of the longer more complicated overnight trails in the region.








Takakkaw Falls
The iceline Yoho valley loop provided a fantastic view of the falls throughout the entire mid-section. However, since we were there, we wanted to get up close and personal. We walked the short path from the parking lot to the Takakkaw falls viewpoint. It's freaking huge! Takakkaw is the second tallest waterfall in Canada and I honestly thought it was way cooler than Niagara falls, awarding it the honor of being part of my top 3 list.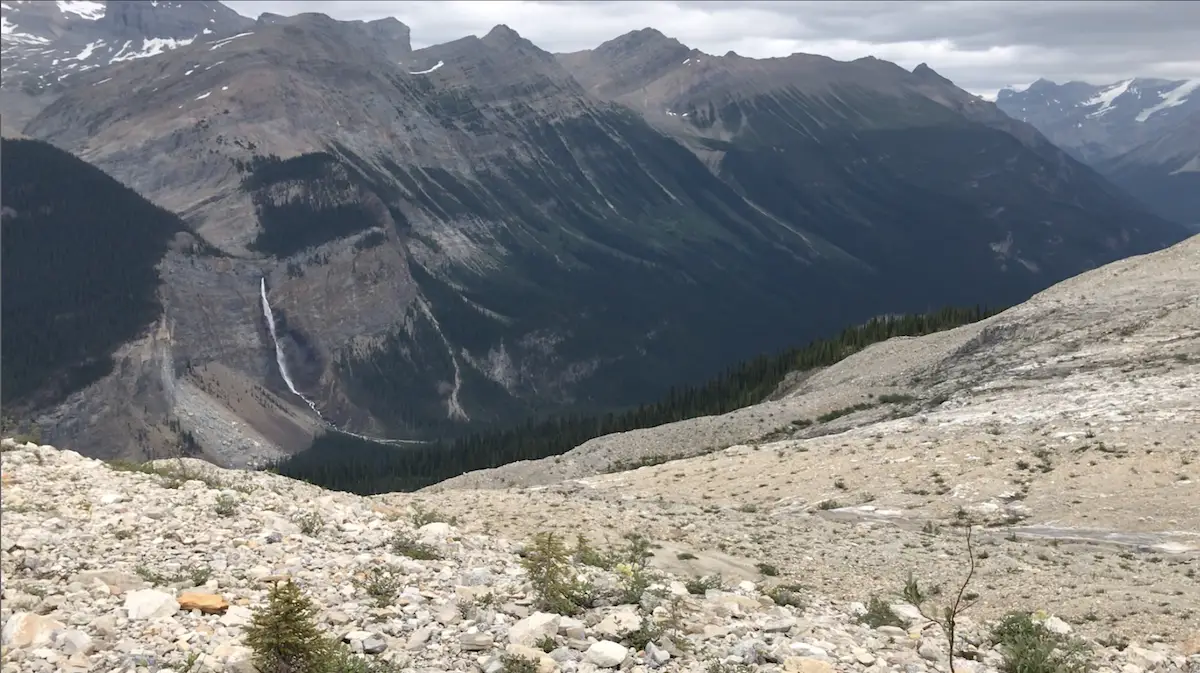 Canmore
After we finished up at the falls we journeyed to our next Campsite in Canmore. We were early to check in, so we walked around town and stopped for a well-deserved pint at Grizzly Paw brewing. We had them fill an additional growler for us and decided we needed to go for a swim in a local lake since the showers were closed at all campsites. We stumbled upon Quarry Lake Park and it worked perfectly as natures shower. Quarry lake is a great spot for a swim and looked like a popular place for local families to spend the day playing in the park and swimming.
Campsite 2: Bow River Campground
We arrived at Bow River campground for dinner time. I would recommend this site over the Wapiti campground. There are river sites, it is forested in parts and provides more natural beauty. The sites feel much more private than Wapiti campground which looked more like an open field trailer park in between the highway.
---
Day 3: Canmore & Kananaskis
Kananaskis Valley Highway 40 to Spray Lakes Road (route 742)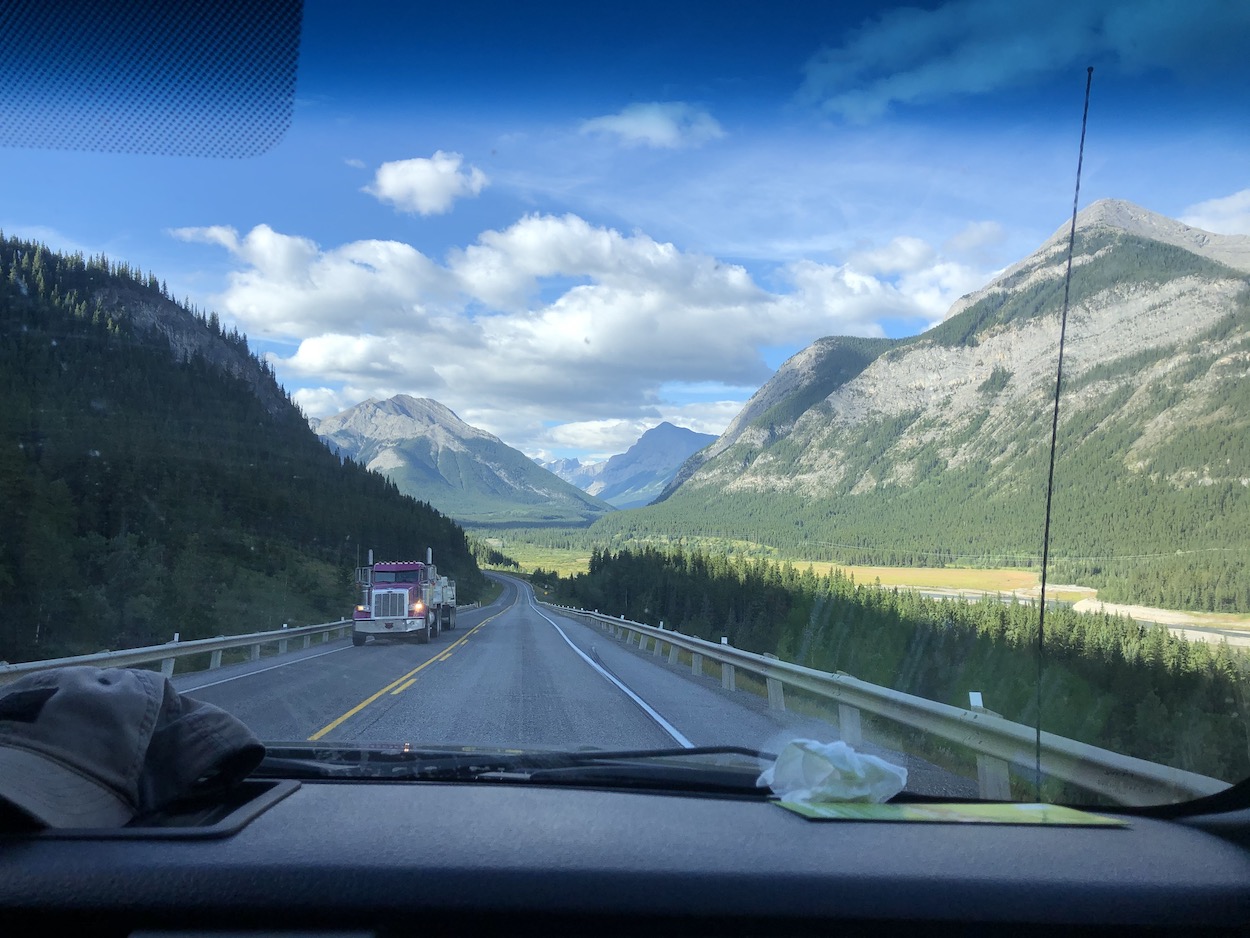 We woke up in Canmore and got ready for another day of hiking. We decided to drive a longer more scenic route to the trailhead which involved backtracking a little bit towards Calgary and driving highway 40 through the Kananaskis valley. This drive was wonderful and weaves along the Kananaskis river. We passed by Kananaskis Village and turned onto the 742 (Spray Lakes Road). This is a very well-maintained dust/dirt road and is a hell of a lot of fun to drive. The road can easily be traveled on with any vehicle just watch out for the odd pothole. Shorty after turning we got sight of some lakes including lower and upper Kananaskis lakes.  We planned to drive the shorter route home, so we were not driving the same road twice. The trailhead was located before Spray lakes at about the halfway point between highway 4 and Canmore. I would 100% recommend driving highway 40 and Spray lakes road regardless of whether you are hiking are not, it was one of my favorite drives in the region and there are plenty of spots to stop hangout and swim.
The Tent Ridge Horseshoe Trail
Things were confusing when finding the trailhead and initially parked the truck at the Mt Shark overnight lot. The tent ridge trailhead is located just before the Mt Shark trailhead and parking is on the road. This was an 11km loop hike that gained close to 900m of elevation. We had another sunny day and the views on the ridge were breathtaking. The trail is shaped like a horseshoe and as you hike around you are welcomed with 360-degree jagged mountain views and a panoramic picture of Spray lakes which feels so close you could jump right in. I considered the hike to be a bit technical on both the ascent and descent and careful footing was required in some of the "no fall" zones. We were met with very strong winds at the top which made it feel a little more intimidating. This hike is absolutely a must do in Kananaskis, just make sure you have decent weather and go early because it got busy by the time we made it back to the truck.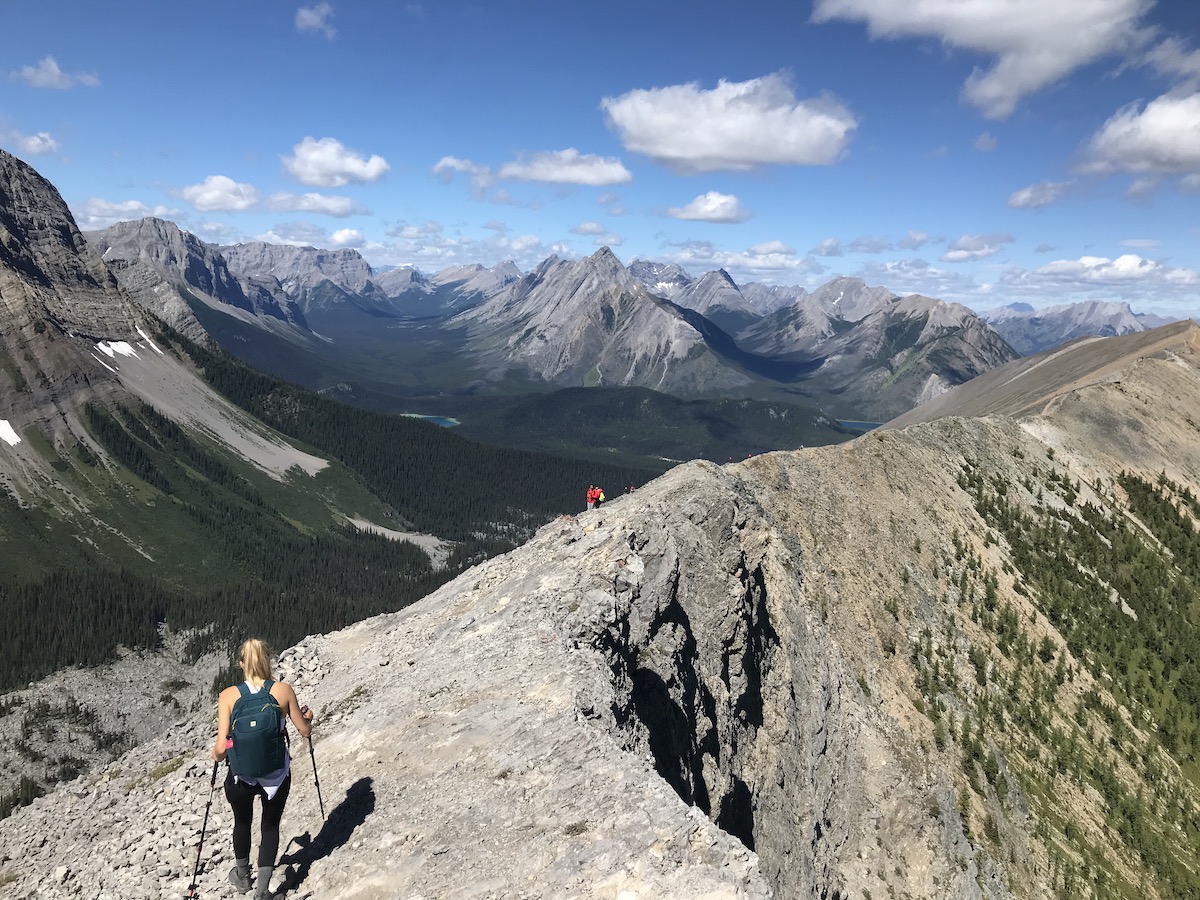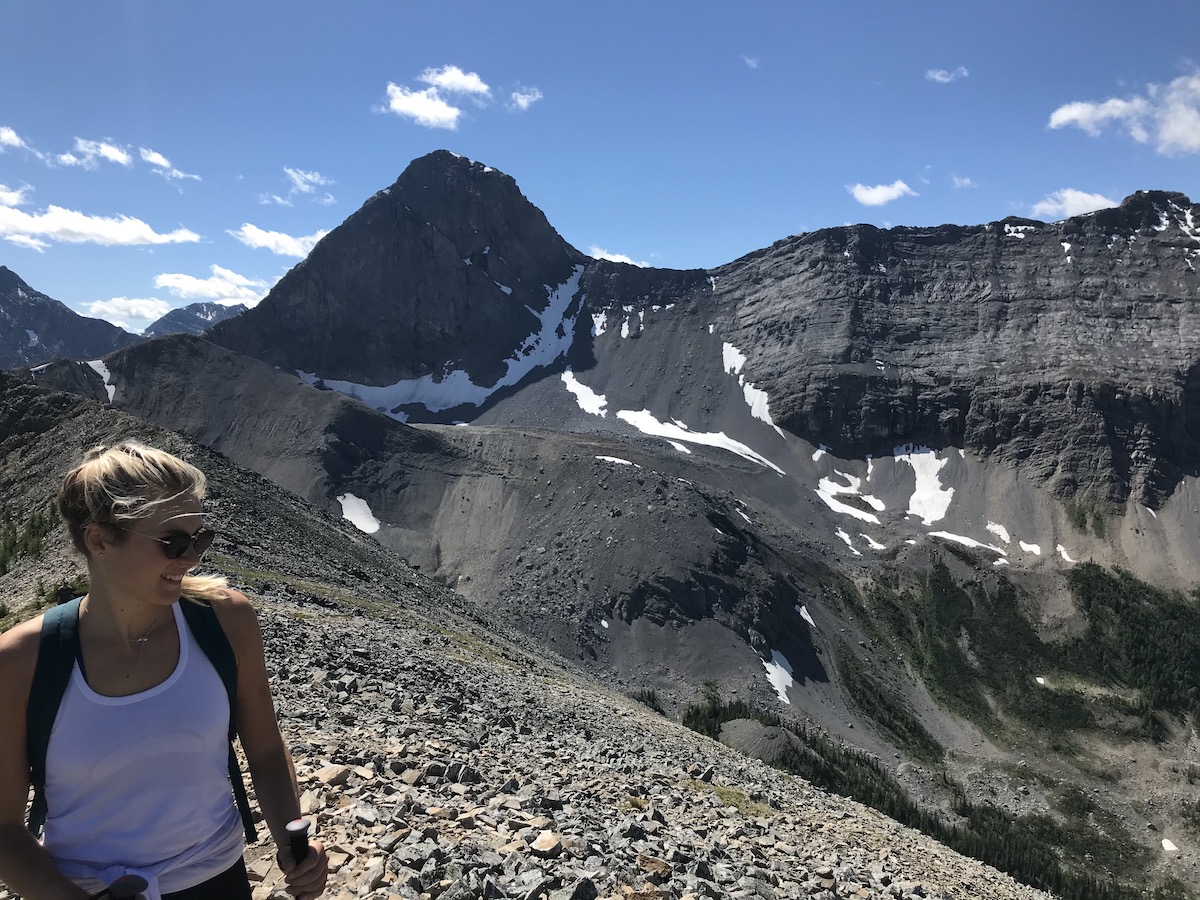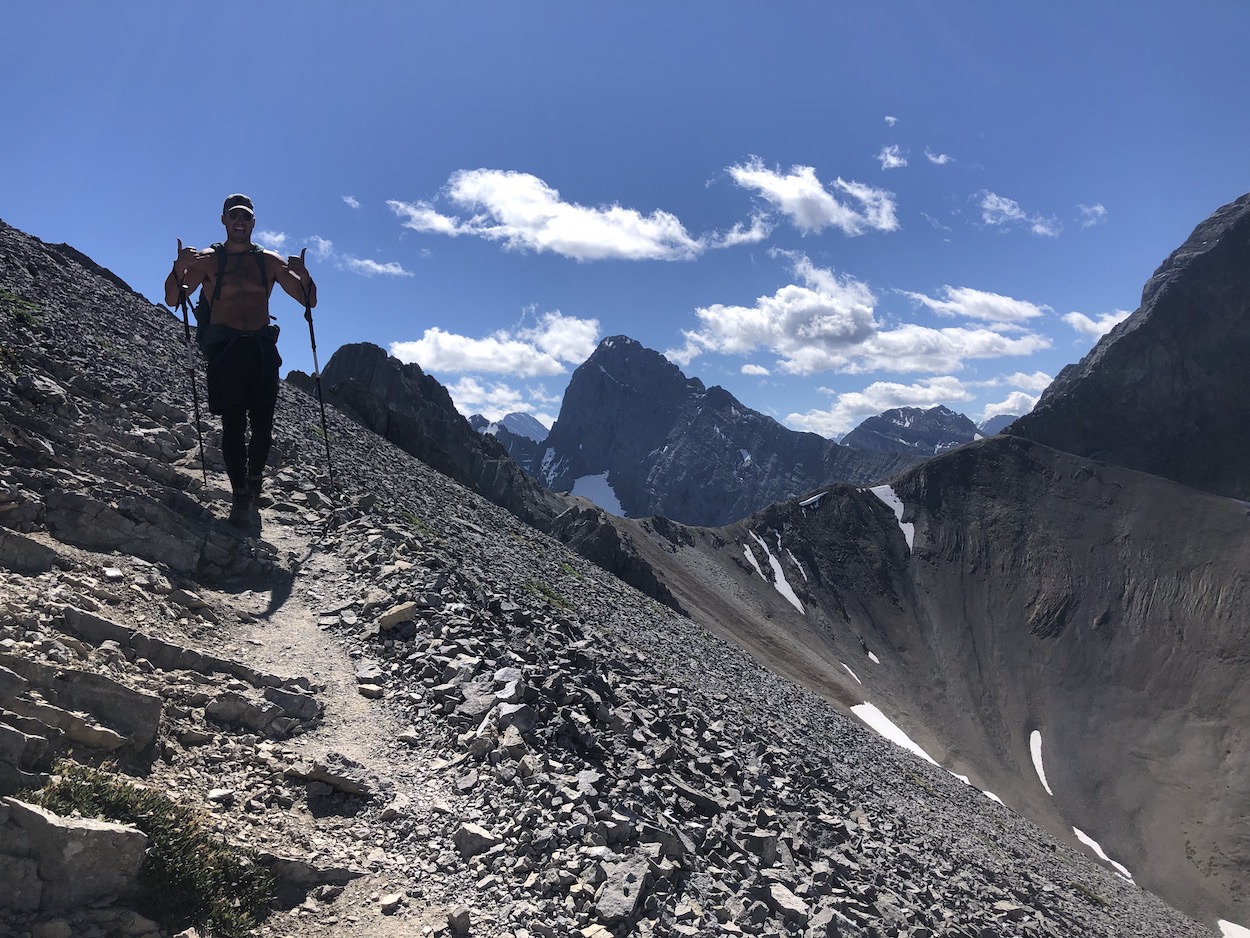 Spray Lake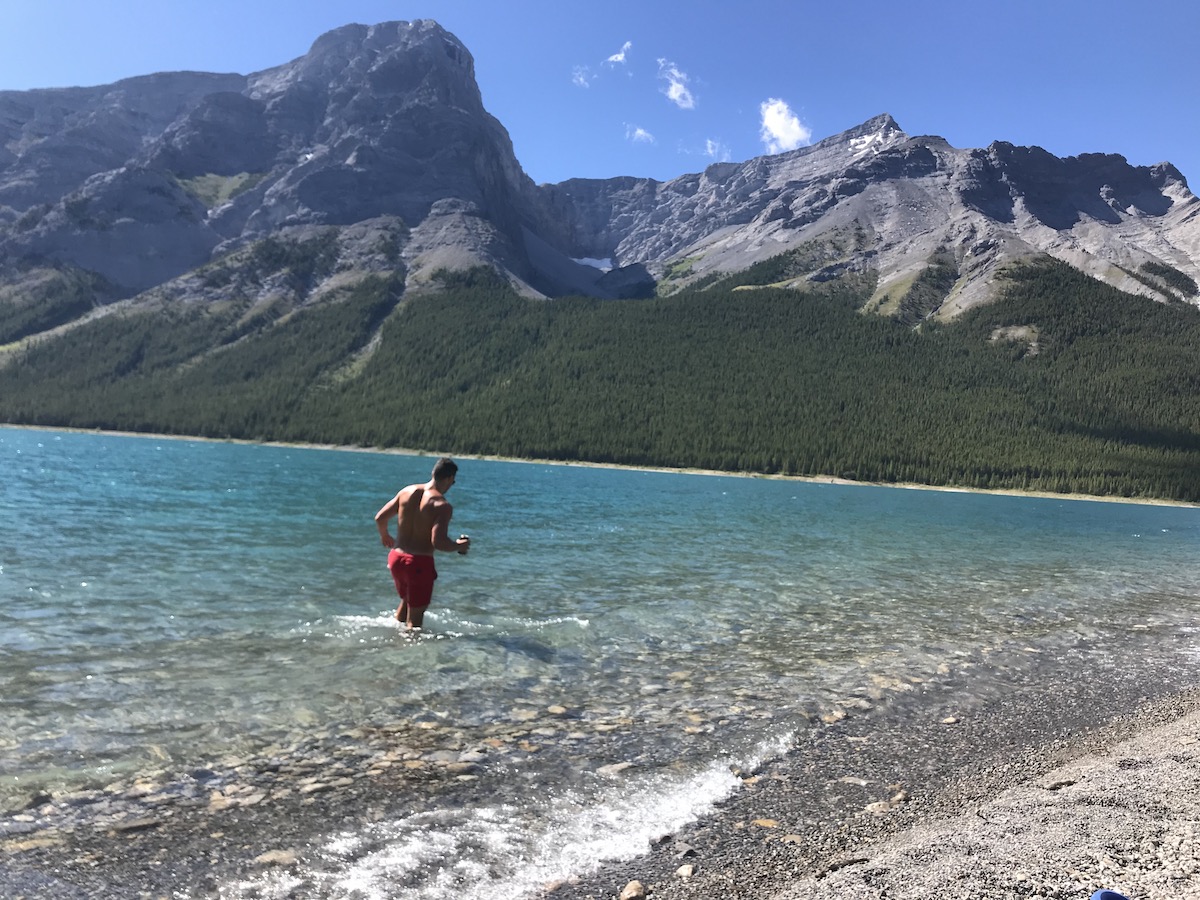 Hot, sweaty and spent after the hike, on route to Canmore we decided to pull off at a Spray Lakes rec site just a few minutes from the trailhead. We noticed some walking paths through the trees down to the water, so we grabbed our chairs, food and drinks and headed down to hang for a while. We had the entire rocky beach area to ourselves. The sun was beating down on us, we could see the hike we had just conquered in the horizon and we enjoyed our beers and chips while swimming in the glacier cold lake. Spray lakes was so cold in fact I decided to sit in it for about 15minutes to ice my throbbing knees!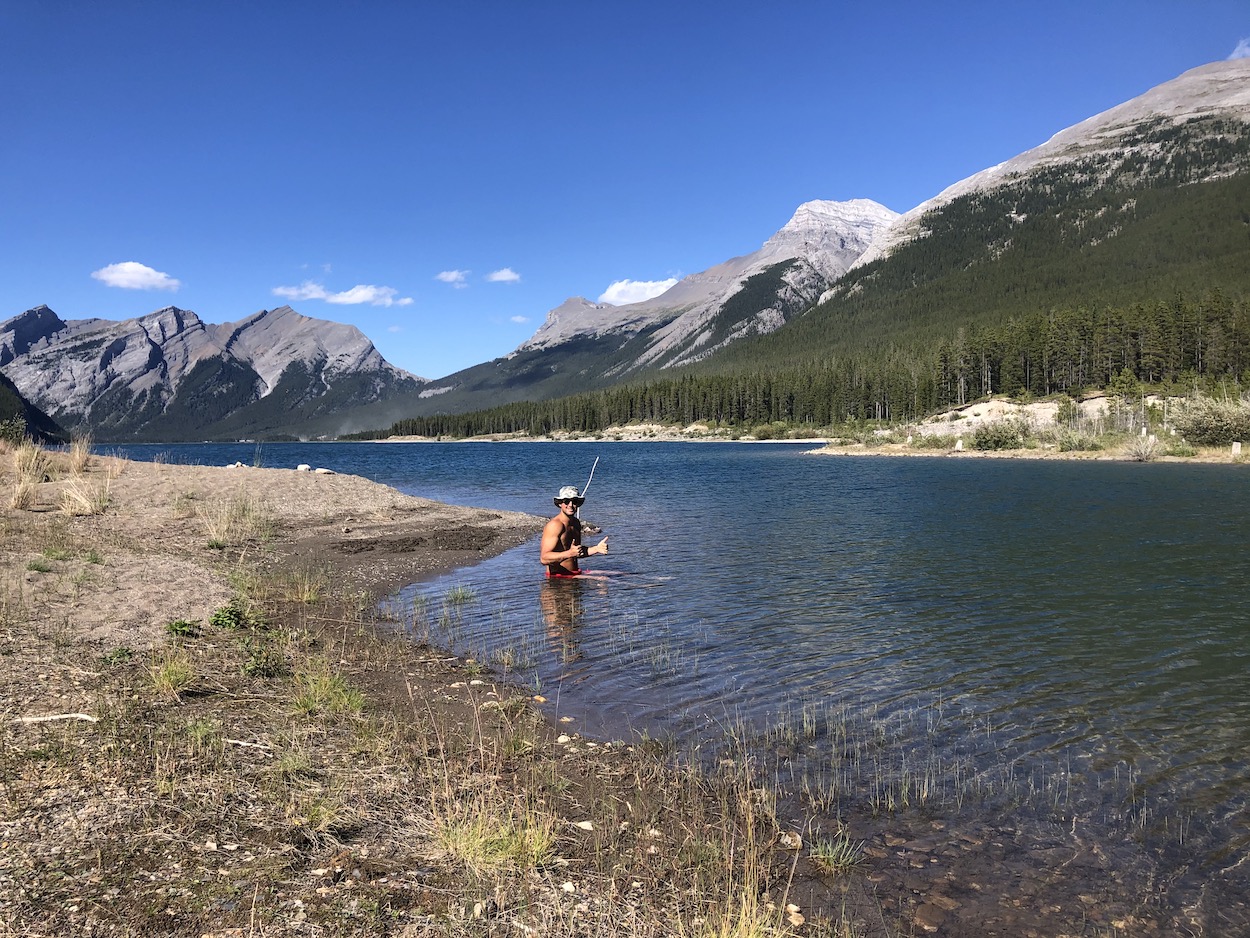 ---
Day 4: Canmore to Banff
Our plan was to sleep in a little bit, pack up the campsite and spend the day on lake Minnewanka. However, our plan was foiled when we arrived at the lake parking lot around 11am and it was absolutely jam packed with people. There are two other phenomenal lakes close by, so we tried our luck to find parking for 2 Jacks Lake or Johnson lake. On the way to Johnson Lake we happened to stumble upon parking on the side of Lake Minnewanka Scenic Drive where people were blowing up inflatables. I parked the truck and walked out to find out a beautiful turquoise blue slow moving channel.
2 Jack Lake Canal Paddle/Float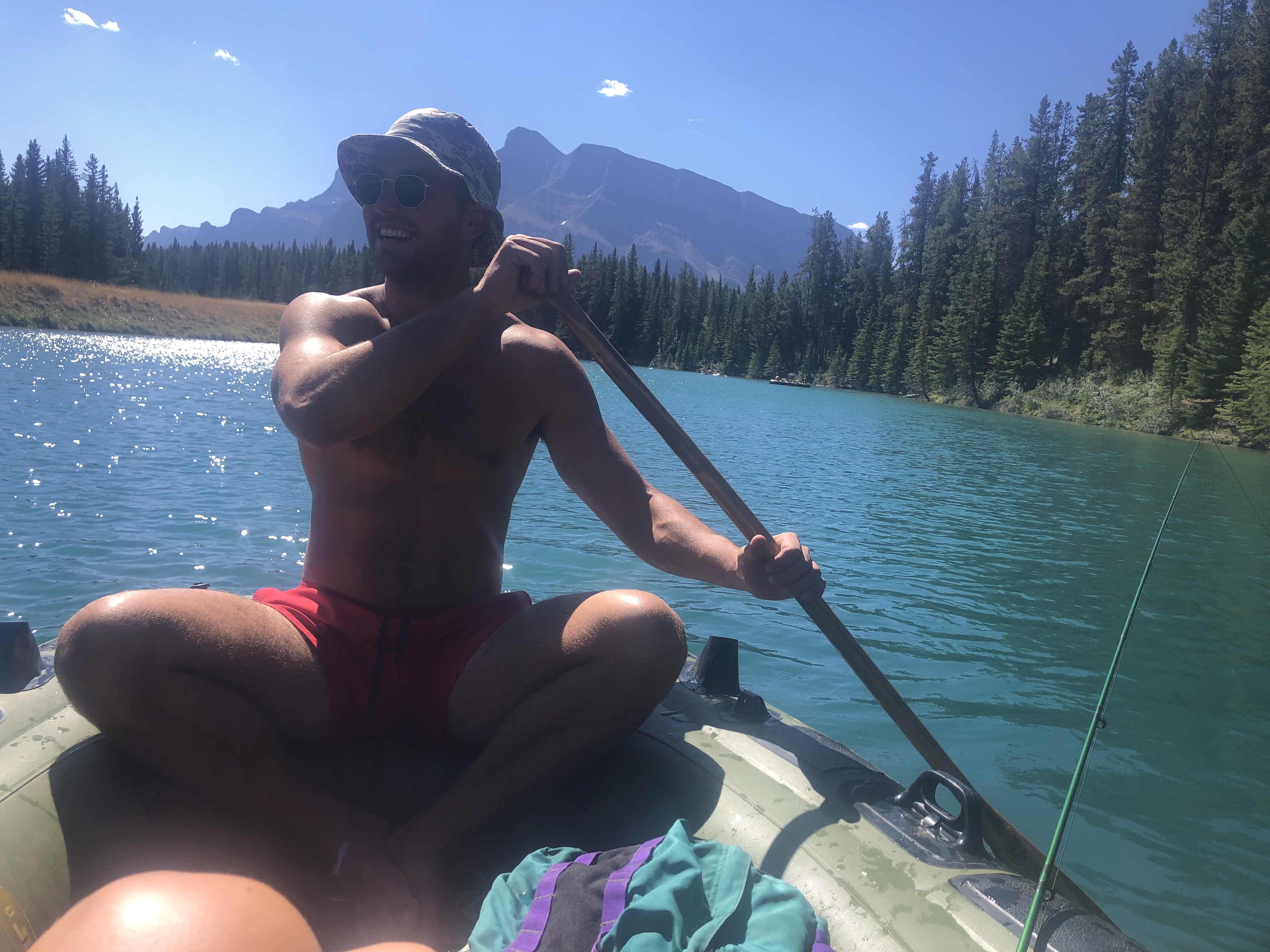 The channel begins up Lake Minnewanka scenic drive and ends at the 2 Jack Lake campsite opening up to the lake. There were loads of people stand up paddle boarding and kayaking in the channel. We blew up the inflatable fishing boat and floated downstream towards the lake. The river current was perfect for a lazy and casual float. We sat back, and I tried a couple casts with rod with no such luck. There is a small bridge in the middle that you can duck under in a kayak or paddle board, but we had to portage since the boat was too large. The length of the float is short and will not eat up too much time so I would recommend having a kayak or paddle board so you can paddle up and down the channel and around the lake. When we arrived at our campsite we tied up to a tree and floated in the sun until we felt like walking back to the truck. It turned out to be an amazing lake day!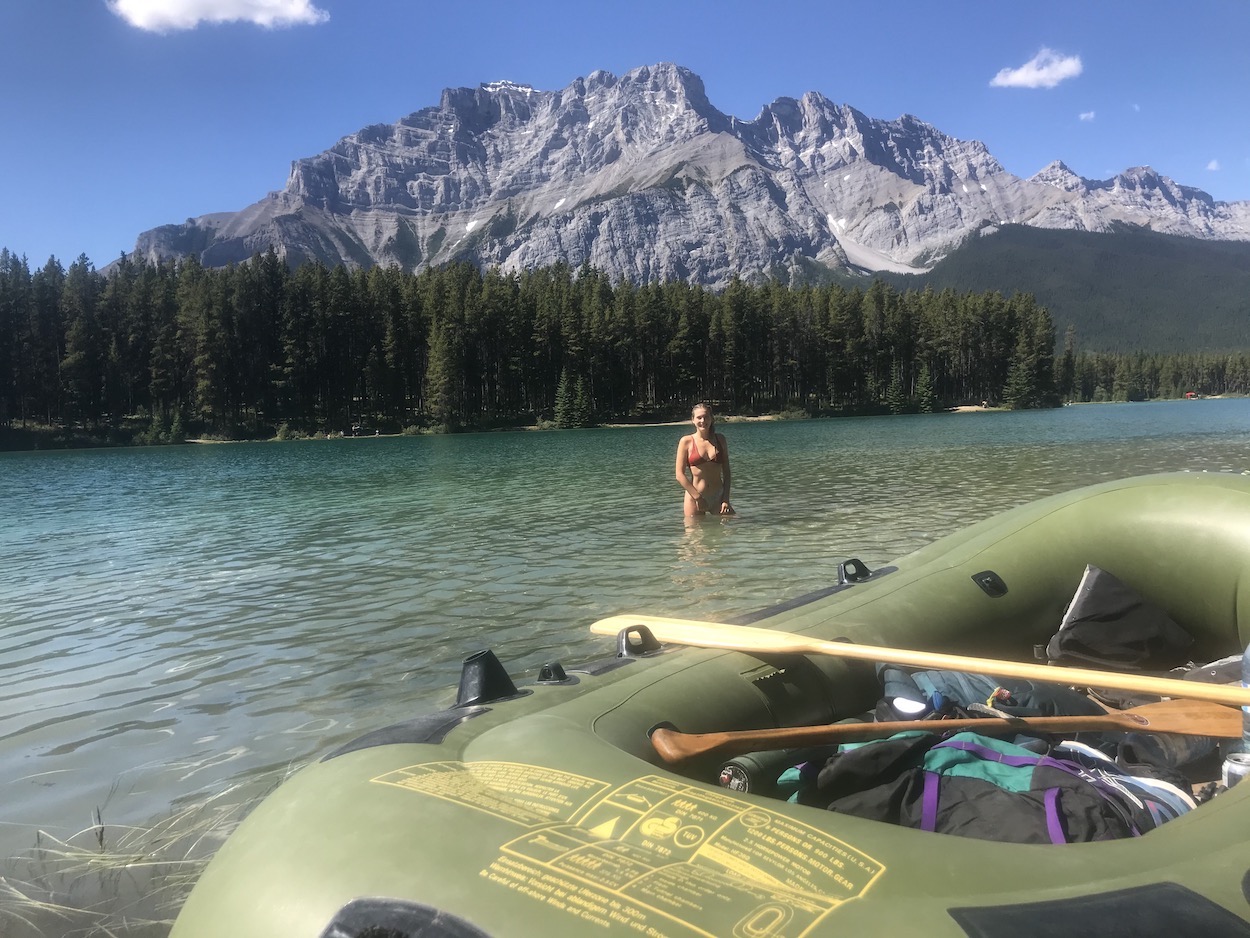 Campsite #3: Two Jack Lakeside
This is undoubtedly the #1 campsite in Banff. Two Jacks was my favorite campsite on the trip, and frankly was one of the best "non-remote" provincial campsites I have ever stayed at. The campsite is nestled into the trees right along the shoreline of Two Jack Lake and the canal. The vast majority of campsites in Banff and Jasper are places to rest your head and go off adventuring. However, Two Jack Lakeside is a destination campsite, somewhere where you could post up for three or four days on a long weekend, enjoy hanging around the lake in the day, walking about and enjoying a quiet night fire. We had lots of sunshine on our three day stay and made a point to have appies and drinks out on the inflatable boat when our day of adventuring was wrapped up.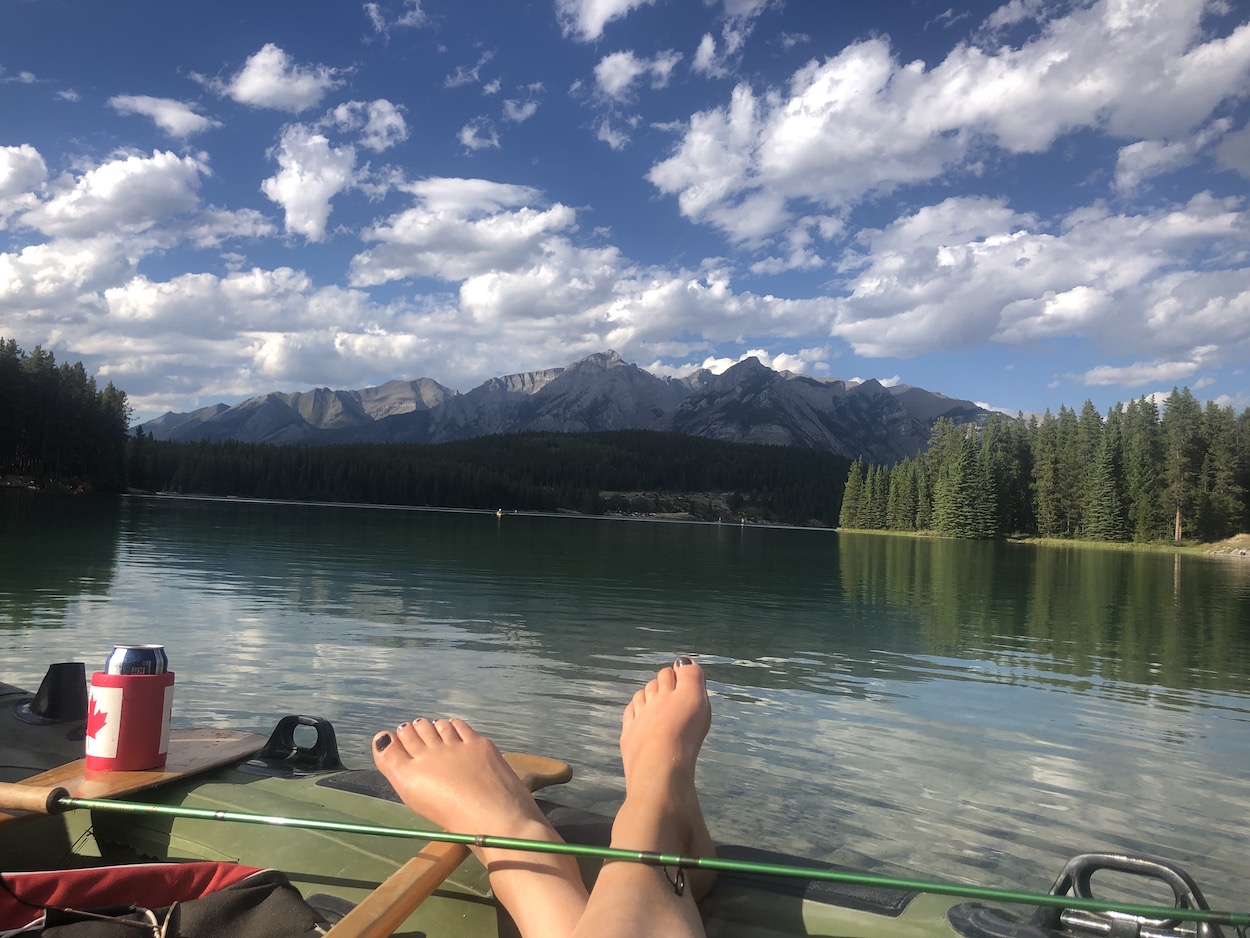 Lake Louise
After our day on the lake we made dinner and headed to Lake Louise around 5pm arriving for 5:30pm. Lake Louise is probably the most eminent destination in the region and it's allure is justified. It is utterly breathtaking. Its turquoise glacier fed water is ringed by dominant peaks that you cannot take your eyes off. Unfortunately, but to no surprise, is the amount of traffic Lake Louise receives. It gets so ridiculously busy that people even take shuttles in to visit it from further down the highway. The best bet is to show up very early or very late to avoid the crowds and make your visit much more enjoyable. 5:30pm was a little on the early side but we managed to find parking for the truck. Make sure to take a walk around the legendary Chateau Fairmont!  Lake Louise isn't really a "lake day" type of lake, it's more of a quick stop. We navigated the hordes of people took some photos at the lake and headed right up the Lake Agnes Trail to the Teahouse.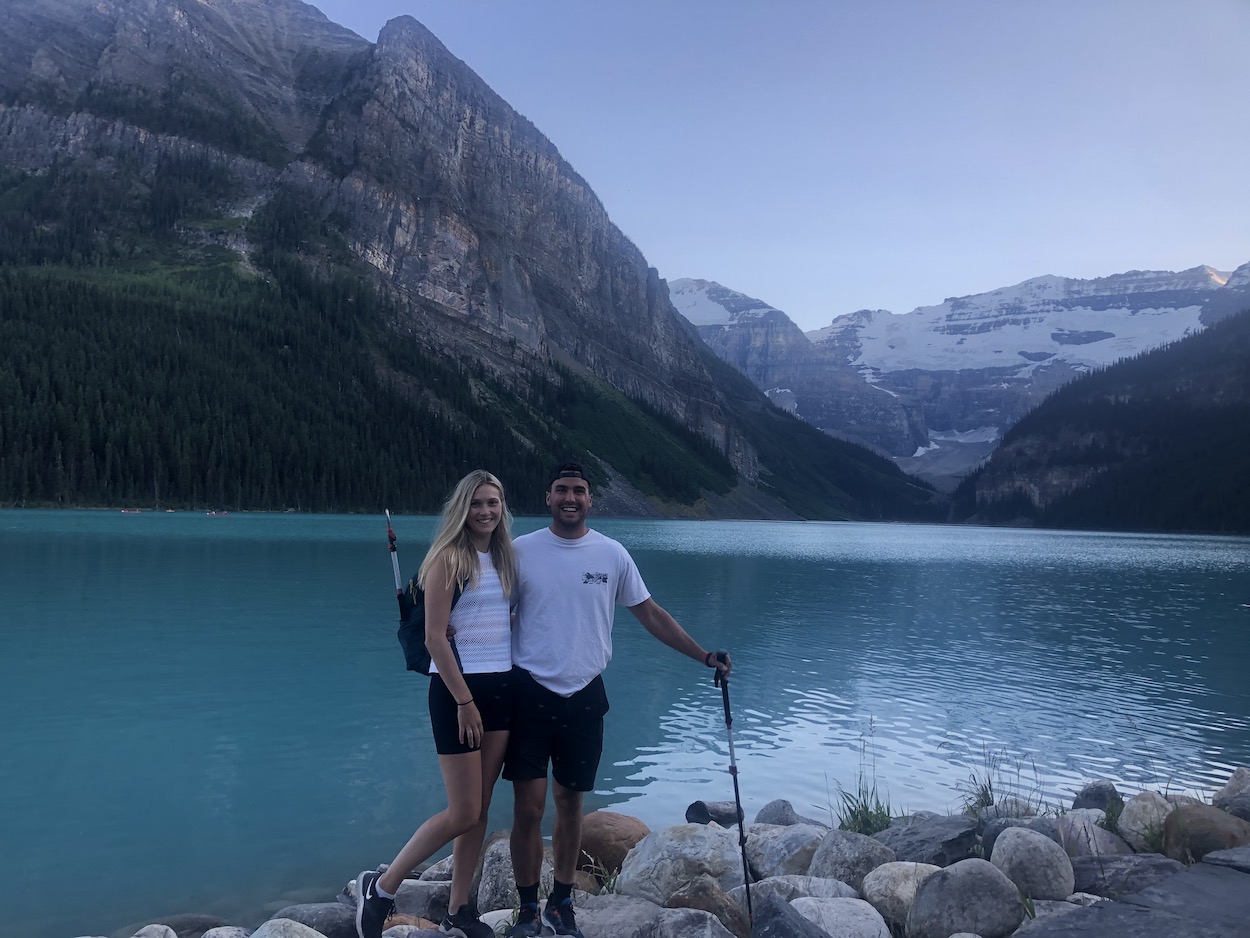 Lake Agnes "Teahouse" Trail
The Lake Agnes trail was a quick one. It's only about 7.6km round trip and has 433m of elevation gain. The hike is very easy and the trail is impeccably maintained. You switch back your way up and get rewarded with some views of Lake Louise through the trees, mirror lake, a waterfall and finally arrive at the teahouse. When we arrived at Lake Agnes there was no one up there. We sat down for a few minutes and enjoyed the glacial ice-covered surrounding mountains reflecting off the water. We took some pictures, enjoyed a snack, and made our way down. If I could do it again, I would pack a thermos of coffee/tea and some food and arrive for a morning breakfast/sunrise at the top. We raced down the trail hopped in the truck and headed straight to the next destination on the hitlist, Lake Moraine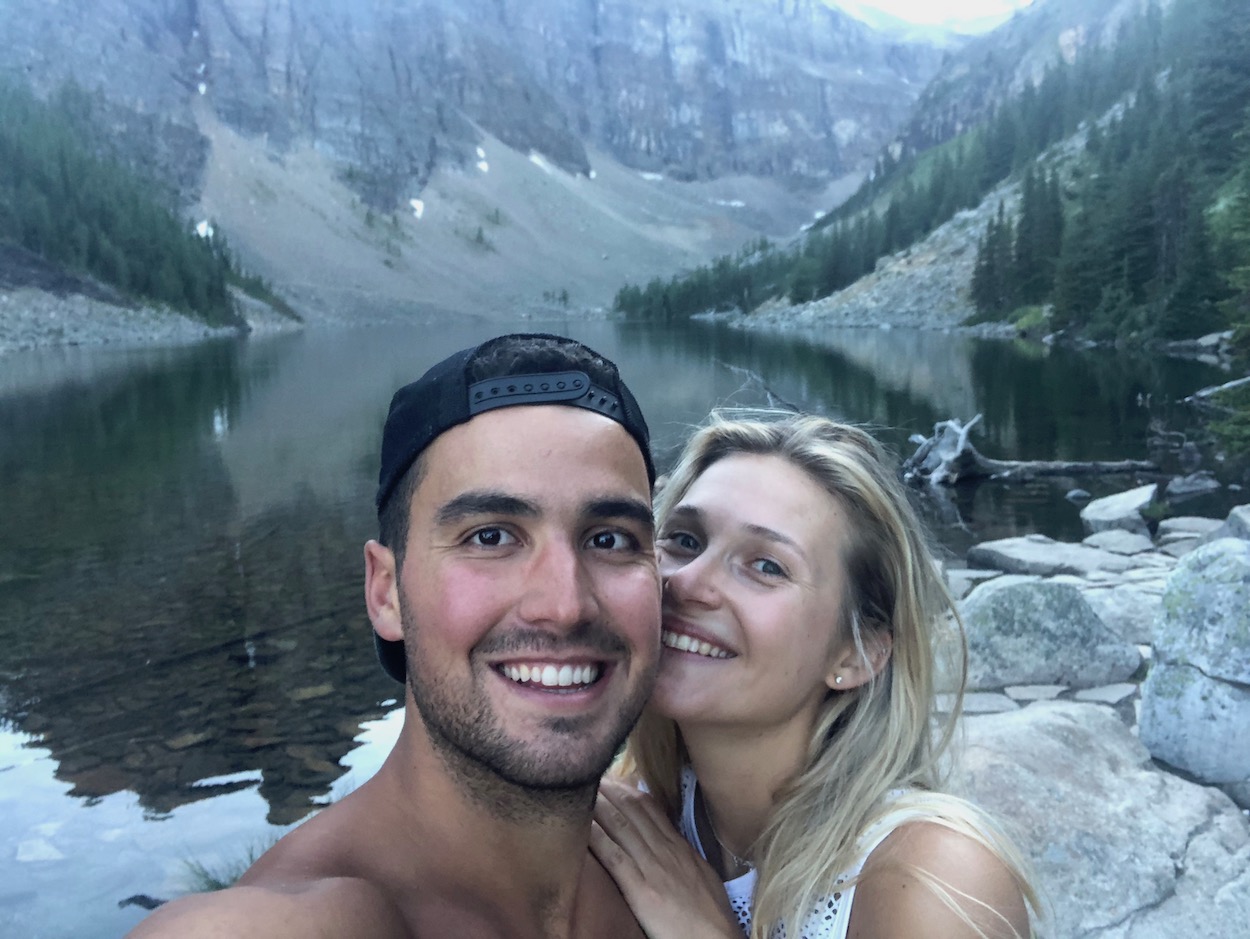 Moraine Lake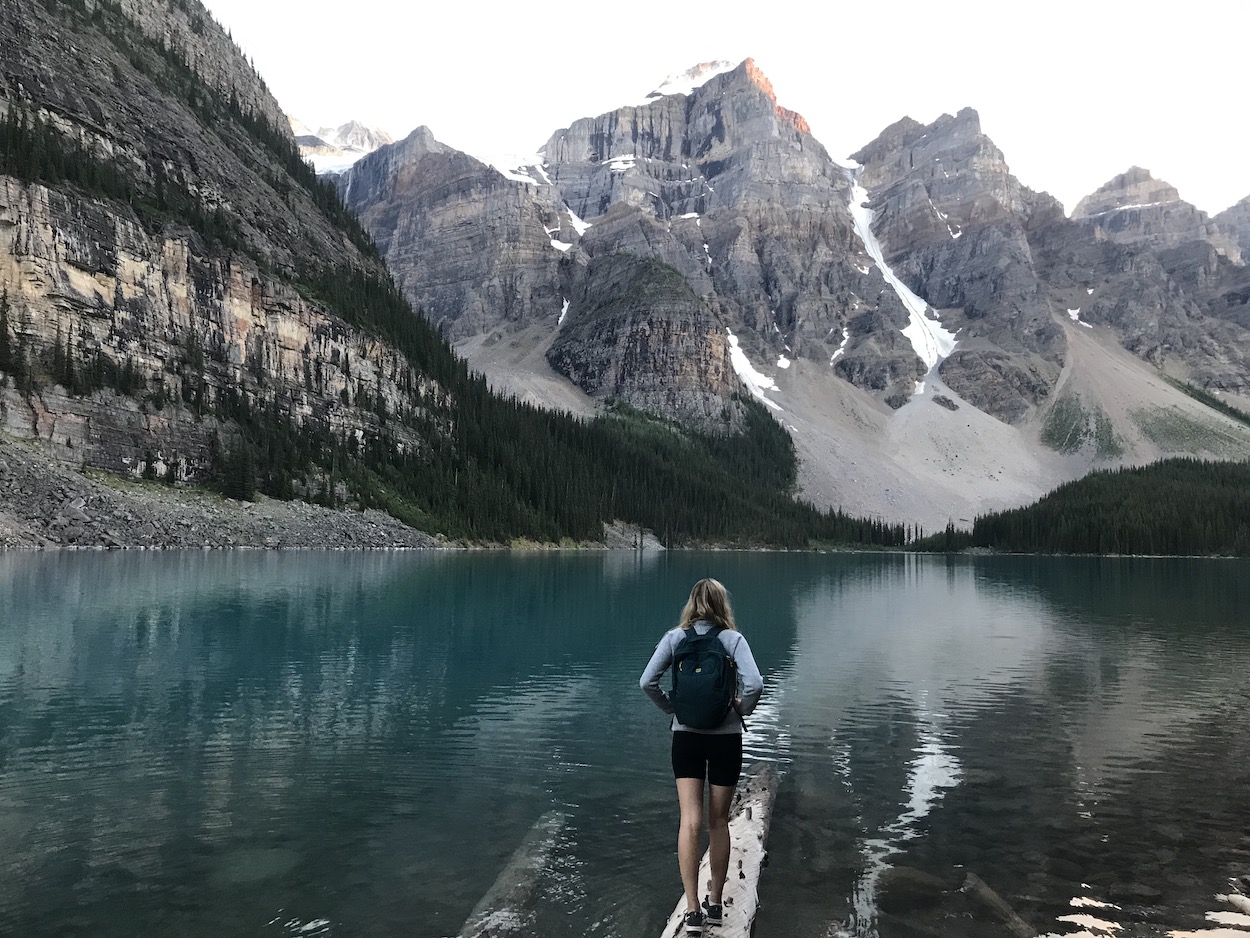 We arrived to lake Moraine at around 8:30pm. Lake Moraine is another easily accessible jaw droppingly beautiful glacier fed lake. Lake Moraine has a super distinctive shade of blue created by the refraction of light of the rock flour deposited in the lake. While most people were wrapping up their visits, we headed out to walk the Lake Moraine shoreline trail. This is just a simple lake walk that follows the lake to the far side providing great views from alternate angles. We were the only ones on the trail and enjoyed the serenity of the summer darkness engulfing us as we strolled back to the truck. We went for a late night burger and beer at a local Banff pub, which I admittedly forget the name of and snuck into the campsite late.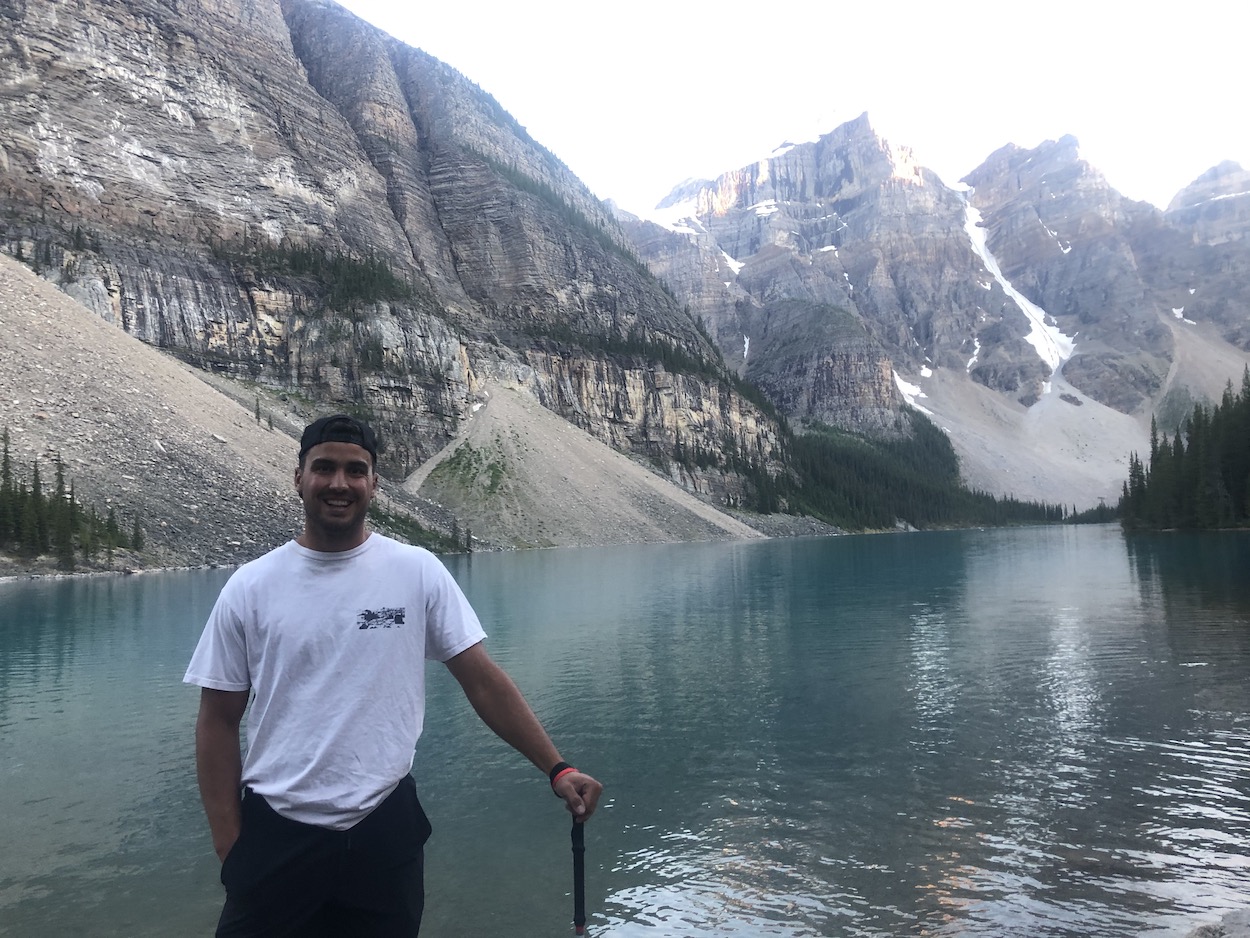 ---
Day 5: Banff
E-Biking the Bow Valley Parkway to Johnston Canyon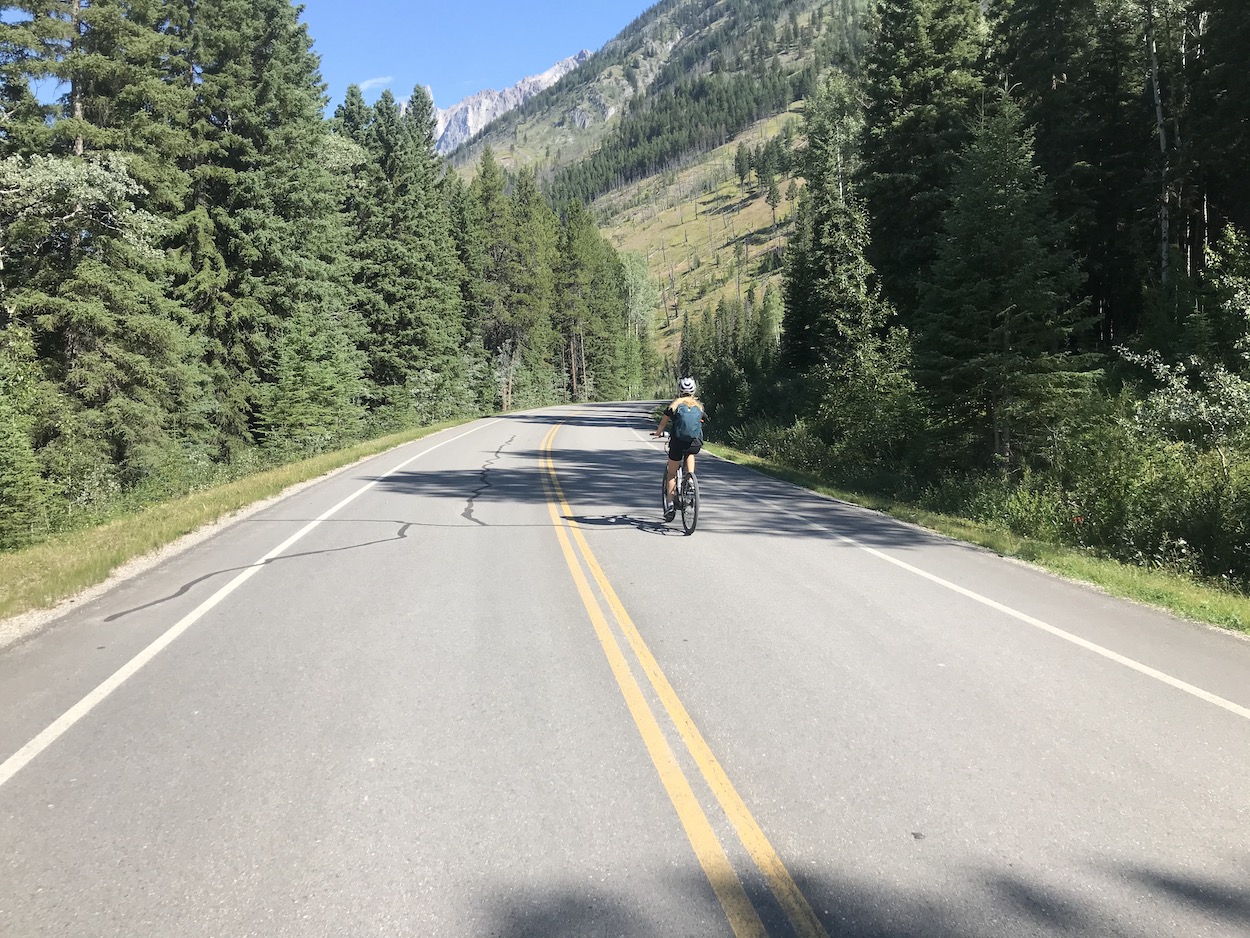 During our stay, the Bow Valley Parkway was closed to car traffic. This provided us with the perfect opportunity to ride it by bicycle. We decided to rent from Ultimate Ski and Ride. Bike rentals are first come first serve so we parked in the free Banff visitor lot and walked to the store arriving shortly after it opened for the day. E-bikes were our weapon of choice since we had never tried them and for an extra 20 bucks why not speed past the real cyclists. The ride was fantastic it took us about an hour and a half each way with many stops to enjoy the seemingly unlimited views of the mountains, rivers, lakes and wildlife. About three quarters of the way to Johnston canyon we spotted a bear cub playing in the bushes about 15m from the road. We did not stop, just waved hello, and gave it the widest berth possible in case the momma was around. We locked the bikes up on a pole in the Johnston Canyon parking lot and started walking.
Johnston Canyon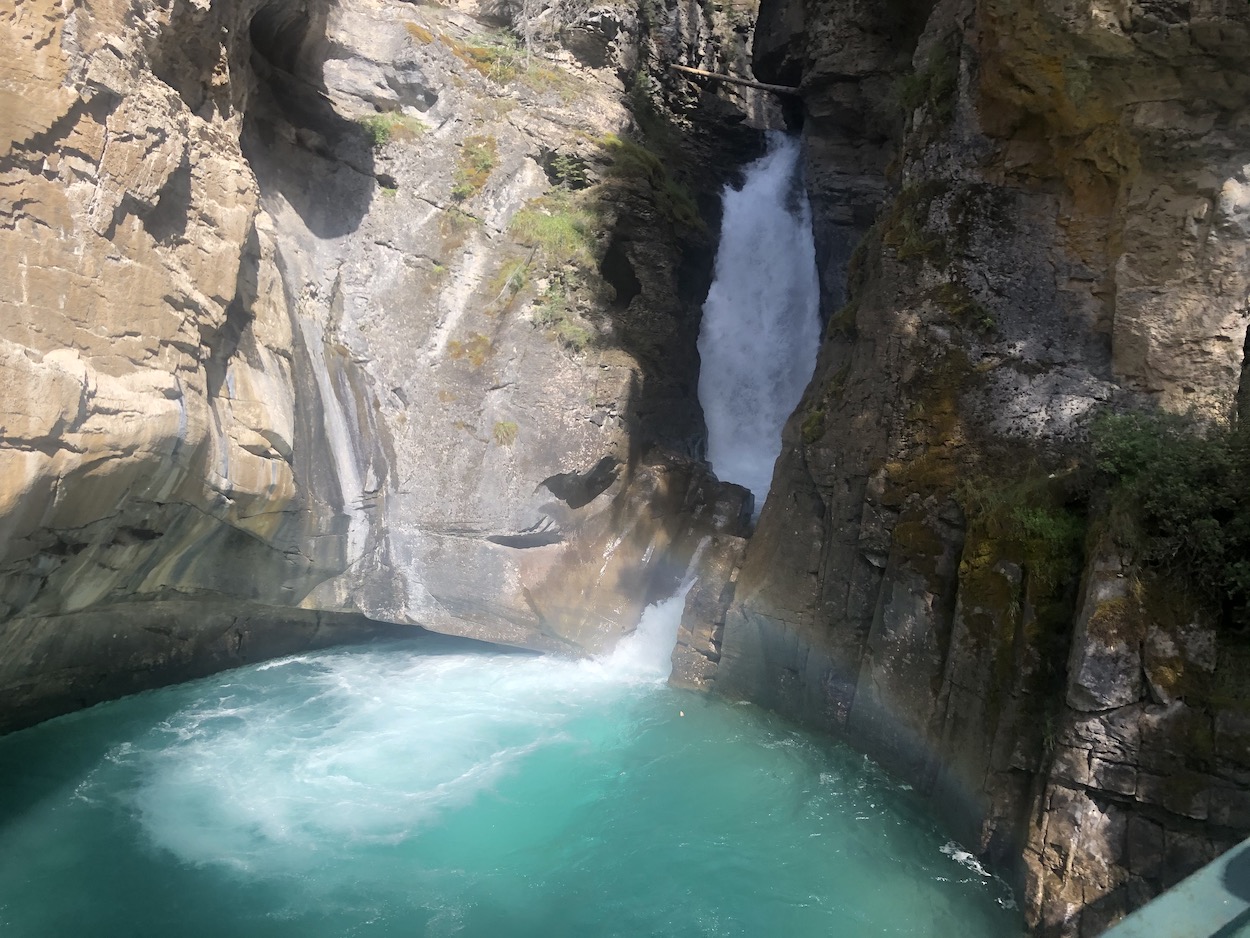 Johnston Canyon is an impressive canyon that formed over thousands of years as the Johnston creek cut through the limestone rock over many centuries. There are waterfalls, tunnels and pools that make this canyon super unique. We walked up the well maintained trail and walkways to the top of the upper falls. The trail becomes a bit more rugged on the way up to the inkpots (6 spring fed pools) in the meadow at the top. A few years ago you were allowed to venture off the marked trail and get right down to the secret cave and around the edges of the Johnston creek which made this stop even more enjoyable. But, due to an effort to recover the small nesting population of the American Black swift you are not allowed to venture off the marked trails. I was happy to visit Johnston Canyon but would not go back again in the summer, especially when it is open to cars, buses and the traffic on the trail is heavy. Apparently, the waterfall freezes over in the winter and is a natural playground for ice climbers.
If you don't have the time to hike all the way to the ink pots do not worry about it, the bicycle ride on the bow valley parkway was the true highlight of the day!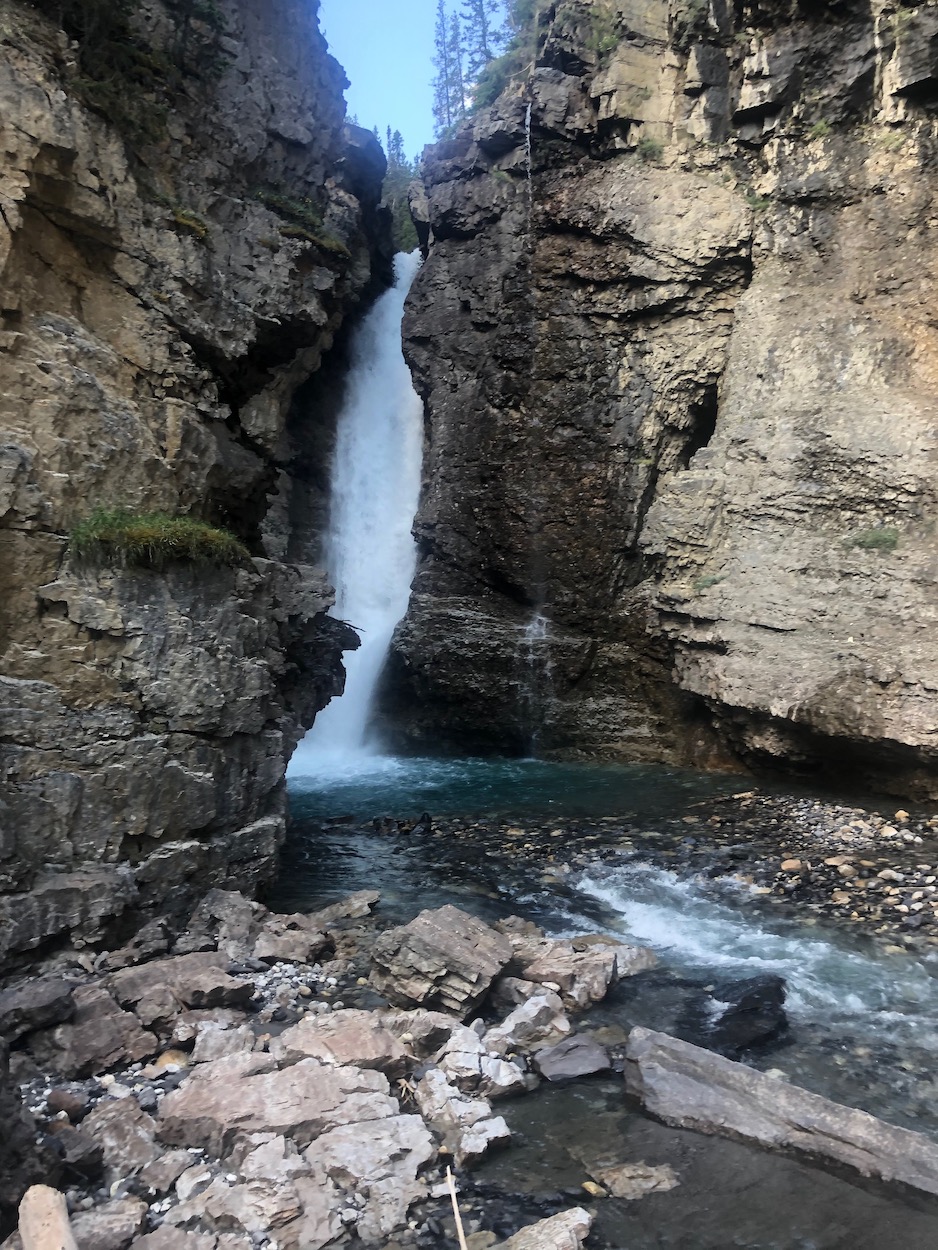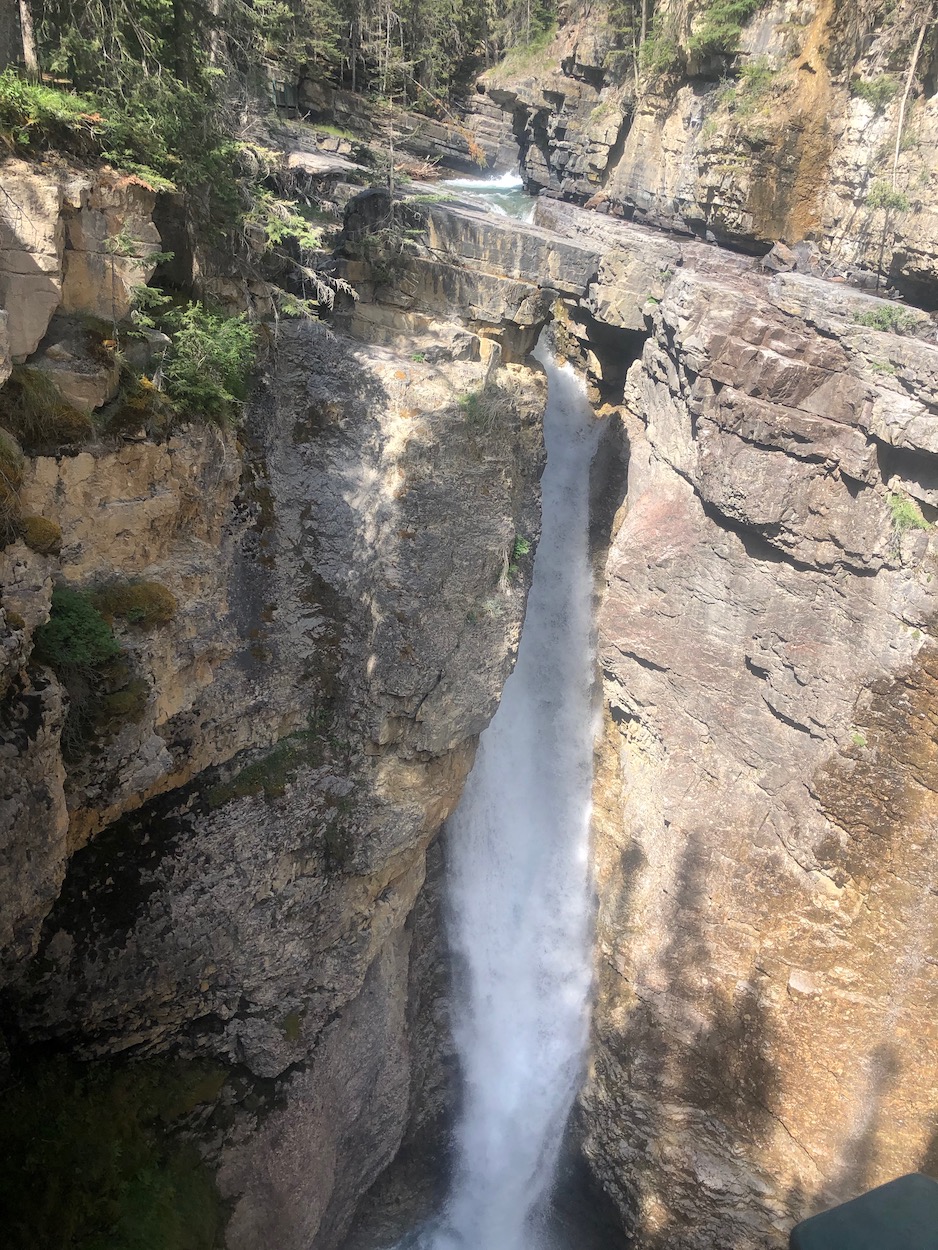 Fishing on Two Jack Lake
We headed back to the campsite for corona's, limes and chips on the lake. I decided to pull out the fly rod and try my luck at a couple casts. I dropped a small leech pattern on sinking line to the bottom and we let the boat float in the wind to the other side of the lake. As we bobbed in the small waves, I saw my rod jump, I tipped my beer over in excitement and reeled in an enormous alpine kokanee. Actually, it was the opposite of enormous, but still a delightful and unexpected surprise. The chaos of catching a fish and lack of paddling made us end up at the far side of the lake. It took us about 40 minutes to paddle/walk the boat in the water back to the campsite because of the strong winds. We tied up again in the sun and sat on the boat until the sunshine drifted away and it was time for us to start the fire and cook dinner.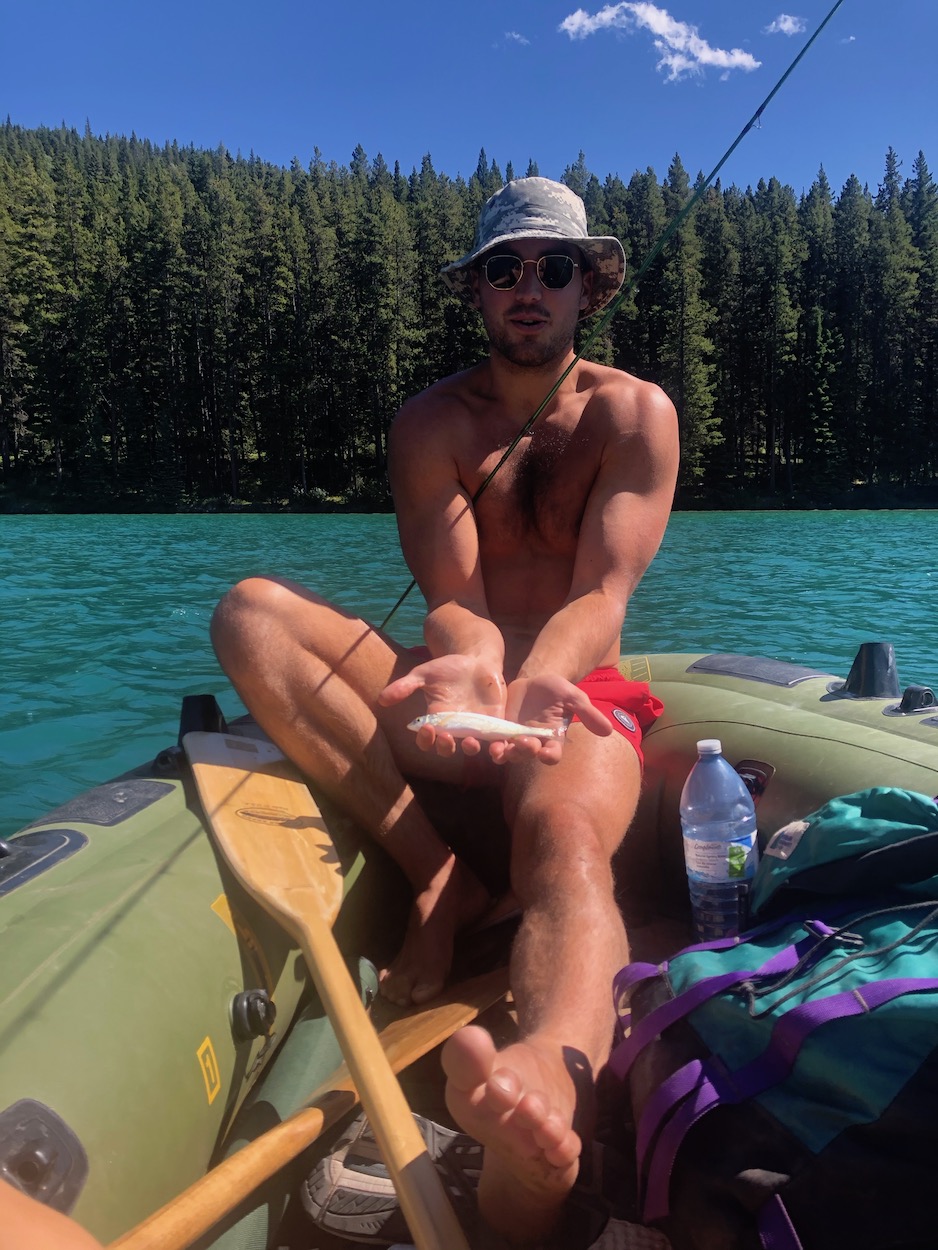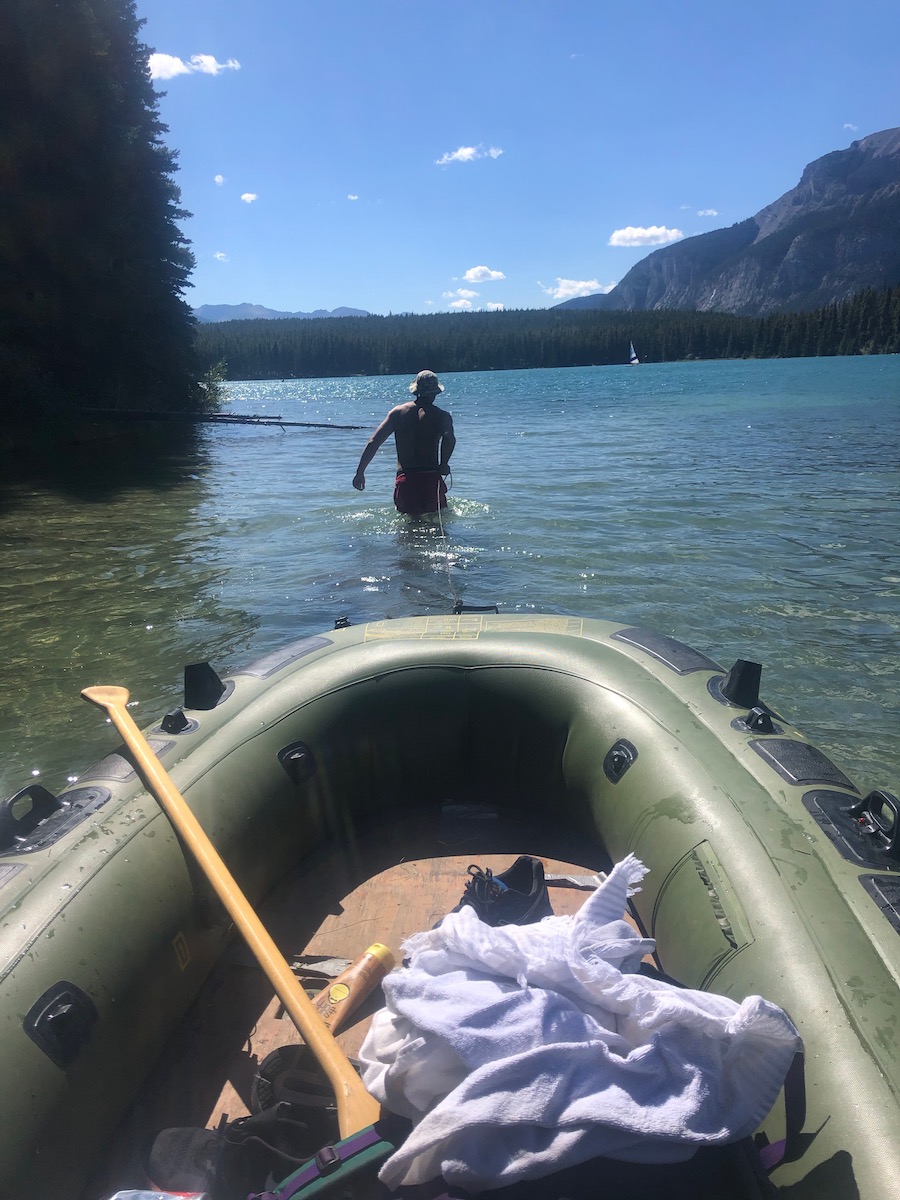 ---
Day 6: Banff
Lake Minnewanka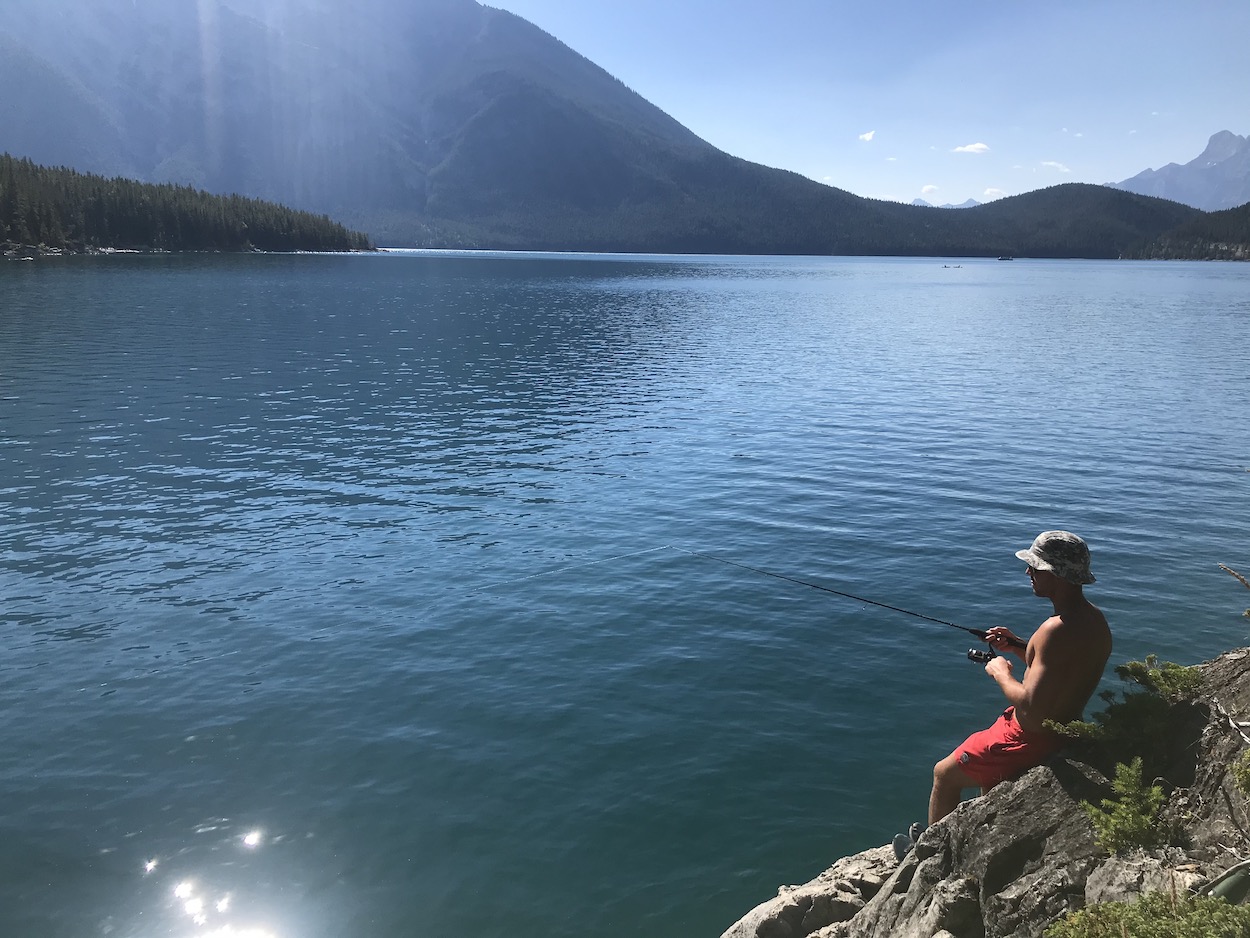 With our morning coffee ritual complete we headed straight to Lake Minnewanka for approximately 8am. There was ample parking when we arrived, but it filled up quickly. It was gorgeous and we saw many parties setting up for a day at the lake. We walked a flat trail along the left side of the lake and stopped at the stewart canyon bridge. The sun was out in full force in the morning so we sat on a cliff, enjoyed our coffee and I tried my luck at catching a lake trout. Nothing was biting (I was likely fishing it wrong) so I packed away the rods and we did some cliff jumping before drying off and walking back to the truck.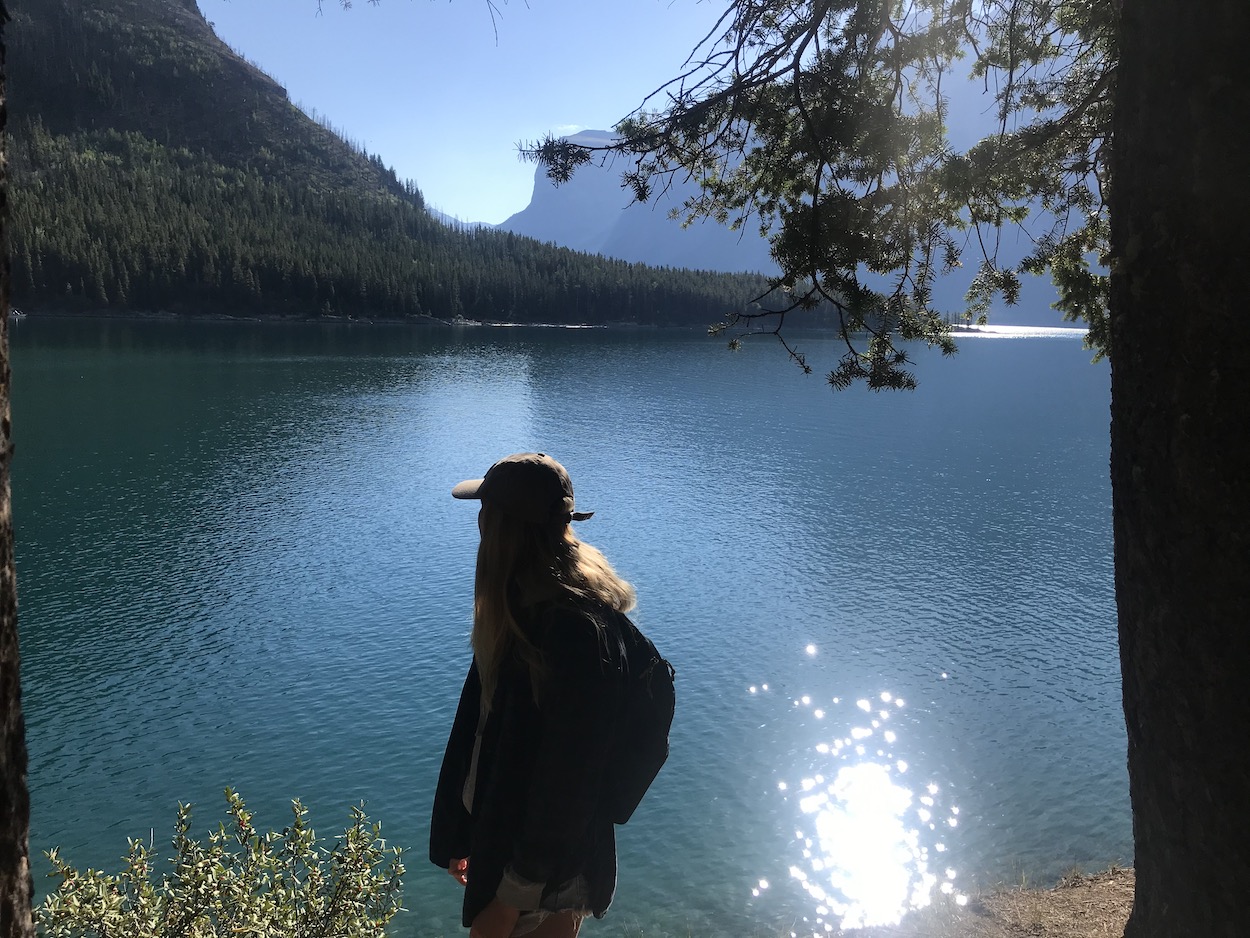 Tailgate Breakfast (Minnewanka Viewpoint)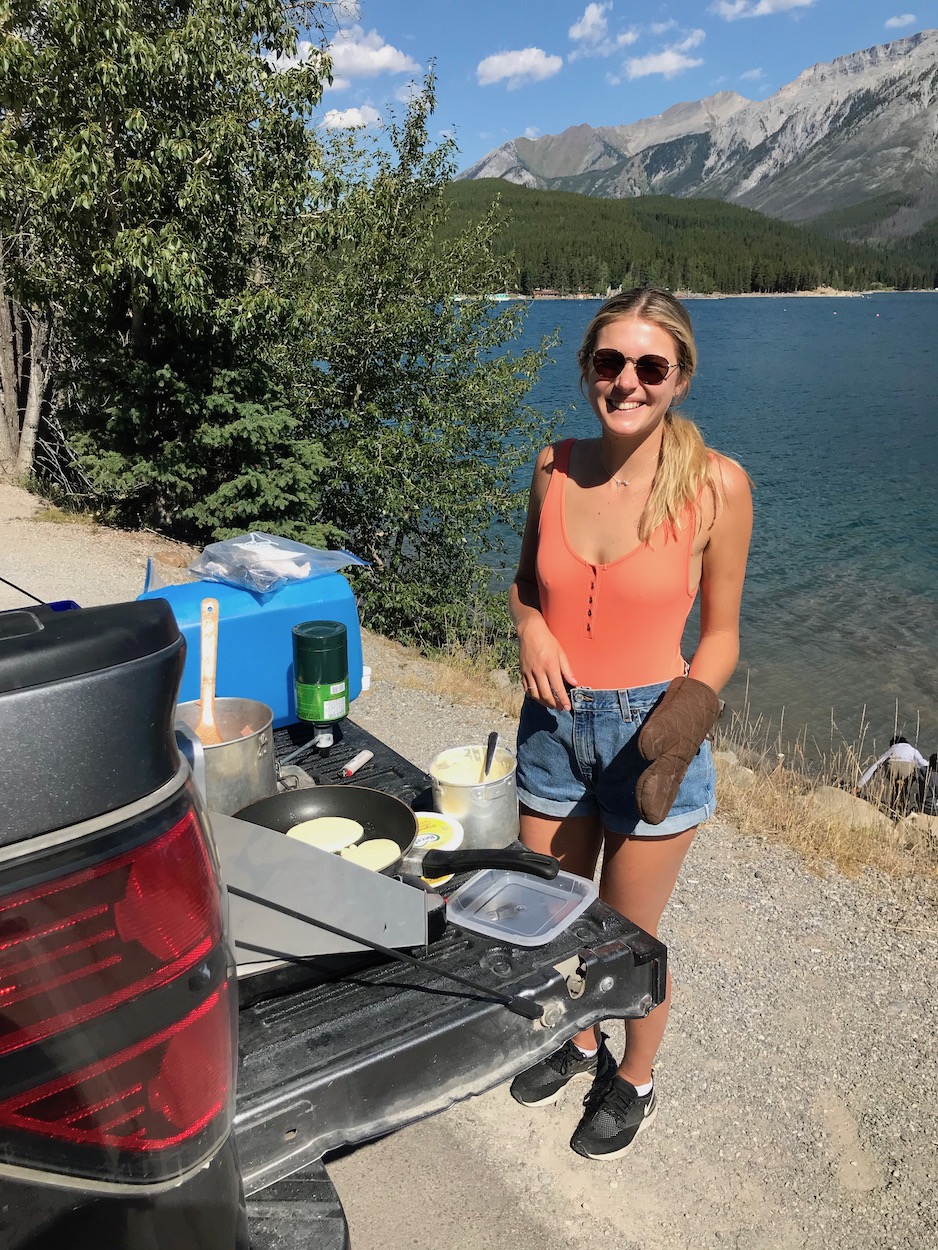 Driving back towards our camp we stopped at a beautiful viewpoint that offered a great visual of Lake Minnewanka from above. We decided to drop the tailgate, pull out the stove and cook up some flapjacks and omelets.
Johnson Lake
In an effort to walk off our breakfast, we headed to Johnston Lake just down the road from our campsite. We walked the short loop around the lake, and it looked like it was a great spot for families to take their children to play and paddle. This would be a great spot to hang out and bask in the sun as it is much smaller and less wind affected than Two Jack and Minnwanka Lakes.
Tunnel Mountain Trail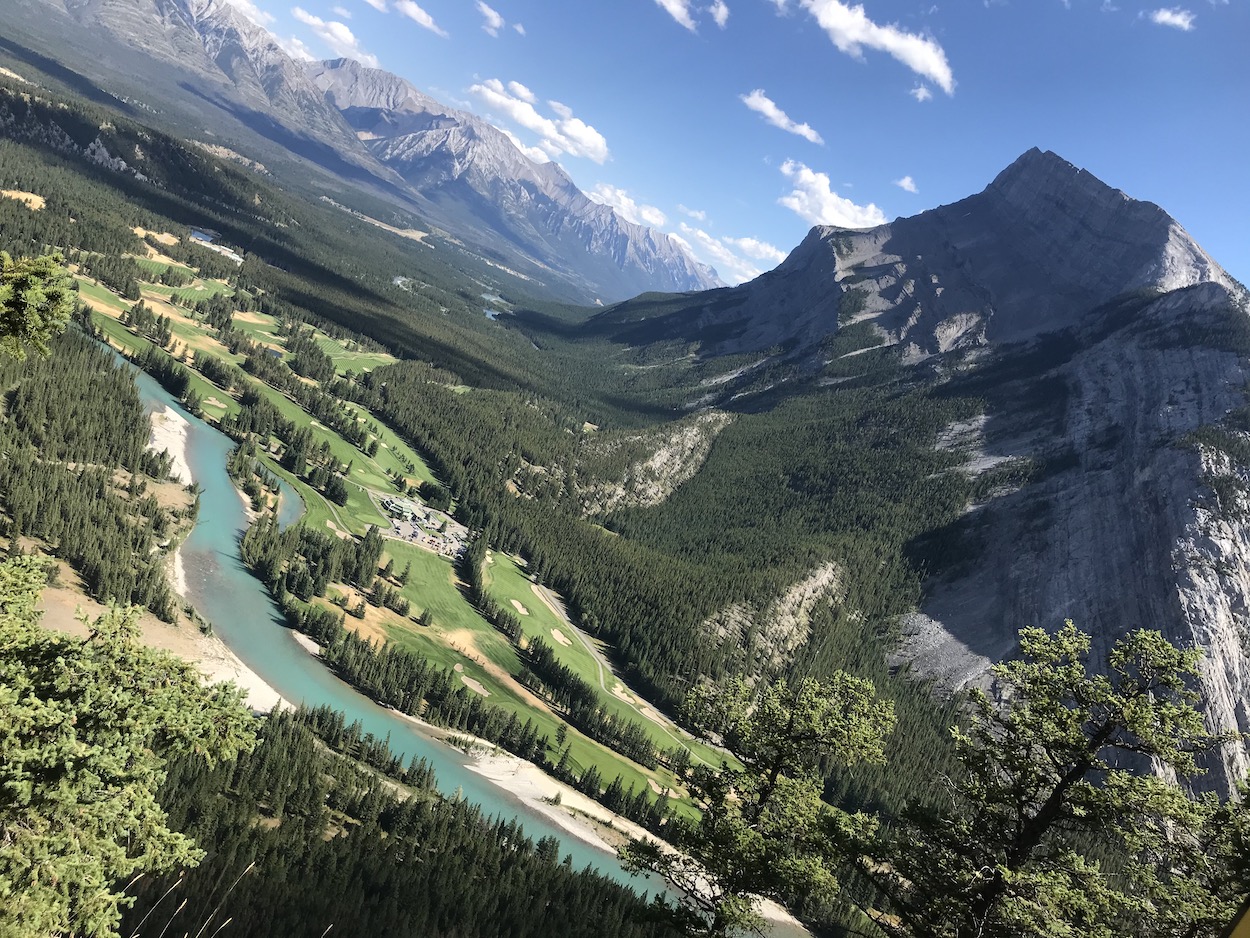 We decided we had not had enough hiking so we drove into the city of Banff and booted up the 4.5 kilometer out and back trail. We hiked in the heat of the day and even though this hike wasn't to demanding, there is very little shade and we were feeling pretty sun exhausted. The amazing views of the city of Banff, the Bow river, golf course, and surrounding areas made the sun exposure worthwhile.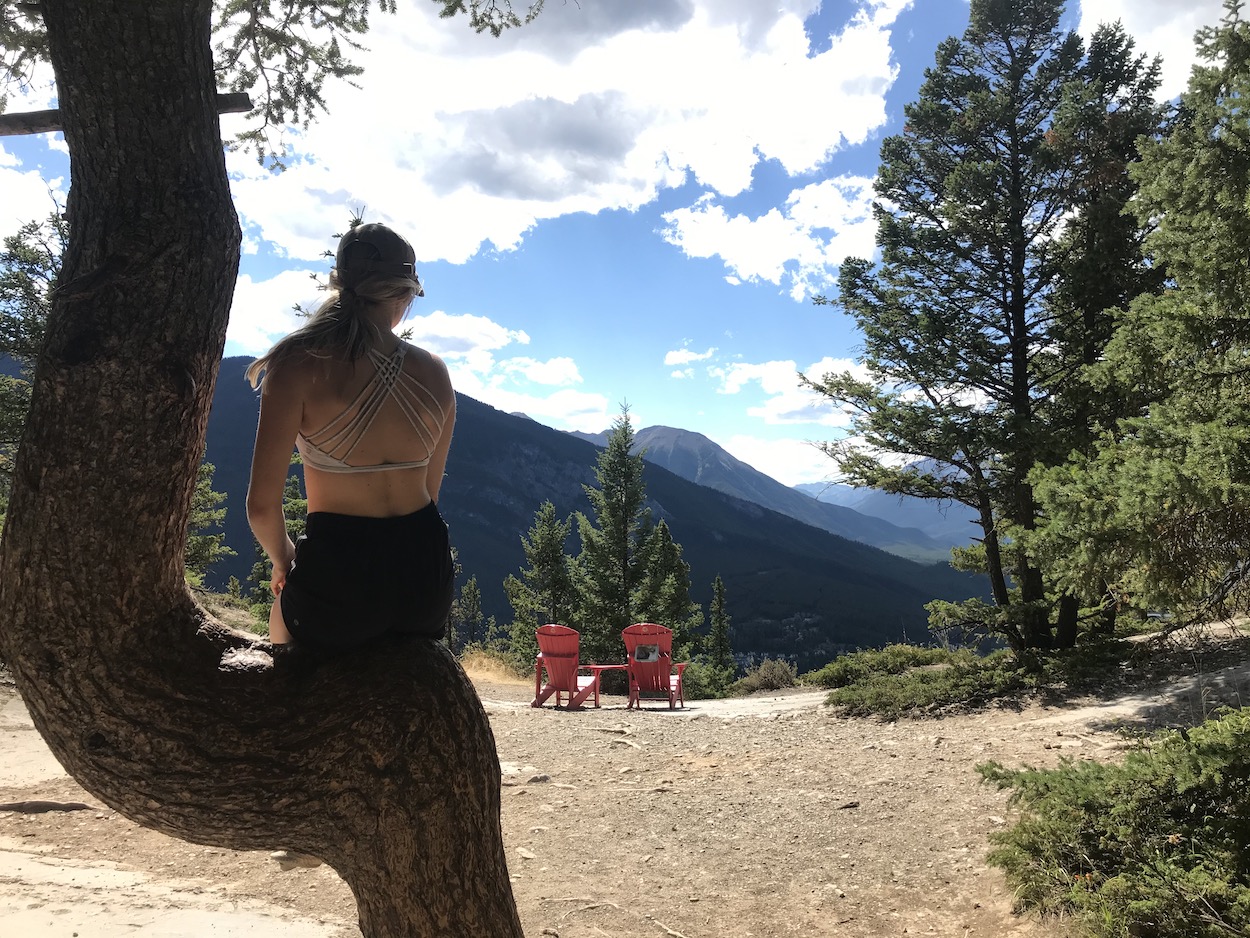 ---
Day 7: Banff to Jasper
The Icefields Parkway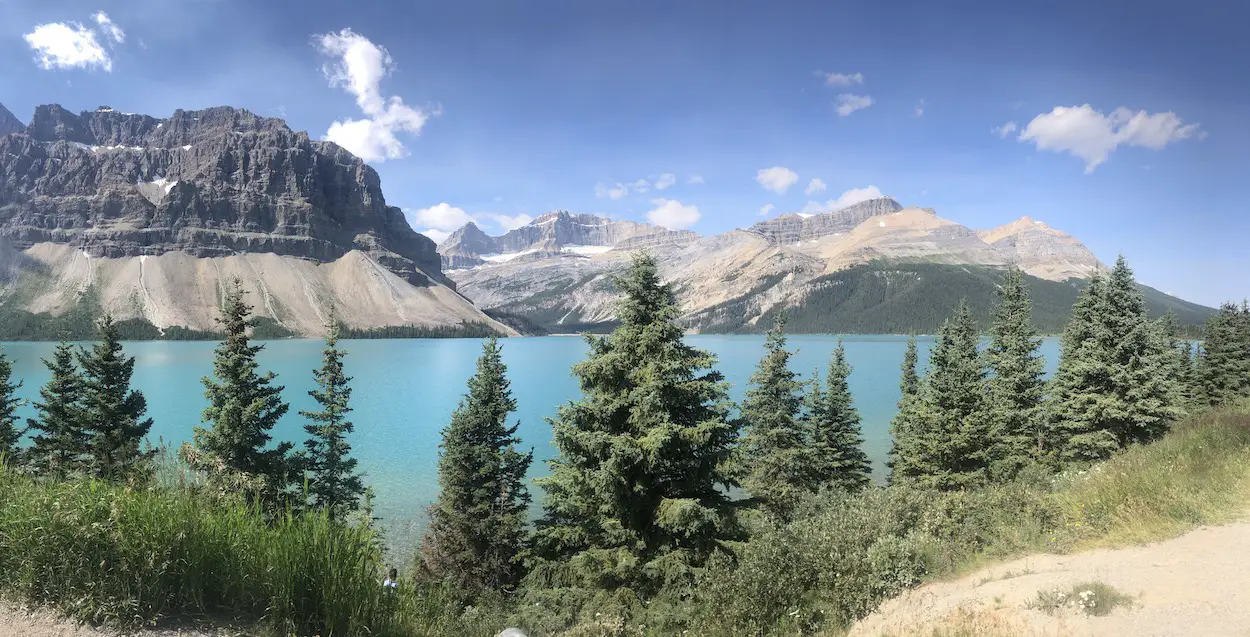 It was hard to pack up our awesome campsite at Two Jack Lake but our excitement for the next portion of the journey urged as on. The Icefields Parkway is the king of scenic drives in the Rockies and is very deserving of it's crown. It is about 3 ½ hours if you do not stop. We took the better part of 9 hours stopping at every possible location on they way. For a more detailed post on all of the places we stopped click here.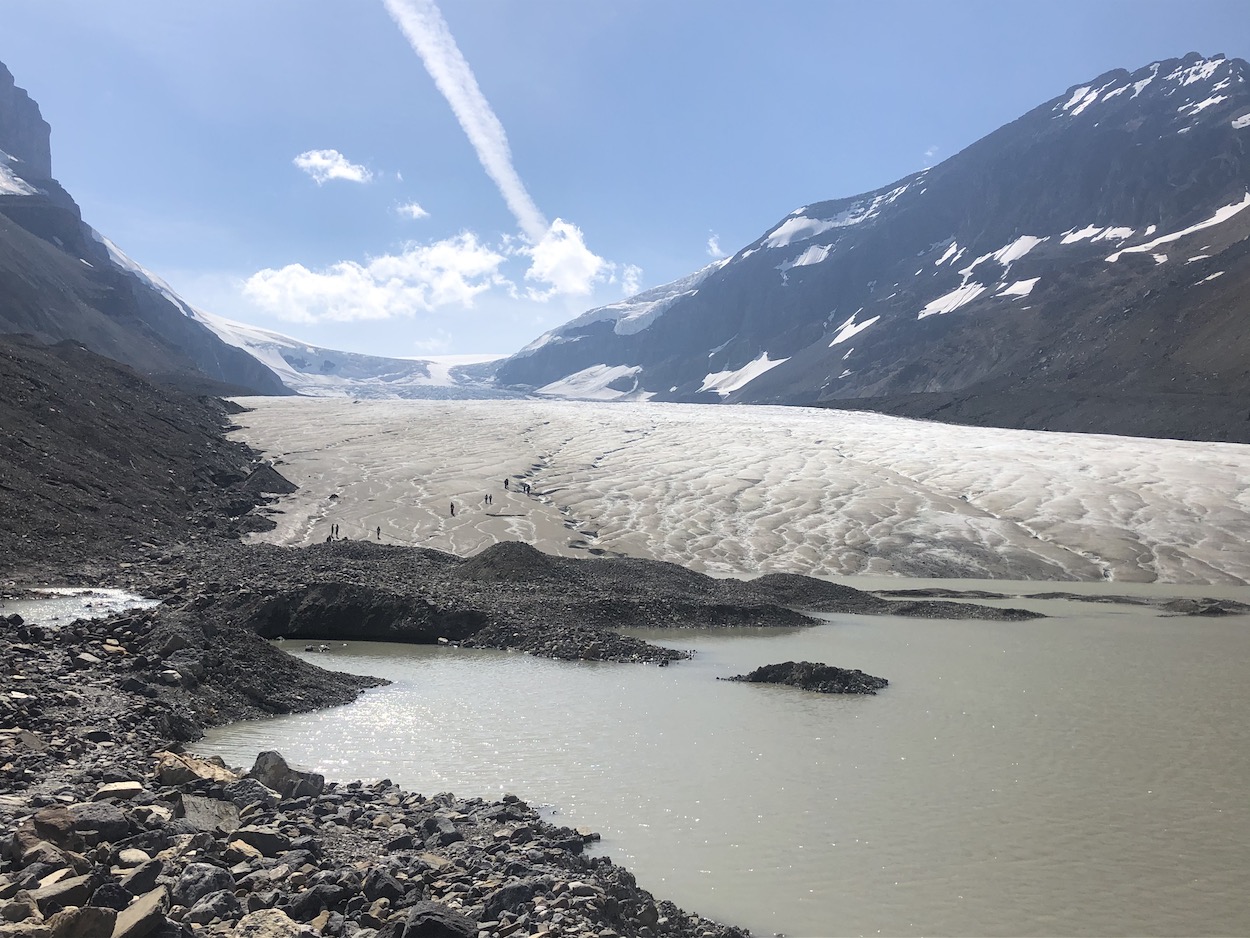 Listed below, in order are 20 of the most notable stops we made on route to Japser.
Herbert Lake
Hector Lake
Bow Lake
Peyto Lake (One of the best spots closed when we went)
Silverhorn Peak
Waterfowl Lake (First pull off to smaller lake is the best!)
Catch a brown trout in the North Saskatchewan river
Mistaya Canyon
Weeping Wall
Bridal Veil Falls
Big Hill and Big Bend
Athabasca Glacier
Stutfield Glacier
Tangle Falls
Quartzite Boulder Field
Sunwapta Falls
Kerkeslin Goat Lick (Goats & Glaciers)
Athabasca Falls
Horseshoe Lake
Valley of the Five Lakes (Amazing little hike, we did this on a following day but could be included on the Parkway)
We were exhausted after our drive and a full week of camping so we opted to stay at a hotel/motel. We stayed at the Pine Bungalows (https://pinebungalows.com/) It as a fantastic spot to stay, we even had an elk come rightup to out bedroom window. There are lots of great eating options in Jasper and we decided to try out the Brewery for some nachos and a pint.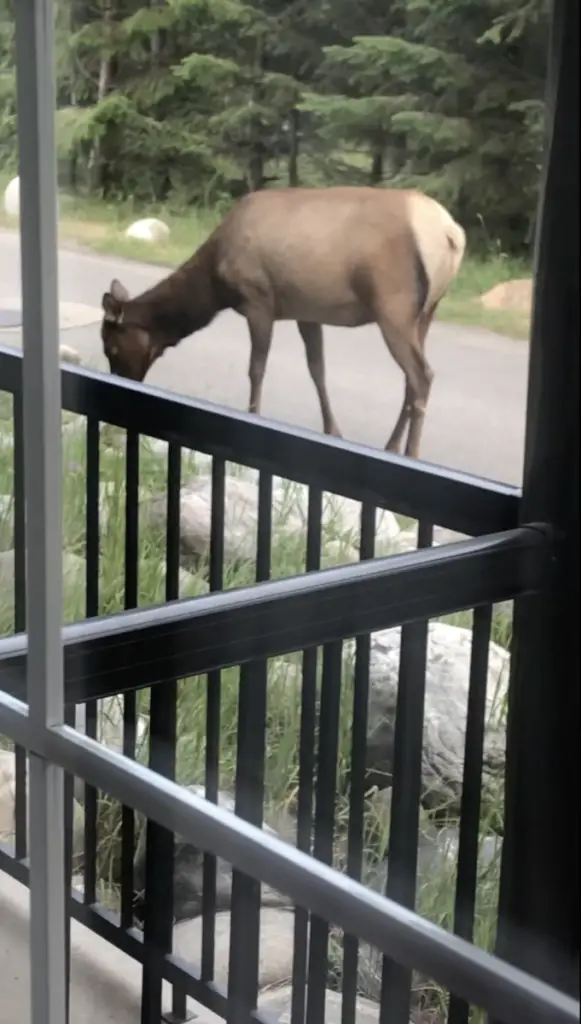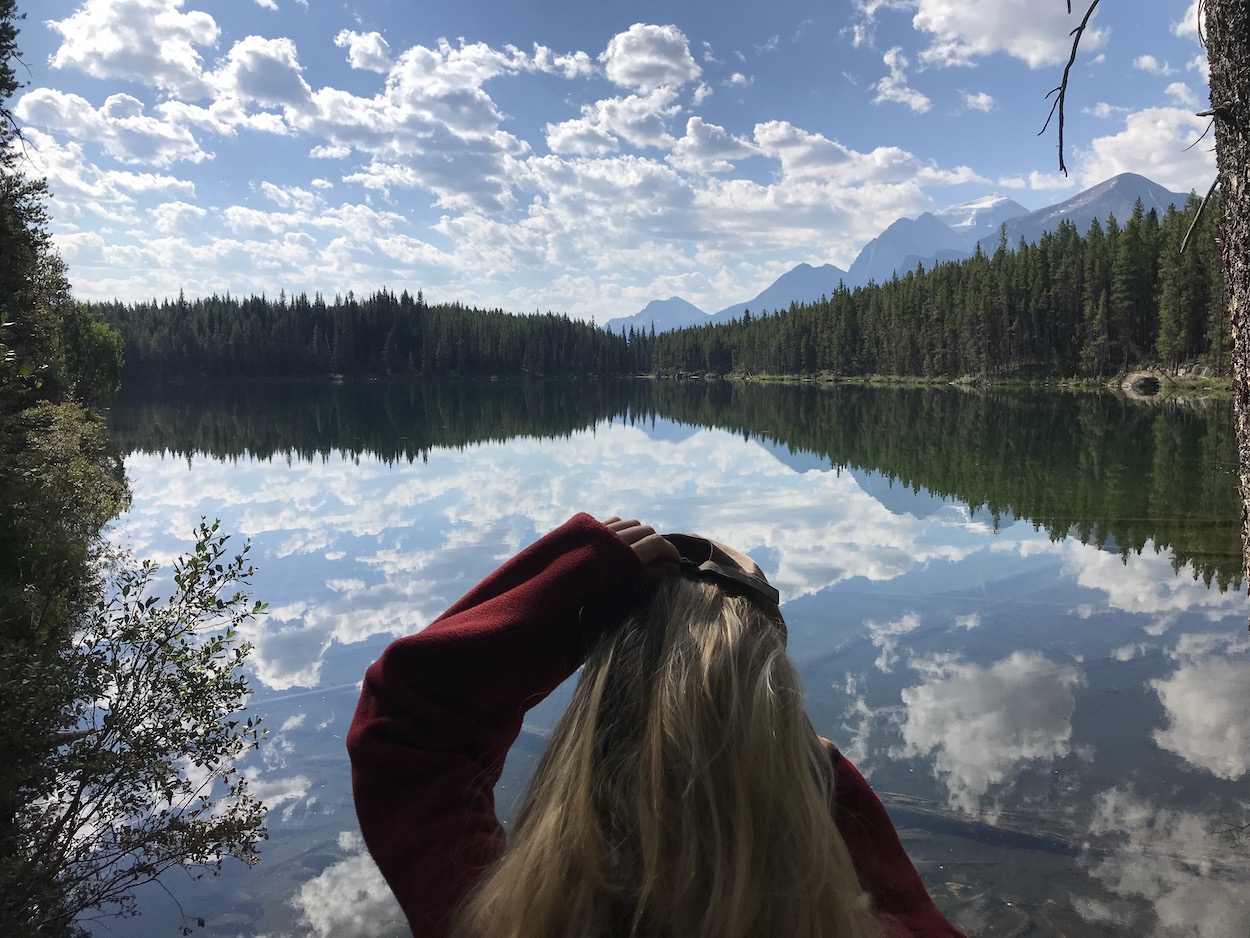 ---
Day 8: Jasper
Edith Cavelle Meadows Trail & Summit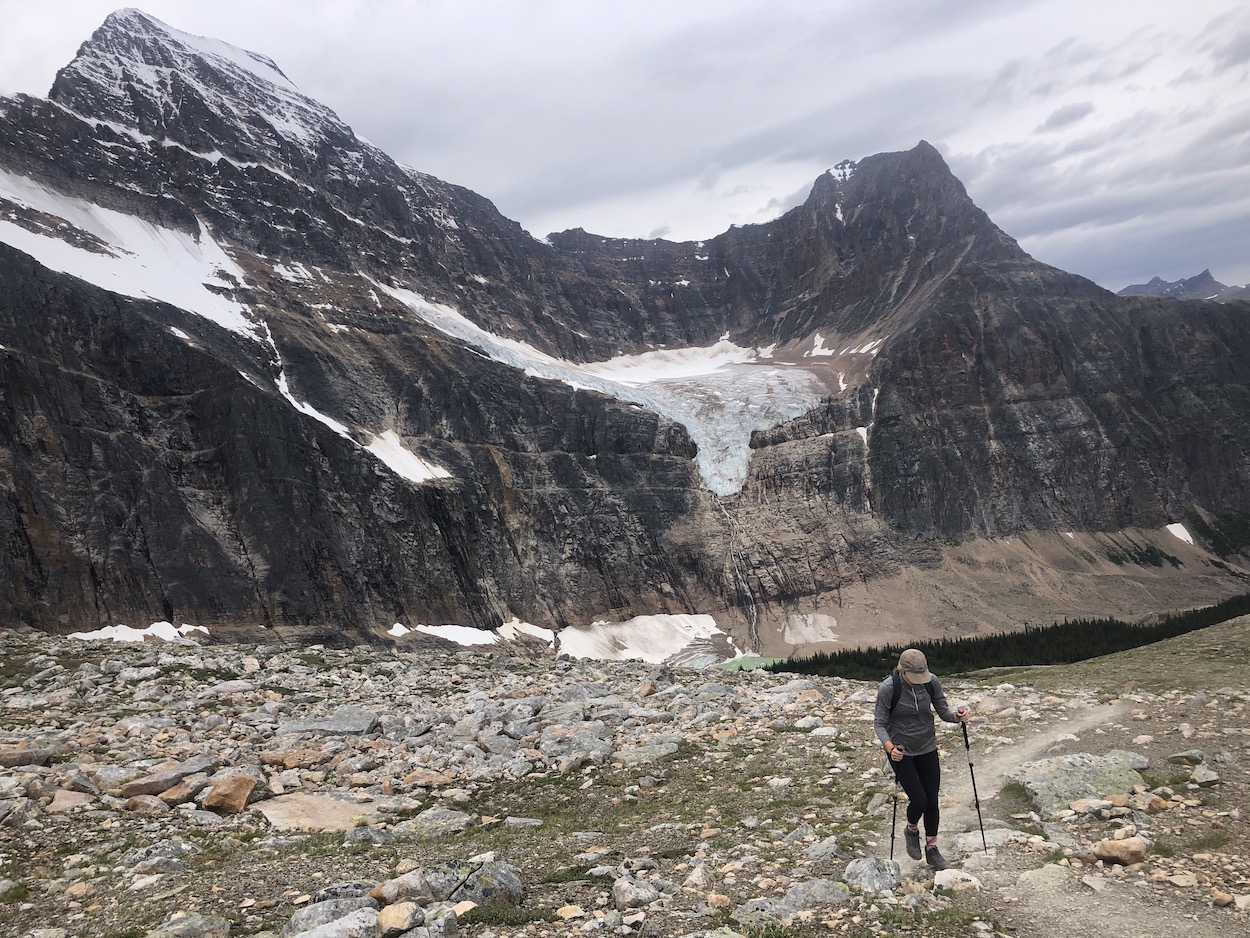 We killed two birds with one stone on this one. The Edith Cavelle trail was spectacular, it delivers an up close and personal view of the Edith Cavelle Glacier at the beginning and as you gain elevation you are rewarded with a picturesque Alpine meadow and spectacular views. We were feeling ambitious as per usual and scrambled our way up to the Summit at 2306m and it paid off. The views from the top were postcard worthy!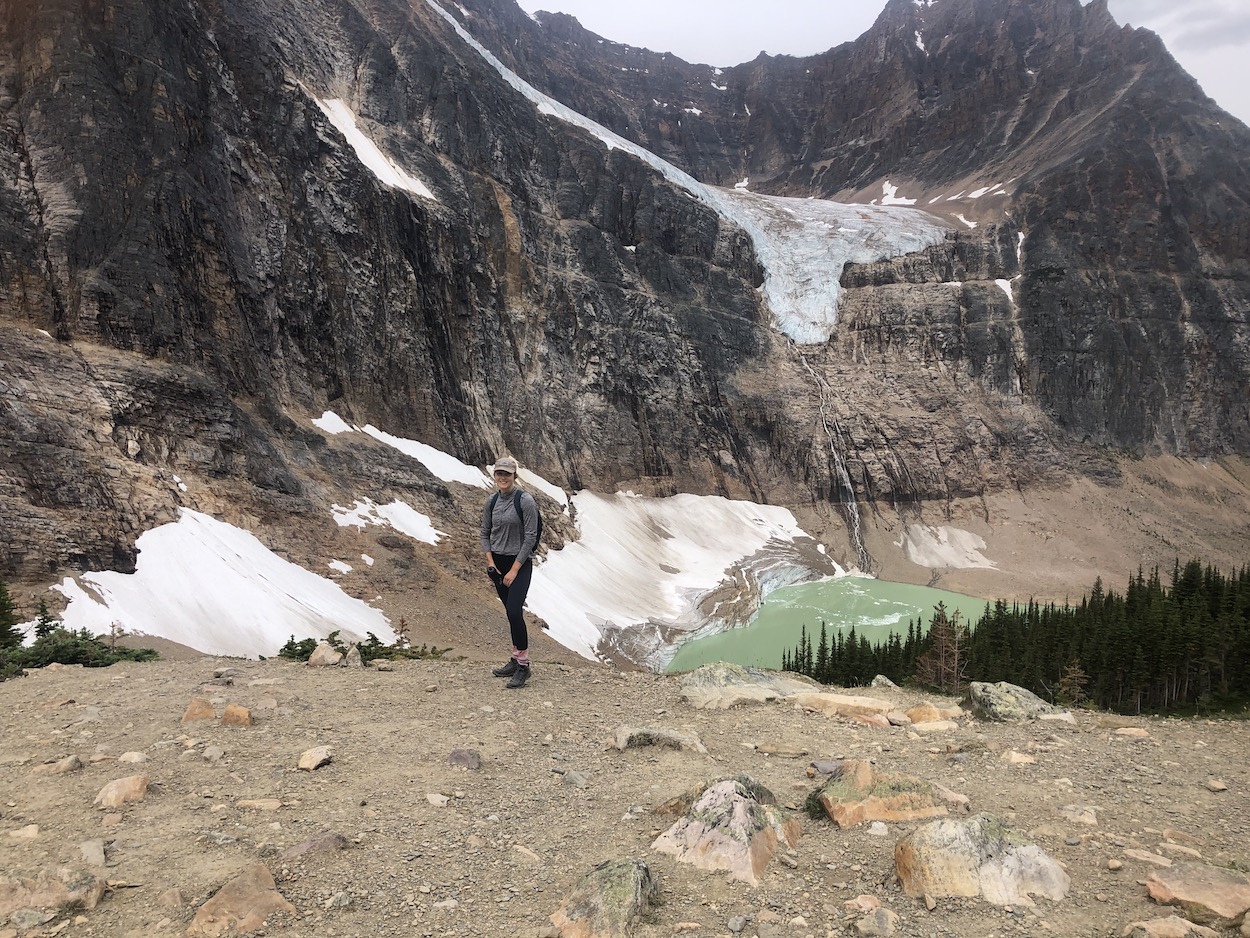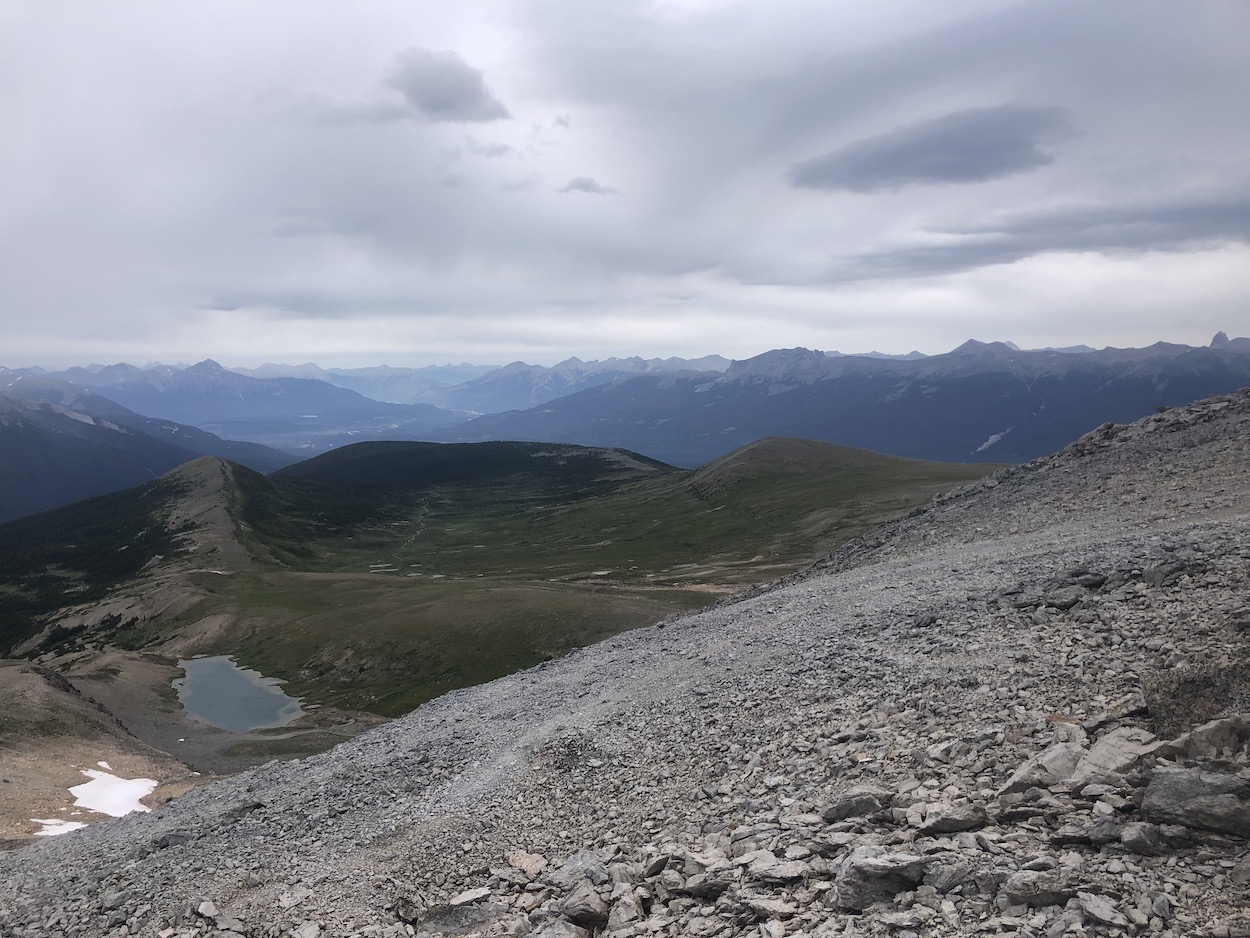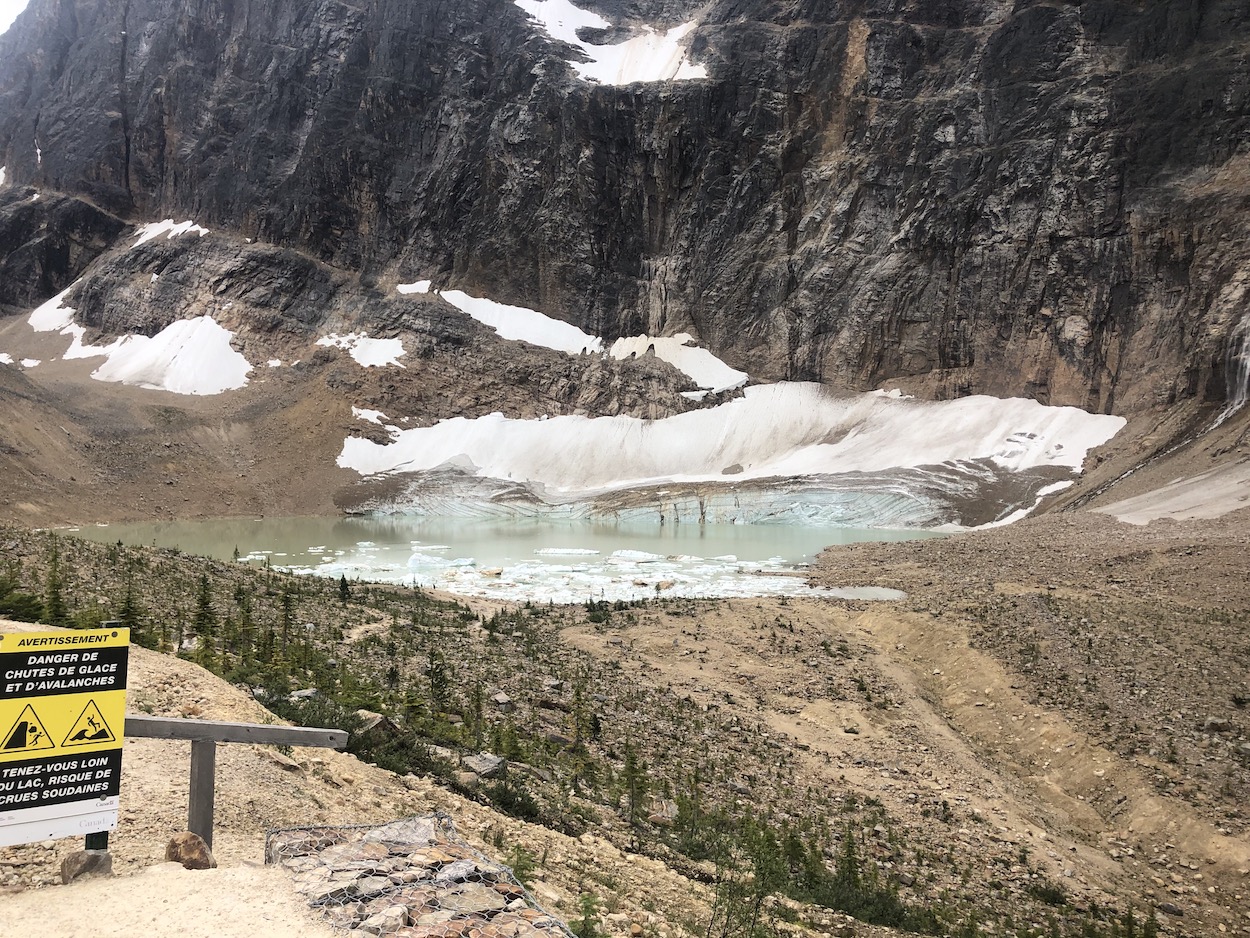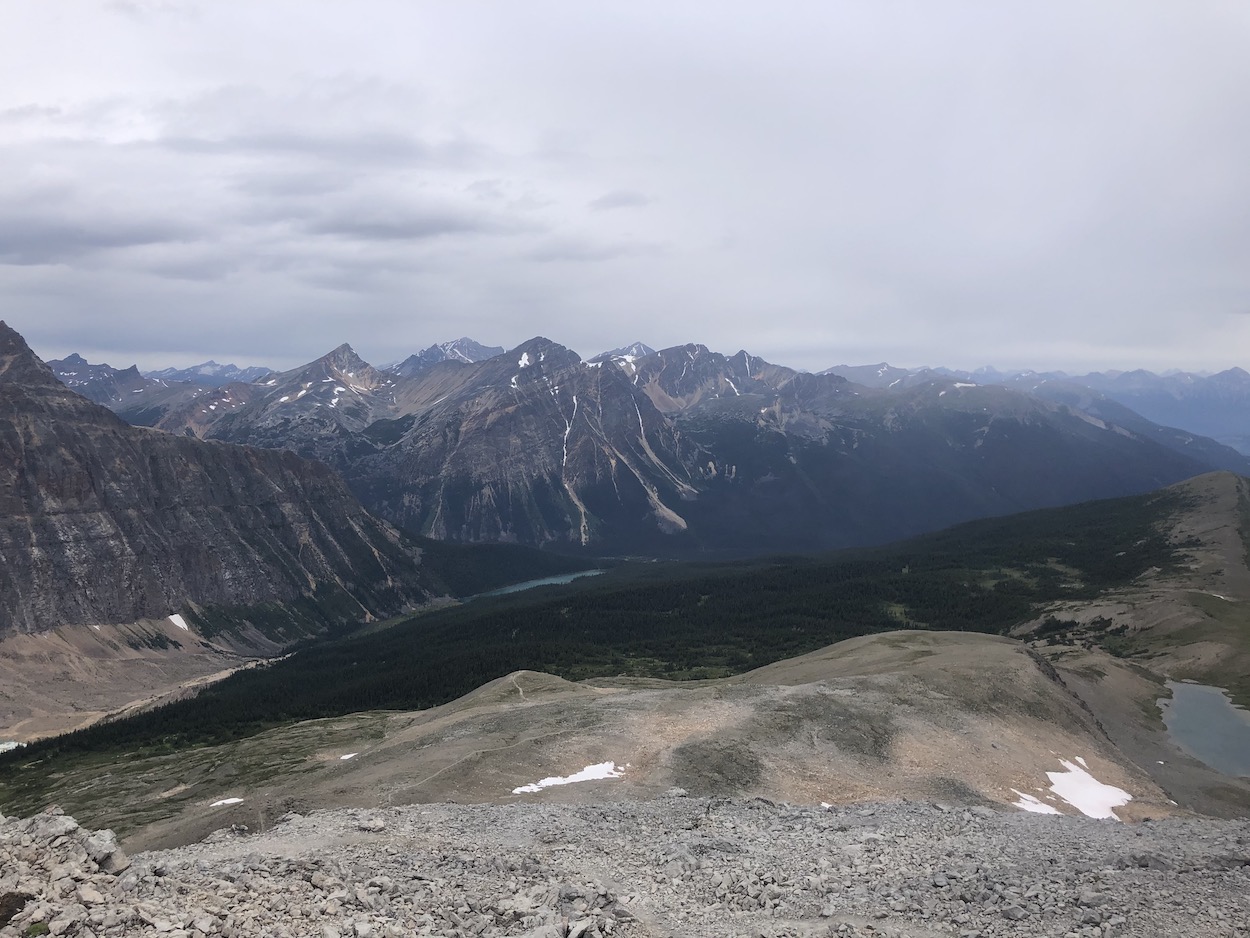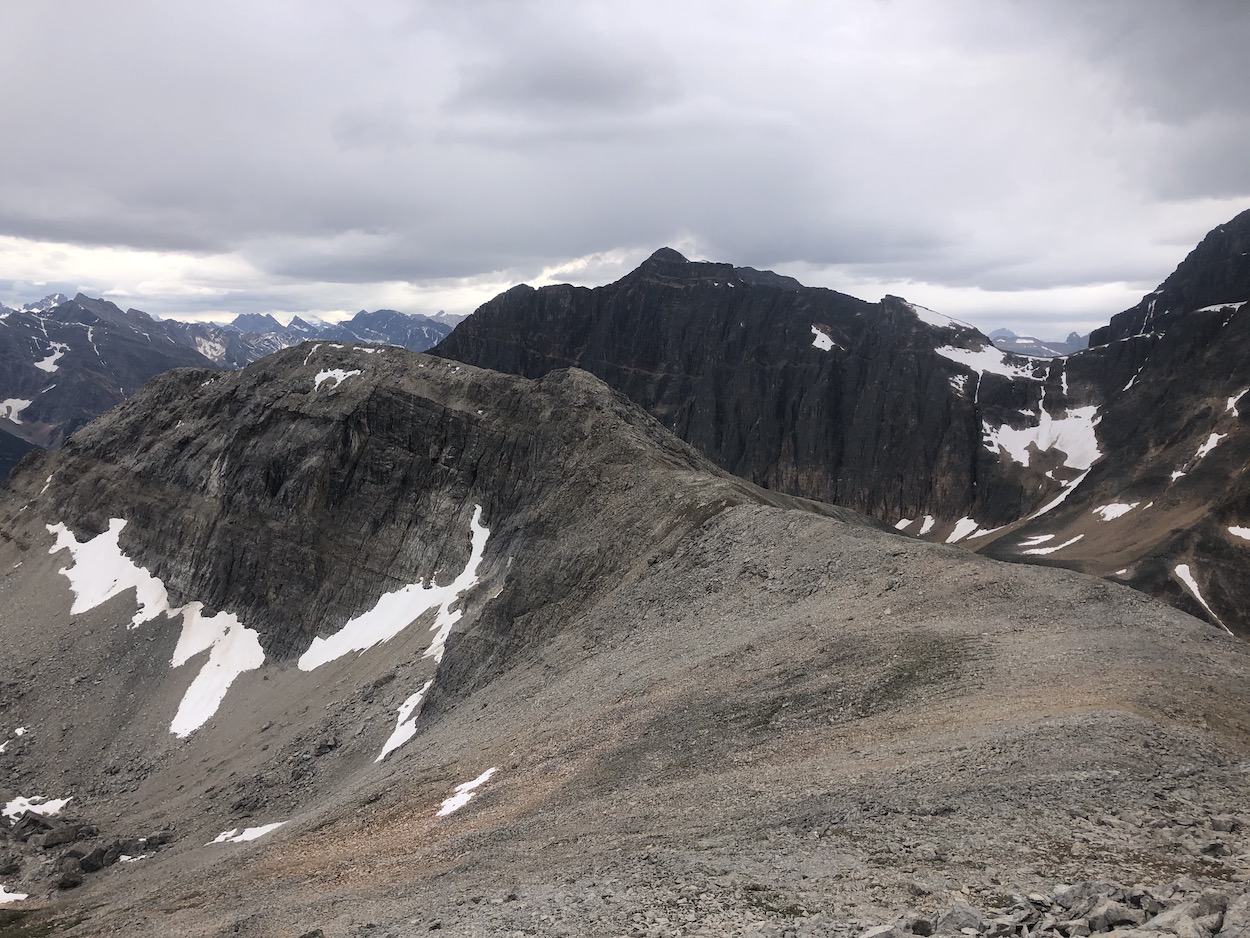 Campsite #3: Wapiti Campground Jasper
The Wapiti campground in Jasper was a Monstrosity. Our personal site was very average, but it looked like there where some more character sites on the rivers edge. If I book this site again, I would try to snag a spot along the river.
Valley of the 5 Lakes Loop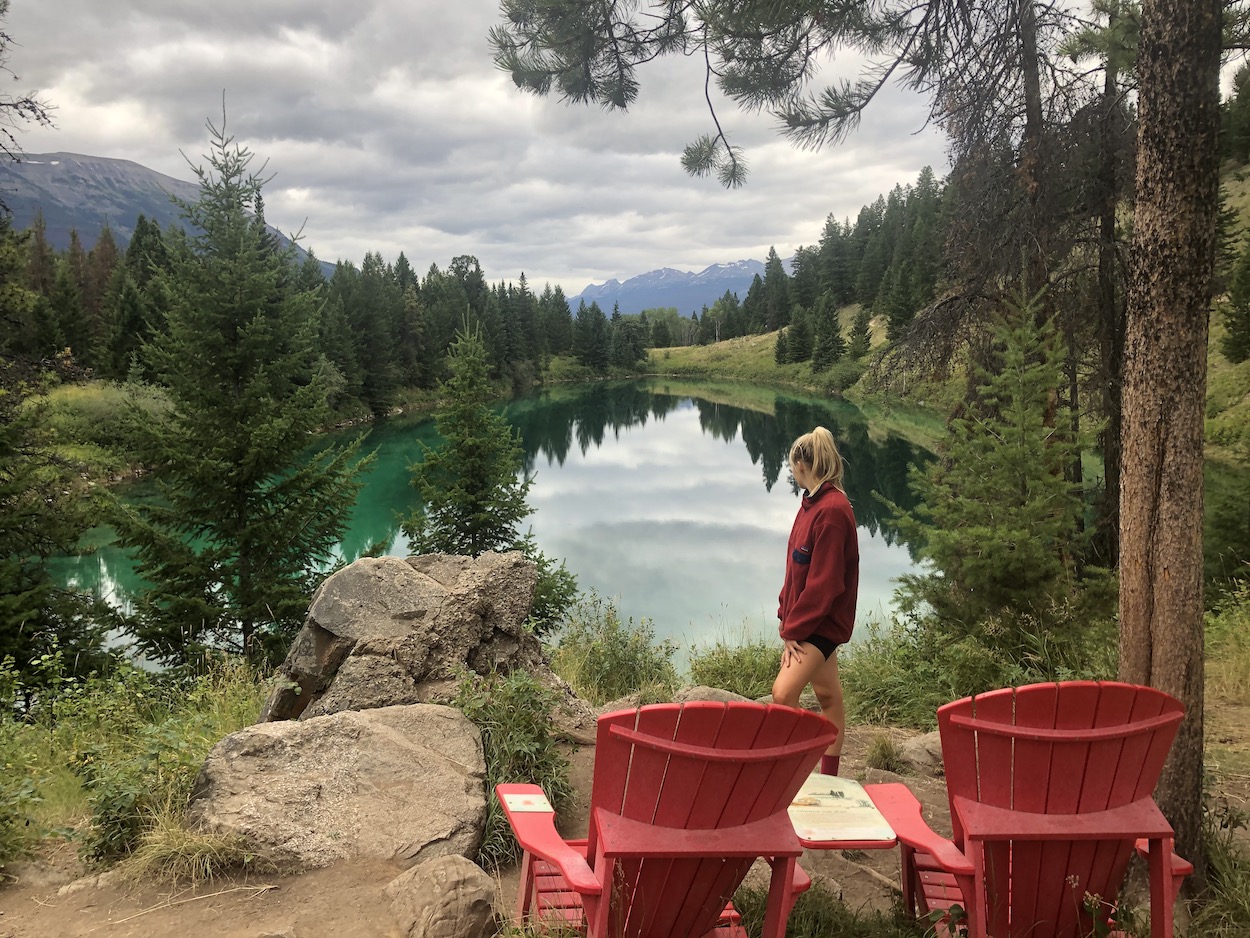 One hike wasn't enough for us so we decided to backtrack to the Valley of the 5 lakes that we passed by the prior day on the icefields parkway. This is a low elevation gain 5km loop walk. It blew my expectations right out of the water. Each lake was deeper, more breathtaking, and bluer than the one before. For the small size of these lakes, I couldn't wrap my head around how deep they were. We took our time and stopped at some of the lawn chairs along the way to take it all in.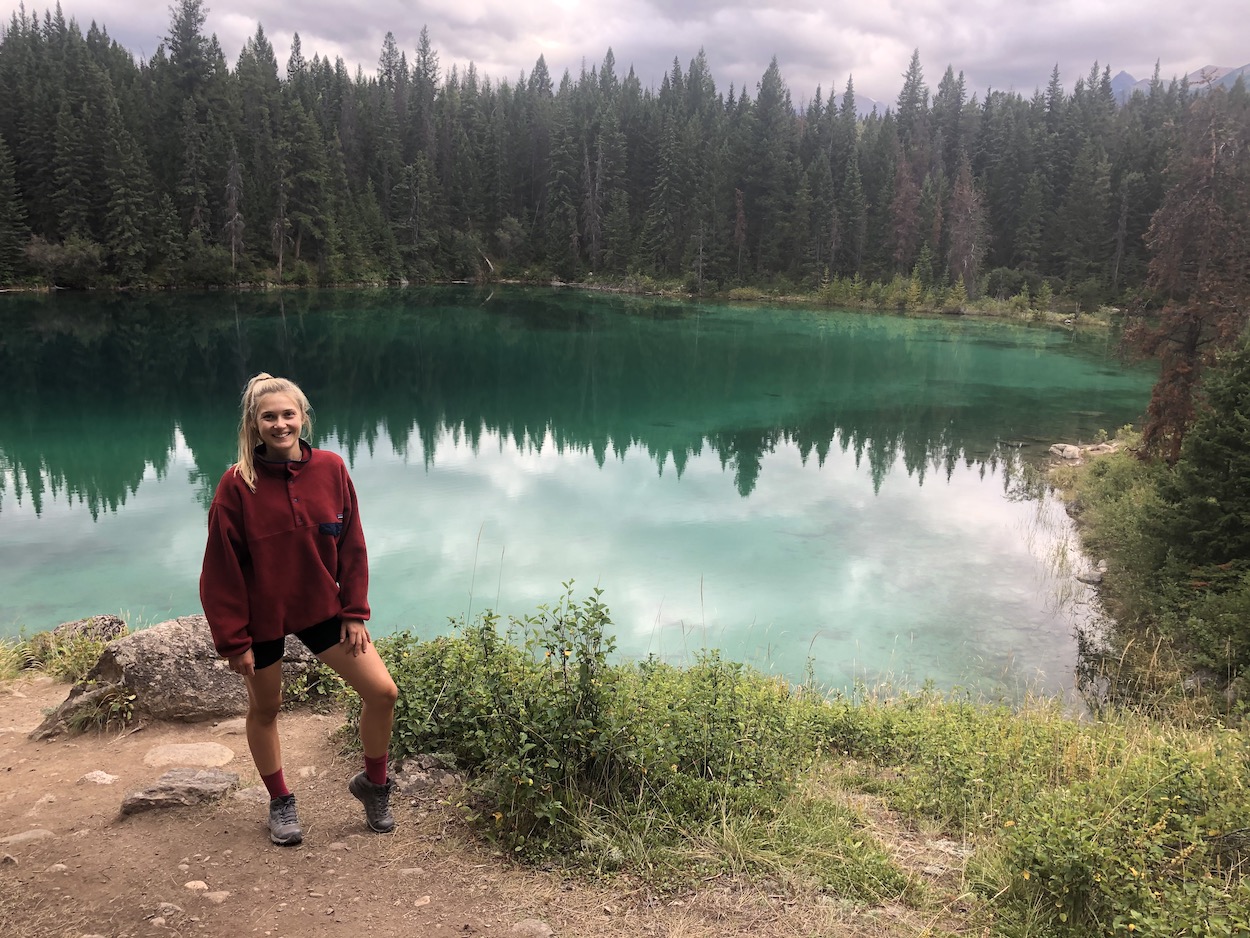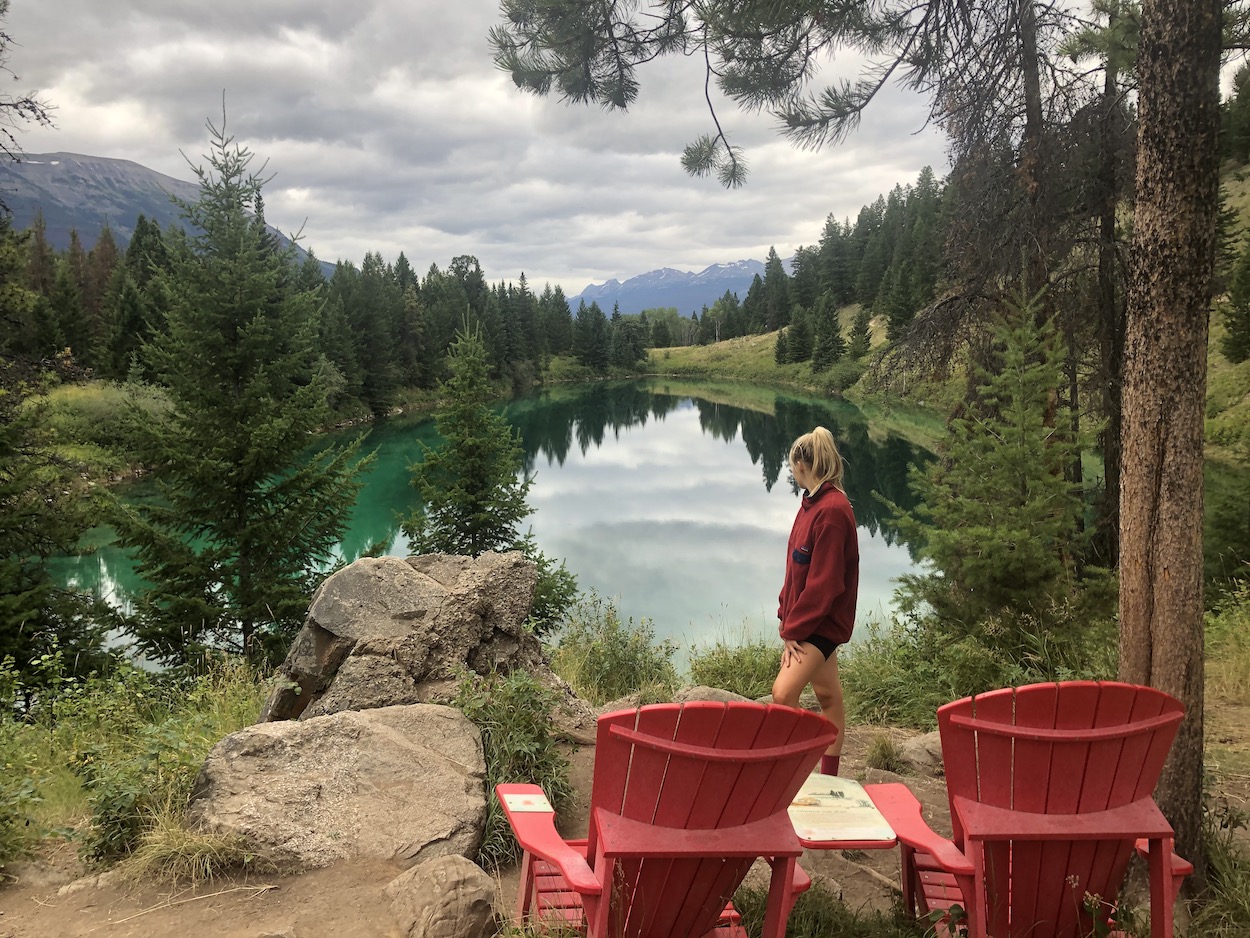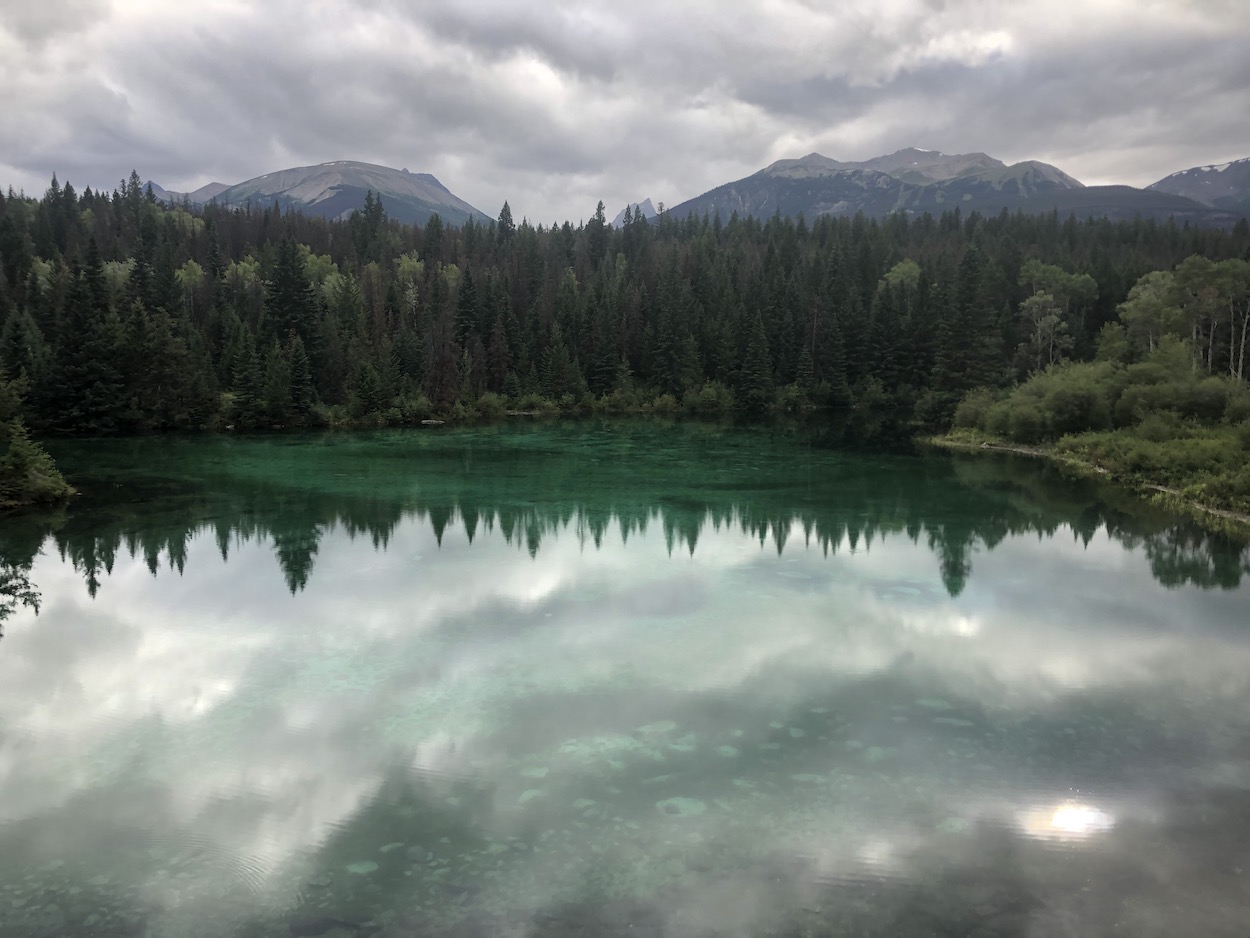 ---
Day 9: Jasper
Bald Hills Loop Trail
The drive to Maligne lake and the trailhead was very beautiful and we stopped at many of the car pullouts. We arrived early in the morning and had the trail to ourselves. The first portion involved a service road and steeper more boring forest section to gain some elevation. Once we arrived in the alpine it was an unequivocal treat. We followed the loop up to the first, second and third peak. Every step of the way we were welcomed with unbelievable views of snowcapped mountain ranges and to our right a panoramic view of the monstrous Maligne Lake. Watch out for the insane marmots up there and do not feed them, they were jumping on to my legs to try and get my lunch. Even though they are cute try to remember to not feed the animals for theirs and others health and safety.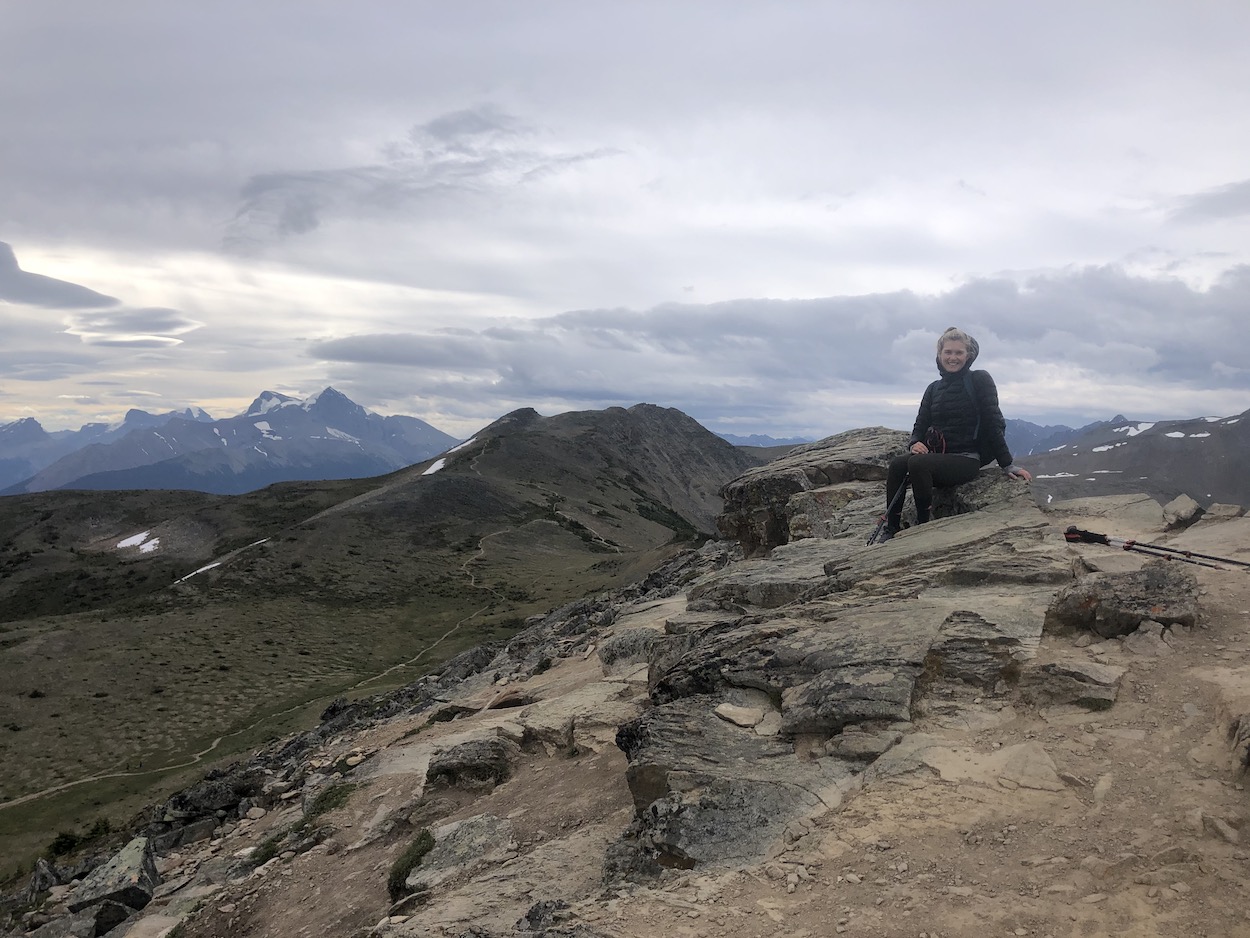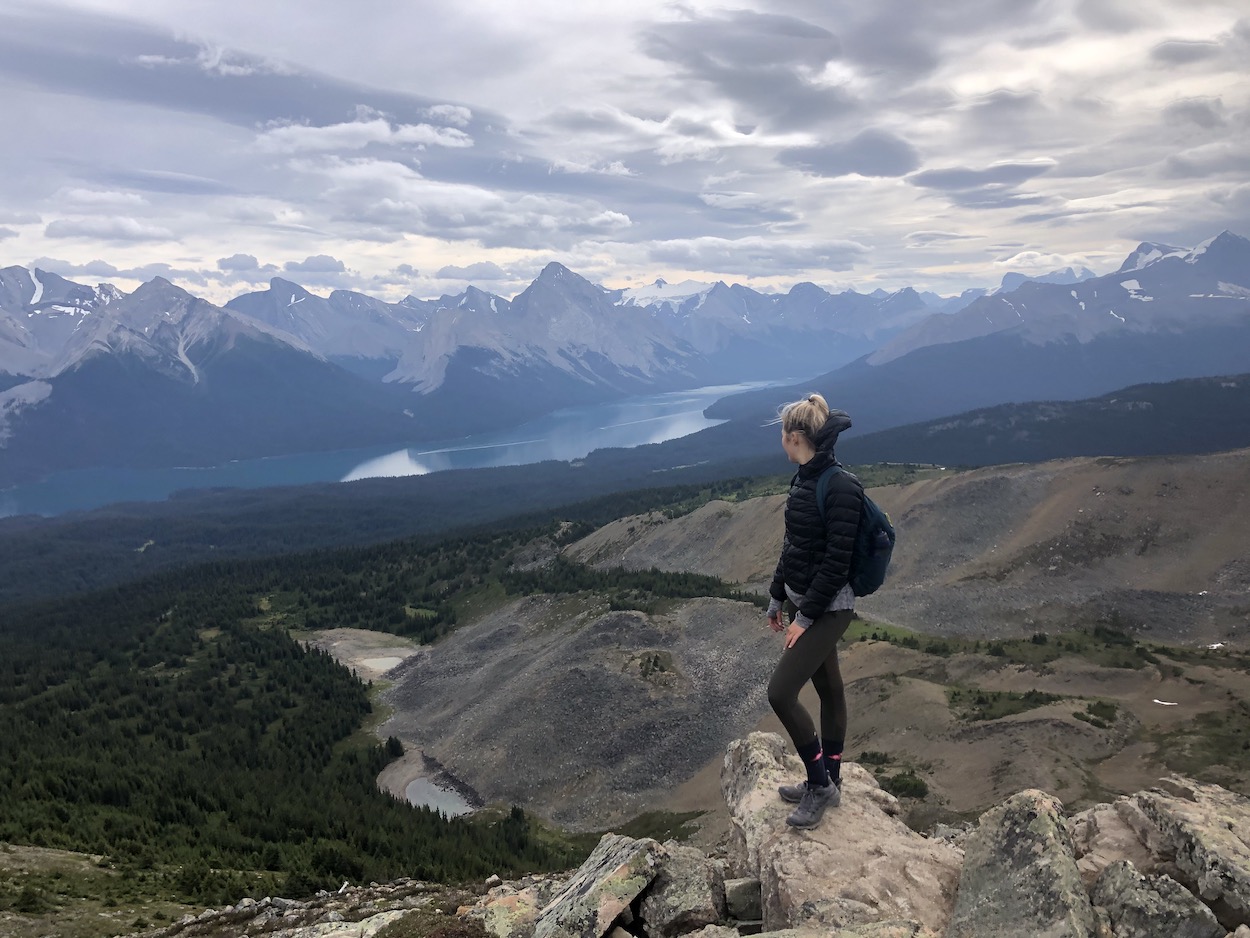 Maligne Lake
After our hike we walked out to the dock beside the boat launch and went for a swim. Maligne Lake is massive! It's the largest lake in the Canadian Rockies and stretches 22km. Next time I am visiting I would love to rent a speedboat and explore the far reaches of the lake.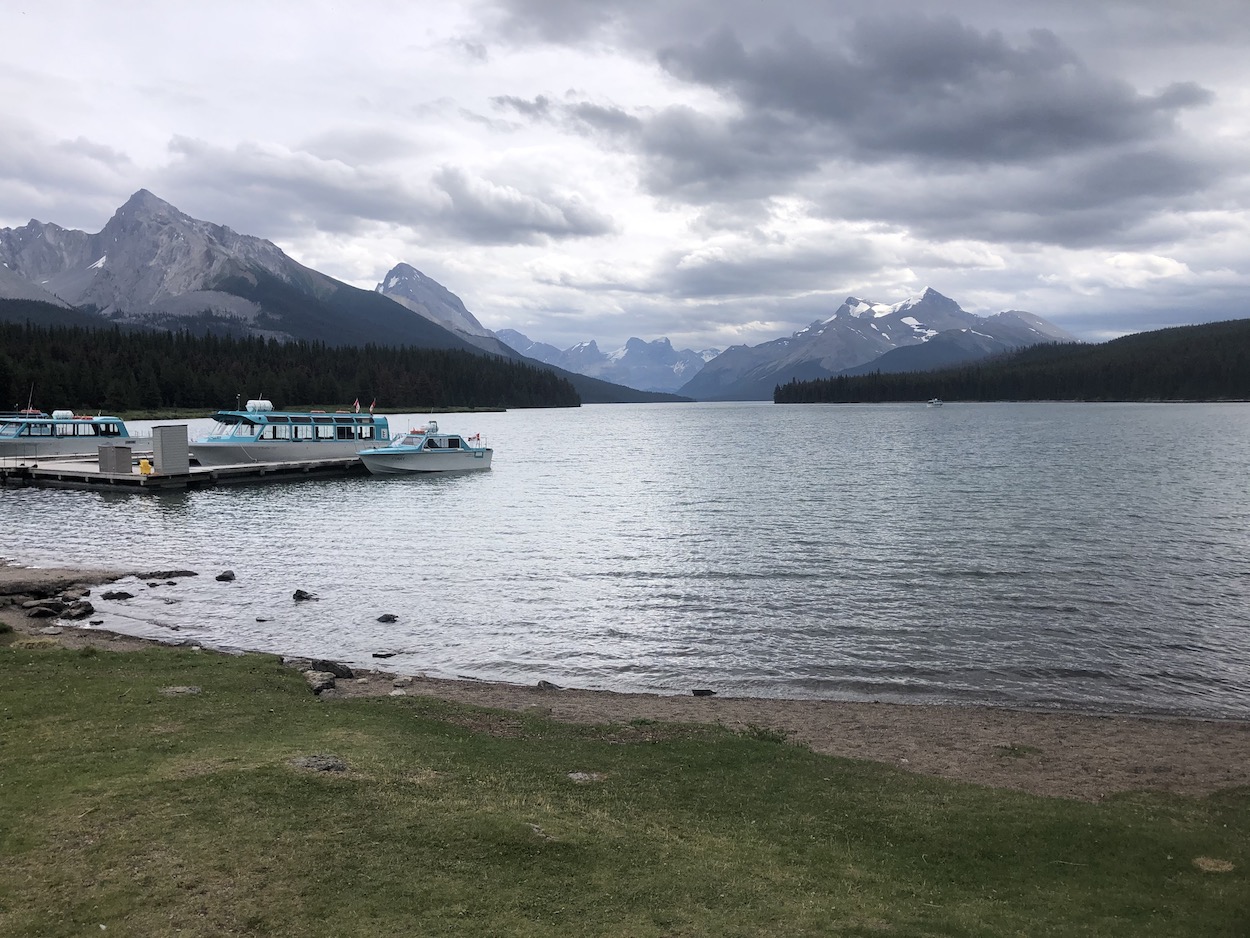 Maligne Canyon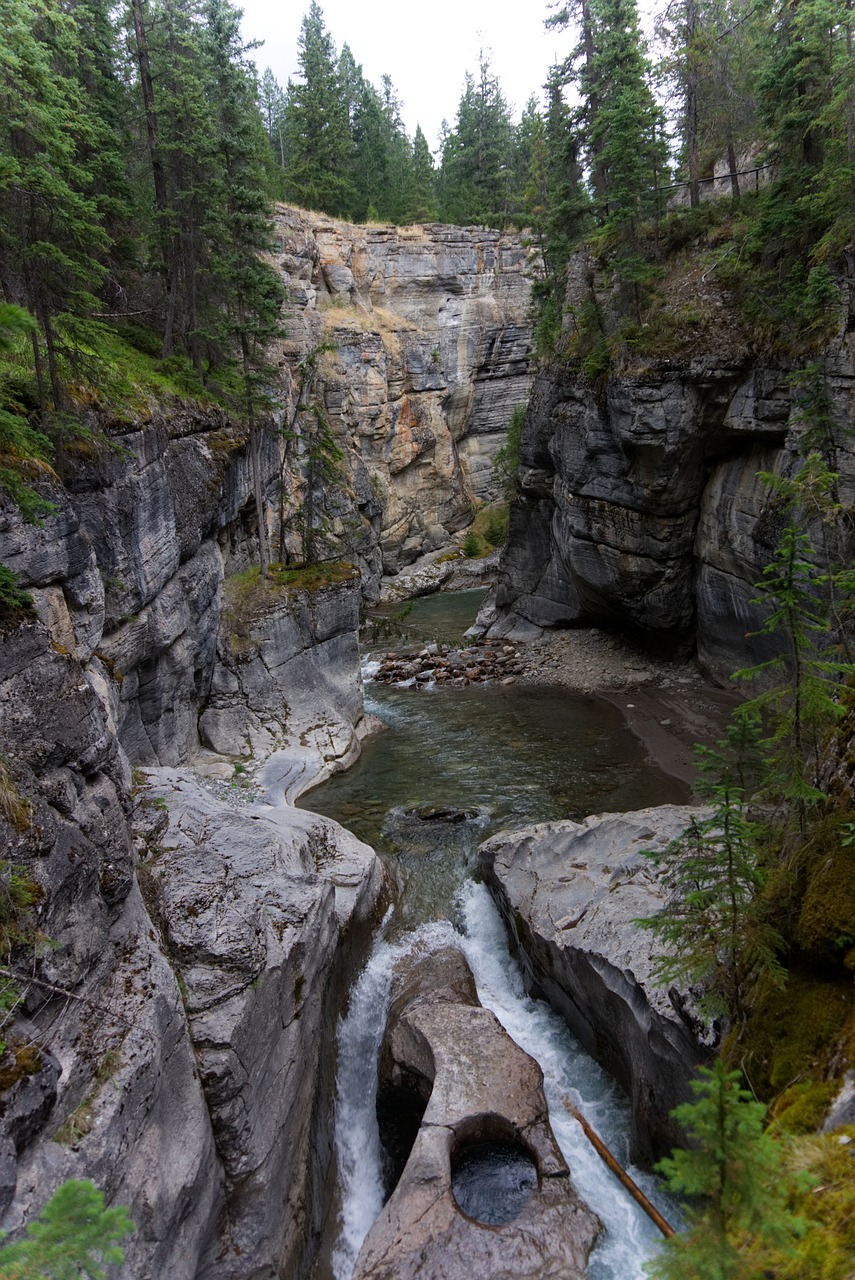 On the drive back towards the campsite we stopped at the Maligne Canyon. We saw many large and small canyons on our trip and Maligne topped the list. It is so extraordinarily deep, more than 50 meters at certain points. We walked the trail along the length of the Canyon and back to the top to make sure we didn't miss anything. The most impressive points of the Canyon are right near the beginning so there is really no need to walk all the way to the river bottom like we did unless you feel like a bit of a sweat.
Pyramid Lake
Once we were done at Maligne canyon we quenched our appetites with a Sandwich that we bought from Patricia's, an amazing sandwich shop run by two hilarious locals. We took our sandwiches and a couple lagers up to Pyramid lake to enjoy. Pyramid lake is a great spot for beachin' it on the sand or getting out for a paddle. There are many picnic spots and benches along the sides of the lake to sit and enjoy some grub and an adult beverage.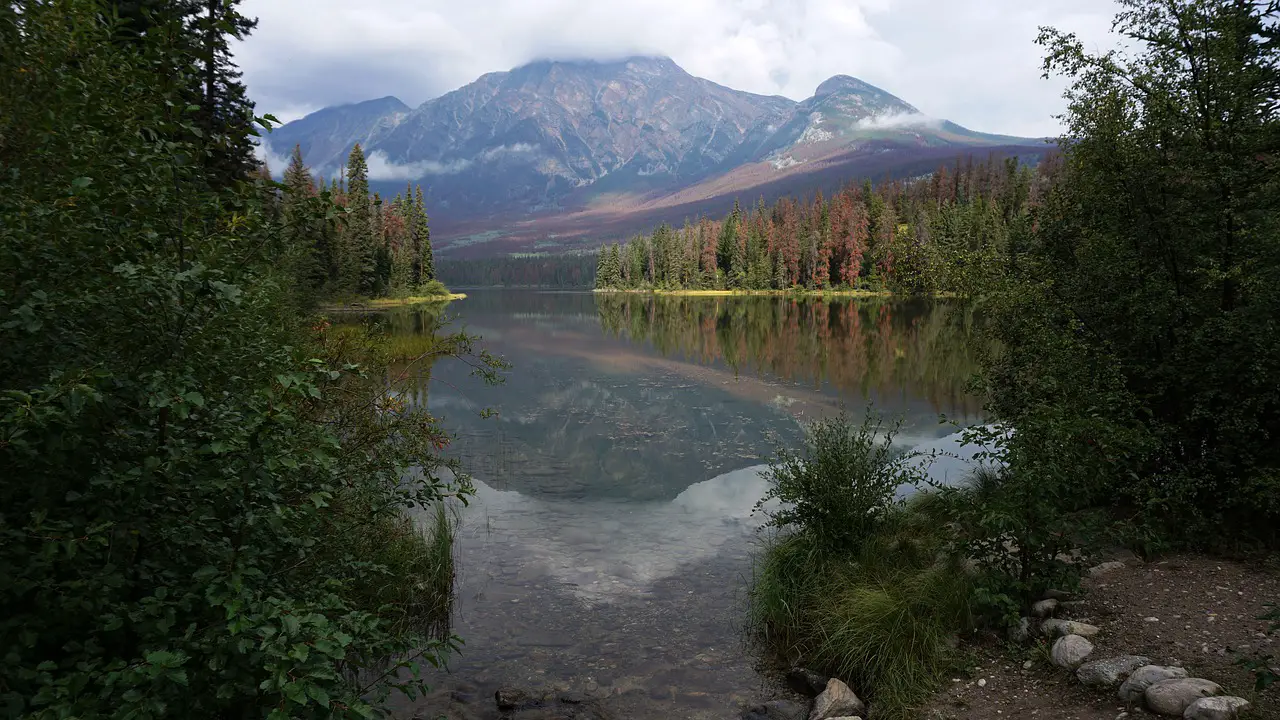 ---
Day 10: Jasper to Clearwater
Mount Robson Provincial Park
We packed up our campsite, got on the road and stopped at Mount Robson provincial park for a quick lunch and to drop by the info center to learn more about the Berg Lake Trail. We are planning to check Berg Lake off our list this summer!
Overlander & Rearguard Falls
The Overlander falls was a quick hike form the truck on the side of the Yellowhead highway in Mount Robson park. The Rearguard Falls downstream from the Overlander falls is the last stop for migrating Fraser river salmon. I'm a total salmon nerd so this got me wildly excited and wishing that it was spawning season so I could see those red goliath spring salmon at their final resting place.
Clearwater Waterfalls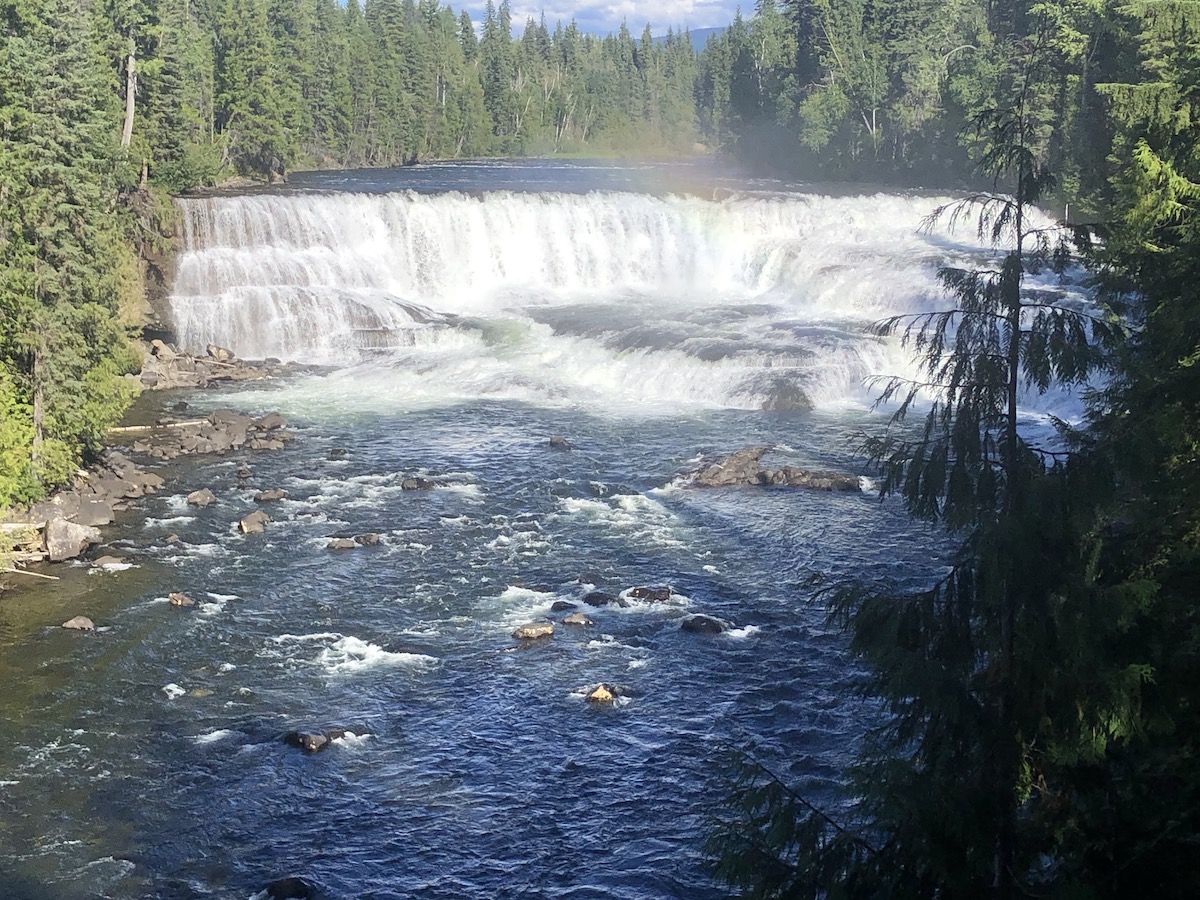 Clearwater is home to 39 named waterfalls and Canada's fourth highest, the Helmcken falls. I'm not certain if it is the waterfall capital of Canada, but it should be. If you absolutely love chasing waterfalls, clearwater will be your heaven.
Notable waterfalls that we checked out:
Saphats Falls
Moul Falls
Dawson Falls
Mushbowl
Helmcken Falls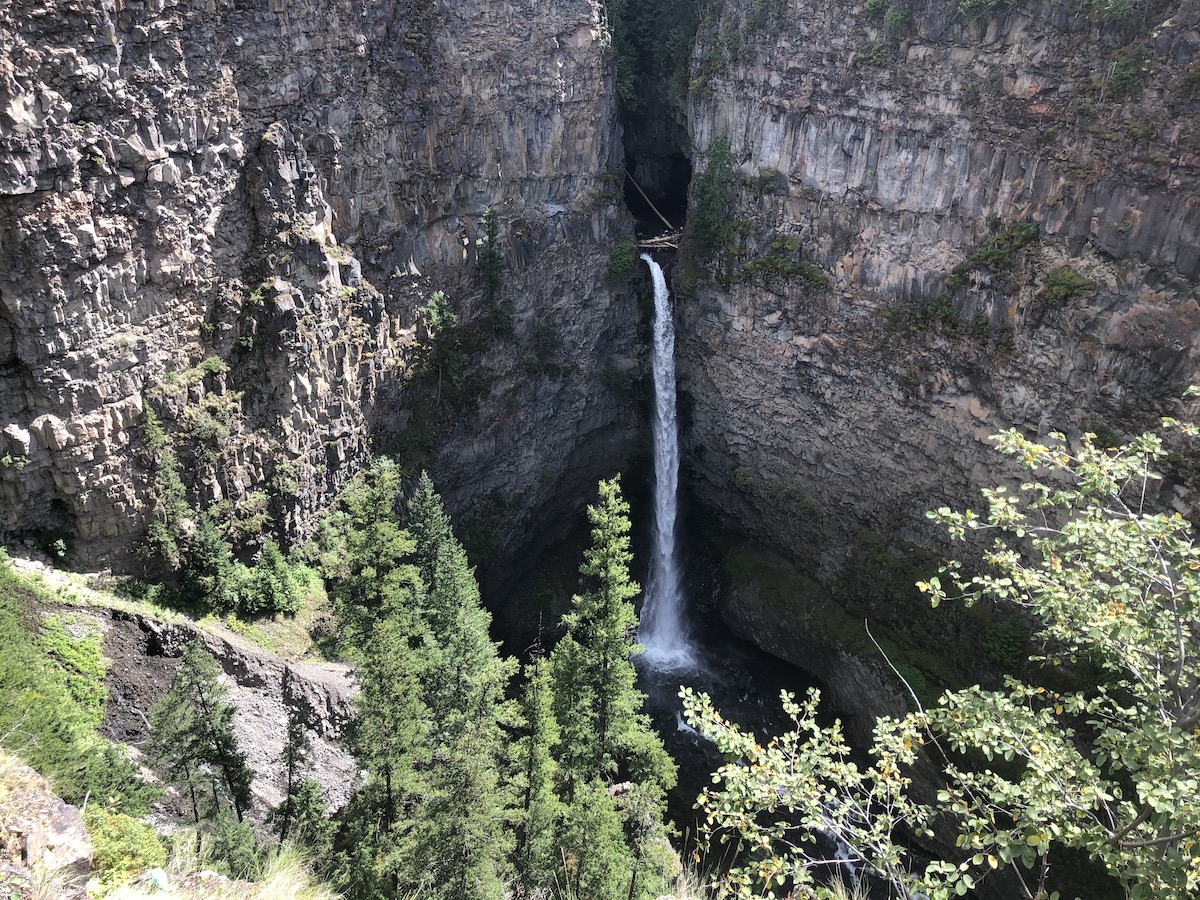 Our personal favourite was the Moul falls because you could get really up close and personal with it. You could walk on the rocks behind the waterfall and see it form behind. Walking behind or under a waterfall is not a safe practice because you do not know what is floating down the river above. I didn't stay behind the waterfall for long but it was my first time being behind such a powerful waterfall before and I found the feeling to be remarkable.
There are many other waterfalls to adventure to that we didn't have time for on our Journey that are on my hit list the next time I pass through Clearwater.
Silvertip Falls
Triple Decker Falls
Candle Creek Falls
Rainbow Falls
Sylvia Falls
Goodwin Falls
Myanth Falls
McDiarmid Falls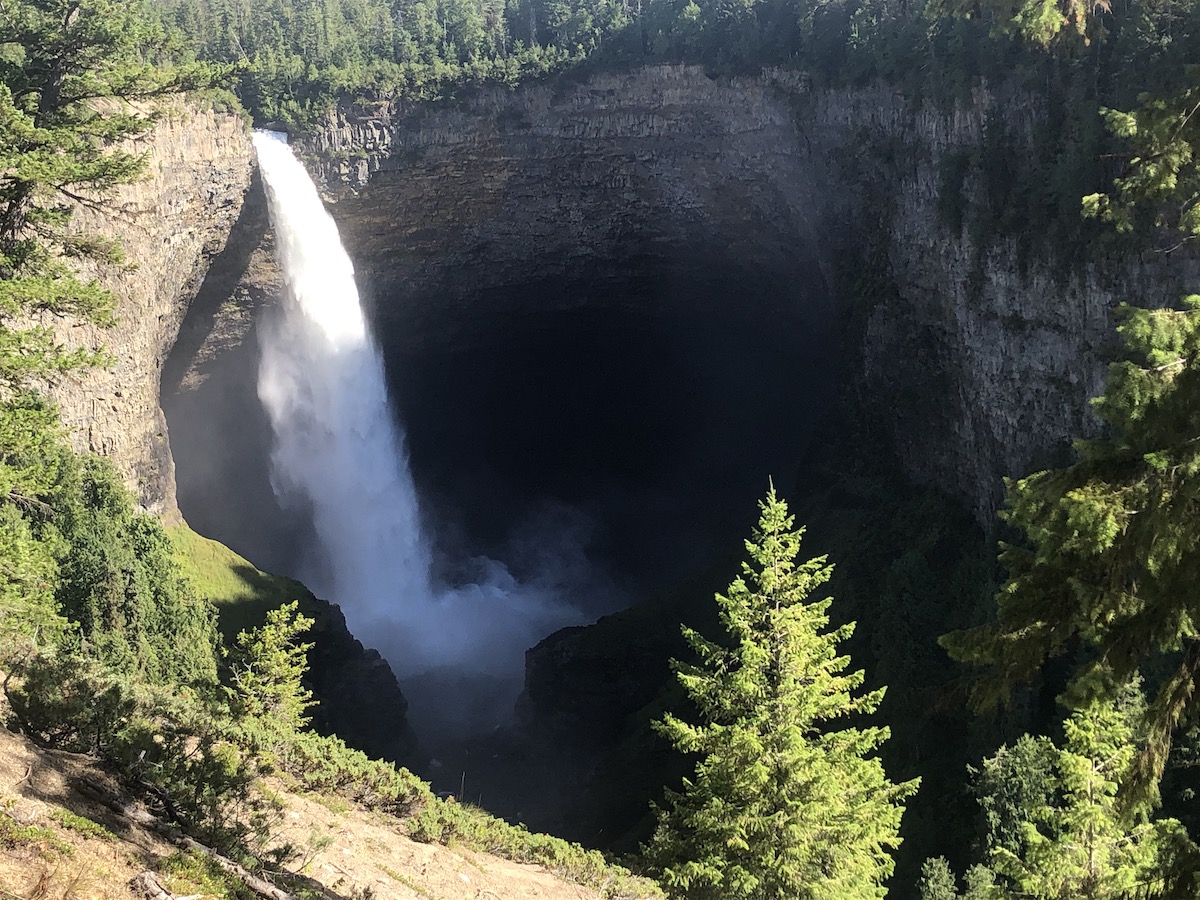 For all you waterfall enthusiast feel free to click here for a more detailed explanation of the different waterfalls.
We finished our day of chasing waterfalls with a homerun BBQ meal at the Hop N Hog Tap and Smokehouse, checked out the Dutch lake where we watched some fisherman troll around, then spent the night at a local motel.
---
Day 11: Clearwater to Vancouver BC
We've spent lots of time in the interior of BC so we did not stop until we hit Vancouver!
💲💰💲💰💲💰💲💰💲💰💲💰💲💰💲💰💲💰💲💰💲💰💲💰💲💰💲💰💲💰💲💰💲💰💲💰💲💰💲💰💲💰💲💰💲💰
How much did it cost?
We spent just under $1500 dollars to make this trip happen. Since we already had a vehicle and camping gear there weren't to many expenses that were out of the ordinary. To break it down.
Gas (Pickup Truck): $380
8 Campsite Stays (including firewood): $240
2 Hotel Stay (we stayed at the cheapest spots): $200
Food/Alcohol: $400
Park Pass: $80
E-bike rental: $115
Our grand total was around $1,415. We were not trying to cut costs in any way and enjoyed a few meals on the road. With a vehicle that is cheaper on gas and a smaller appetite you could very easily do this trip in under $1000.
💲💰💲💰💲💰💲💰💲💰💲💰💲💰💲💰💲💰💲💰💲💰💲💰💲💰💲💰💲💰💲💰💲💰💲💰💲💰💲💰💲💰💲💰
Wildlife Hall of Fame
Another amazing part about this trip is that you will see wildlife absolutely everywhere, even in the city of Banff. Here are some of the few photos I managed to snap of the animals we ran into.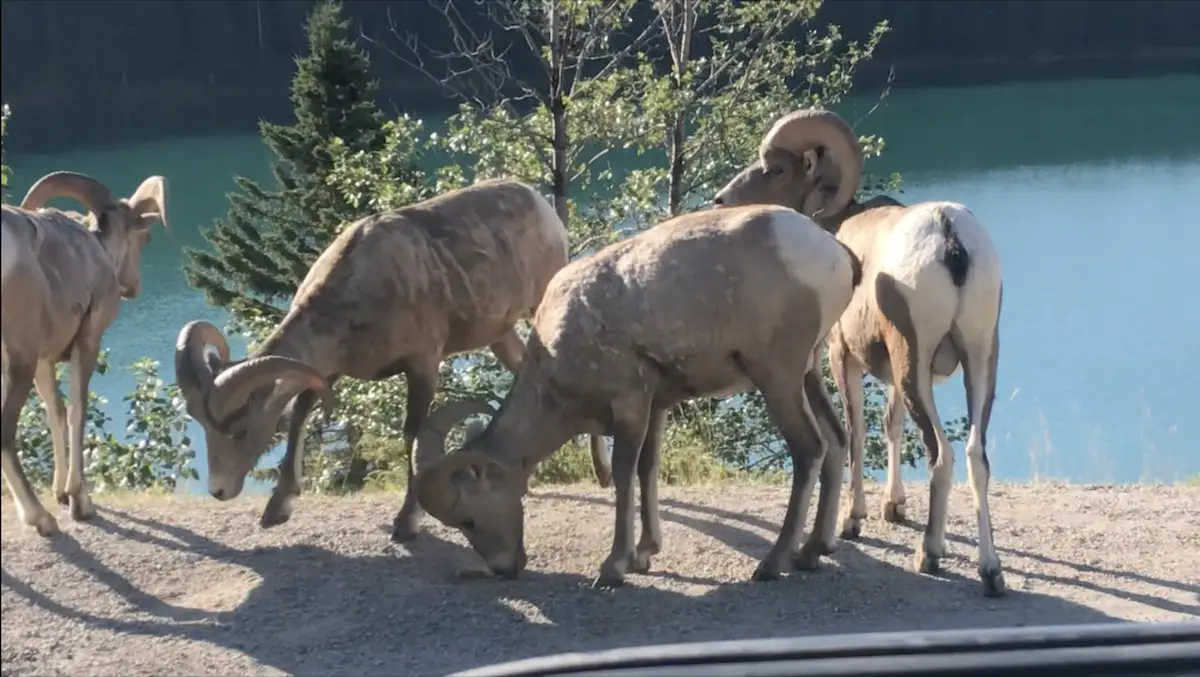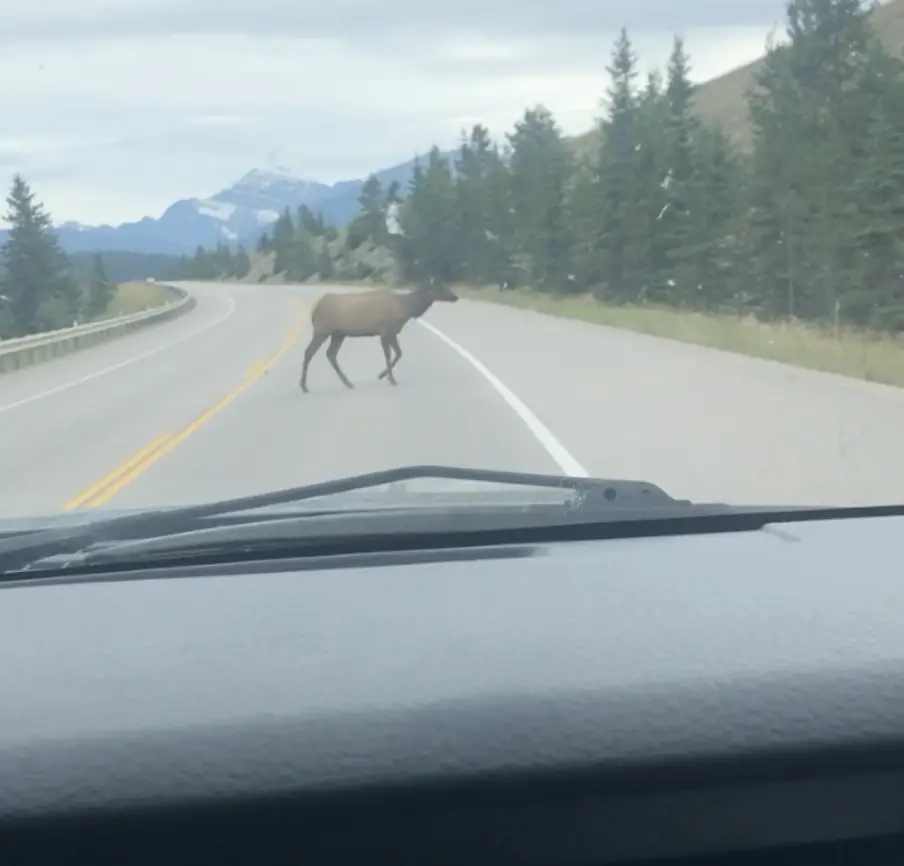 Have Fun!!!
There are endless opportunities and places to explore in the Rockies. You could spend a lifetime getting friendly with the areas surrounding the 7 mountain parks, and never be bored. I'll be back at it again this summer knocking some overnight hikes off of my hit list. If you see a dude making pancakes on the tailgate of his truck at weird hours of the day it a car pull-off, it's probably me, so come and say hi.
Hopefully, our itinerary, tips and tricks have reduced the confusion and chaos involved in planning a trip to the Rockies. But, most importantly I hope you are more inspired than ever to plan the road trip of a lifetime this summer!
Lastly, and most notably, remember to not stress to much about details, nothing is ever perfect. Just go for it!
If you have any trip related or other questions, let me know in the comments.
Otherwise, enjoy the adventure!