I spend a lot of time on the chairlifts and lines at Whistler Blackcomb. Some days it feels like I spend more time on lifts and in lines than actually skiing down the mountain. The average lift takes around 6.6 minutes and I ski on average 15 runs in a day. This means I'm sitting on the chairlift for well over an hour and a half every time I'm enjoying the slopes. I've always wondered how long each lift takes and how many people are actually able to be transported up the mountain at any given time. I finally took advantage of my free time sitting on this chairlift and broke down the facts. All of my chairlift related questions have been answered and I want to share them with you. Take a look at the tables below so you too can see the lift times and capacities of all the relevant chairlifts on Whistler Blackcomb.
Whistler Chairlifts & Gondolas
| Lift Name | Length | Vertical | Type | Ride Time | Hourly Capacity |
| --- | --- | --- | --- | --- | --- |
| Peak 2 Peak Gondola | 4,400 m | 4,400 m | 28 Person Gondola | 11 min | 4,200 |
| Whistler Village Gondola | 4,957 m | 644 m | 8 Person Gondola | 15 min | 2,800 |
| Creekside Gondola | 2,050 m | 524 m | 6 Person Gondola | 7 min | 2,097 |
| Harmony 6 Express | 1,772 m | 422 m | High Speed Six Pack | 5.9 min | 3,600 |
| Emerald 6 Express | 1,756 m | 555 m | High Speed Six Pack | 6.5 min | 3,600 |
| Big Red Express | 2,495 m | 343 m | High Speed Quad | 8.2 min | 2,800 |
| Fitzsimmons Express | 1,744 m | 509 m | High Speed Quad | 5.8 min | 1,850 |
| Symphony Express | 2,158 m | 657 m | High Speed Quad | 7.2 min | 2,400 |
| Garbanzo Express | 2,115 m | 401 m | High Speed Quad | 6.9 min | 2,800 |
| Peak Express | 1,073 m | 272 m | Triple Chairlift | 3.6 min | 2,500 |
| Franz's Chair | 1,161 m | 123 m | Triple Chairlift | 8.4 min | 1,405 |
Blackcomb Chairlifts & Gondolas
| Lift Name | Length | Vertical | Type | Ride Time | Hourly Capacity |
| --- | --- | --- | --- | --- | --- |
| Peak 2 Peak Gondola | 4,400 m | 3024m | 28 Person Gondola | 11 min | 4,200 |
| Blackcomb Gondola | 4,100 m | 1,180 m | 10 Person Gondola | 13 min | 4,000 |
| Excalibur Gondola | 2,204 m | 367 m | 8 Person Gondola | 7.2 min | 2,600 |
| Excelerator Express | 1,655 m | 509 m | High Speed Quad | 5.4 min | 2,800 |
| Jersey Cream Express | 1,414 m | 375 m | High Speed Quad | 4.7 min | 2,800 |
| 7th Heaven Express | 1,753 m | 588 m | High Speed Quad | 5.8 min | 2,800 |
| Glacier Express | 1,882 m | 599 m | High Speed Quad | 6.3 min | 2,500 |
| Catskinner Express | 1,375 m | 321 m | High Speed Quad | 5 min | 2,400 |
| Crystal Ridge Express | 1,708 m | 535 m | High Speed Quad | 5.9 min | 2,400 |
| Magic Chair | 621 m | 94 m | Triple Chairlift | 6.1 min | 1,530 |
| Showcase | 521 m | 148 m | T-bar | 3.2 min | 1,034 |
Random Whistler Blackcomb Lift Facts
Longest Lift at Whistler
Clocking in at a whopping 15 minute duration the Whistler Gondola holds the spot for the longest lift at Whistler. The Whistler gondola is a ridiculously long ride, but is a great spot for making awkward small talk or sitting in silence. You can listen to the full version of American Pie by Don McLean (the lengthiest song to ever top the billboards) twice start to finish twice before reaching the top. The gondola is always best when you have an enjoyable conversation! It isn't an elevator so say hi to your neighbour and get to know someone new.
Chairlift with the Most Vertical On Whistler
I'm not counting the gondolas in this one. On Whistler it's the Garbonzo express which climbs 657m of elevation. The Garbonzo is loaded with long and steep groomed runs for those carving enthusiasts and is also the ideal spot to ski pow on a super cold deep snow day.
Chairlift with the Most Vertical On Blackcomb
On the Blackcomb side the Glacier Express chairlift climbs 599 meters to the top. In my opinion the Glacier Express is the king of chairs on Blackcomb because it provides access to the most epic terrain on the mountain.
The Most Extreme Chairlift
The Peak Express is the most extreme chairlift on the mountain. Not only is the skiable terrain intense, but, the massive cliff you ride over just before the top is quite horrifying. If you're afraid of heights do not look down when riding the peak express.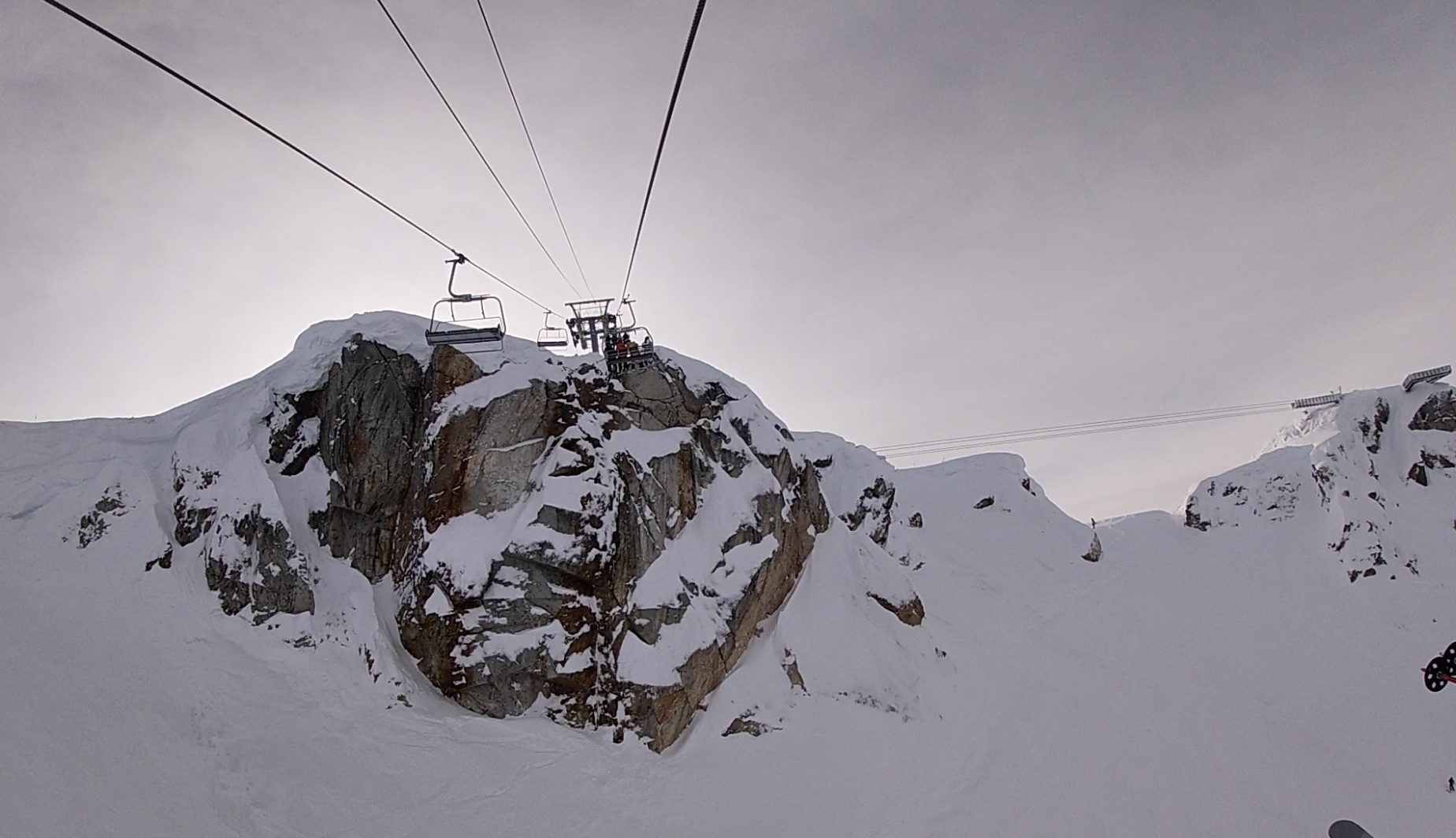 Whistler's Most Boring Chairlift
Franz's Chair. When skiing at Whistler you become very spoiled with high speed chairlifts. Long gone are the days of chairlifts moving at crawling speed. Franz chair is the only upper mountain lift that isn't a high speed quad. It takes 8.4 minutes, the longest of any chairlift on either mountain to climb 272 meters of elevation. The wait/reward ratio is not strong on this one.
Worst Lift Lines in Whistler
The two lifts that consistently have the worst lift lines in Whistler are the Creekside Gondola and the Big Red Express. Both of these lifts bottleneck and it's rare that you won't end up standing in a 15+ minute line before boarding. Fortunately, Whistler is building a brand new 10 person gondola at the base of Creekside for the 2022/2023 season!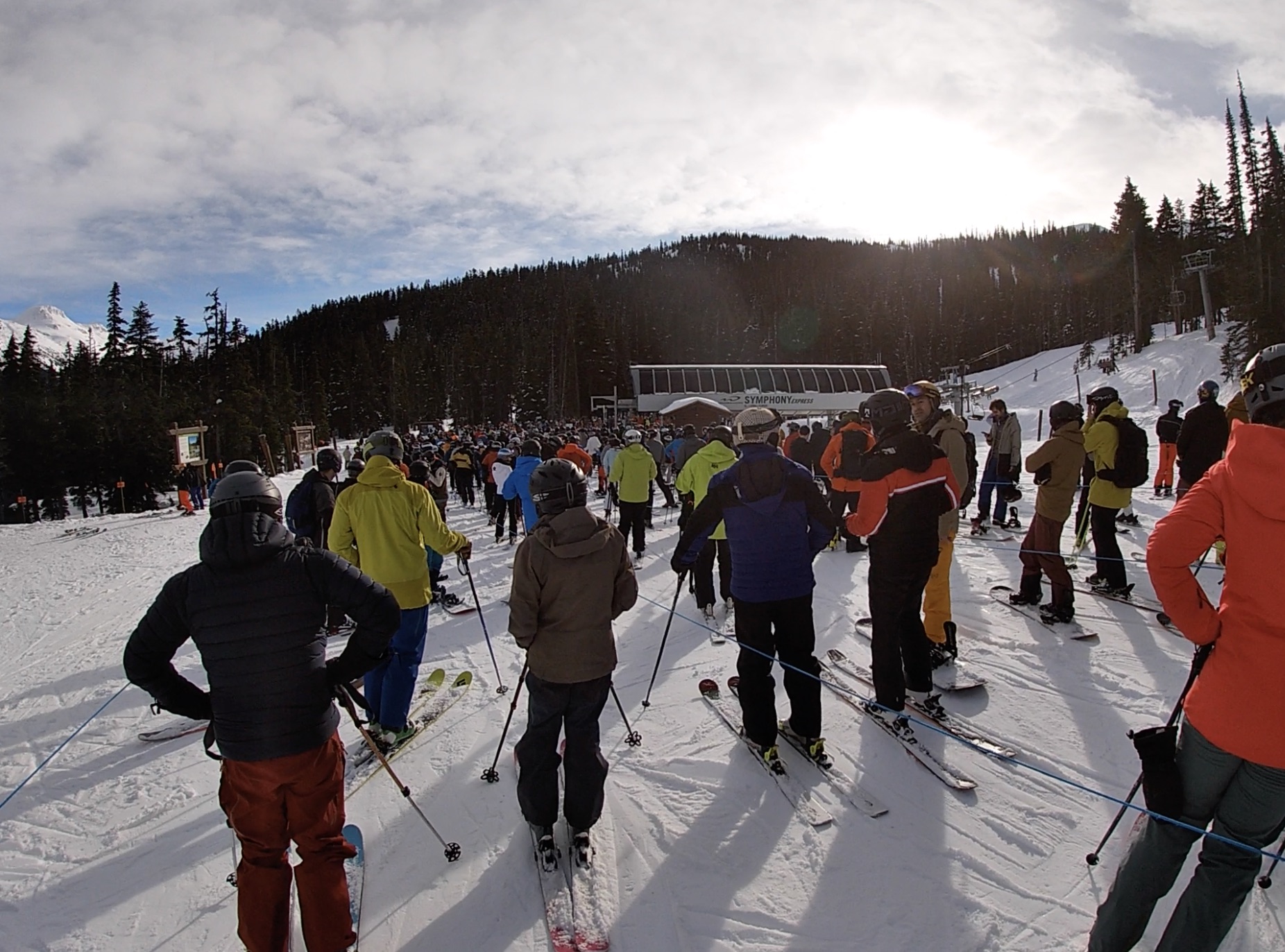 Worst Lift Line in Blackcomb
7th Heaven typically has the longest lines in all of Blackcomb. The terrain on 7th is amazing, the views are spectacular and it gets sunshine for most of the day. It is no surprise that this chair constantly has 15+ minute wait lines. It's always best to smash out some 7th laps early in the AM or late in the afternoon just before close if you're not a fan of standing around.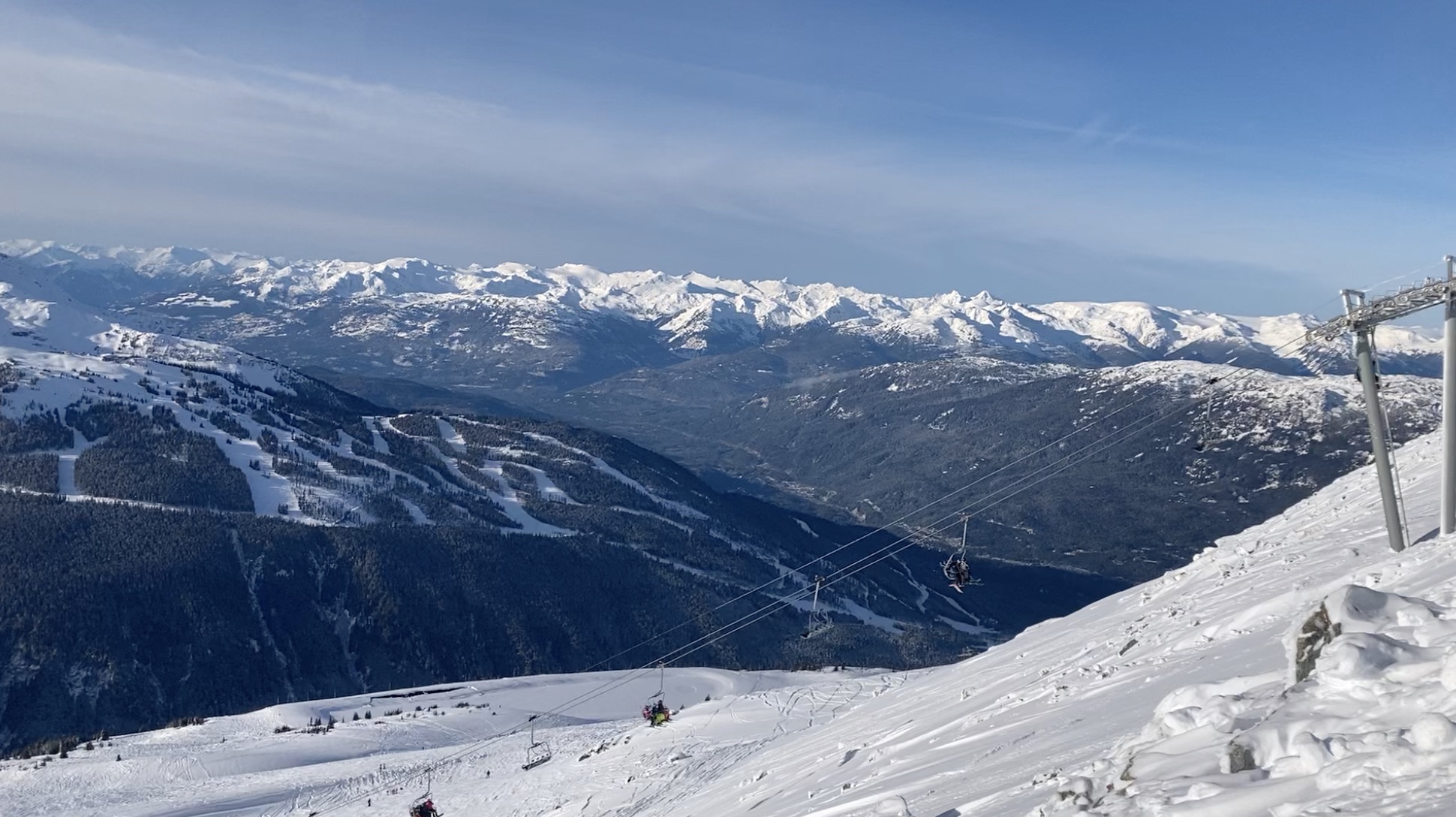 Most Noteworthy Lift
I can't write a post about Whistler Blackcomb without mentioning the Peak 2 Peak Gondola. When construction was completed in 2008 it held the world record for the longest free span between ropeway towers (3.03km). A new cable car has since stolen the length record but it is still the highest gondola above ground at 436 meters. It is truly an iconic attraction and makes life so much easier for skiers to hop between Blackcomb and Whistler during a ski day.
Most Remote Chairlift 
The Symphony Chairlift on Whistler is the most remote feeling chairlift at Whistler Blackcomb. It is also the only chairlift that you can get stranded at after it closes. If you wind up at the bottom of the Symphony chair after it closes you have to climb 30 minutes up a cat track to make it back to the run connecting to the base of the Harmony Express.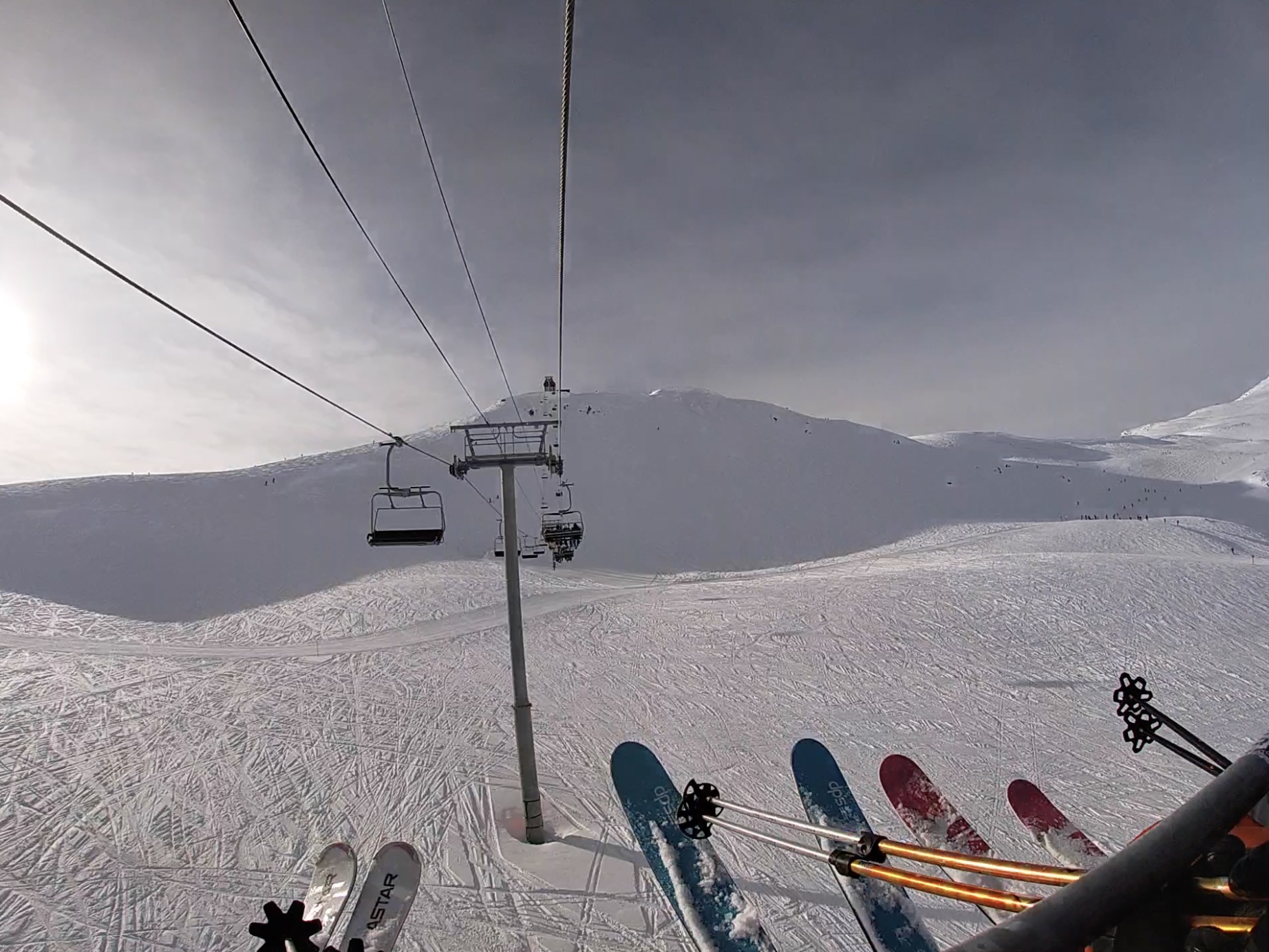 Best Beginner Friendly Lift
 The beginner zones located on the Olympic chair and the Magic chair are the two best options for absolute first timers. However, if you've skied before and can comfortably get down a green you are going to want to adventure a little higher up the mountain.
The ideal chairlift for those who are able to link turns on green runs is the Emerald Express. The Ego bowl and family zone is the ideal spot to continue your skiing progression. It is very wide, open and the slope is extremely mellow. The emerald express is the ideal spot for beginner skiers and riders to experience the beauty of Whistler Blackcomb.
Most Entertaining Chairlift
I love watching amazing slopestyle skiers send it in the park. Blackcomb has the best parks in Whistler and there are always loads of pro's messing around on its features. From parts of the Catskinner chair you can witness some amazing riders sliding rails and going absolutely massive off the jumps. The entertainment makes this 5 minute ride up the chair feel so much faster.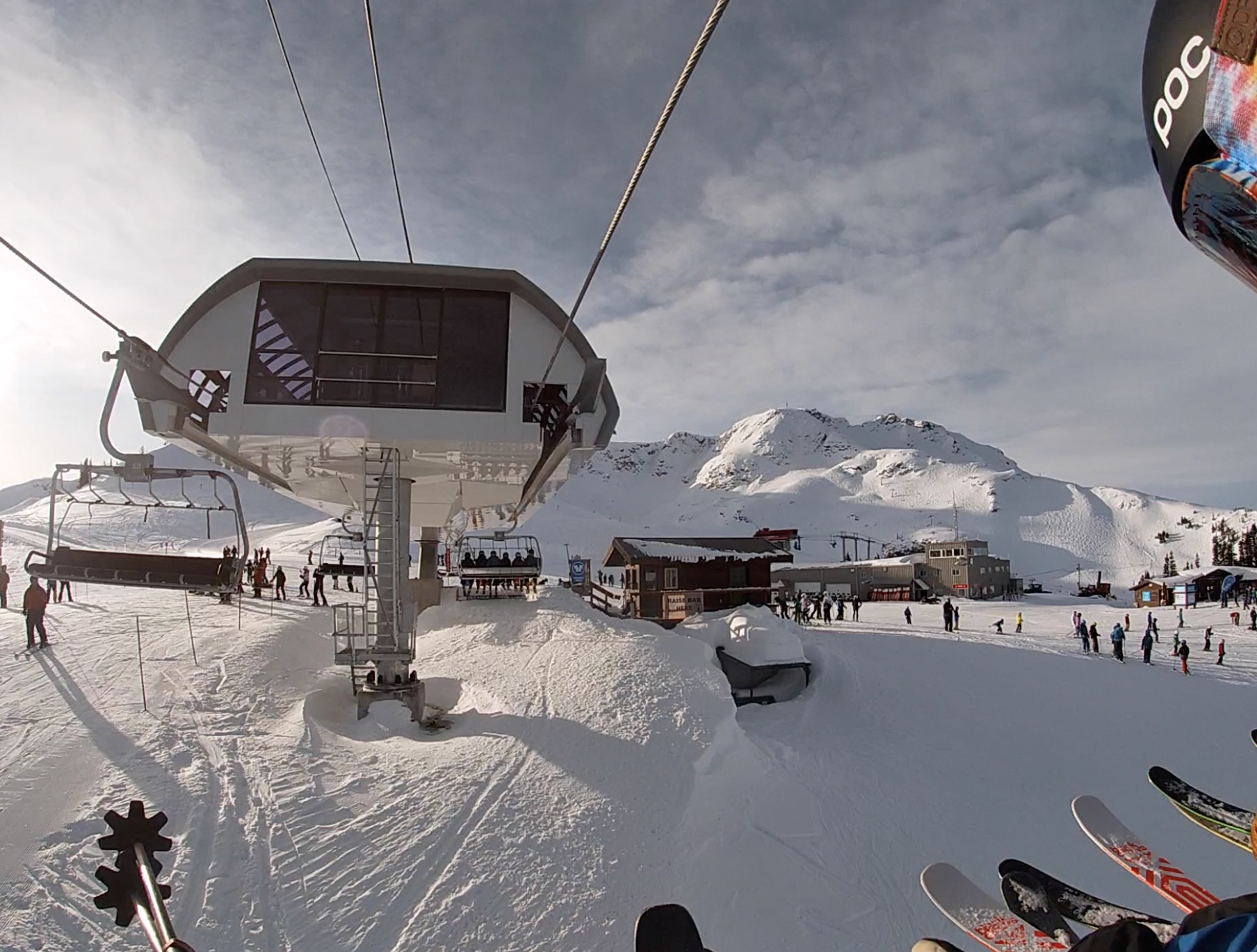 I wasn't born a patient person, even the shortest lines at the grocery store would spark stress in me. However, after many years skiing Whistler I've become very patient. It's the busiest mountain in Canada and on pow days or weekends with good weather the lineups for chairs is absolutely insane. If you are someone who hates lift lines, head to the interior mountains or the hills in Northern BC. If you wind up in Whistler in peak season you are always going to have to exercise a certain level of patience.
Hopefully you enjoyed reading through these quick chairlift facts. Now you are equipped with some Dad facts to spout at your friends and family the next time you are waiting in lines.
What's the longest lift line you've ever waited in?
Let me know in the comments below