Over 2 million people visit Whistler annually, I'm one of those two million. Heck, it feels like I go a million times a year. Although it constantly tests my patience and burns a hole in my wallet, it makes winters so good. Let's get real, how could I do a review series without reviewing the hill I ski the most and that's given me so much.
For anyone who's followed along with my YouTube channel or been a long-time reader of the website, you know I've covered just about every topic imaginable at Whistler Blackcomb, I've compared Whistler and Blackcomb head to head, skied it's most extreme runs, showed you how to find the ice cave, revealed the best groomers, tree spots, and powder stashes. I've mapped out and taught you how to ski Spanky's ladder & the Flute bowl. I've showed you what months are best to visit and how to ski each mountain if you only have a single day. I've cooked ridiculous and delicious meals all over the mountain. But most importantly, I've skied more powder than any person every should, it almost feels illegal. 
This post is an overall review, but,  if you feel like diving really deep and learning everything there is to know about Whistler Blackcomb, check out all my Whistler video and blog content.
To make things super easy for you, I've created posts with maps and descriptions of all the runs I talk about. If you click the coloured headings you will be directed to these posts and all the additional information. Enjoy! If you would prefer to watch the video version of this guide click here. 
Skiable Acreage and Vertical
Whistler Blackcomb is BIG. It's made up of two different mountains, Whistler and Blackcomb (surprise) and weighs in at 8,171 skiable acres. Keep this on the down-low but if you know where to go with proper avi gear, the lift accessed slack country makes the skiable terrain even bigger. I'd argue it's pretty close to 10k+ lift accessed acres. The Blackcomb side has higher vertical drop at 1,609 than Whistler at 1,530m. The only vertical drop higher in North America is Revelstoke which is about a hundred meters higher. 
There are 35 total lifts at Whistler Blackcomb which can move 69,939 skiers per hour. This flow is going to be improved with the update of the Fitzsimmons chair from a high speed quad to a 6 person for the 23/24 ski season. The most magical lifts and where you'll spend the majority of your time will be in the alpine on the Peak Chair, Harmony, Symphony, 7th Heaven, Glacier and Crystal chair.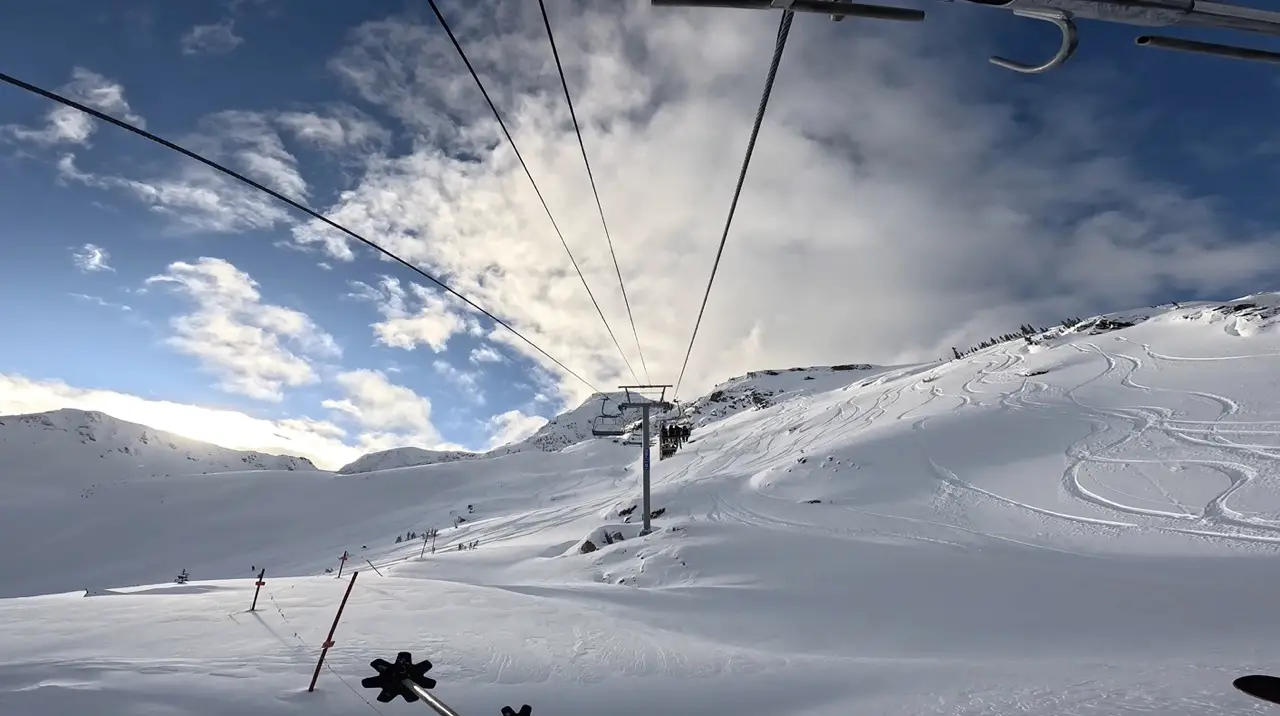 Location & Accessibility
Whistler's location is pretty special. It's honestly shocking that a mountain playground this big exists so close to a massive urban centre. It's located only a two hours drive from Vancouver via the legendary Hwy 99 (Sea to Sky Highway). It's an absolutely gorgeous drive, and if it's your first time visiting, you're going to absolutely love it.
Coming in from YVR is dead easy and takes about 2 1/2 hours if traffic cooperates (it usually doesn't). There are loads of awesome shuttle options from the airpot to the village and a car is absolutely not a requirement to have a great time at Whistler.
Keep in mind, Vancouver and Whistler traffic is absolutely miserable, especially on weekends. I've spent thousands of hours crawling past the village and function junction and spend even more time on Hwy 1 or sitting on the Lions Gate bridge en-route to the city. If you have flights to catch, give yourself loads of wiggle room.
If you're staying put in Whistler, you don't need a super reliable rental vehicle thanks to the transportation network. However, if you're planning on making trips to resorts on the powder highway or driving into Pemberton to ski the Duffy, just remember that BC's highways can get pretty gnarly in winter. In my opinion, the gnarlier the better, that means the powder is falling! However, you're going to want to travel in a vehicle that is reliable and equipped with top of the line winter tires and safety gear. If you don't own a vehicle or are visiting from out of town FarOut Wilderness offers some of the best 4×4 vehicle rentals in BC that are equipped to drive absolutely anywhere. They've got winter tires, chains, GPS communicators and ski/board racks. Check out their website and use code RISE5 to get 5% off your 4×4 vehicle booking.
Because of Whistler's proximity to the coast, the average snowfall is monstrous. Whistler gets 1,338 centimetres of snow on average per year (448 inches). Even with all that natural snow,  Whistler still has a mega fleet of snowmaking machines covering 697 acres of the mountain. It sucks to ski through snow machines, but they save the day in the lower reaches of the mountain near the village that are often above freezing.
One of the things I love the most about Whistler Blackcomb is the changing of weather between the bottom and top. Sometimes it feels like you pass through three climates on the way from the peak to the valley. Thanks to this variability in elevation, you can pretty much find good snow somewhere on the mountain, any day of the year.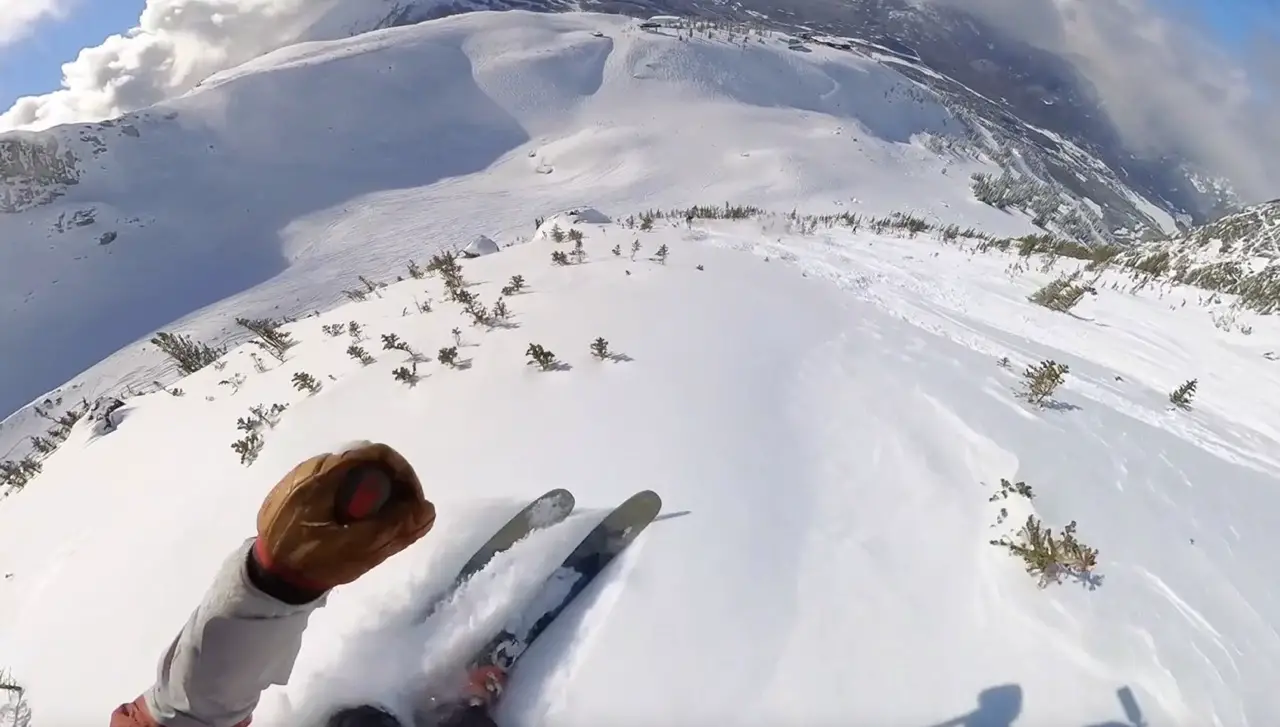 I absolutely love beginner skiers and teaching those new to the sport is one of my biggest passions in life. Whistler's gigantic, so surely there must be loads of easy terrain. Well, not really.
I'll explain. Like most BC mountains, Whistler, especially given its price tag is best enjoyed by those who can explore every nook and cranny of the mountain.
But, don't worry, it's not all as intimidating as it seems and beginners shouldn't necessarily steer clear of Whistler all together. If it's your first ever day on skis, you can actually get a lift ticket discount (I know shocking) a discount, thanks Vail. Last I heard it was around $40 for an adult and $20 for children. This will allow you to access the magic chair at the Blackcomb base and the Olympic chair mid-station at Whistler. This sure as hell beats spending $300 if you can't take advantage of the whole mountain. 
Beginner skiers can still have a pretty wicked experience especially if you're confident linking turns on greens and blues. Whistler is home to some of the most beautiful beginner (green) runs in the world. I'd recommend hanging out on the Whistler side since Blackcomb is steeper and most of its green terrain are cat tracks.
On Whistler, I'd recommend playing around on the Ego Bowl on the Emerald Express, Pony Trail on Big Red and when you're feeling up for a real adventure head up the Peak chair and ski the Burnt Stew Trail, the most scenic green run in all of North America! Once you get comfortable on Whistler blues, you'll open up even more insanely awesome run options.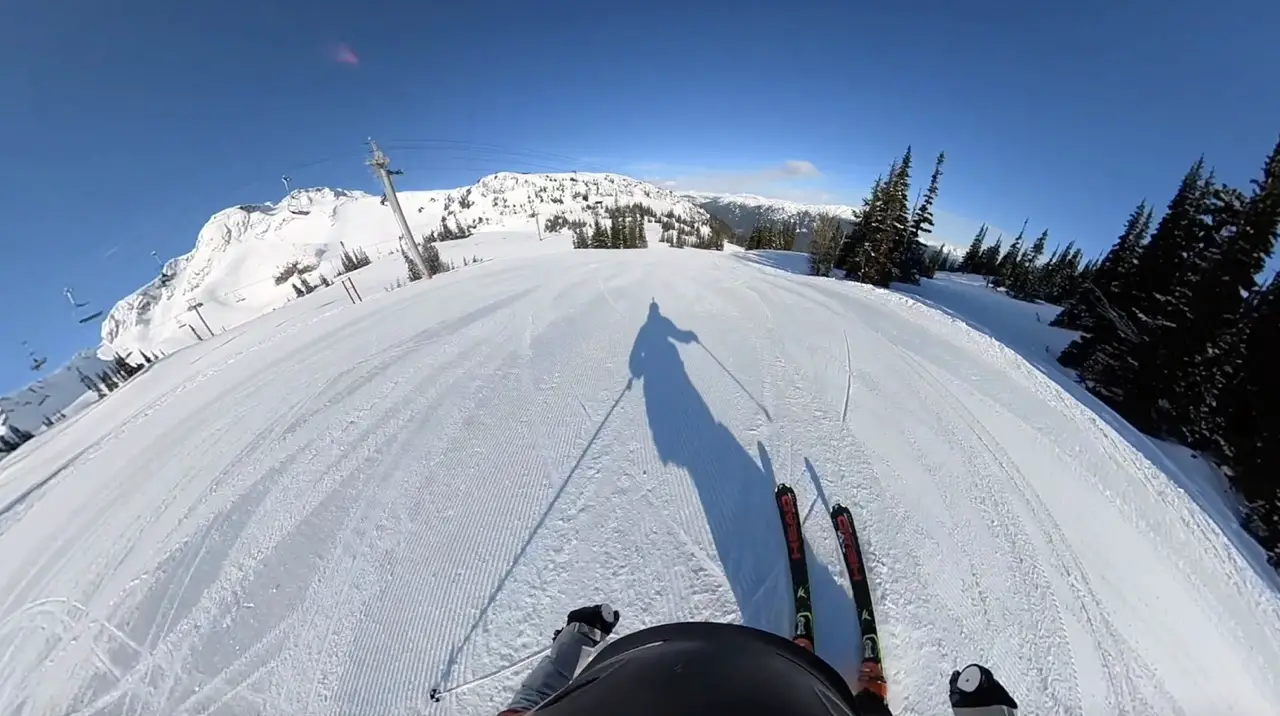 1300cm of snow is a lot, but, you can't expect to have blower powder every single day on the resort. Some years the stars align and it feels like you ski powder every day, others, we aren't so lucky and only get a few cracks at the perfect weekend powder. Although I have a powder addiction, my ski life wouldn't feel complete without carving on corduroy.
Ever since I was a kid I've been obsessed with bombing groomed runs, laying down those edges and staring at the tracks I carved in as I ride up the chairlift again. Carving can be rhythmic, artistic and aggressive all at the same time. I live for quiet mornings where I get to lay fresh lines into squeaky groomers.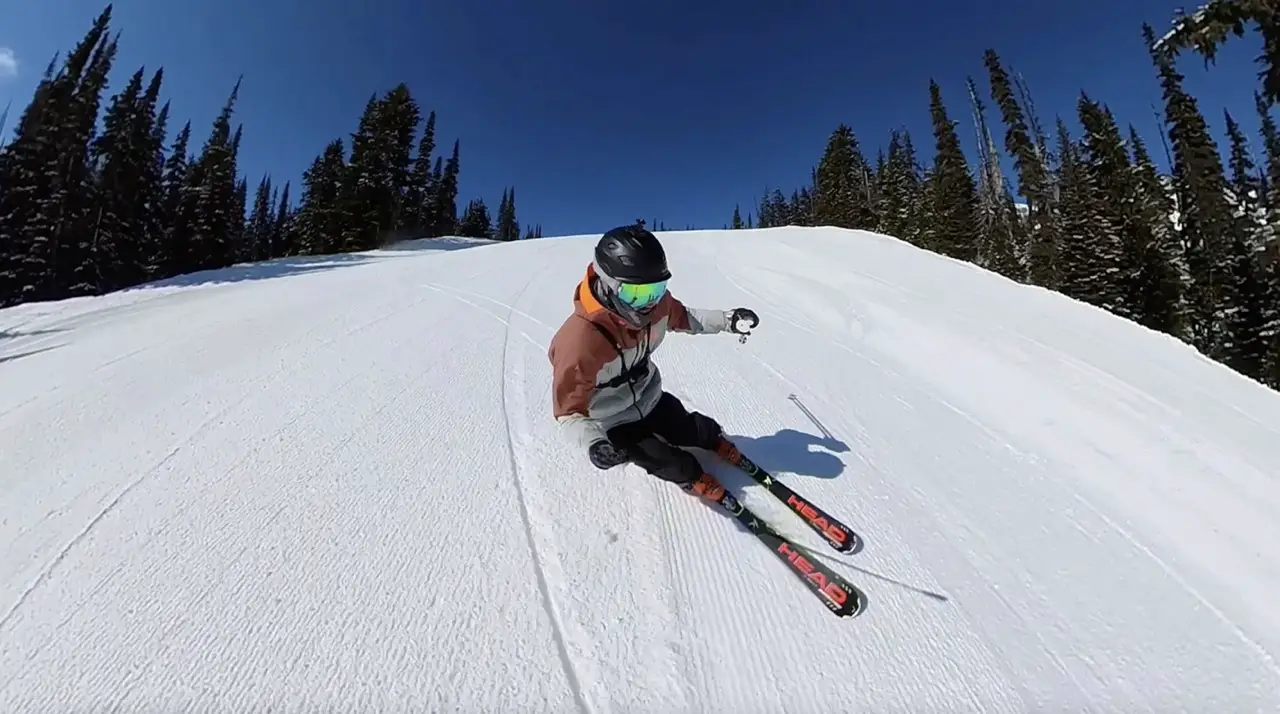 Whistler is absolutely loaded with unbelievable carving runs, just make sure you hit the main ones early because it's hard to rip safely once the crowds arrive.
On carving mornings there are a few spots you'll be sure to find me. On the Whistler side, play on the Garbanzo Express, namely Dave Murray Downhill, Tokum and Ptarmigan. This is the home to the Whistler ski races and these runs absolutely rock for people who want to go fast and etch in massive GS turns. Over on Blackcomb you have to carve 7th heaven, the mix of views and open alpine grooming is like nothing else in the world. The fall line is sustained and it's pure raw carving heaven. If you're feeling something a little more cruisey go to the Crystal Chair and rip Ridge Runner or Rock N' Roll.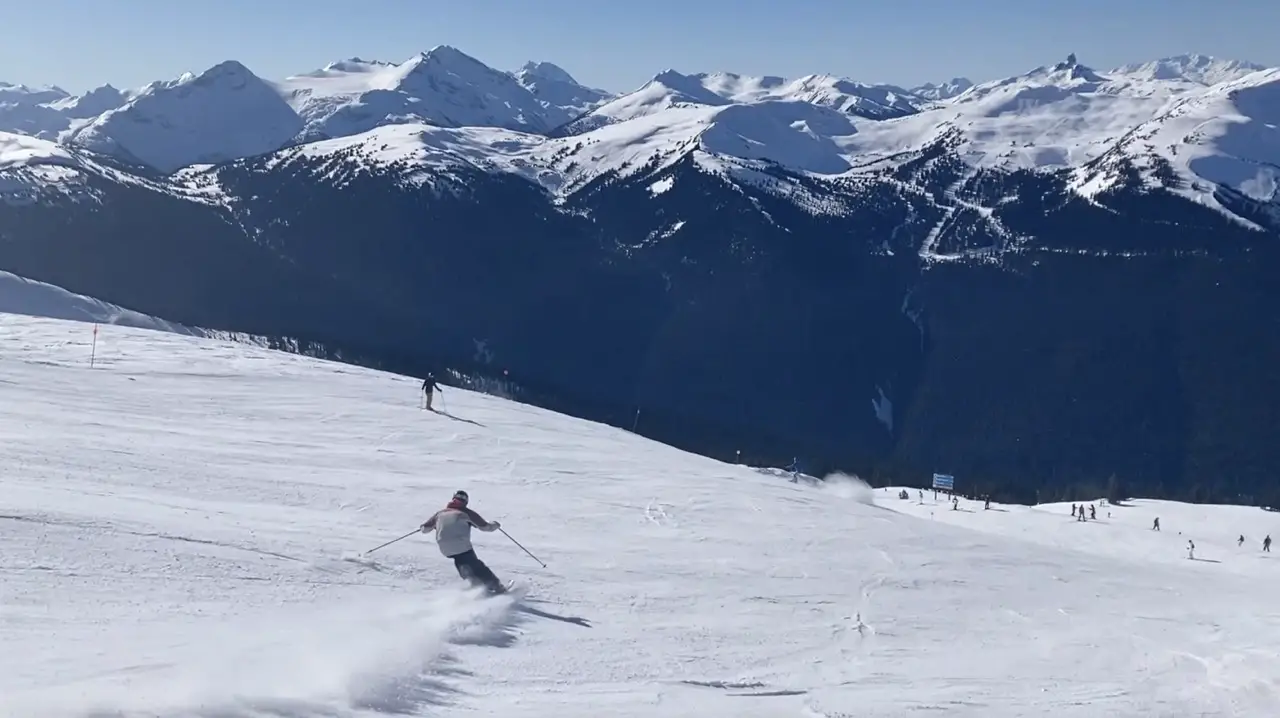 There is one carving run on Whistler Blackcomb that can't be beat, not by anything in North America. The Peak to Creek. This is one of the most scenic and sustained blue runs in the entire world. The P2C takes you from Whistler's gorgeous peak all the way down into the valley. Unfortunately, Whistler has done a horrible job at keeping this groomed in recent years, but make sure to keep tabs on the grooming report because regardless of snowfall, if it gets groomed top to bottom, that's the first place I'll ski, it's something truly special.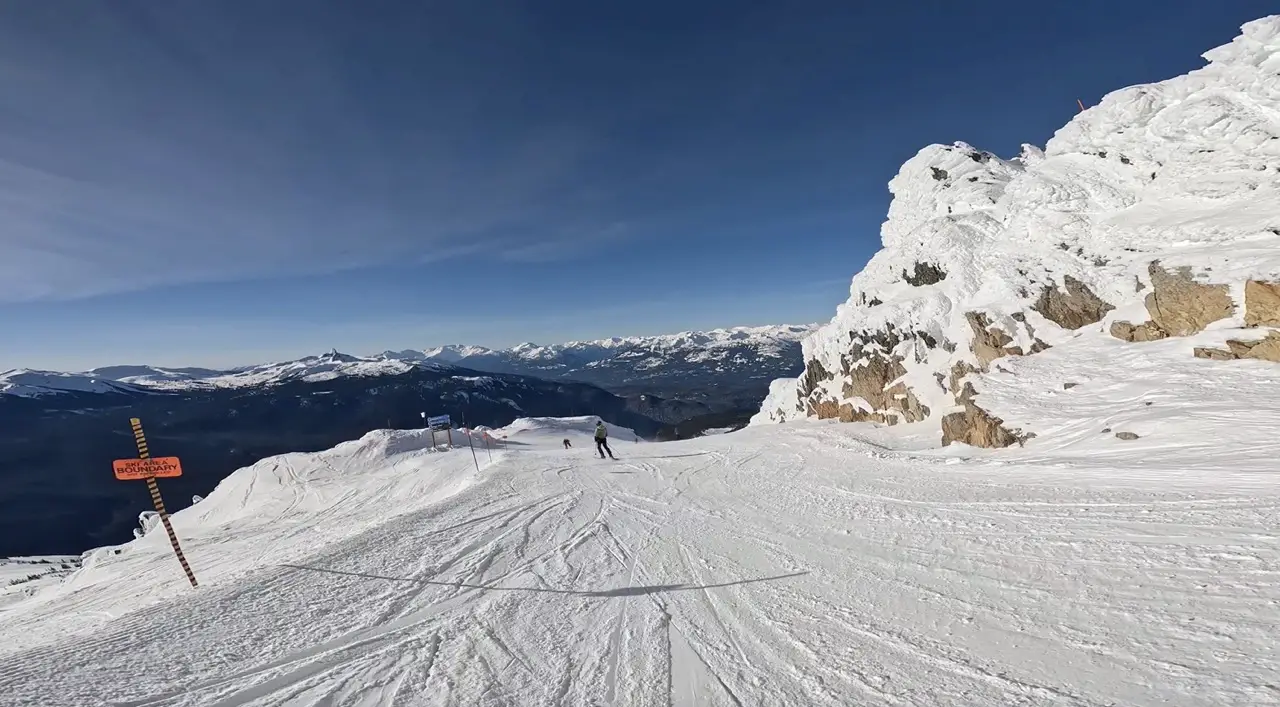 Whistler Blackcomb Advanced & Expert Terrain
There is no shortage of blacks and double blacks at Whistler Blackcomb and they are where I spend most of my ski hours. Pretty much everywhere and anywhere you go will lead you to something challenging and fun. Every single lift has a great mix of black diamond options that will help you improve and transition to bigger and more aggressive lines. I find the Whistler side has less natural hazards and features and more open bowls with spots like Symphony and Harmony which offer great areas for people transitioning to expert/extreme skiing. The Blackcomb glacier is also a sick spot for an advanced skier who isn't ready for Whistler double blacks to get an amazing backcountry/big mountain experience inbounds.  
Whistler Blackcomb has some of the most insane Big Mountain inbounds terrain anywhere. It's loaded with steeps, cliffs and chutes that most mountains wouldn't dare mark as inbounds. The Peak chair is mecca for up and coming free skiers with legendary lines like the coffin chute  and Air Jordan a double cliff drop. Blackcomb's got even more extremely technical terrain, some of it involving death exposure. It's no joke, and it's this level of difficulty which makes it a super exciting place to ski and one that challenges even the best of professionals.
Whistler is known for it's wide open alpine and powder filled bowls but it hides a dirty little secret. The tree skiing is epic. When the visibility is poor, which is often, the trees are the place to play. They gift us with depth perception and protect powder from wind, stacking it up and keeping it dry and fluffy.
Whistler Blackcomb is loaded with unreal marked and unmarked tree skiing areas. Make sure to be careful when pioneering new routes because getting cliffed out is extremely common. On the Whistler side the best trees are off Peak chair skiing towards Big Red Express, the back of Harmony Ridge, the Emerald Trees and the Garbanzo chair when the feezing level goes low.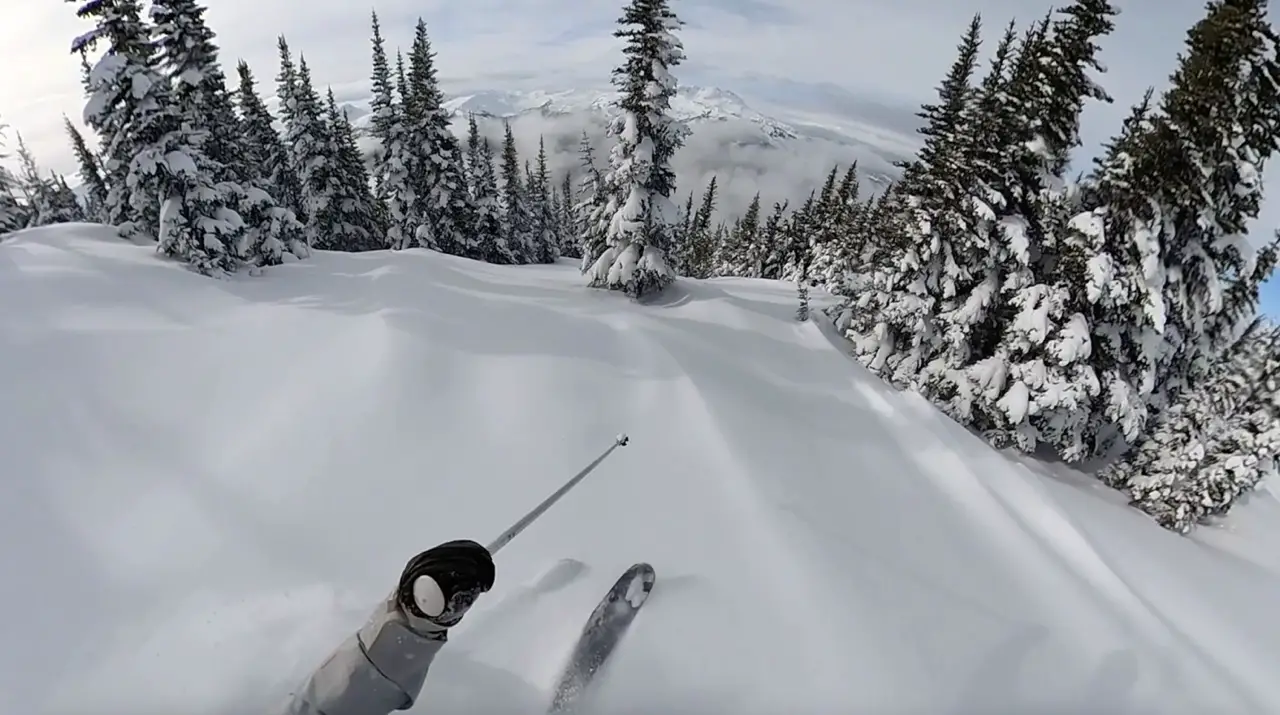 Blackcomb is my preferred tree skiing mountain thanks to areas like Everglades in 7th Heaven. Where's Joe and Watch Out (selectively logged zones off Catskinner) and pretty much all of the trees off of the Crystal chair.
There are amazing trees everywhere and sometimes they are just out of sight off the groomed terrain. If you do some safe/calculated exploring with a buddy, you'll probably find powder stashed that I've never even seen.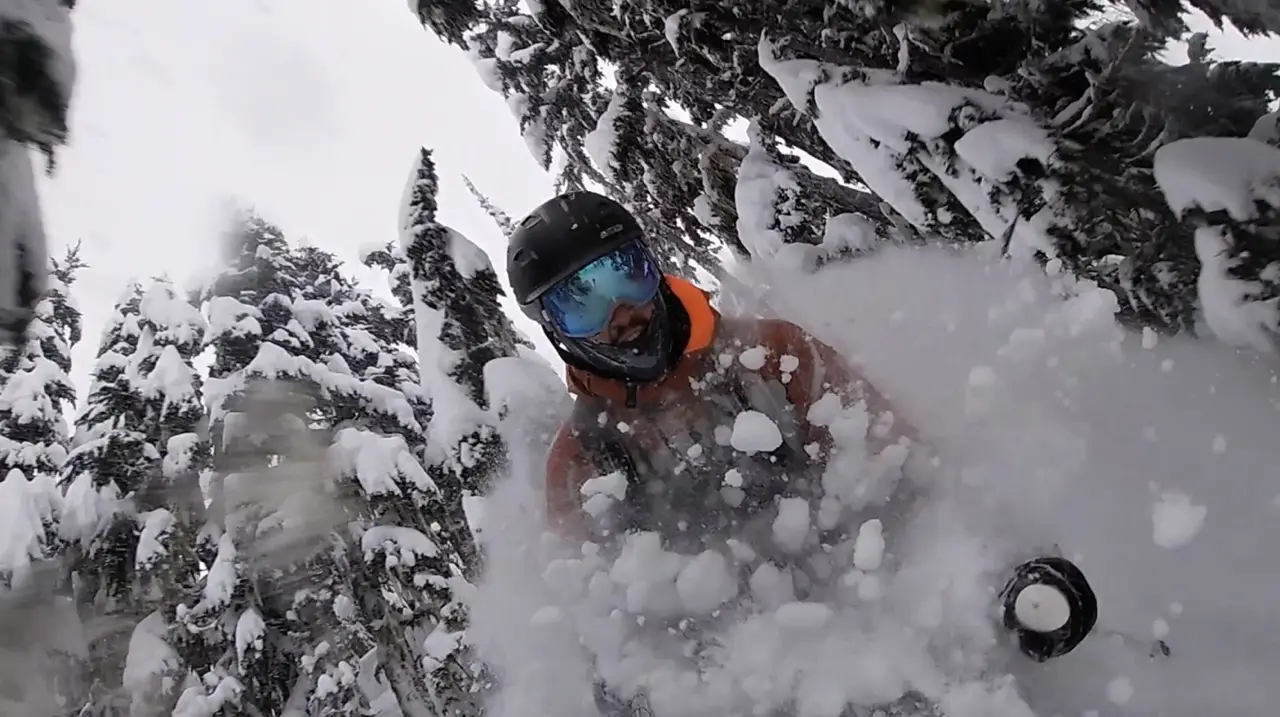 Bowls
Unless you're in the Alps, you'd be hard pressed to find a mountain with more open alpine bowl skiing. Let's go ahead and rattle some of the names off… You've got Lakeside Bowl, Jersey Crème Bowl, Opal Bowl, The Gemstone Bowls, Secret Bowl, Blackcomb Glacier, Whistler Bowl, Glacier Bowl, Sun Bowl, Flute Bowl, West Bowl, Harmony Bowl… Alright that's enough and I've probably missed a few.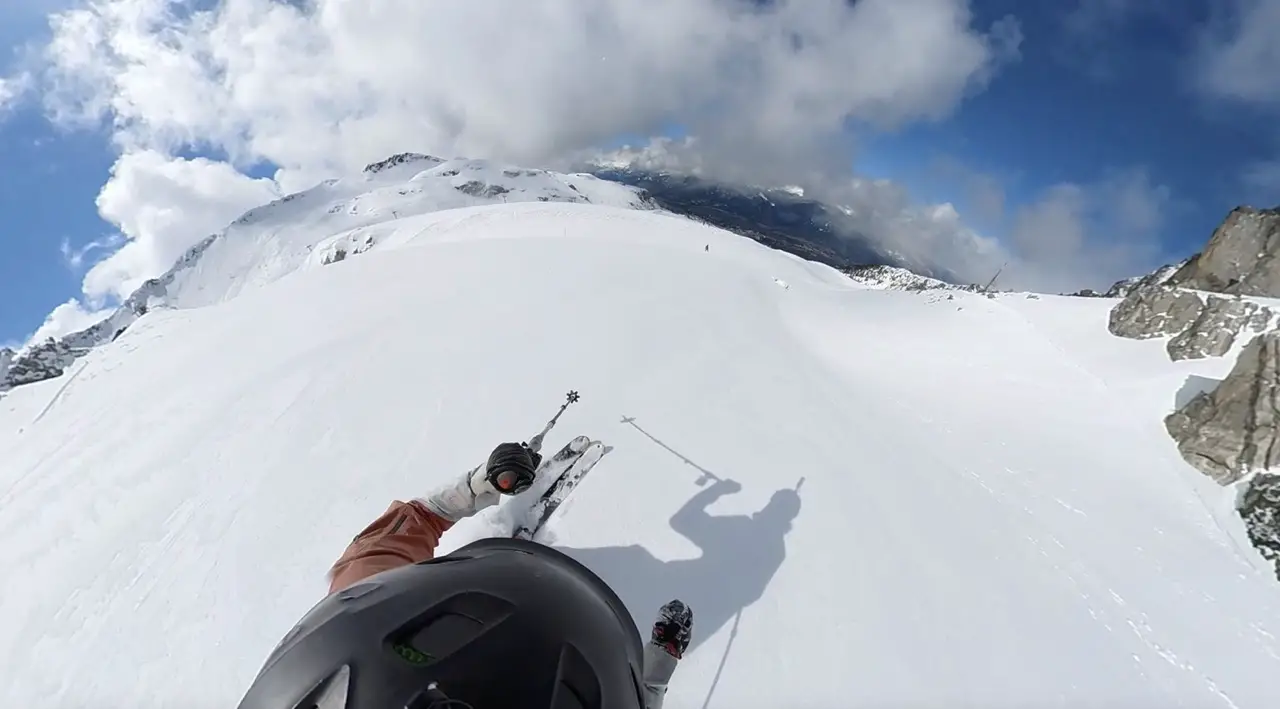 You get it, there's lots of bowl skiing. It's epic, especially when you've got a bluebird powder day. Blackcomb's bowls are a little more rocky and filled with terrain traps and Whistler's are more open, expansive and ideal for GS turning through powder or just skiing fairly carelessly. Always make sure to keep your eyes peeled for death cookies when the light is flat.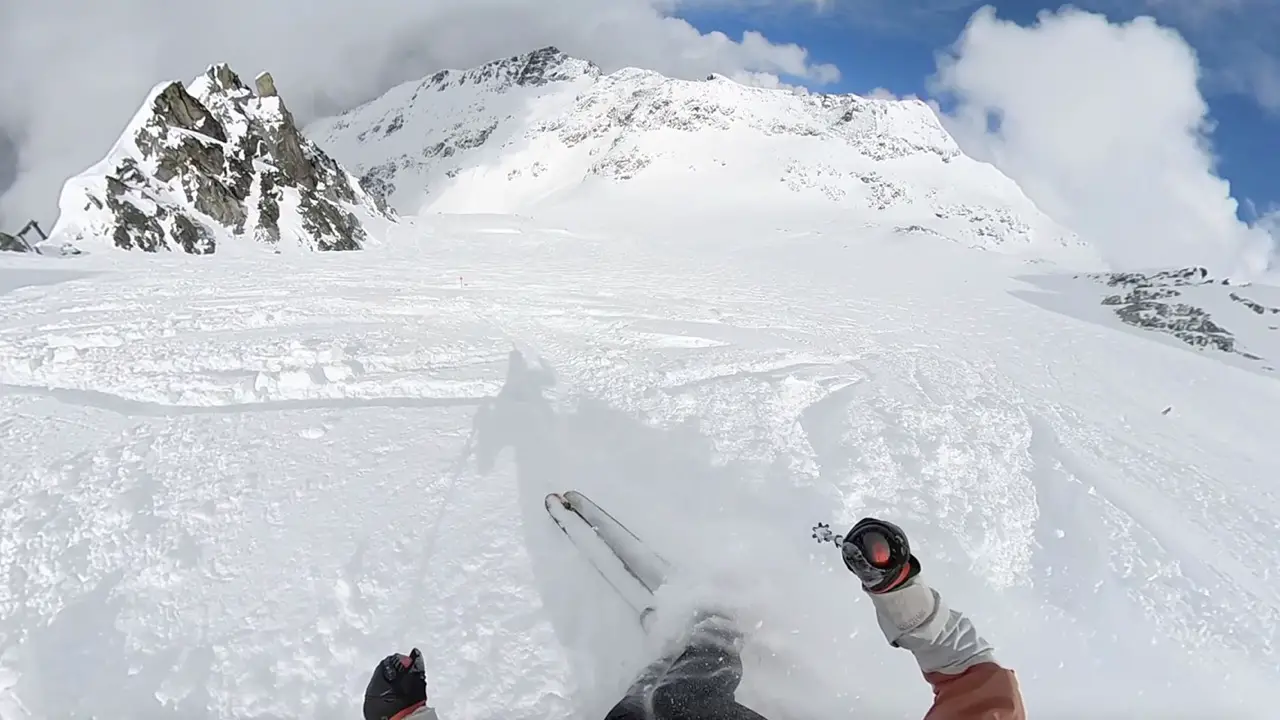 If you've ever watched my videos you know I like to bootpack. Whistler played a large part in this boot packing addiction. The best snow is always the hardest to access and this sort of applies at Whistler Blackcomb. Not everyone wants to take their skis off and get their heart pumping and honestly, sometimes the Spanky's line is downright intimidating for a first timer.
Whistler's best known inbounds hike is the Flute Bowl and is a powder paradise and holds pow many days after storms. There's also some small bootpacks like West Cirque, VD Chutes, Glacier Wall, Spanky's Ladder, the Blackcomb Glacier & The Grey Zone.
I said "this kind of applies" to Whistler because we just get so much traffic at the mountain that the reality is, most things get skied out within a few hours and always within a few days. It's been this way since I started skiing up there.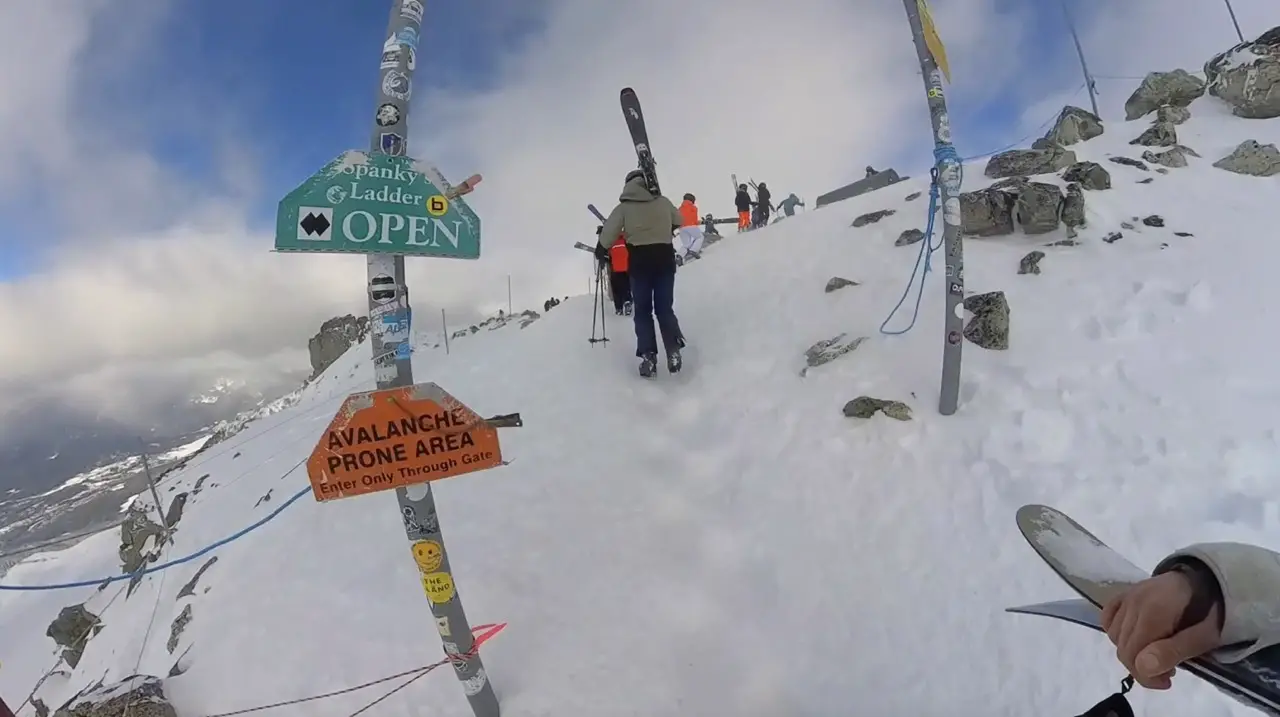 Terrain Parks
The terrain park at Whistler is always world class. The Black park (on the Blackcomb side) has the Large and XL features and Whistler has the beginner park under the Emerald chair. Whistler used to have half pipes and a snow cross track but they haven't put any effort into making one the last few years which is pretty lame. 
The Backcountry Access at Whistler Blackcomb is unparalleled, and there isn't a way to start a ski tour this high in the Alpine in sea to sky, other than a helicopter drop.
On the Whistler side you've got great access to the Fitzsimmons range highlighted by day trips to Oboe, Singing Pass, They Kees and Claire hut and Fissile. The Blackcomb side is extremely burly and is entirely made of complex terrain. The Showcase T-bar takes you right up to the Blackcomb glacier and it's a quick skin into the Spearhead range. This is the starting point for the legendary Spearhead Traverse and there are countless amazing touring opportunities along the way.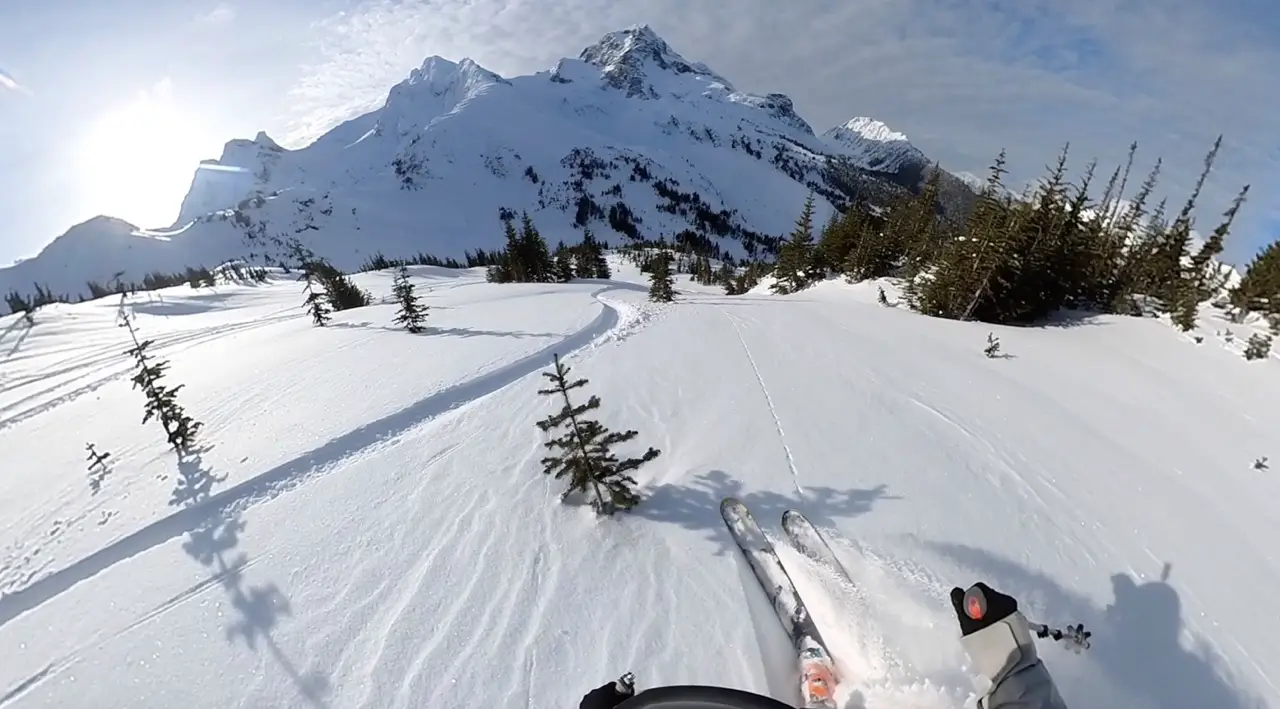 Views
Whistler Blackcomb is known for its scenery. I find it mind blowing, and I've seen it on hundreds of clear days. There's no bad angles on either side of the valley. Honestly, 10/10.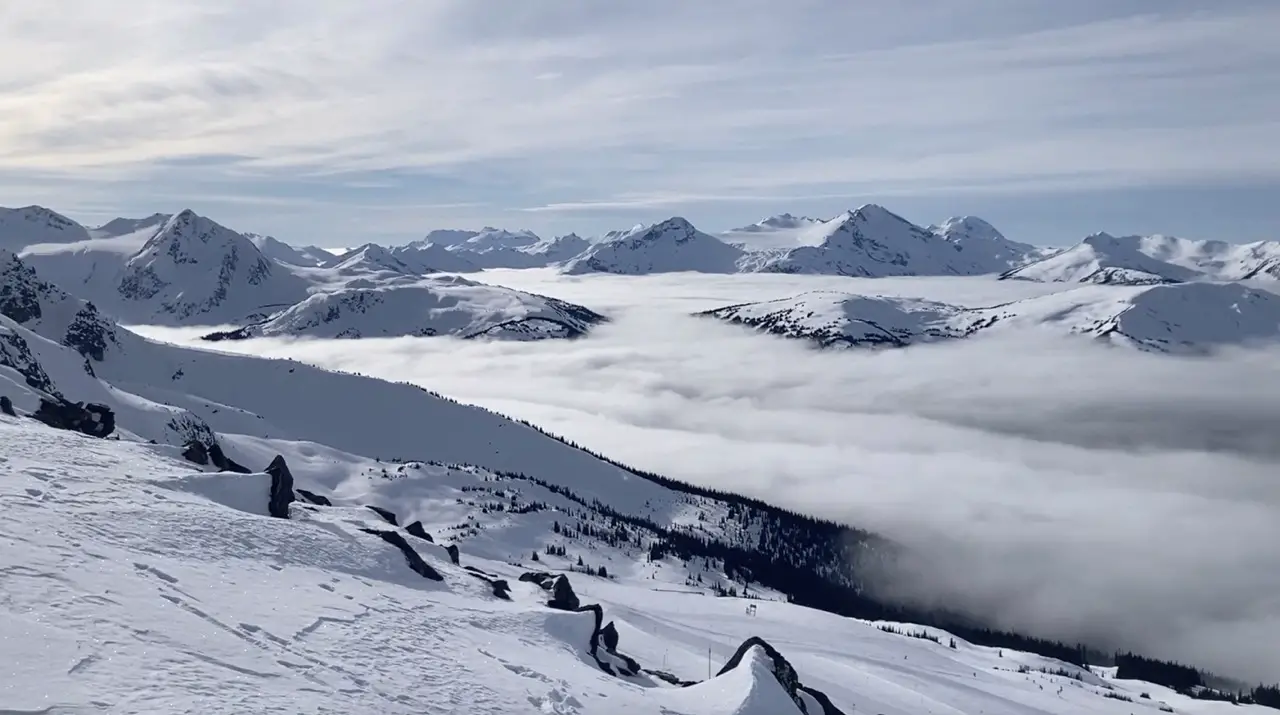 Food
According to the WB website there are 17 restaurants on the resort. I'm not sure I could name them all, but here are my faves. I can't really afford Christines, but I've heard it's nice. The Umbrella bar is a cool spot for a beer. My real hangout spot is usually backpacking beers up the mountain or stopping by the Crystal hut for beers and a waffle, its a good combo. Trust me. Lodge food is solid, but extremely expensive, so I pack a PB&J and protein bar for all my days skiing. I rarely step foot in the lodge, unless it involves a beer LOL (I'll always pay a premium for a pint).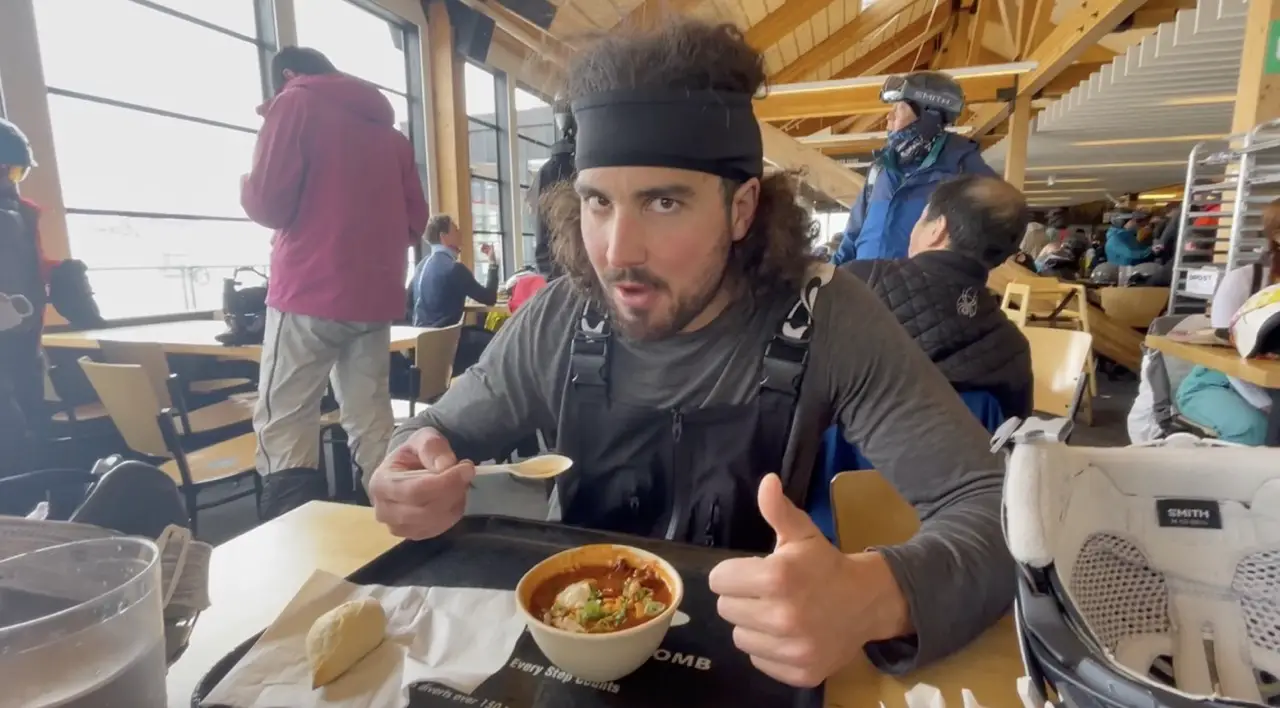 The Downsides of Whistler
I'm never one to say anything negative, and Im so blessed to live close to and ski Whistler. It feels like such a first world gripe complaining, but I just want to be transparent about some of the downsides for anyone planning to spend their hard earned savings on a dream trip
Lift Lines
The gondola and chairlift lines are absolutely miserable on holidays and weekends. I mean miserable. I've had weekend powder days where I've waited an hour to get on the gondola and it's taken another hour or two to make it to the top of the mountain. I always joke that Whistler has made me a patient person.
But with great patience, comes great reward and I've honestly never had a bad day up there.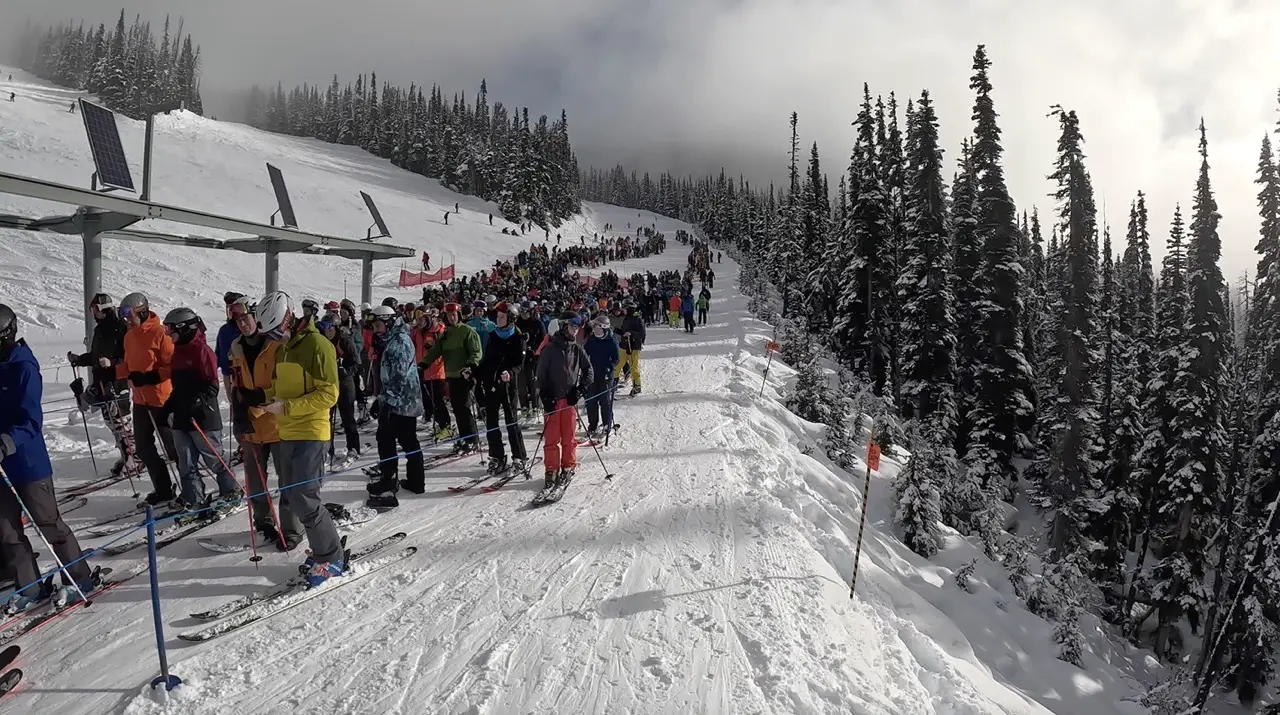 This kind of traffic is to be expected, it's one of the best resorts on Earth and our population and tourism continues to increase. It's amazing for tourism, but the lack of expansion at the mountain has created some series bottle necks on the ski hill.
A simple resolution is to come up on weekdays, where the line waits significantly decrease and sometimes are zero. But if powder is on the forecast, the whole city of Whistler, Squamish and Vancouver will be calling in sick and gondola lines will stretch through the village.
There's no secret to dodging lines, you've just got to be patient and remember that thanks to high speed quads, you're still going to ski more vertical than other mountains.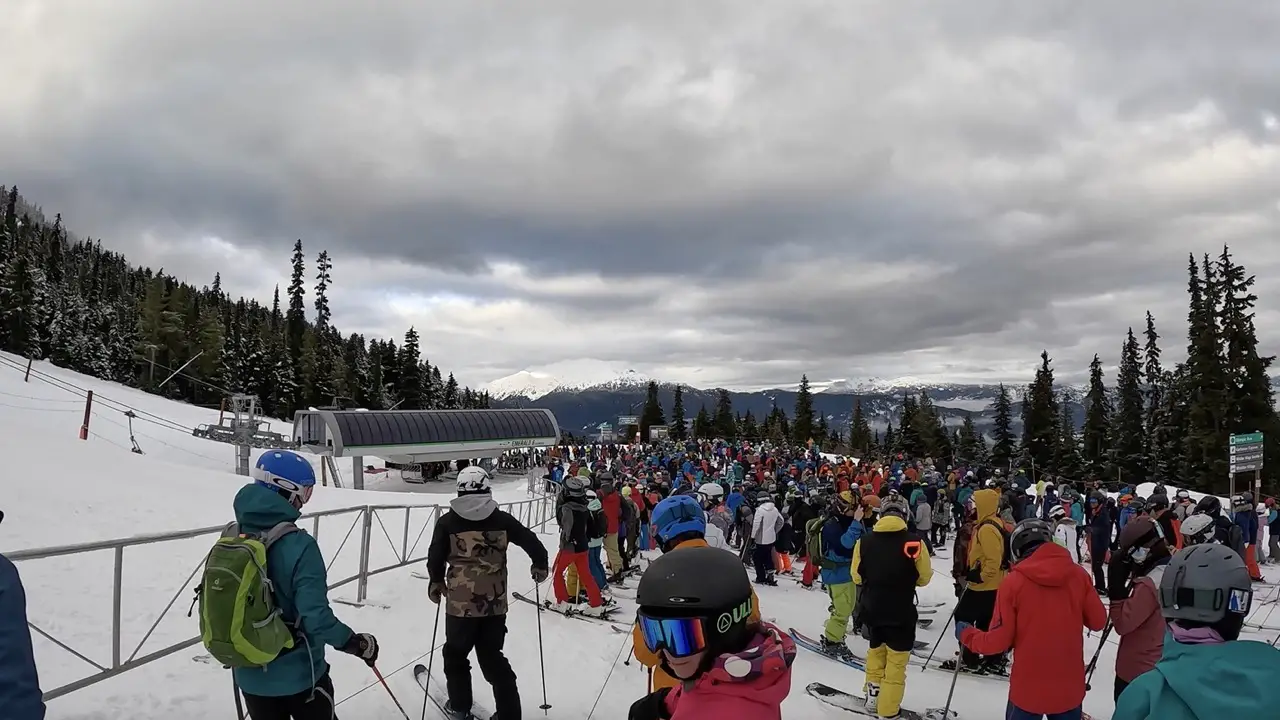 The Cost
Whistler is absolutely unaffordable. For many this is a once in a lifetime trip and for others, accommodation is impossible to afford. The lift tickets at the window are insane at $300CAD per day and the food and drink in the village aren't much better. A strategy to combat this is coming in the early and late season. In the slack season prices always drop for accommodation across the board. If you know you will be skiing Whistler you either should already have an Epic pass or should pre-purchase an Edge card. By buying a multi-day Edge card you can somewhat normalize the ticket cost. 
Traffic
It's not uncommon for a 2 hour drive to Vancouver to turn into 5 hours. This is a regular Sunday afternoon for me. Of course you could leave your ski day early at 1-2pm and miss out on some of the chaos. But, I wait all week to ski, gas is expensive and I'm not going to pack up on a dime and leave before the chairlift stops spinning. To me, pow turns are worth the pain of crawling in traffic. 
Parking
There are a few free parking lots which fill up super fast and sometimes you end up driving the Whistler village circle of death to find no free spots and have to shell out money to pay for parking. I've always found it ridiculous that you have to pay for parking as well as a lift ticket, but I know this is fairly common at larger resorts. 
My Honest Opinion
Whistler Blackcomb is the best mountain I've ever been to. Of course I'm biased and yes it's busy. But, I just can't get bored of the consistent snowfall and unbelievable mix of terrain. I ski new lines and stashes on the daily and I meet tons of awesome people. One of my big life goals is to visit as many ski resorts as possible across North America, Europe and beyond, but I know I'll always come crawling back to Whistler and feel so lucky to call Vancouver home.