The journey to and from Mt Pattison's Northwest face is the perfect mixing bowl of legendary high alpine terrain, steep couloir skiing, alpine lakes, jagged peaks, and nut fluff as far as the eyes can see. The Blackcomb backcountry is jaw droppingly beautiful and I'm always sporting a cheek-to-cheek smile every time I'm blessed with bluebird day in this zone. Getting to Pattison is a push and requires commitment and endurance, but rewards with a few downhill runs and astoundingly beautiful views along the way. Barreling down the North face of Pattison should be on every ski mountaineers backcountry peak bagging hit list.
Remember the Backcountry Basics
The Breakdown
| | |
| --- | --- |
| Distance (Round Trip) | 18km |
| Elevation Gain | 1150m |
| Vertical Descent | 2,900m |
| Time Needed | 7-9 Hours |
| Pets Allowed | No (Lift Accessed) |
| Primary Aspect | North Facing |
| Terrain Type | Couloir |
| Max Slope Angle | 43 Degrees |
| Highest Point | 2,445m |
| ATES | (3) Complex |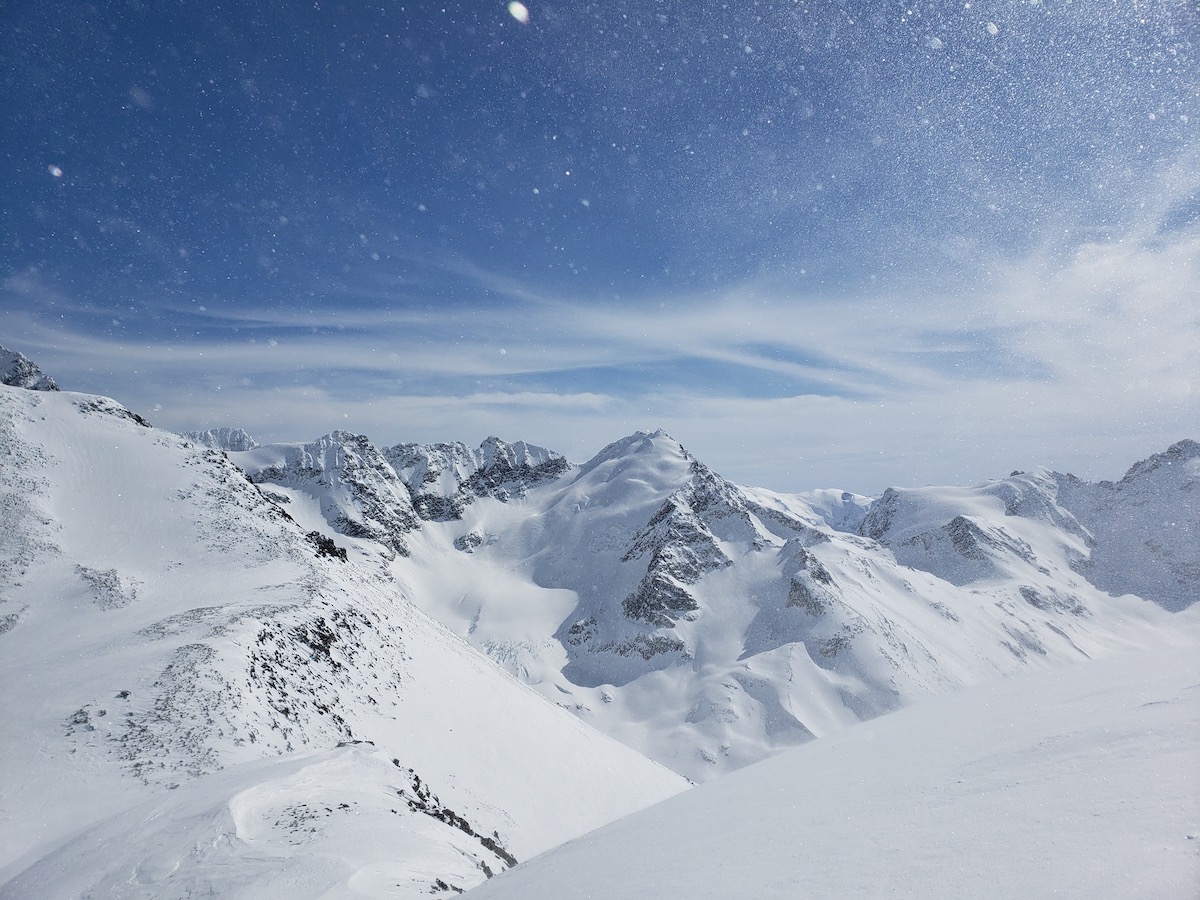 Time Needed & Safety Gear Required
Pattison's NW Face is a lesser trafficked route than other minimum commitment Blackcomb glacier accessed paths, it involves many transitions, and some serious up and downs. The trip to Pattison is perfect to help increase transition efficiency and would be a solid way to prep yourself for doing Spearhead in a day. You're going to want to give yourself a full day for this one given the amount of distance, elevation and the 8 or so transitions that are involved. I would recommend heading up the Glacier T-Bar as soon as it opens and giving yourself 6-8 hours to go out and back. The Avalanche Terrain Exposure Scale rating is Complex (3) as you will be passing over glaciers and skinning up steep faces. I would recommend having crevasse rescue equipment and as always you must have avalanche gear and know how to use it. Be aware that white out conditions can occur out of the blue, if you have the option, bring along a GPS device that could help guide you in a worst-case weather situation.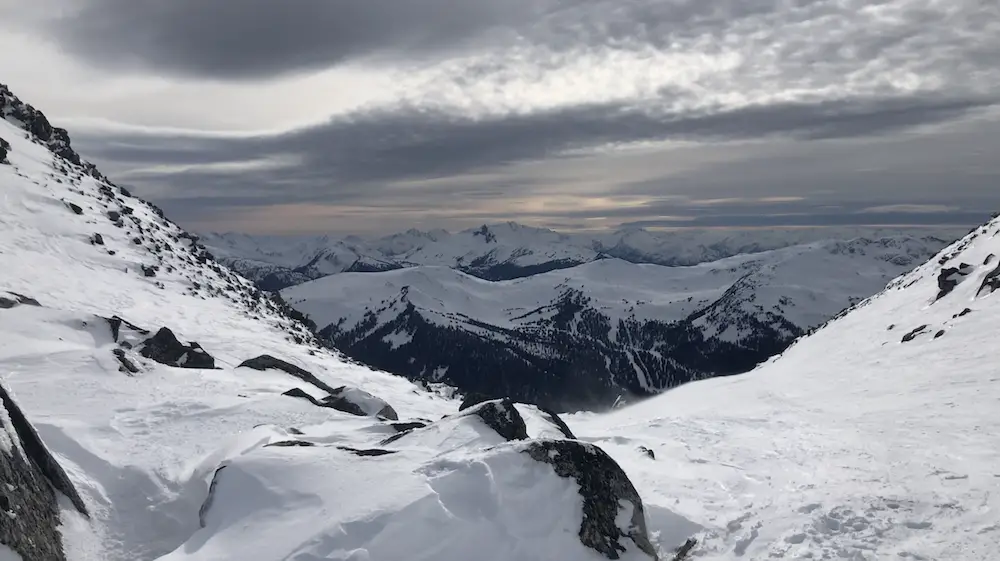 How to get to the Trailhead
Mt Pattison is in the Blackcomb backcountry and is a lift accessed route. This means, unfortunately, that you will need a pass or must purchase a backcountry day ticket to get up the lifts. Fortunately, your journey will begin at the Blackcomb backcountry gate at 2,220m, allowing you to travel in high alpine terrain for the entire duration of your journey. To get to the Blackcomb Backcountry gate you are going to need to take the Excalibur or Blackcomb Gondola up. If you take the Excalibur, you will need to hop on the Excelerator chairlift once getting off. Then, enjoy a coffee and wait for the Glacier chair to open. When the Glacier chair opens, head up, turn to your left and ski down to the Blackcomb Glacier T-bar. You will hike up a small hill, pop your skis on, and traverse over to the Blackcomb backcountry gate. There will be loads of lads and ladies in touring garb heading to the same place, sometimes it looks like an uphill race in the morning hours.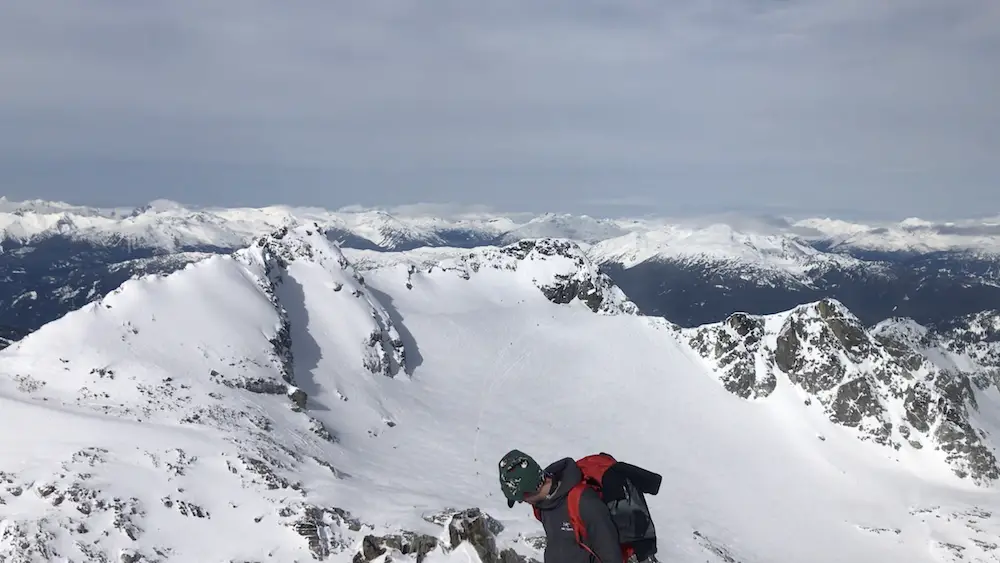 Our Route
Rough Hand Drawn Interpretation of our Route 
We headed up the lifts for opening and made it up the Glacier T-bar around 9:30. We exited the t-bar,  hiked up the quick bootpack, and followed the line of skiers traversing the Blackcomb bowl to the backcountry Gate. We skinned up, did a beacon & gear check, and began to climb. When we arrived at top it was extremely windy with a perfect bluebird sky. We quickly transitioned and skied down the East Col and circle glacier, stopping at circle lake where we transitioned to hike again. We skied again and arrived at Decker lake around 10:15am. Decker Glacier was the second big climb of the day. It is quite steep >25 degrees, and convex in portions, so we discussed the risk and assessed the conditions prior to continuing.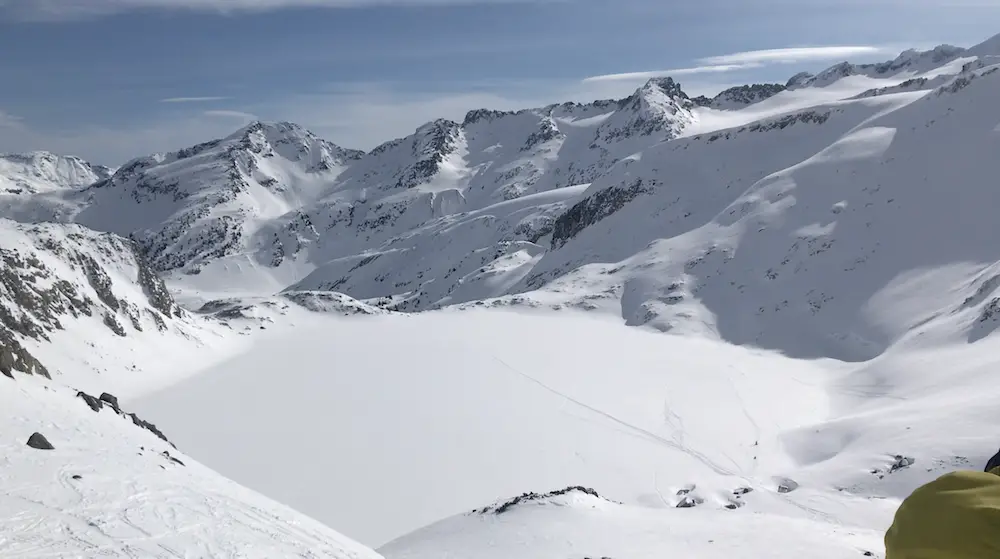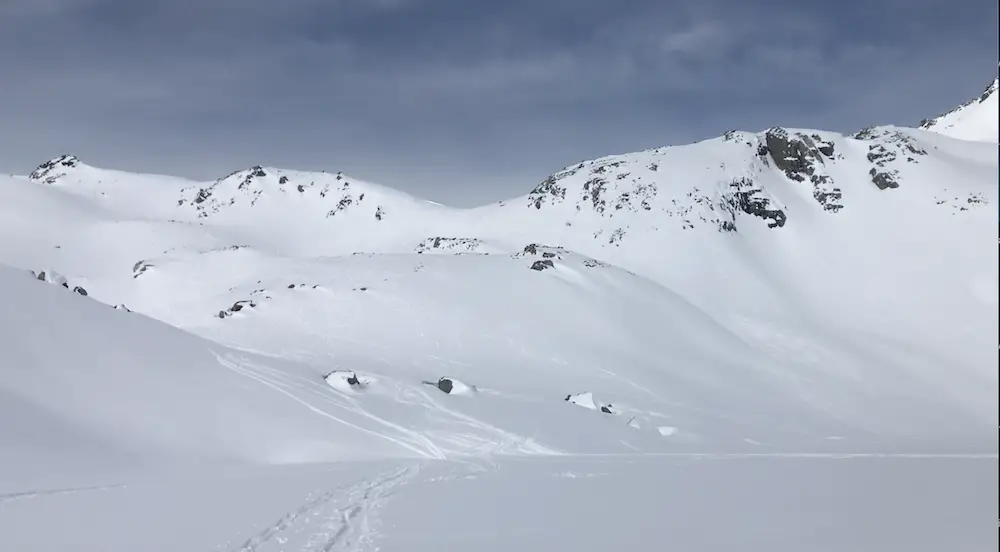 We arrived at the Decker Col about 11am. At eyes level, in the distance, we could clearly spot the line we wanted to ski down Pattison. We had a quick snack and water on the Decker Col and chatted with a group who was attempting to set a PR for the spearhead. These guys were lightning, I've never seen a group transition so fast in my entire life! Once our break was finished, we shot down the ridge and over to the North face of Trorey Glacier. We followed the skin tracks of the blistering fast ski mountaineers and began to break trail making an arc toward the southern ridge of Pattison. We took some time assessing our plan for descent and continued ascending. We were greeted with a steep 12m boot pack as Trorrey tapered off, so we removed our skis and skins. The wind was absolutely howling up the bootpack. My sunglasses were no match for the snow flying off the ridge. I essentially climbed it blind, using the edges of my skis as a makeshift ice axe. The bootpack was short, but felt like an eternity due to the insane gusts. The wind was not too much better on the ridge so we wasted no time and headed for the summit.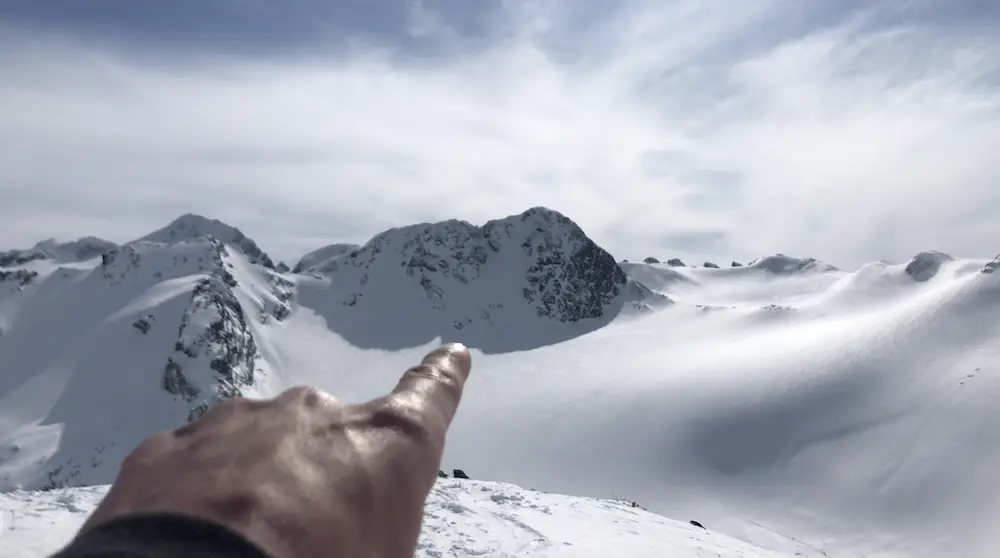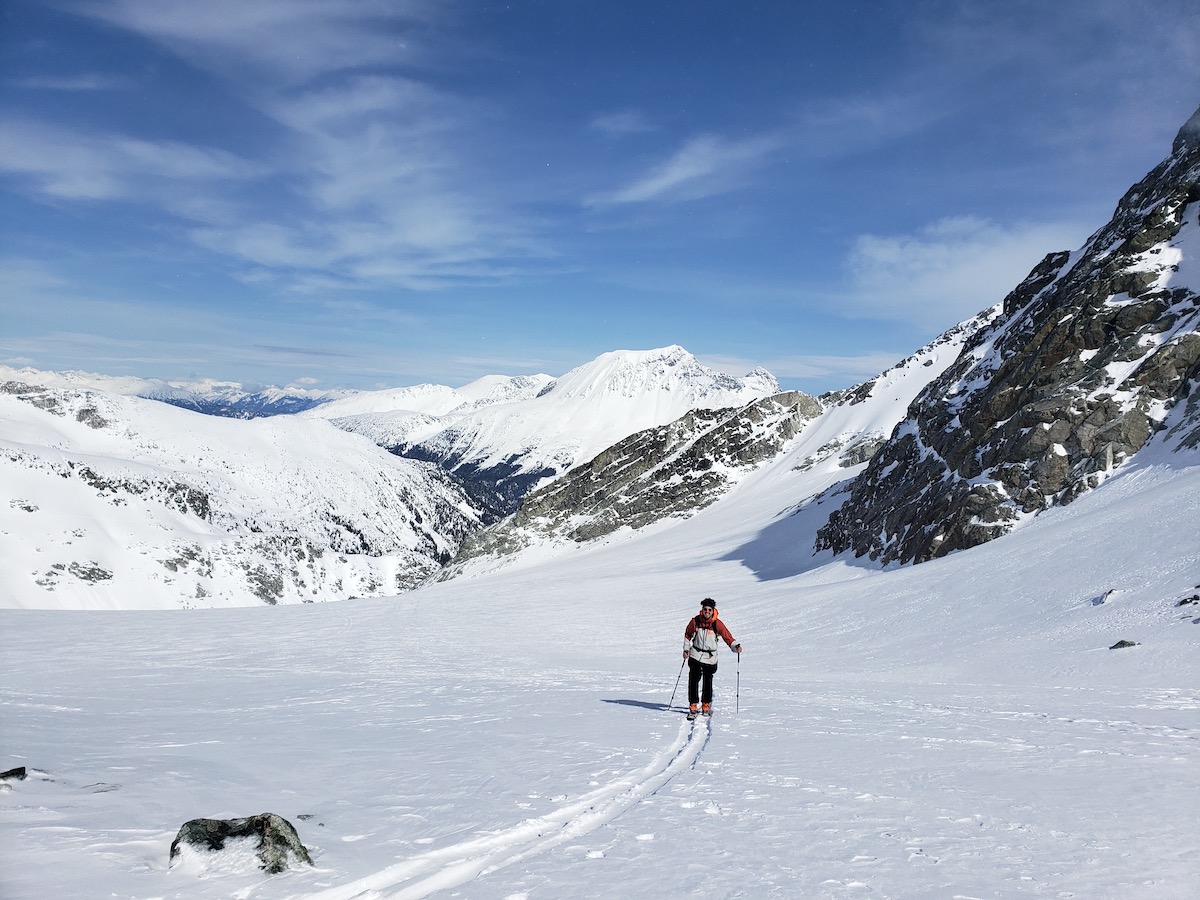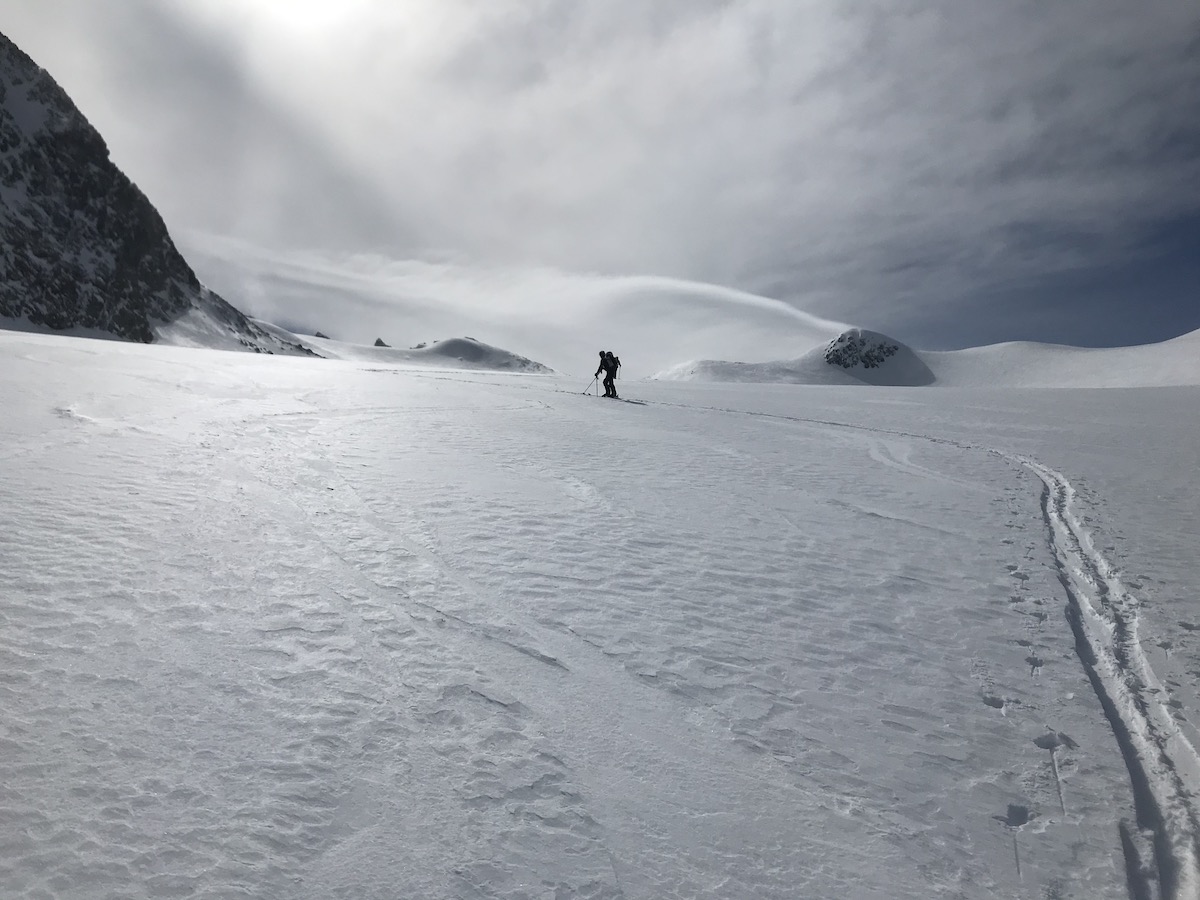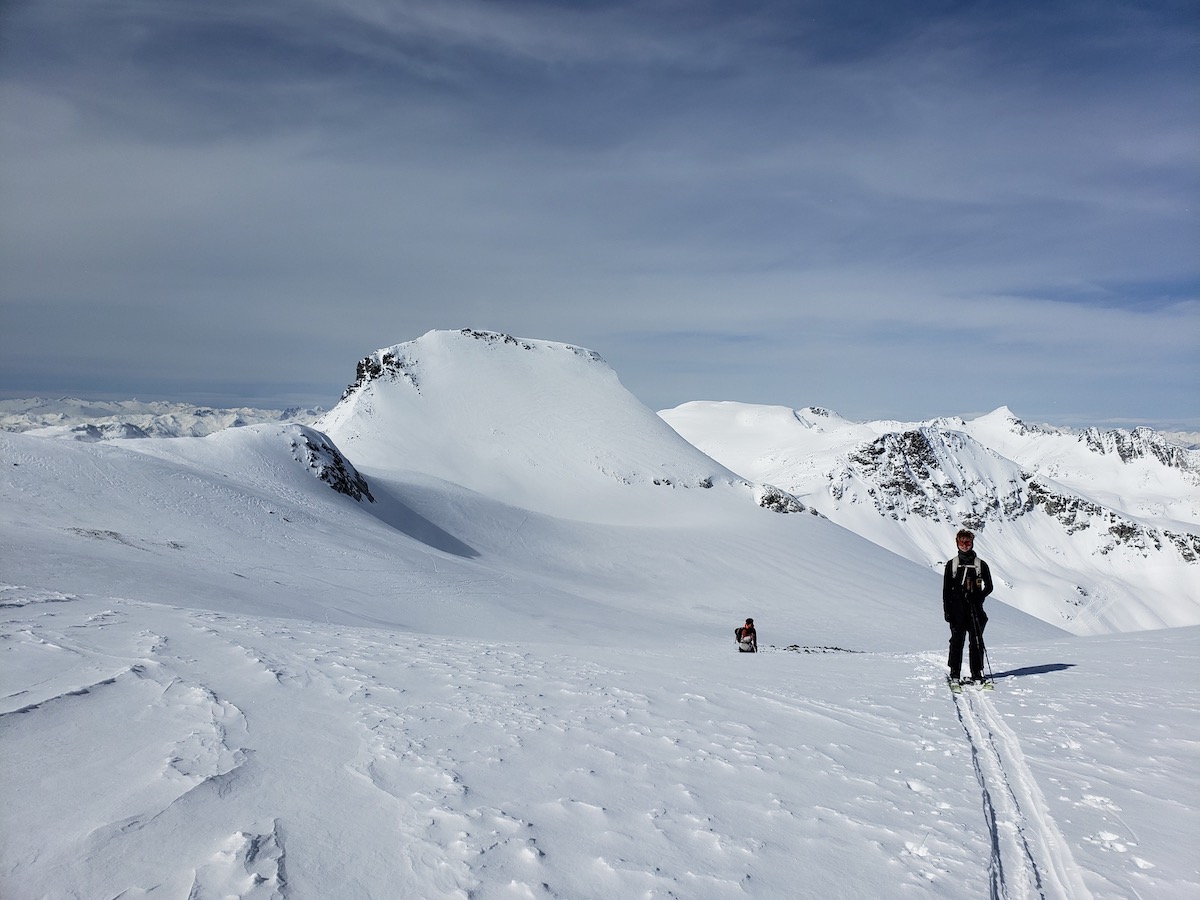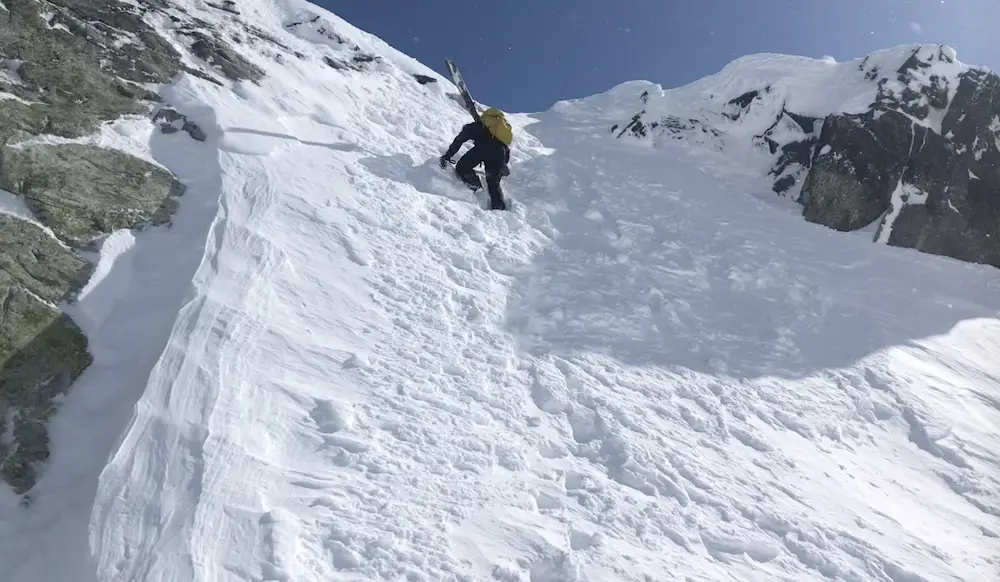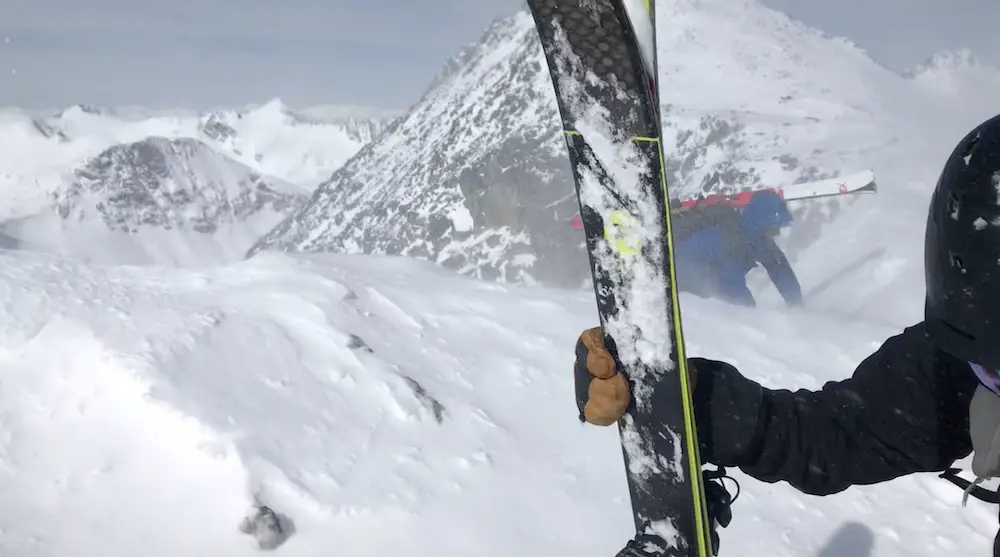 We reached the summit at around 12:45pm, had some water and took in the breathtaking 360 degree views of the area we just conquered. We took some photographs and then prepared for the descent. We decided to descend just north of the summit straight off the face itself. There was a bit of a cornice atop making the initial drop in a commitment. I was the first person to descend and was expecting some cruddy snow. The snow turned out to be as soft as butter, and I slashed my way down the slope effortlessly to the safe zone on the right of the face where I could watch my two buddies come down.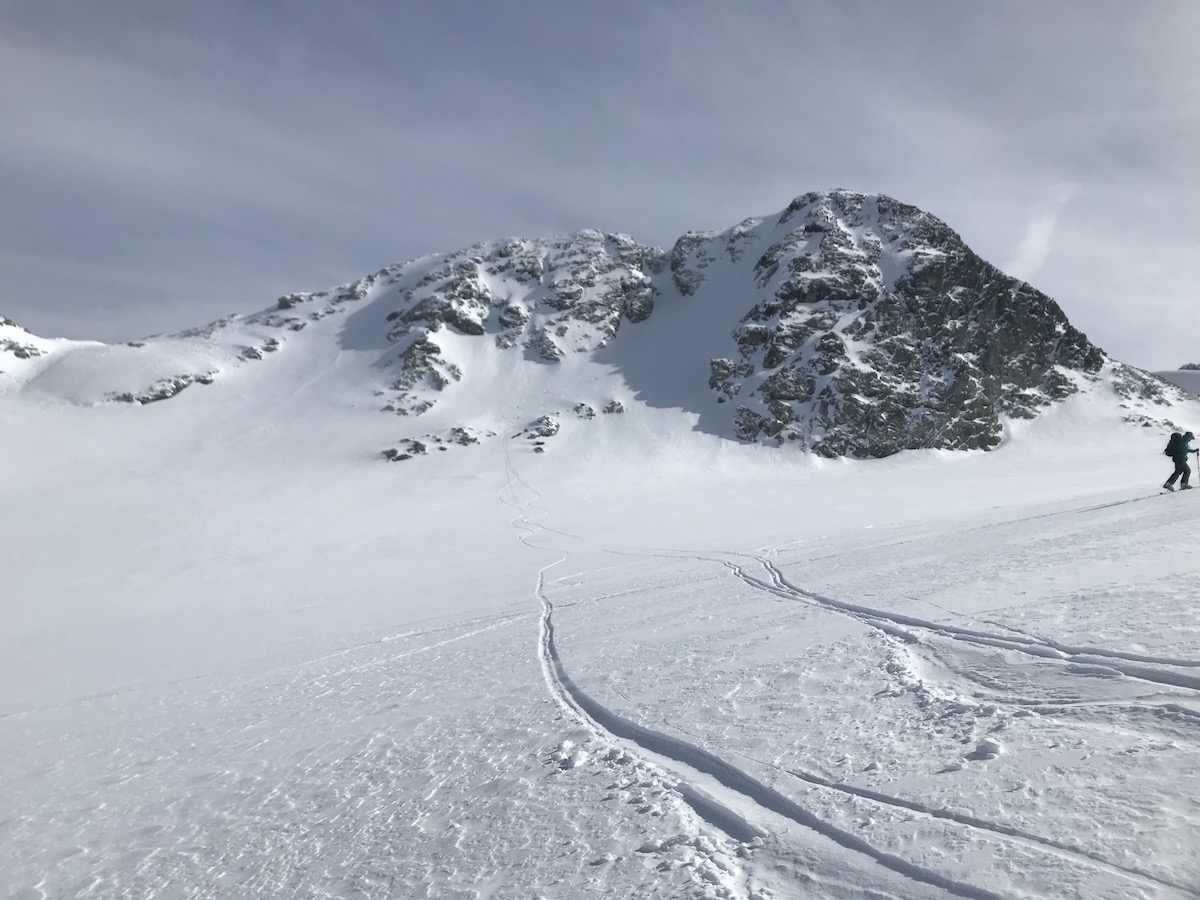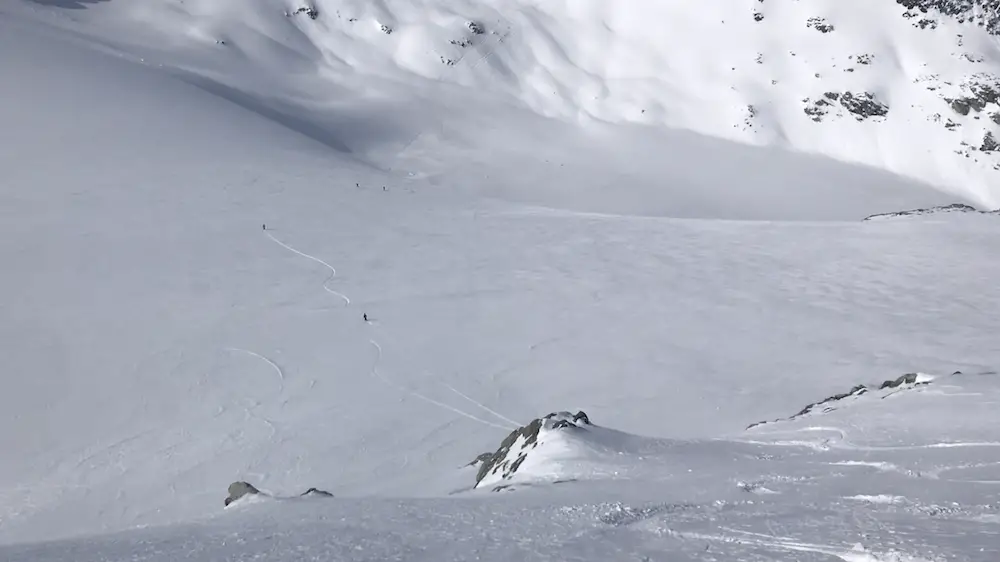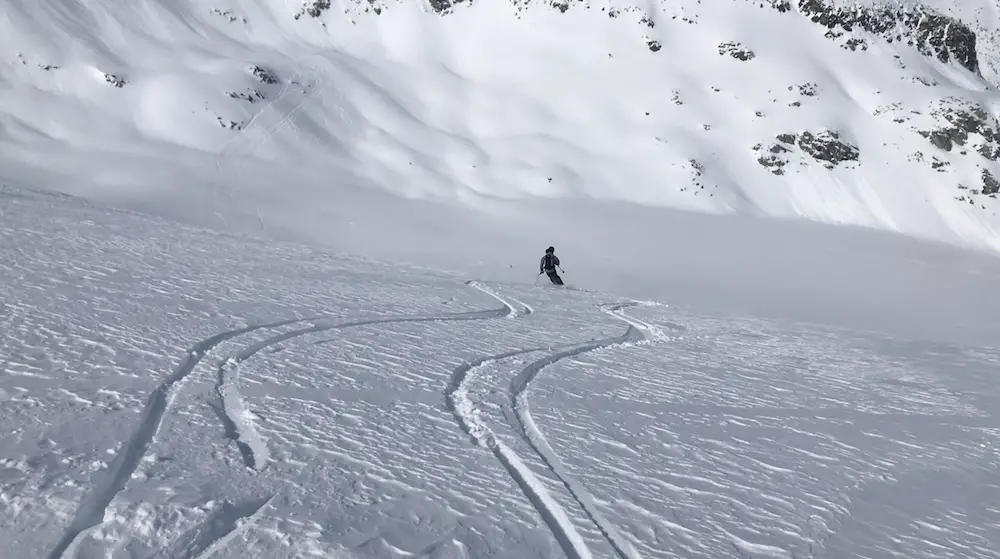 We stopped for lunch, then pretty much retraced our path out. I was slogged on the way back, but the adrenaline kept me loving every minute of it.  Our initial plan was to exit via DOA but instead decided to ski body bag bowl, cruising past seventh heaven, the resort and straight to the truck for an ice cold pint.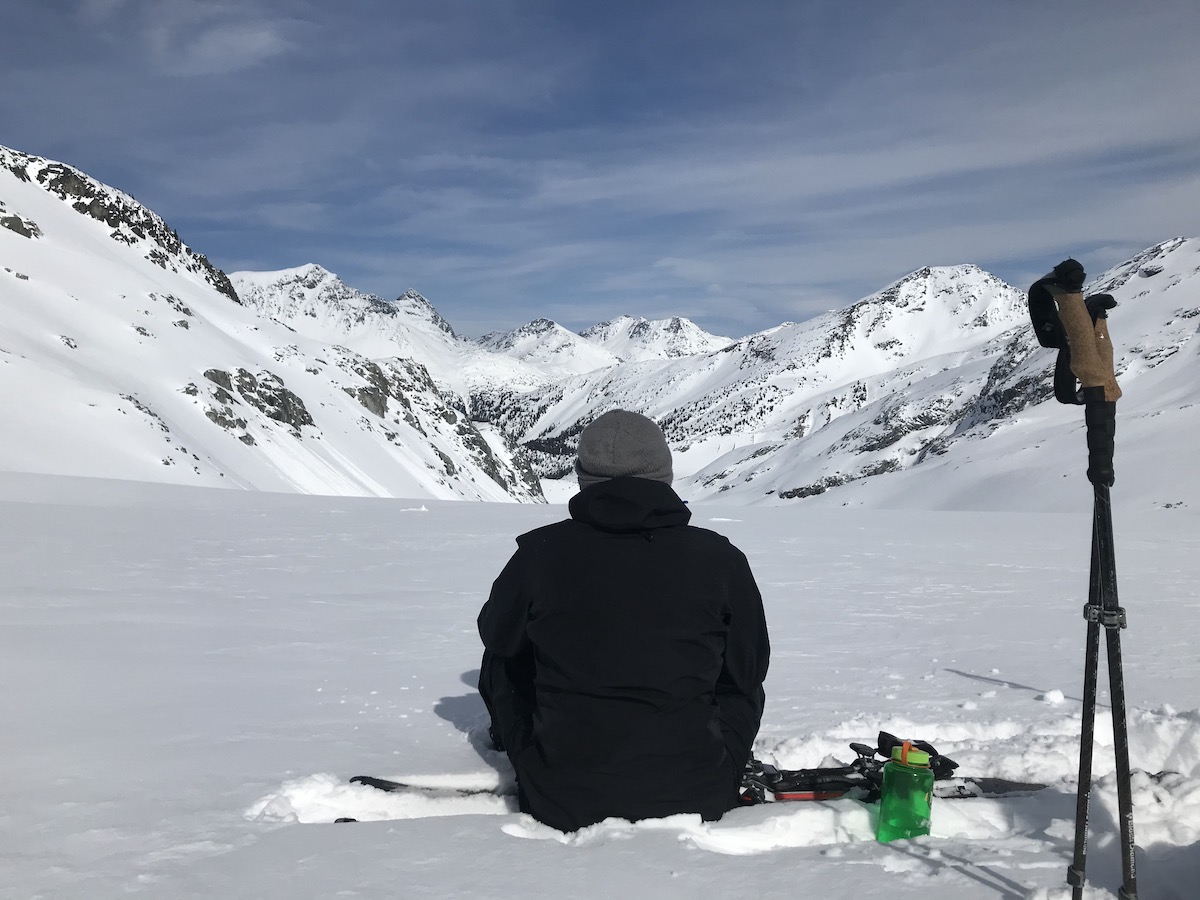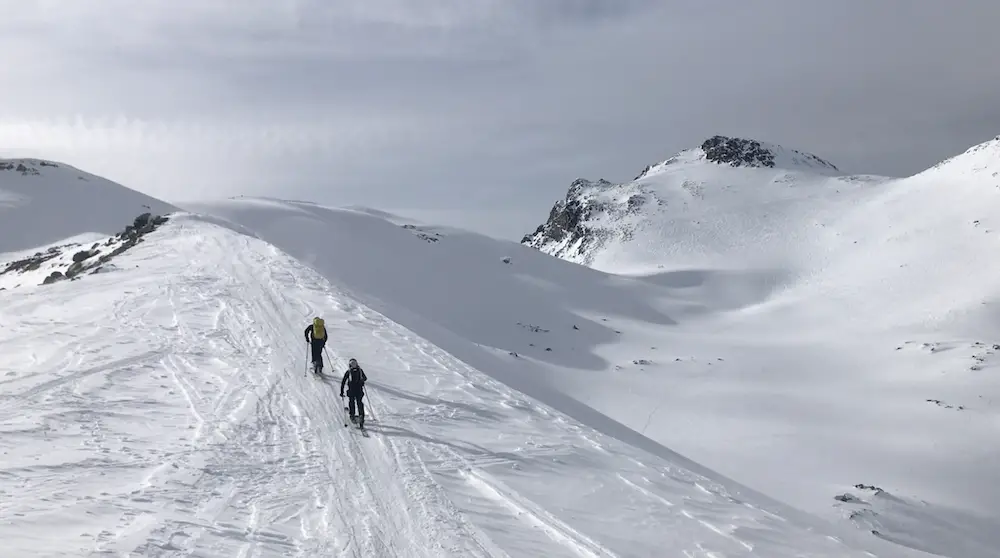 🍺What is your go to beer after a full day of ski touring?🍺