Ski bindings are a piece of equipment too often overlooked by skiers. The typical buying process with bindings usually goes something like this…. 
You walk into the ski shop, see a sexy pair of fresh 2024 twigs with a gorgeous top sheet staring deeply into your eyes. You get pulled in like sirens calling a sailor on the sea. You're powerless to their powder punching potential and even before you allow a sales rep to give you options, you're ready to pull trigger. You look at the ski tech and say. "put whatever bindings work on them"…. 
Okay, that might have been a slight exaggeration, but, quite often we don't think much about our ski bindings. I've fallen victim to the same binding blunders. 
Frankly, bindings are actually one of the most important pieces of performance & safety equipment in your ski setup. Think of them as your ski 'control centre'. They take all the inputs you give them and transfer them to your skis. When those inputs aren't so good, or you're sending it too hard, the control centre needs to know when to eject your boots and save your body from getting blended.
I'm using a lot of linguistic abstractions here, mainly to make a boring topic more engaging, but,  y'all are skiers here and understand the bottom line. Bindings need to keep you in when you should be in and let you go when you yard sale. The function is simple, yet the components are complicated and rooted in physics.
I am by no means qualified to teach you about physics and don't need to bore you with the inner workings of the ski bindings. Let's cut to the good stuff and how about I tell you about the best ski bindings in 2024 for skiers who care about performance, quality & safety.
Here is your 2024 no BS guide to 2024's best ski bindings in the biz.
Best Overall Ski Binding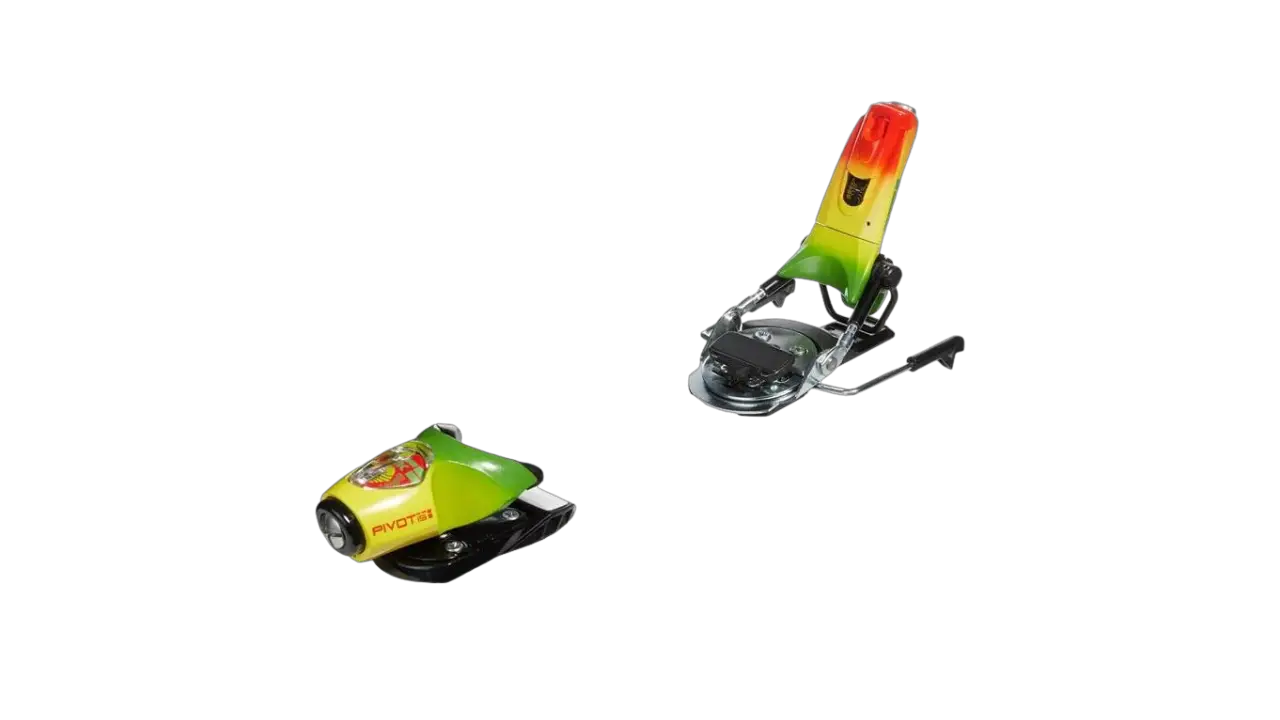 | | |
| --- | --- |
| DIN | 6-15 / 8-18  |
| Weight | 1,245 grams |
| Sole Compatibility | Alpine, Gripwalk  |
| Stand Height | 19mm |
Just LOOK around your local mountain, you'll see LOOK Pivots everywhere. (I promise I'm done with the corny jokes). Pivots are one of the most trusted bindings, EVER. The hardest chargers in the world trust their lives to these things. Whether you're freeriding, carving or riding park, the pivots short footprint and signature heel piece is one of a kind. They are designed with metal and have bomber construction for world class durability allowing them to stand up to skiings biggest stomps and sessions. 
The LOOK Pivots allow 45mm of elastic travel and 180 degree multi-directional release. This longer elastic travel ensures more reliable retention to keep you in when needed. LOOK is the only brand that has developed a true mechanical upward release that functions independently from the heel. Trust me, you can really count on these things. Beyond safety, the performance is sick. LOOK components are designed to deliver industry leading roll coupling strength. Remember when I was talking about the binding being the 'control centre'. This control centre is like the White House of bindings and you'll feel the most efficient power transfer in skiing. Because the binding has such a small footprint (short mounting zone) you'll experience less swing weight, improved response and a deeper, rounder and more consistent flex of your ski. Best of all, you can also turn your favourite LOOK pivot bindings into a ski touring setup with the CAST touring system. Look, the LOOK Pivots aren't cheap (I did that whole corny joke thing again). But, if you want quality and optimal performance, you can rest easy knowing you're on the best in the game. 
Best Park/Freeride Binding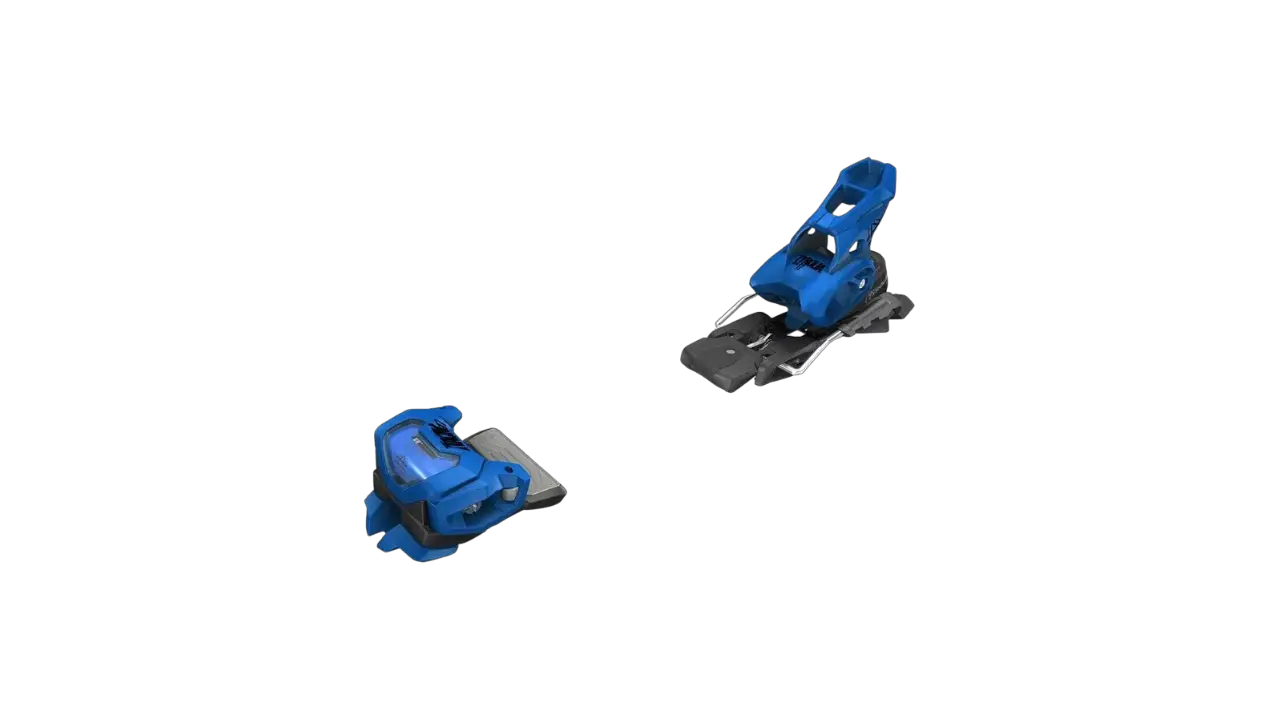 | | |
| --- | --- |
| DIN | 4-1 / 6-17 |
| Weight | 1,095 grams |
| Sole Compatibility | Alpine, Gripwalk  |
| Stand Height | 17mm |
The Attack series has been saving ACL's and sphincters for years. I also think it would be fair to coin them the 'Toyota Corolla' of ski bindings. I'm sure the mention of a rectum caught your eyes, I'll explain. If you go big in the park or pow and land deep and backseat, big pointy bindings like the pivots or the Jesters are notorious for giving your cheeks a stab.
The Tyrolia Attack series is supremely versatile and is often a choice among the worlds best free skiers. They are simplistic and reliable all while being pretty light. The only adjustments are the forward pressure and the toe height, which are super simple to dial in yourself, especially when switching boots. They are easy to clip onto in the pow and you can feel free to fall with the improved AFD and three part heel release system. Whether it's the park, pipe, pow or some good old groomers your ACL's and Arse will be at ease on the Attacks. 
Best All Mountain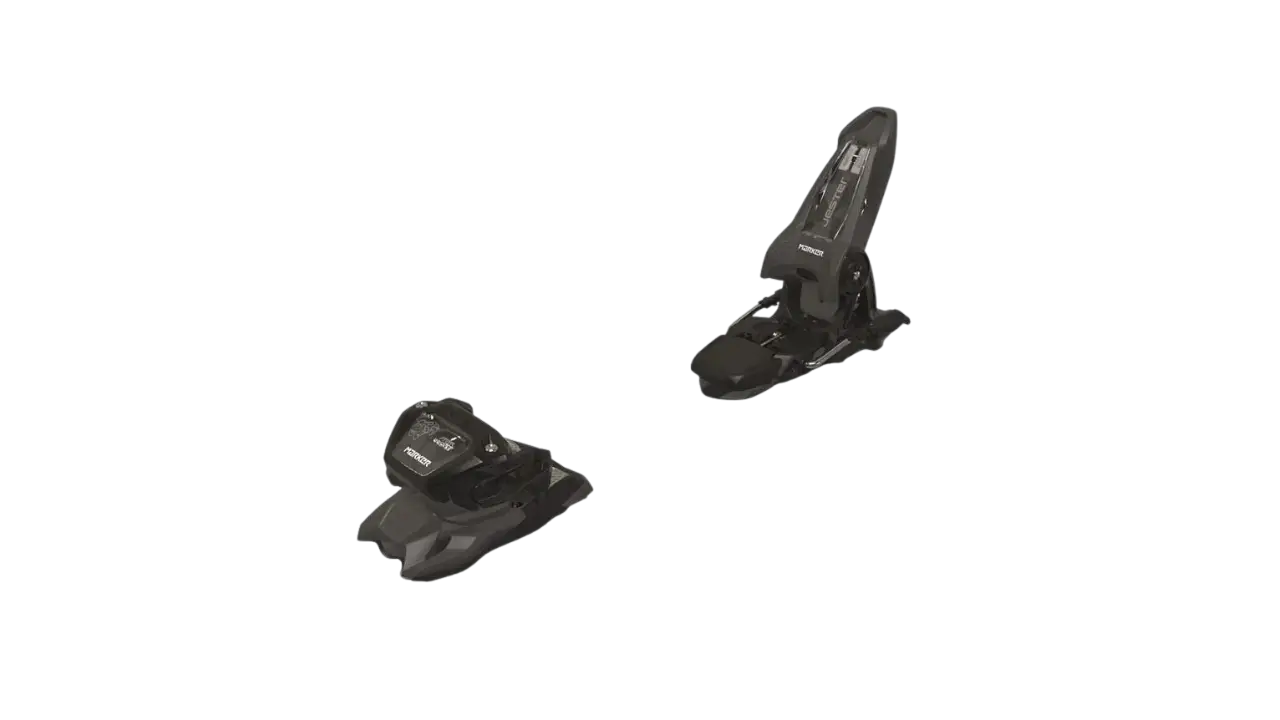 | | |
| --- | --- |
| DIN | 6-16 |
| Weight | 1,070 grams |
| Sole Compatibility | Alpine, Gripwalk, Touring  |
| Stand Height | 24mm |
The Jester 16 is my poison of choice and I've always been a fan of the 'royal family'. The Jester is lighter than the Pivots, but equally as strong thanks to its lightweight magnesium parts. It's trusted by some of the best freeriders and park skiers on the planet. I love the TP Elite toe piece, it feels secure and the transfer of power is marvellous. It's slightly inclined which provides higher energy absorption and reduces early release. 
Marker has evolved their inter Pivot heel piece which has improved power transmission and vertical heel elasticity. There's also a handy little zone for scraping ice on the binding which comes in handy when I'm bootpacking wet snow at Whistler Blackcomb. I also find the Jesters are extremely easy to step into compared to pivots and when you're clipping in over a sketchy drop or chute, it's preferred to not be playing around before clipping in. Personally, there is just something about stepping into these that I simply love. Safety, security and send all wrapped up into a gorgeous magnesium ski binding. 
Lightest Performance Alpine Ski Binding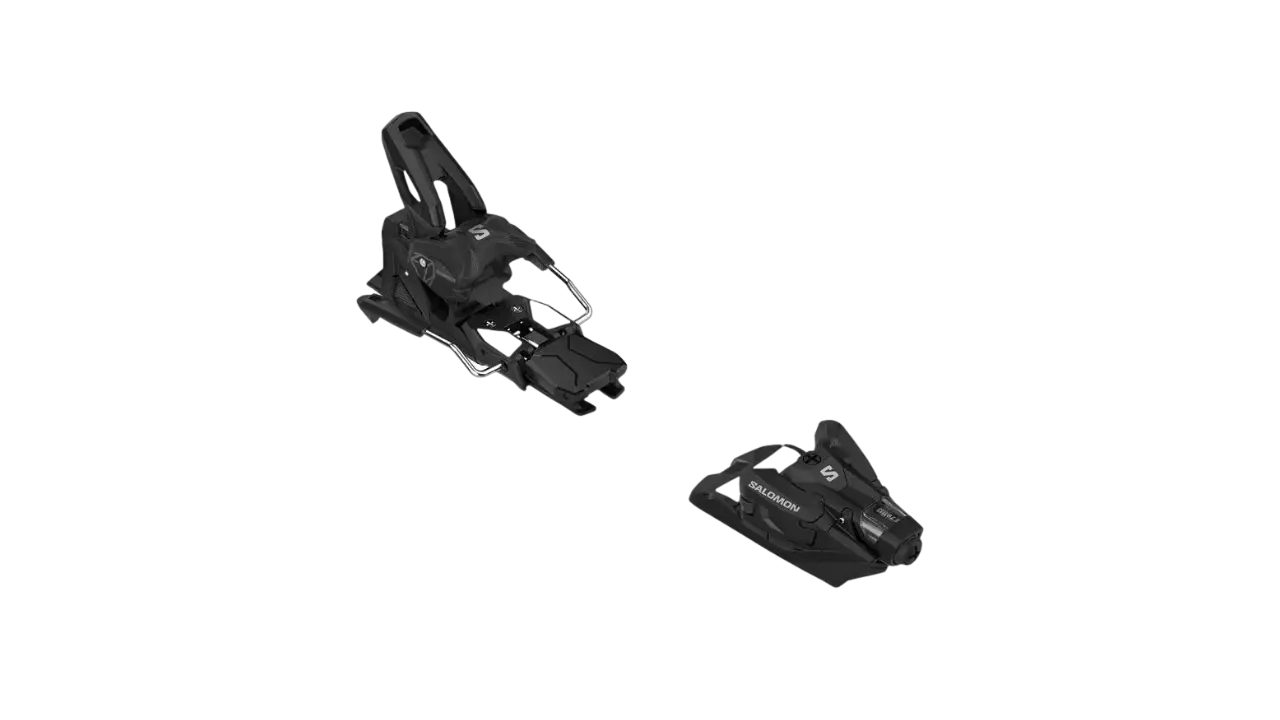 | | |
| --- | --- |
| DIN | 5-14 |
| Weight | 1,070 grams |
| Sole Compatibility | Alpine, Gripwalk |
| Stand Height | ? |
If you like a lighter binding with unbeatable technical performance, wave hello to the Strive. This binding was designed to keep your centre of gravity as close to the top sheet of the ski as possible resulting in unmatched ski to snow connectivity. The wide AFD pad gives skiers extra contact between the boot and binding encouraging more ski agility and effortless turn initiation. It's got all of Salomon's classic power transmission and more thanks to the new Strive toe piece allowing industry leading stability and power transfer to your ski. The Strive 14 will undoubtedly feel fantastic on your feet, but, the reduction in weight will mean a little less durability compared to the Pivot, Attack or Jester. 
Best Alpine Touring Ski Bindings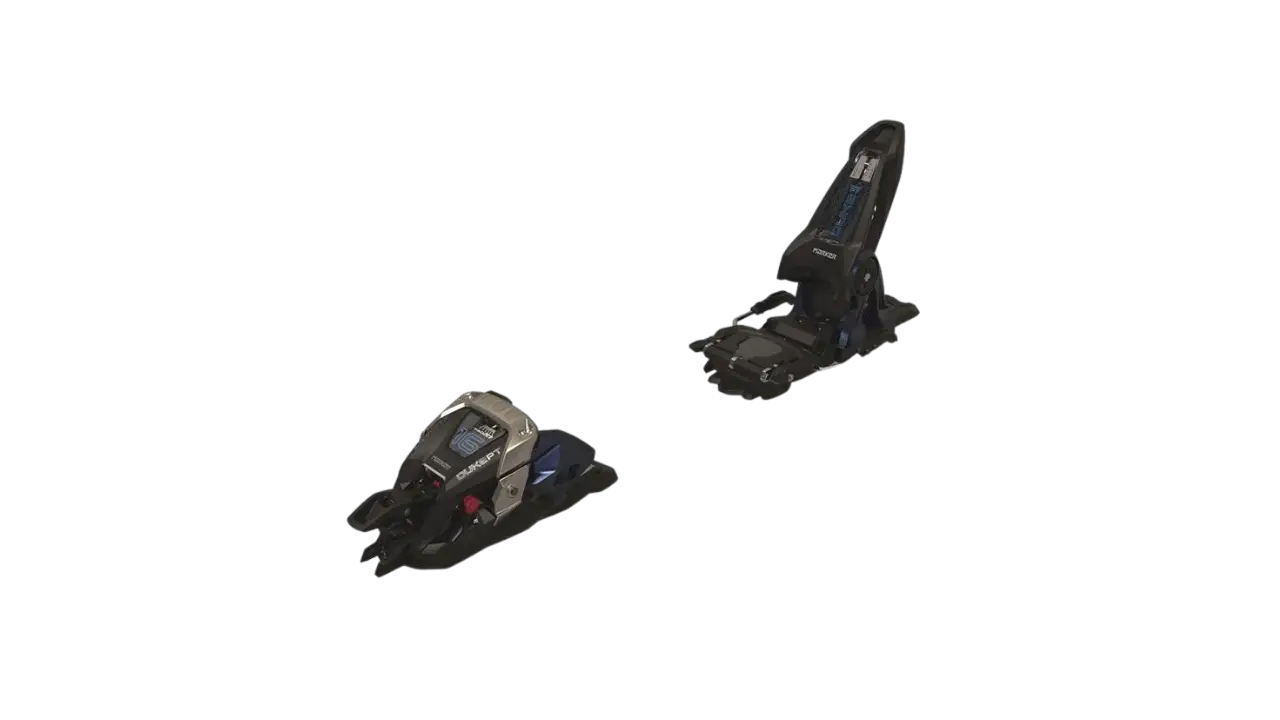 | | |
| --- | --- |
| DIN | 6-16 |
| Weight | 1350g |
| Sole Compatibility | Alpine, GripWalk, Touring  |
| Stand Height | 24mm |
The Marker Duke PT's are a ski touring binding that are completely optimized for downhill performance. It has its pitfalls, but holy shit can these things punch through powder. There is not another touring binding on the market as bomb proof as these. I'm talking about pure, raw, top of the line downhill performance in the backcountry.
Now, the reality is, most 'backcountry only' skiers will not be skiing aggressively enough to require a binding this burly. However, where a binding like this really comes in handy is for a guy like me. I ski like a maniac on the resort, but also dabble in a few backcountry days here and there. I can't afford two pairs of boots and multiple skis and bindings.
This is a binding that can do it all. Riding pins on the resort all day is a bad idea, but you can beat the hell out of the Duke PT's on the resort, and run them uphill whenever you feel like.
The big downside of these bindings are their uphill performance. They are heavy and not as easy to climb with as traditional tech bindings. You also have to completely detach the toe piece to climb up and that's just one more moving part you really cannot afford to drop in the snow. 
To be honest, for me, the benefits outweigh the pitfalls. I'm not a ski mo racer and would rather have one ski and binding on my favourite powder ski that I can trust 100% on the resort and take with me into backcountry missions. The construction is robust and it's a best of both worlds type of binding. I cannot wait to see future iterations of this style binding from Marker and other big name brands.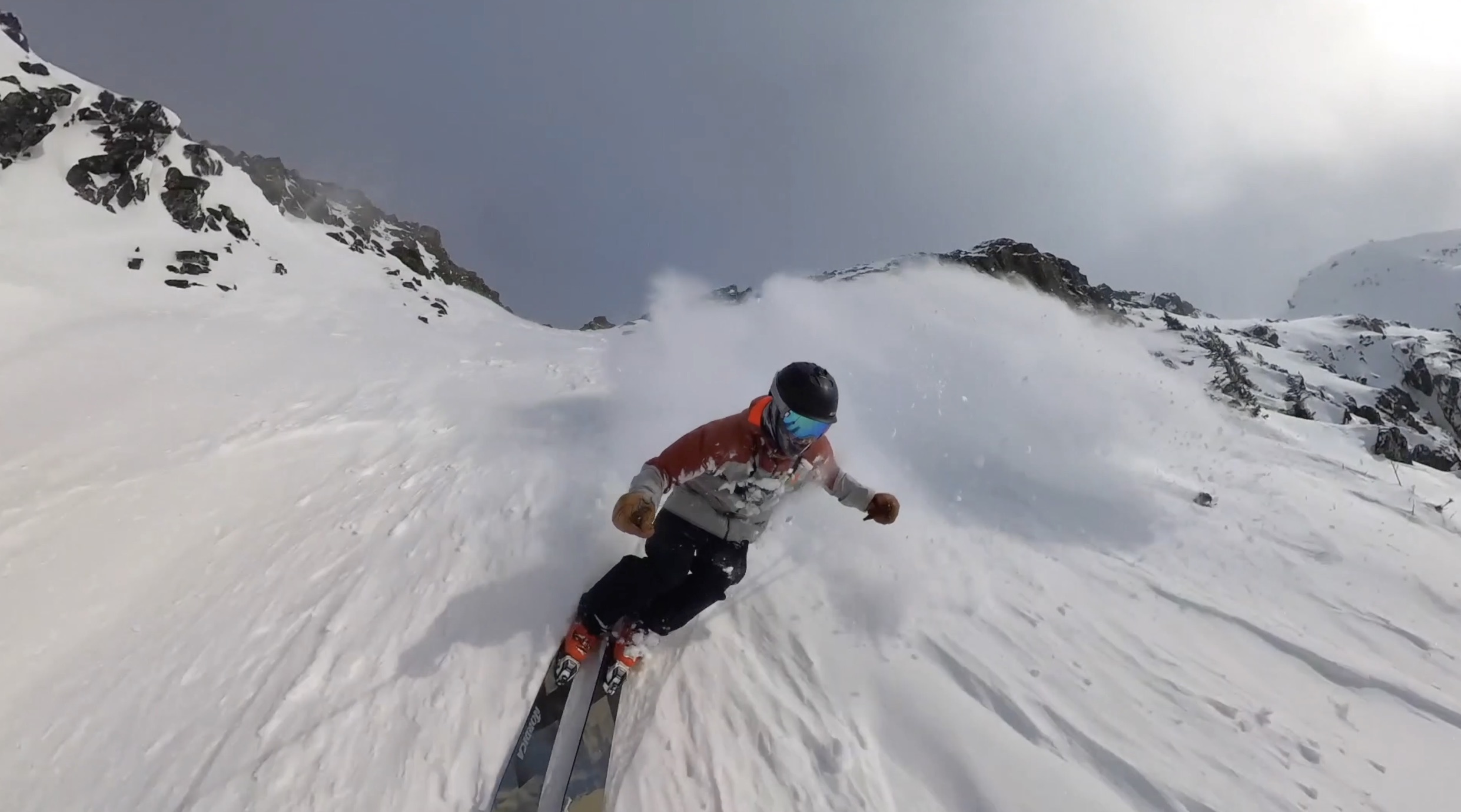 There you have it folks, nothing less and nothing more. The best of the best ski bindings for the 2024 ski season. 
Let me know your favourites in the comments and fire any Q's you have my way. 
Stay Spicy, 
James