Welcome to the wild world of backcountry ski bindings. Ski touring bindings serve the same purpose of regular alpine ski bindings with one very important job, to allow you to walk uphill.
Day's backcountry skiing are primarily spent hiking uphill, not skiing. It's near impossible to duck walk up entire mountains, so ski touring bindings are optimized to make the ascent as easy as possible. Heck, many backcountry enthusiasts crave the uphill more than the powder skiing down. Thankfully, brands have developed amazing and safe backcountry ski binding options for every taste and ski style.
Here are my picks for the best of the best backcountry ski bindings in 2024.
Best Overall Ski Touring Binding 2024
| | |
| --- | --- |
| DIN | 3-11 |
| Weight | 370g (with brake) |
| Sole Compatibility | Touring |
| Size Range | 86mm - 120mm |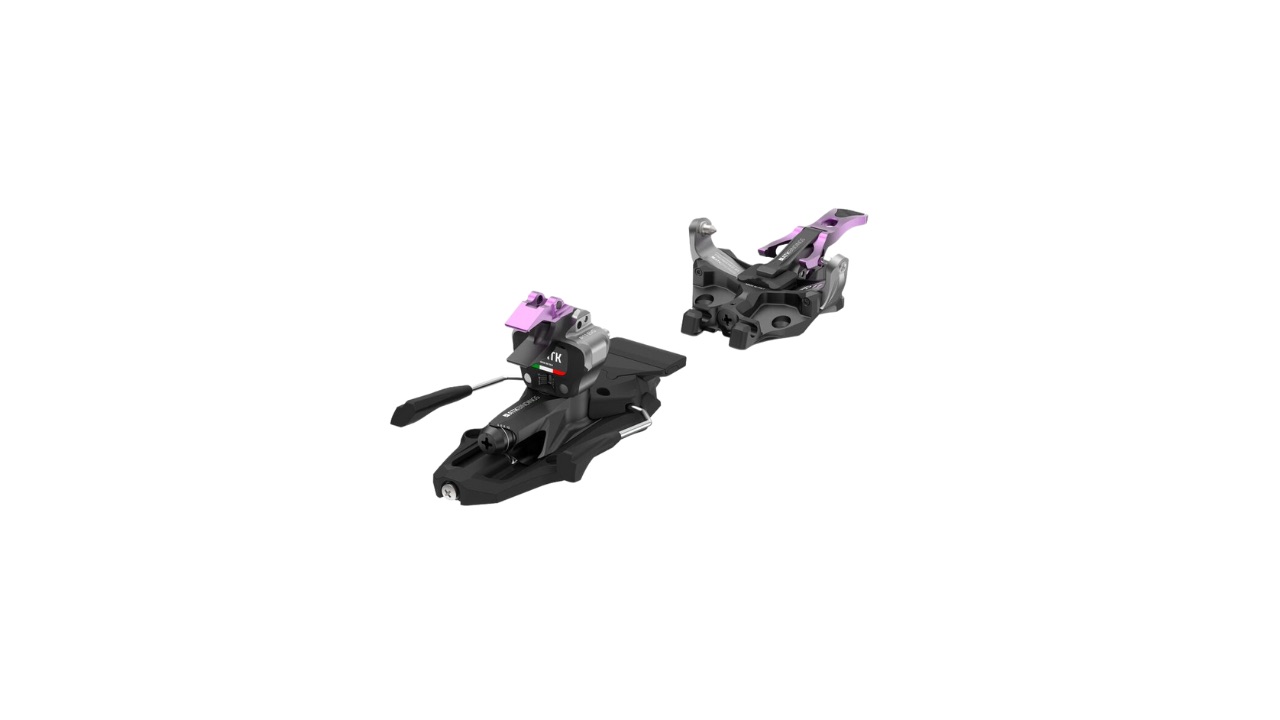 The ATK series has quickly become a favourite among industry professionals with its robust construction and quality downhill performance. BD listened to its ATK fans and developed a binding that they are coining "a work of art".
At a glance, the binding has all the similar functions we love in the ATK series, with a much improved toe release. All of the adjustable settings of the heel release are now available in the toe piece and this creates top class stability for riders. This means you can set the same DIN on the toe as the heel, and that's magic. The new auto brake system requires zero action for activating the ski brake and it automatically switches from ascent to descent mode adding one less aggravating step when transitioning.
The ATK Raider EVO is dead easy to step into thanks to the geometry of the toe parts and the easy step in system. It also encloses the toe system so snow can't get up and pack into it. It's light, it performs and honestly, it's downright sexy. Anything in the ATK series is worth a sniff if you're serious about backcountry skiing. 
Best Freeride Pin Binding
| | |
| --- | --- |
| DIN | 5-12 |
| Weight | 585 grams |
| Sole Compatibility | Touring |
| Size Range | <130 |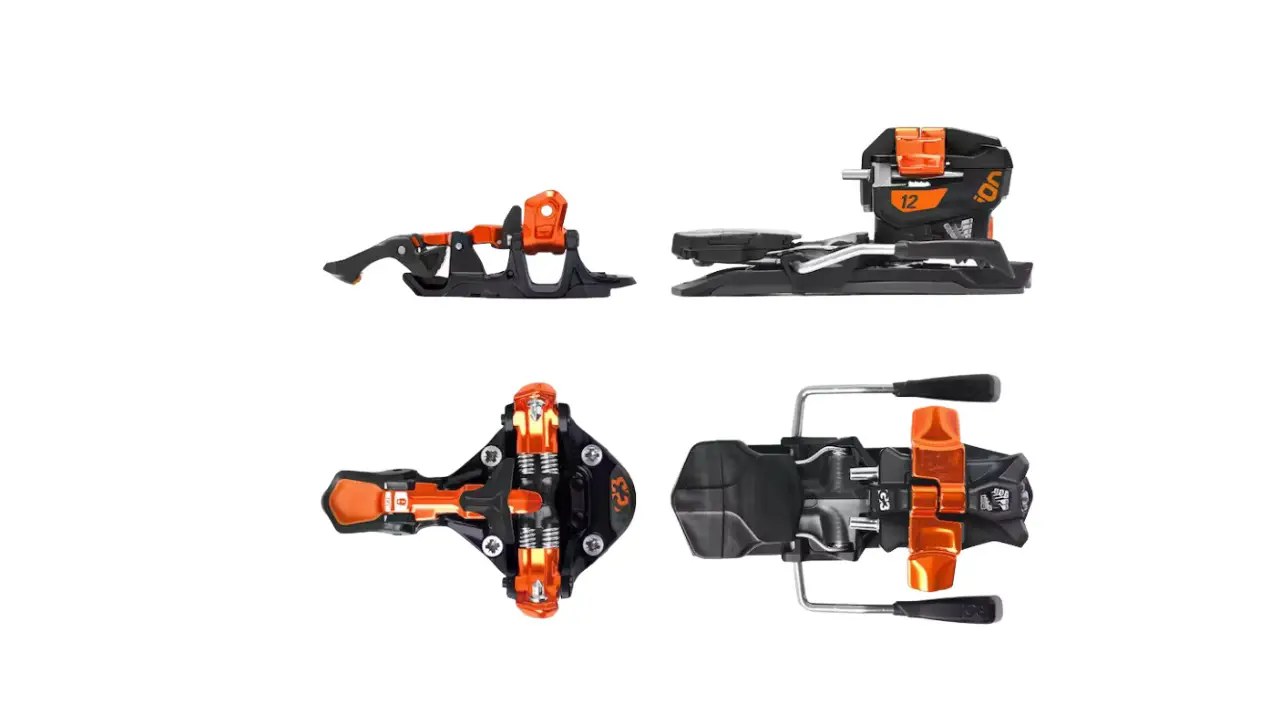 The G3 Ions are not cheap, but, if these bindings hold Nikolai Schirmer in, they'll probably hold you in too. These bindings are coveted by skiers around the globe, especially hard charging free riders. The Ions are dependable and the forward pressure creates a responsive ride that aggressive skiers crave in the backcountry. 
G3 is known to have the best toe pieces in the industry. The boot stopper (step in guidance) in the toe piece makes transitioning as smooth as butter and the snow clearing channels make it easy to get in and clear the snow out. It's a bit wider than other bindings so it manages to drive wider skis fairly well.
The G3 Ion is extremely user friendly from the QuickFlick risers to seamless heel rotation. For anyone looking to ad crampons or make adjustments, you'll only need one tool, the Pozi Drive #3 for all mounts and adjustments. The release is dependable but be aware of the reported ski brake issues, G3 says they work great in the resort, but, I wouldn't be that confident riding resort on these. If you want to invest in a quality, mid-weight binding that you can trust to see you through burly lines, grab the G3 Ion. 
Safest Lightweight Ski Touring Binding
| | |
| --- | --- |
| DIN | 6-12 |
| Weight | 200 grams (no brake) |
| Sole Compatibility | Touring |
| Size Range | brake sold separately |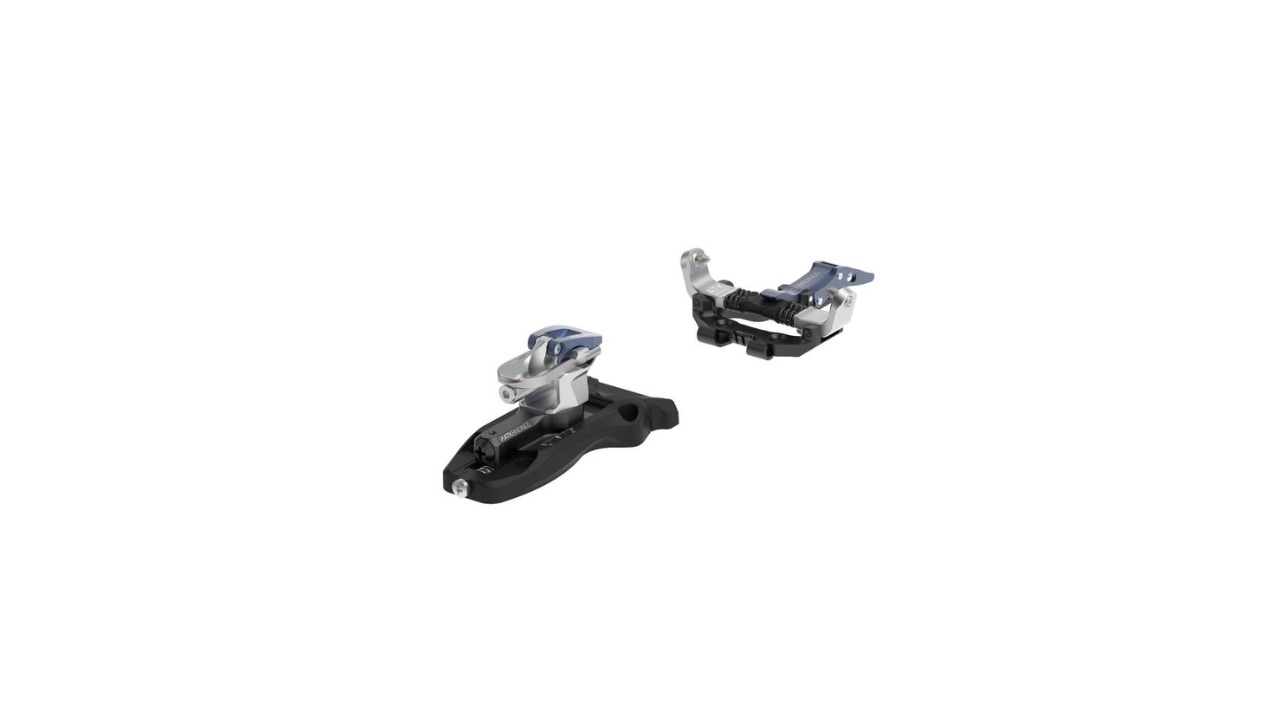 There are heavier BD bindings with better downhill performance and even lighter BD bindings with less adjustability, but, if you care about weight when ski touring, the ATK Kuluar is a great middle ground option for all sorts of ski tours. What makes the Kuluar stand out is its heel elasticity, adjustable lateral release and the ability to add brakes. This additional elasticity doesn't really exist in lighter bindings and allows the binding to flex over harder impacts more reliably than other ultra-light versions in the lineup. Once again, the ATK lineup has so many options and BD is really winning with all of subtle differences in design across the board which cater to every type of skiers exact needs. 
Best Pure Downhill Performance
Ski Touring Binding 
| | |
| --- | --- |
| DIN | 6-16 |
| Weight | 1350g |
| Sole Compatibility | Alpine, GripWalk, Touring  |
| Stand Height | 24mm |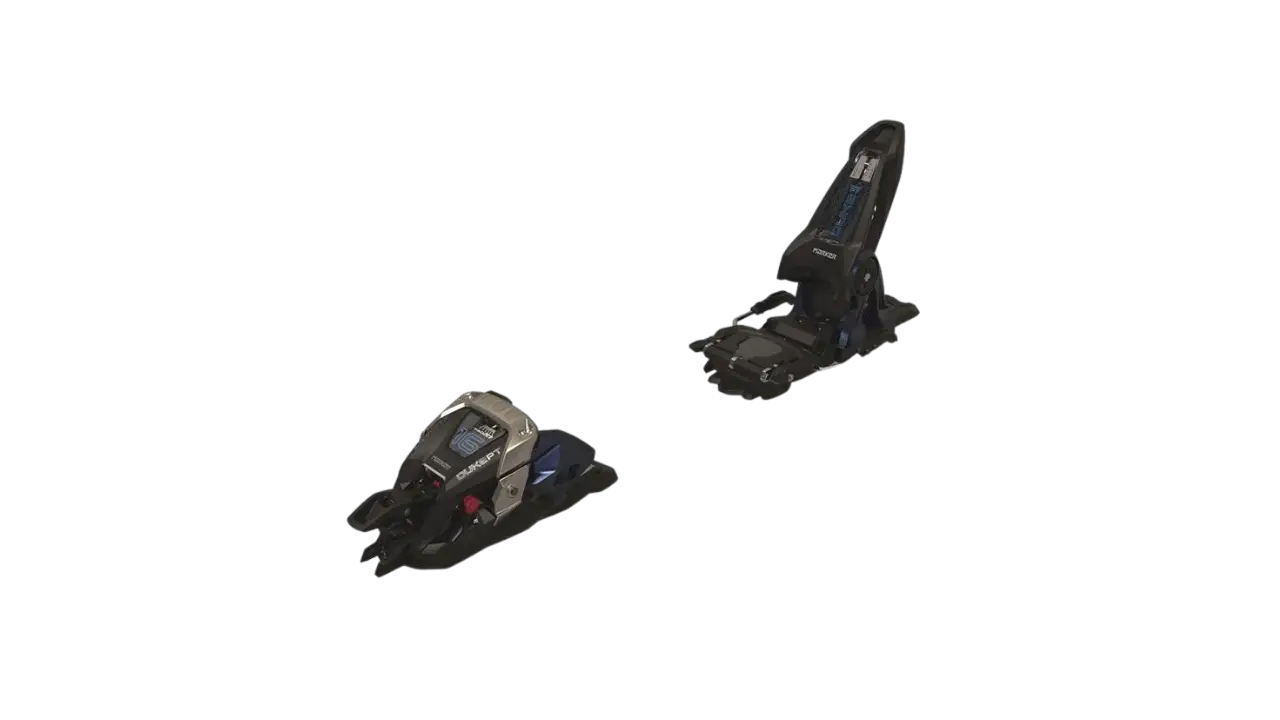 The Marker Duke PT's are a ski touring binding that are completely optimized for downhill performance. It has its pitfalls, but holy shit can these things punch through powder. There is not another touring binding on the market as bomb proof as these things (other than CAST below). I'm talking about pure, raw, top of the line downhill performance in the backcountry.
Now, the reality is, most 'backcountry only' skiers will not be skiing aggressively enough to require a binding this burly. However, where a binding like this really comes in handy is for a guy like me. I ski like a maniac on the resort, but also dabble in a few backcountry days here and there. I can't afford two pairs of boots and multiple skis and bindings.
This is a binding that can do it all. Riding pins on the resort all day is a bad idea, but you can beat the hell out of the Duke PT's on the resort, and run them uphill whenever you feel like.
The big downside of the DUKE PT bindings are their uphill performance. They are heavy and not as easy to climb with as traditional tech bindings. You also have to completely detach the toe piece to climb up and that's just one more moving part you really cannot afford to drop in the snow. 
To be honest, for me, the benefits outweigh the pitfalls. I'm not a ski mo racer and would rather have one ski and binding on my favourite powder ski that I can trust 100% on the resort and take with me into backcountry missions. The construction is robust and it's a best of both worlds type of binding. I cannot wait to see future iterations of this style binding from Marker and other big name brands.
| | |
| --- | --- |
| DIN | 6-15 / 8-18 |
| Weight | 1500 grams |
| Sole Compatibility | Alpine (ISO 5355), GripWalk (ISO 23223), Touring (ISO 9523), and Tech |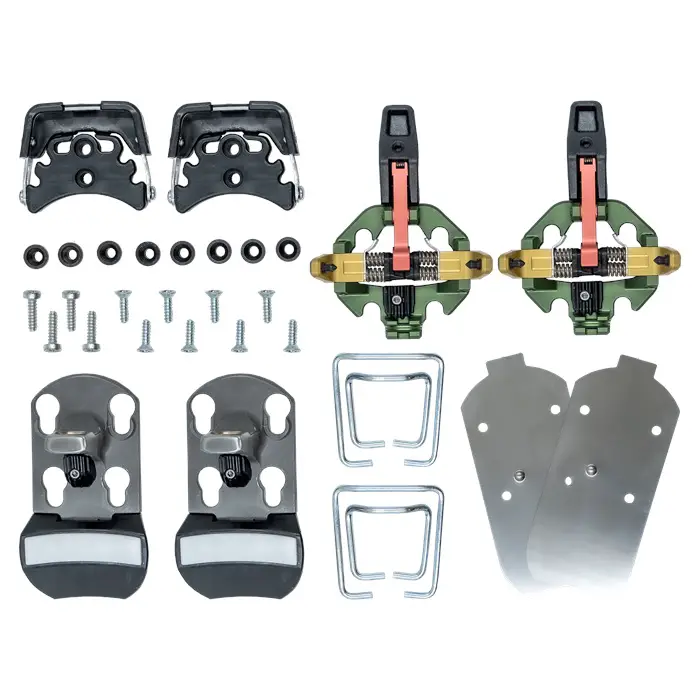 Just LOOK around your local mountain, you'll see LOOK Pivots everywhere. (I promise I'm done with the corny jokes). Pivots are one of the most trusted bindings, EVER. The hardest chargers in the world trust their lives to these things. Whether you're freeriding, carving or riding park, the pivots short footprint and signature heel piece is one of a kind. They are designed with metal and bomber construction bomber construction for world class durability allowing them to stand up to skiings biggest stomps and sessions.
CAST has really changed the game developing a system that turns LOOK Pivots into a ski touring setup. The system involves a quick release mechanism that allows riders to flip their Pivot toe piece for pins in just a few seconds. If you're someone who loves your Pivots and also does some Backcountry, this is a sick option. Imagine having full LOOK Pivot confidence skiing outside of the resort, I know, insane! The big downsides are similar to the Duke PT's. First, is price. The CAST system is expensive and requires you to buy both the system and the Pivot Bindings. The system is heavier than the Duke PT's and the whole pulling the toe piece off and putting it in your backpack thing can be finicky and sketchy to lose in the powder. If you love performance, charge hard and don't give a hell about the uphill, get on the CAST system, you'll dig it. 
Best Hybrid Ski Touring/Resort Binding
| | |
| --- | --- |
| DIN | 4-10 |
| Weight | 850 grams |
| Sole Compatibility | Alpine (ISO 5355), GripWalk (ISO 23223), Touring (ISO 9523), and Tech |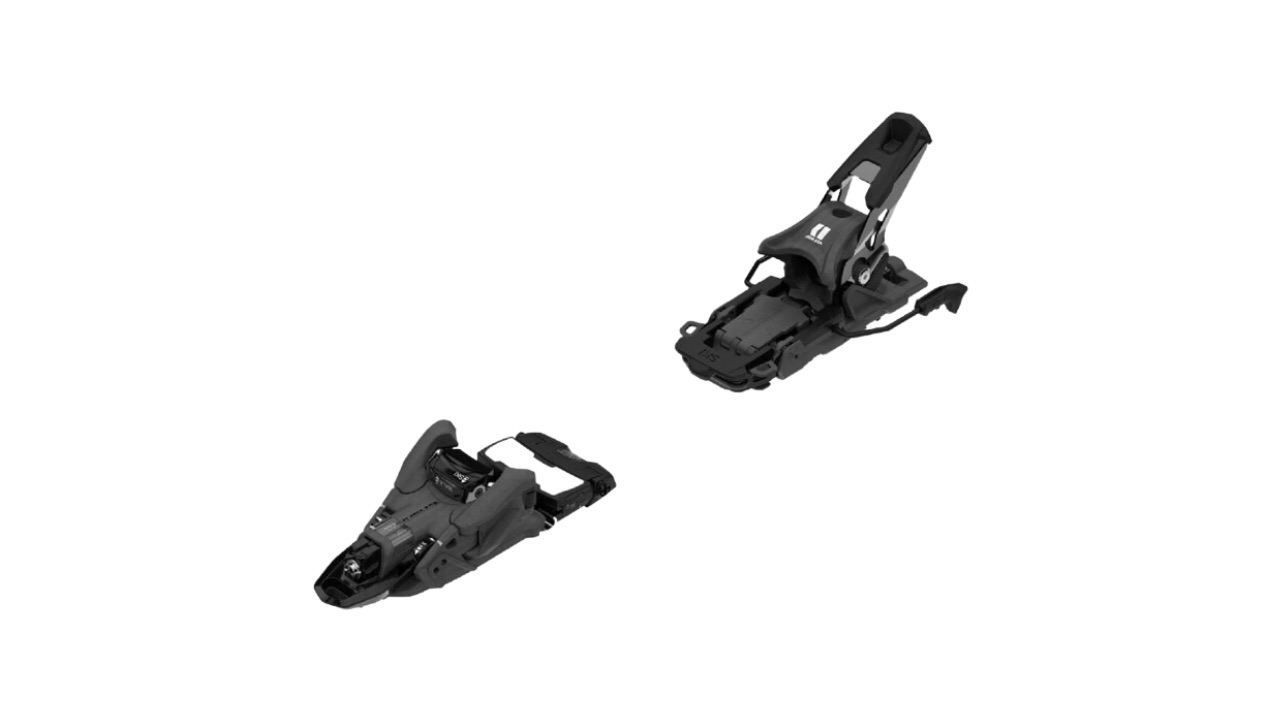 In 2018, after a serious lull in binding tech advancements, Salomon, Atomic and Armada released the shift bindings completely changing the way the ski community thinks about backcountry bindings. You've got the best of both worlds with the shifts, full pin binding efficiency on the way up and resort level downhill experience for the way down.
I've got lot's of buddies who ride Armada/Atomic/ Salomon shifts and swear by them, but, they also swear at all the icing that happens in the toe piece. I've also seen a whole lot of unwanted releases, especially on the resort. At 850grams, I'd probably reach for the Duke PT's if downhill is your priority, and if uphill is your priority I'd go for some pin bindings.
However, if you're like a 65% backcountry 35% resort skier, that's where this binding really shines. It's robust enough to perform well on the resort and transfers power well to wider skis and you do not have to remove toe pieces like the CAST or PT systems for the uphill. You can also get shifts with a higher DIN rating but that will be at the cost of weight. Overall, the Shift's are an awesome technology and I'm stoked to see all the future iterations.
Most Affordable Tech Binding
| | |
| --- | --- |
| DIN | 6-12 |
| Weight | 360 grams (with brake) |
| Sole Compatibility | Touring |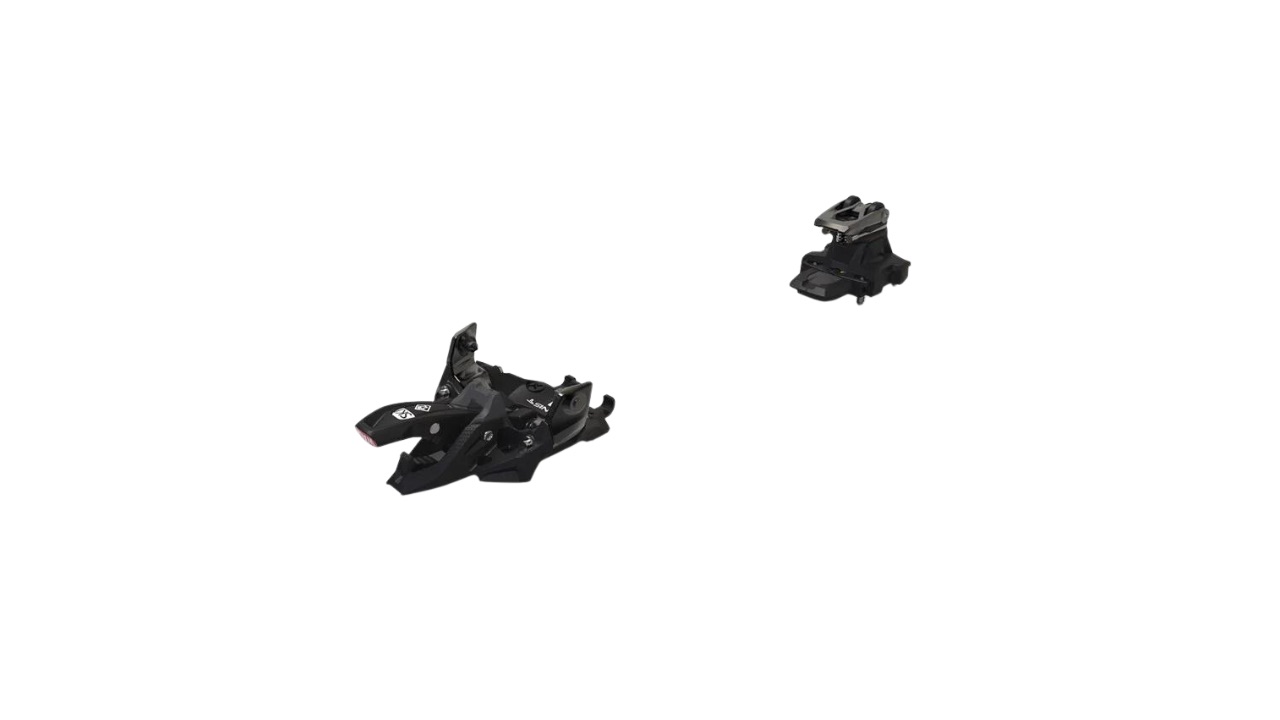 Not everyone needs the industries most expensive gear. The alpinist range is Markers fully tech touring binding which are extremely light and at a very approachable cost. It's the same toe as the kingpin but has a pure tech heel piece. I've heard people complain about having to rotate the heel riser to change settings which is a nuisance and that the ski brake can be finicky. Overall, it's a great light binding to get you up to targets and back down, but I wouldn't recommend any big hucks or resort skiing on these things as they are more fragile than other bindings in the lineup. 
Best Beginner Backcountry Binding
| | |
| --- | --- |
| DIN | 5-16 |
| Weight | 1210 grams |
| Sole Compatibility | Alpine (ISO 5355), GripWalk (ISO 23223), Touring (ISO 9523), and Tech |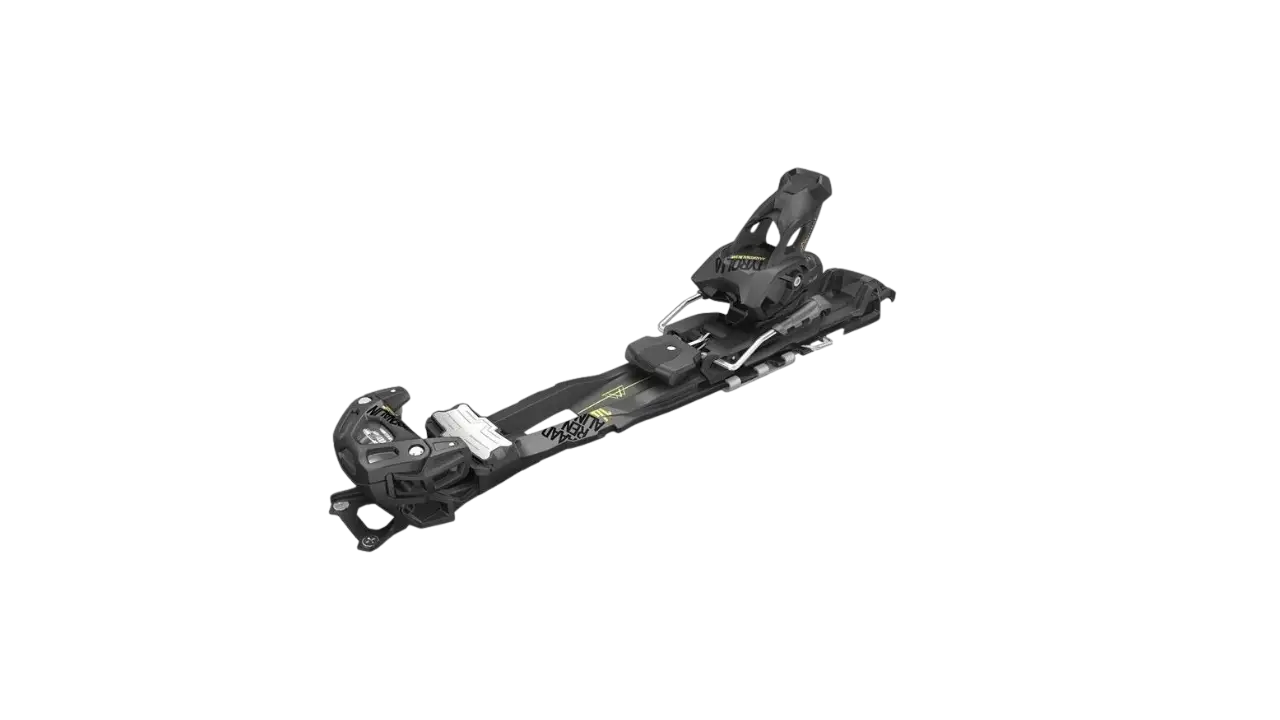 Everyone needs to start somewhere and frame bindings are 100% the place to start. Frame bindings are essentially regular alpine bindings which integrate with alpine boots and allow for uphill climbing. Buying pin bindings and new boots with pins is extremely expensive and frankly, not everyone wants to burn a massive hole in their wallet to experiment with backcountry skiing.
I rode on a pair of classic Salomon Guardian frame bindings for 4 years and still love them. They were my daily drivers on the resort and in the backcountry. It's so handy to have one set of boots, skis and bindings that can do it all.
Currently, The Tyrolia Adrenalin 16 are the best frame bindings on the market. They are super stable, versatile, robust and great for free riding on and off the resort. The safety features are that of a traditional alpine binding and you can trust these bad boys to give you just enough function on the ascent and to be absolutely charge worthy on the descent. You can also use the Adrenalin as your daily driver on the resort with no problems. They are compatible with all boot sole types so whatever boots you currently rock will walk right into these bindings. 
Most Bombproof Pin Bindings
| | |
| --- | --- |
| DIN | 7-14 |
| Weight | 605 grams |
| Sole Compatibility | Touring |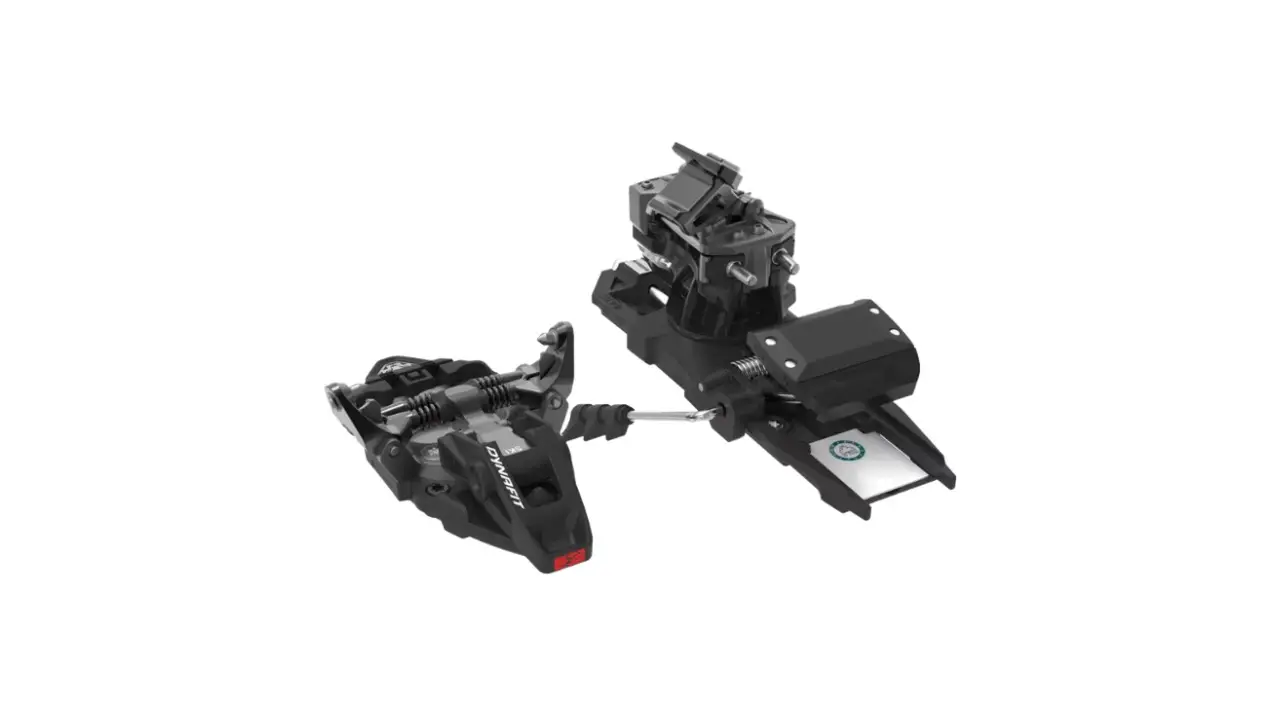 The Dynafit ST is designed for free skiers and ski tourers who are hungry for the perfect mix of downhill performance, robust construction & safety. The rotation toe piece is designed to absorb lateral forces, equalizes them, and prevents pre releases. The forward pressure of 10mm in the heel really locks you into the binding and compensates for shortages between heel and front. They are easy to step into and transitions are seamless. This is definitely an amazing ski binding for someone who wants reliable downhill performance and a robust set of touring bindings that aren't going to bust on you in the backcountry.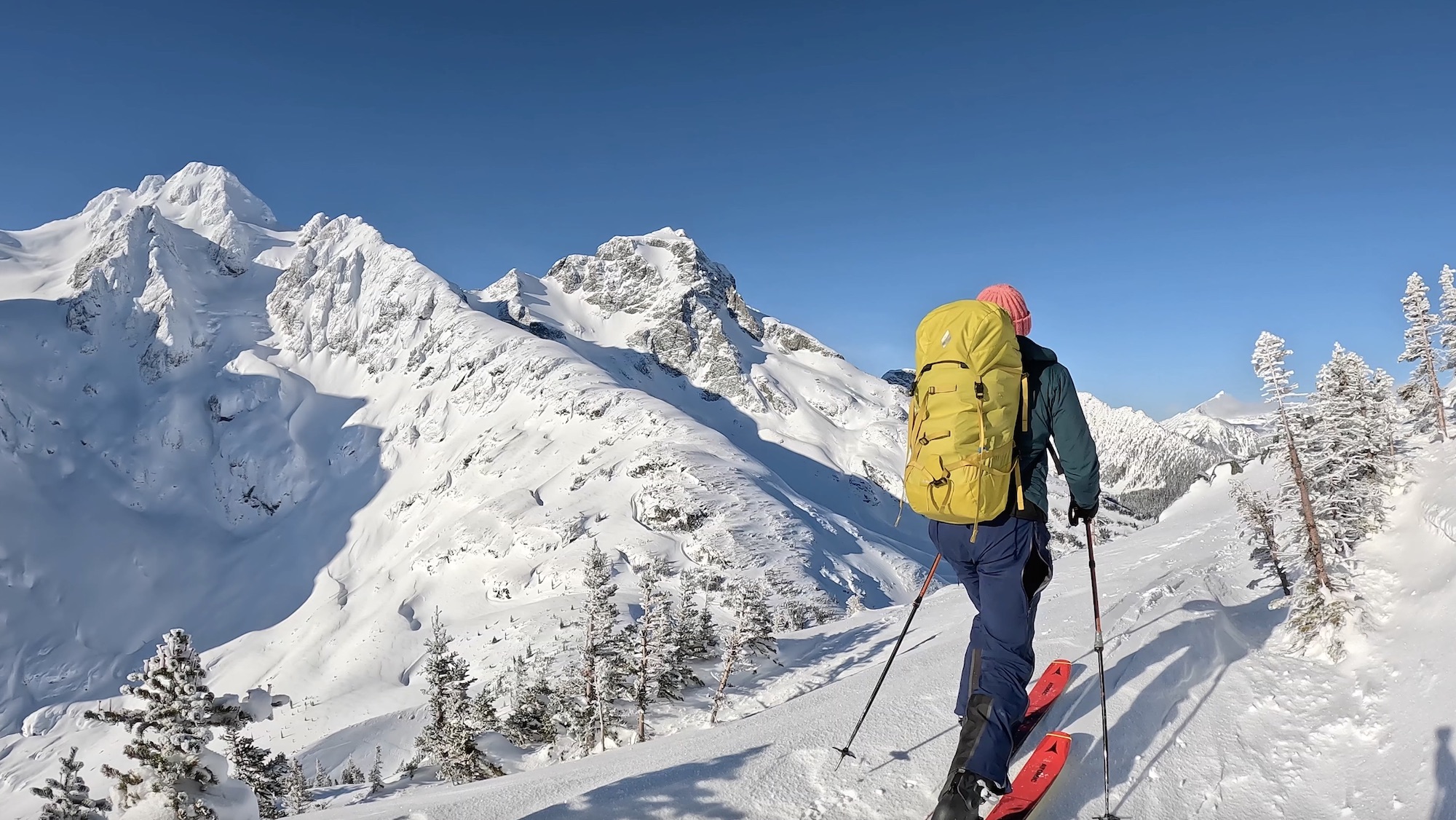 There ya have it folks, another quick and snappy review of 2024's best ski touring bindings on the market.
Let me know if you have any Q's in the comments