The entire town of Rossland lives and breathes powder skiing. I'm not sure you'll come by another mountain with vibes and a community this good. It's the kind of place you can find powder stashed 4 days after snowfall, the kind of place you can show up alone and leave with 2 new best ski friends, or the kind of spot you can sleep in on deep day and claim the best afternoon turns of your life. It's all pretty bananas and comes packaged in an old-school ski and snowboard vibe that you just can't get anywhere else. If you couldn't already tell, I like this mountain a little bit. 
If you would prefer to watch the video version of the RED mountain review, CLICK HERE. 
Skiable Acreage/Skiable Vertical
Red Mountain is an undercover heavy hitter boasting 3850 skiable acres and a 900 meter vertical drop, 119 marked runs over 5 different peaks. What makes Red even cooler is that you can ski 360 degrees off two of the different peaks leaving a world of pillows, cliffs, tree lines and stashes to be discovered.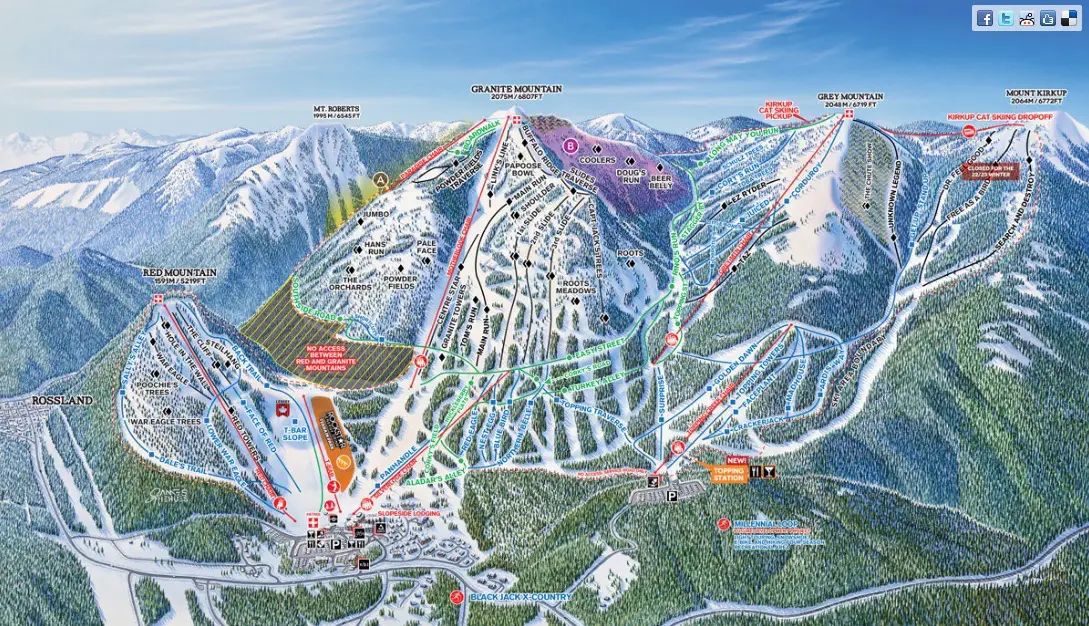 Total Lifts
There are 7 lifts total (including a T-bar and the Silverlode chair), but the majority of your time will be spent on Red, Grey and Granite mountain. My two favourite chairs were the Motherlode chair and the Grey Mountain Chair.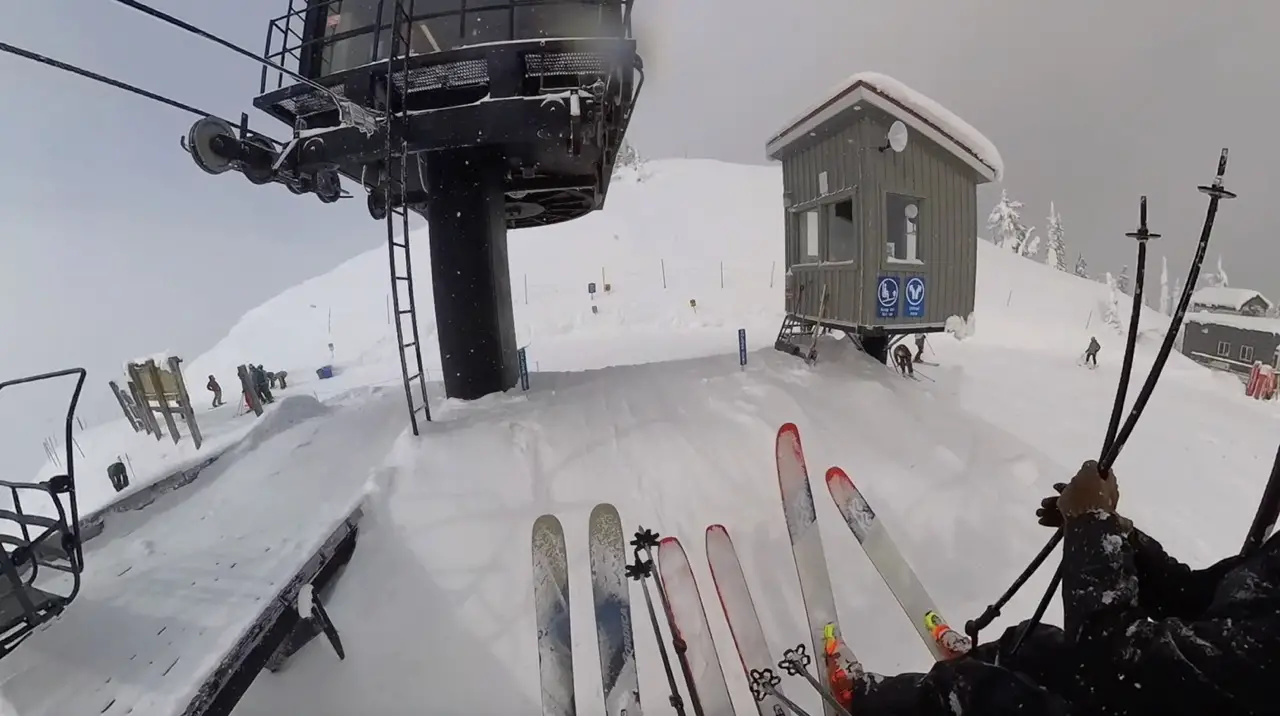 Location & Accessibility
Red Mountain is located in the legendary mountain town, Rossland, BC. If you're travelling by air, Trail or or Castlegar are your closest airport options. By car, it's a 7-9 hour drive from either Calgary or Vancouver. I'm pretty familiar with this drive and have done it in an evening after work on multiple occasions. It can get a touch hairy in winter, in the dark, but it's totally doable and worth it to not waste a day of pow turns. For anyone flying from the US, you can fly into Spokane.
BC's highways can get pretty gnarly in winter. In my opinion, the gnarlier the better, that means the powder is falling! However, you're going to want to travel in a vehicle that is reliable and equipped with top of the line winter tires and safety gear. If you don't own a vehicle or are visiting from out of town FarOut Wilderness offers some of the best 4×4 vehicle rentals in BC that are equipped to drive absolutely anywhere. They've got winter tires, chains, GPS communicators and ski/board racks. Check out their website and use code RISE5 to get 5% off your 4×4 vehicle booking.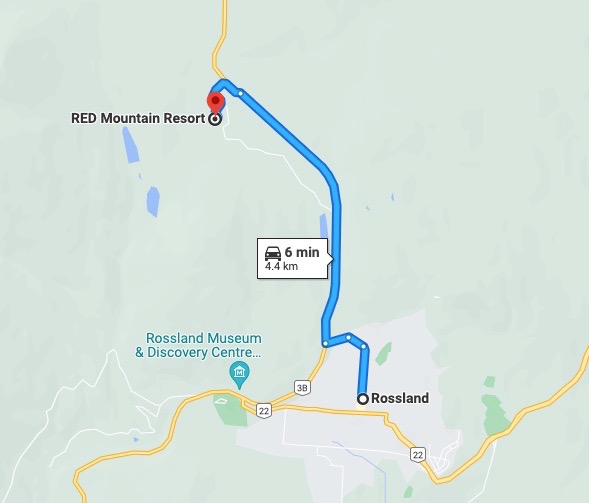 Beginner Terrain
Red has loads of options for beginner riders. The T-bar and SivlerLode chairs are great places to learn to link turns. If you've got your turns figured out and want some longer blues and greens play around on the Grey Mountain Chair, The Topping Creek Chair and the Paradise Chair.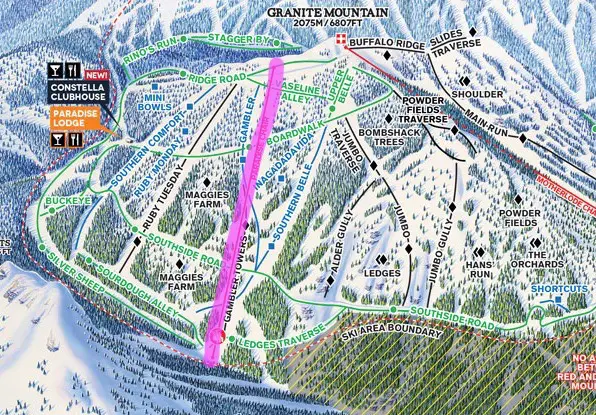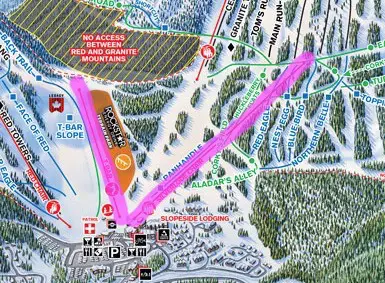 Intermediate & Carving Runs
When I was at Red it was nuking so I didn't spend too much time playing around on the Corduroy and can't give you a super thorough review. Overall, Red is more of a bumps and trees type of place, but there are still some sick trails for those hard chargers obsessed with getting on edge. The Red Mountain Side hosts a downhill ski race every year, so it's got to be fast, on the Grey Mountain and Topping side there are also some great groomers for carving and cruising.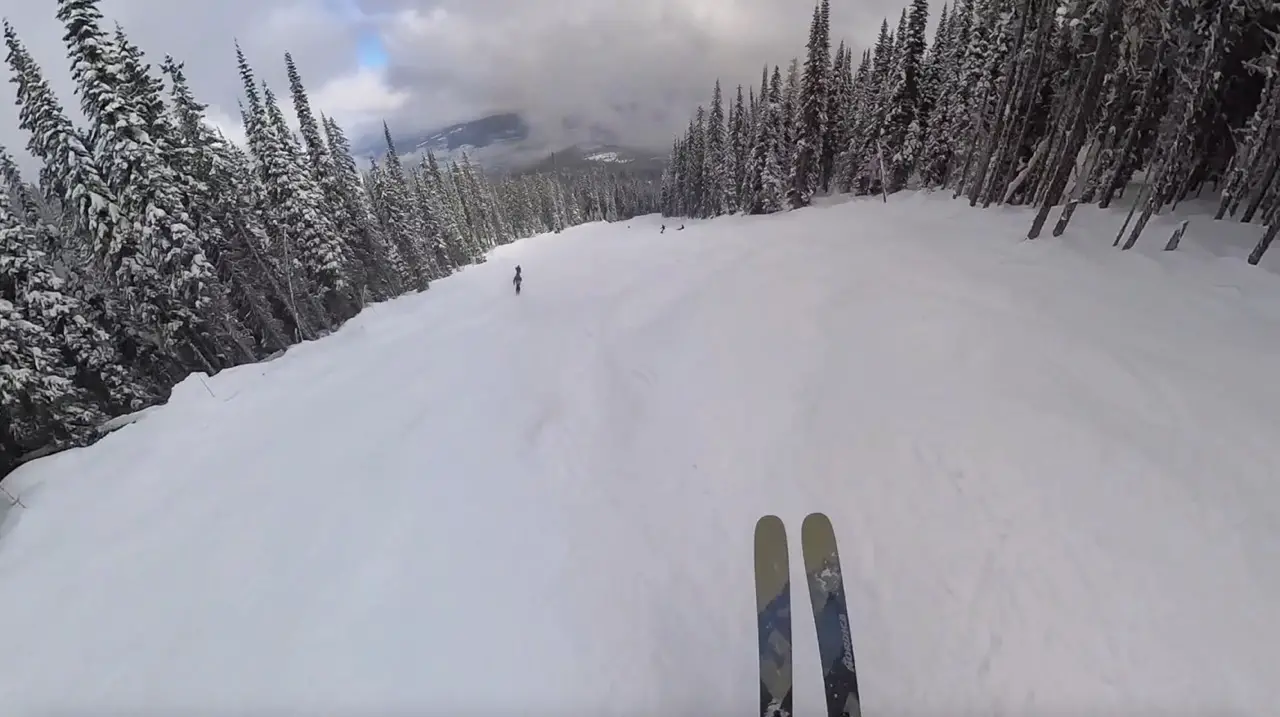 Advanced/Expert Terrain
Red has some the of the most exciting, differentiated and creative tree and pillow terrain I've ever had the pleasure of shredding down. The Motherlode chair is a tree and pow skiers dream. You can spend days, or seasons on the Motherlode chair and continue to find new stashes, hidden pillows and fun drops. This mountain is no rule follower, Granite and Grey allow you to ski off the top in any direction you please. You heard me right, 360 degrees of powder punching. There are green runs that run along the base edges of the mountain that bring you back to the bottom of the chair so you can explore at your leisure and not worry about getting lost.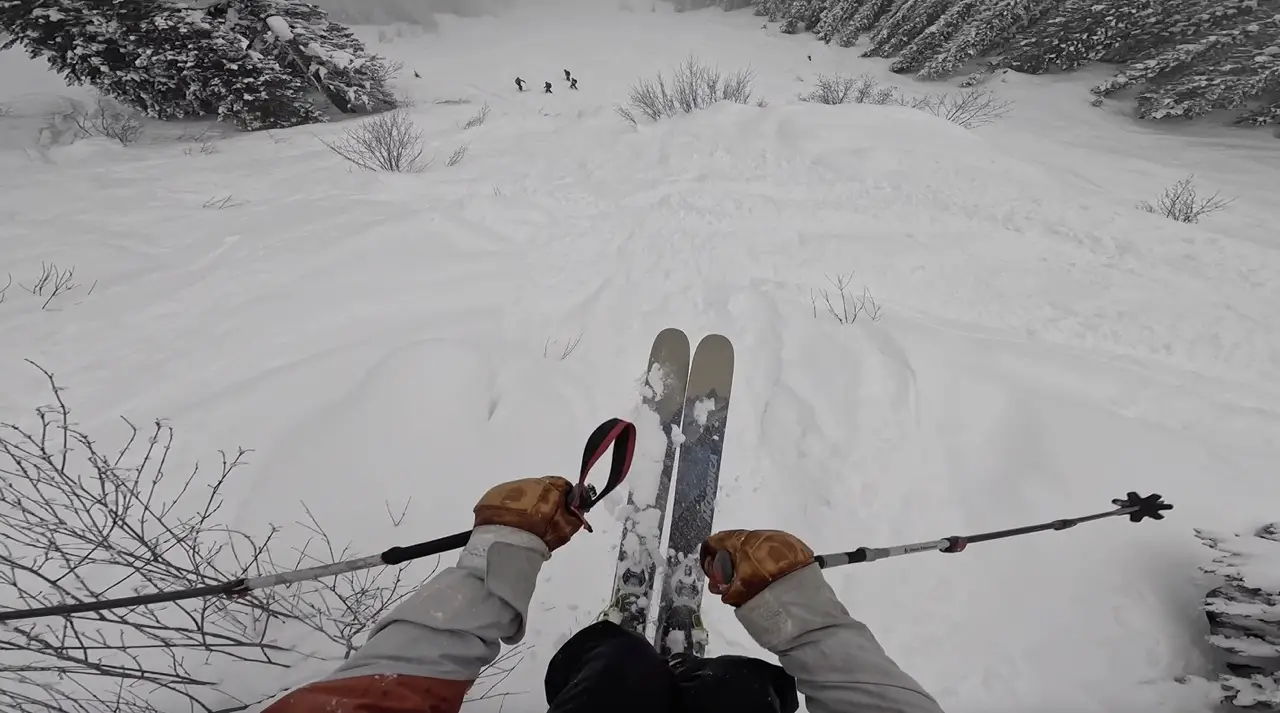 Extreme Terrain
Red has got some seriously butt clenching terrain. If you're looking to get puckered the best spots to scope out are the back side of Granite Mountain and the Chutes on Grey Mountain.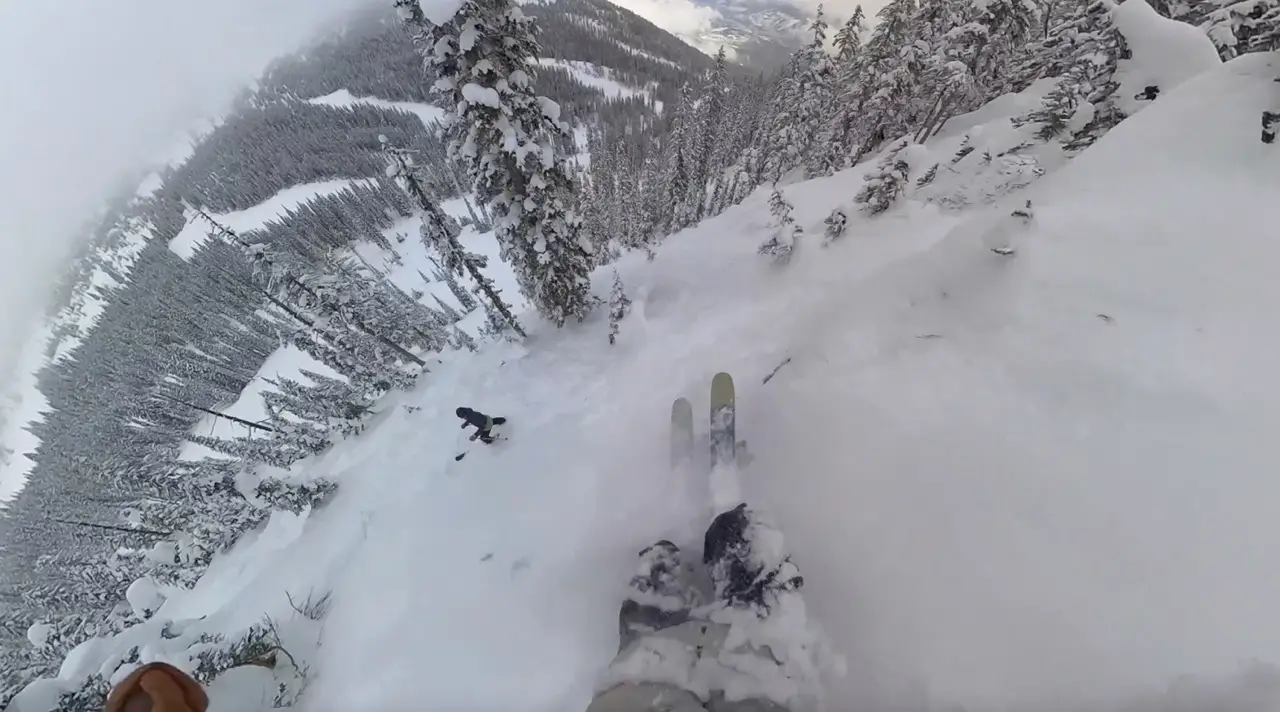 Tree Skiing
The glades are absolutely unbelievable here. The spacing is perfect, pillows are perfectly placed and you can get in a trance like rhythm turning all the way back down to the turnstiles.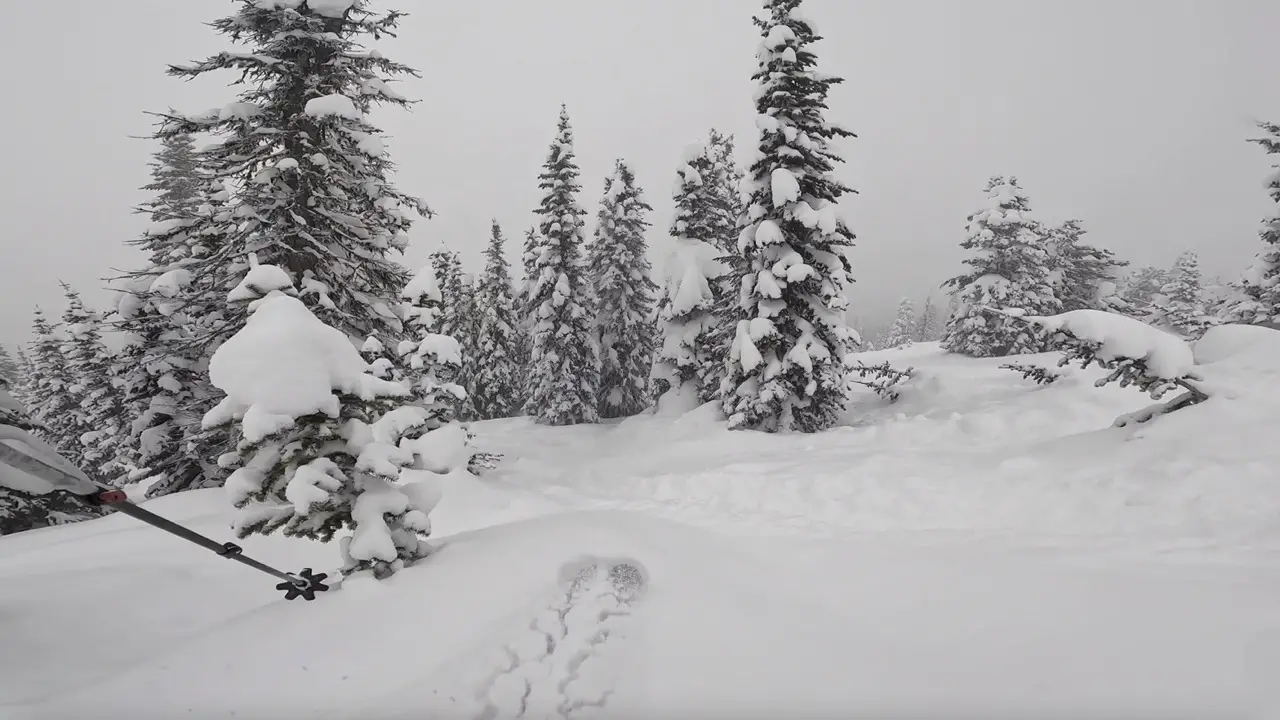 Bowls
Red doesn't have any massive alpine bowls, but does have some huge open zones on Grey and Granite where you can really let loose and clip together super fun laps.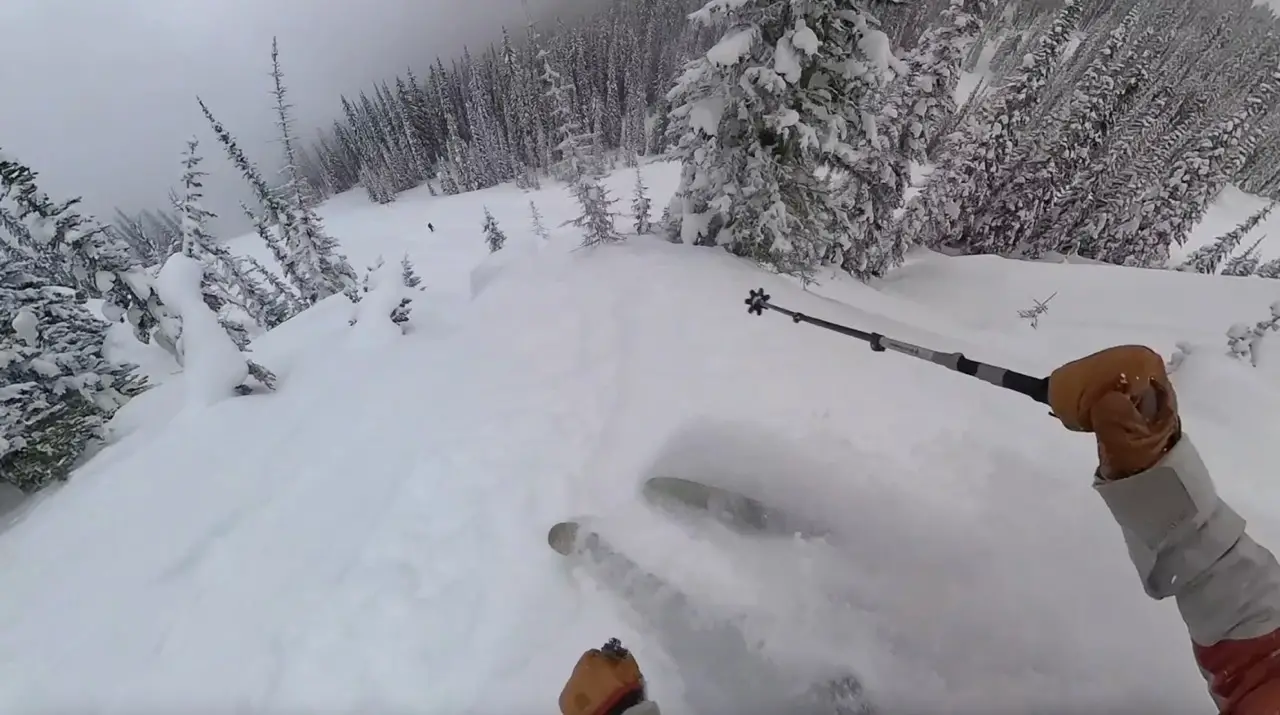 Terrain Parks
If it isn't a pow day, and you prefer riding park you can check out the RockStar terrain park on the Red Mountain side. It's accessed by the T-bar which is super sweet for making quick progression and lapping without lines. This mountain is also practically a natural terrain park, just follow a few locals on their hit laps and you'll have and blast.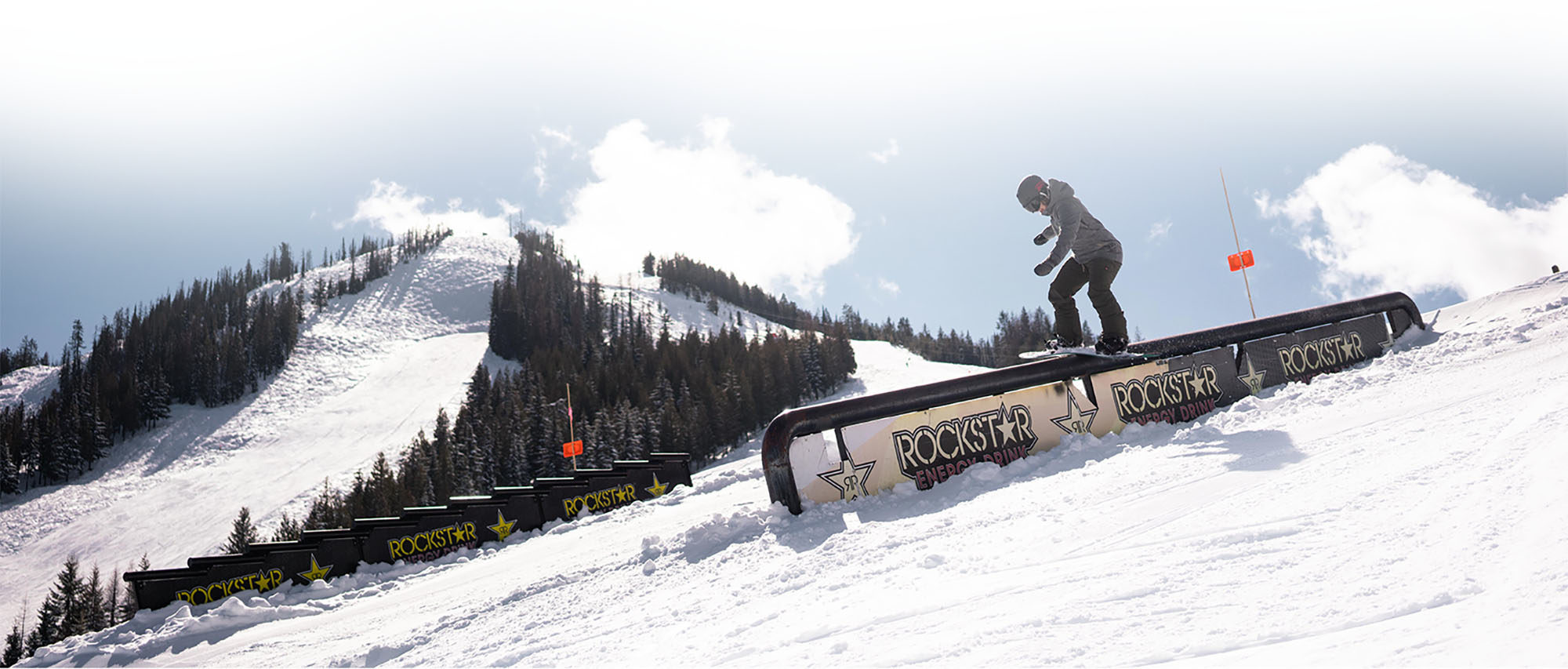 Lift Lines
Everyone who lives in this town shreds, so when you add in fresh snowfall and all the tourists from the new mountain passes, it actually can have some substantial lines. Not close to Whistler substantial, but you'll notice people there. Once riders get their pow fix, it mellows out pretty quick and skiers spread across the hill. Red often advertises their Acre/skier calculation because there are often more acres of terrain than skiers any given day on the mountain.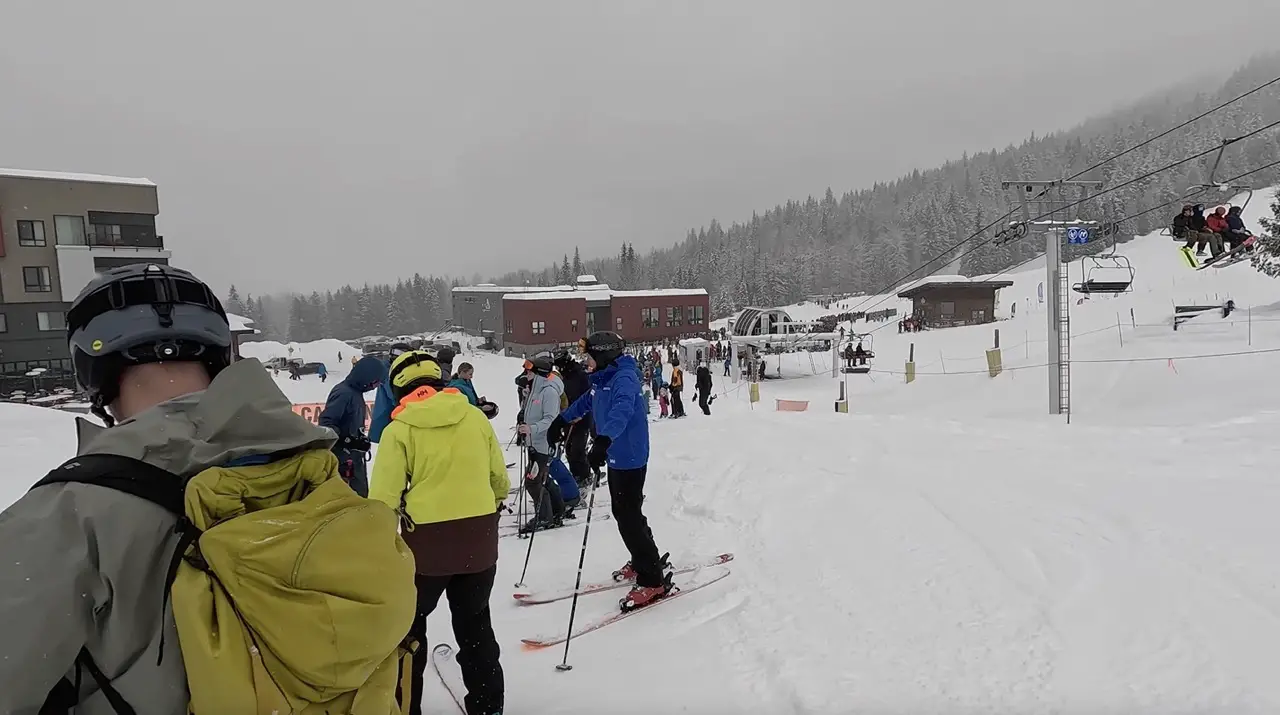 Snow Conditions & Climate
The Average temp in the winter is -4 and the snowfall is 760cm/year.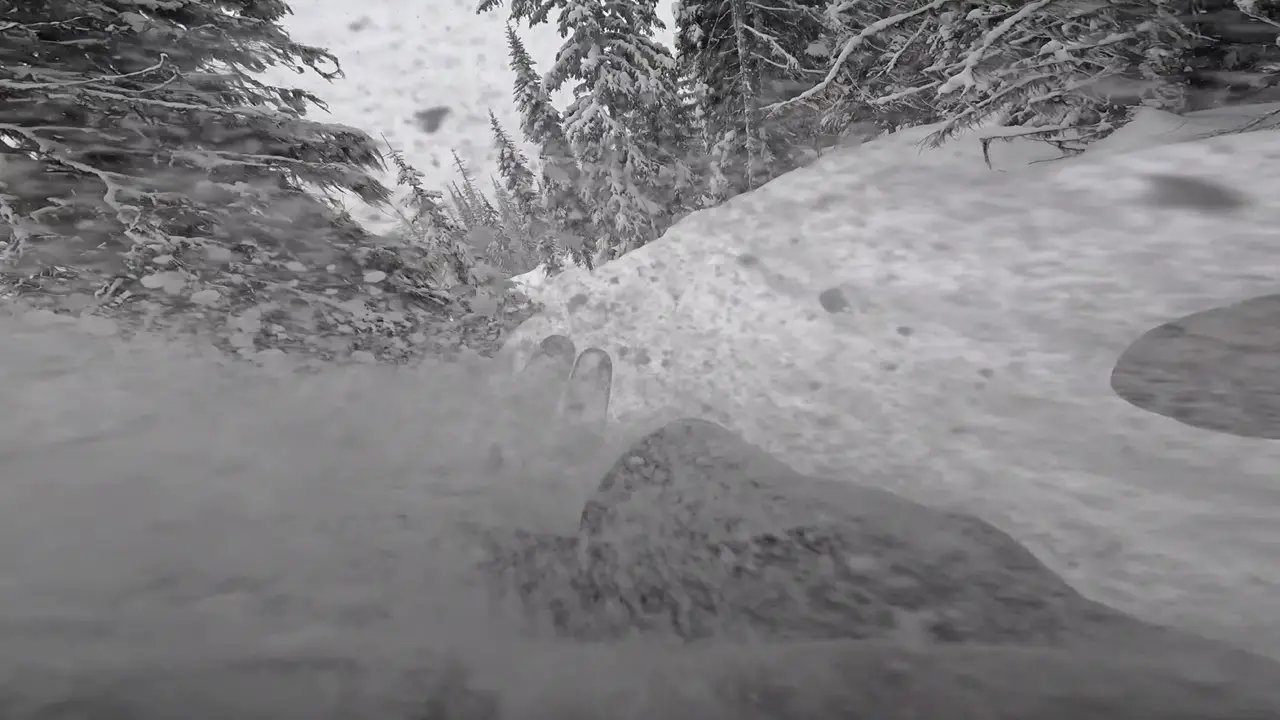 Backcountry Access
The SideCountry Access from Red is freakin' phenomenal. Mt Roberts is an absolutely amazing option to find some face shots and get away from the resort for an hour or two. There are loads of fun cliff drops and small chutes coming down its face and you can ride it straight down and back close to the base of the paradise chair. Mt Kirkup just off from the Grey Chair offers 10buck a ride cat skiing or ski touring access to its peak. You can ride Kirkup back down into the resort and keep on lapping or jet off somewhere towards the highway. If you've got skins and avi gear and a stoked touring buddy, don't forget to bring em' to Red.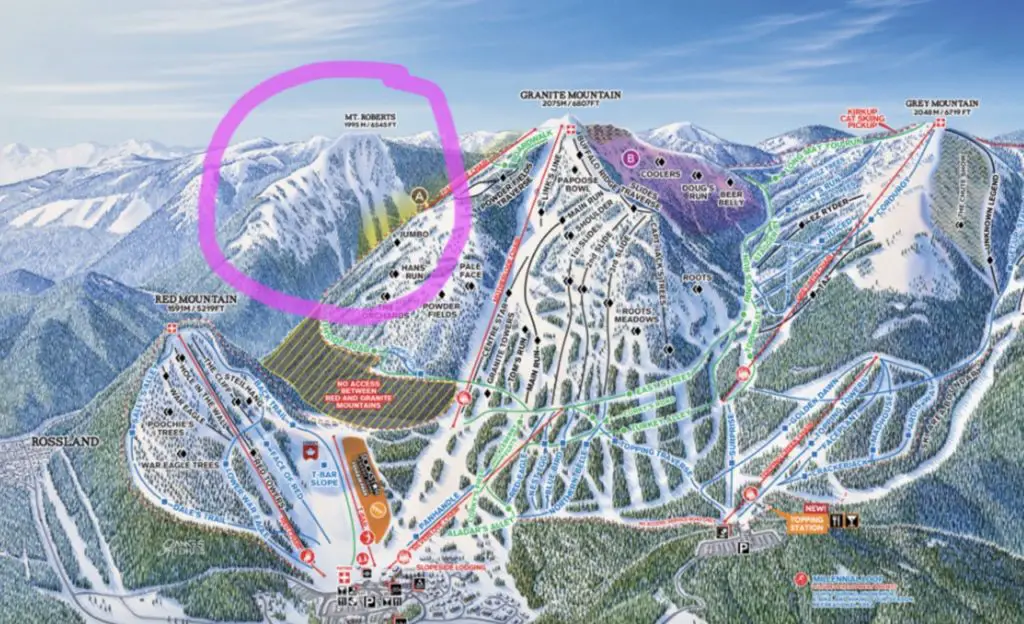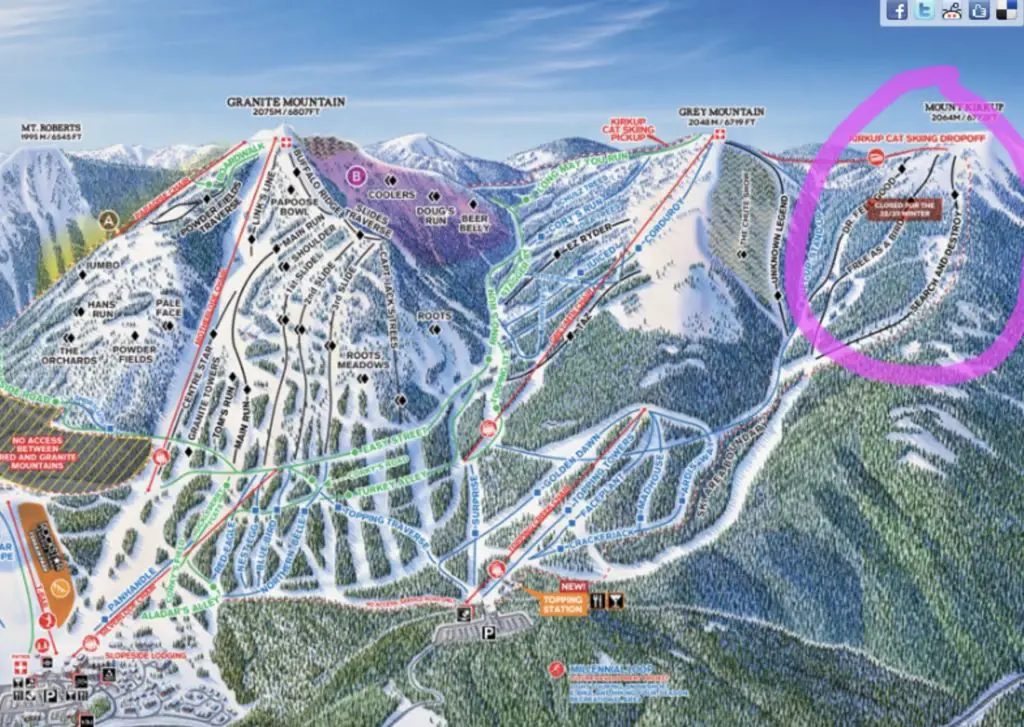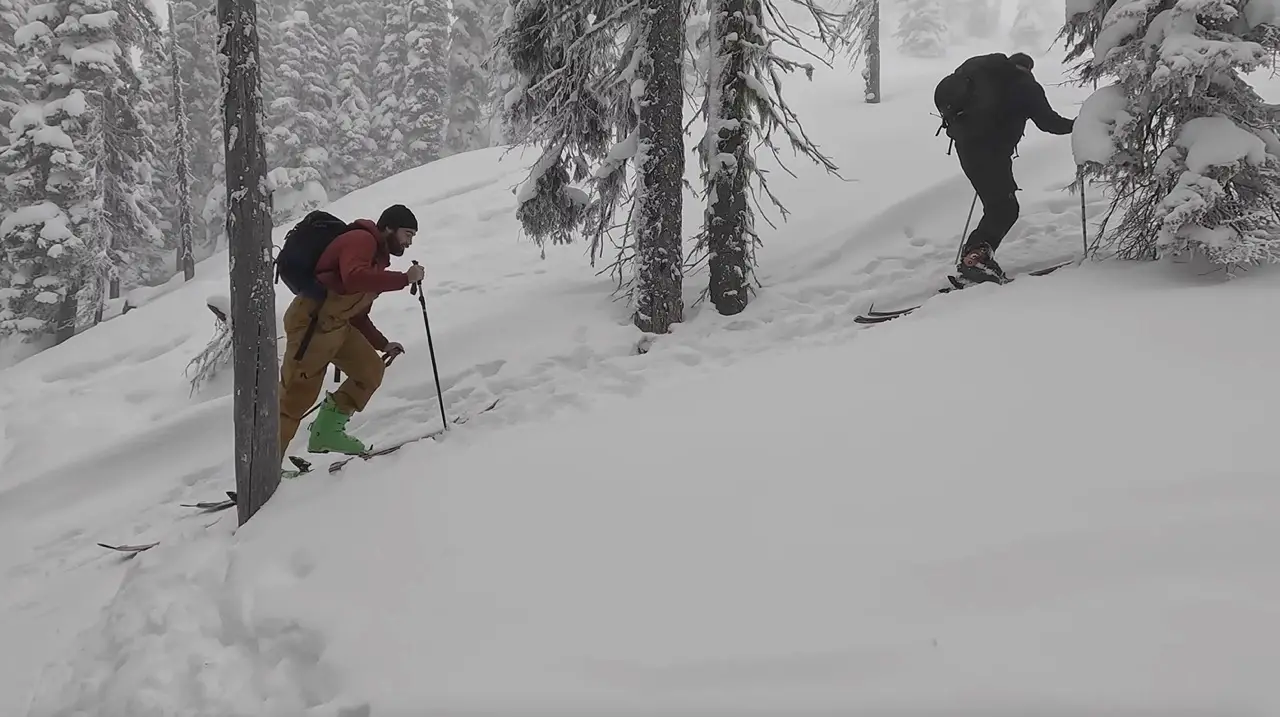 Family
Red Mountain is absolutely perfect for families. The Red, Paradise, Topping, and Grey chairs have such great variety in terrain and everyone can ski something different and meet at the bottom.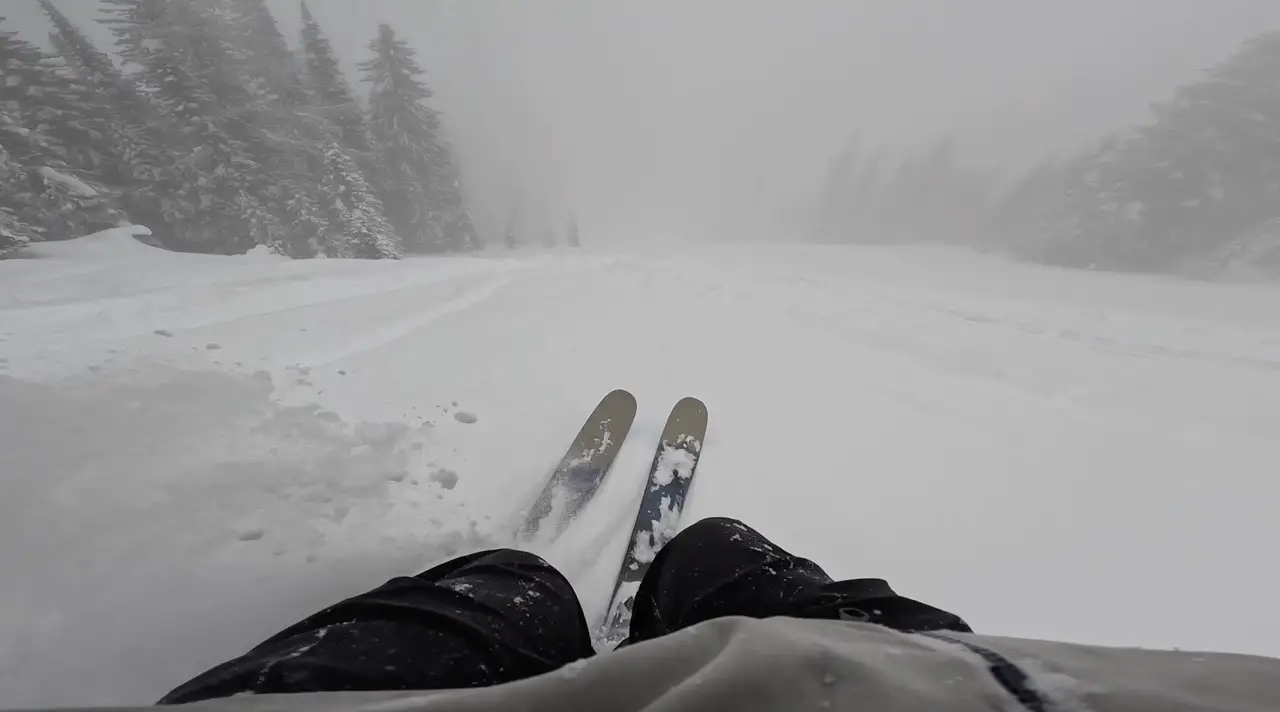 Views
The Mountains in Rossland remind me more of big rolling hills unlike the sharp and prominent peaks like the Selkirks, Garabildi or Rockies. It's still breathtaking if you score a blue sky day, but don't expect Alps views, it's all about the skiing here.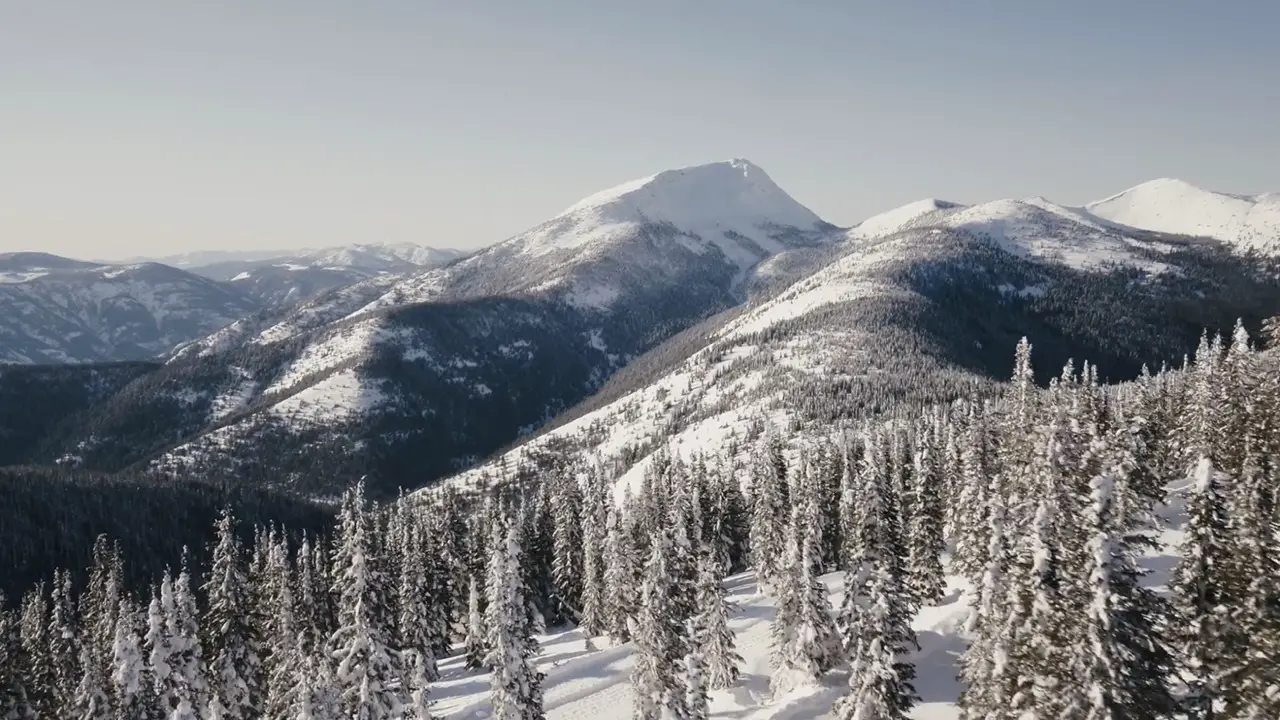 Food
I actually never ate in Red, just a coffee at Alpine grind in town in the AM. You'll have to refer to some other bloggers out there. 
Ticket Prices & Passes
Red is not on the Epic Pass and their day ticket price changes every year. The reloadable pass card is much more affordable than Whistler's Edge card system. 
Vibe
Red has got a vibe like no other, the heart of a true mountain lifestyle is still beating in this town. If I could drop everything and move to a ski town, this would be the one. It's not flashy and party first like Whistler, it's all about the skiing, riding and the community that built it. If you're going to make a powder pilgrimage this winter. Red needs to be on the wishlist. 
My Honest Opinion Of Red Mountain Resort
Red isn't another ski hill whose heart has been crushed by a corporate giant. It's heartbeat still pumps strong and you can feel the love for the sport and the community through every person you meet. You could never get bored on this mountain, the terrain is so creative, there's thousands of acres to explore and you'll always find powder even days after a storm. Red absolutely blew my expectations out of the water and I'd choose a trip here before heading back to most of the interior mountains minus Kicking Horse. It's not as gnarly as Kicking Horse, not as 'Wow' as Whistler, not as much vertical as Revelstoke and it's busier than Whitewater, but my god is the terrain fun. I still dream of the powder day I had at Red and hope to have a handful more in my lifetime. Thank you Red Mountain Resort for keeping it real!