The Best Ski Helmets of 2024 
Congratulations for being here. Seriously. It means you're smart and want to protect your noggin'. Skiing and Snowboarding is the best hobby in the world, but, it's inherently dangerous. You only get one brain and protecting that cerebellum is of the utmost importance when you're skiing and riding. 
Ski helmets are so much more than a piece of personal protective equipment. They provide warmth, ventilation, aerodynamics and style. Toques and headbands have left the building and wearing a ski helmet (brain bucket) has become cool this last decade.
With all the new ski helmet technology, styles and fits, it's hard to walk into a store, and figure out what's best for you. As always, I'm here to help a brother out and make the ski helmet buying experience as easy as it can be. I could go on and list 10-20 different helmets and walk you through the pros and cons, but that's a grand waste of time. I've got my opinions as to which ski helmets reign king and I'm going to offer them up here whether you like it or not.
Here is your buyers guide to the best ski helmets of 2024. 
Disclosure: I use affiliate links and may receive a small commission on purchases. This helps fund all the videos I create and the work that I do. Thank you for all the support :).  
Best Overall Ski Helmet 2024
| | |
| --- | --- |
| Price | $320 CAD  |
| Overall Ranking | 9.5/10  |
| Weight | 500g |
| Pros | Best ventilation, comfortable fit, durable, round fit option |
| Cons | Price |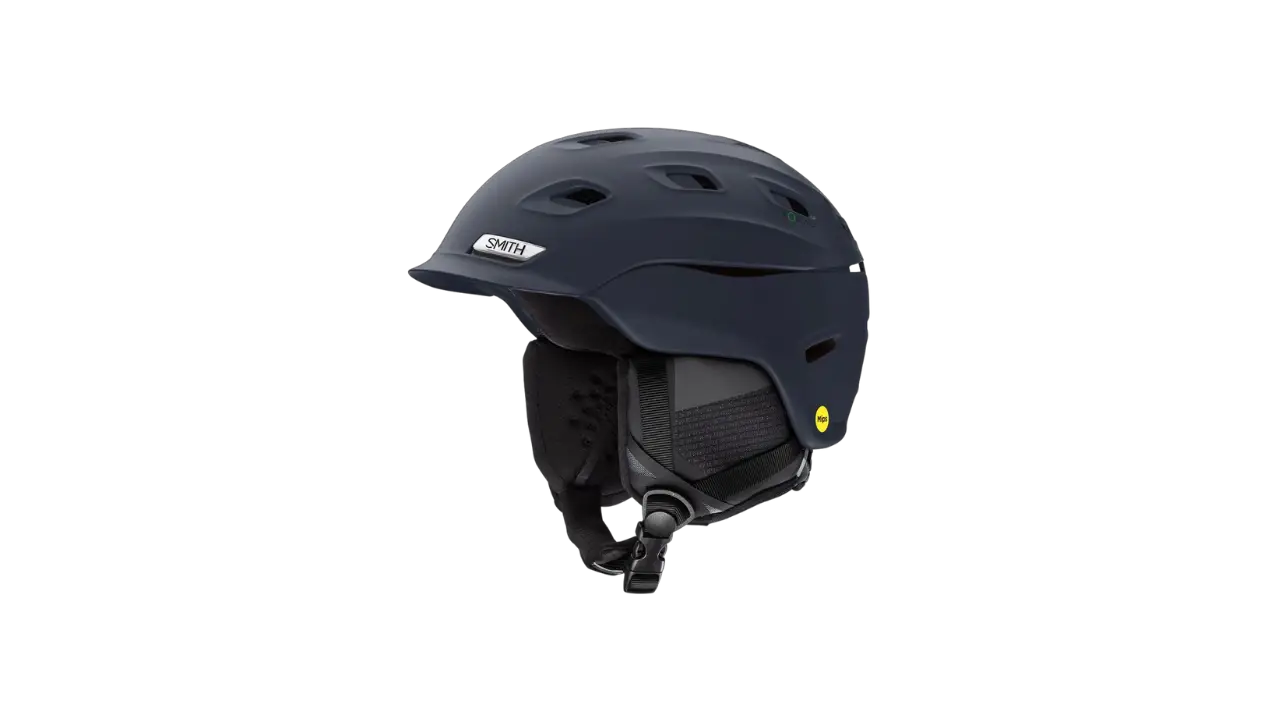 Surprise! Smith wins the show once again. I've run a Smith Vantage helmet for the past 5 seasons and absolutely love it. Most other professional gear reviewers will also have this beautiful brain bucket on the top of their ski helmet lists for 2024. It's the attention to detail, comfort, durability and additional safety considerations that really make this helmet stand out. I beat the living crap out of my helmets and this thing has stood the test of time, there's no questioning it's durability. The Vantage is equipped with MIPS and Zonal KOROYD which provides best in class energy-absorbing impact protection. But let's get real for a second, all these fancy technologies and words probably won't make your head any safer than the other guys, it's all a jumble of jargon from the marketing team.
So here's what stands out to me about the Smith Vantage MIPS. I simply love the fit and feel of the Vantage. I hate ear pads because I get to hot and feel claustrophobic. They can be easily removed from the helmet without affecting safety or fit. The BOA adjuster on the back cinches your head comfortably and you don't need the pressure of goggles to keep the helmet fit. Smith also offers a round/contour fit for different head shapes, this is huge, adding an extra level of comfort for those of us who's brains are built more circular. Airflow is absolutely phenomenal in this thing and there are 21 vents with dual adjustability. I'm always opening them up when things are getting spicy and closing them down when I'm waiting in chilly lift lines. Lastly, I love how they integrate with Smith goggles. The Smith goggle and helmet integration is a match made in heaven and I've never once suffered foggy vision (unless I completely yard sale and my goggles decide to eject from my eyes lol).
Best Ski Touring/Backcountry Skiing Helmet 2024

 
| | |
| --- | --- |
| Price | $260 CAD  |
| Overall Ranking | 7/10  |
| Weight | 400g |
| Pros | Triple rated for biking, mountaineering, skiing |
| Cons | Passive ventilation, lacks durability |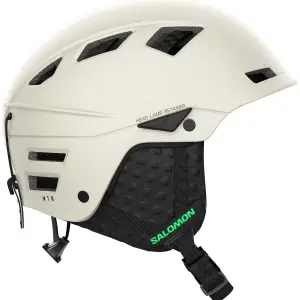 Our Review of the Salmon MTN Lab Ski Helmet
With the explosion of backcountry skiing in the last 5 years the big ski companies have been scrambling to meet the needs of the backcountry enthusiast. Smith recently released their Summit Mips triple rated helmet, but it needs a few strap and fit adjustments before it competes with the MTN Lab. Salomon has had more time to iterate this model and it's your best bet if you're looking for all the safety with less weight. It's "triple rated" meaning it meets all the safety requirements for alpine skiing, mountaineering and biking. The biggest difference between this helmet and let's say the Smith Vantage, is that it protects you from oblique and vertical shocks (aka rockfall), most ski resort helmets aren't rated for that. It also has some thoughtful gear attachments for a headlamp mount, a helmet bag, and walkie talkie compatibility. The ventilation is great, but it's passive and you can't control it which would make it a little less enjoyable for resort days. If you primarily play in the backcountry this is a great option to reach for, but I'd look for a resort specific helmet if you lean more towards resort like me. 
Best Freeride Ski Helmet 2024

 
| | |
| --- | --- |
| Price | $230 CAD  |
| Overall Ranking | 9/10  |
| Weight | 530g |
| Pros | Durability, safety, detachable earpads |
| Cons | Ski bunnies will swoon over you |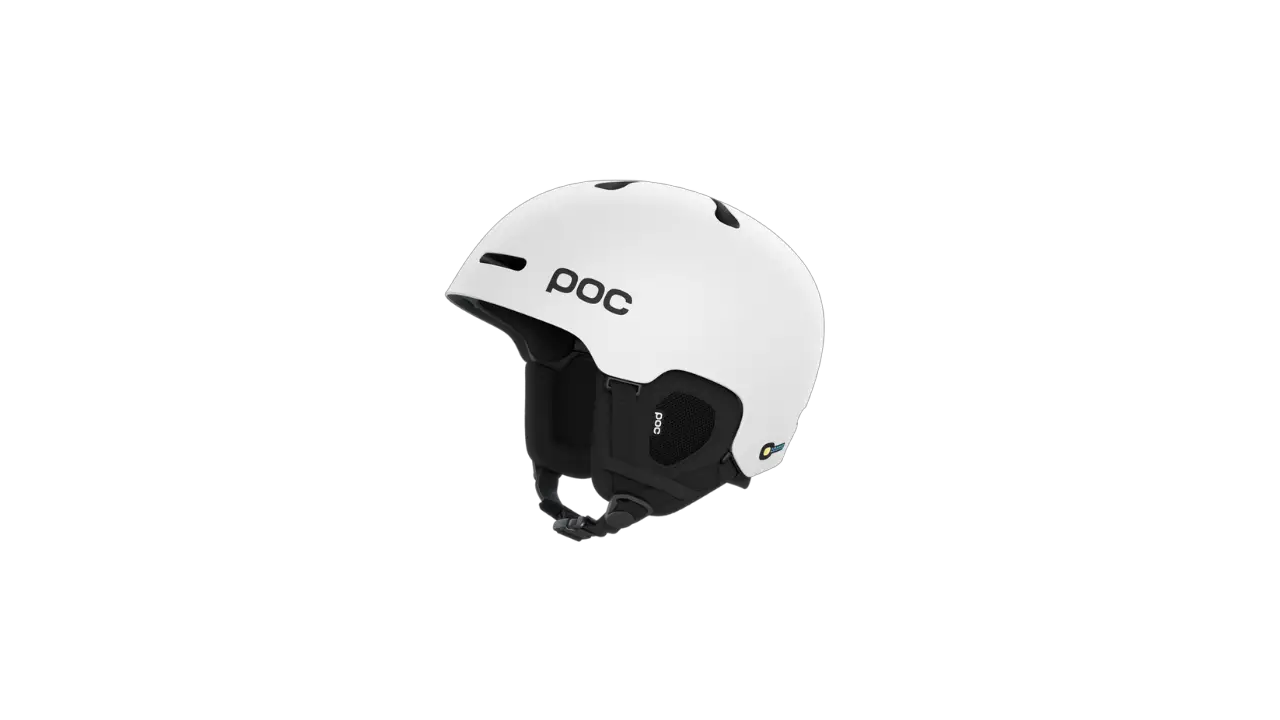 Our Review of the POC Fornix MIPS Ski Helmet
POC designs some of the best helmets in action sports. Take a look at some of the best ski racers, park riders, or freeriders at your local mountain and you'll probably see a few POC buckets. The Fornix has all the features needed for a shredding resort and more. It's equipped with MIPS, adjustable goggle vents, a fixed goggle clip on the back, an EPS Liner and a fixed adjustment system on the rear. As a resort skier, especially if you play in the park, durability is important. POC added an extended shell on the rim of the Fornix which greatly improves durability. They've also added a layer of Aramid, molded to the helmet liner that prevents penetration giving extra protection when ripping through trees. The ear pads are also super easy to remove and reattach for those warmer days or if you're a skier like me who hates ear pads all together. POC helmets integrate great with most goggles and I find they look especially nice with the ear pads removed and set of Smith Squad MAG Goggles.
Best Park Skiing Helmet 2024
| | |
| --- | --- |
| Price | $150 CAD  |
| Overall Ranking | 8/10  |
| Weight | 500g |
| Pros | Goggles under, hard shell, price, style |
| Cons | passive ventilation, minimalistic features |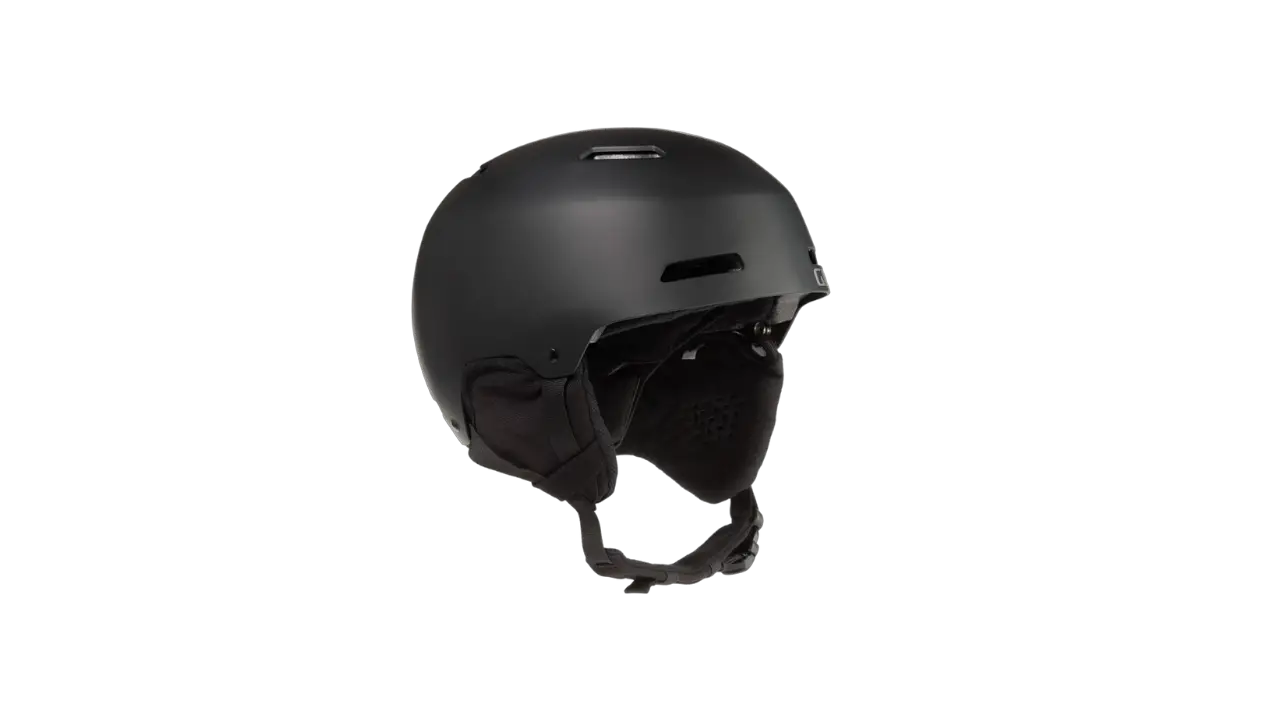 Our Review of the Giro Ledge Ski Helmet
The Giro Ledge is a super minimalist helmet that is often the go to choice of park enthusiasts. Minimalist helmets are a clean look, and look even better when you plaster them with your favourite stickers. The Giro Ledge features MIPS technology, and a hardshell which protects from multi directional impacts on jumps and rails. The ventilation is solid, there's a removable self-adjusting fit system, removable ear pads and a removable goggle clip on the back. The Giro Ledge is the ideal fit and style for those skiers and riders who want to wear their goggles under their helmet, and thanks to its reasonable price, you'll feel more inclined to replace it after a nasty smash.
Best Budget Ski Helmet 2024

 
| | |
| --- | --- |
| Price | $98 CAD  |
| Overall Ranking | 7/10  |
| Weight | 572g |
| Pros | price |
| Cons | weight, bulky design |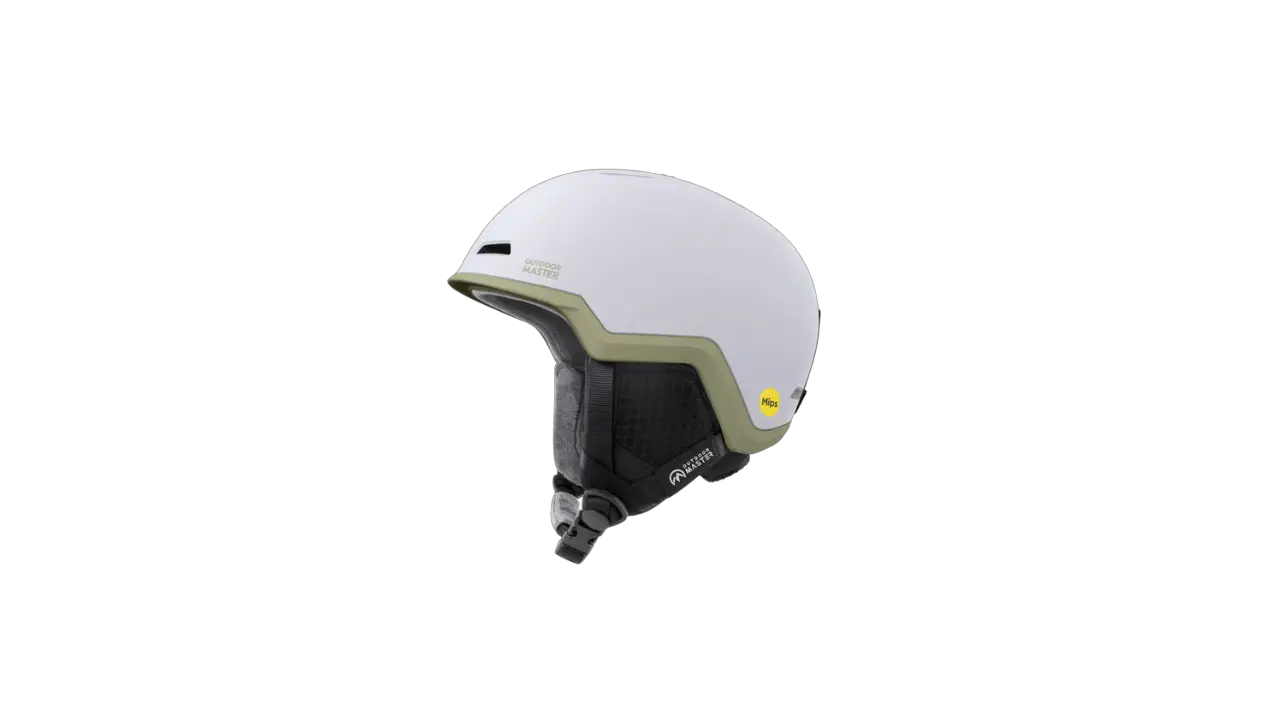 Outdoor Master is the official supplier of the US ski team and makes high quality helmets and goggles at the most reasonable prices on the market. The Diamond ski helmet features the MIPS safety system, solid ventilation, an adjustable size dial on the back and seamlessly integrates with their line of super affordable ski goggles. This helmet checks all of the boxes for me and you can even remove the earflaps for style points, and more comfort. Of course, there are a few downsides. I found the airflow to be a little weak in the helmet compared to the Smith Vantage. However, the lack of vents also means you have ample room to mount a go pro wherever your heart desires. If you're not looking to pay extra $$$ for a brand name give Outdoor Master a go. They also offer the Kelvin helmet for under $50 which is an incredible deal for someone who is just getting into skiing and riding  (Use code JAMES10 for a 10% discount on anything on the OM website)
Best All Mountain Ski Helmet 2024

 
| | |
| --- | --- |
| Price | $200 |
| Overall Ranking | 8.5/10 |
| Weight | 436g |
| Pros | comfortable, lightweight, durable |
| Cons | non removeable earpads |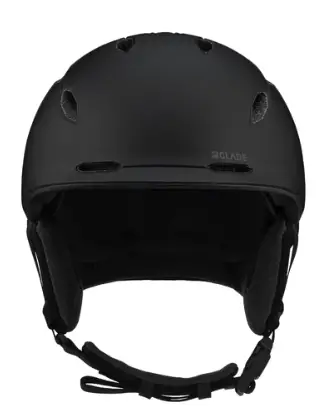 Our Review of the Glade Boundary MIPS Ski Helmet
Do you recognize the name Glade? If not, get to know them because these boys from Breck are making some serious turns over the ski world. Glade came absolutely out of no where and won the hearts of the ski community with their Adapt 2 photochromic goggles. They've now decided to take helmet design into their own hands and released the Boundary Helmet. This thing rocks and checks all the safety and comfort boxes. If you already own some glade goggles, pair it up with the Boundary and you'll have the perfect integration (and no gaper gap). It's lightweight in-mold construction strikes the perfect balance between weight and impact protection. The dual-ventilation system lets you fine-tune your comfort, and the anti-microbial, removable liner keeps things fresh. The one thing that really stood out to me with the Boundary Helmet was the magnetic chin strap, no more catching my beard hair in the chin clip, but that might just be a me problem. Either way it's worth taking a whirl by the Glade website, they've got lots of cool stuff going on.
Practical Tips & Everything Else You Should Know Before Buying Ski Helmets
Fit
Buying a helmet that fits your head is the first and most important step to helmet shopping. All manufacturers helmets fit a little bit different so try a few sizes and different models until you find one that is snug. Most higher end helmets have a micro adjustment knob on the back so you can make micro adjustments to you helmet fit. This is especially helpful when you put on or take off a gaiter or balaclava and the overall diameter of your head in the helmet changes.
Remember when you are trying on a helmet to wear everything you would skiing. I always wear a small earband and gaiter underneath my helmet. However, in the springtime, or when its warm on the mountain I wear nothing under my helmet. Ideally you want a snug fit with and without your beanie or gaiter on so you can wear your helmet safely in all conditions.
If you are buying a helmet online make sure to measure your head and check the manufacturers measurement charts. You can either use a soft tape measure, or wrap a piece of string or shoelace around you head and then measure it. This way you will be able to determine the size of your head and be able to choose the appropriate helmet size. You want the helmet to fit comfortably snug on your head and all the way down, protecting your forehead. Don't choose a helmet that is too tight because it's going to be uncomfortable and may cause a headache if you're stuffed into it for hours each day.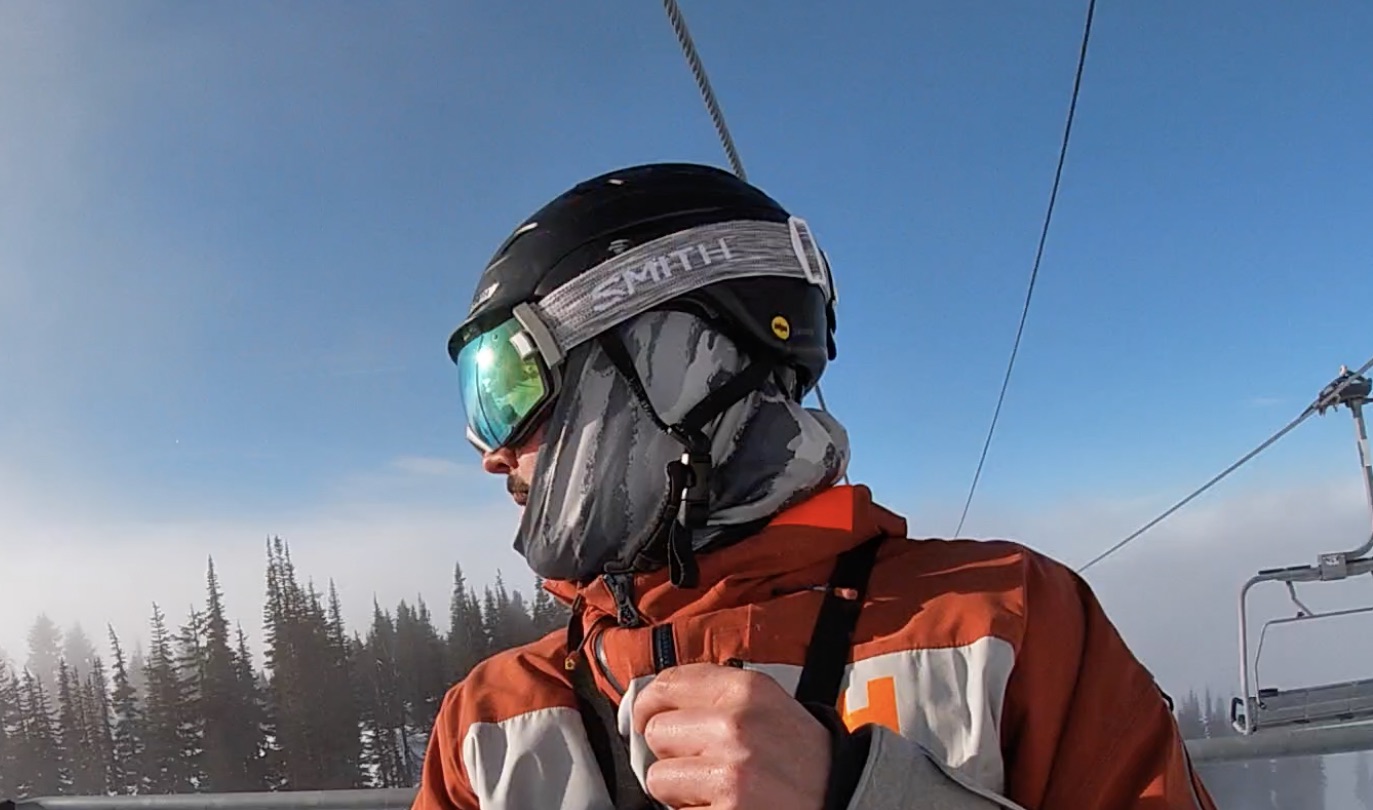 Features
MIPS
MIPS stand for Multi-directional Impact Protection System and is an additional safety element added to most high quality ski and snowboard helmets worldwide. The MIPS system is a low friction layer that sits between the foam and helmet liner which aims to prevent rotational impacts from passing onto your brain. Classic helmet foam and shells protect from linear (head on) impacts preventing skull fracture and bleeding. MIPS protects from rotational impacts which are known to cause TBI (traumatic brain injury) aka a concussion. It looks kind of like a plastic web between the liner and hard helmet foam. This plastic layer will slide 10-15mm in all directions during an impact and is built to reduce some of the rotational impact your brain may have otherwise experienced. MIPS helmets tend to be a tad more expensive, but in my opinion, why not go all in on safety!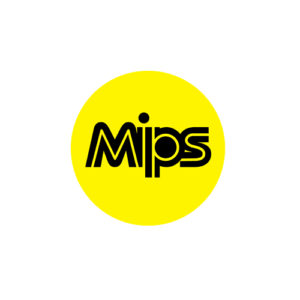 Vents
If you skiing hard you are going to get hot. Many helmets have vents on the top which are permanent or can be opened or closed. Vents are super important for regulating temperature which helps prevent goggles from fogging up.
Goggle Strap/Lock
Most helmets have some sort of goggle locking system on the rear of the helmet. If you are a skier or rider who likes to wear your goggles on top of your helmet then a goggle lock is crucial to ensuring your goggles don't fall right off your helmets during a wipeout or slide off your forehead when you have them resting off your eyes.
Integration
These days, each brand of helmet and helmet system is built to integrate optimally with their brand of goggles. I always recommend to buy new goggles when they buy a new helmet. Properly integrated goggles and helmets prevent the instance of foggy lenses, provide a better fit, and usually just look better in general. For the last 10 years I've worn Smith IOS goggles and a Smith Vantage helmet. I absolutely love the feel of the smith helmet and the outriggers of the goggles fit perfect. I've never had a single issue with goggle fog and I love the flexibility of opening and closing the vents on the top. If you are looking for the perfect set of goggles to complement a helmet check out my Guide to Buying the Right Goggles.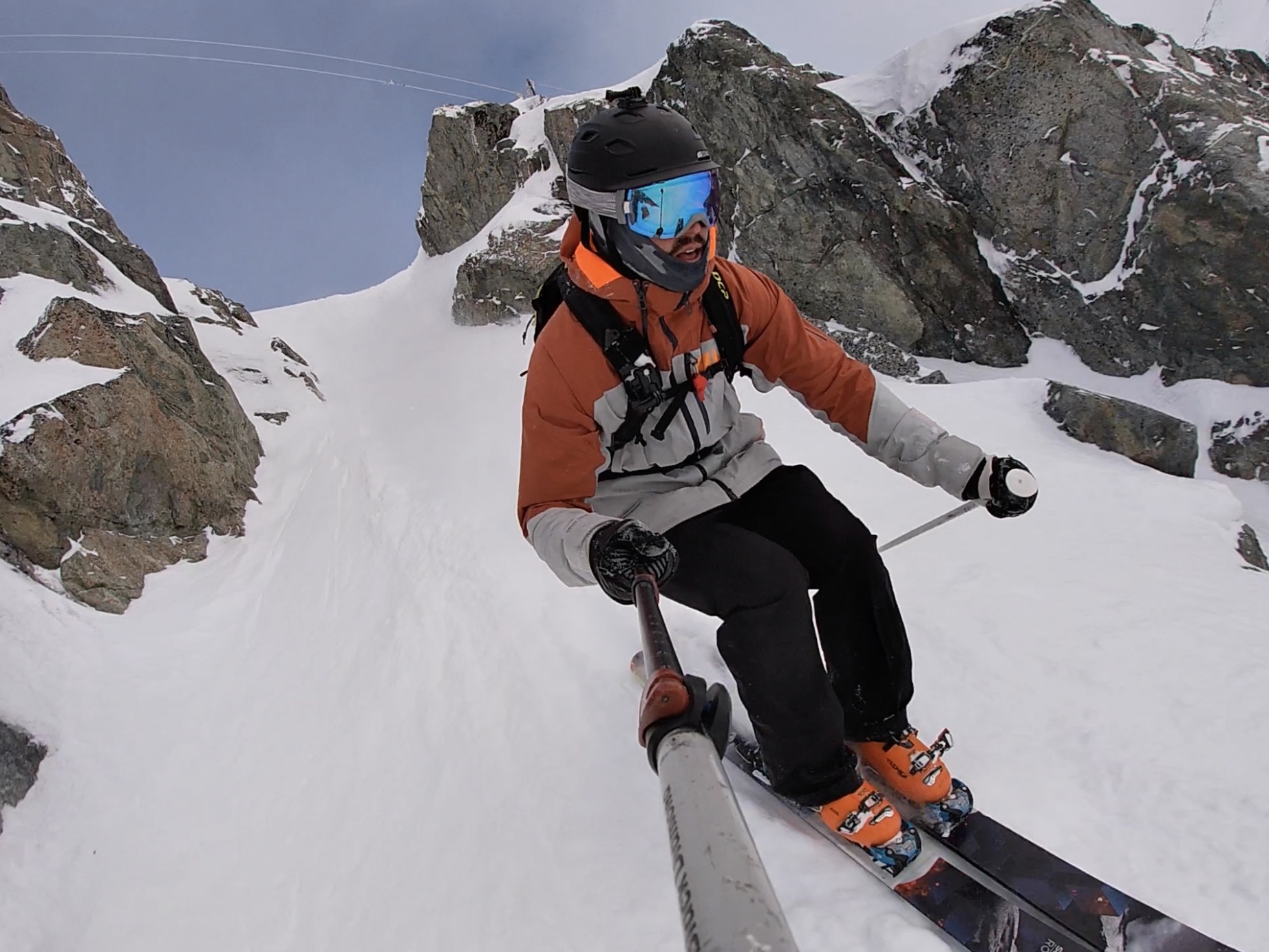 Style
Choose Your Helmet Style
The style of a ski helmet ranges from brand to brand and the one you choose is totally personal preference. The first step in deciding upon your style is picking out a helmet you like the look of.
Rounded/Classic Skate Helmet
If you like the more rounded skate board helmet look check out the Giro Ledge, or the POC Fornix.
Modern Aerodynamic Vented Look
If you want the more modern ski helmet look with sharp lines and vents check out the Smith Vantage or the Salomon MTN Lab.
Brimmed Helmet
Or maybe you like the look of a helmet with a long hat like bring, then take a look at the Sandbox Classic 2.0 Snow Helmet.
Goggles Over or Under Your Helmet?
This is a classic debate among skiers and snowboarders. Some people prefer the look and feel of wearing goggles underneath their helmet with a beanie, and others despise having their goggles anywhere but on their helmet. Over the years there has been some serious on-mountain debates and animosity between parties who wear their goggles over and those who wear them under their helmet.
Personally, I think wearing goggles under your helmet looks more stylish and allows skiers and riders to display sweet stickers on their helmet. However, I've never been able to get comfortable with having my goggles inside my helmet. I've tried many times but I simply like the feel of the goggles resting high and around my helmet.
Wearing your goggles under your helmet doesn't pose a safety concern as long as you don't have big plastic strap adjusters on the back. If you are planning on repping your goggles under your helmet make sure that you have a set with plastic strap adjusters on the side. Other than a thin beanie, balaclava, or gaiter, you don't want anything between your head and your ski helmet.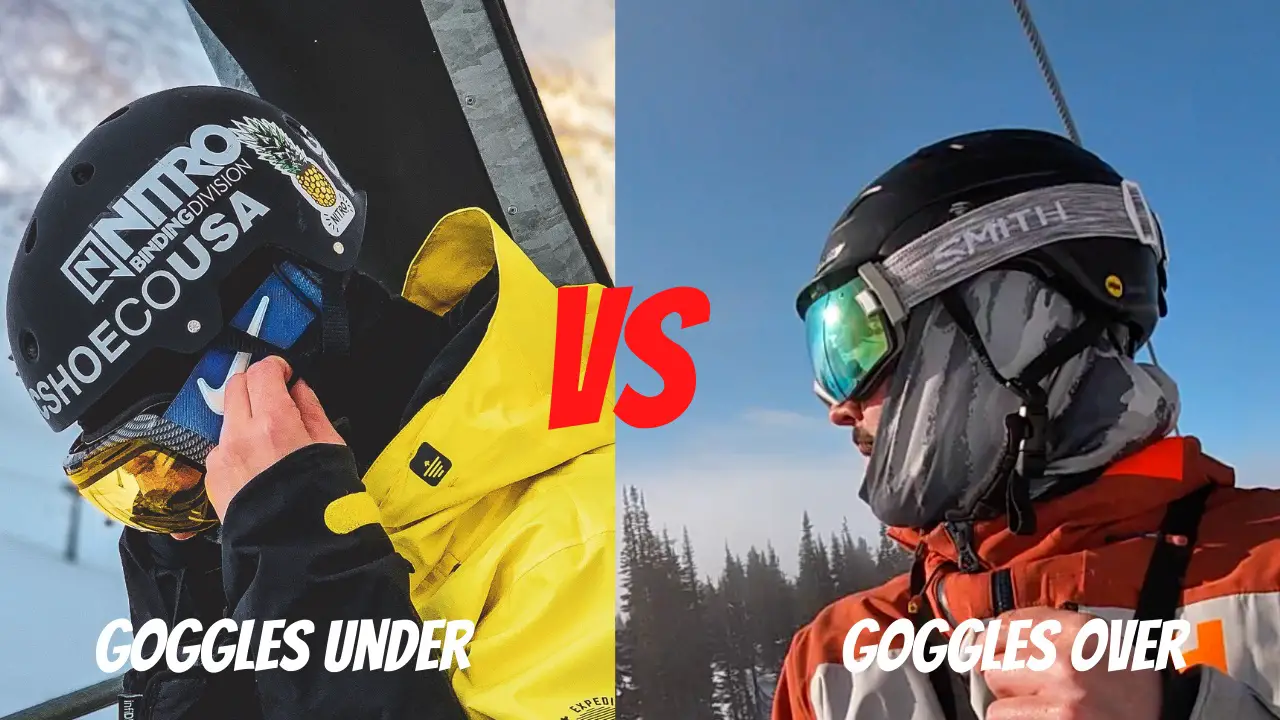 Who knew helmets were so complicated! Now you are equipped with all the know how to purchase the perfect ski helmet.
Please remember to always replace your helmet every 5 years, if you have a significant fall, or if you notice any cracks, damage or think it may be compromised in any way.
Have Fun Picking a new ski helmet this season!
Stay Spicy!