Ski Goggles 2024 Buyers Guide 
The moment has finally come to hang up your trusty, or not so trusty ski goggles. Maybe you kissed a tree branch, lost them at the apres or stomped them to pieces frustrated with fogging. We've all ended up here for different reasons, but there's one thing we can agree on, buying goggles is gosh dang confusing.
The right ski goggle can quite honestly make or break a blower powder day, it can save you from ejecting over a snowdrift you didn't see in flat light and can protect your eyes from burning up and shrivelling like prunes.
With all the new lens technology, styles and fits, it's hard to walk into a store, and figure out what's best for you. As always, I'm here to help a brother out and make the ski goggle buying experience as easy as it can be. I could go on and list 10-20 different goggles and walk you through the pros and cons, but that's a waste of time, who wants to read that much anyways. I've got my opinions as to which ones reign king and I'm going to offer them up here whether you like it or not.
Here are the best ski goggles of 2024. 
Disclosure: I use affiliate links and may receive a small commission on purchases. This helps fund all the videos I create and the work that I do. Thank you for all the support :).  
Best Overall Ski Goggle 2024
| | |
| --- | --- |
| Price | $320 CAD |
| Overall Ranking | 9.5/10 |
| Lens Shape | Spherical |
| # of Lens Included | 2 or 1 (photochromic) |
| Pros | Best field of view, anti fog tech and comfort  |
| Cons | Slight distortion at the bottom of the lens  |
My honest opinion on the Smith 4D Mag ski goggle
I absolutely swear by my Smith I/O goggles. I know they are some of the most expensive goggles on the market, and might be overpriced, but they've never once let me down. I've had a pair of Smith I/O series goggles for the last 4 years with two interchangeable lenses and I couldn't speak more highly of them. I've scratched them up a bit overtime but have had zero fog issues, amazing visibility, and complete comfort. When I slide these goggles over my eyes I get that feeling of 'it's game time', they just get me absolutely stoked. 
Smith continues to change the game and this year upped the ante with the 4D MAG goggles. The MAG if you're wondering stands for a super easy magnetic lens change system. The leap in quality from my trusty ole' IOS is nothing short of remarkable and it's the crispiest optics and most expansive view I've ever experienced. The plush foam is just as fabulous as my old ones and offers a super comfy fit. There was a bit of distortion  looking right down at at where the goggle connects to the frame but I didn't find this was affecting my skiing experience.
What's even better is the goggles come with two lenses, giving me the flexibility to adapt to the changing light conditions effortlessly. You can also opt for just one photochromic lens and never worry about changing lenses again, pretty damn nice if you ask me. One last thing, and I promise I'll stop talking about these wonderful goggles. When Smith goggles are paired with a Smith helmet, it's pure magic. Helmet and goggle integrations within the same brand are the secret to having zero fog. If you're willing to shell out a few extra pesos for quality, don't look at anything else. 
Best All Round Ski Goggles 2024
| | |
| --- | --- |
| Price | $200 CAD |
| Overall Ranking | 8/10 |
| Lens Shape | Spherical |
| # of Lens Included | 1 photochromic  |
| Pros | Photochromic lens, mid range price  |
| Cons | Great at everything but master of none  |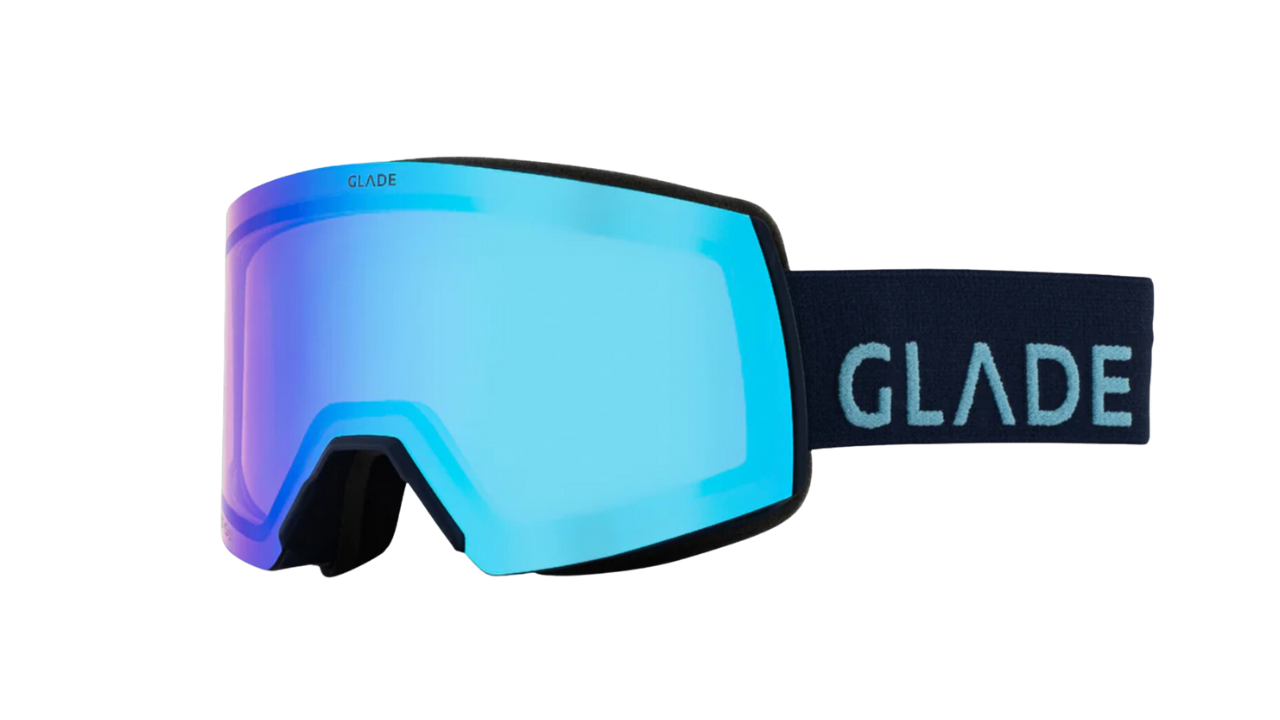 Glade is a relatively new name in the ski industry but they came out with guns blaring with the release of one of the most reasonably priced and best performing goggles on the market, the Adapt 2. This goggle is a 'quiver killer' and and eyeball saver. Slowly but surely it is becoming my daily driver and might very well win my heart this season, sorry Smith. It's made thousands of lives simpler and has raked in awards thanks to their REVEAL photochromic lens technology. Three things make them special, quality craftsmanship, reasonable pricing and photochromic lenses. Photochromic is a fancy word for saying that the lenses automatically adjust tint for the light conditions. This has solved the problem of carrying around multiple goggle lenses and making lens changes in sub-optimal conditions. Nothing is worse than forgetting your low light lenses on a day when a storm rolls in. However, after testing them I still feel like you get the greatest degree of variation by changing your lenses all together. Glade has listened to the people and released the  Fathom+ goggle which includes an additional extreme low light lens as well as the original photochromic lens. This helps on those odd days where the photochromic lens just doesn't let enough light in. I recommended this goggle to my older sister who hated changing lenses and she absolutely fell in love with them last season. I've worn them a few days and also absolutely love them, If you're a fan of simple and practical quality grab some Glade Adapt 2's and see the magic for yourself.
Most Stylish Ski Goggle 2024
| | |
| --- | --- |
| Price | $280 CAD |
| Overall Ranking | 8/10 |
| Lens Shape | Cylindrical |
| # of Lens Included | 2 or (1 photochromic) |
| Pros | Style & Performance, Impact Resistance  |
| Cons | Reduced field of view  |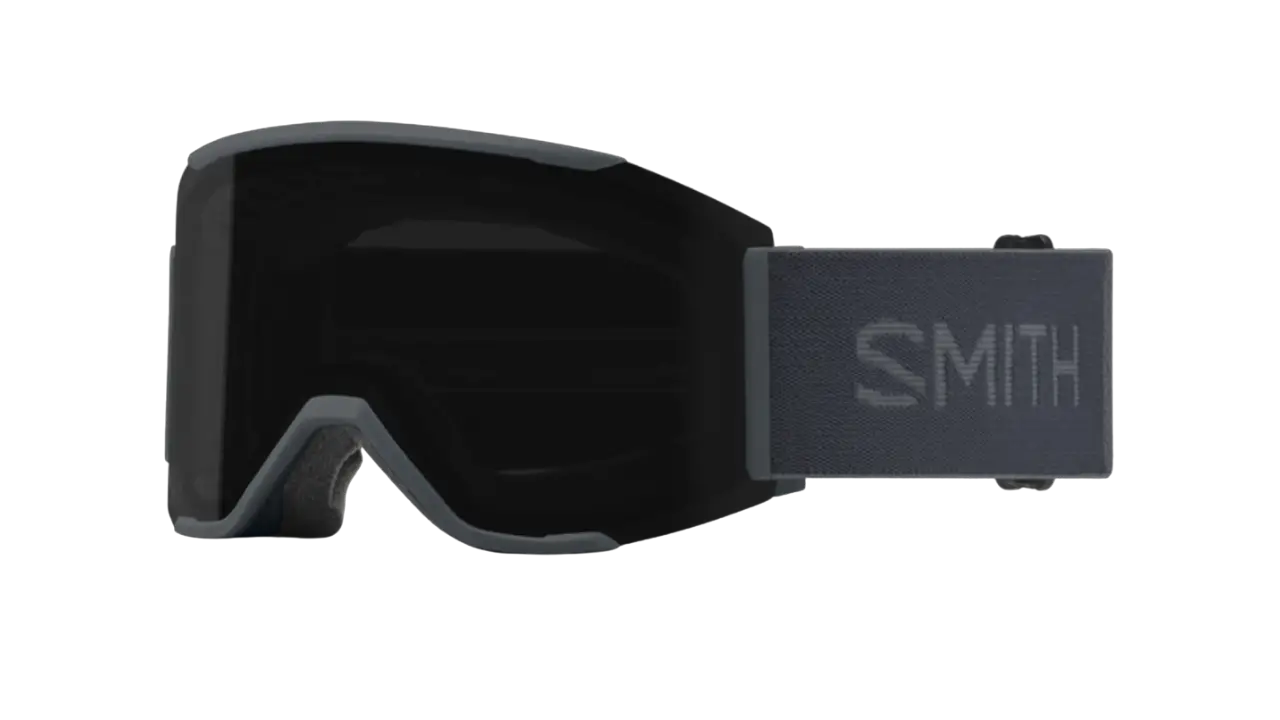 The Squad MAG in my opinion is the sexiest goggle on the ski market to date. Because it has a frame, you won't have the same field of vision as its brother the 4D, but it's still near incredible and pretty damn close. The vast majority of the specs are similar to the 4D but I find the Squad MAG fits a larger face better. It also has a cylindrical Carbonic-x lens which is impact resistant and a great recommendation for those tough on their goggles. The Squad MAG are equipped with the anti fog inner lens, magnetic change system and 2 lenses for all kinds of light. If you want to be part of the squad, pull trigger, you can't go wrong.
Best Interchangeable Ski Goggle Lens System
| | |
| --- | --- |
| Price | $390 CAD |
| Overall Ranking | 9/10 |
| Lens Shape | Toric |
| # of Lens Included | 2 |
| Pros | Quality lens, easy lens change, large face fit  |
| Cons | Price |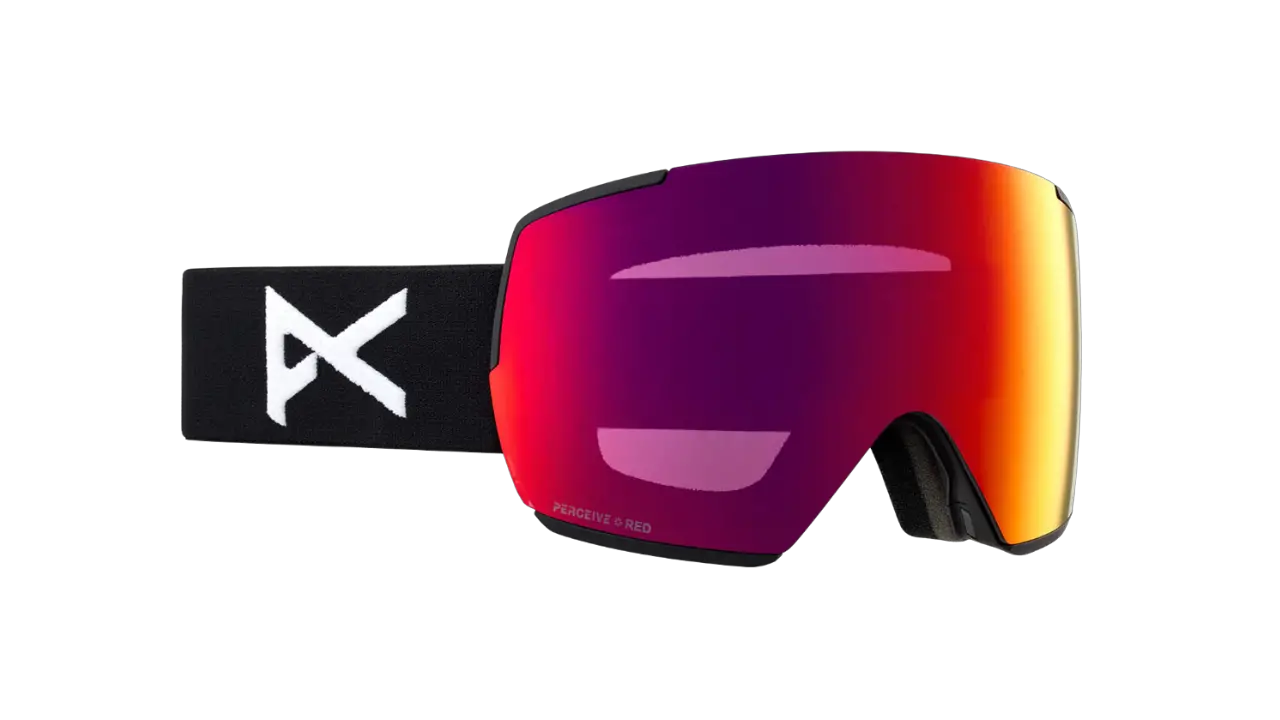 The Anon M5 goggles are not cheap and quite shockingly are priced higher than Smith's. They've got a toric lens delivering an expansive field of view and boosted peripheral vision all packed into a sleek, modern design. You're in for a visual treat in more ways than one. There's a few key things I think make the Anon M5 stand out from the crowd. The first is their ingenious Magna-Tech quick lens-change technology. Smith may have been the first mover in this category, but Anon has really perfected it. If you're the kind of person who loves switching lenses for a perfect visual experience all the time, the Anon M5 is the goggle for you. Anon also makes a magnetic face mask which attaches seamlessly to your goggles and doesn't fog which is pretty slick for all you ski burglars out there. The frame is also larger and is more comfortable on people with bigger faces than the Smith 4D MAG. It's a close runner up to the Smith 4D and the only reasons I rated it lower is its price. But, if you want that Smith 4D quality visual experience and have a bigger face, reach for this one and thank me later.
Best Affordable Ski Goggles 2024
| | |
| --- | --- |
| Price | $90 CAD  |
| Overall Ranking | 7/10  |
| Lens Shape | Toric |
| # of Lens Included | 2 |
| Pros | Under $100, OTG compatible, 2 year warranty  |
| Cons | a bit bulky |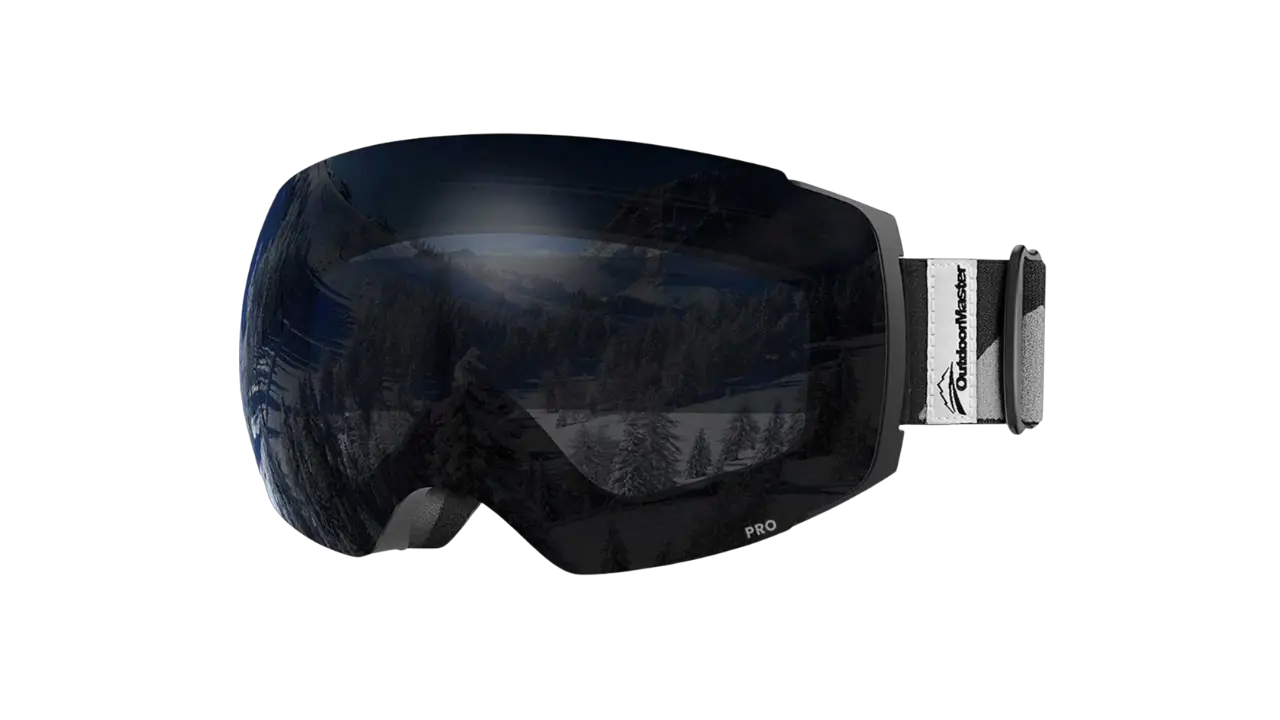 Although their website looks gimmicky, Outdoor Master goggles are a heavy hitter and almost contend with the big boys. You won't find a better priced, high quality ski goggle on the market. They are even the choice of the US ski team. For under $100 you can get all the features of marketing leading goggles for a fraction of the price. The Pro's have a Toric lens shape, triple layer foam, color optimization technology, anti-fog coating and an interchangeable magnetic lens system. Outdoor Master goggles rock and are ideal for anyone who's on a budget but doesn't want to sacrifice quality. I find they look a little bit bulky if you have a smaller helmet but it isn't a fashion show out there, function is king. If you're interested in purchasing anything from the Outdoor Master website use code JAMES10 for 10% off your purchase!
Practical Tips & Everything Else You Need to Know Before Buying Ski Goggles
Buy Quality
Skiing isn't cheap. With all the money and time you've invested in travel and lift passes to ride your favourite hill, the last thing you want is a goggle malfunction. Foggy, scratched, or improper goggles will greatly impede your riding and put an end to the fun very quickly. The most important action you can take to ensure you have an awesome ski day, every day, is to invest in a in a decent set of goggles. Quality goggles have a number of features that greatly reduce the chance of fogging. Firstly, the lenses are dual paned and have an anti-fog coating. The space between lens panes allows for airflow and the anti-fog coating will suck up any moisture that builds up throughout the day inside the lens. Good quality goggles will have vents on the top or thin foam that allows for airflow between the goggle and the helmet. It's important that you find a goggle that fits your face and rests properly on the bridge of your nose. I would also recommend, if possible, to buy the same brand helmet and goggles. Most companies make the integration between their goggles and helmets seamless allowing for optimal ventilation. Some quality goggle/helmet brands I'd personally recommend are SMITH, Glade & Outdoor Master 
Choose The Right Lenses
Choosing the right lens shape for your ski goggles is extremely important because it will affect your field of view. The field of view is the range of unobstructed vision you will have when the goggles are on your face. In my opinion, the larger field of view the better. I've got a big head and always like to run with the largest set of goggles possible so I can have optimal peripheral vision at all times.
Lens Shapes
All lenses have a different shape which improves or impedes your optics, field of view. It is important that you decide on a lens that matches the style you like and the field of view that you prefer.
Cylindrical
Cylindrical goggles are flat vertically but curved horizontally across your face. Cylindrical goggles do not match the shape of your eye and are not 3 dimensional so the optical clarity is worse than Toric or Spherical lenses. However, Cylindrical lenses can be made really wide creating awesome peripheral vision and the largest field of view of the goggle types. In terms of style, I think Cylindrical looks the coolest (especially if you wear your goggles under your helmet).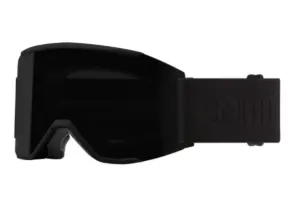 Spherical
Spherical lenses came on the scene in an effort to improve on the Cylindrical lens. They are curved horizontally and vertically to create a bubble looked (Think Bollè). The shape of the lens better matches the shape of the eye allowing light to come through the lens the same way it comes through the eye. The Spherical shape has the best optics of the three shapes and a reasonable field of view. Spherical lenses cannot be made as large as cylindrical lenses without looking ridiculous, so their peripheral isn't quite as good as a pair of Cylindrical goggles.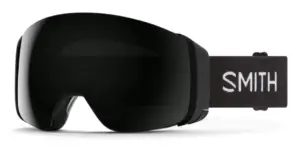 Toric Lense
Toric is a mix of the Cylindrical and Spherical lens. It has a tighter curve mirroring the shape of your face. The design allows for a great balance between optics and field of view. Toric lenses are my personal favourite!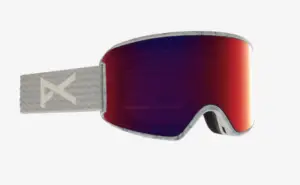 Pick At Least 2 Lens Options
Having 2 lenses is an absolute necessity. Most high quality goggle manufacturers will allow you to choose two lenses when purchasing a goggle frame. Regardless of where or how you ride I would always recommend a 'low light' lens for cloudy or stormy conditions and something mirrored/tinted for those sunny days!
Lens tint
Google lens tint is expressed in a stat called VLT (Visible Light Transmission. VLT is written as the percentage of light which the lens allows to pass through to the eye. A blindfold would have a VLT of zero and glasses frames without lenses would have a VLT of 100%.
For Sunny Bluebird days you are going to want to go with a VLT of 5-20%
For cloudy flat light days you are going to want a goggle with a VLT of 40-80%
For the majority of days on the slopes I will be wearing a lens that has a high VLT percentage. Typically mountains (especially Whistler) are not bluebird all the time so it really pays to have a great low-light lens.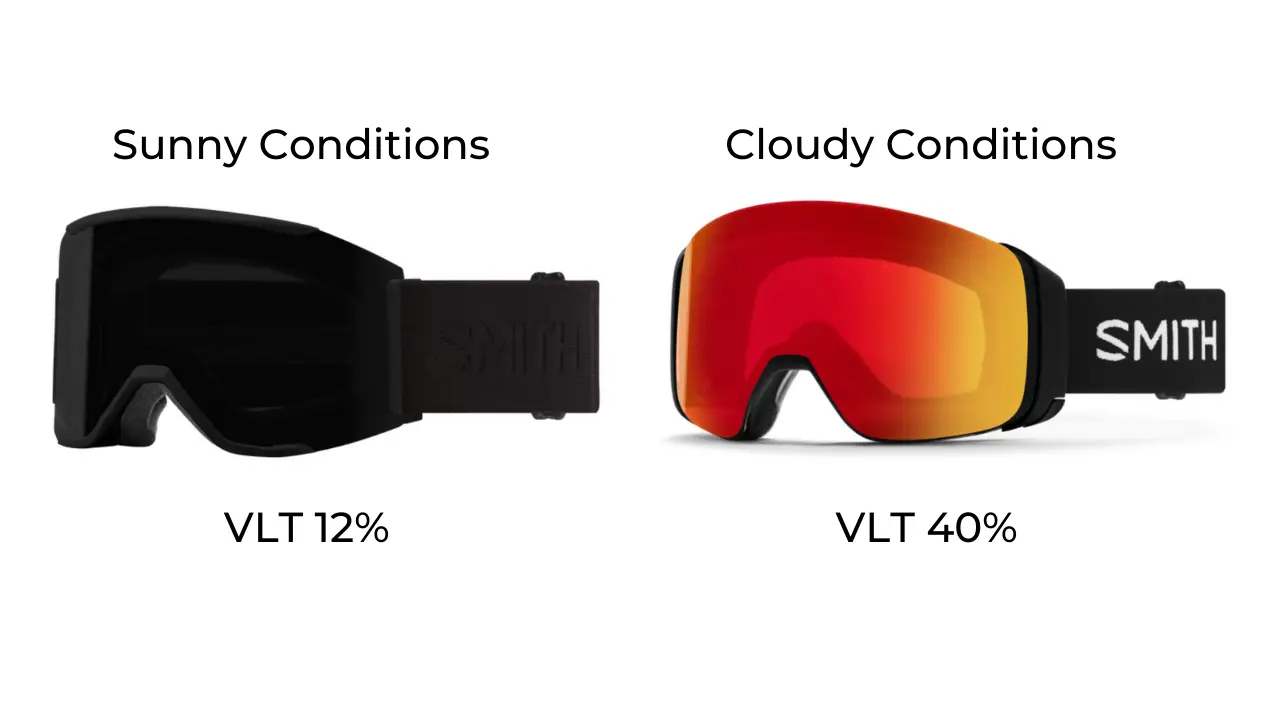 Anti-Fog Coating & Dual Pane Lenses
High quality goggle lenses are designed with two panes of lens glass and an anti-fog coating. The space between lens panes allows for airflow and the anti-fog coating will suck up any moisture that builds up throughout the day inside the lens. To ensure the anti-fog property of your goggles functions for many years you need to ensure you maintain your ski goggles properly! 
The Most Important Snow Goggle Features
Interchangeable Lenses
Having a quick and easy interchangeable lens system is super important when you're on the hill. Mountain weather changes quickly and having the ability to swap lenses in and out as needed is a game changer when the weather is acting up! Many manufactures are using magnetic systems like the Smith MAG, which makes putting on and pulling off lenses simpler than ever before.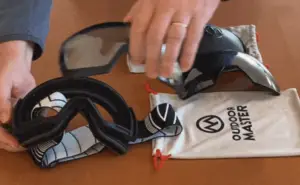 Photochromic Lenses
Photochromic is a big long complicated word that means "you'll-never-change-your-lenses-again." This new lens technology changes tint as the conditions change so you don't have to think about weather conditions when you're scrambling to get your gear together for first chair on a pow day. Glade has been leading this space with their award winning "quiver killing" goggle the Adapt 2.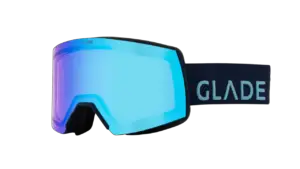 OTG Goggles
If you have glasses and don't wear contacts, you can purchase OTG (over the glasses) Goggles. Over the glasses goggles are made with extra ventilation to keep your glasses from fogging and have extra space allowing for a pressure-free fit around the temples. you've found the goggles for skiers and riders with prescription lens needs. The Smith Prophecy OTG goggle is an awesome investment for those that prefer to wear their eyeglasses all day long!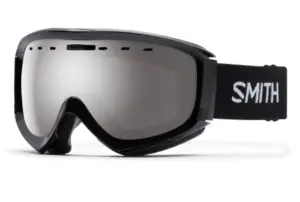 Vents
Most goggles have some sort of venting system or thin foam on the top or around the frame. These vents are crucial stimulate airflow and keeping goggles fog free all day long. If you buy the same brand goggles and helmet the vents on the goggles will usually match up well with those on the helmet optimizing the flow of air.
Goggle Fit & Comfort
You can't really measure the fit of goggles like you can with a helmet. However, the size of your head will give a good indication of what size goggles will work best for you. If you wear a small helmet or you're buying a goggles for a kid look for a goggles small or medium frame. These are usually indicated with an S or small/medium in the goggle description. For those with big brains wearing large helmets opt for the regular models or larger framed goggles like the Anon M5 or Glade Adapt 2. 
For flatter faces shape many brands carry 'Asian Fit' aka low bridge fit. These model goggles feature more foam on the bridge of the nose allowing for less gaps.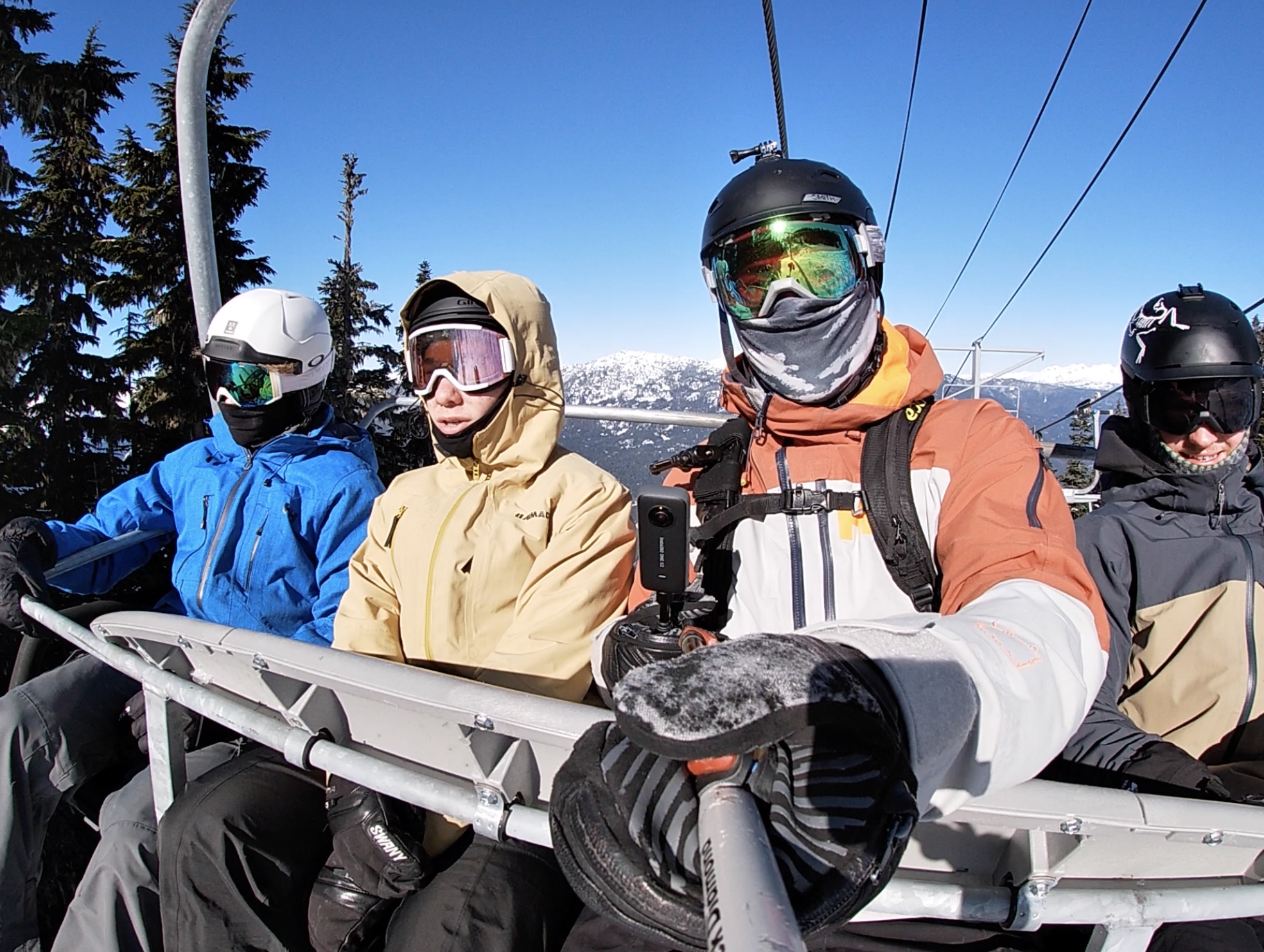 Style
Picking your favourite style of goggle is the fun part! There are so many goggle manufactures out there that you should have no problem finding the look you want and the fit and lenses that you need. In my opinion the main determinant of goggle style is the lens shape and if you wear the goggles over or under your helmet. I'm not the most stylish guy on the mountain but personally I think the all black Smith Squad goggles are the absolute sickest.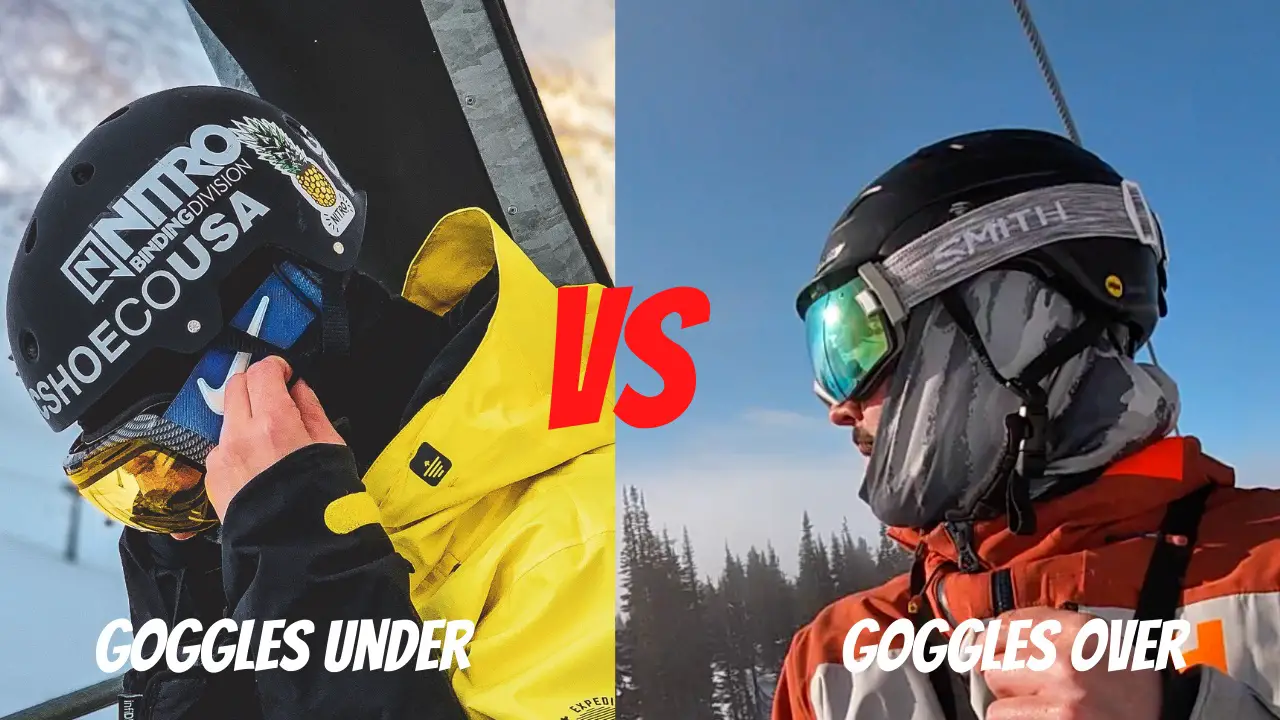 Goggles Over or Under Your Helmet?
This is a classic debate among skiers and snowboarders. Some people prefer the look and feel of wearing goggles underneath their helmet with a beanie, and others despise having their goggles anywhere but on their helmet. Over the years there has been some serious on-mountain debates and animosity between parties who wear their goggles over and those who wear them under their helmet.
Personally, I think wearing goggles under your helmet looks more stylish and allows skiers and riders to display sweet stickers on their helmet. However, I've never been able to get comfortable with having my goggles inside my helmet. I've tried many times but I simply like the feel of the goggles resting high and around my helmet.
Wearing your goggles under your helmet doesn't pose a safety concern as long as you don't have big plastic strap adjusters on the back. If you are planning on repping your goggles under your helmet make sure that you have a set with plastic strap adjusters on the side. Other than a thin beanie, balaclava, or gaiter, you don't want anything between your head and your ski helmet.
I hope you enjoyed my practical tips and recommendations. Let me know if you have any questions in the comments. 
Stay Spicy!