Weather at Whistler is unpredictable. We cannot expect to be skiing fluffy stuff day after day. When temperatures cool and the precipitation dwindles some skiers head to the park. Others, like me, are a little more old school. I head straight for the groomers. There is one thing that all skiers love to do. GO FAST. I don't mean breaking speed records and being out of control. I'm talking about that lovely adrenaline rush and feeling of icy wind slapping you across your cheeks while you carve down the mountainside.
One of my favourite ways to ski anytime of the year is CARVING. Ever since I was a child I've been obsessed with going fast and getting on my edges. Carving is an artform and you can make it as aggressive or relaxing as you like. Nothing beats getting fresh corduroy tracks on a bluebird morning.
Blackcomb Mountain is the ideal place to be on a carving day. The average slope of the groomed runs on Blackcomb are way steeper than Whistler and the runs that are groomed, tend to feel less busy.
Below, I've put together a list of the TOP 10 GROOMED intermediate ski runs on Blackcomb that you need to try next time you visit the resort.
You'll be moving fast when ripping groomers so always wear a brain bucket AKA a HELMET.  I swear by my Smith Vantage Helmet and IOS Goggles.  Another fantastic and super affordable option is the OM Diamond Snow Helmet  &  OM Ultra XL Goggles. Keep your brain and eyes protected all day long!! (Use code JAMES10 for a 10% discount on anything on the OM website)
Springboard (Jersey Cream, Catskinner, Blackcomb Gondola)
Springboard is the perfect groomer and the ideal spot to showcase your pristine carving turns. It runs directly under the Blackcomb Gondola and is steep and very wide. You will probably see a lot of instructors using Springboard to teach carving. It is the perfect pitch to rip!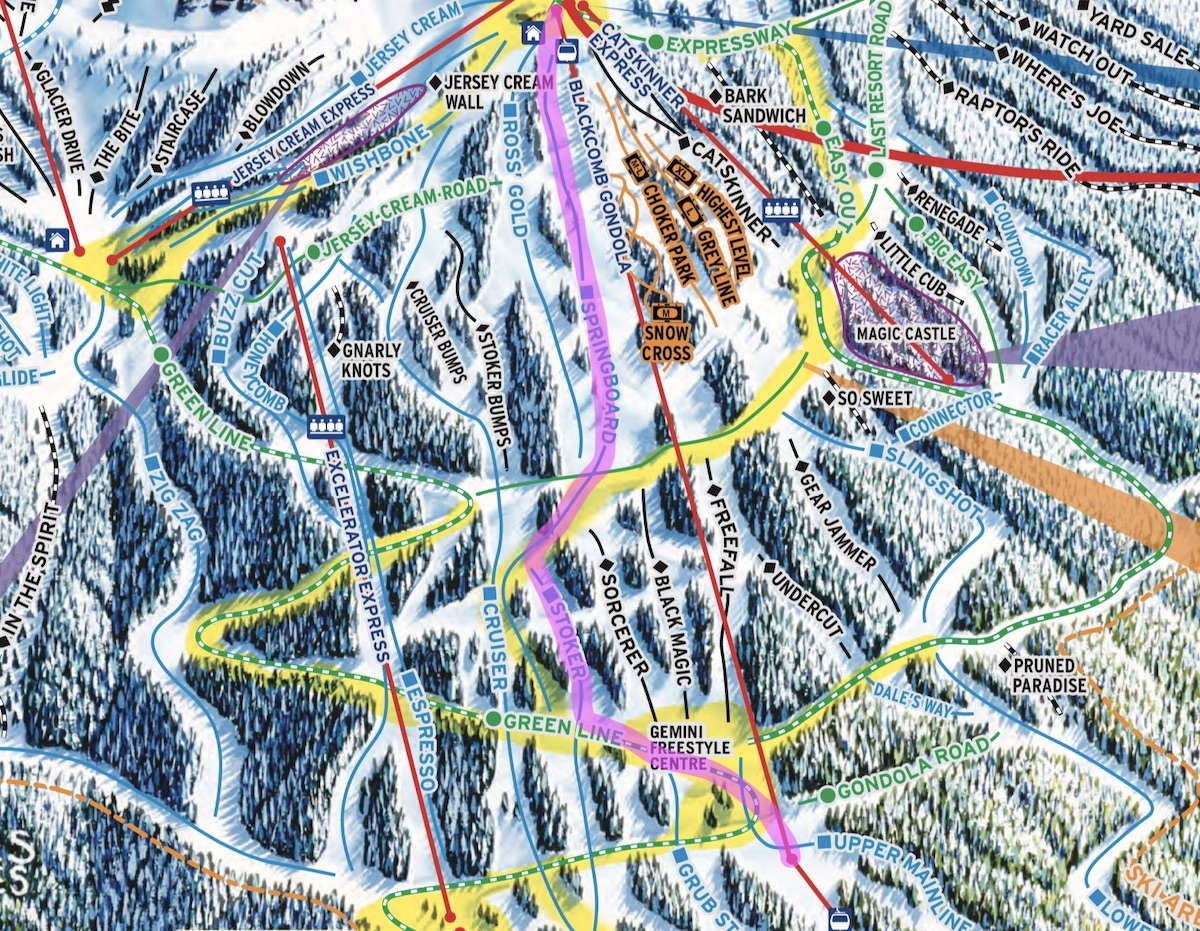 Hughes Heaven – Upper Panorama – Lower Panorama (7th Heaven Express)
When it is a hard-pack bluebird day in Blackcomb head straight to 7th heaven. Seventh is often blanketed in white fog, but when it isn't, it is a skiers paradise. The views coupled with the wide open terrain is truly unbeatable. My favourite carving run on 7th is Hughes Heaven and Upper/Lower Panorama. Hughes starts out steep and wide and you can get your fix of huge speedy carving turns before hitting panorama for a less steep, similarly wide slope with insanely fun rollers all the way down to the bottom. It's the perfect length, and if I don't stop I'm always panting by the time I hit the bottom. Hughes Heaven was named after Hugh Smythe, the President of Blackcomb and the person who gave 7th Heaven its name.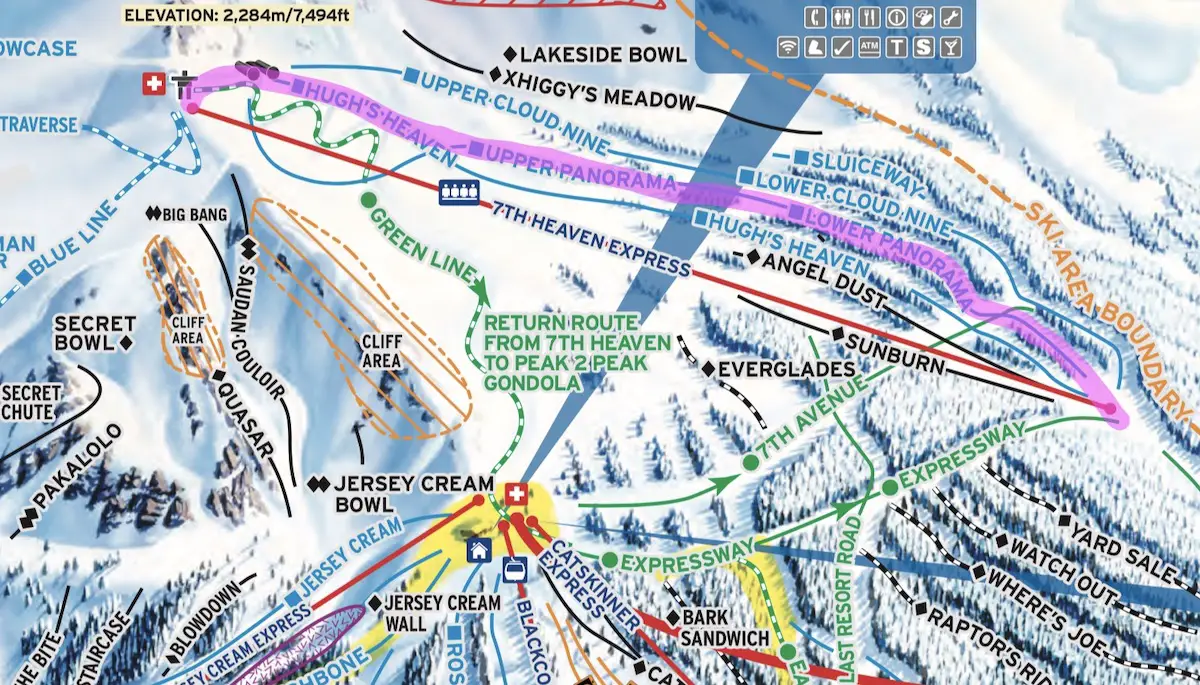 Ridge Runner (Crystal Ridge Express)
Ridge Runner is what I like to call a HERO carving run. What is a hero run? Similar to hero snow It's a  run with a very consistent slope that makes you feel like you are a much better skier than you really are. Ridge Runner has a very consistent slope with lots of rollers and it doesn't get too steep. It is such an easy run to maintain carving turns the whole way down without a single speed check. Ridge Runner is the ideal run for someone who wants to cruise a bit more than they want to speed. There are also loads of fun side hits for those who feel like getting bouncy.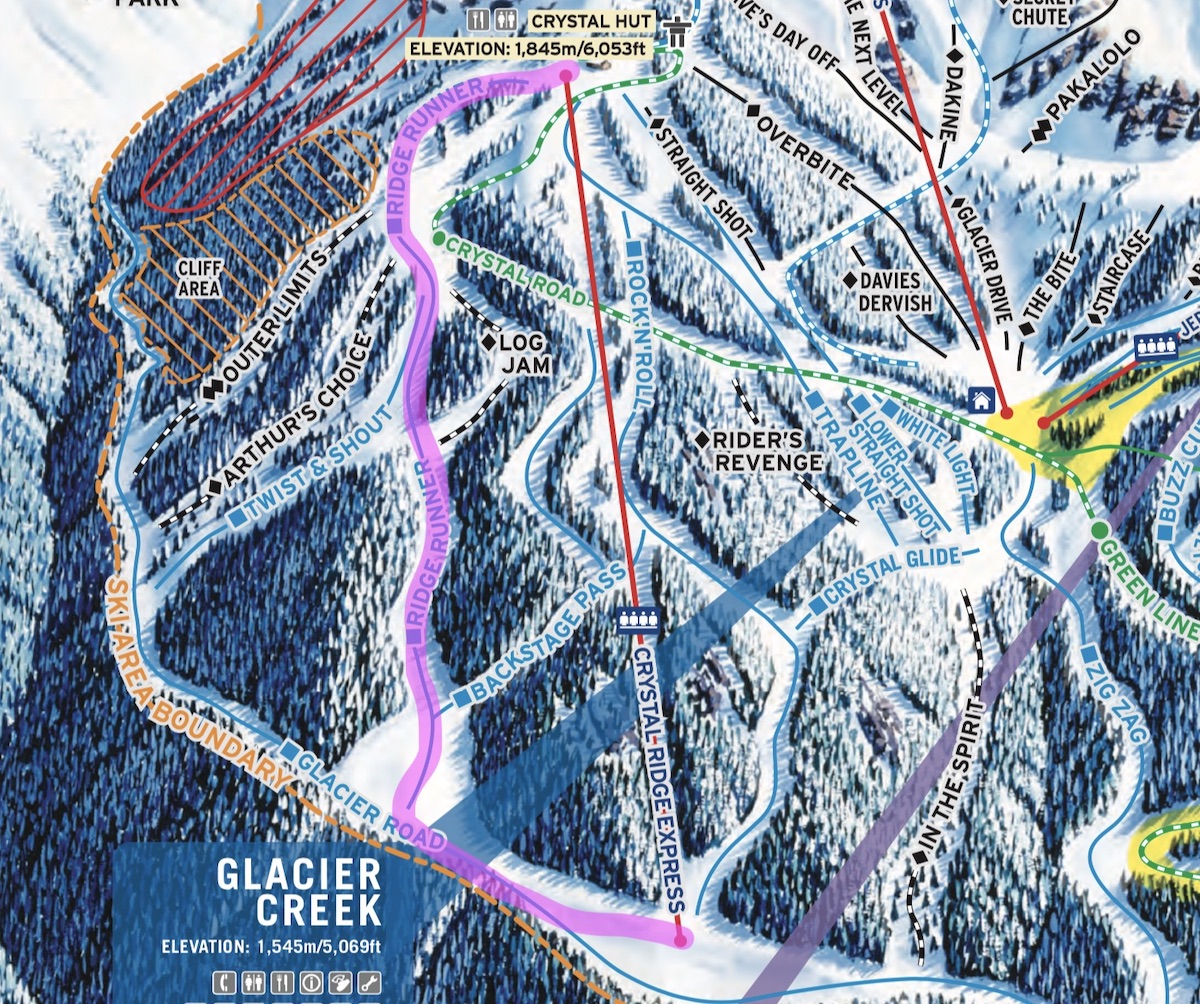 Rock N' Roll (Crystal Ridge Express)
Rock N' Roll will get you humming Back in Black on the way down. It swerves comfortably and has the perfect mix of slope change, rollers, and flat sections to make an exciting and relaxing carving run to the bottom of the crystal chair.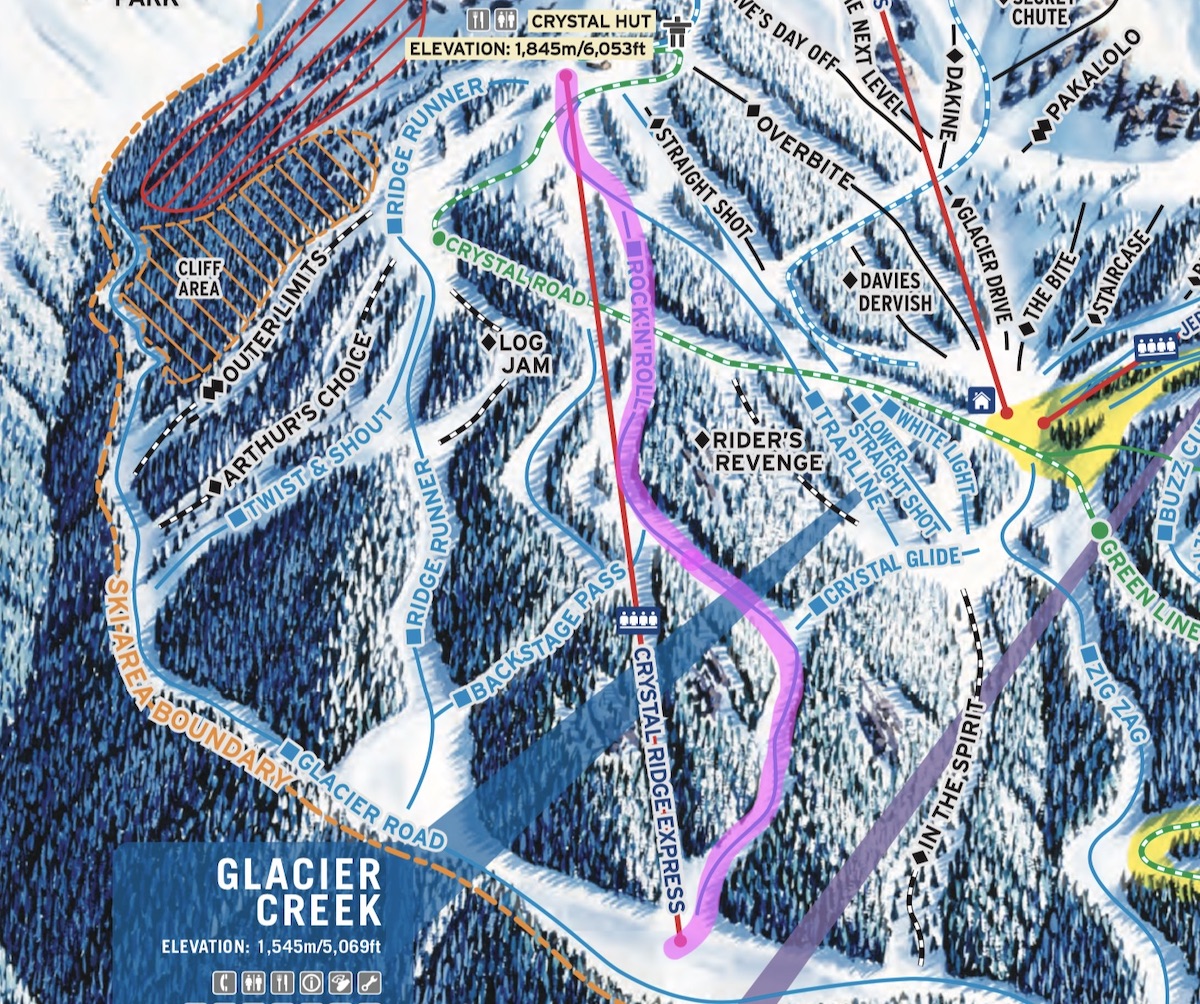 Upper Cloud Nine & Lower Cloud Nine (7th Heaven Express)
Upper Cloud Nine is another King of the carving runs and is located in 7th Heaven. It's steep, consistent and wide making it the perfect spot to pretend like you are skiing Super-G. This one is best ripped in the morning on fresh corduroy before the crowds and clouds start crawling up the Horstman Peak.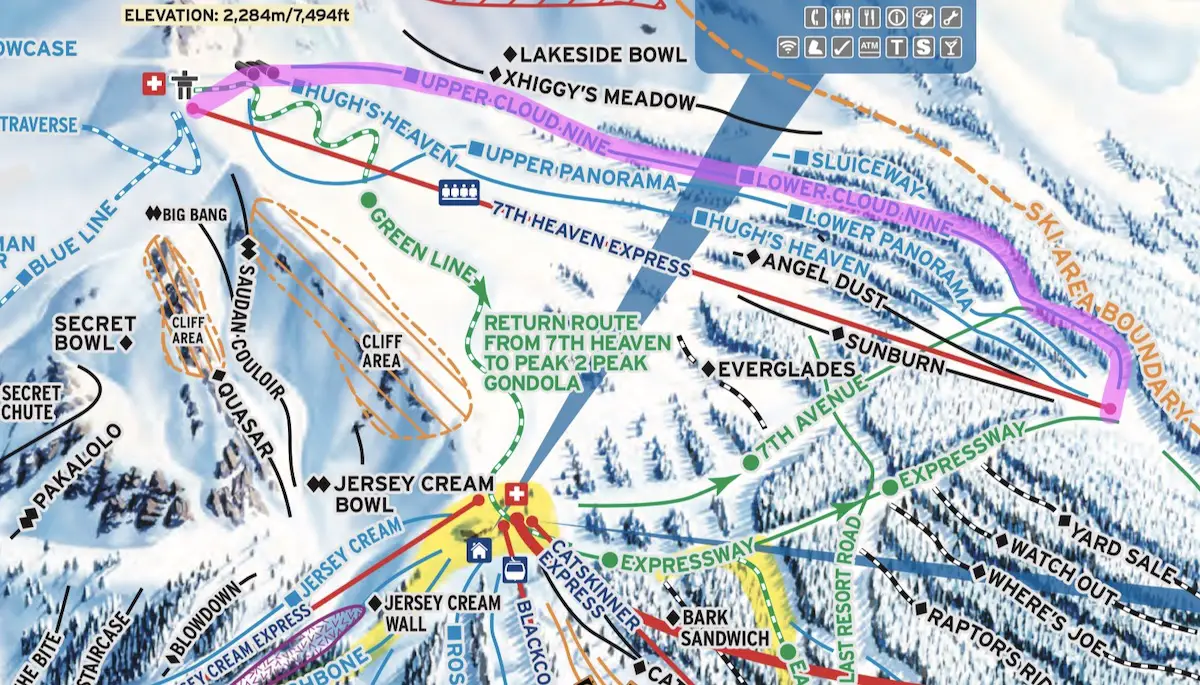 Ross Gold (Jersey Cream, Catskinner, Blackcomb Gondola)
Ross Gold is an epic carving run. It's got everything a groomer hound craves, a great wide open pitch and lots of fun rollers to keep you guessing. The run was originally called Gandy Dancer, but was named after Ross Rebagliati a North Vancouver born snowboarder who won a gold medal at the 1998 Olympics in Japan. Whistler gave him a lifetime pass and allowed him to choose a run to be named after himself. This run is usually home to the Whistler Ski Club race teams and they do loads of gate training here. If you notice that it is isn't occupied and freshly groomed, always jump on the opportunity to shred down it!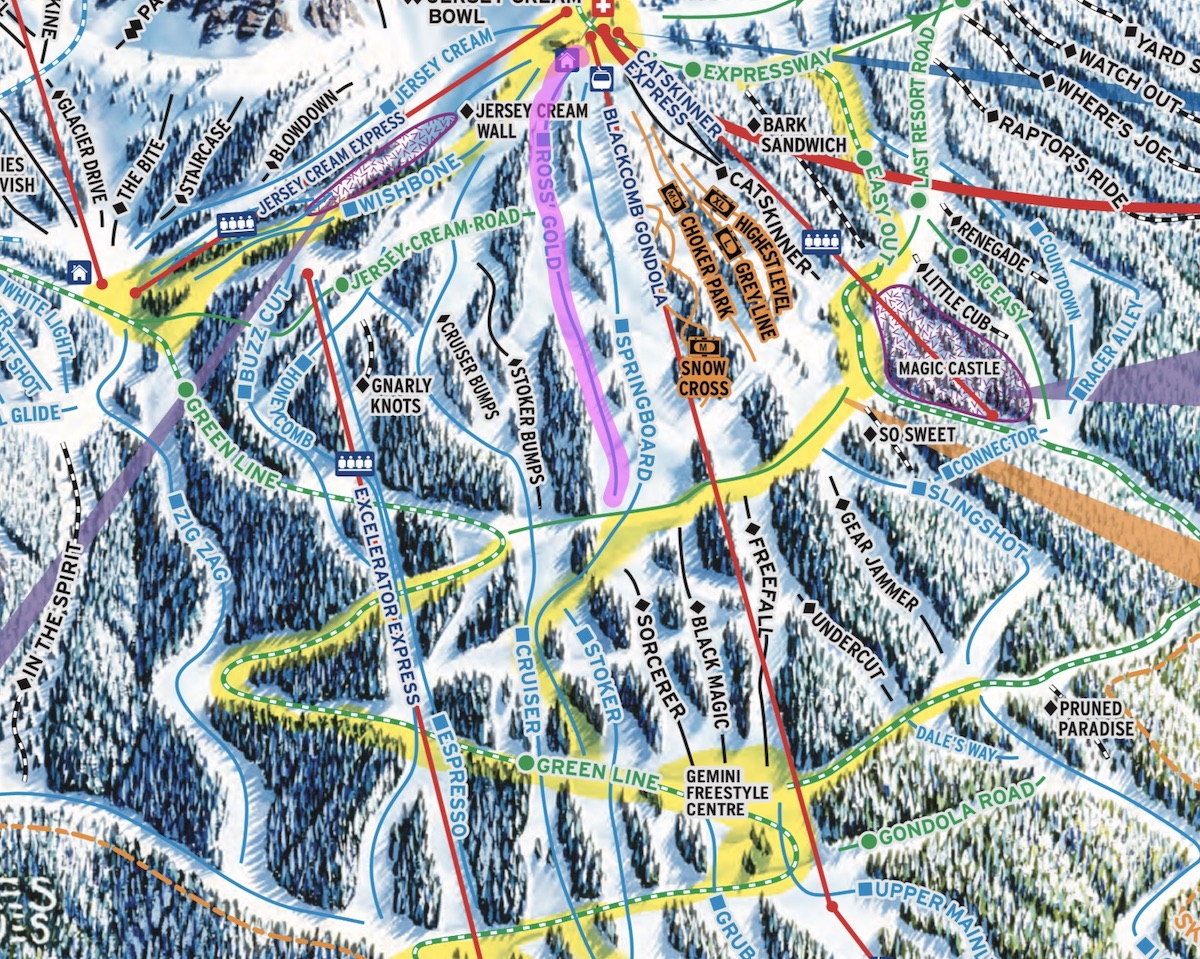 Zig Zag (Excelerator Express,  Blackcomb)
People often underestimate the Excelerator Express. It is home to some of my favourite tree skiing on the mountain and is sometimes the best place to be when the upper portions of the mountain get busy. Zig Zag is an ideal carving run which is best for the morning. In the morning, most skiers will be trying to go higher up the mountain and the Excelerator Chair will often be dead allowing you to have the run to yourself. Be aware, near the end of the day this is one of the escape routes to the base of Blackcomb mountain and can get extremely icy and busy.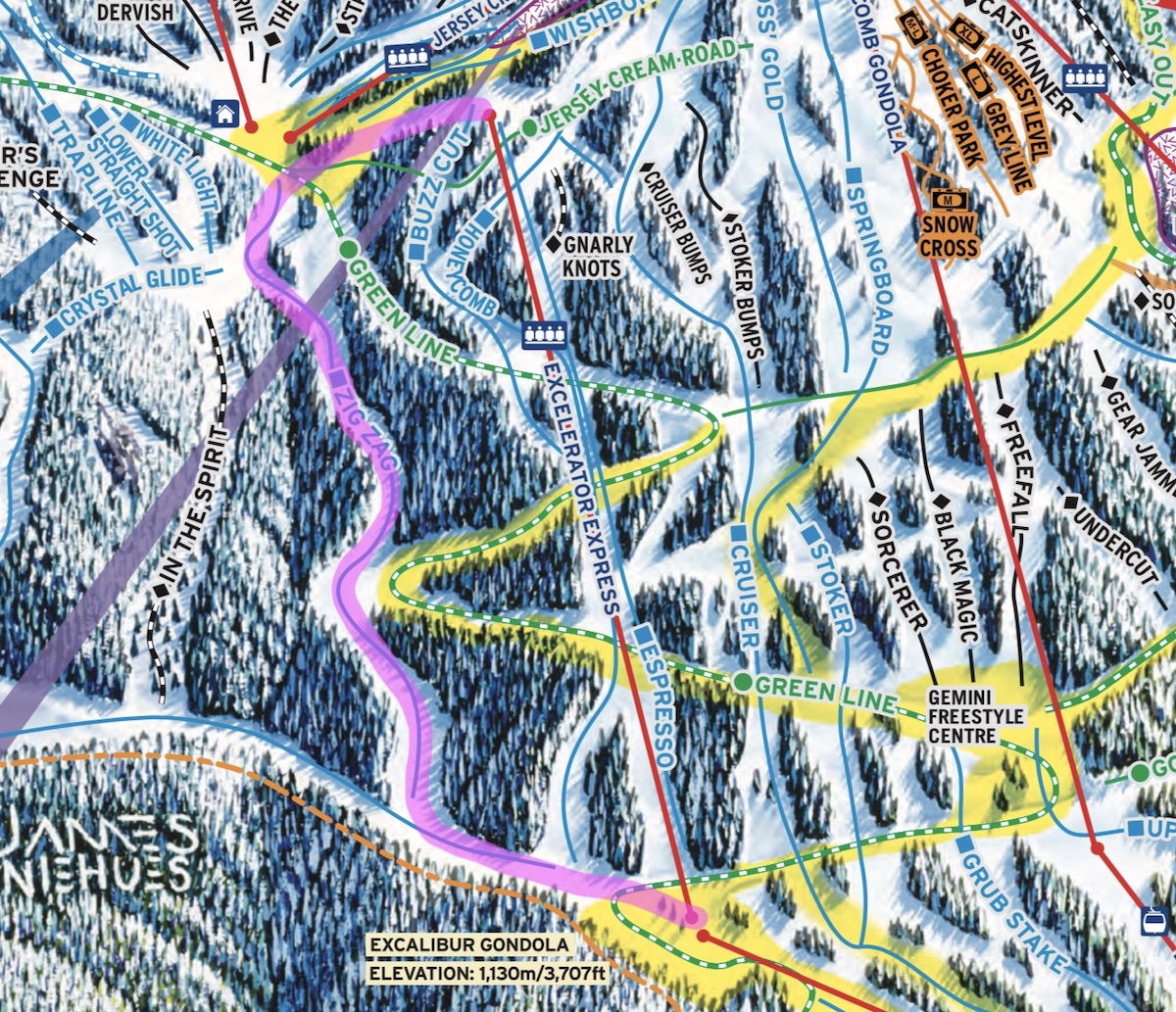 Cruiser (Excelerator Express, Blackcomb)
Yet another Gem Carving run on the Excelerator Express. Cruiser should be renamed 'shredder' because you can get some serious speed coming down its steep pitches. It earned its name from the old logging term 'Cruiser: A logger who surveyed standing timber for volume'. I absolutely love cruiser and find myself hopping between it and Zig Zag on carving days. From start to finish you are going to be on your edges and finish with a grin on your face.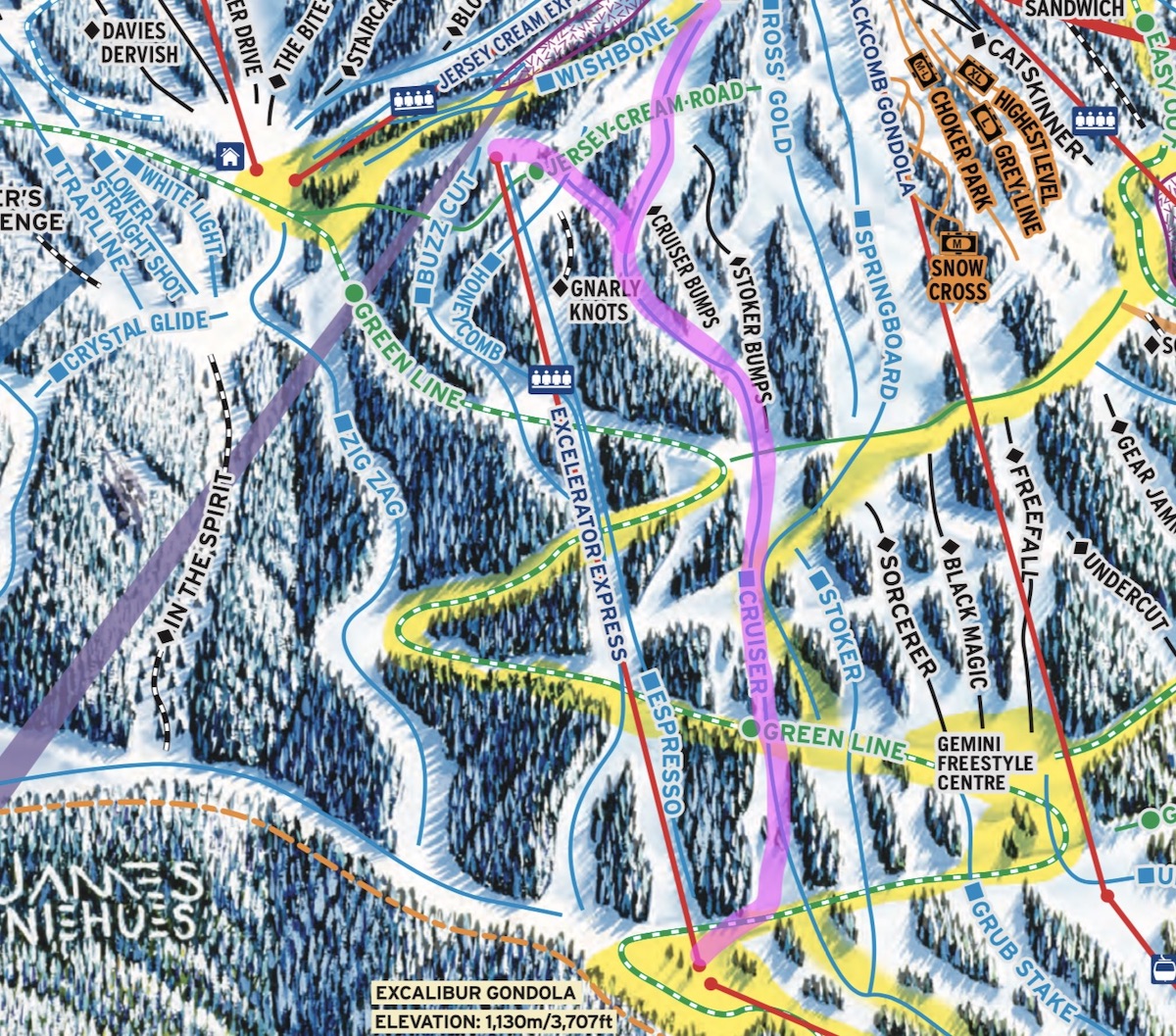 Wishbone & Cougar Milk (Jersey Cream)
Wishbone is the main drag beside the Rendezvous Lodge (ie. The perfect spot to show off your carving abilities to anyone eating lunch). I'm exaggerating… The run passes the lodge but I'm not certain anyone will be watching you gracefully ski down Wishbone. Wishbone is a main artery type run, but, it's a blast to carve in the morning if you come up one of the first few spins of the Blackcomb Gondola. Hang a right onto Cougar Milk and the carving party will continue. Cougar milk is the perfect carving run and is steep and loaded with rollers. The GMC race course is located on cougar milk which allows people from the public to race their friends on a free timed race course. When the race course isn't running I'll typically start my day with a rip down wishbone and cougar milk.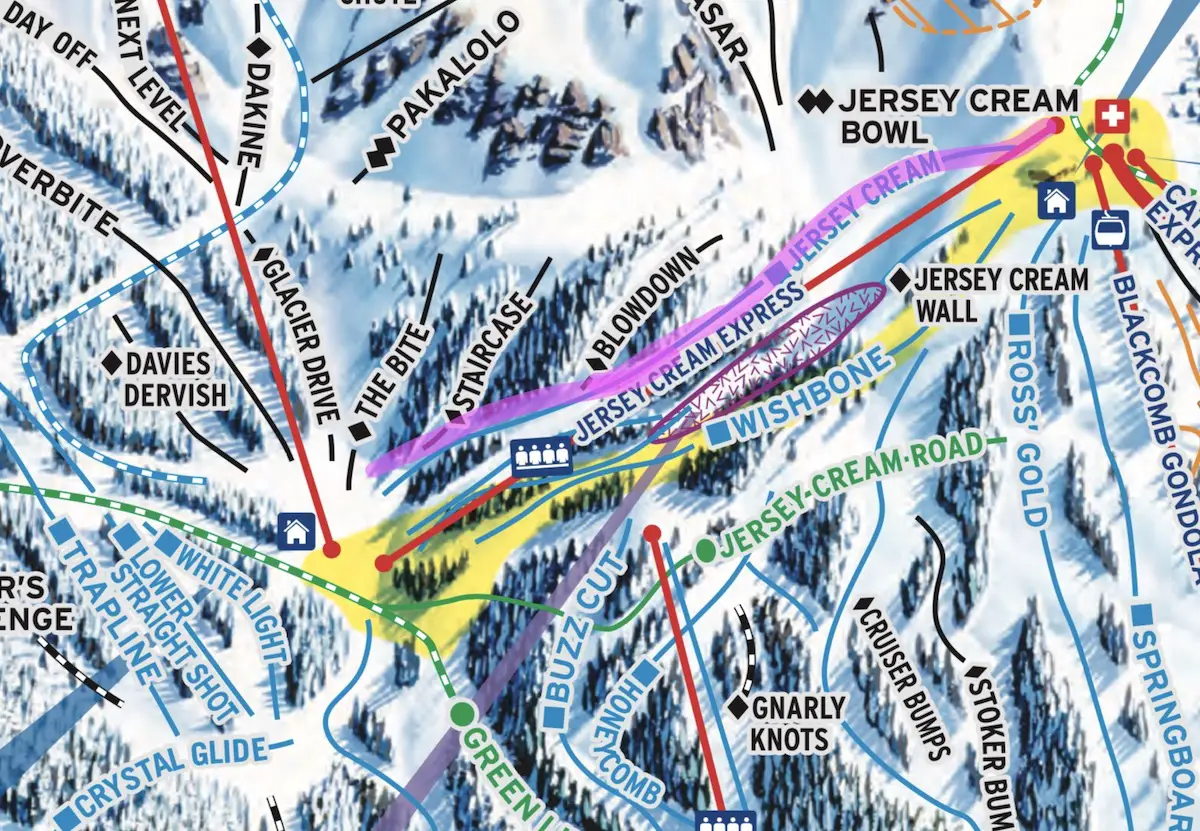 Slingshot & Lower Gear Jammer (Blackcomb Gondola)
If Slingshot and Gear Jammer were groomed more often (they never are), they would likely make my favourite carving run combination on the mountain. The pitch is perfect and there are two sharp turns that you can really blast around. This is the longest sustained carving run on this list and is an absolute quad smasher if you ski it top to bottom. If you're ever checking the grooming report and notice Slingshot & Lower Gear Jammer are groomed (this may never happen). Get the heck over there and leave all of your greatest carving fantasies out on the hill.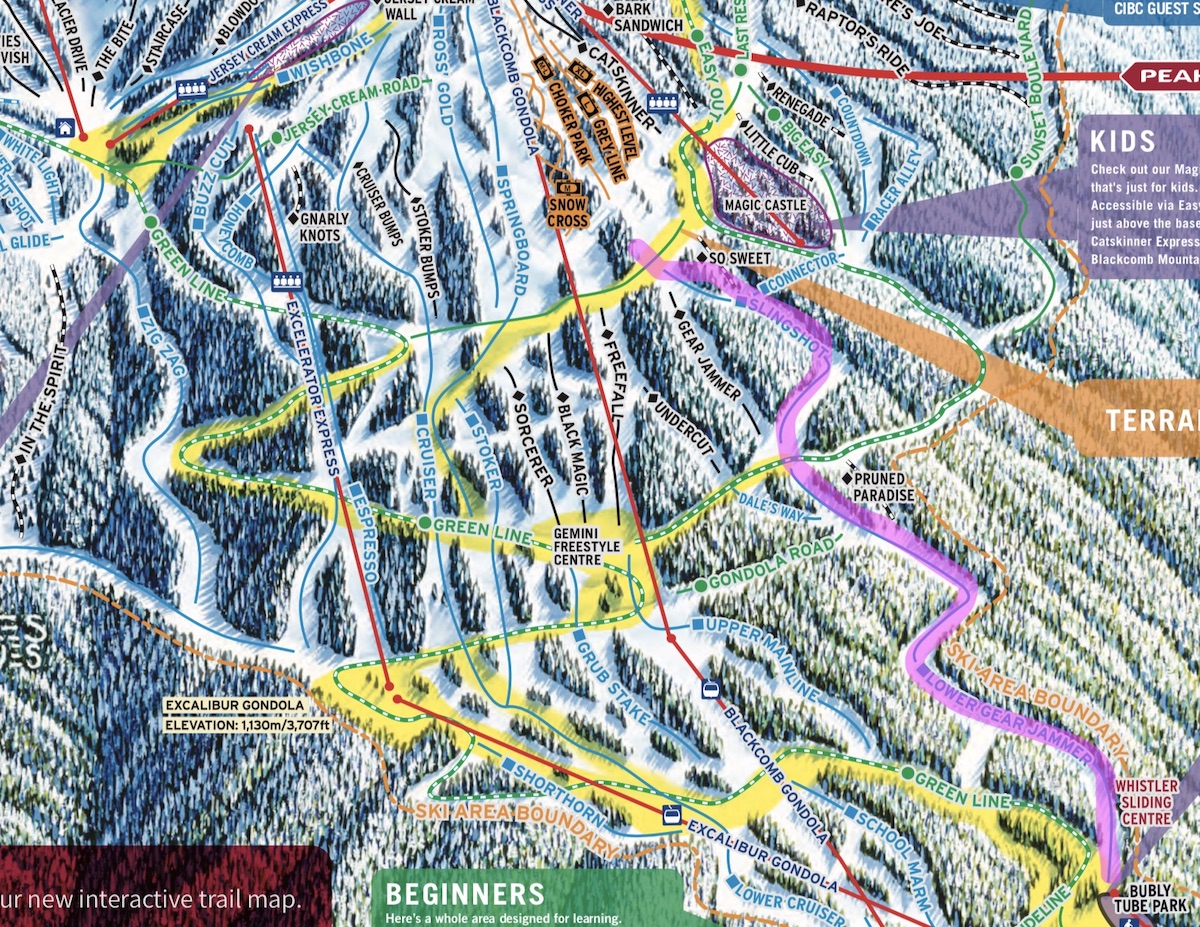 Next time you are blessed with a beautiful hard packed and machine groomed day, tune up your skis and head up to Blackcomb to try out these 8 world class carving trails.
Whats your favourite carving run? 
Let me know in the comments below!