Have you ever tried counting to 8,171? Probably not. I sure as hell haven't… To be honest, I can't even remember the last time I counted past twenty, or if I even can. Anyways, this blog post isn't about my lack of numerical literacy. Eight thousand is an important because that's how many acres of terrain there is on Whistler Blackcomb. Yes, you heard me, 8,171 skiable acres.
If that doesn't get you absolutely psyched to clip into you bindings and start exploring I don't know what does.
To some, especially season pass holders, Blackcomb is the ultimate playground. But, to others, especially tourists, Blackcomb is one hell of a confusing place to be. With astronomical lift prices breaking the $200 mark per day you better plan ahead so you can juice every possible turn out of the mountain.
In an effort to help all you visitors and to the distaste of locals, I've put together a little guide to tell you exactly what to do if you only have one day to ski Blackcomb Mountain. Power to the people baby!
Let's get right into it.
If you prefer video, you can check out the video version of this post on YouTube here. 
Blackcomb vs Whistler
If you didn't already know, Whistler Blackcomb is made up of two separate mountains, Whistler and Blackcomb. Both are absolutely epic. If you want to learn more about some of the differences between the two mountains you can check out this video I made here.
Although you can ski both mountains and every single lift in a single day, it's impossible to get the full experience without committing at least one day to each side of the mountain.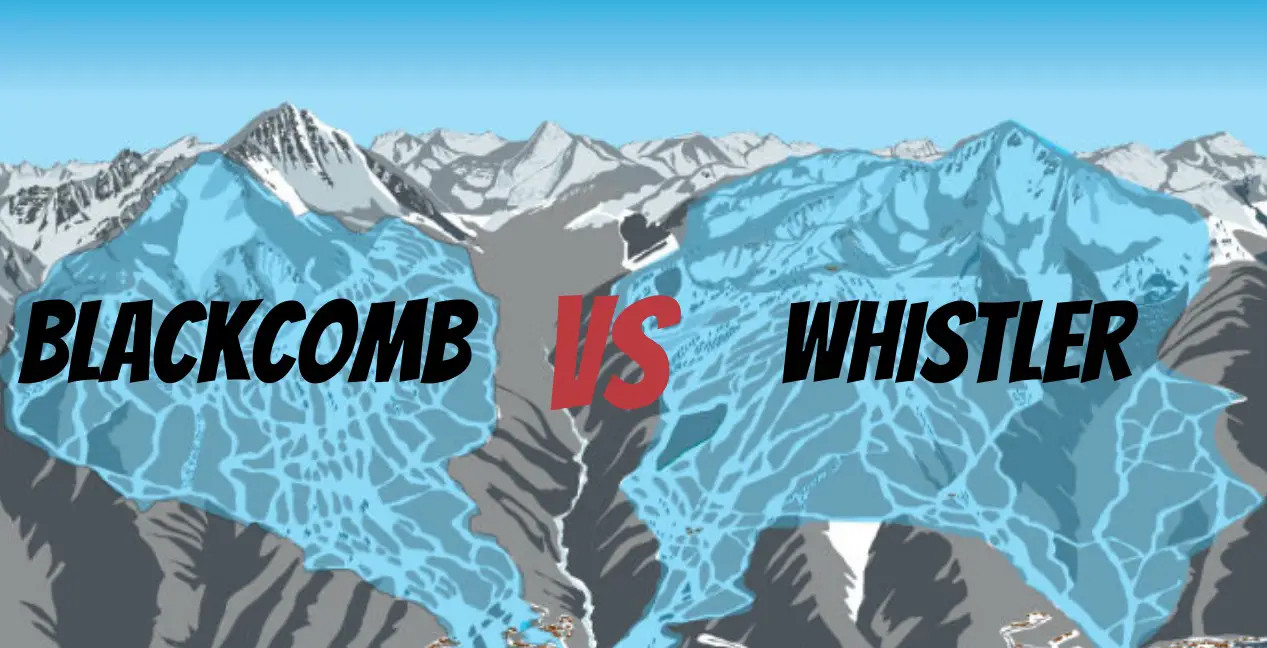 Set your alarm
If you're committed to maximizing your day, you'll want to arrive at the gondola for when it opens. Check the Whistler website to see the current operational hours. If its a powder day you might want to wake up even earlier because lines tend to be large on fresh snow days, any day of the week.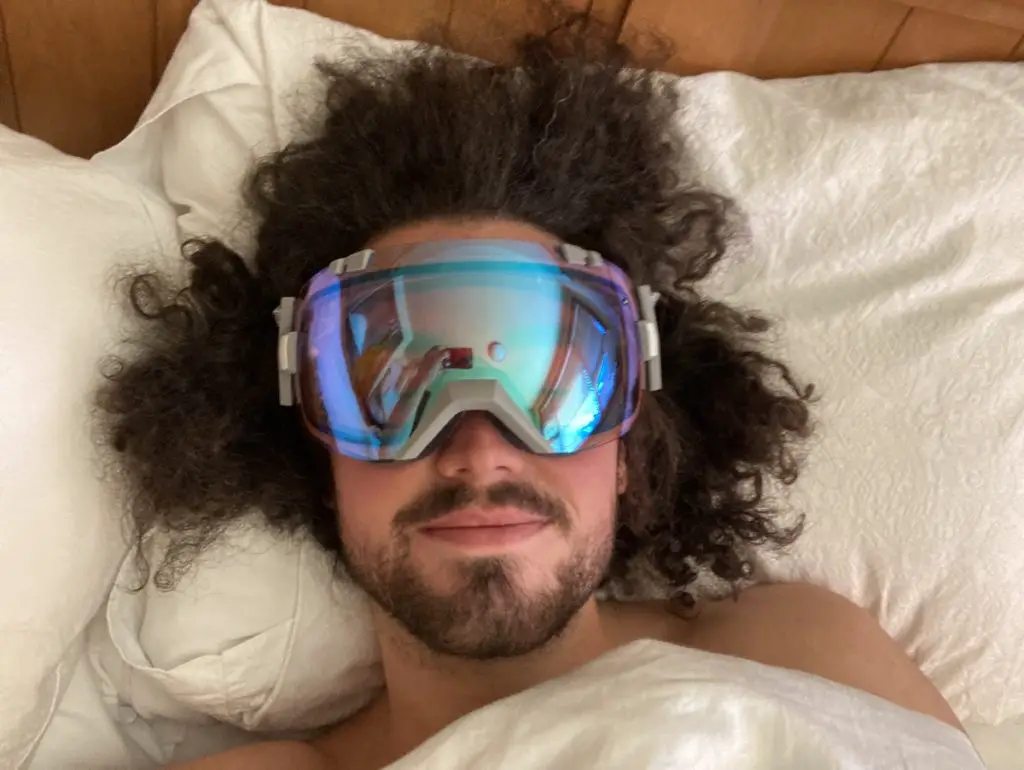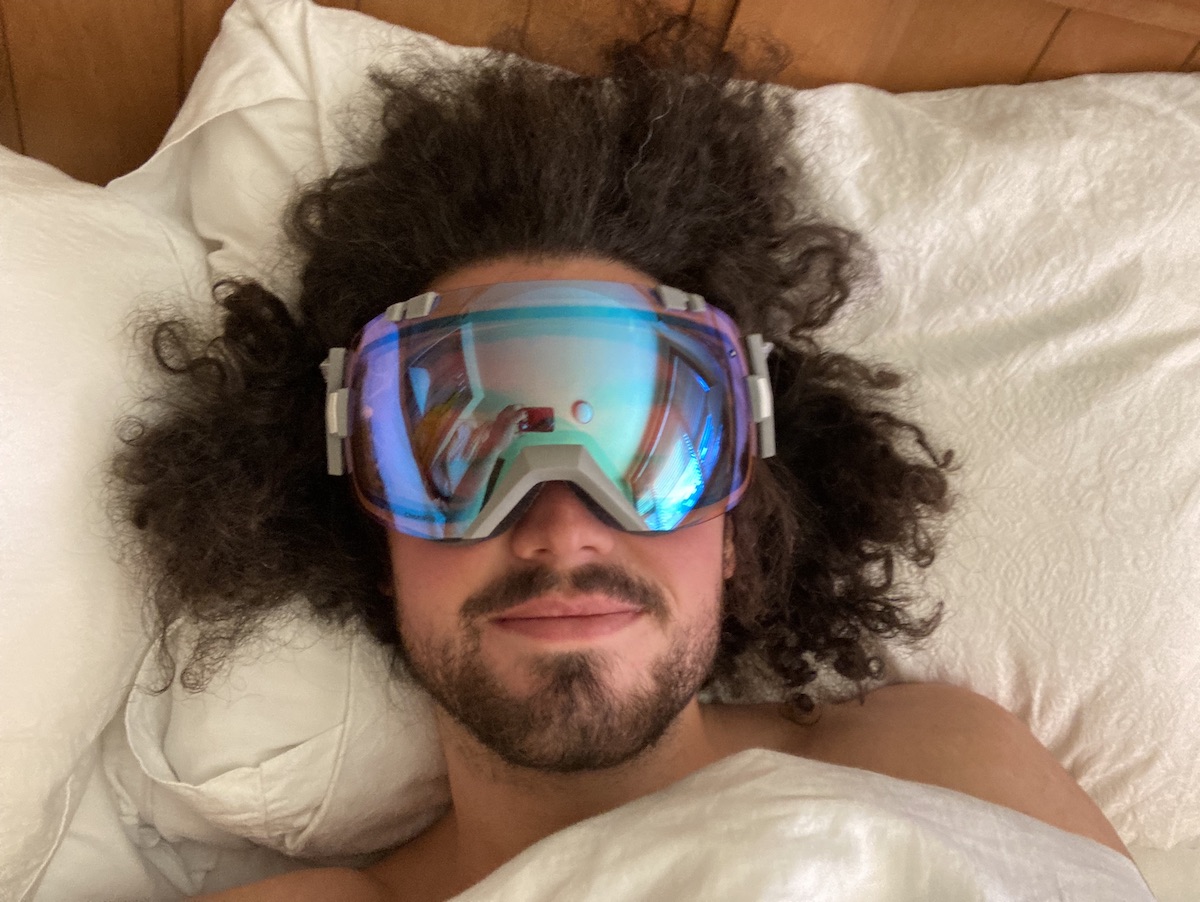 Gondola Upload
You have two upload options to ascend Blackcomb mountain. The first is from the Whistler Village via the excalibur gondola. If you have a  vehicle and are not staying in the village you can park at one of the upper parking lots (6,7,8) and upload at the excalibur mid-station. The second option and my personal favourite is to upload the Blackcomb gondola from the upper village. The Blackcomb gondola is the fastest way up the mountain and can hold the most people. If you have the option, this is the best place to start!
Start With Some Groomers
The alpine chairlifts (7th heaven, Glacier, Crystal, Showcase T-Bar) typically do not open until around 9-930 depending on the snow conditions. If you have managed to get to the gondola when it opens, this will give you a solid hour of mid-mountain groomer skiing. If you want to know my favourite groomed runs you can check out the guide I created here.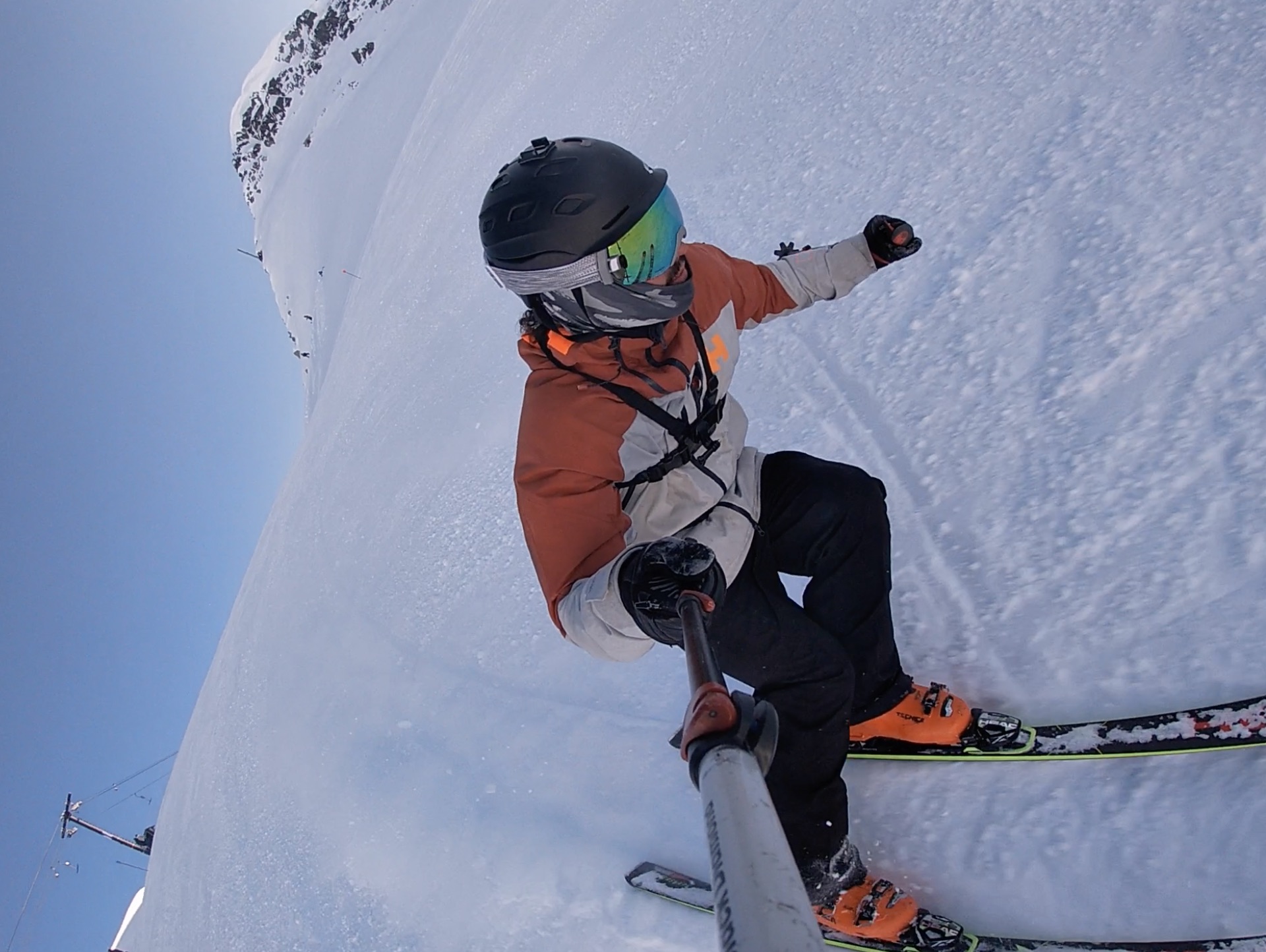 Excelerator Express
Once you exit the gondola I would recommend doing a super long and awesome carving lap. My personal favourites to start the day are Springboard or Ross Gold. Both runs are super long, wide and perfect for smashing out some big GS turns on fresh corduroy. Ski all the way down to the Excelerator Express. You'll probably be huffing and puffing after such a long groomer, but don't worry you've got to lifts to ride so plenty of time to catch your breath. 
Jersey Crème
Ski off the Excelerator and head for the Jersey Crème express. It is located right in front of the glacier creek lodge. Once you get to the top you can pick your poison, if you want something off-piste, hit the Jersey Creme Wall. If you want another awesome groomed lap I'd recommend you fire all the way down to the Excelerator once again!

Crystal Chair
After a few runs, check the light board or the epic app to see if the Crystal chair is open. The Crystal chair is home to some of my absolute favourite groomers and tree skiing on either side of the mountain. Typically the Crystal chair will open a half hour to an hour before 7th and the Glacier chair, especially if there is fresh snow.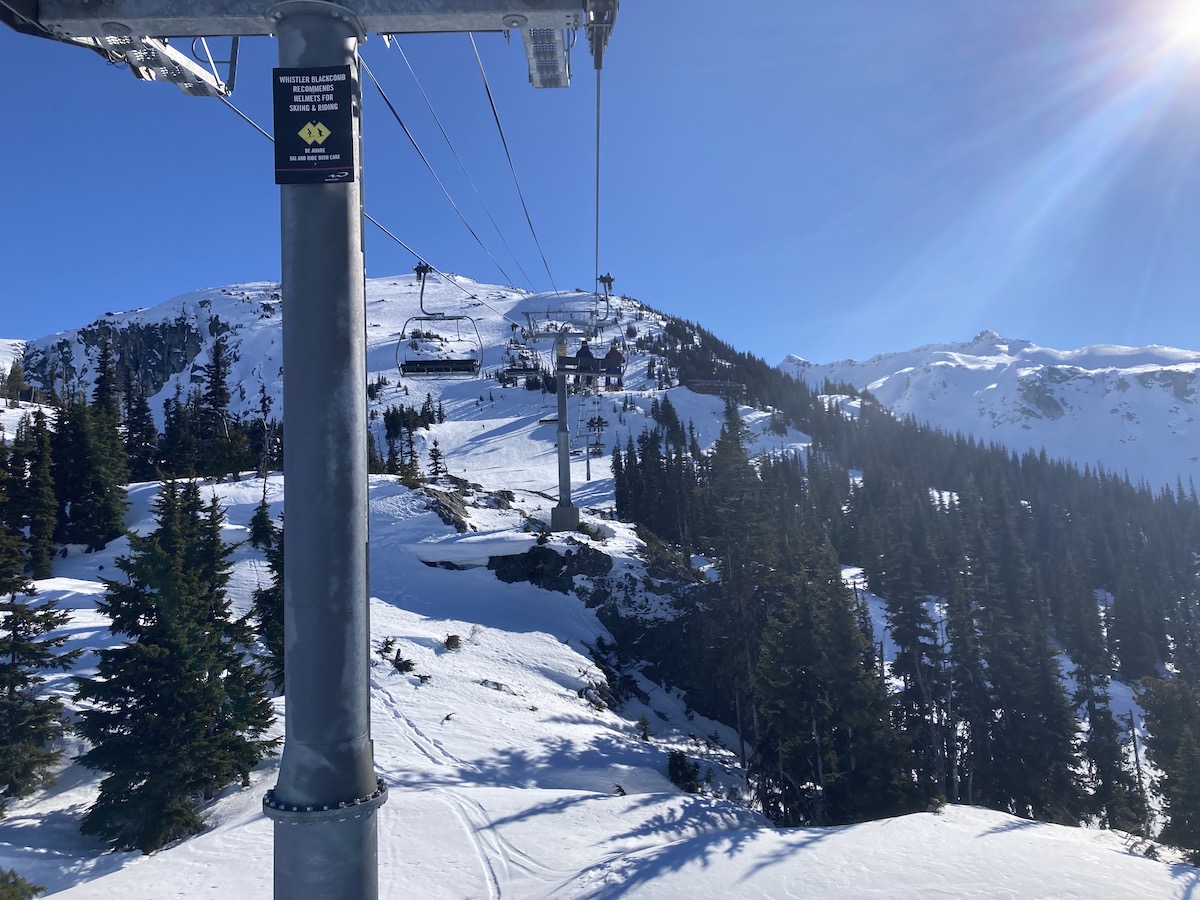 I'd recommend doing a few runs on the Crystal chair if you're a fan of fresh corduroy, cruising or tree skiing. My personal recommendation would be Ridge Runner for a cruiser or Arthurs choice or Outer limits for some banger gladed skiing. Take a look at the trees when you're in the Crystal zone. You'll notice many are burned and there is a lack of foliage. This was thanks to a forest fire in 2009.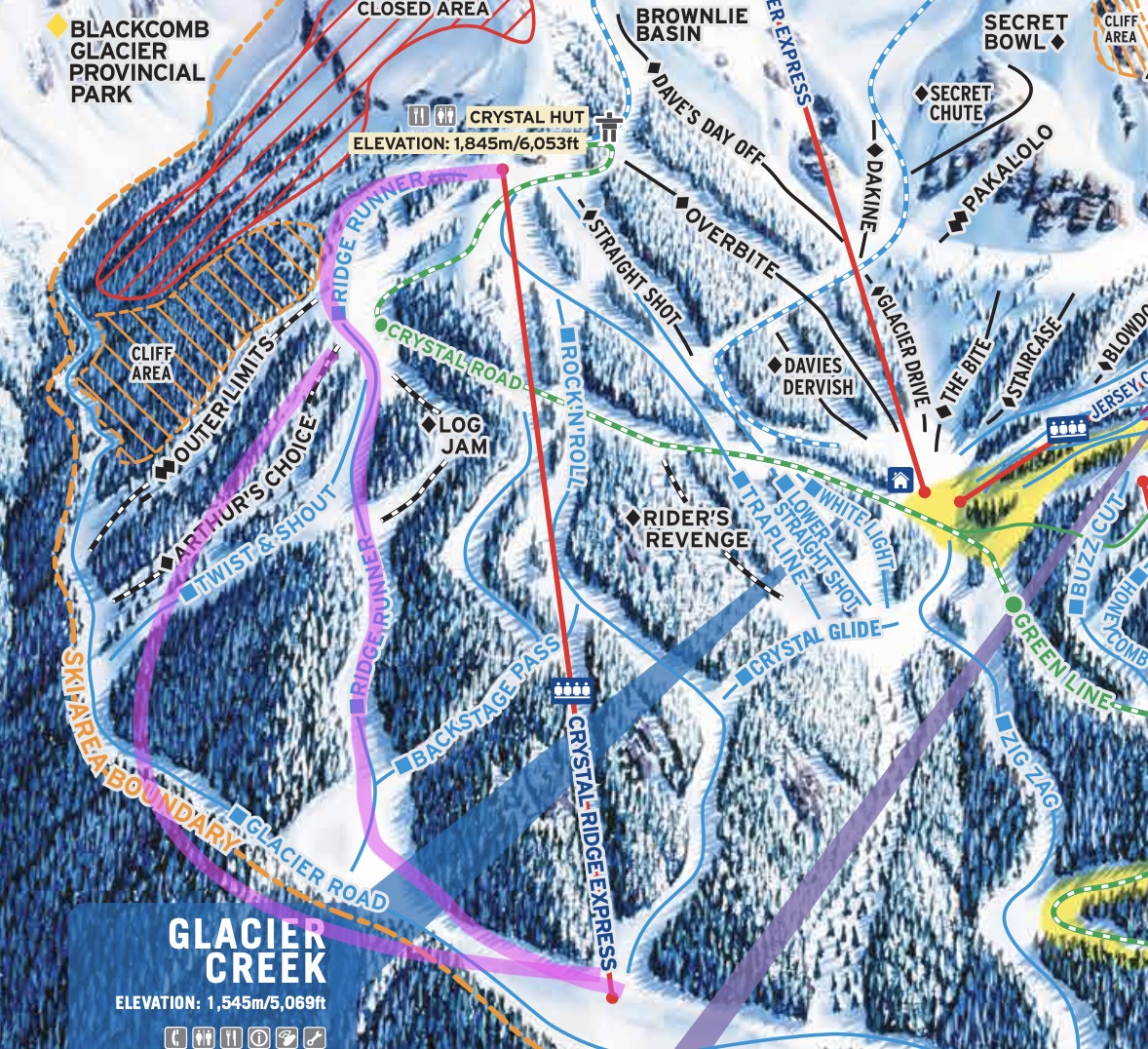 7th Heaven
Some days I'll spend my entire day playing in the trees and pillows on the Crystal chair, but since you only have one day you're going to want to stay on the move. Next up is the legendary 7th heaven chair. To get to 7th heaven you'll have to ride back up Jersey Cremé and follow 7th avenue to the base of the chair.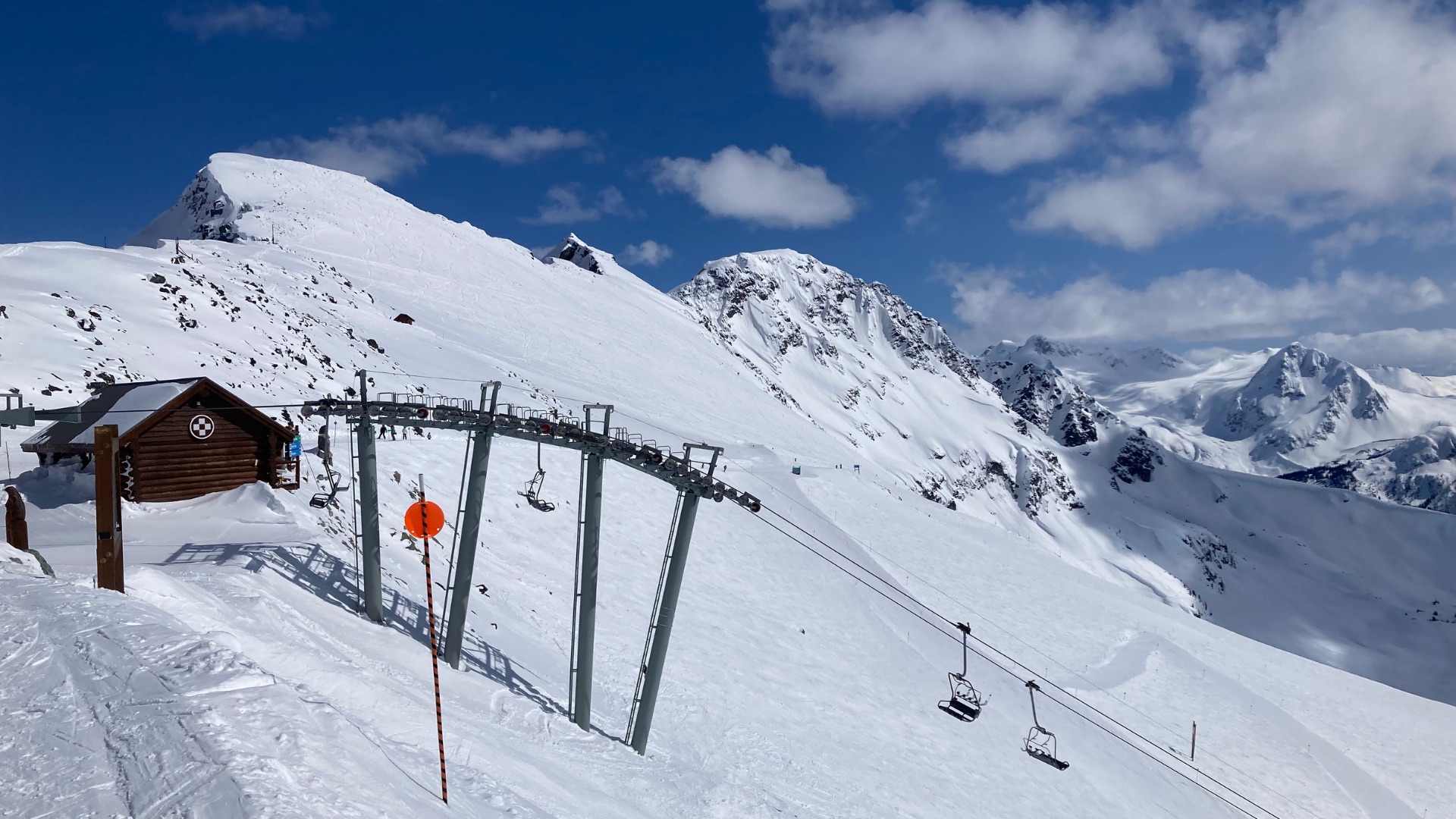 The summit of 7th is an absolute must see and boasts some of the most incredible views on the mountain. Try to get to 7th fairly early on a sunny day because the sun cooks it in the morning and everyone wants a piece of the action. 7th heaven will have the longest lift lines of anywhere on the mountain. Since it's a bit of a journey to get to 7th I'd recommend hanging around for at least 3 runs. My favourites are everglades, Lakeside bowl or Hughes Heaven.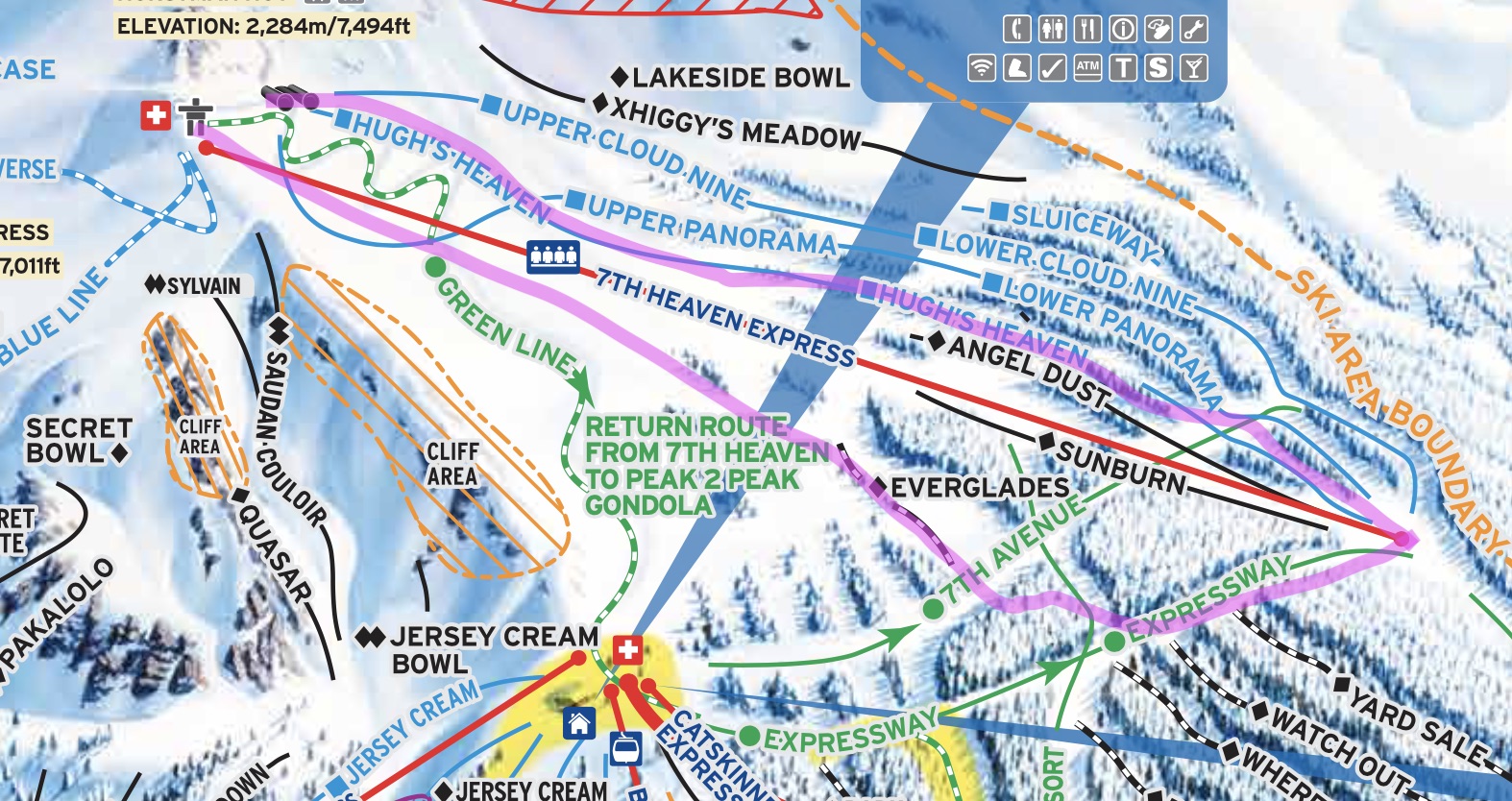 The Glacier Chair
If the lines are short and the sun is shining, you may not want to leave 7th, and honestly, that's totally okay. But, if you're a steeps hound, you're going to want to boogie and head to the Glacier chair. If you're an expert skier make sure to ski something spicy like Saudan Couloir, Pakalolo or Pipeline as you make you way down to the glacier chair. Pair either of these runs with the Bite or the Staircase and you've got an absolute thigh pounder of a steeps run.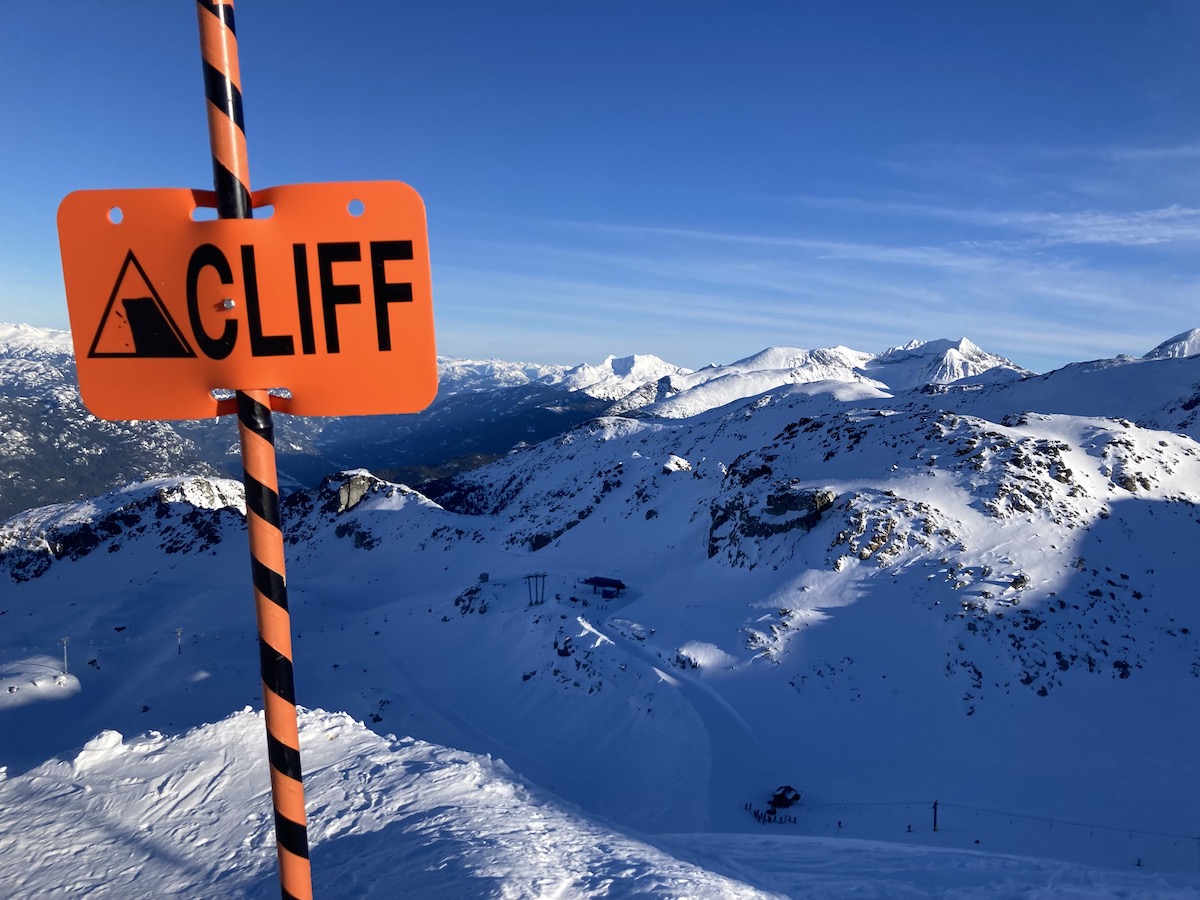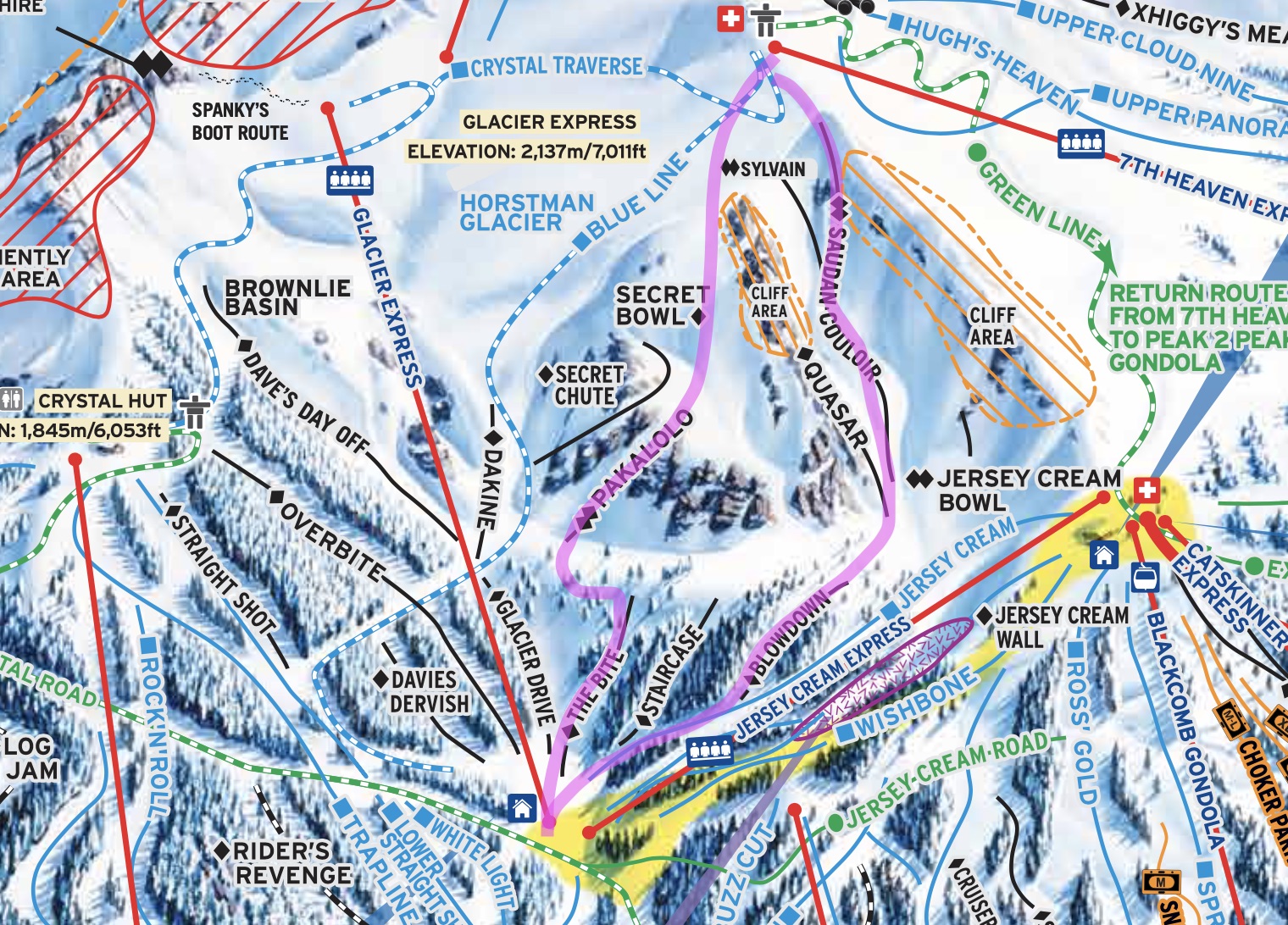 Ride up the glacier chair and do one a lap back down to the glacier lodge. Dakine is a super fun run with great fall line if you stay under the lift, especially if the snow is soft.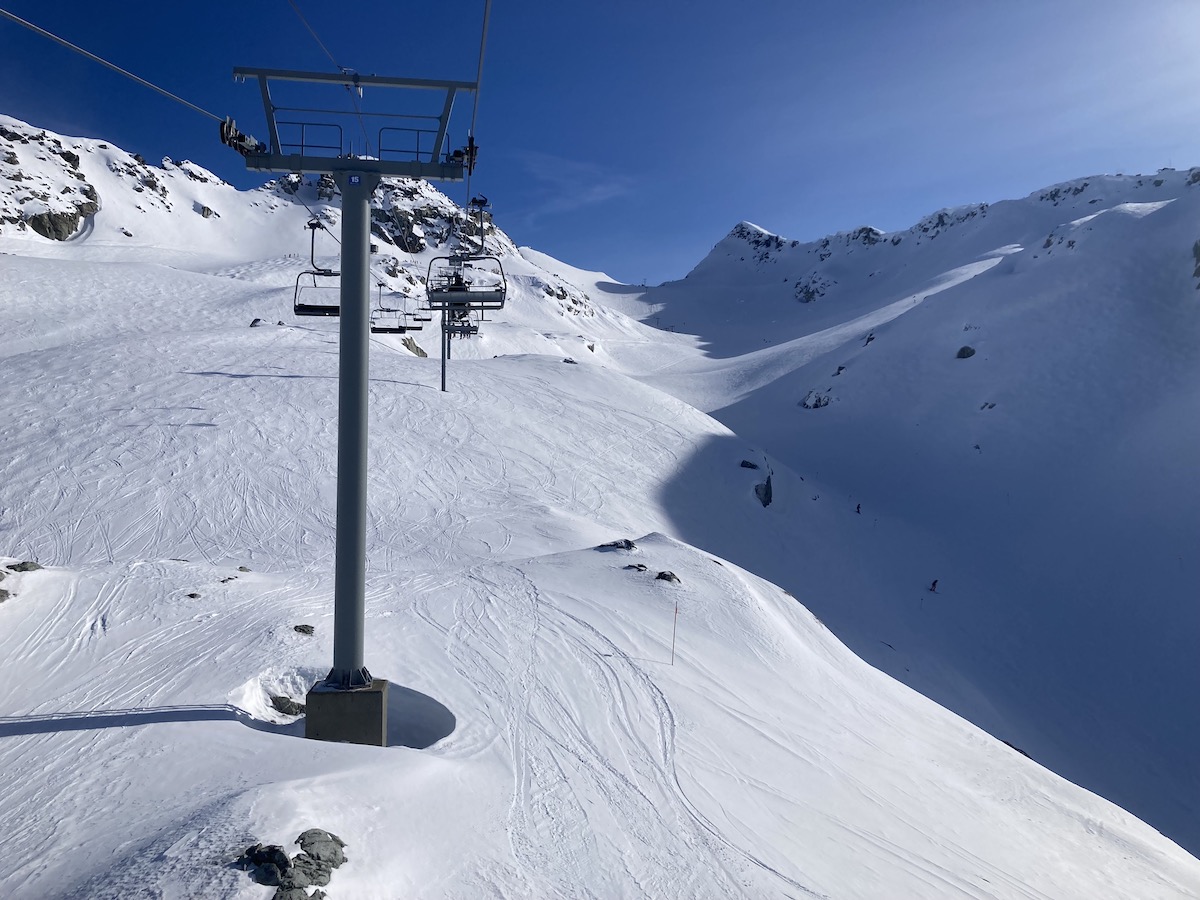 On your second round up the lift it's time to try the legendary Spanky's Ladder. Spanky's is without a doubt my favourite alpine playground on the Blackcomb side of the mountain. It should only be attempted by competent double black skiers as there are lots of cliffs, rocks and steep terrain. Spanky's is made up of the Ruby, Sapphire and Diamond bowls. There are no signs once you enter so I wrote this guide to better help you navigate the zone. If you're anything like me you'll probably be eager to keep lapping Spanky's until the glacier chair close at 2:30.
The Showcase T-Bar and the Ice Cave
No day on Blackcomb is complete without a quick visit to the legendary Ice Cave. The ice cave is one of the most gorgeous natural attractions on any mountain in North America. Please keep in mind that it is technically not on the resort, and it could collapse at any time. Enter it at your own risk or admire it from the outside. If you want to know how you can find the ice cave I've created a guide here. Depending on the snowpack and the yearly avalanches the ice cave can sometimes be completely buried and impossible to see.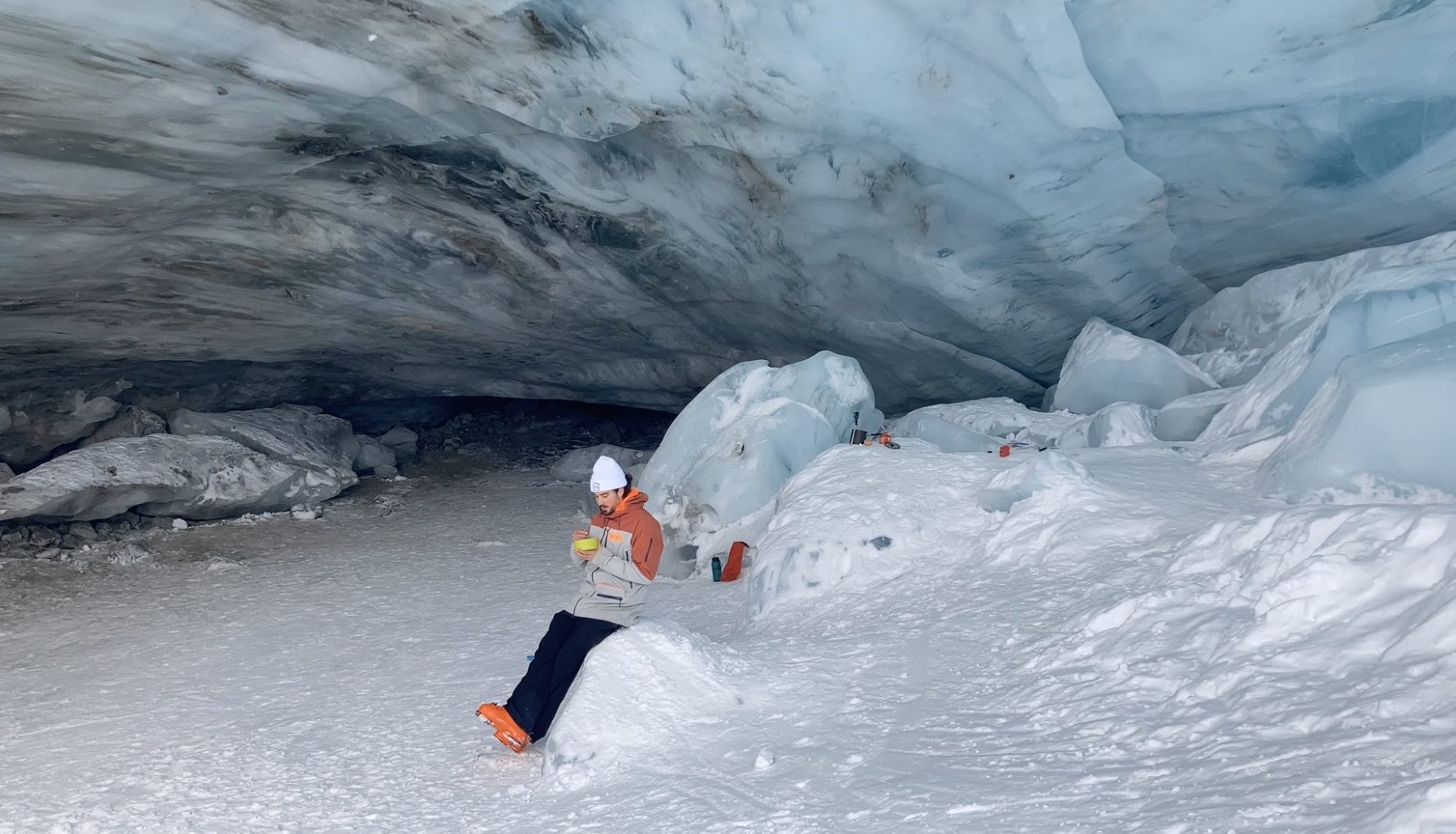 Aprés
Once you're all skied out for the day, an ice cold pint will surely be on the menu. Merlins is one of my favourite post ski beer & bite places. If you're looking for a full send, ski right back down to the village and slam some overpriced drinks at the longhorn. It's fun!
Additional Guides
This guide is simply a framework for structuring your day. Depending on your skill level, style and preferences you should pick runs and chairlifts that are the most exciting for you. I've created runs for just about every type of skier and run on Blackcomb. Give them a read so you can plan ahead. The better you understand the map and the runs you want to check off, the better your day will be!
If you are a complete beginner here's my guide for beginners at Whistler Blackcomb 
If you are a groomer fiend and want to get on your edges, here are the best groomed/intermediate runs on Blackcomb. 
If trees are you happy place, here's my guide to the best tree areas on Blackcomb 
Finally, if you want to get puckered, here are the steepest runs on Blackcomb Mountain.
How to find the Blackcomb Glacier Ice Cave
Long Lift Lines
If you're skiing Blackcomb during peak season or holiday season it can be extremely busy. For someone who hates crowds and lineups, I'd recommend steering clear of Whistler Blackcomb all together. There are plenty of mountains in BC's interior that can fill your cup without the chaos. If you're wondering if Whistler is worth it, I've also written an article about just the thing here.
I just wanted to give you the heads up so you can set your expectations and prepare to be patient.
Let me know if you have any Q's in the comments!
Keep on Shredding'