I'm so thrilled you found this article. It means that you want to protect your brain bits and are thinking about buying or upgrading your current helmet. THIS IS AMAZING. Skiing and Snowboarding is the best hobby in the world, but, its inherently dangerous. You only get one brain and protecting your noggin is of the utmost important when you're sending it hard on the hill.
Ski/Snowboard helmets are so much more than a device to keep your head safe (although they do that very well). They provide warmth, ventilation, aerodynamics, and good looks. Wearing a helmet is a norm these days and it's hard to find someone on the ski hill who isn't wearing a brain bucket.
It wasn't always this way. Historically, skiers and riders used to only shred in toques, headbands, or hatless letting their puffy or long locks keep their ears and head warm. Not only was this impractical, but it was pretty damn dangerous. By March many skiers were dealing with mush brain (now known in the modern day as concussion). After years of sending it with little to no head protection the helmet revolution began and skiers never looked back.
Thankfully wearing a helmet is both cool and practical now and ski manufactures have created endless helmet designs perfect for all skiers and riders tastes and styles.
This article is going to teach you everything need to know about helmet fit, features and style so you can buy the perfect brain bucket!
Fit
Buying a helmet that fits your head is the first and most important step to helmet shopping. All manufacturers helmets fit a little bit different so try a few sizes and different models until you find one that is snug. Most higher end helmets have a micro adjustment knob on the back so you can make micro adjustments to you helmet fit. This is especially helpful when you put on or take off a gaiter or balaclava and the overall diameter of your head in the helmet changes.
Remember when you are trying on a helmet to wear everything you would skiing. I always wear a small earband and gaiter underneath my helmet. However, in the springtime, or when its warm on the mountain I wear nothing under my helmet. Ideally you want a snug fit with and without your beanie or gaiter on so you can wear your helmet safely in all conditions.
If you are buying a helmet online make sure to measure your head and check the manufacturers measurement charts. You can either use a soft tape measure, or wrap a piece of string or shoelace around you head and then measure it. This way you will be able to determine the size of your head and be able to choose the appropriate helmet size. You want the helmet to fit comfortably snug on your head and all the way down, protecting your forehead. Don't choose a helmet that is too tight because it's going to be uncomfortable and may cause a headache if you're stuffed into it for hours each day.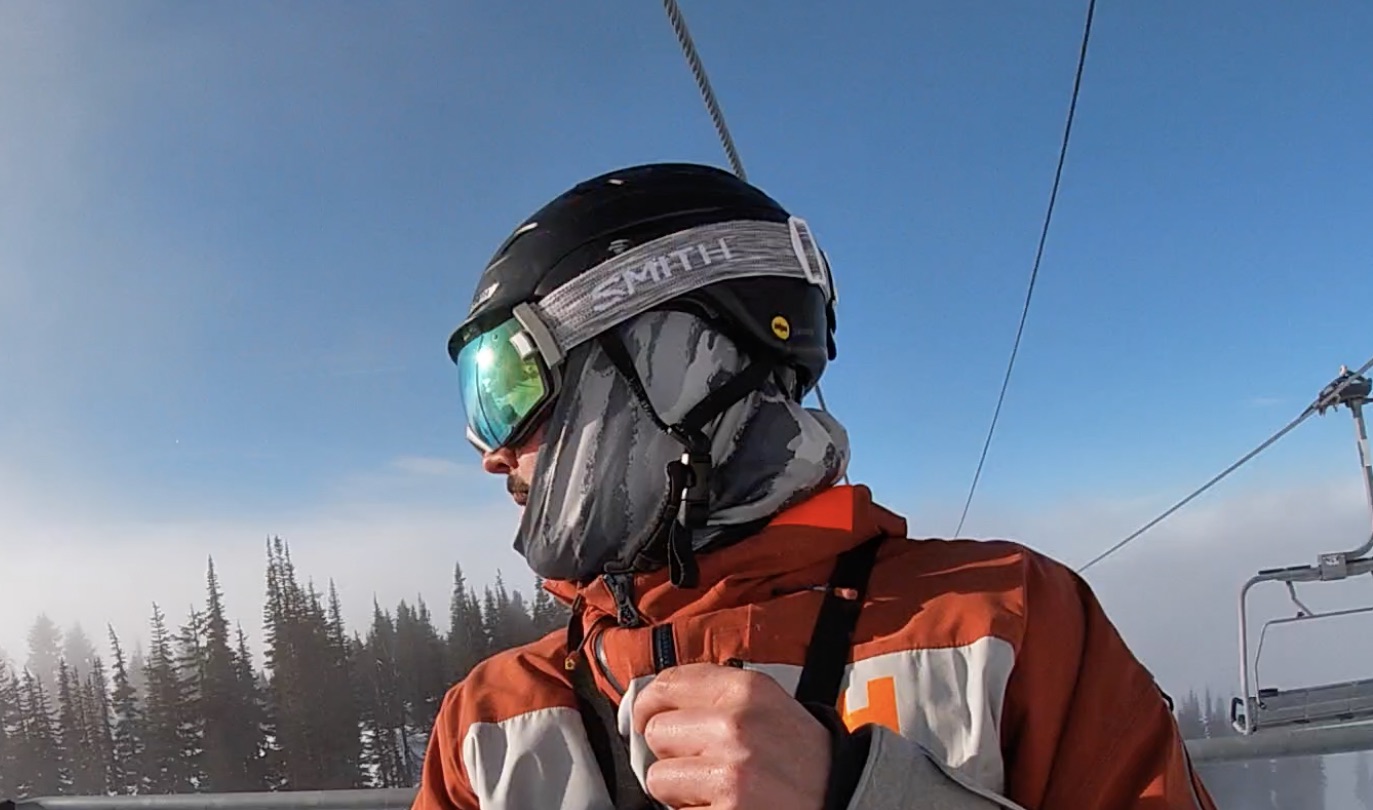 Features
MIPS
MIPS stand for Multi-directional Impact Protection System and is an additional safety element added to most high quality ski and snowboard helmets worldwide. The MIPS system is a low friction layer that sits between the foam and helmet liner which aims to prevent rotational impacts from passing onto your brain. Classic helmet foam and shells protect from linear (head on) impacts preventing skull fracture and bleeding. MIPS protects from rotational impacts which are known to cause TBI (traumatic brain injury) aka a concussion. It looks kind of like a plastic web between the liner and hard helmet foam. This plastic layer will slide 10-15mm in all directions during an impact and is built to reduce some of the rotational impact your brain may have otherwise experienced. MIPS helmets tend to be a tad more expensive, but in my opinion, why not go all in on safety!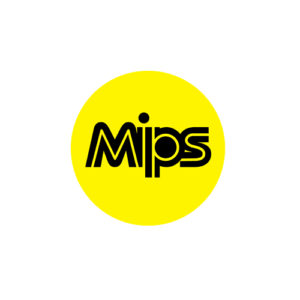 Vents
If you skiing hard you are going to get hot. Many helmets have vents on the top which are permanent or can be opened or closed. Vents are super important for regulating temperature which helps prevent goggles from fogging up.
Goggle Strap/Lock
Most helmets have some sort of goggle locking system on the rear of the helmet. If you are a skier or rider who likes to wear your goggles on top of your helmet then a goggle lock is crucial to ensuring your goggles don't fall right off your helmets during a wipeout or slide off your forehead when you have them resting off your eyes.
Integration
These days, each brand of helmet and helmet system is built to integrate optimally with their brand of goggles. I always recommend to buy new goggles when they buy a new helmet. Properly integrated goggles and helmets prevent the instance of foggy lenses, provide a better fit, and usually just look better in general. For the last 10 years I've worn Smith IOS goggles and a Smith Vantage helmet. I absolutely love the feel of the smith helmet and the outriggers of the goggles fit perfect. I've never had a single issue with goggle fog and I love the flexibility of opening and closing the vents on the top. If you are looking for the perfect set of goggles to complement a helmet check out my Guide to Buying the Right Goggles.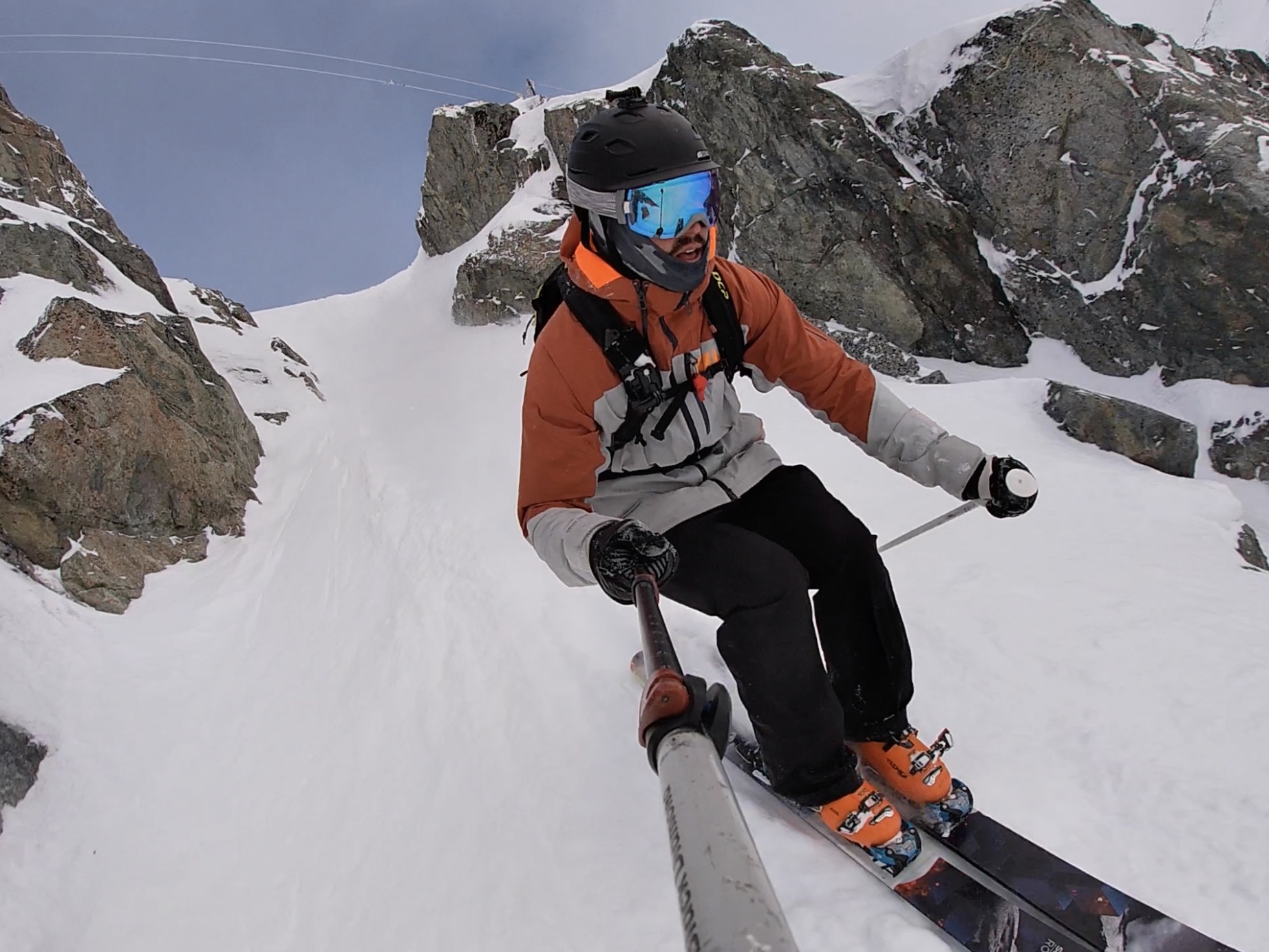 Style
Choose Your Helmet Style
The style of a ski helmet ranges from brand to brand and the one you choose is totally personal preference. The first step in deciding upon your style is picking out a helmet you like the look of.
Rounded/Classic Skate Helmet
If you like the more rounded skate board helmet look check out the Giro Ledge, or the POC Fornix.
Modern Aerodynamic Vented Look
If you want the more modern ski helmet look with sharp lines and vents check out the Smith Vantage or the Salomon MTN Lab.
Brimmed Helmet
Or maybe you like the look of a helmet with a long hat like bring, then take a look at the Sandbox Classic 2.0 Snow Helmet.
Goggles Over or Under Your Helmet?
This is a classic debate among skiers and snowboarders. Some people prefer the look and feel of wearing goggles underneath their helmet with a beanie, and others despise having their goggles anywhere but on their helmet. Over the years there has been some serious on-mountain debates and animosity between parties who wear their goggles over and those who wear them under their helmet.
Personally, I think wearing goggles under your helmet looks more stylish and allows skiers and riders to display sweet stickers on their helmet. However, I've never been able to get comfortable with having my goggles inside my helmet. I've tried many times but I simply like the feel of the goggles resting high and around my helmet.
Wearing your goggles under your helmet doesn't pose a safety concern as long as you don't have big plastic strap adjusters on the back. If you are planning on repping your goggles under your helmet make sure that you have a set with plastic strap adjusters on the side. Other than a thin beanie, balaclava, or gaiter, you don't want anything between your head and your ski helmet.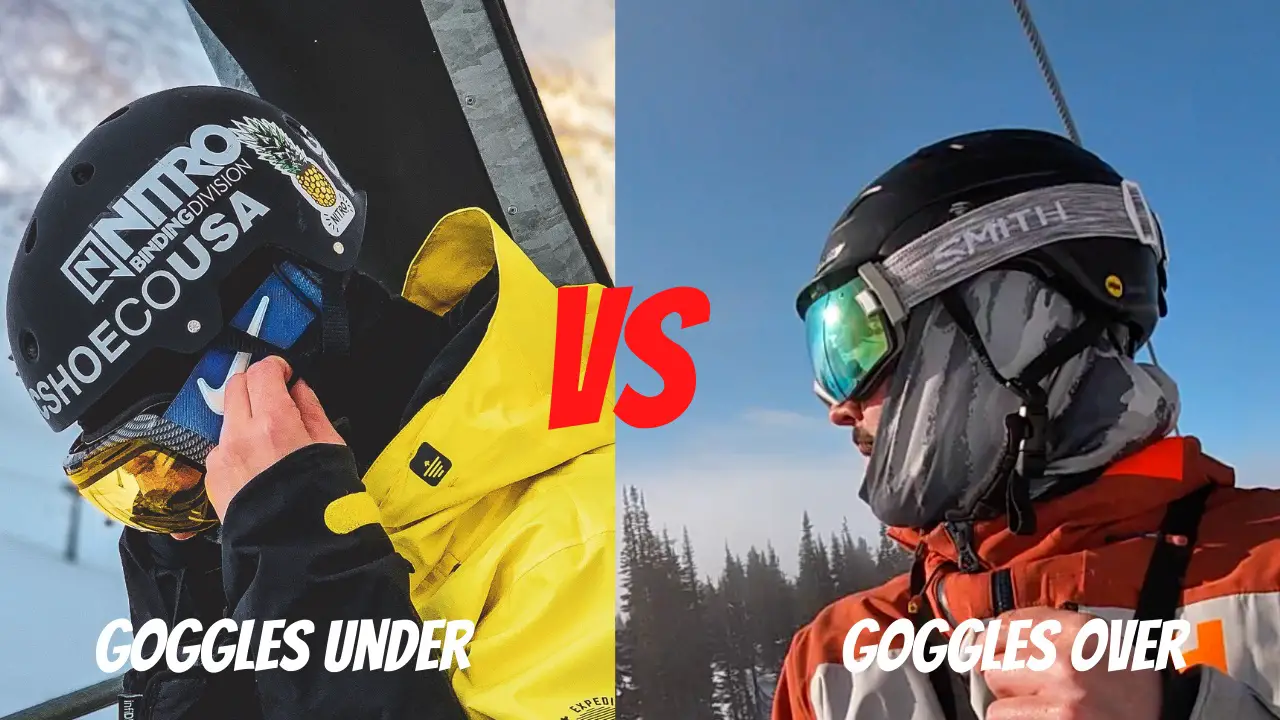 Recommended Ski & Snowboard Helmets
Best Overall Ski/Snowboard Helmets in 2022/2023
The Smith Vantage is my personal favourite and #1 helmet pick. I've been wearing a vantage helmet for as long as I can remember. The attention to detail and comfort of these helmets are what make them so special. The Smith Vantage has two sets of open/close vents on the top stretching the entire distance of the top of the helmet. It also has a BOA micro-adjustable system on the back which keeps your helmet perfectly snug. I don't really like the ear flaps and the Smith Vantage has flaps that are super easy to remove and re-attach. I like the look of the Smith Helmet and absolutely love how well it integrates with my Smith IOS goggles.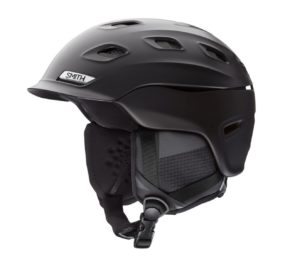 POC makes unbelievable helmets. Take a look around the next time you're at your local mountain and you might notice that some of the best park riders or ski racers are repping a POC bucket. The Fornix has it all, Goggle Vents, Fixed Goggle Clip, EPS Liner and a fixed adjustment system on the rear. The earpads are also super easy to remove and reattach for those warmer days or if you're a skier like me who hates earpads. POC helmets integrate great with most goggles and I find they look especially nice with a set of Smith Squad MAG Goggles.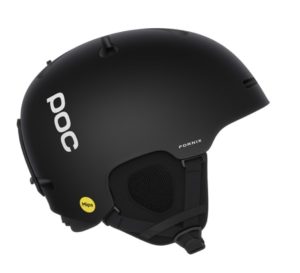 The Giro Ledge is a super minimalist helmet that is often the go to choice of park enthusiasts. Minimalist helmets are a clean look, and look even better when you plaster them with your favourite stickers. The Giro Ledge features ventilation, a removable self-adjusting fit system, removable ear pads and a removable goggle clip on the back. The Giro Ledge is the ideal fit and style for those skiers and riders who want to wear their goggles under their helmet!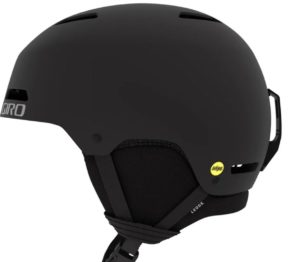 Best Backcountry Ski/Snowboard Helmet
The Salomon Mtn Lab is the ideal helmet for Backcountry enthusiasts. It's ultra-light weighing in at 365 grams. It features a custom dial fit system, merino wool, a headlamp retainer, ventilation and is alpine and climbing certified. If you find yourself outside of the resort more than inside the ropes than opt for the MTN Lab helmet from Salomon, the breathability is fabulous and keeping things light is always a win at the end of the day.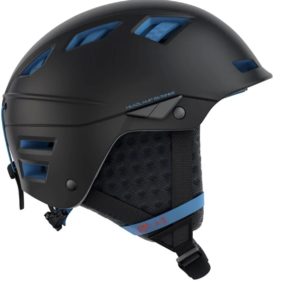 Best Budget Helmet
Outdoor Master is the official supplier of the US ski and snowboard team and makes high quality helmets and goggles for a very reasonable price. The diamond ski helmet features the MIPS safety system, great ventilation, removable earpads and lightweight construction. (Use code JAMES10 for a 10% discount on anything on the OM website)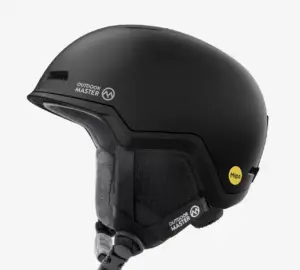 Who knew helmets were so complicated! Now you are equipped with all of the ammunition you need to purchase the perfect helmet.
Please remember to always replace your helmet every 5 years, if you have a significant fall, or if you notice any cracks, damage or think it may be compromised in any way.
Have Fun Picking a New Brain Bucket!
Do You Wear Your Goggles Over Your Ski Helmet or Under Your Helmet?
Let me know in the comments!