The breathtaking 360° panoramic views atop Tin Hat Mountain are one of the major highlights on the  Sunshine Coast Trail (SCT). The SCT spans 180km and weaves in and out of coastal communities enabling hikers easy access to many different sections. This means you can choose your own adventure and hike anywhere along the SCT as a single or multi day mission. Tin Hat Mountain is gorgeous and allows one to get a unique and spectacular views of the Powell River lakes, ocean and mountain ranges. Best part is, you don't have to hike for 12 days to get this view, you can blast up to the Tin Hat Mountain summit in just a few short hours.
Check out Tin Hat Hut Video HERE 
Remember the Backcountry Basics
The Breakdown
| | |
| --- | --- |
| Distance (Loop) | 18km |
| Elevation Gain | 916m |
| Time | 6-8 hours |
| Dogs | Yes |
| Camping | Yes (Tent & Hut) |
| Season | June-Oct |
| Difficulty | Moderate |
| Remoteness | Busy |
How to Get There
(PLEASE NOTE – HAZARDOUS ACTIVE LOGGING ROADS)
The logging roads in Powell River are privately owned by Western Forest Products and Stillwater. They are very active and you almost ALWAYS will run into a huge logging trucks. There is the potential for logging traffic 24/7 but typically it peaks weekdays between 5am-7pm. If you plan to drive up on a weekday you need to radio to other drivers. LOGGING TRUCK DRIVERS are not expecting you if you don't radio up or down and this could put you in an extremely dangerous situation. Please ensure to use a radio and always use extreme caution when driving on these roadways. If you don't own a radio, plan for this hike on a weekend!
Begin on Dixon Road in Lang Bay and merge left onto Goat Main at Mile 4. Drive as far as Mile 12, and turn onto Spring Lake Main. Stay right at the next the fork. Continue down the road and the trailhead will be the next 4×4 road to the left. There is a small lot with room for 3 to 4 cars and a trailhead sign. If the lot is full you can park somewhere on the main road off to the side.
The Route
Right off the kicker you are going to gain a majority of the elevation. The trail follows the 4×4 road and works its way up 3km gaining close to 400m of elevation. If you want to hike to Tin Hat as an out and back as fast as possible you can drive a 4×4 vehicle up this road, parking at the end and making the hike quite short. However, if you want to hike in a loop fashion you are are going to have to walk the elevation at some point, so why not get the grunt work over with. The 4×4 road is very scenic and I would go as far to recommend the drive to people who aren't even looking to hike and want to have a sweet view of Powell River from their vehicle.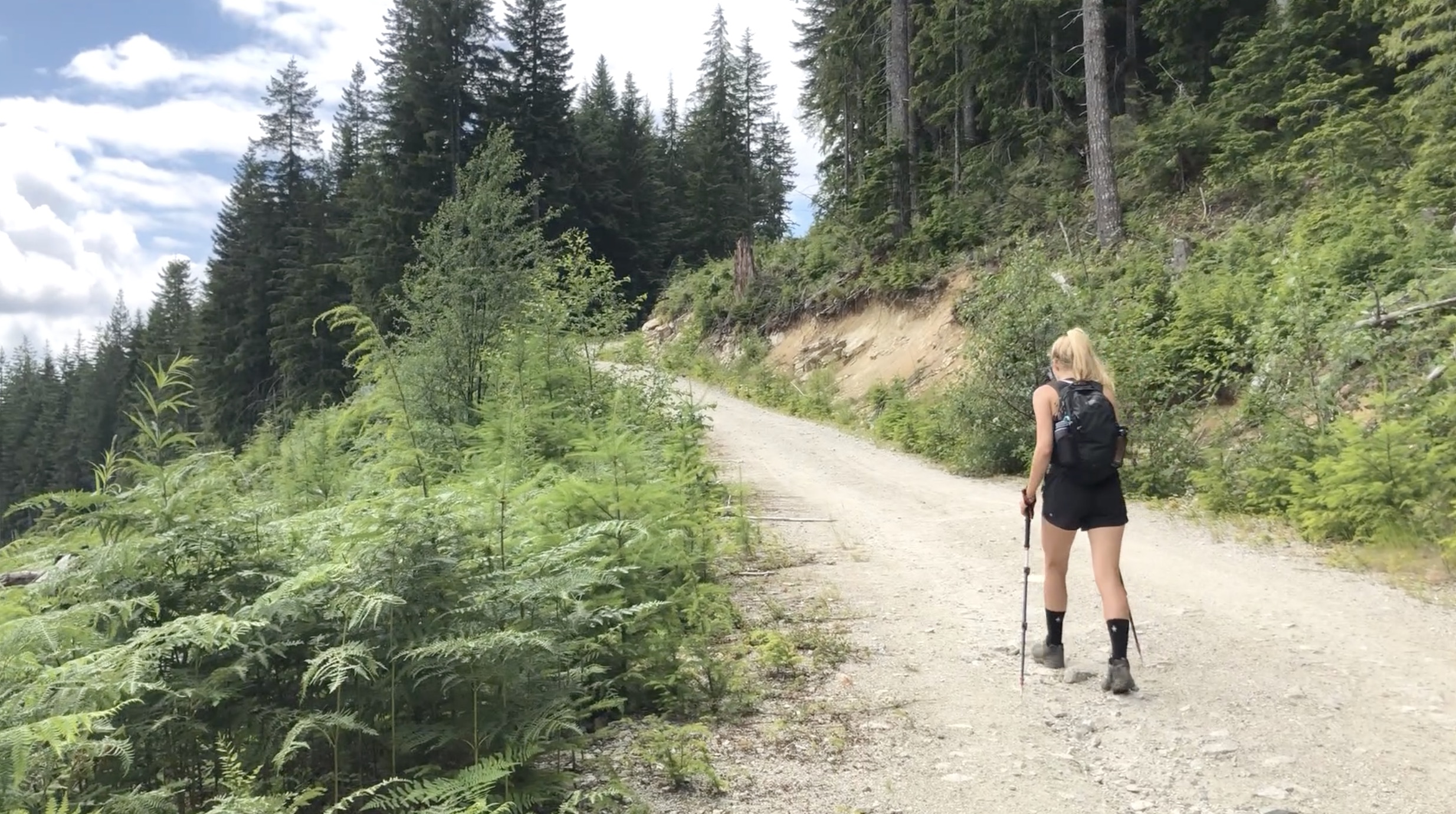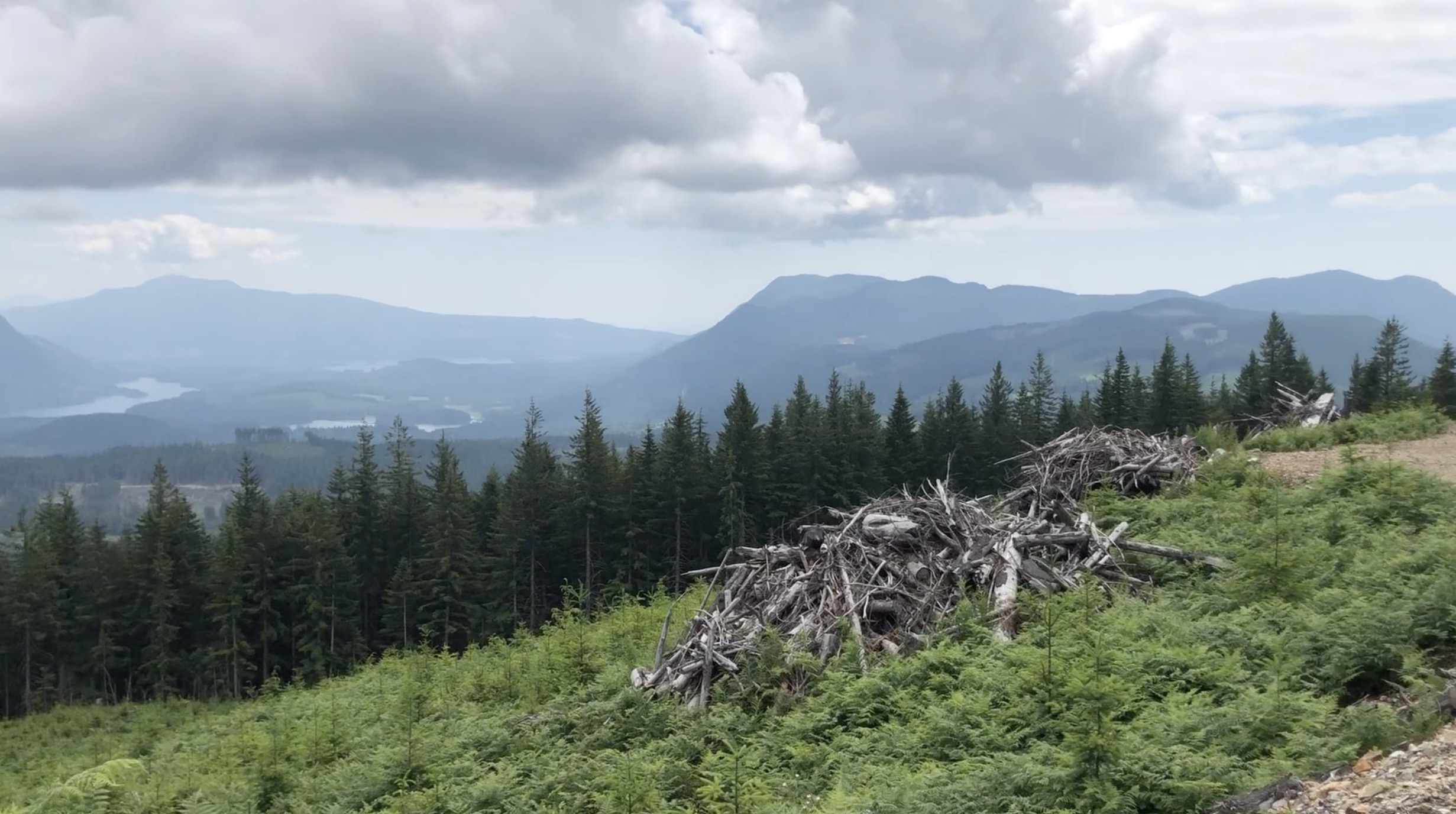 At the 3km mark (end of the 4×4 road) the trail becomes more traditional and the climbing gets steep. The rocks were dry and loose on this portion of the trail confirming our prediction that hiking clockwise would be optimal. After about 700m you are going to come to a conjunction where the SCT meets the trail that you have been hiking on. Follow the sign to the right towards Tin Hat Hut on the 88th km of the SCT.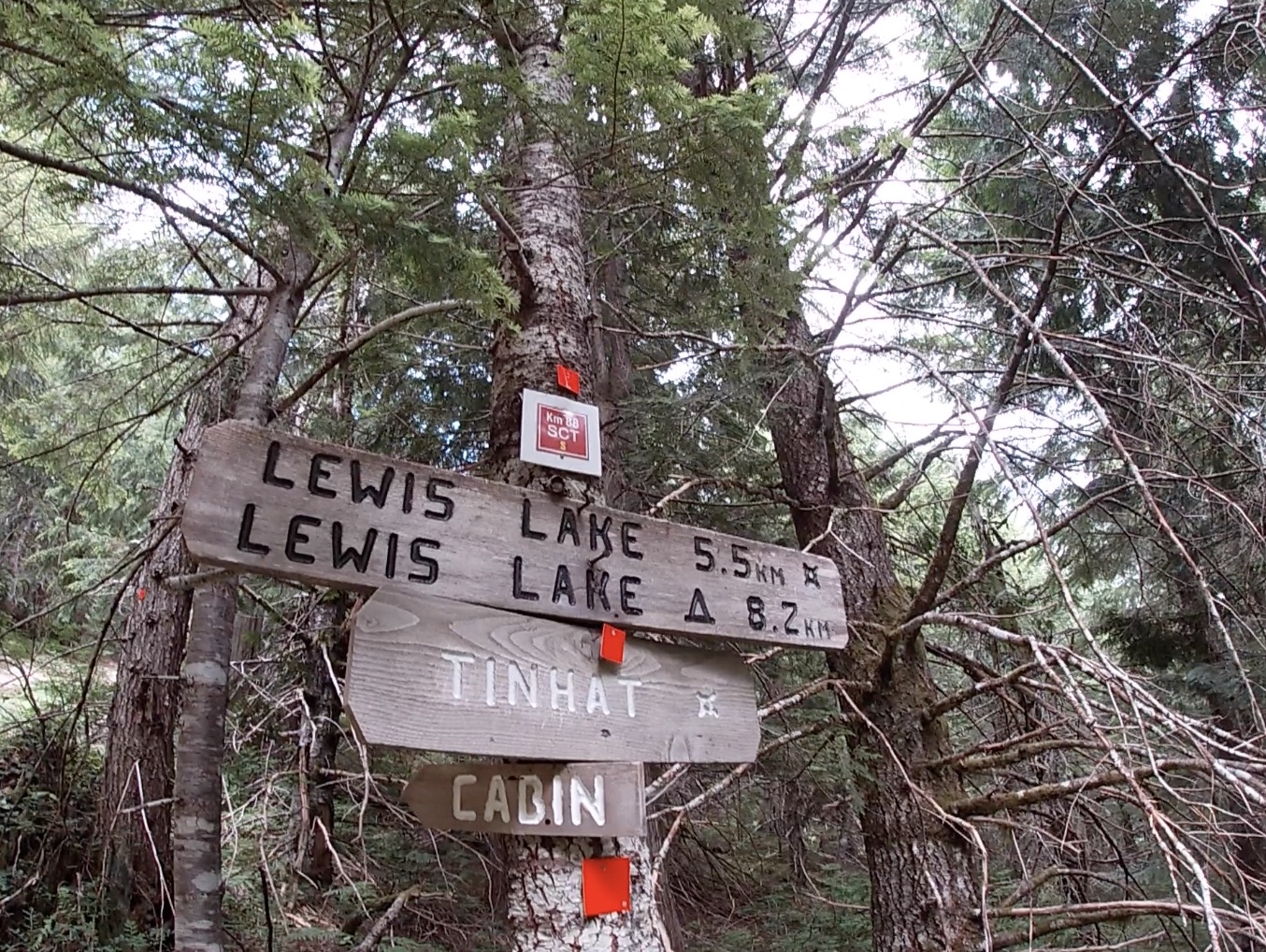 The trail will continue to get steeper but the hut and the summit are not too far away. After about 1.3km you will reach the Tin Hat Hut and you will see a trail veering off to the left and up to the summit. If the weather is clear, head for the summit! There isn't any significant scrambling but are a few rocky areas you have to climb up.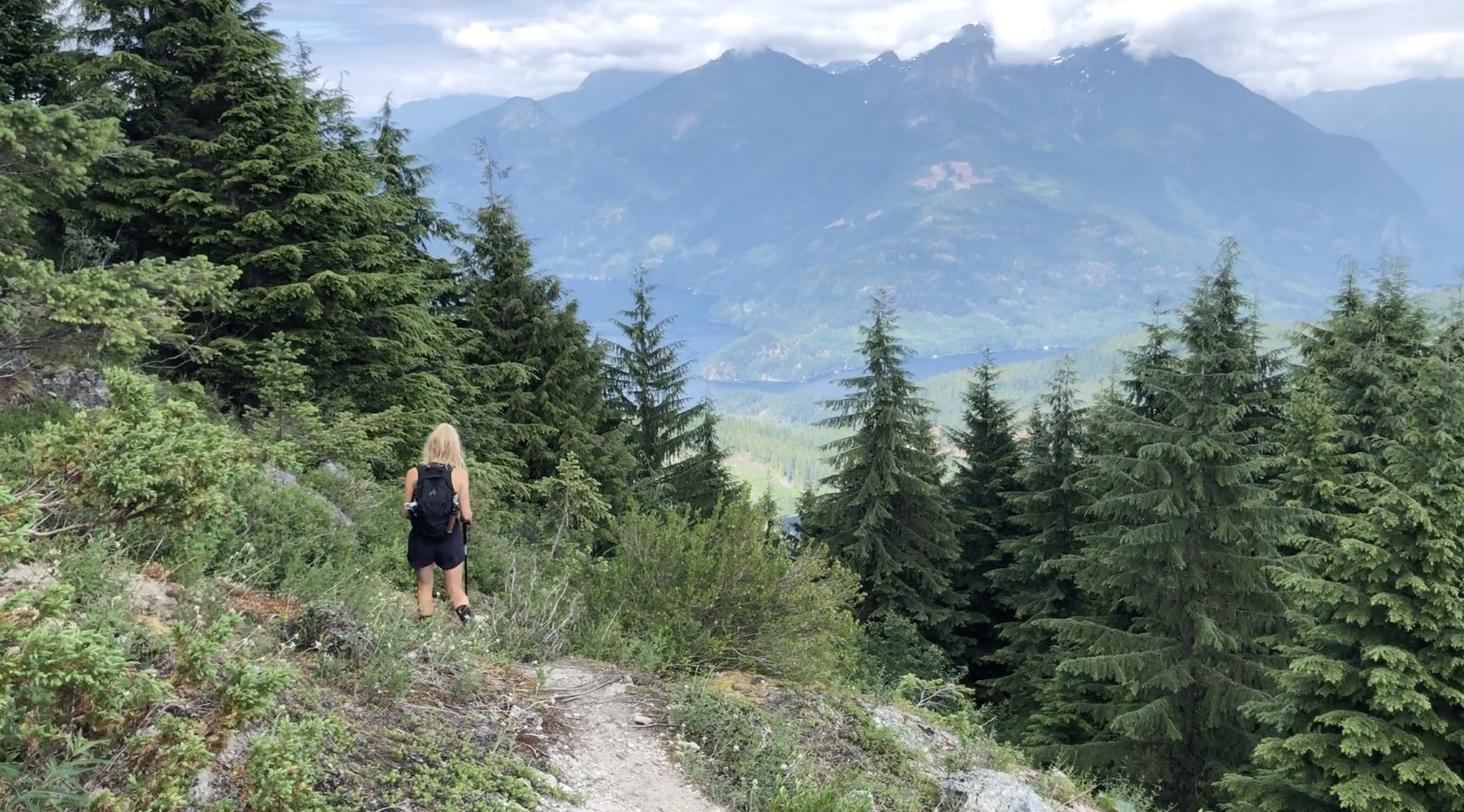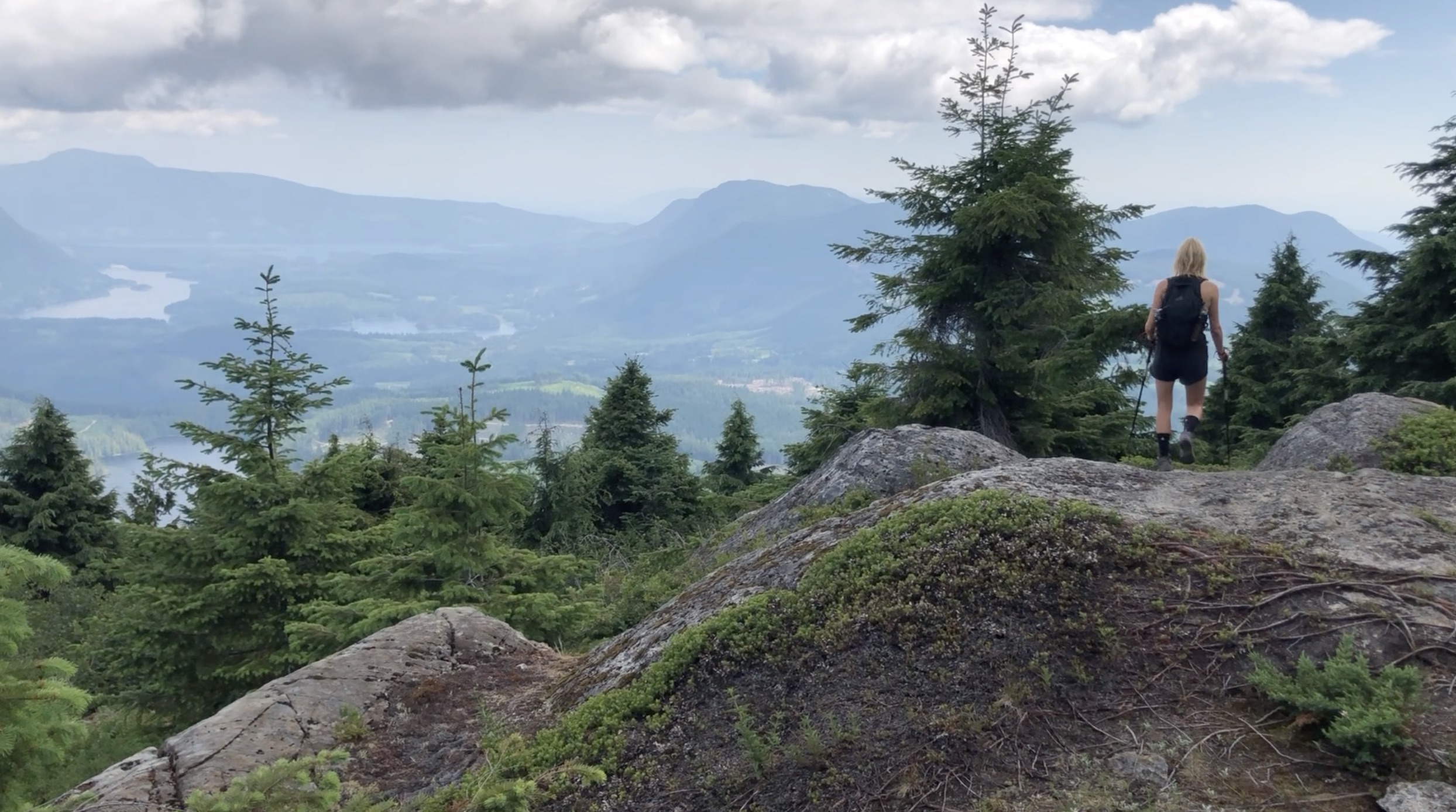 The summit is a phenomenal sight to behold. As far as the eyes can see there are mountains, bodies of water, and beautiful lush forests. But, most notably,  there's a huge green weather station at the summit with a massive Leprechaun painted on it. Once you've done your fair share of 360 stares you can head down and check out the Tin Hat Hut, which could double as your accommodation if you are planning to do this as an overnight hike.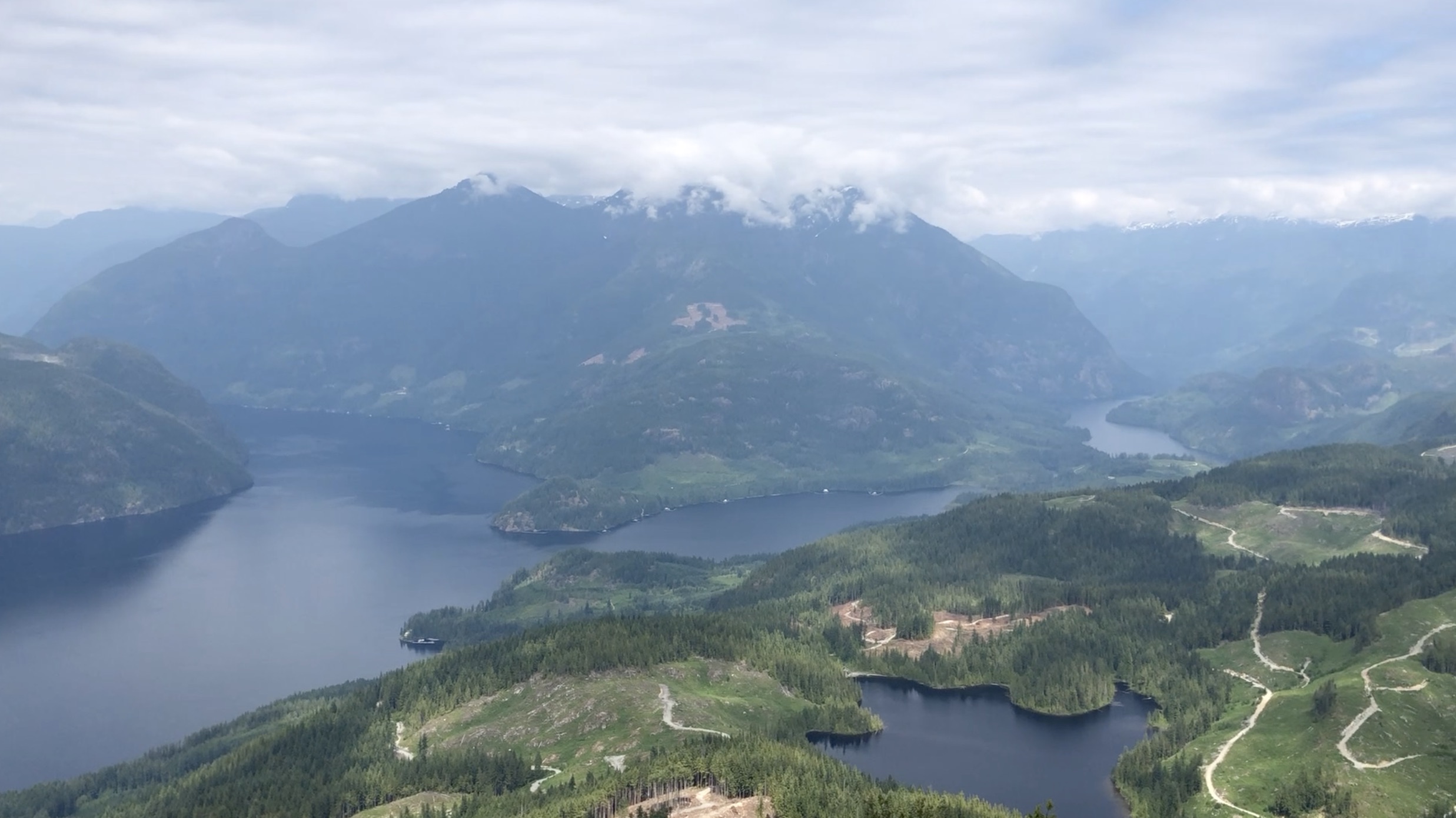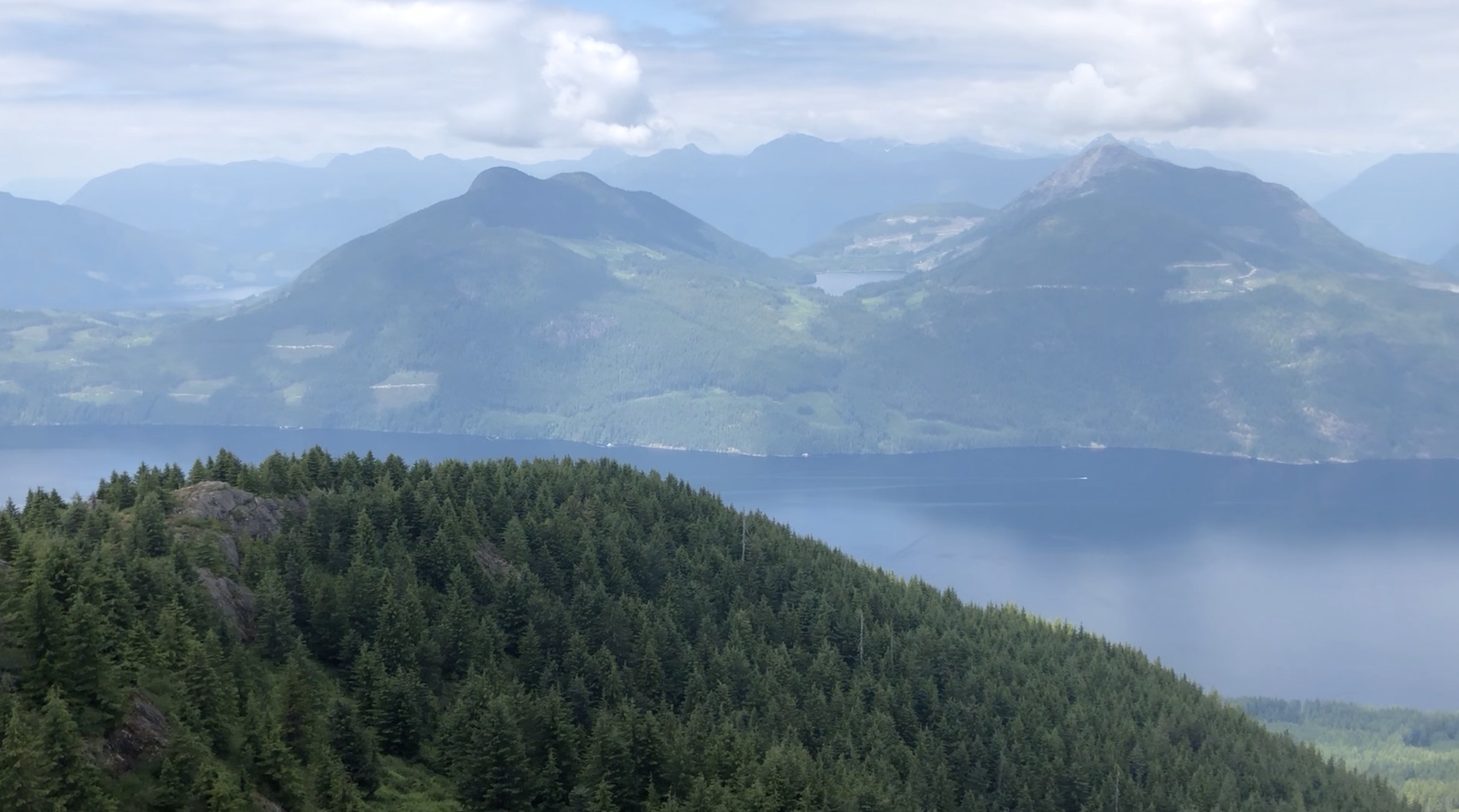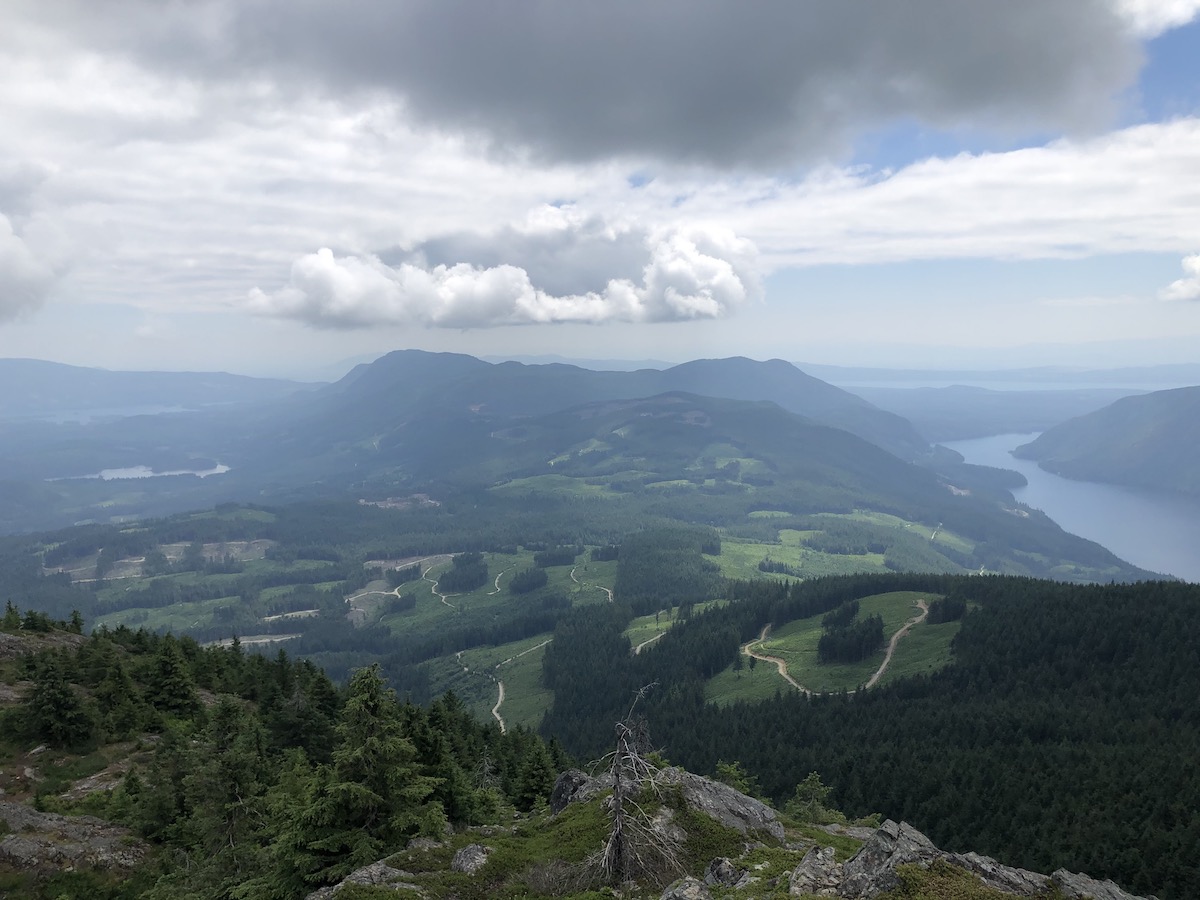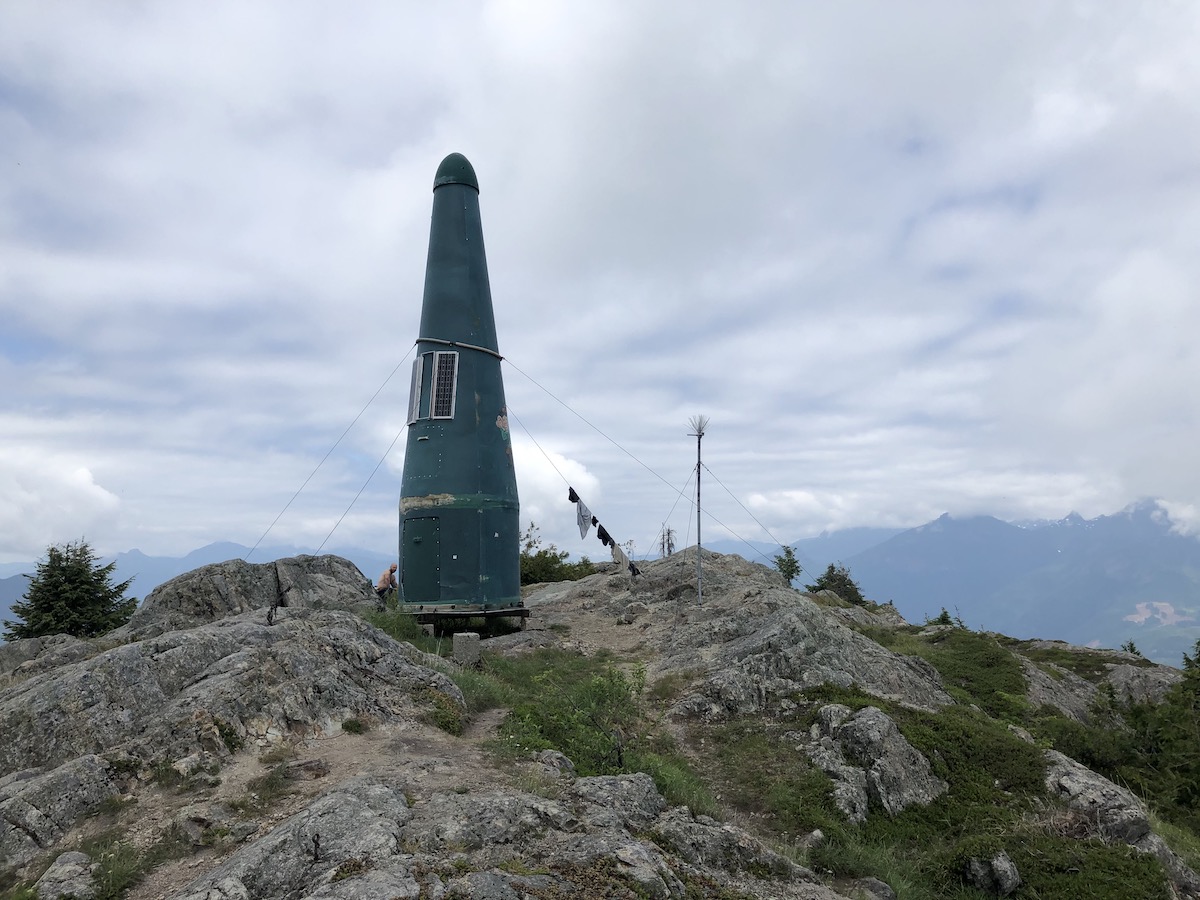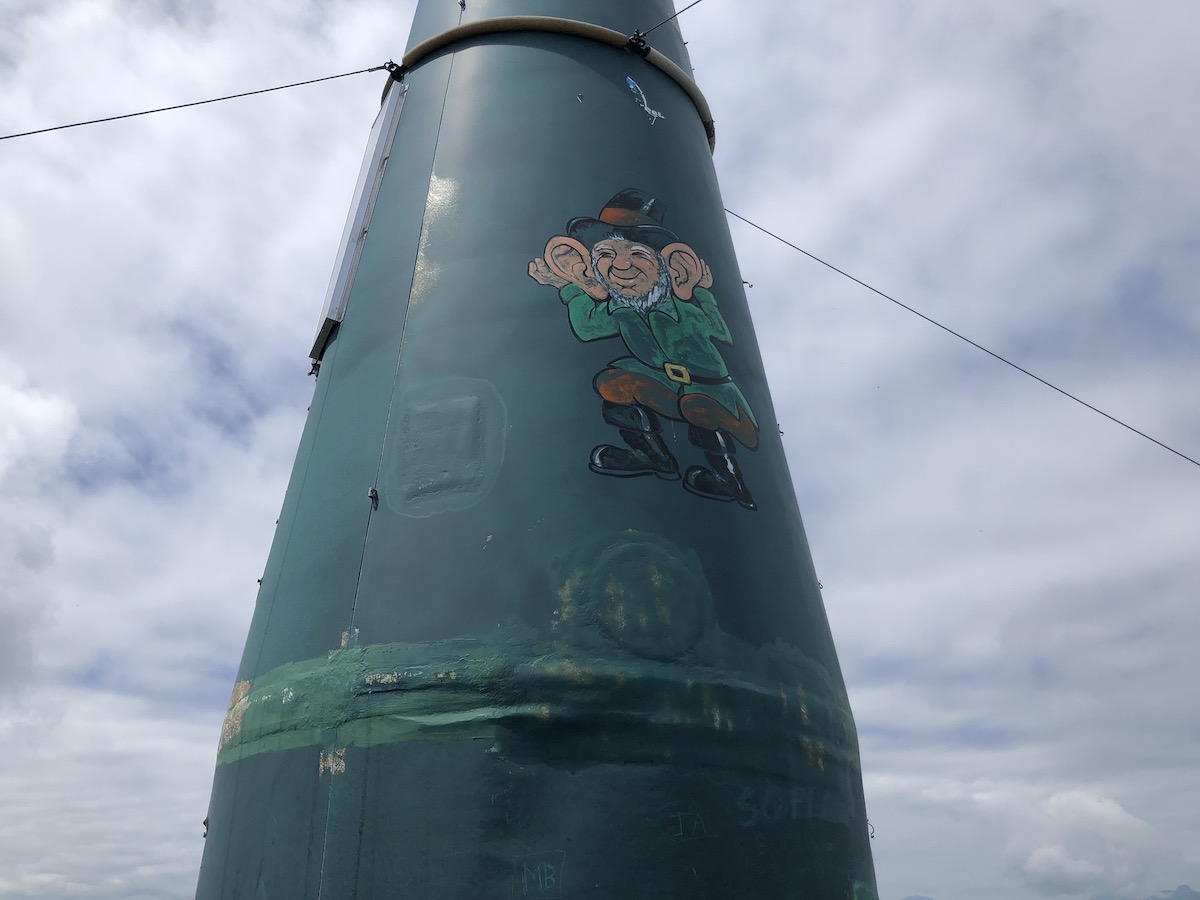 The hut has everything you need inside. A wood pellet stove, a picnic bench for eating and hanging out and lots of areas to sleep upstairs. There also is some cookware and utensils to use if you forgot something. We spoke to a couple hikers who spent the night and just about everyone slept in a tent outside because the Summer heat inside the hut was too unbearable.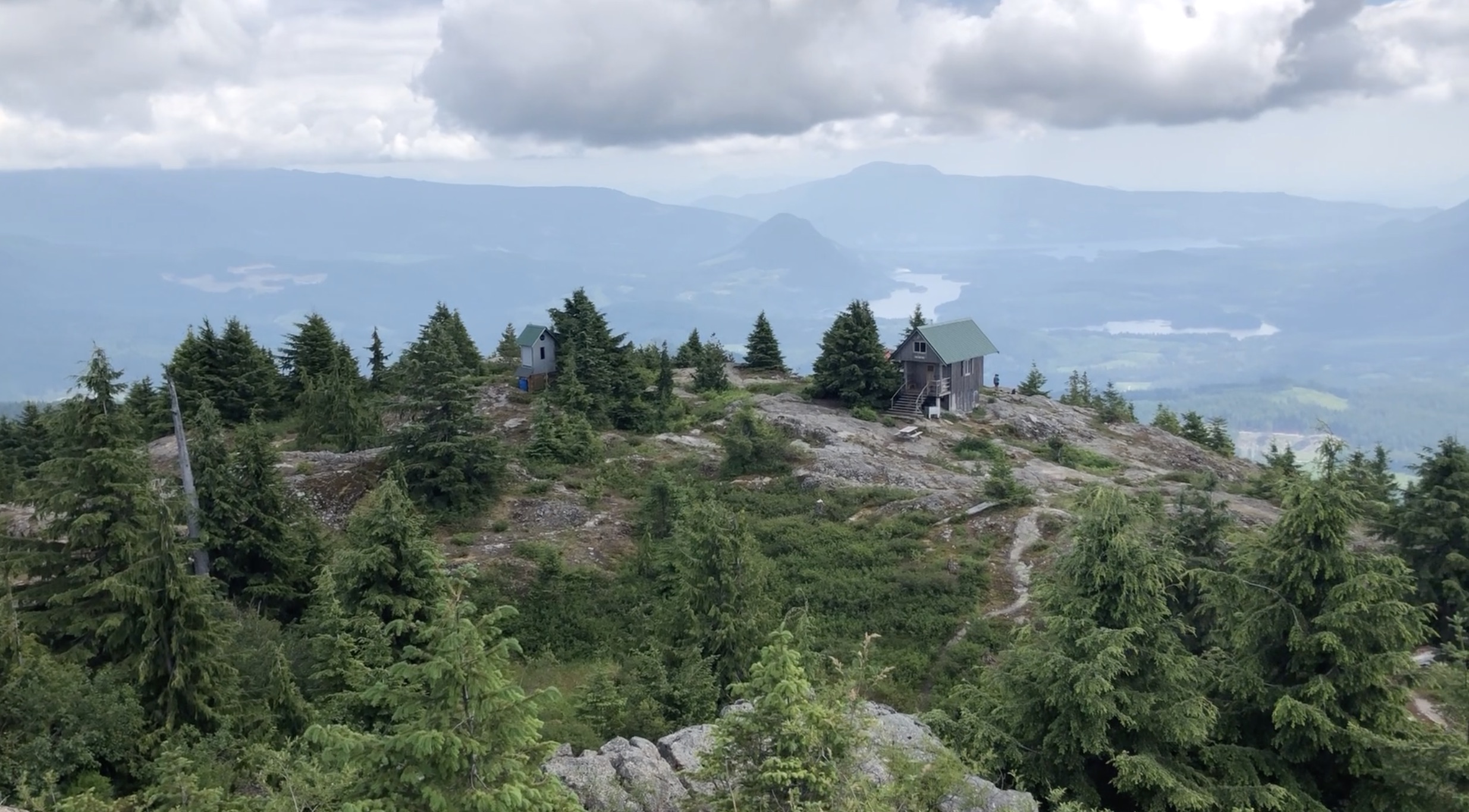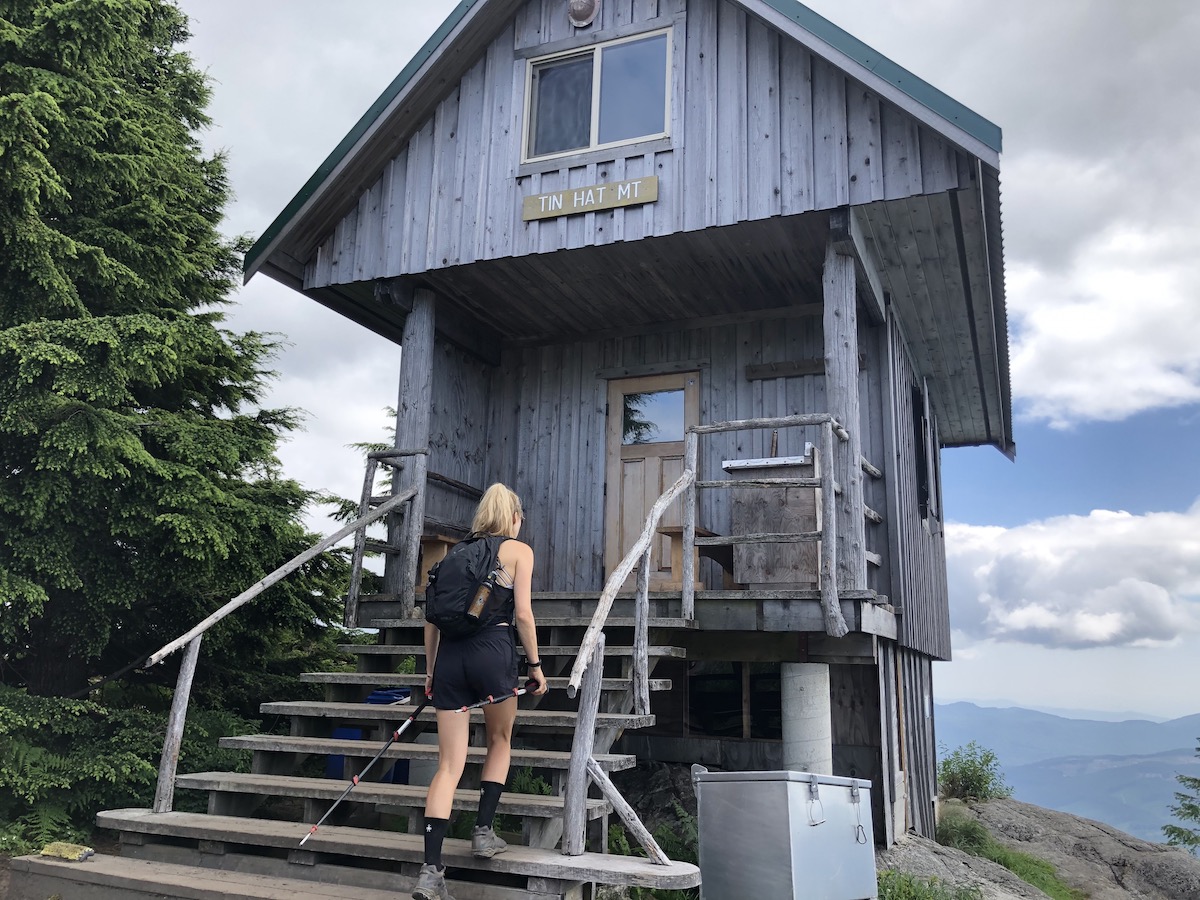 We began our descent down. The trail continues along the SCT and has more of a soft soil base which made walking the switchbacks down a pleasure. After 6.7km we arrived at Lewis Lake and stopped at the perfect picnic bench on the lake for lunch. Once we finished our lunch we covered the 4km to Spring Lake. This 4km felt super long and since we had lost our map we were becoming less confident that we were headed the right direction. In the end it all worked out and we converged with the logging road shortly after passing Spring lake at the 16.5km mark. We headed back to the truck clocking in at 5 hours and 40 minutes with a 30 minute break at the top.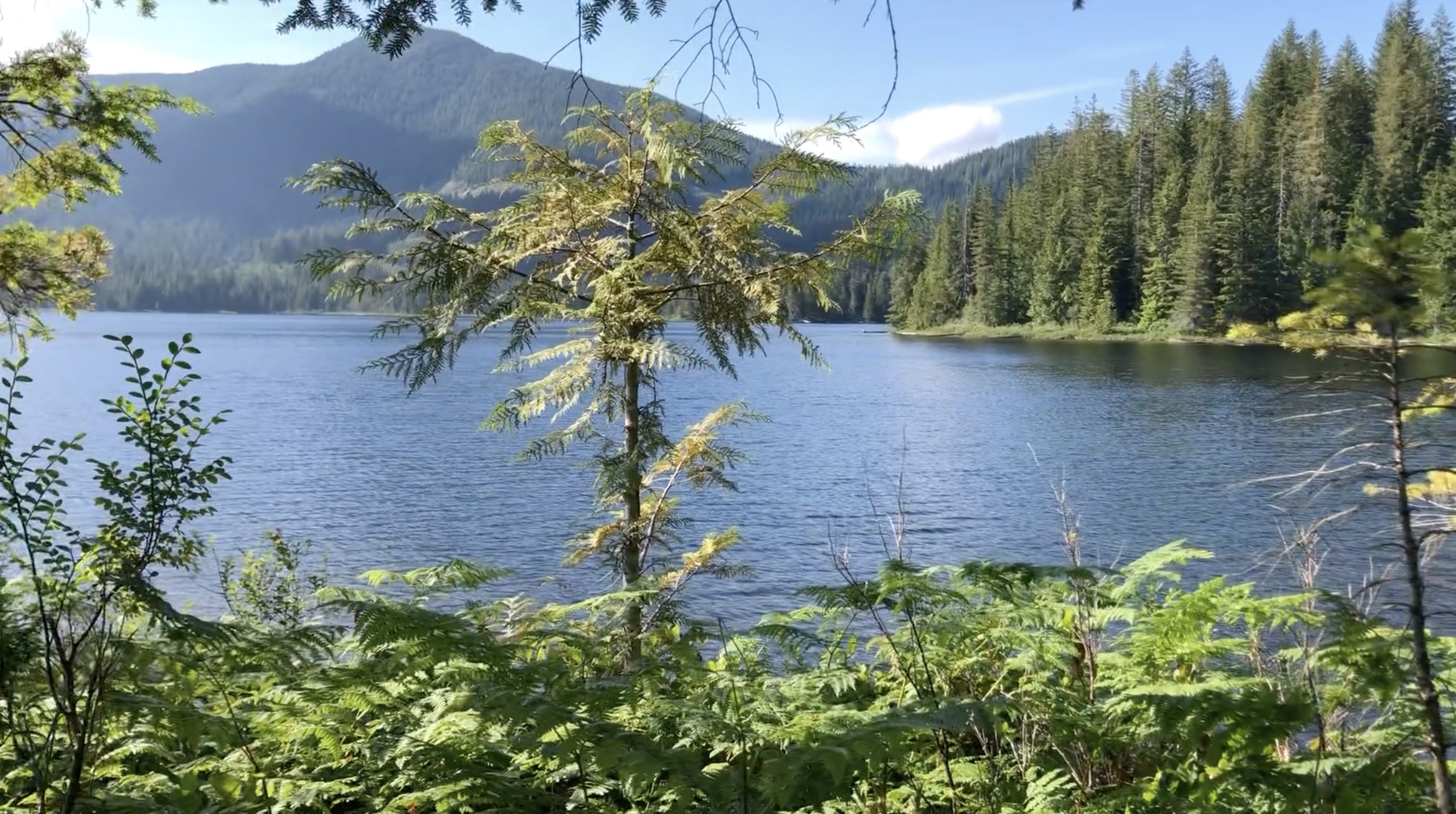 I'll be sure to be back to the Tin Hat Hut for a wintertime snooze.
Let me know if you have any questions 
Happy Hiking!