Deep snow, face shots,  heavenly tree skiing, open bowls and the opportunity to make your wildest skiing fantasies come true. These are the things that come to mind when you think of a fresh powder day at North America's largest resort, Whistler Blackcomb. However, as a local, I think there is one word that encapsulates a Whistler Powder day most accurately. CHAOS. Whistler Powder days are stressful, frantic, busy and sometimes downright disappointing.
I'm going to share with you my top 7 strategies to make the most the most of a Whistler Blackcomb powder day so you can feel satisfied when you're sipping on a pint and sharing stories at the end of an epic day.
Even though the snow is soft don't forget your brain bucket! I swear by my Smith Vantage Helmet and IOS Goggles.  
Prepare
So you've checked the snow forecast day after day and you're certain the big storm is coming. The first step to enjoying a powder day is to prepare. Powder days always seem to land on weekdays (it's just odds). For the vast majority of us working Monday to Friday this means you will have to plan to be off work. Vacation days, sick days, and being MIA for a day are all great options. Just make sure you are prepared to leave your work and not think about it or be expected to answer any calls. The last thing you want is a call from your idiot boss when you're just about to huck yourself off a beefy cliff. Your next turns and that amazing snow beneath your feet are the only things you should be focused on. Once work is taken care of its time to get all of your gear in order. You can't waste any time in the morning so make sure all of your gear is functioning and accounted for and ensure you vehicle is fueled up. Every minute wasted in the morning could mean one less run on the mountain.
Wake Up Early
Tuck yourself in early and wake up as early as humanly possible. If you're jetting in from Vancouver this may even mean waking up at 4am, I'm not kidding. Please remember to drive safe on Hwy 99 and not speed. I see so many accidents because of speed on the highway. By getting up early you will be giving yourself lots of time to get to the hill safely and early. Remember, losing a bit of sleep is worth it for powder. "You can sleep when you are in the care home!"
Be In The Gondola Line Early
If you want a chance for fresh tracks be in line at about 6am (I'm not kidding). The gondola does not even load until 8:30am. Getting in line before 7am is worth it. If you arrive after 7 you are probably going to be waiting in a two hour plus gondola line and everyone in front of you will have already tracked out the mountain. If you are not a fan of lines, then never visit Whistler on a Powder Day. Waste no time when you arrive at the hill and put your gear on swiftly securing your spot in line as fast as possible. If you're with a friend then you can save each other's spots while you use the restroom and grab coffees. Be prepared for an hour or longer to get up the gondola and the chair once your reach the top. If you got in the gondola line within the first hundred people, you may luck out and get about 3 mid mountain runs before the chairlift lines become an hour long.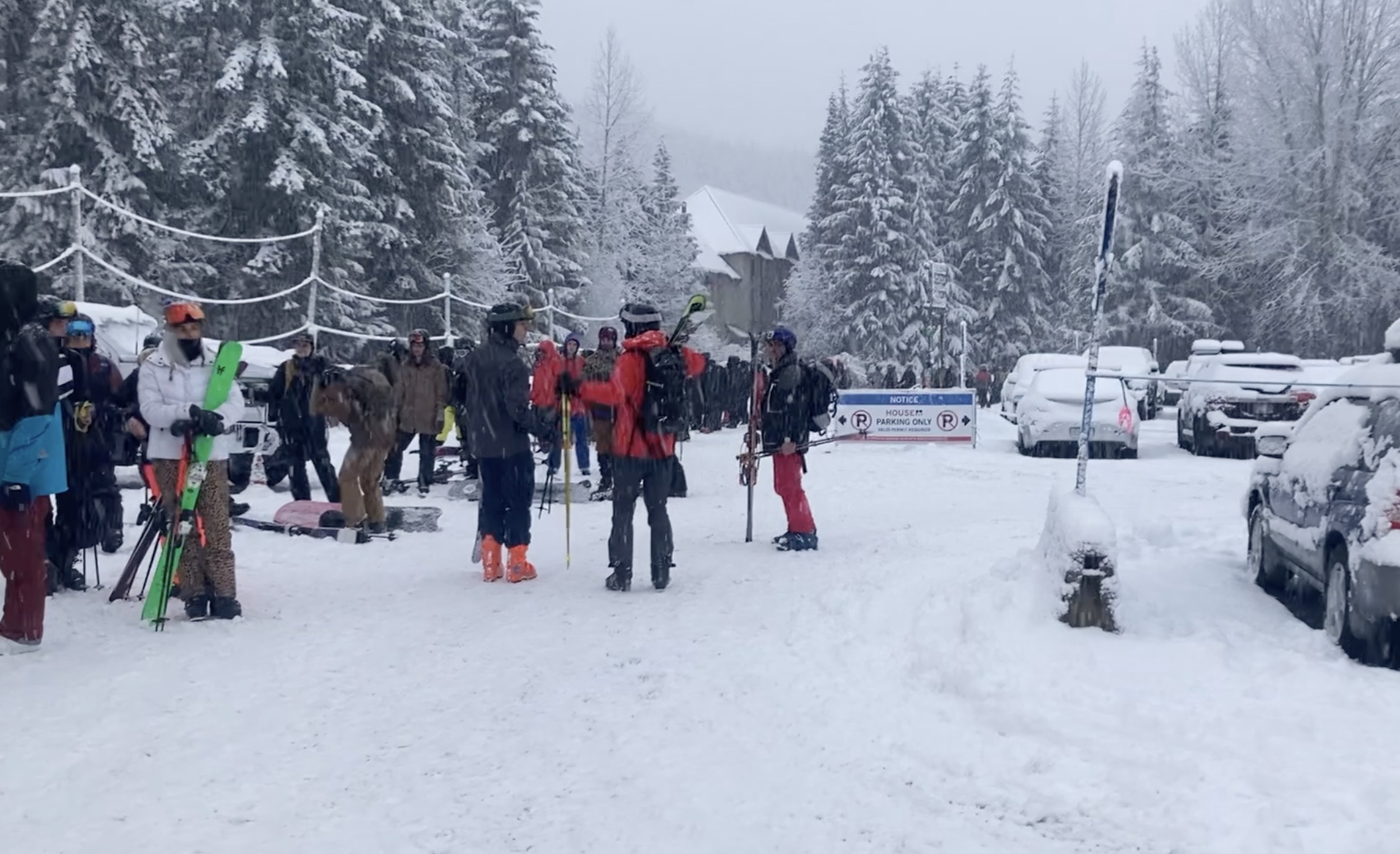 Don't Go If You Don't Have A Season pass
I'm not trying to keep you off the hill, but I'm trying to save you some disappointment. If you are spending $180 on a day at Whistler you are going to want to get your money's worth. On a powder day, since it is stormy, you will not be able to see the views (one of the best parts of Whistler) and you will realistically only get 4 runs in all day. If you are paying for a lift ticket, wait a day or two after the big dump. It will be way less crowded and you will get your money's worth. Also if you have to wait until the lift ticket office opens up you will be way to late in the line-up. For anyone who is planning to do a single day at Whistler check out my latest post on how to plan the perfect ski day at Whistler.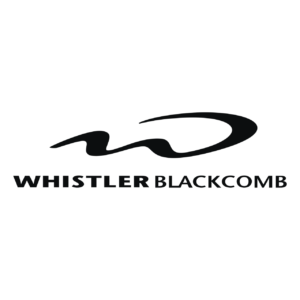 Set Expectations (The Most Important Piece Of Advice)
Setting your expectations appropriately is the best piece of advice I can give to you. Here are the realities of the day to come to terms with before hitting the mountain.
The gondola wait will be 1-2 hours in the morning (possibly longer) depending on how early you arrive
The alpine chairlifts (Peak, Harmony, Symphony, Glacier, Crystal and 7th Heaven) may not open until the afternoon or not at all
Lines for the mid-mountain chairlifts will be 1-2 hours until the afternoon
You will only get a handful of runs in all day
You might be thinking, "James, You must be exaggerating a little bit," Sadly, I am not fibbing, unless you luck out with a sleeper powder day, these are the realities of Whistler. Like I said in the beginning, it is CHAOS. Seemingly endless lift lines, lack of runs and tension are the reasons many people leave disappointed on a powder day.
Truthfully, I haven't had a bad powder day in years because I show up, full well knowing, that the day is going to be a complete and utter circus and I'm expecting to only enjoy a few epic runs.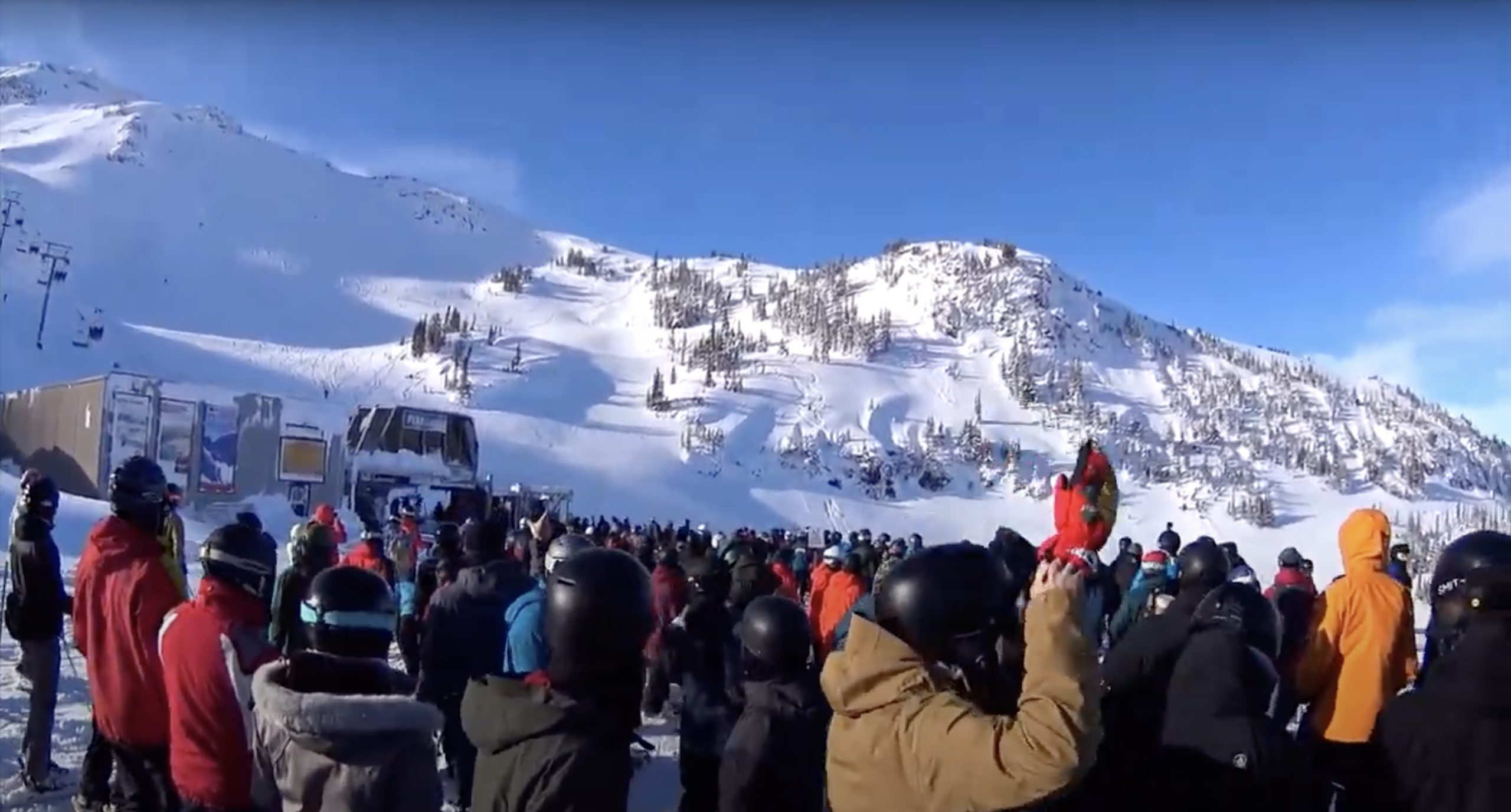 Ski With Friends
There is a classic line 'No Friends On a Powder Day', But I have coined something better. "No Slow Friends on a Powder Day". Skiing powder is all about hooting and hollering with your buddies, spraying each other with snow, having the best yard sale and gallivanting about your previous run while you stand in line for the chair.
Just make sure that your friend(s) have a very similar skiing style to yours so you don't get slowed down. I'm such a hardo when a big day rolls around on the hill. I don't eat and I don't stop because I'm so flipping excited. If I'm with someone who is on the same wavelength it will make the day that much better.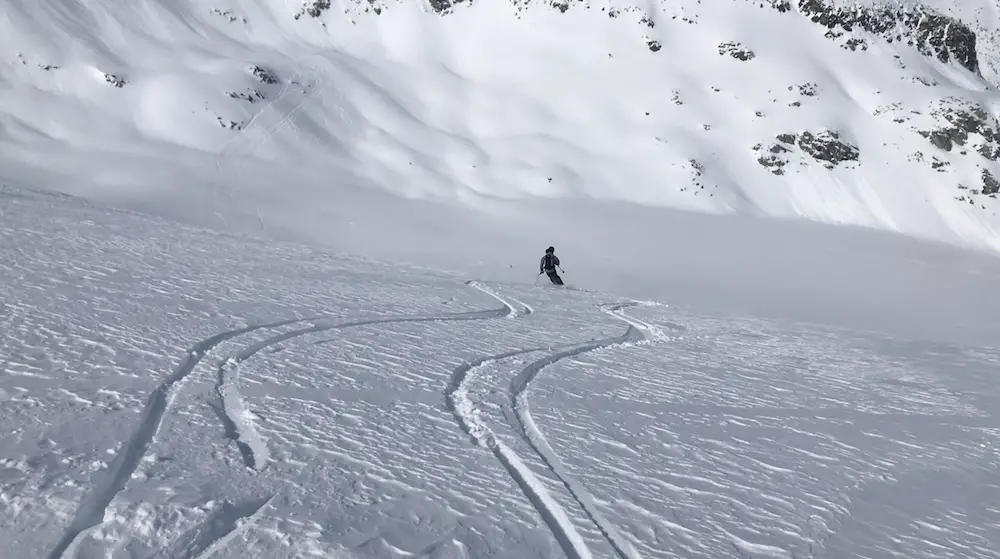 Lunch Is For The Weak
Fresh snow waits for no one. Take advantage and cherish every single turn you can steal on big snow days. The lift lines will be long so why not pack a pocket lunch an eat while your wait. If you head into the lodge on a Pow Day you might miss the chance to do a couple extra laps in the fluff while everyone else is wasting time sipping on hot soup.
The Bigger The Skis The Better
It is more than likely that you will have to spend part of, or the entire day in the mid-mountain. After a massive dump it takes ski patrol a long time to do avalanche control on the Alpine areas. Sometimes they cannot even stabilize some of the lifts for days before opening them up. Whistler already has 'West Coast' Pow which is more dense and water filled than the champagne fluff in Northern BC and the East. The lower you go on the mountain the heavier it is going to get. These are the days that you want to take advantage of your 'obese' skis. The wider the better so you can conserve energy while you punch through heavy pillows.
I'd recommend a ski that is 100mm waist width or wider. I recently tried a pair of Nordica Enforcer 104 Free Ski's and absolutely loved their float and playfulness.
If you want a true BIG POW day ski check out the Atomic Bent Chetler 120mm ski, it's a beast in the POW.

Plan Out Where You Want To Ski
The lines are going to be painfully long, so long, you might only get 4-5 runs the entire day. It is crucial, especially for your first run, that you know precisely the run that you want to ski. If you managed to slot yourself close to the front of the line you can shoot down your favourite marked run with ease. However, if you were a few thousand people back it is best to ski your favourite hidden stashes before they are tracked out as well.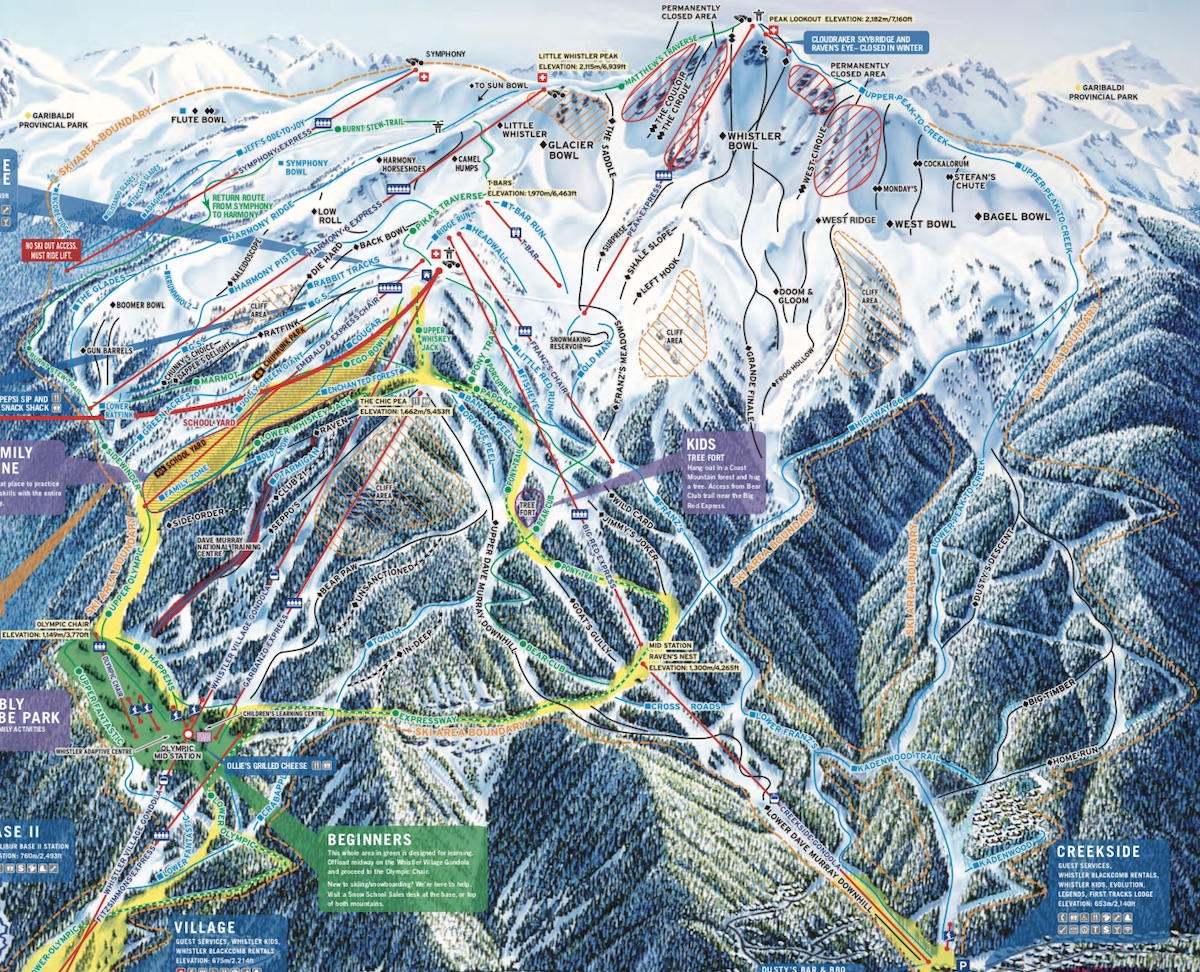 Don't Go & Wait It Out
This one is tough to do, but, if you can fight the FOMO it will payoff. Sometimes it is best to wait it out and head up to the mountain a few days after the huge dump. The crazy powder eyed lunatics will disperse and the vibes will become relaxed once again. Trust me, Whistler is huge and the snow is not going anywhere. Typically, the alpine will not open the day after a huge dump and you might even get lucky and be there for when Harmony, Crystal, Glacier or Peak chair open up a few days after the fact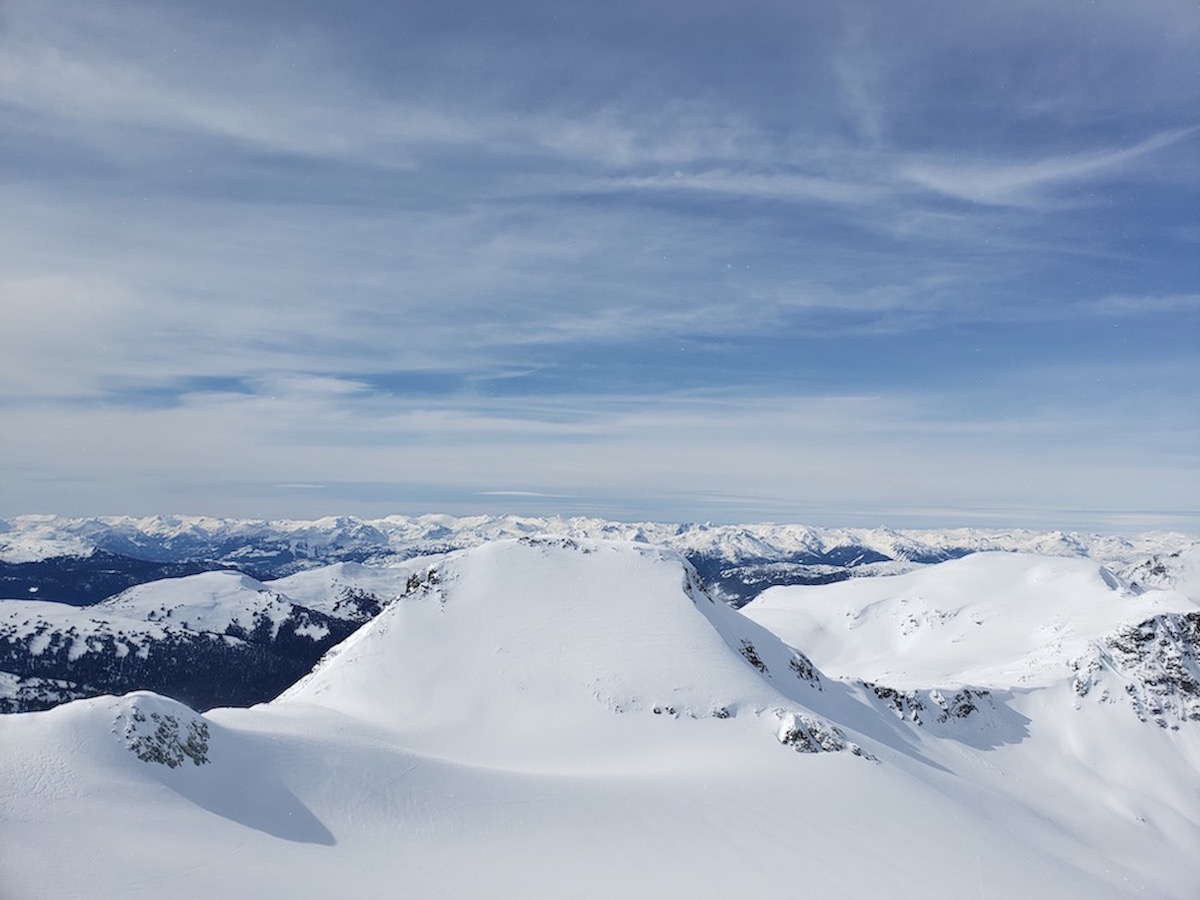 As always, there is no such thing as a bad ski day. Just understand that at Whistler, with great powder, comes great frustrations. Those who are positive, enjoy every turn, and set their expectations appropriately will have a great time on the hill, and at the very least, the people watching will be quite phenomenal.
Hopefully I saved you same heartbreak or helped you have the best powder day yet.  
Keep on Shreddin'