A good, well fitted, ski boot is the single most important piece of equipment to spend money on as an avid skier.
I know I've said this before in my 'How to ski cheap' post but other than a new helmet and well fitted boots, you can purchase all of your other skiing gear second hand. For years I punished myself in an ill fitted pair of race boots. Yes, I had immense control, but I ended up with battered feet and pain all the time. Skiing is supposed to be fun, not painful.
The best advice I can give you is to visit a professional boot-fitter who can make recommendations as to what boot will best fit your feet and make alterations to your boot so it fits perfectly. If you are on a tighter budget and want to buy used or find a deal online, that is great as well. Boot technicians will still make alterations to a boot you already own (and it isn't very expensive).
If you plan on boot shopping it is crucial that you have a basic understanding of ski boots so you can be an educated buyer. Buying ski boots can feel overwhelming, but by understanding the basics about structure and fit you can be part of the decision making process about what works best for your particular style and feet. This post will provide you with everything you need to know about ski boots and boot fit, so your feet can be happy all day on the mountain.
Remember, "You marry your boots and date your skis"
How Do You Like To Ski?
There is a boot out there for everyone. It is important that you look for a boot that matches your style and level of skiing. If you are planning on advancing your skiing abilities it is important to find a boot that will match your aspirations/goals because boots can last for many years and you want to be riding in something your skills can grow into.
Most importantly, be honest with yourself and the boot tech. If you like cruising groomers AMAZING, if you are a world cup racer WOW, if you're into stomping crazy tricks in the park MINT. All of these skier's will need a  different style boot. If someone who is learning is paired with a high end race boot, they will not have enough flex to learn how to properly apply pressure to the front of their boot, and their skiing technique will not develop properly.
The moral of the story, understand how you ski and how you want to ski, and choose a boot that is going to accomplish both of these goals for you.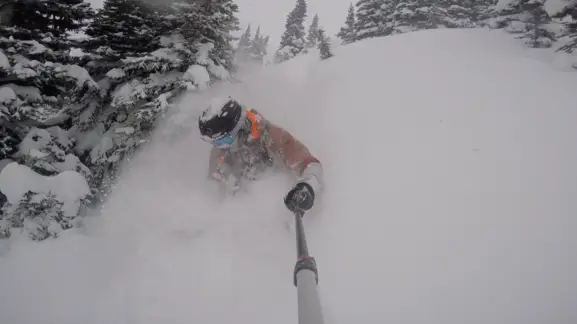 The Different Types Of Ski Boots
All Mountain
Most skiers fall into this category and use an all mountain boot as their everyday driver. All mountain boots offer a great mix of downhill performance and comfort anywhere on the mountain. They are great for someone beginner-expert who likes to do a little bit of everything when they visit the resort. All mountain boots range in sizes and flex to accommodate for all styles and skill levels.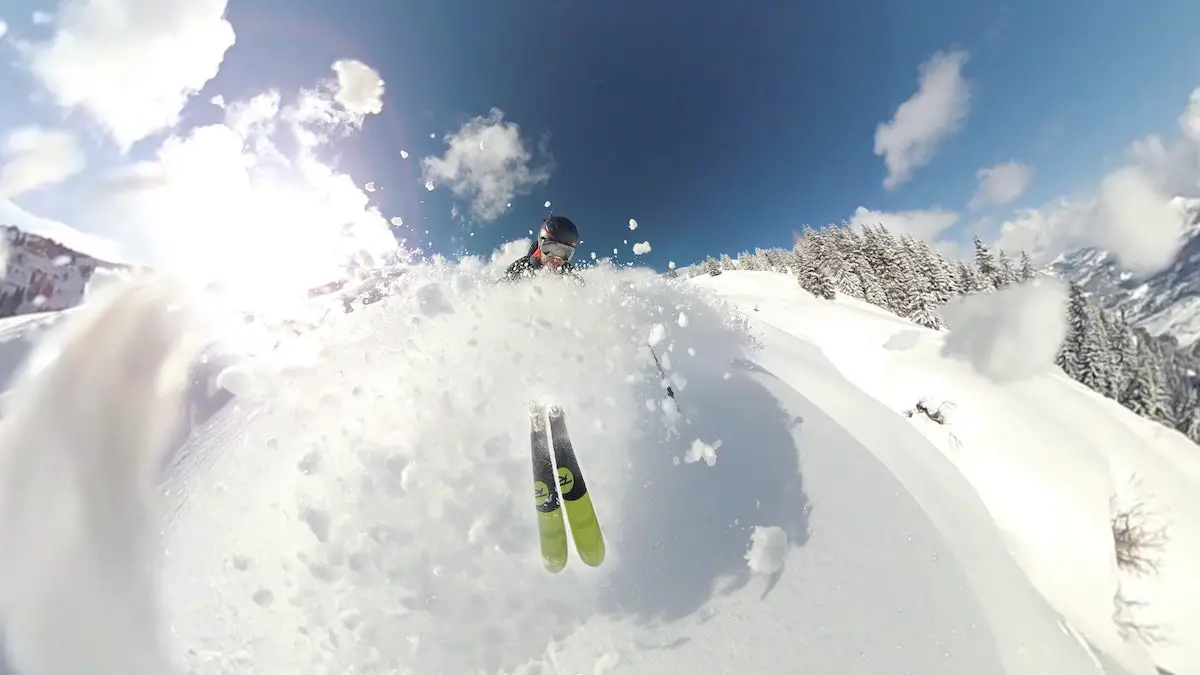 Freeride
These boots are similar to race boots, with a tight fit, high flex and responsiveness. The  primary difference is they allow for a more upright stance and extra shock absorbance since freeride skiers are going fast and dropping huge cliffs.
The Technica Cohise 130 DYN AT Boot is an amazing for all-round Freeride Skiers who like to charge hard!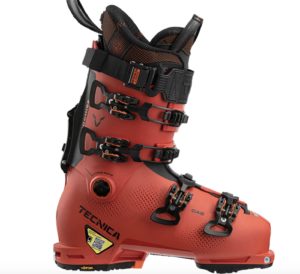 Racing Boots
Racing boots are the tightest fitting boot of them all. They are extremely stiff and fit painfully tight. Racing boots are ideal for competitive racers or aggressive skiers who love to carve. Racing boots are made to be very responsive and perform best at high speed.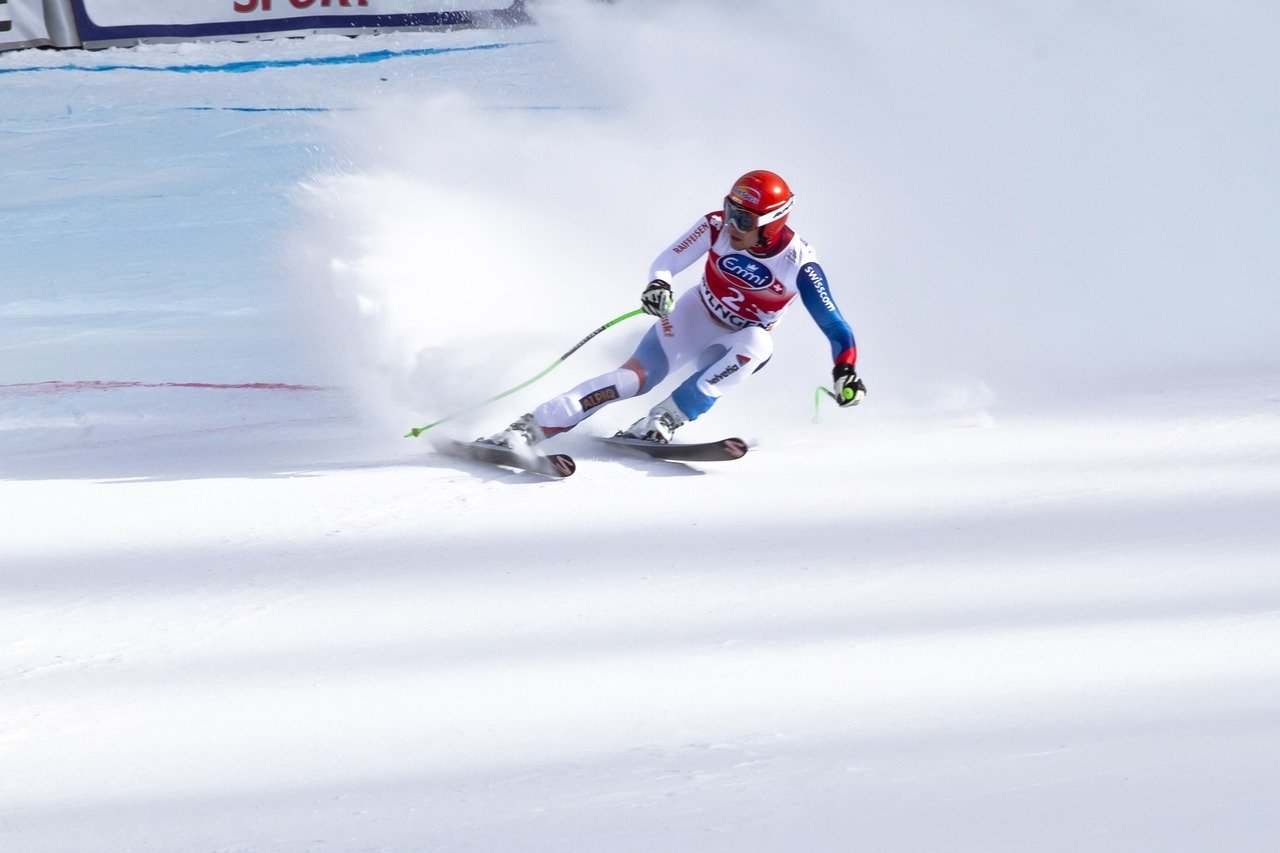 Alpine Touring (AT) Boots
AT boots are for those who want to backcountry ski. They are made like downhill boots with uphill performance in mind. These boots have soles with much better grip and a walk mode so you can be more comfortable on the uphill. Alpine touring boots have two metal holes on the toe piece for pin bindings (the lightest type of alpine touring binding). They are usually much lighter than the other boot options. There are also hybrid AT Boots that can be used both with alpine and pin bindings.

The Soloman S/Lab MTN Alpine Touring Boot is amazing for Backcountry Adventures.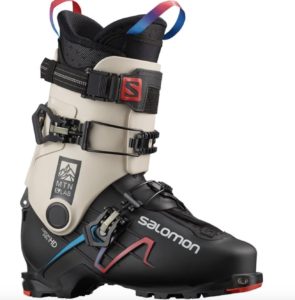 Park/Freestyle Boots
Park Boots are designed for optimal performance on jibs and jumps. With this in mind they have a very upright stance, loads of shock absorbance, a softer flex and a roomy interior. I always found park boots to be the most comfortable of all. What you gain in park performance you will lose in carving performance as an upright stance makes it tougher for one to shred frontside.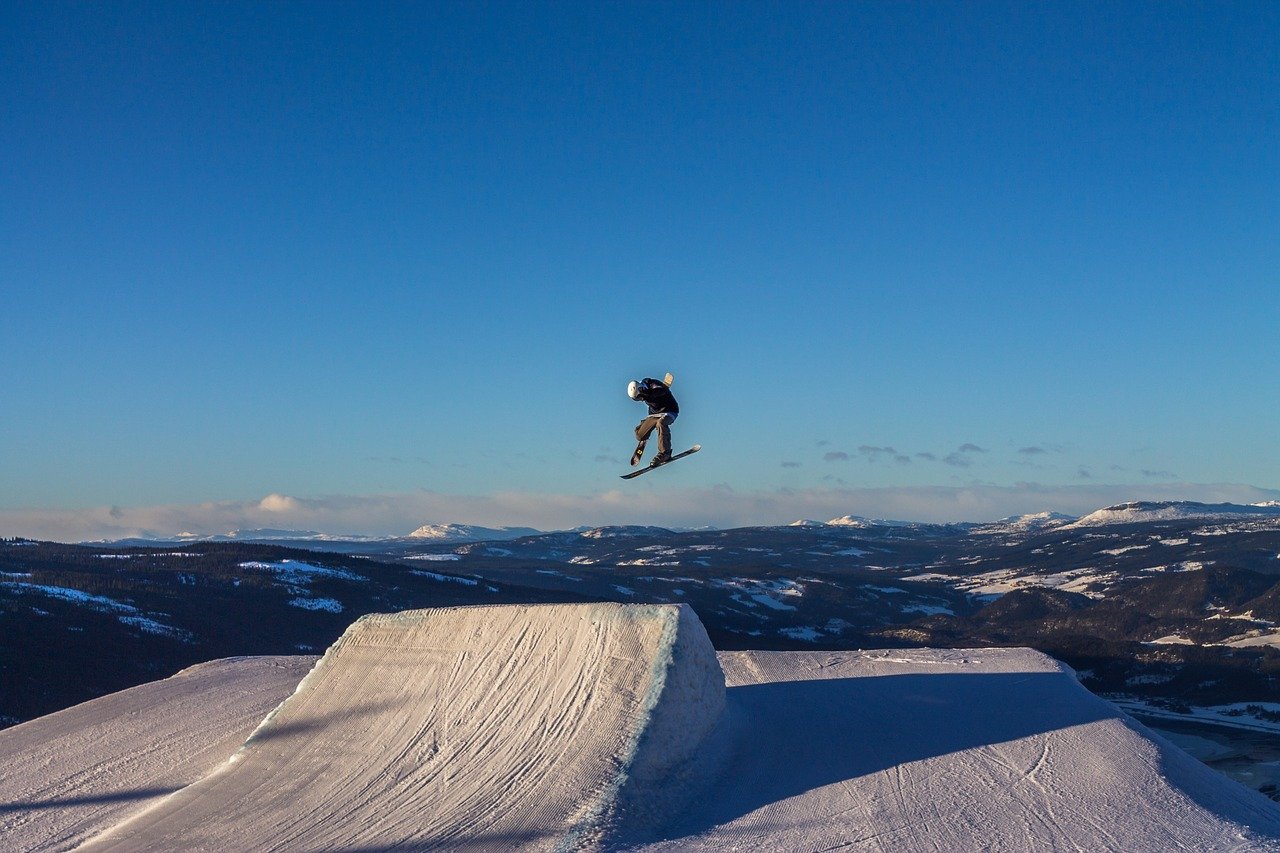 The Full Tilt Pro Line of Boots are the best of the best for all those park obsessed skiers out there. They also do an awesome job ripping up pow lines and dropping cliffs.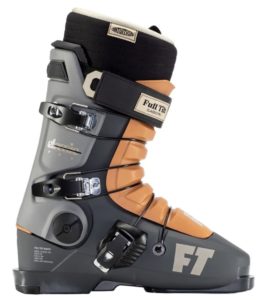 Ski Boot Flex
The flex of a boot is a measurement that specifies the stiffness of the ski boot. It can range anywhere on a scale between 60 (softest) – 140 (stiffest). Along with the Length and Last (Foot Width), stiffness is a central factor when determining proper boot fit. Manufacturers make changes to the thickness and design of boot shells to adjust the stiffness.
Similar to ski boot size there is no standard for flex among manufacturers. Each manufacturer rating of flex is observed to be different among brands and categories. For example, a 130 flex in a Head downhill racing boot will differ from a 130 flex Scarpa Alpine Touring boot.
If you have a couple boot models in mind, Google some demo's/boot reviews or talk to a boot-fitter to determine how each compare to one another.
Here is a quick guide to boot length and flex depending on your style of skiing.
Level
Beginner/Intermediate
Intermediate/Advanced
Advanced/Expert
Run Type
Greens & Blues
Blues & Blacks
Anything Goes
Terrain/Style
Cautious, Slow Groomers
Rip Groomers, All Mountain, Bumps, Jumps, Off-Piste, Park & Pipe
All Mountain, Steeps, Cliffs, Backcountry, Race, Aggressive Carving, Park & Pipe
Fit
True to Mondo Size
Mondo Size or 1/2 size smaller
1/2 to one full size smaller than mondosize
Flex
Mens: 60-80
Womens: 50-70
Mens: 85-110
Womens: 65-90
Mens: 115-140
Womens: 90-110
Boot Size Depends On Skiing Ability and Style 
Ski boots are not like shoes! Your boot mondo size (length in cm of your longest foot while standing) will be different from your shoe size. Finding the ideal fit for your performance requirements might mean you have to go down a ½ to a full size depending on the brand and your ability.
Beginner/Intermediate Sizing
For a beginner it is typically best for the boot fit to match the mondo size, have a soft flex and be the appropriate  Last(width). You still want the boot to feel like a snug handshake on your foot because a boot liner packs out (becomes bigger) overtime. Typically beginner skiers will be on the mountain less and it will take longer for a boot to pack out. Also, comfort is more important than performance when learning to ski. You want to have a positive experience when learning to ski and being uncomfortable is not conducive to a positive learning experience. A softer flex will allow a skier to learn to apply pressure in a forward stance to the front of their boots.
Intermediate/Advanced Sizing
It is best to choose a boot that is close to your mondo size or a ½ size smaller. This allows you to pack out the boot overtime and have a bit more of a snug feel. Choose a stiffer flex and make sure to pay attention to the width.
Expert Sizing
An expert skier should choose a mondo size that is ½ to a full size smaller than their foot. This allows the boot to be much more responsive. Experts usually run very stiff flex boots. If you are planning to downsize you may need to make alterations to the shell of your boot for areas that may feel tight or uncomfortable. For me, this tends to be around my pinky toes, instep and ankle.
The Boot Fitting Basics
Foot Shape and Length
Using a tool like a brannock (the device you see at ski or shoe stores). Measure your foot. Don't go out and buy one just walk into any random shoe or ski store and ask to use it. You can also cut put your heel against the wall and use a ruler or tape measure. Use centimetres for all foot measurements.
Begin in a standing position and note the measurement of your foot while you are standing, because this is how you will be skiing. The length in centimetres of your foot while standing is known as the MONDO SIZE. If the length of your foot is 28.5cm then your mondo size is 28.5.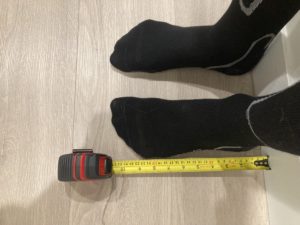 Return to a seated position and begin to stand and sit. Watch how your foot moves when it is weighted and unweighted. A foot that grows significantly when it is weighted is a flexible foot/pronated foot. If you have a pronated foot you may benefit from having a custom insole.
The Last (aka Width) of your foot
Ski boots not only come in different lengths but are available in different widths. I have a wide foot, with a big instep so I use a High Volume Boot. Ski boot manufacturers fit are all different but typically they make two or three different models to support different foot shapes. A narrow last is someone with a narrow forefoot around 97-99mm, Average last is considered 100-101mm, and a wide last is a forefoot of 102mm-106mm.
Shell Fit
Take the liner out of the boot and step into it.
First check the length. Push your toe to the front of the shell so your toes are gently touching the foot of the boot. Flex the knee forward and insert your fingers in the back of the boot. A two finger fit around ½" is a good beginner/intermediate fit, whereas, a one finger fit or less is better for high performance athletes.
Now check the width of your foot in the shell. Put your foot in the back of the boot so your heel touching the back of the shell. Spread open the boot and look right in to make sure there is a little bit of space on both sides of the foot. 2mm-3mm on either side is great as the liner does not need to much space.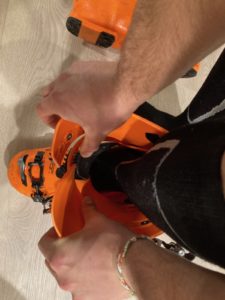 Check the instep. The instep is the bony bump on the top portion of your foot. I have huge arches and massive instep due to many years of skiing in tight boots. Stick your hand in the boot and ensure that there is at least two fingers space in the instep.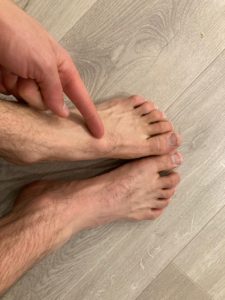 If the shell is too small try a higher volume boot with an average or wide width.
For my particular fitting situation, my foot fit well into an average width boot, but my instep was too big for it to be comfortable. I had to opt for the High Volume (wide) version of my boot and make some minor adjustments to ensure my foot was still fitted snug.
Try The Boots On
Put the liner back into the boot and try it on. Stand up and pull your foot into the boot liner, then kick your heel into the back of the boot. When you first put your foot into the boot you should feel your toes touching the front. Once you have set your heel into the back of the boot do the buckles up so your foot feels snug. Your toes should barely be touching the front of your boot. When you lean forwards you should be able to have just a little wiggle room in the toes. While leaning forward pay attention to the heel pocket (ie. is the heel lifting up in the boot when leaning forward). You want the boot to feel snug, like a firm handshake around the foot with the heel staying in place. Remember it is only going to get bigger. Make sure you feel like your forefoot is sitting flat in the boot and not feeling like it is crushed. You do not want to start out with a boot that feels sloppy and loose to begin with.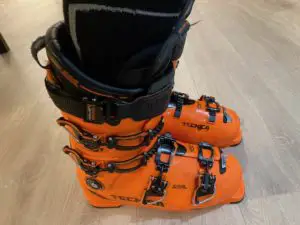 Take note of any areas where there might be pain. If you find a boot that is the right style, a solid fit, but you have some pain points, this is NORMAL. Boots are designed en mass and your foot is one of a kind. If you have not been at a professional boot fitter and you bought your boots online or used, this is the time to take it to a ski shop that specializes in boot fitting. There are many tools and strategies that boot fitters can apply to ensure your fit is comfortable and pain free.
Look For Red Spots On Feet
If you leave the boot on and walk around for 15 minutes or so when you take it off note any pressure points or red spots you see on your feet. Red spots are tell tale signs that there is pressure in those areas of the feet and may warrant the boot shell to be punched/modified in that area.
Boot & Liner Modifications
If you have just gotten a new boot and it was properly fitted then it is time to make some micro adjustments. The most common things a boot fitter will do is punch out the shell or liner in problem areas, provide a custom insole or even some foam shims to the liner to make the fit perfect.
Other than some minor shell and liner modifications you won't need to play with your boot yourself until it packs out a bit more. Here are some of the common modifications you or your boot fitter will try in the initial fit process, during the season, or years down the road to ensure your fit continues to remain fantastic.
Shell Modifications
Believe it or not, the shell of a ski boot can be easily punched out to better fit your foot. Most outfitters usually finish with shell modifications as a last step when fitting someone in new boots. This allows your foot extra space in problem areas and increased comfort. If you punch out a boot, it is hard to reverse, so ensure that you make micro adjustments. It took me three boot fitting sessions and many days on the hill to get mine right. Going to a professional boot fitter who has the proper tools is the best option. Most ski shops have someone on staff who is a boot technician and would be happy to help you out.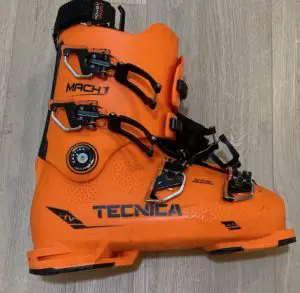 Custom Liner
Some boots have liners that can be heat molded to your feet. Boots with molded liners are not necessarily better than normal liners, but, they do speed up the break in (packing out process) of the liner and provide extra comfort right out of the gate.
If you have a boot shell you really like but the liner is old, damaged, or isn't working for you, look into custom liners. Intution liners are the best in the business and have some of the best boot fitters in the country. If you are having foot issues, these are the guys to get in touch with!

Liner Modifications
Similar to punching out the shell alterations can be made to the liner. You or a boot fitter can remove some of the liner foam if you need even more space for your instep or toes.
Booster Strap/ Improved Power Strap
A power strap is the velcro strap on the top of your boot. An improved power strap also known as a booster strap is a completely separate velcro strap you can attach to the front of your boot to replace your current power strap above your top buckle. Booster straps can tighten your boot/liner to your calf and can help create a more snug fit, increasing the flex and improving performance. You don't need to see a professional to try a booster strap and can easily order one online.
Buckles
If you are having pain in certain areas when your boot is buckled up, or things are too loose, you can always adjust your boot buckles. Most modern boots have micro adjusters. By twisting the adjuster to the right or left you can tighten or loosen your boot as needed. As your boot gets older you may find that the buckles aren't tightening enough. To solve this issue you can unscrew your buckle ladder and move it back for an even tighter fit.
I've even met skiers who got rid of buckles all together. There is no straight answer with boot fitting. The best thing you can do is play around until you get the feel that you desire.
Rear Spoiler
A rear spoiler is a curved pad that you can wedge behind you calf between the liner and the boot shell. It can be attached using Velcro, pressure, glued or screwed in. This can help with two things. Firstly, if you have a small calf and big feet and need a tighter fit, this is a great option. Second, for skiers who want more forward lean, reducing the gap between the shell and upper leg will create greater forward leg angle.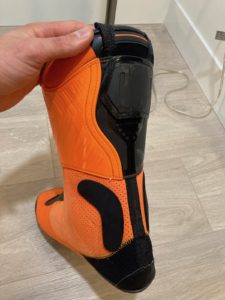 Custom Footbeds
The footbed is the insole of your ski boot. Most ski boots come with a stock insole that is pretty basic and flat. If you have flat feet or big arches, you may find improved comfort by inserting custom footbeds. Custom footbeds are perfectly moulded to your feet and can improve your boot fit drastically. I have such a big instep that custom footbeds don't work for me. In my old race style boots I used to ski without a footbeds altogether.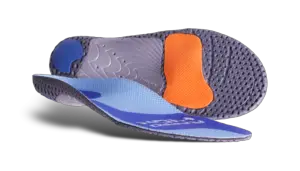 Socks
The number one thing I can recommend to everyone is to always wear a thin sock, especially, in the boot fitting process. Thin socks allow for more blood flow and wont disrupt the fit of your foot in your boot. I always recommend thin socks to people with cold feet, because increased blood-flow means warmer feet! I swear by the Smartwool PHD Ski Light Elite Merino Wool ski sock.
Shims or Padding
If you are feeling some loose spots you can always try and putting bontex board in the insole or use a foam pads behind the ankle or lower shin. I use J-bars on my ski liner which help hold my heel in place better and fit more snug.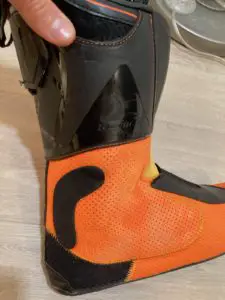 What About Boot Sole Length (BSL)?
The ski boot sole length (BSL) isn't critical for boot fitting and is used for mounting bindings to skis. It is the measurement of the length of the sole of your boot, measured from the tip of the toe piece to the back of the heel. Do not use the BSL for boot fitting purposes as it can vary from the mondo size between brands and categories. Only use the BSL when you are mounting bindings to skis or adjusting bindings to your boot.
Final Words of Advice
Take your time and don't be afraid to ask loads of questions and try a bunch of different boots when you are buying a new pair. Having the wrong boot or fit can hinder your abilities, create pain, injuries and even be the reason your feet are cold.
Hopefully you learned a little bit from this article and have the knowledge and ammunition to be an educated buyer when the time comes to shop for ski boots.
If you have any questions feel free to comment below!