We all love skiing champagne powder. It's the most remarkable feeling in the world. But, like anything in life, in order to experience spectacular, there are sacrifices. Once the powder induced dopamine spell wears off, our bodies are often left feeling like they've gone through a spin cycle.
Every'body' is different, but there's one particular problem that plagues even the the keenest of keeners. Our poor little painful piggies.
If your feet, toes & nails have absolutely zero pain after consecutive days of hard powder charging, then consider yourself a genetic specimen and go buy a lottery ticket.
For the rest of us mere mortals, there's a small change you can make that will vastly improve any negative feelings in your feet.
Finding the perfect pair of ski socks. 
Here are my top picks for 2024's Best Downhill Ski Socks
The Best Overall Ski Sock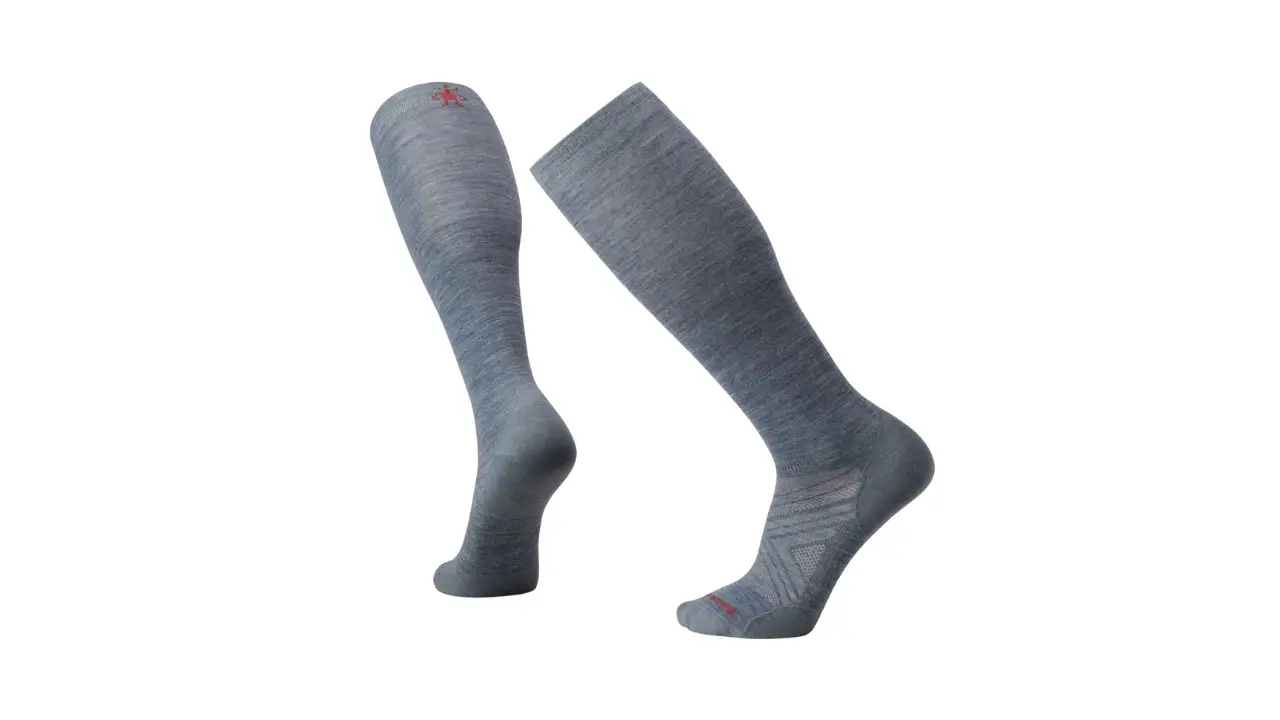 | | |
| --- | --- |
| Material | 54% Merino Wool, 14% Nylon, 29% Recycled Nylon, 3% Elastane  |
| Thickness | Lightweight |
| Length | Over The Calf (OTC) |
The Smartwool zero cushion ski sock quite honestly changed my ski life. When I was a teenager, I'd wear sweatpants and big bunched up socks in my boots. I'll even admit to attempting the double layer sock method to fight the cold on super chilly days. Double wrapping is never a sound strategy….
It's a common misconception among skiers and riders that the thicker the sock, the warmer it will be. The reality is quite the opposite. The thinner the sock, the more circulation and the warmer your toes will be. When I say these socks changed my life, I'm really not kidding. I used to ride park in my Head race boots and I'd end every ski day with excruciating foot pain. Honestly, my feet are still miserably mangled from it. If you ever meet me, ask to see my instep, it looks bizarre.
A friend of mine recommended I try a zero cushioned sock, and poof, just like that, my boot never felt so comfortable. Back then, I probably still needed a proper boot fitting and customization, but, just running a thin sock, made a world of a difference.
The Smartwool Ski Zero cushion ski sock is my #1 daily driver and recommendation to skiers and riders. These things are 54% merino wool so they breathe, dry fast and can last days without stench. Using these socks alone actually eliminated the deadly boot stink my family members, friends and girlfriend dealt with for years. There is no padding on these socks or annoying seams to worry about. To me, it feels like my feet are warm and in their birthday suit in my boot.
After 5 years of use, my one pet peeve with Smartwool socks is the lack of durability. I'll be honest, I put them in the dryer.. who doesn't. I'm not a hang dry guy and I like putting things through the dryer, arrest me. That's besides the point.
I really just wish they were more durable. I also think they have been cutting costs and quality has gone down over the years. There's less merino in the socks and more of other synthetics. But, regardless, they are my first love and every October I scramble to find two new sets of zero cushion socks to take me the distance of the season.
The Best Freeride Ski Sock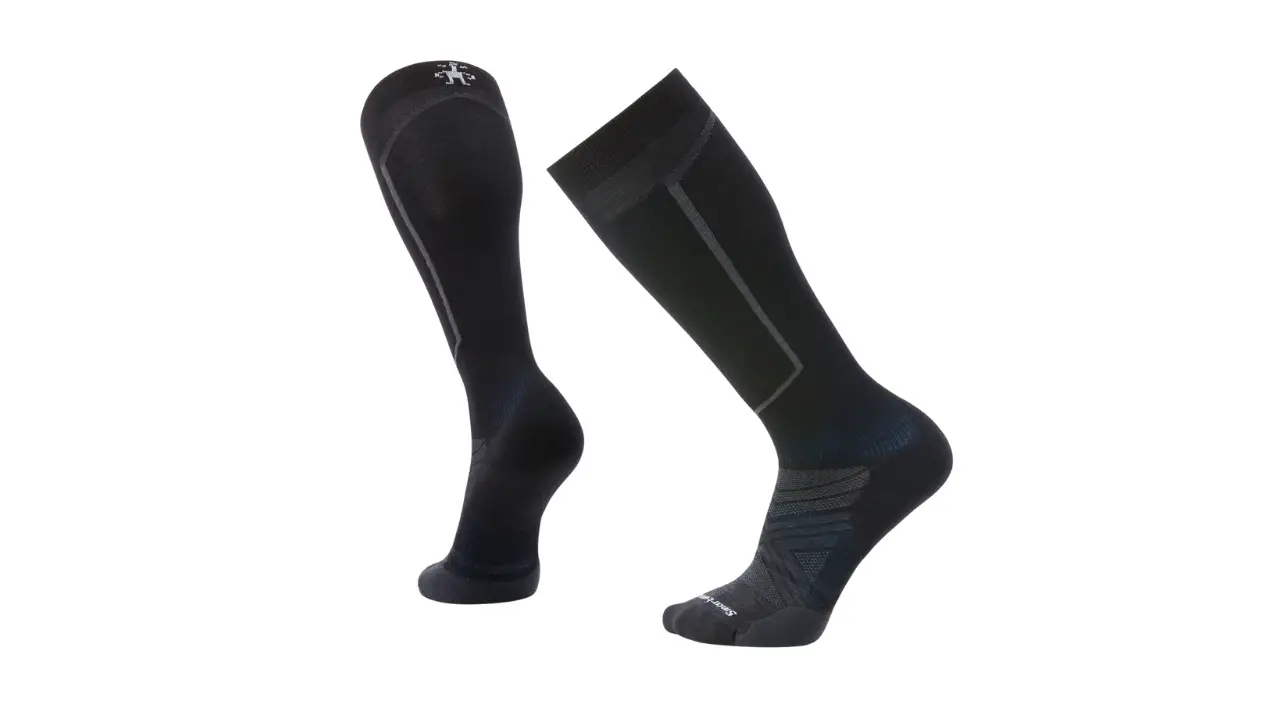 | | |
| --- | --- |
| Material | 57% Merino Wool, 10% Nylon, 30% Recycled Nylon, 3% Elastane  |
| Thickness | Midweight |
| Length | Over The Calf (OTC) |
Smartwool's Targeted Cushion sock shares a very similar genetic makeup to the zero cushion sock with a couple small technical changes. Smartwool has added some cushioning to areas like the shin, toe and heel. Originally these socks were coined a 'freeride' sock and some of them had cushioning only in the heel and shin and nothing on the toe cap. I'm not sure where these have gone, I much preferred them, but the targeted cushion also does a solid job.
I have two sets of ski boots, one significantly older than the other. When my Technica boots began to pack out, I didn't want to replace my liners and these socks added just the right amount of cushioning to keep my heel snug in the boot and my shins happy on the tongue.
I'd always recommend starting with the zero cushion sock before you try any cushioning at all. This way you'll have a baseline and can start to understand the problem areas in your foot, boot and how they could benefit form cushion.
Even though the materials are the same, the cushioned version of the Smartwool ski sock has proved to be much more durable. Unlike the Smartwool zero cushion, the targeted cushion isn't a one season pony and has lasted me two years without any apparent holes or significant thinning.  
Most Supportive Ski Sock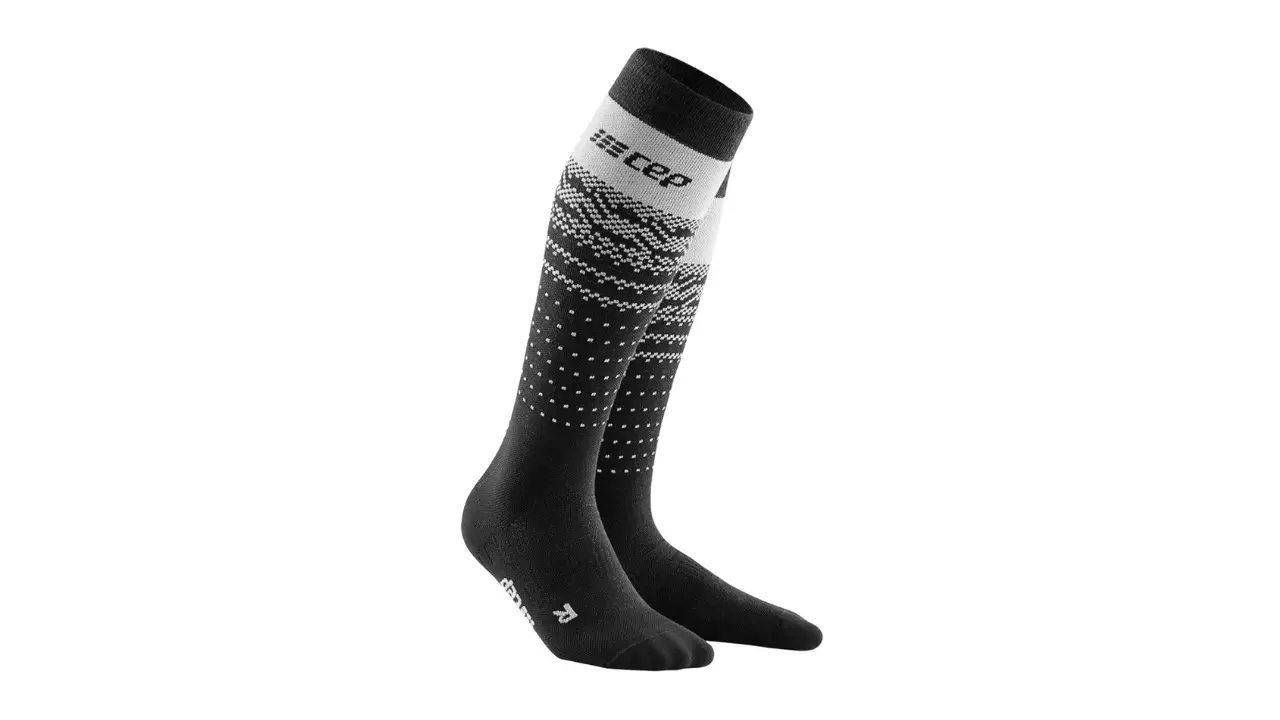 | | |
| --- | --- |
| Material | Material:75% Polyamide, 13% Merino Wool, 12% Spandex  |
| Thickness | Lightweight |
| Length | OTC (Over the calf) |
If you're a biohacker, in this case a 'body'hacker and love the idea of wearing base layers that help you perform and recover faster, you'll love the CEP Ski Thermo Merino Socks. To be honest, I'm not sure how deeply I believe in the medi compression technology or if I feel it optimizing the supply of nutrients to my muscles. But, what I can tell you, is these socks are ridiculously comfortable. I don't have the ski version of this sock, but I own the mid calf version for running and hiking and it's been a reliable trail partner all summer long. These are not the warmest socks on the market, but if you want your calves to feel some compression magic, it could be worth giving them a whirl. 
Best Backcountry Ski / Ski Touring Sock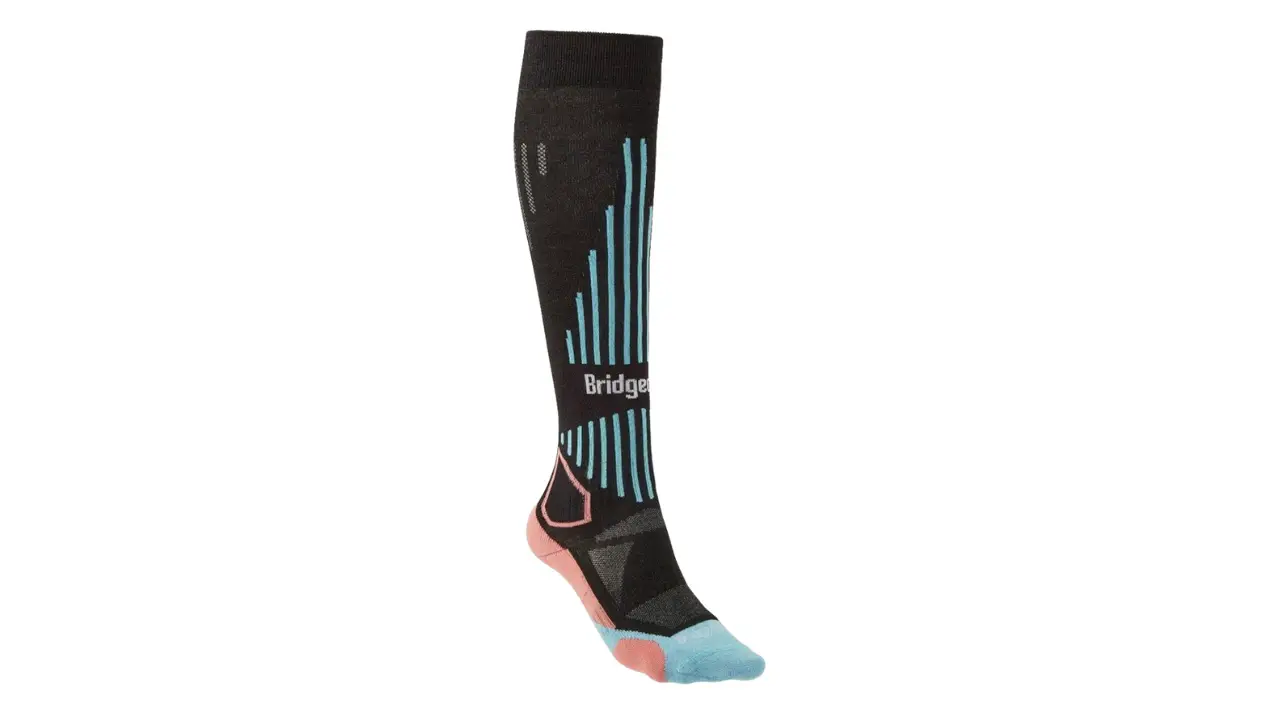 | | |
| --- | --- |
| Material | 20% Merino Wool, 52% Nylon/Polamide, 20% Polypropylene, 7% Tactile/Nylon, 2% Lycra/elastane  |
| Thickness | Lightweight |
| Length | OTC (Over the calf) |
Smartwool isn't the only company making life changing light ski socks. Bridgedale's lightweight OTC merino sock is a favourite among many of my ski touring purest friends. These socks have a more progressive precision fit than the Smartwool zero cushion. The fit is tighter, and this is believed to help reduce fatigue when skiing and riding. The tightness of these socks might feel uncomfortable to some but they are a godsend to others.
If you're doing big ski touring missions or multi day treks, I'd reach for Bridgedale's over Smartwool. The mix of synthetics actually makes them a little tougher than something with more merino all while staying breathable and sweat wicking.
The downsides to the Bridgedale lightweight socks is that they will not keep you as warm as an option with more merino. If you run hot, or tend to do a lot of climbing, I'd give these a go, they might just feel revolutionary. 
Best European Made Ski Sicks
Norrona lyngen Light Weight Merino Socks Long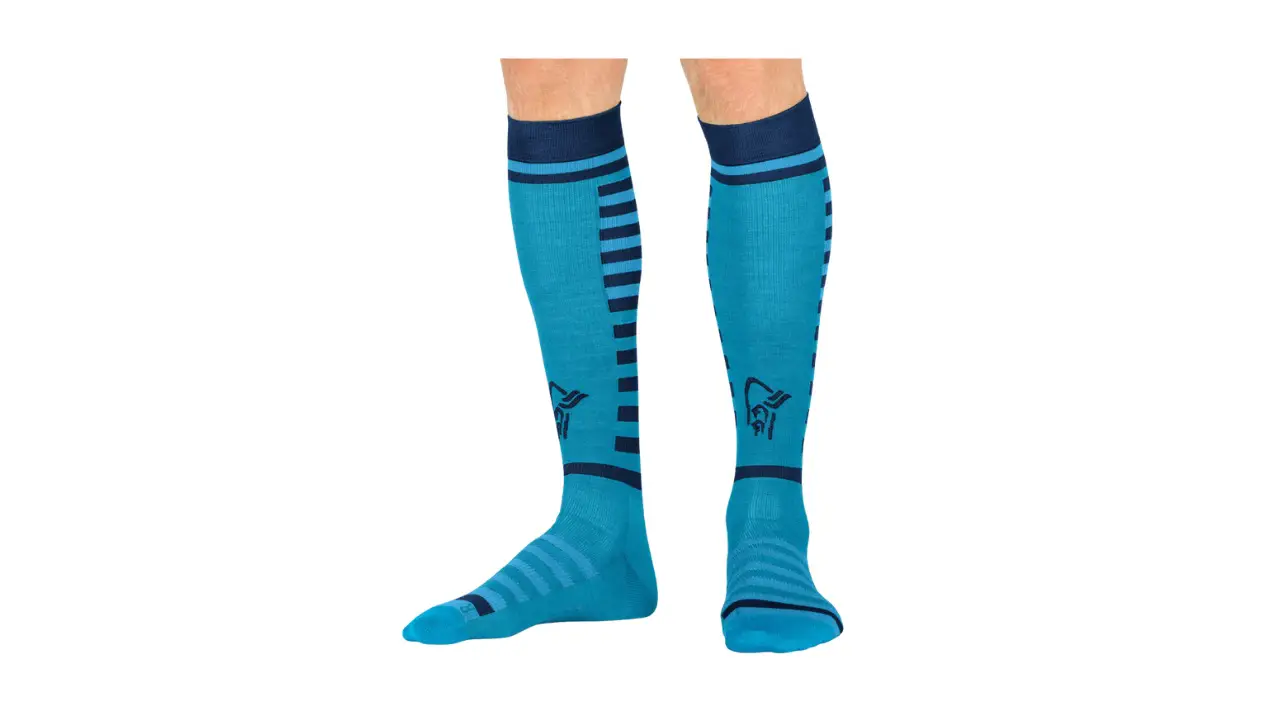 | | |
| --- | --- |
| Material | 43% Merino Wool, 44% Nylon, 8% multifilament nylon, 2% elastane mix |
| Thickness | Lightweight |
| Length | OTC (Over the calf) |
I just can't get enough light weight ski socks… Maybe I was wrapped in a lightweight merino blanket as a baby, who knows. Of all the big name ski apparel brands, Norrona is the only one doing socks right. The lyngen has the second highest amount of merino on this list, mixed with just the right amount of nylon to create the perfect harmony of thermal properties, moisture transport and comfort.
The lyngen socks are the ideal companion for long ski tours or for hard charging on the resort. The only downside is Noronna is tough to find on US and Canadian shelves and you'll have to pay a premium to get it out here.
Figuring out how to keep your feet happy is an annoying exploration but a dance worth doing. Ski days are so much better when your feet are happy. Let me know in the comments if any of these socks end up working really well for you. Also please let me know if you have a favourite I didn't mention, I'm always open to trying something new.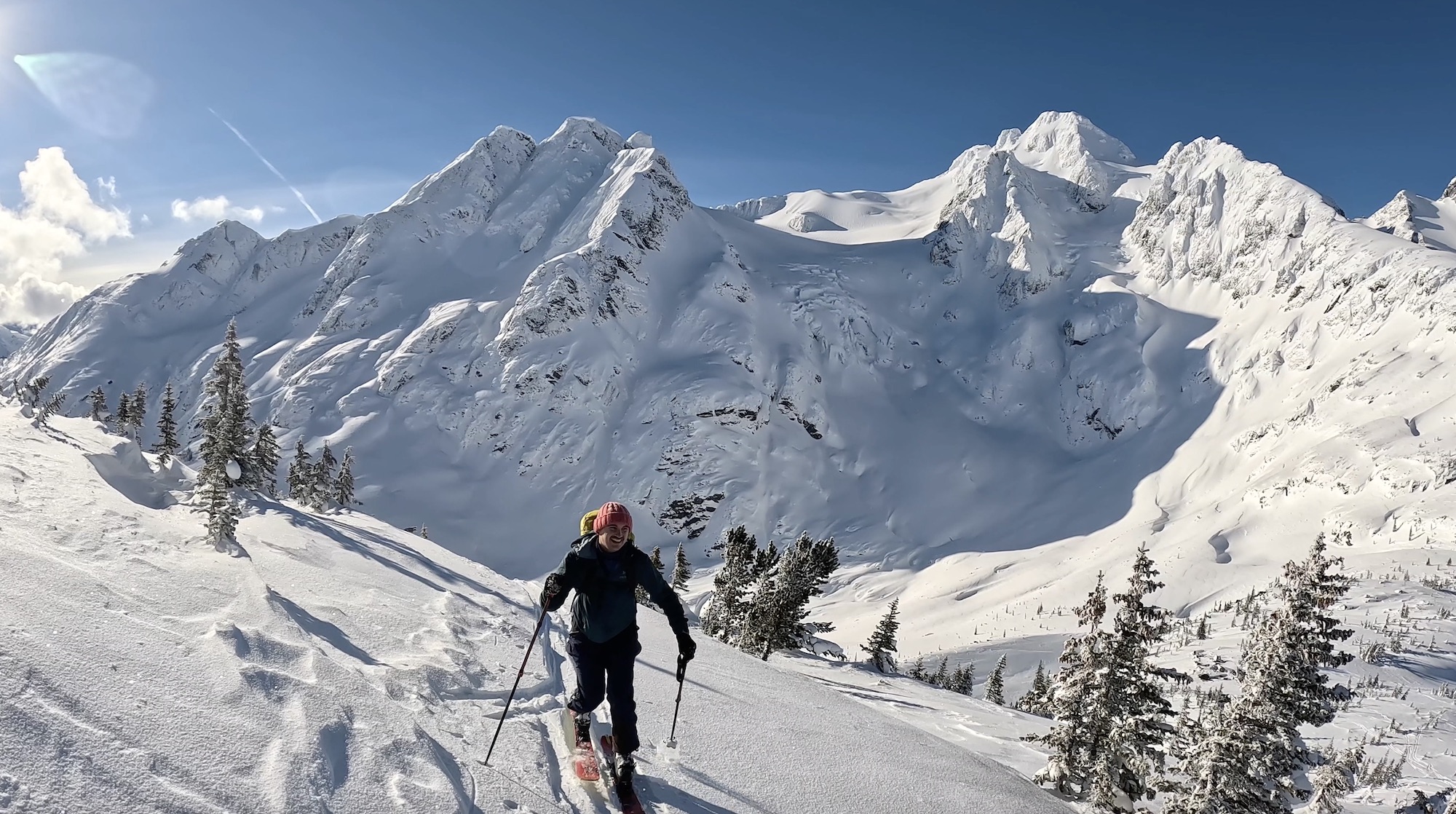 Good luck keeping those toes and feet happy this winter!