I've got something to admit, I'm a mitts guy. And yes, I know, I'm stuck with lobster like dexterity and reflexes on the mountain. But, I'd trade toasty warm hands for frigid fingers any day of the week. 
When I was growing up, the skiers I idolized were all wearing gloves and that made me a gloves only guy. At some point in university I ripped through my old pair of Swannies and I couldn't afford new gloves. A friend gave me some old packed out mitts, and my perspective changed forever.
I know I'm making this sound like some sort of spiritual experience, which is ridiculous. But it was! Even though those mittens I received were old, had zero insulation and were completely packed out, I never knew my hands could be that comfortable on a ski resort. It was life changing.
There are many scenarios where gloves are more practical, maybe you have kids or are an instructor messing with gear all the time, maybe you're on patrol, maybe you tie lots of ropes in the backcountry, maybe you need at least a lobster claw so you can use the throttle on a sled. I totally understand the functionality of gloves. BUT, if you're just ripping around the resort wild and free, mittens are the key unlock to preventing finger freezing.
I love mittens for riding on the ski resort, and I refuse to separate my fingers until it's spring time and the glorious sun is beating down. I figured I'd give you some context on why I feel passionate about mittens and decided to rate the best 'mittens' in the game instead of gloves like everyone else.
Here are 2024's best ski mittens for resort skiing. 
Greatest Ski Mittens Of All Time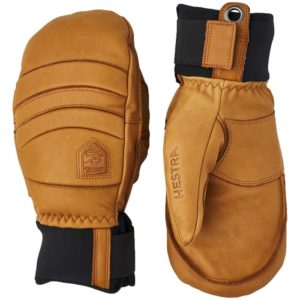 To be honest, if I were you, I wouldn't even consider another mitten option. I quite honestly want to end the review here, these mitts are that good. The Hestra Fall line is the best mitten to ever grace this earth. I've had mine for two years, and I honestly couldn't speak more highly of a piece of equipment. These are one of those rare unicorn items among my ski gear that I just can't shut up about. I almost feel like I have unlocked the secret to mountain hand warmth and comfort.
I have a few strict requirements when it comes to mitts and the Hestra fall line checks all of the boxes. They're very durable and just waterproof enough, thanks to the gorgeous cowhide leather on their exterior. As long as you treat the leather with love and leather wax here and there, the waterproofing stays super solid. The internal fibrefill removable liner insulation keep my hands so warm they're sweating most times I get moving. The neoprene cuffs don't fit too snug, have an adjustable strap to synch them in and most importantly fit perfectly under the sleeves of my shell. I hate the feeling of gloves over my jacket, it's just not for me. Maybe it's a weird quirk of mine, but I'm convinced if you tuck the wristbands of your gloves under your shell, your hands are always warmer and dryer. The gloves also have an awesome wristband elastic with a string so you won't lose them if you're fiddling with your phone, cameras, or are pulling them off to guzzle a beer. 
The style of leather mitts can't be beat in my opinion, nothing screams I ski a lot like a dirtied up pair of leathers with duct tape. 
Best Affordable Ski Mittens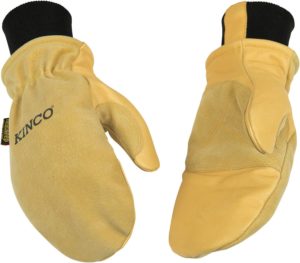 Don't be fooled by the cheap price, Kinco mittens are an absolute classic among serious riders, ski patrollers and people who work hard in the snow. Be careful not to ask anyone on their chairlift about their Kinco's because they won't stop talking about them for the entire ride.
The quality of Kinco gloves is absolutely premium. The Suede pigskin provides loads of durability and remains super soft and flexible even after getting wet. The gloves are designed to be beaten down and have extra strength Draylon thread to prevent thread failure due to high abrasion applications. The form fitting wrist is super comfortable and when tucked under your coat helps retain heat where it often leaves your wrists. Like all leather, if you keep them waxed up with waterproof leather wax they'll stay dry on your hands.
Kinco's mitts are only missing one small thing for me and that's the wrist strap. This can be easily resolved by fashioning one with an old shoelace or string from the hardware store.
The biggest key to these mitts is to put them on warm. Make sure you store them indoors and put them on warm before heading out. The only time my fingers have felt chilly in these was when they weren't fully dry from the day before, or I drove up to the mountain with them in the tailgate of my truck. When these gloves go on at room temp or warmer, they'll feel like a hot tub for your fingers all day.
Thanks to the approachable price most Kinco enthusiasts own 2 or more pairs. This means they can just cycle through them day after day giving damp pairs a day to dry. No joke, I know so many people who do this. Although it feels wrong to buy gloves on Amazon, I've always found the best price for my Kinco's on Amazon. 
Best Ski Mittens for Hand Warmers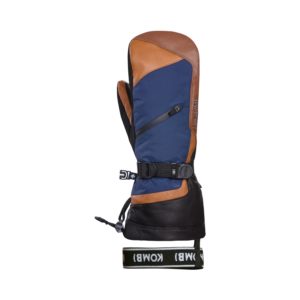 The Patroller is an updated version of the mittens that used to be my daily driver before I flipped to full leather. They are the perfect companions for the longest days on the mountain. They feature a water-resistant, ultra-durable textured shell with rugged goatskin palms, and let me tell ya, they stand strong against the elements.
Some people have very poor circulation and even the best of the best of mitts will still leave their fingers cold and sad. Heat warmers are one of the greatest inventions to bless skier fingers. Kombi understood this very problem and designed a zip pouch for hand warmers so you don't have to feel that gross chemical pouch jiggling around on your palm.
Kombi mitts give you everything you need and nothing more at a very reasonable price point. 
Best Mittens for Snowboarders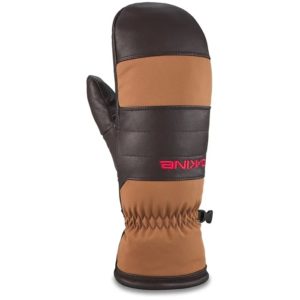 Dakine isn't a name you hear too often, especially as a skier. I'm glad I could give you a refresher because they make absolute beauty mittens. I wore a pair of Dakine's to the ground before I flipped to Hestra, and I couldn't speak more highly of the quality and function. Whether you're chasing storms, carving, or shredding park, Dakine has you covered with the Baron.
This leather mitt is teething with tech designed to keep your fingers toasty. It boasts a complete GORE-TEX insert equipped with the ingenious Gore Grip technology, ensuring your hands maintain that crucial dexterity, no matter how fierce the mountain's weather gets. This added dexterity is why I recommend these gloves to park riders doing a lot of grabs or snowboarders who have to mess around with buckles a lot. They've got great insulation and a velvety soft wool liner to ensure your hands remain snug and cozy in the most frigid conditions. And when it comes to grip and mobility, the Baron Mitt doesn't hold back. Its bonded layers and four-way stretch exterior give you the upper hand when it's time to buckle up those bindings and tweak your boots. The Baron is a damn good looking mitt and will surely be a trusty sidekick on the slopes. 
Honourable Ski Mitten Mentions
I could list out a few more mitten options in hopes that something pretty catches your eye and you click the link and purchase so I make a few affiliate dollars. But I'm not that kind of guy, frankly, I'm not worried about the pennies, although it does help me keep the site up and running. My goal is for your fingers flourish on the ski resort and I just can't recommend another pair of gloves to you in good faith.
Here are the 'best of the rest'
BD Guide mittens are really sexy looking, they must be amazing, right? Well, they do have awesome function and warmth but, they tend to pack out and lose insulation after about a year, for that price point it's really not necessarily worth the pesos.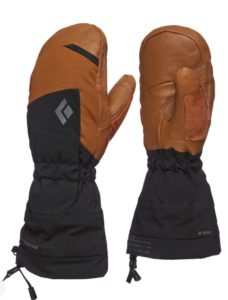 I actually don't have anything bad to say about these because I've never seen them in person or had a friend, colleague or chairlift pal wearing them. Honestly they might actually rock. Keep your eyes on these ones.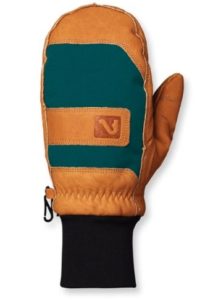 Arc'teryx Fission SV
The Arc'teryx Fission is one of the warmest gloves to grace the earth. There's one teeny problem though. They're not that durable. I've seen new Fission gloves rip on ski edges on their first few days of use. If I'm overpaying for something, it better be durable.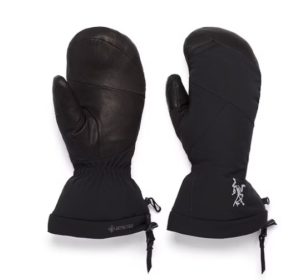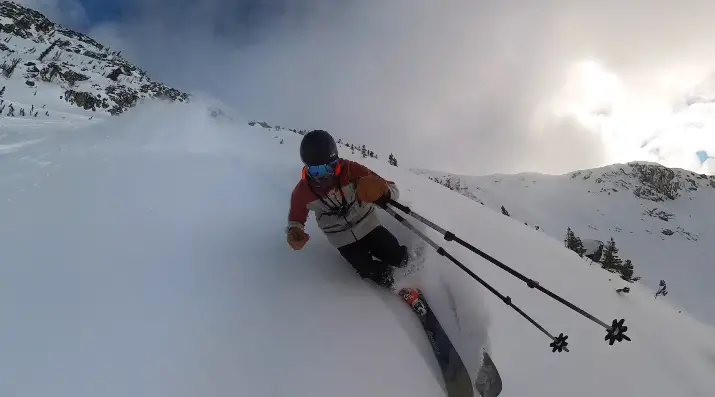 There ya have it folks, another quick and snappy review of the best mitts on the market.
Let me know in the comments if you're part of the mitten gang!