Snowless ski resorts in Europe and too much snow in Lake Tahoe. This winter was weird. Not the good kind of weird like sneaking in a nude lap on the last day of spring, or waxing your skis in a motel bathtub. The needle is clearly shifting and our warming climate is starting to have an effect on our winter playgrounds. 
Is skiing the problem? Should we put an end to ski resorts?
The answer is straightforward. ABSOLUTELY NOT, we need skiing. Let me straighten out the alphaghetti here before the backcountry purists start chiming in. Skiers and resorts account for a teeny, tiny, near invisible fraction of greenhouse emissions. Even the big, bad Vail Resorts runs all 36 of their North American ski areas on renewable energy. This is all well and wonderful, but we still shouldn't be naive. The environmental footprint of a ski resort, regardless of environmental efforts is massive, Right? 
Yes. But, the problem needs to be addressed from across the valley. Skier culture, passion and influence packs an outsized punch compared to its harms. Think of it like a hot wax. You apply the wax (skiing resorts, buying gear, ect), then you scrape the wax off (ie. giving a crap about the planet, supporting groups like POW, making conscious purchasing decisions and being involved locally). You get what I'm saying.
Us skiers are a small but mighty group, and as long as the stoke burns strong and the snow falls deep, we'll keep on fighting to protect our mountain playgrounds.
So skiing itself isn't the problem, but the way we consume still sucks. So here's a few steps to suck a little less and make more conscious decisions as a mountain advocate.
4 Steps To Become A More Environmentally Responsible Skier
Step 1: Wear It To The Ground
There is no single person on the mountain I respect more than the ski bum repping his 80's Descente jacket, rear entry boots and 200+cm skis. If it ain't broke, don't fix it! Norrona has done a fabulous job this season telling stories about 50+ year old products that are still in use and held an oldest product competition before the 2023 ski season kicked off. The winner was a pack that dates back to the 1930's. A backpack is one thing, but  I wouldn't encourage you to ride 40 year old skis, unless it's gaper day. However, if your trusty twigs from 2007 are still performing, keep sliding on them.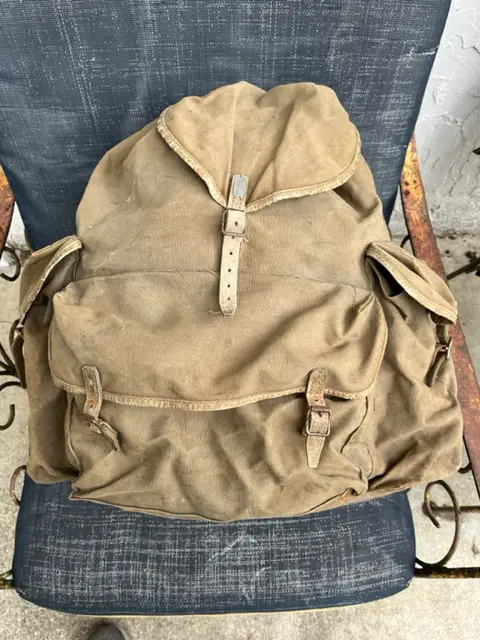 Step 2: Repair
If it's broke, then fix it first. It's common knowledge that the more duct-tape on someones gear in the lift line, the more legendary. Retailers now encourage repair programs like Mountain Hardwear's 'Repair Over Replace' initiative which is completely free and will keep your favourite apparel breathing longer than your knees will last. If you're in the Vancouver, BC area check out Renewt, they are the best in the repair biz and can just about any jacket or pants back to life.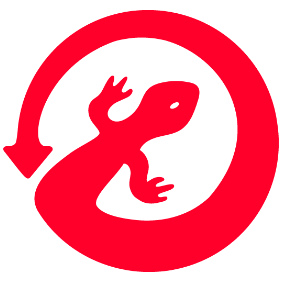 Step 3: Buy Used
Before pulling trigger on new gear, take a peek at some amazing used options. Nowadays you don't have to head straight to Facebook marketplace and creepy craigslist meetups. You can buy high end refurbished product from some of your favourite outdoor brands like Arcteryx via their ReGear program.  

Step 4: Buy Better
As your taste for adventure and skillset changes, your gear needs to change with you. Good gear keeps you alive in the mountains and needs to withstand whatever challenges you throw at it. Even though you're not buying used, you can still buy better. Buying better means aligning with brands that care about the planet and people. 
Let's say you wanted to rep the most responsible ski kit known to humanity. In 2023, It would look a little something like this.
2023's Most Sustainable Ski Apparel & Gear
Base Layers & Socks
The best way to stay warm and dry in the mountains often goes unnoticed and unappreciated. Merino wool base layers and socks are are a mountain enthusiasts best friend and continue to reign king over all other fibres. Mons Royale uses the worlds most ethical merino ZQRX regenerative wool, natural packaging and most importantly you barely have to wash merino gear. Better for the planet and less trips to the laundromat, where can I sign. Also, their styles are super rad. I've been repping Mons base layers and socks for years and cannot say enough good things!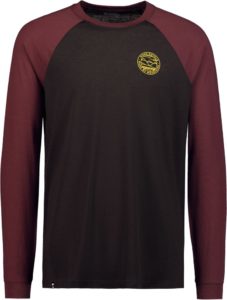 Helmet
As a somewhat certified sender, I've suffered my fair share of bumps to the brain and by golly, nothing is more important than your brain bucket, a piece of equipment that you should always be buying new. Helmets have to be replaced often and it feels downright wasteful. Now don't go reaching for your toque, protecting your brain is cool and Lokatt Helmets is making it even cooler by developing a helmet completely made from bioplastics. One day, your graveyard of helmets could grow into a garden.
Goggles
If you can't see it's tough to ski. Goggles provide protection from the elements, tree branches and are a style staple. There's no better way to close up that gaper gap then running a pair of Bio Based Spektrum Goggles. These high performance goggles not only look sick but use castor bean oil in production to reduce overall CO2 emissions by 46% compared to conventional materials. They're simply unbeanable :).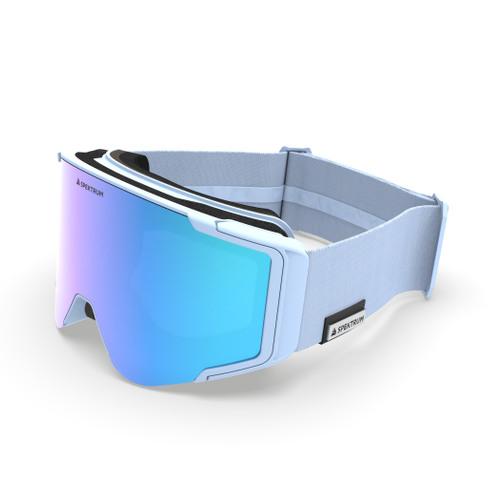 Jacket & Pants
Have you heard of our friends at Made Outdoor? They are pushing the envelope of the mountain apparel industry by using a fully customizable made to order system to better serve the ski community and the planet. Their customized approach, responsible materials sourcing and direct shipping bagged them an innovation award at Outdoor Retailer in 2023. They are just getting the ball rolling and I've got a feeling that you'll start becoming very familiar with their logo if you spend a time watching my YouTube videos.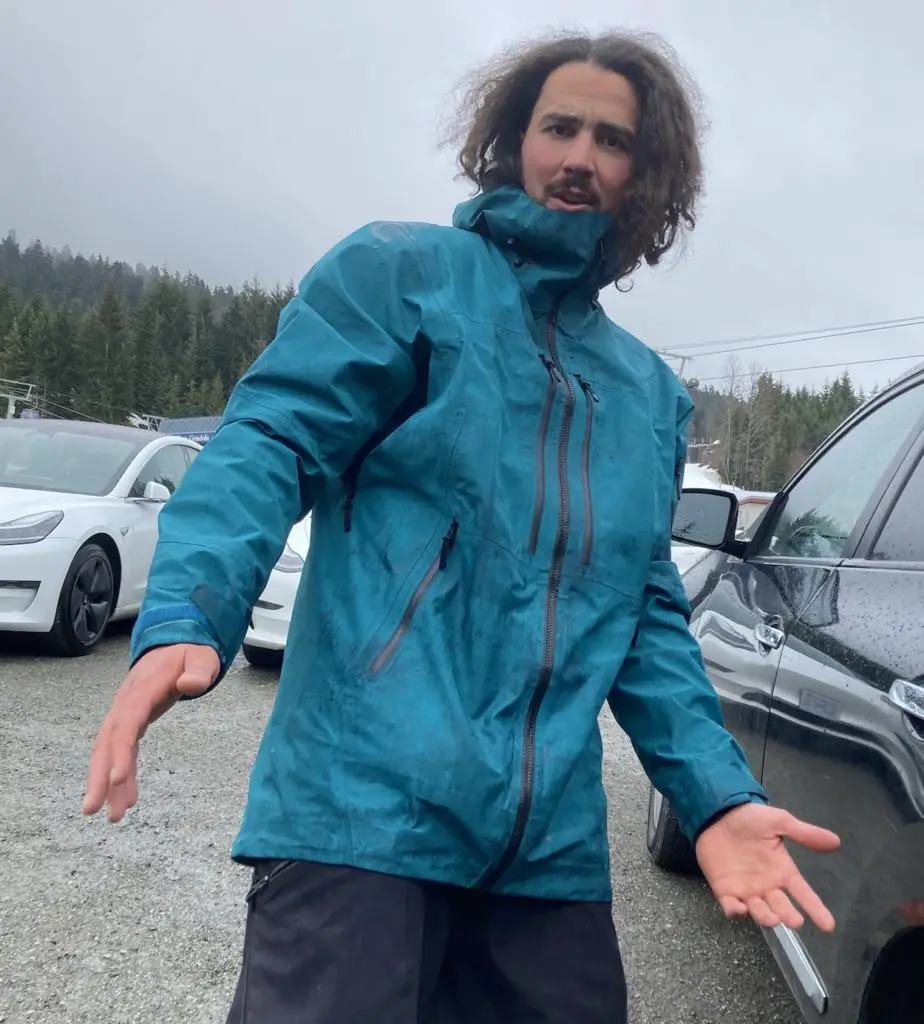 Ski Boots
Plastics have always been used in ski boots, and these plastics are derived from carbon and petroleum products. In 2023 Scarpa released it's Green Manifesto and announced it is turning beans into boots. The best selling Maestrale and Gea family of boots will now be derived from 65% renewable resources, eliminating 32% of the carbon dioxide that originally went into manufacturing them. Although the industry is far from eliminating all harmful plastics in boot production, this is a boot pack in the right direction. Also make sure to keep your eyes out for Phaenom a new sustainable boot technology being developed by the same owners as Faction Skis.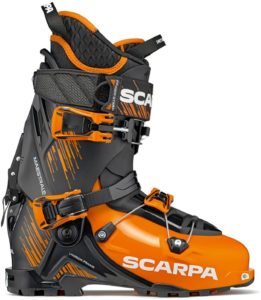 Skis
Keep your eyes peeled in the Backcountry for WNDR alpines spiritual snowy owl. These algae and bio based backcountry skis and snowboards have taken the skin track by storm. WNDR twigs are bombproof and won't make you feel like you're making sacrifices when getting sendy.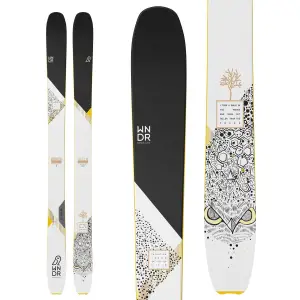 Wax
Every snow fanatic knows the difference a good wax makes. Hell, you change the oil in your car every 5000 miles so why not wax your skis every 5 days. Melting more petroleum based wax on your ski bases, inhaling the fumes and then spreading it all over the snow is pretty counter productive. Next time you hot wax your skis, try mountainFLOW eco-wax. This stuff works just as good as any old ski wax and is made 100% from plants. It's a win-win for your lungs and the mountains.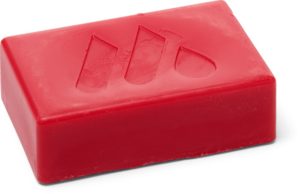 That's enough writing for me and reading for you. It's time to go play in the mountains. Just remember, we need ski resorts and we need skiers to continue to be stoked about skiing. This community and energy will continue to create generations of people committed to do better, consume less and push the needle in the right direction.
Keep on Shredding!