The Kennedy Falls and Big Cedar Tree trail rewards you with the opportunity to visit two lesser known, but equally iconic North Shore natural landmarks that adventurers have been visiting for decades. The Kennedy falls trail is not quite the hidden gem it used to be, but still offers a more remote moderate hiking experience just minutes out of the city bounds. What this hike lacks in elevation gain, it makes up for with it's meandering rollercoaster like nature, slippery roots, and the muddy soil. It's undoubtedly a more stimulating and rewarding hiking adventure than some of the other staple trails nearby.  Fortunately, due to the trail's low elevation, it can be accessed and hiked easily all year round. There won't be snow up there unless there is snow in the city. Wintertime is my favorite time to hike or run this trail because there are reduced crowds, and the ground is a little more compact than in the Fall, Spring, and Summer. There are several different ways to hike this trail, you can attack it from Baden Powell trail via Lynn Headwaters park or from the Old Mountain Highway gate at Mcnair Drive via Baden Powell or Lower and Upper Griffen trails. This post will focus on the most direct and simplest of the routes beginning at the Mt. Fromme Parking lot in North Vancouver.
Remember the Backcountry Basics
The Breakdown 
| | |
| --- | --- |
| Distance (Out and Back) | 10km |
| Highest Point | 505m |
| Elevation Change | 406m |
| Time (Round Trip) | 4-5 Hours |
| Dogs | Allowed |
| Camping | No |
| Season | Year Round |
| Difficulty | Moderate |

How to Get There & Where to Park
Finding the Mt Fromme Parking lot is very simple. Plop yourself in North Vancouver and drive all the way to the top of Mountain Highway, the parking lot will be on your right.
Parking is the biggest challenge of this trail, even more so than the hiking itself. Mt Fromme is an extremely popular location for Mountain bikers which makes parking a bit of a nightmare outside of working hours. I've seen up to 12 cars lined up waiting for parking. Your best bet if you wound up there at peak hours, and the lot is full is to drive down mountain highway and find street parking (non-permit) below Dempsey road. Parking down the hill will increase the overall elevation of the hike, but hey, at least you will be nice and warmed up.
The Route
For the first 500 meters of the trail you are going to march up mountain highway. This portion of the trail is a low grade, well maintained logging road and you will be sharing it with loads of mountain bikers pedaling up for their next thrilling ride down. You will walk uphill as the road veers slightly to the left. Right before mountain highway hairpins and switches back left, take the trail to your right marked "cedar tree trail". This portion of the trail is shared with mountain bikers so keep your eyes open and stand to the side if riders are cruising down. Continue down cedar tree trail for a few hundred meters and you will pass a hikers advisory and a few trail signs. This is where I began to track our distance travelled. From here the trail is well walked and delimited with orange markers throughout.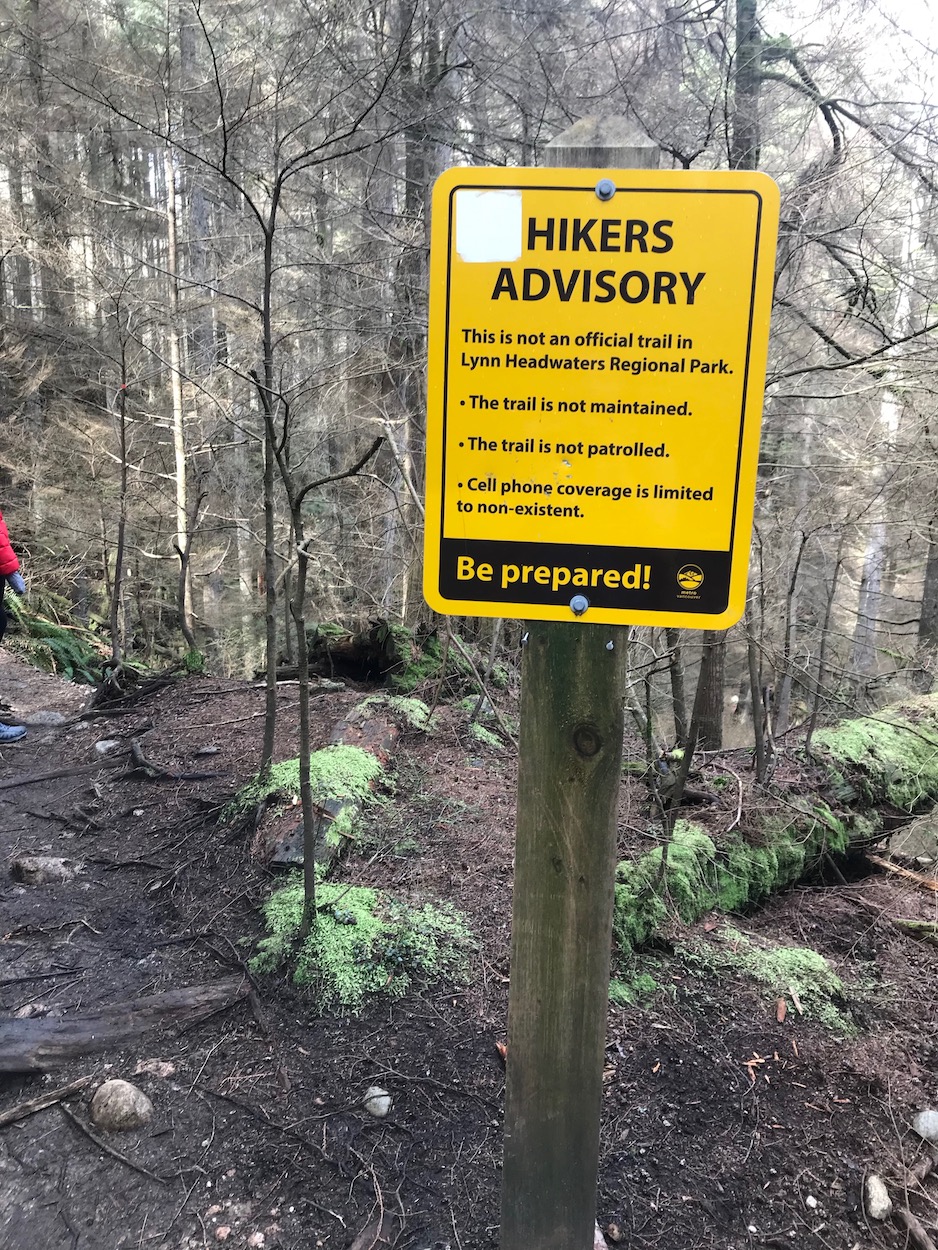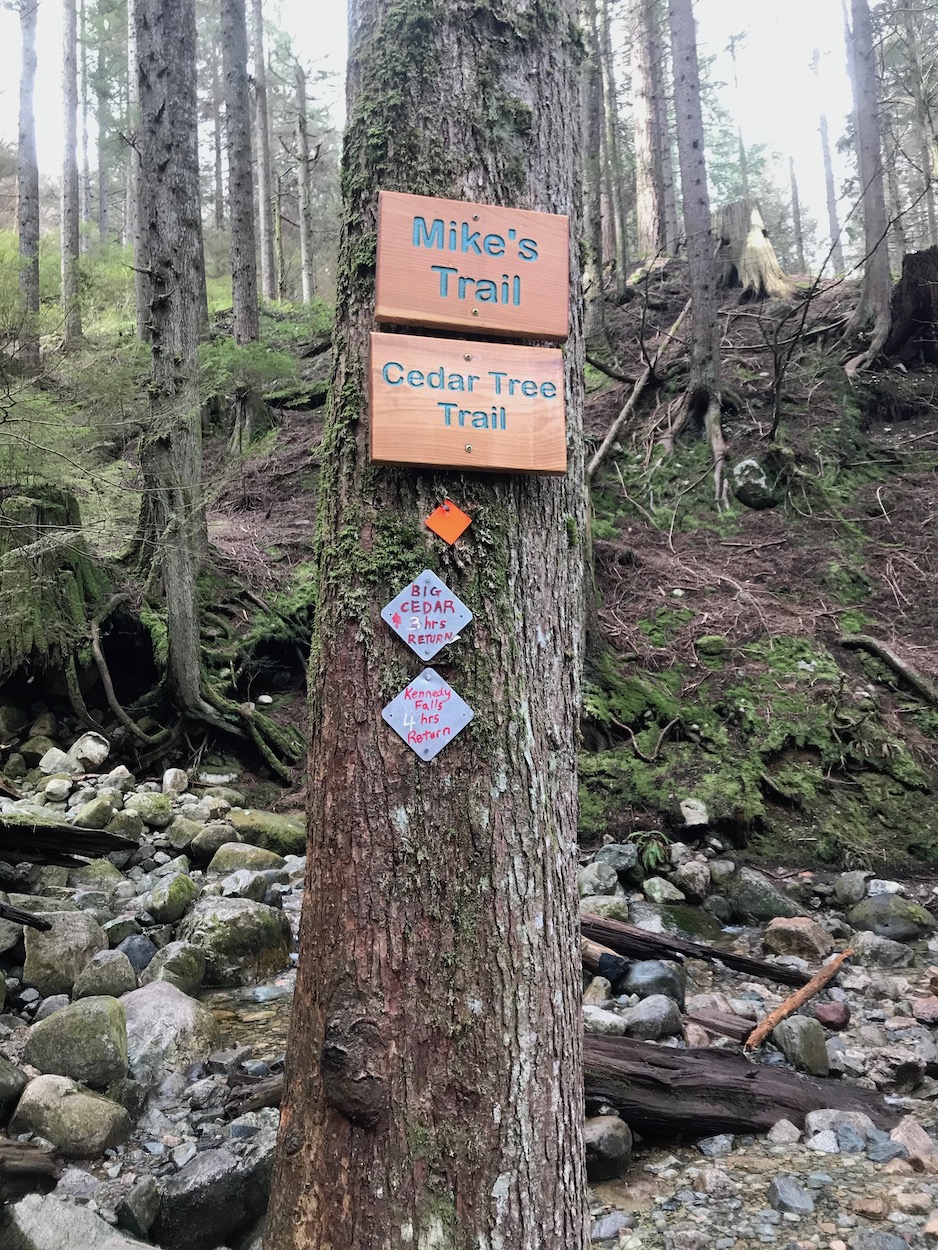 After about 15 minutes, you will hit a super cool stump, I at first confused this stump for the Big Cedar Tree. The trail will continue to roll up and down setting the tone for the rest of your journey.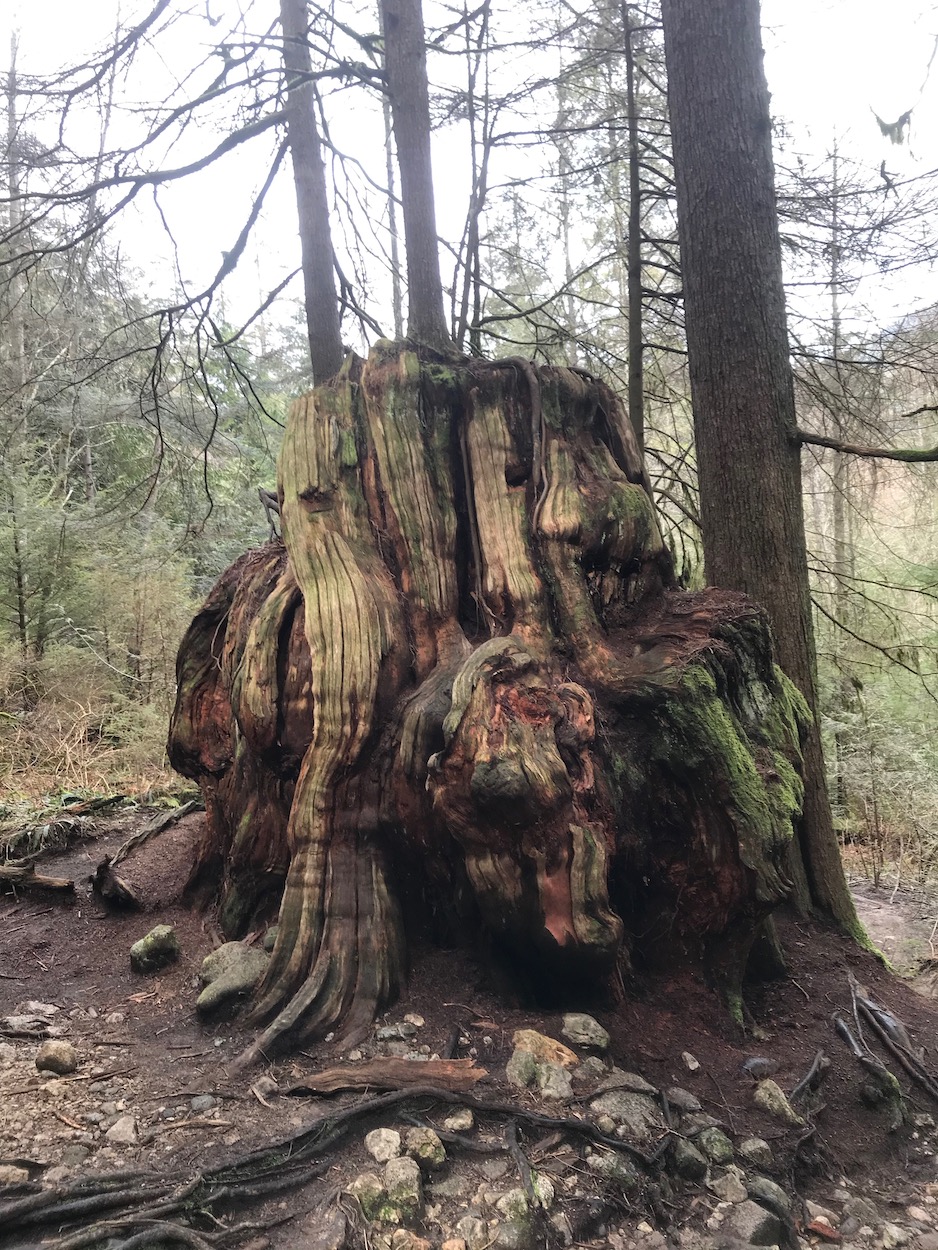 A few hundred meters later you will reach a small gulley that has some ropes to aid. Unless it is extremely wet you will not have to use the ropes for grip, but they are nice to have just in case. In terms of technicality this is as complicated as the terrain gets, so once again, it's mainly the mud and slippery roots that make the trail moderately tricky, so remember those hiking boots.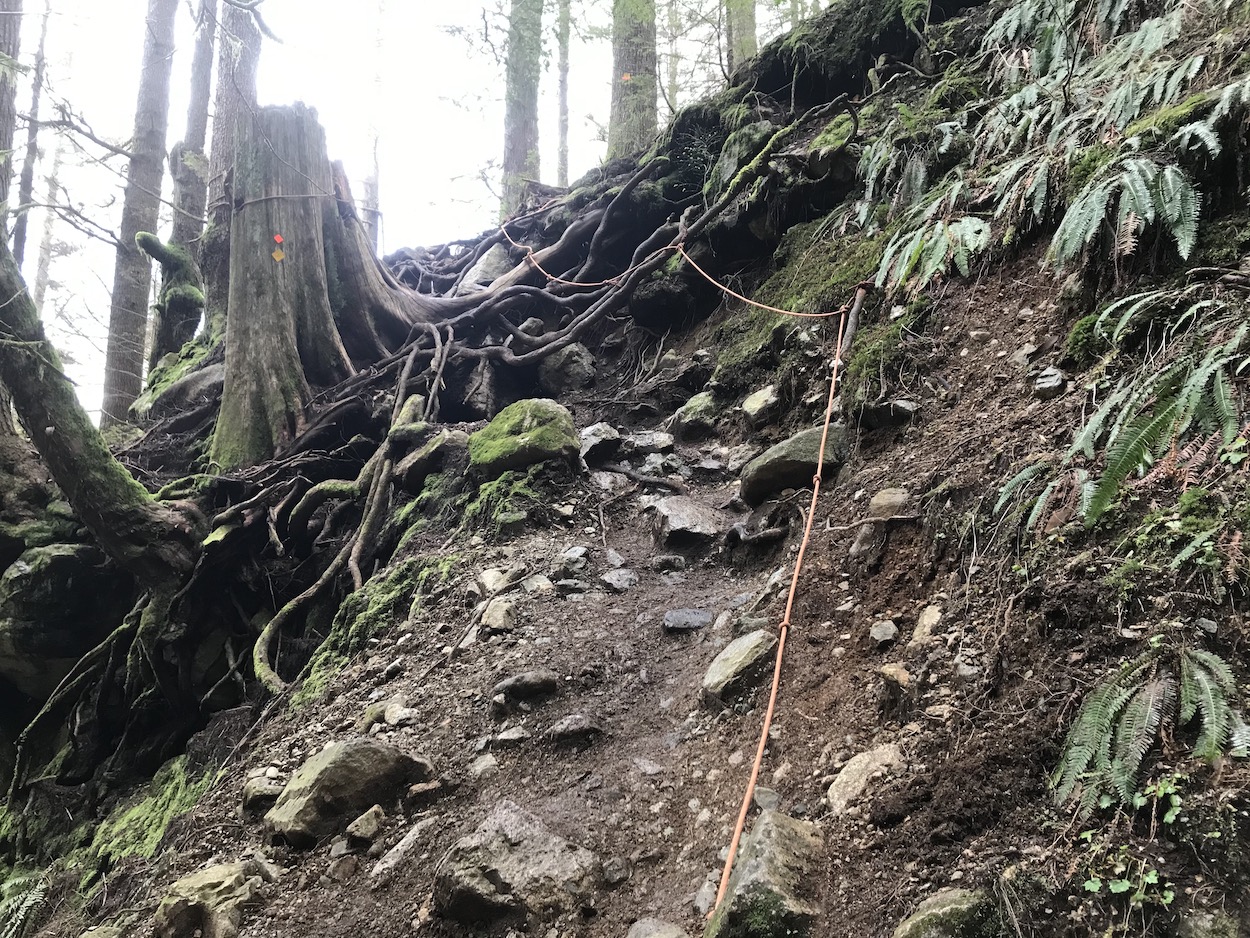 The Big Cedar Tree
At the 2.5Km mark, or about 45-50 minutes, you will hit the infamous gorgeous Big Cedar Tree. It is a true spectacle towering high and laying siege to all other tree's sunlight in the location. Please take extra caution when viewing the big cedar tree. The heightened traffic of recent years has increased the erosion around the soil and tree roots. Lots of sticks, brambles, and a fence has been built around the tree to protect it. You wouldn't climb all over your Grandmother, so let that 600-year-old red cedar be and do not climb on it for photos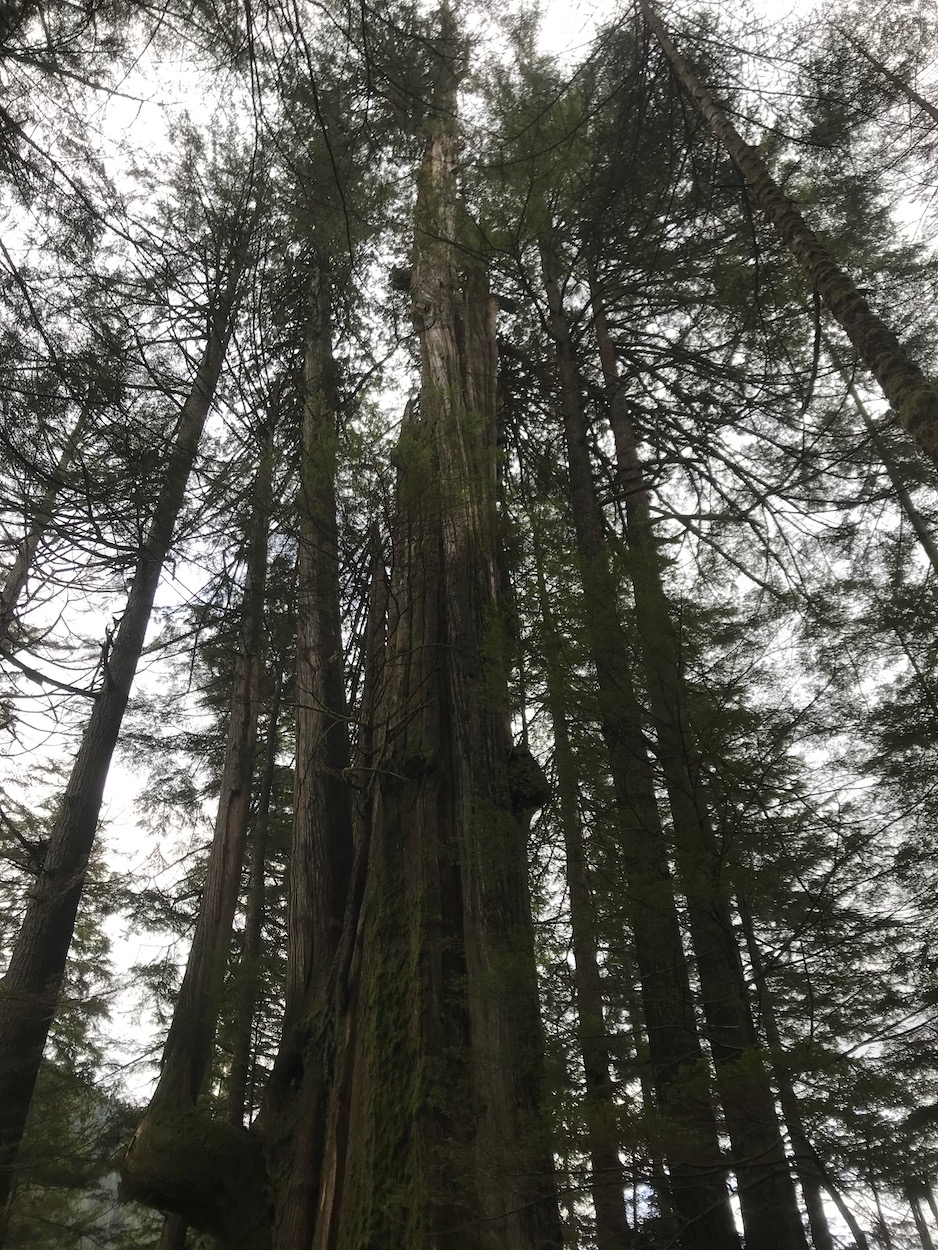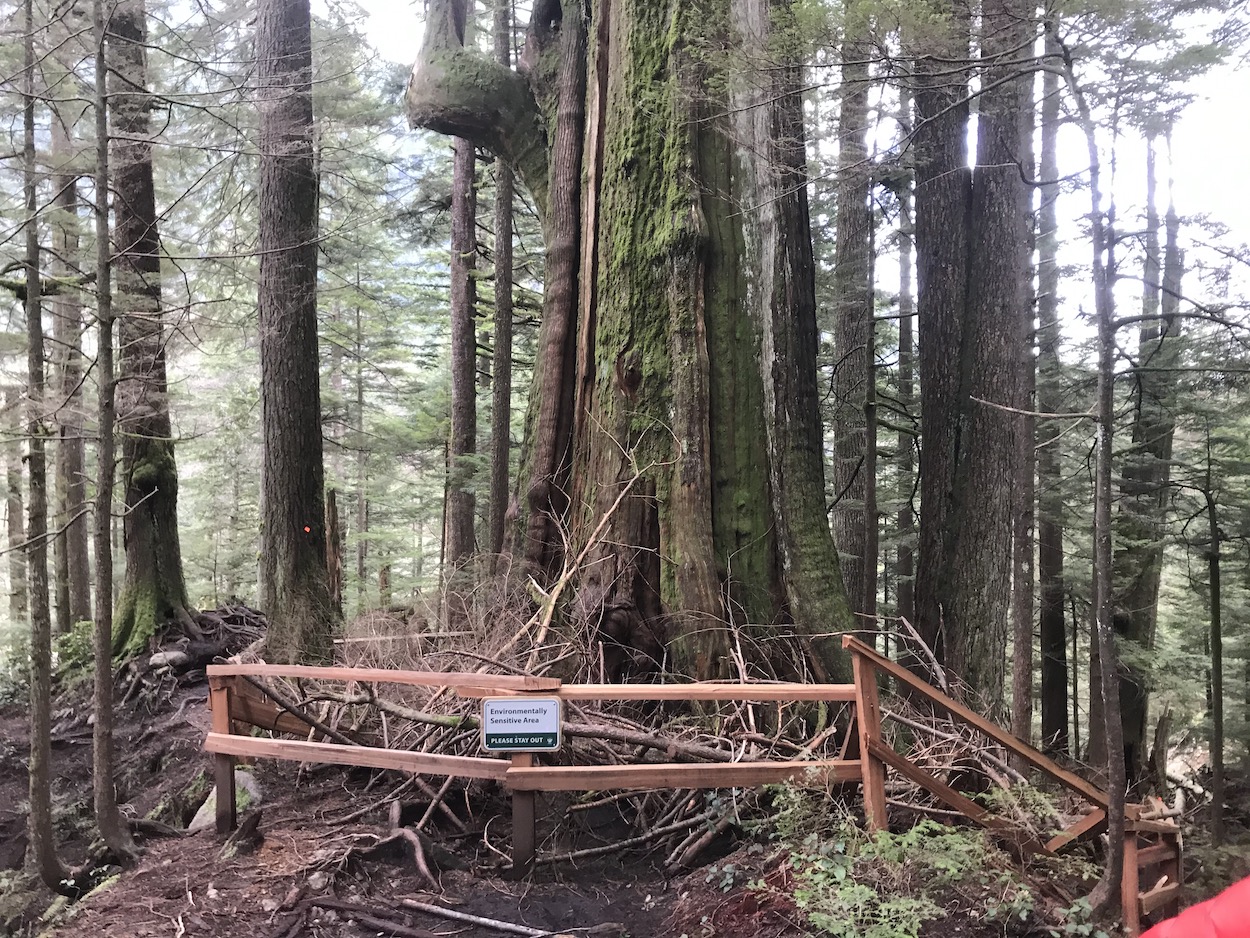 The Kennedy Falls
The trail continues past the Big Cedar Tree and at around the 4km mark you will start to hear crashing water yelling out to you to let know that you are close. The Kennedy Falls is unique, and the water rolls and slides through the rocks very gracefully. Depending on the time of year you visit the flow of the falls will be different, so every time you visit you will be witnessing it with new eyes.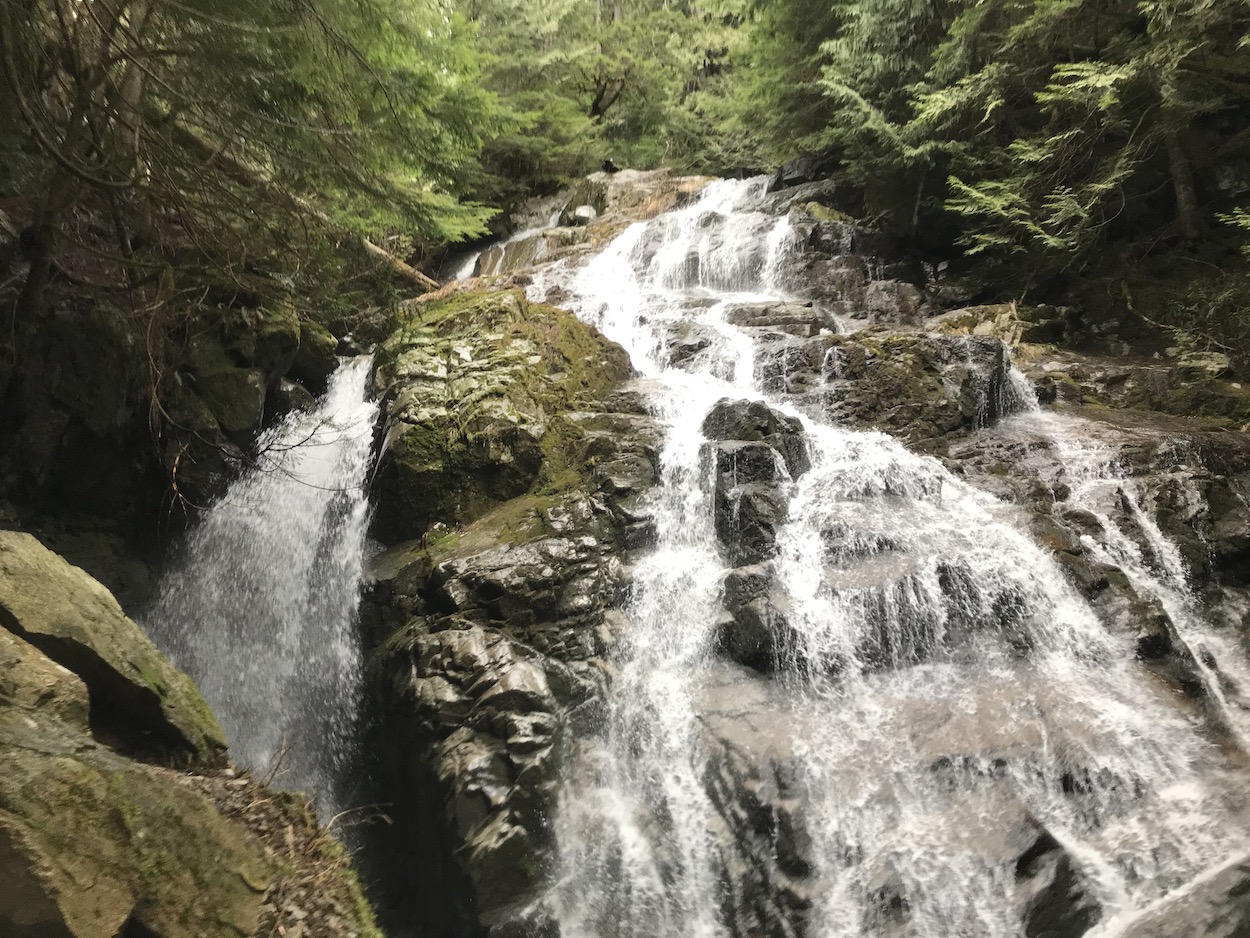 Once you've had enough of the falls just turn yourself around and trace your steps back to where you began. Make sure to give yourself enough time for the hike back. The return will take just about as long as the way in so do yourself a favor and manage your time properly so you do not have to do any navigating in the dark.
There are a couple more secret old growth cedars tucked away in North Vancouver. But those aren't secrets for me to spoil. Keep on explorin' and I'm sure you'll find em'.